Web Push Notification is becoming a popular marketing tool for online business promotion. It is a relatively new and effective way for communicating with website visitors. They are mainly popular for blogs websites which actively use them to maintain the engagement of their reader.Web Push Notifications are known as Browser Push Notifications as they are delivered on an active browser.
In the current online competitive market, Web & Mobile Browser Push Notification Plugin on your SocialEngine website can be very helpful to re-engage with your users efficiently. Although, there is a slight difference between pop ups and push notifications. Because pop-ups are only visible when you are on a website they belong to. On the other hand, push notifications can reach you even when you don't have the website open in a browser tab. Generally we use 4 Types of Push Prompts in this plugin which are Native Browser Prompt, Bell Prompt, Basic Popup Prompt and Custom HTML Popup Prompt.
This plugin is compatible with the latest Google Firebase APIs and you can integrate with SocialEngine updates. Some few features like you can Add Image & URL to your Notifications Welcome Push Notifications, send Instant Notifications, Schedule your Notifications, MultiBrowser support, makes this Web & Browser Push Notification plugin more reliable than others.
Here, we are providing an interactive and easy to follow Web & Mobile Browser Push Notification Plugin setup & installation guide which will help you to use & configure it properly on your website & maximize the efficiency of your website by showcasing the exciting features. With this help-guide, you will get a better sense of usage when you actually install this plugin on your website.
Installation of this theme is very easy, but if you still need our expert to install this plugin for you, then you can purchase the service from here: https://socialnetworking.solutions/social-engine/socialenginesolutions-plugin-installation/
Step-by-Step Installation & Tutorial Guide:
** This tutorial assumes that you are already logged in to the Admin Panel.**
If not, then you have to log in first to the admin panel after filling the admin account credentials on your website.
1. Installation of Web & Mobile Browser Notifications Plugin
(a) In the Main Menu section, Click on the tab Manage and select "Packages & Plugins" to install this plugin.
(b) Our Plugin is based on SE standards so this will get installed on your website as any standard theme can. Please read the tutorial on installing themes and plugins in SE here: http://help.socialnetworking.solutions/faq/51/how-to-purchase-and-install-ses-products
(b) Click on Plugin and a new tab will appear where you can choose "Web & Mobile Browser Push Notifications" as shown in below image.

After activating the plugin, a new window will appear where you can manage all the plugin settings.
2. Global Settings
Through global settings, you can manage many important features of this plugin which will affect all the members of your community. Once the plugin gets activated, admin can manage different configurations. Here is a list of some popular feature you can manage from Global Settings:
Enable Browser Notifications.
Subscription Prompt Style
Display Tour Image & Text
Tour Help Text.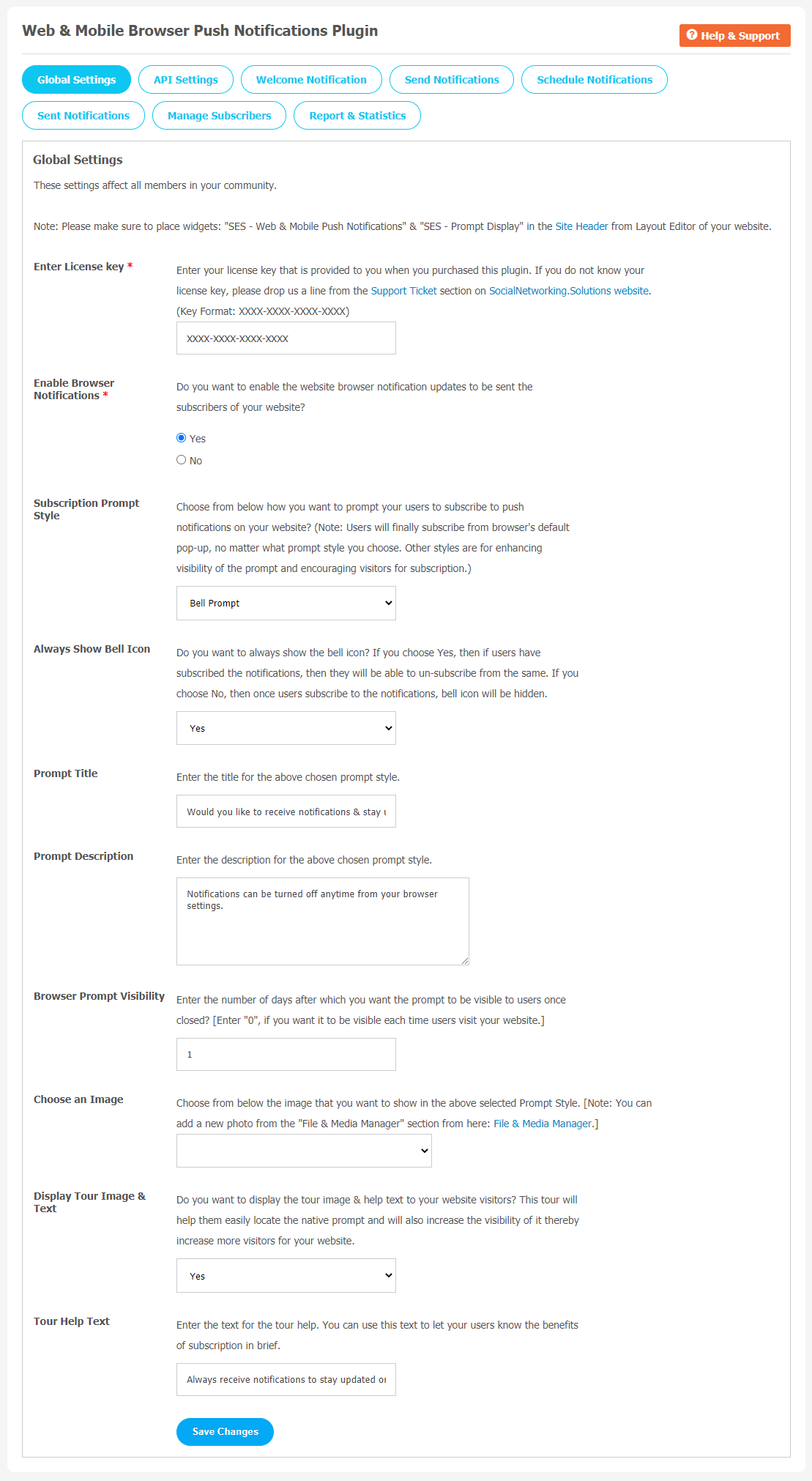 3. API Settings
From this page API settings can be managed. You can enter the required key and code to get started with this plugin.If you want to generate a key, you can explore more at "Click Here" link. Read more tutorials on how to get API Key by clicking on "KB Article".
Server Key.
Code Snippet.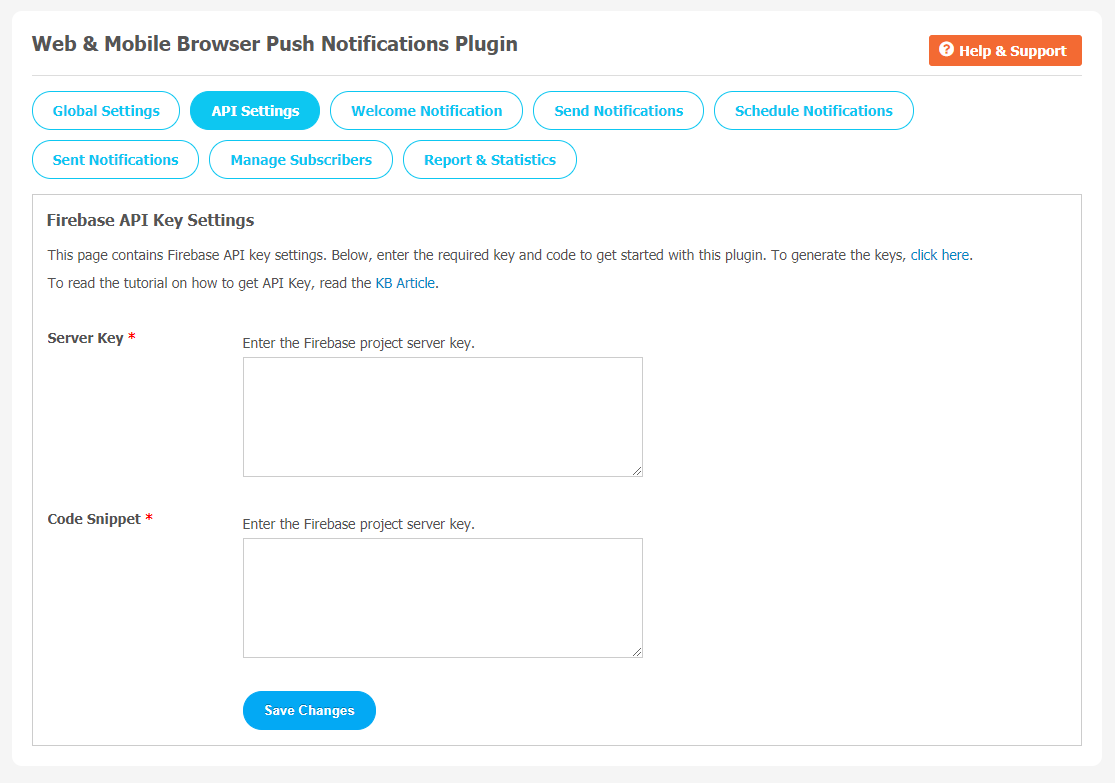 4. Welcome Notifications
You can configure the Welcome push notification message to be sent to the users after they subscribe to the push notification from your website.
Enable Welcome Push Notifications.
Welcome Push Notifications Title
Welcome Push Notifications Message
Redirect URL.
Upload Image.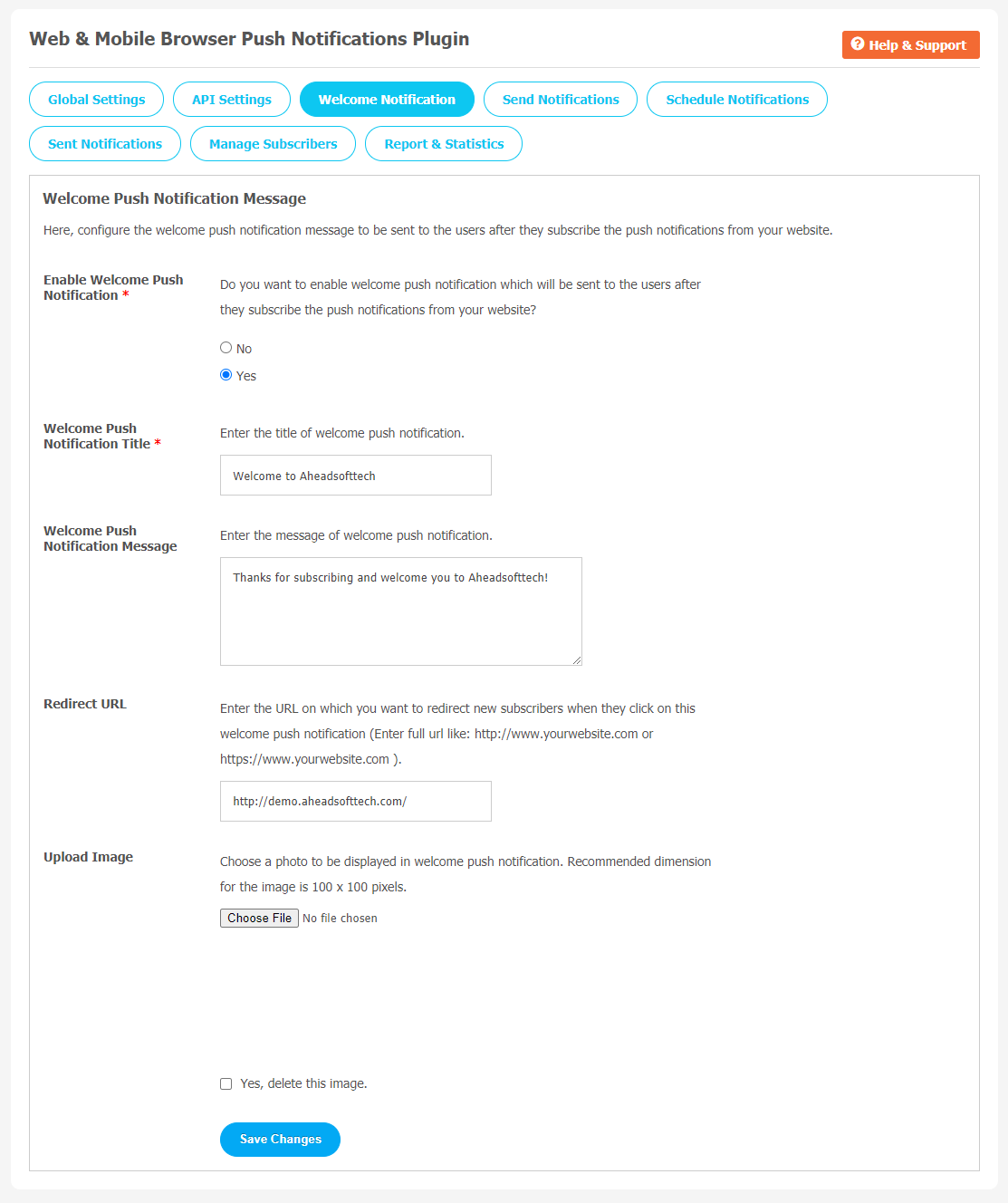 5. Send Notifications
In this page, you can configure the push notification message and send to all subscribers of your choice. You can also upload images and add URLs to your message. Admin can test the Push Notification by sending it to Test Users by using the "Send To Test Users" button. Use "Manage Subscribers" to make any subscriber a test user.
Choose Subscribers
Push Notifications Title
Push Notifications Message.
Redirect URL.
Upload Image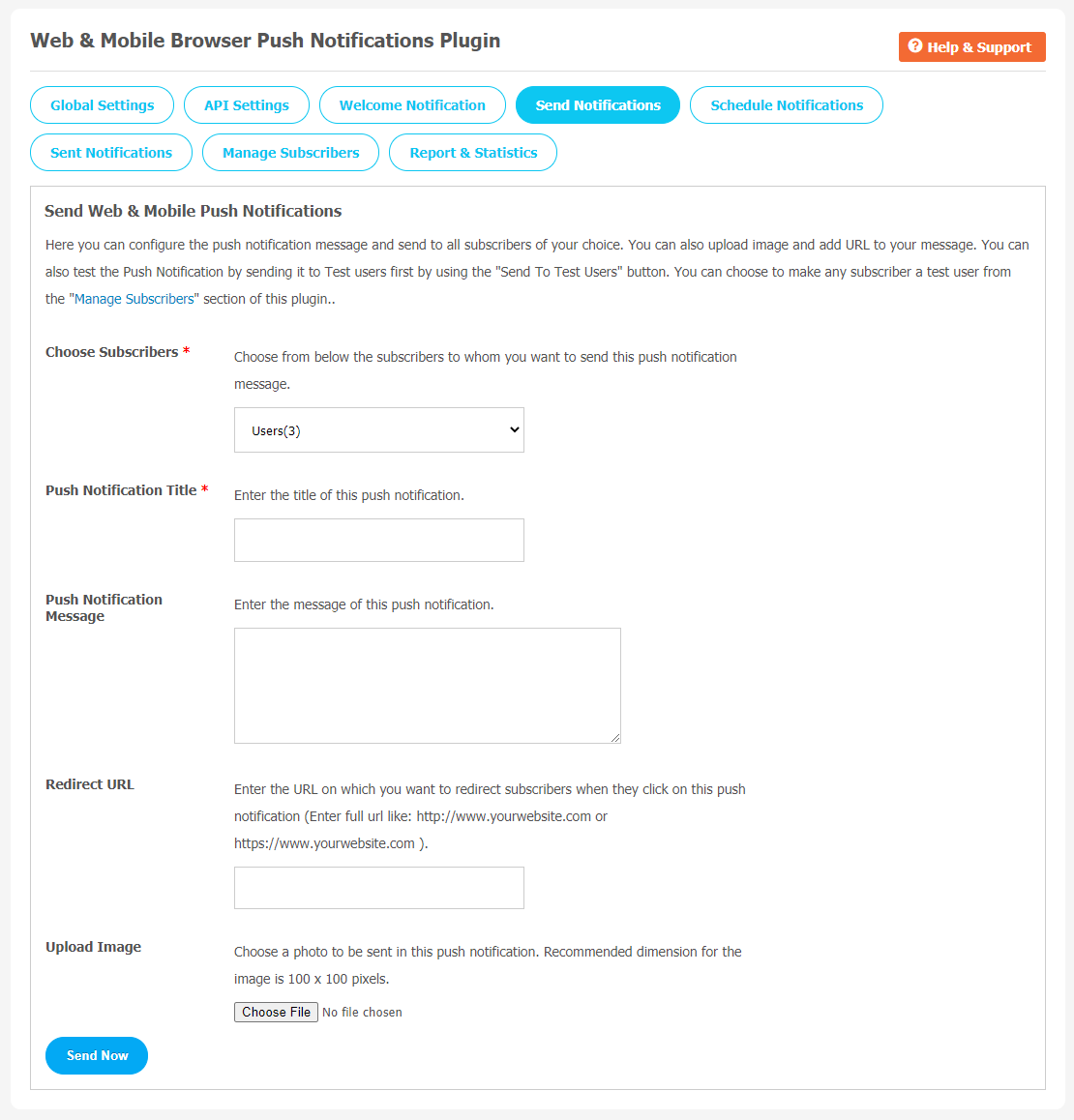 6. Schedule Notifications
In this page, you can schedule and manage the push notification messages to be sent to your chosen subscribers at the dates of your choice. Admin can add upload images and add URLs to their message. You can also test the Push Notifications by sending them to Test users first by using the "Send To Test Users" button. You can make any subscriber a test user from the "Manage Subscribers" section of this plugin. Make suitable changes for edit and delete notification if required.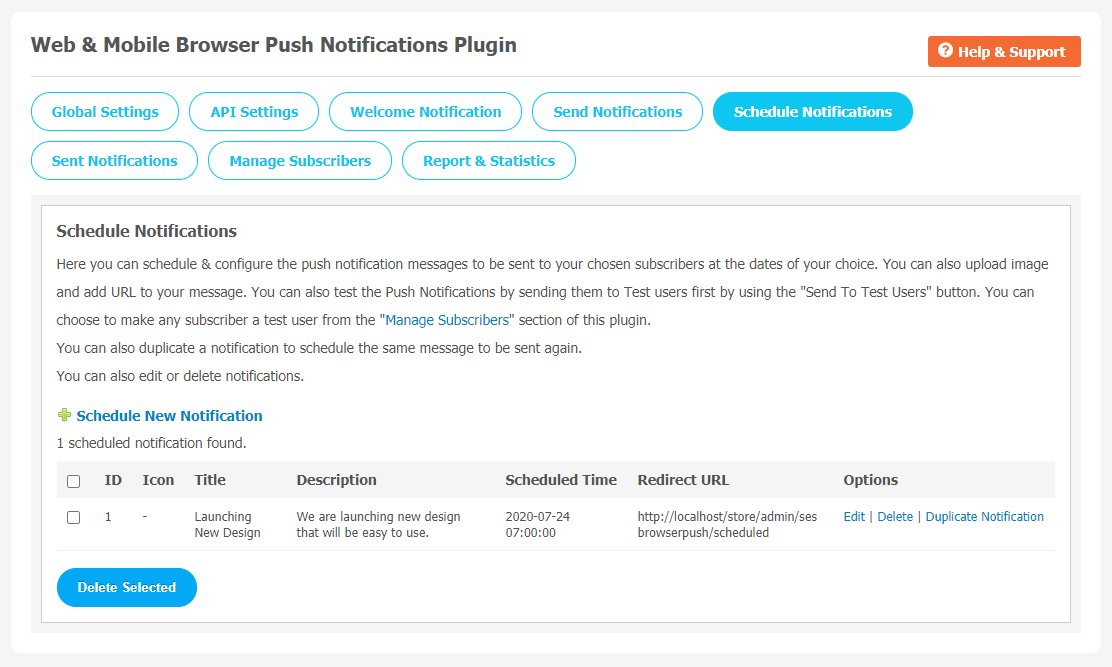 7. Sent Notifications
In this setting page all the notifications sent by you are recorded. You also can choose to re-send the notifications. Fill the given filter fields based on title and required date intervals to find out specific notifications.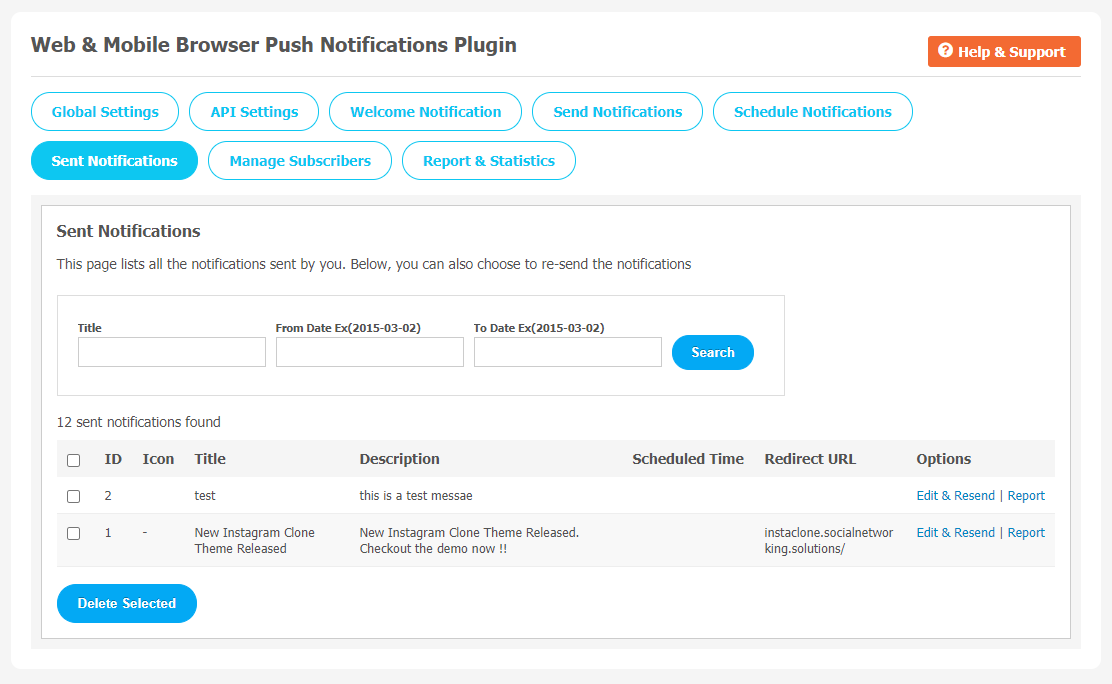 8. Manage Subscribers
All the subscribers of the push notifications of your website are saved in this page. You can make any user as a test user and test the push notifications of your website. This settings also allows you to make notifications to any specific users.
If you want to find any specific subscriber, please enter the required information in given fields.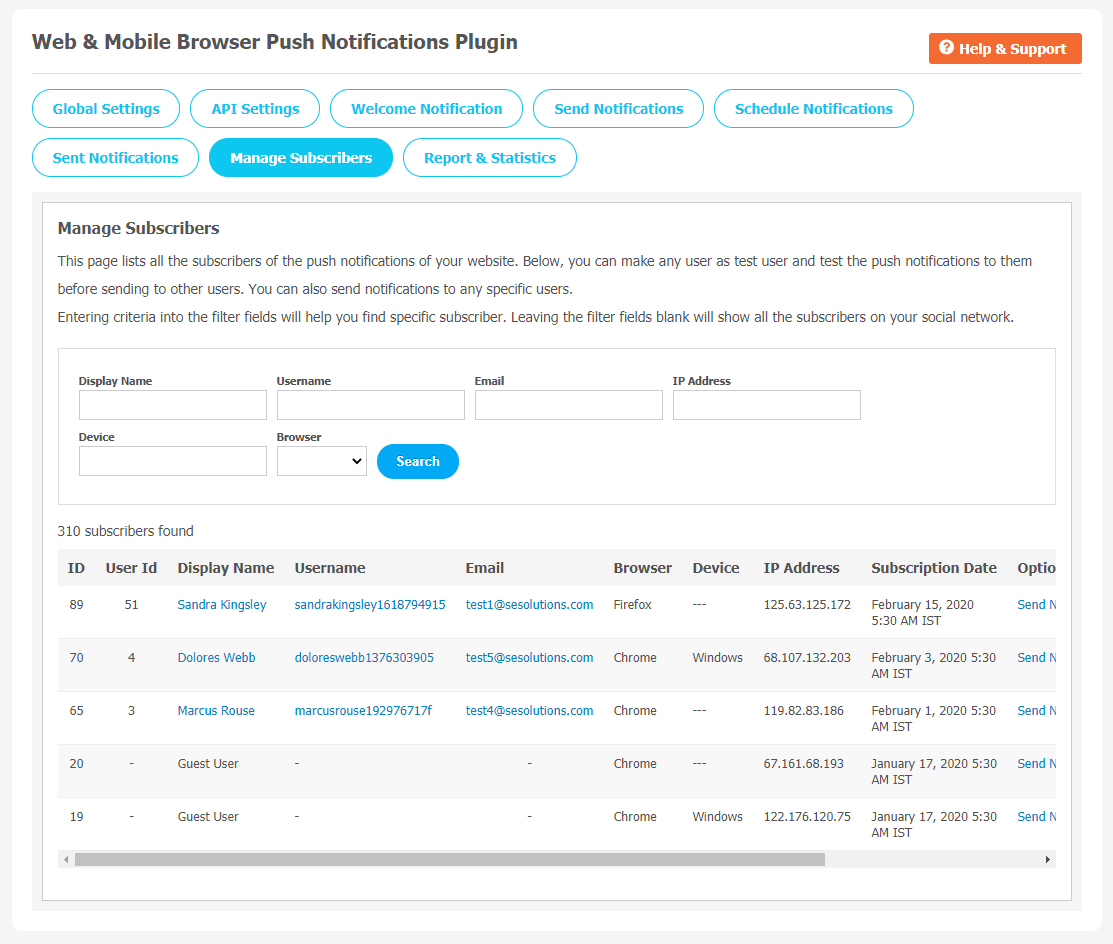 9. Report & Statistics
Report and Statistics are the important features which are required to track your website activities like total number of notifications have been sent, number of notifications clicked and number of notifications received. This page is used to display all the brief information about the push notifications sent by you from the admin panel of this plugin.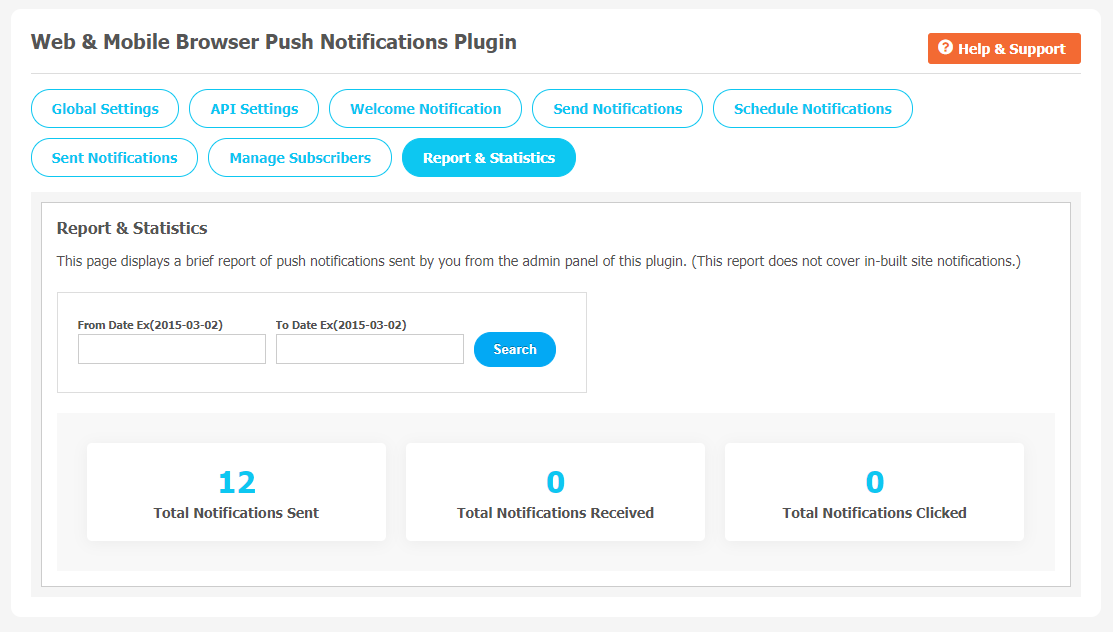 Finally!! You have successfully completed the installation procedure and also explored various exciting features of this Web & Mobile Browser Notifications Plugin. Now, your visitors and website members will be able to access & use your website with new features.
Installation of this Plugin is very easy, but if you still need our expert to install this Plugin for you, then you can purchase the service from here: https://socialnetworking.solutions/social-engine/socialenginesolutions-plugin-installation/