Community websites are great because they bring similar minds together. These websites are the perfect way of driving traffic to your website. The more people are attracted to your community website, the more interaction will take place and eventually increases traffic. Same thing goes for videos too. Videos are more engaging than any other static content on any website. Videos help to hold user attention and boost your site performance on search engines.
If you are already using the Group Communities Plugin, you must be aware of awesome features of Group Photo & Albums extension where you can use images as an effective source to display information. But you also need video features for your SocialEngine website.
With the help of Group Video Extension, you can upload Videos in the Groups on your website. Features like auto-approval of videos by different member levels makes this extension more useful. All these features can be enabled directly from the easy to use admin panel. Site members can Rate, Report and add videos in the Watch Later option.
Note: This extension is compatible with SocialEngine's "Iframely Integration"
Key Features:
Four Attractive Views
Attractive Video View Group
Integration for Password Protect Videos
3 Labels for Highlighting Videos
Activity Feeds, Site & Email Notifications
Upload Support without FFMPEG
Video Rating, Reporting and Watch Later
Custom Video Photo
Advance Sharing
Installation of Group Videos Extension.
In the Main Menu section,
Click on the tab Plugin and select "Group Communities" to open the Videos extension.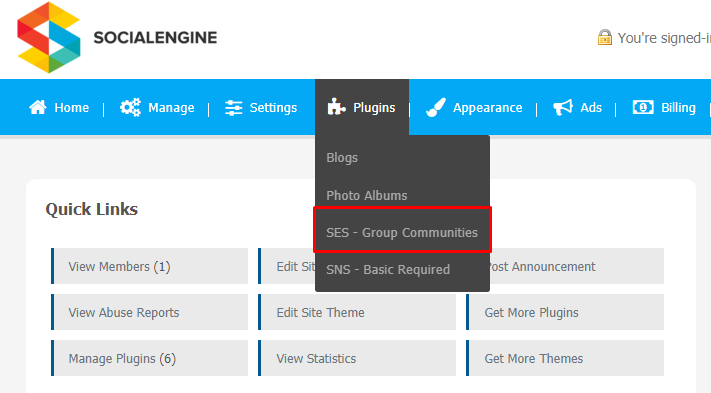 Now, choose "Videos" and Let's start using this extension.

You can enter the required license key to activate this extension.

Admin Panel Settings
Admin panel settings can be used to manage the important features of this extension which will be applicable for your website member based on their member levels.
Once you install this extension to your website, you can choose which website members can create Group Videos on your website.
(a) Global Settings
After a successful installation of this video extension, a new Global Setting tab will appear where all the video extension settings can be managed easily. First, click on Global Settings. Then,
Enter the required license key in the below-shown box.
Plural "Group Videos" text in URL
Enable Location
Allow Rating on Videos
Enable "Watch Later" for videos
(b) Video Utilities
This page contains utilities to manage and troubleshoot video plugins.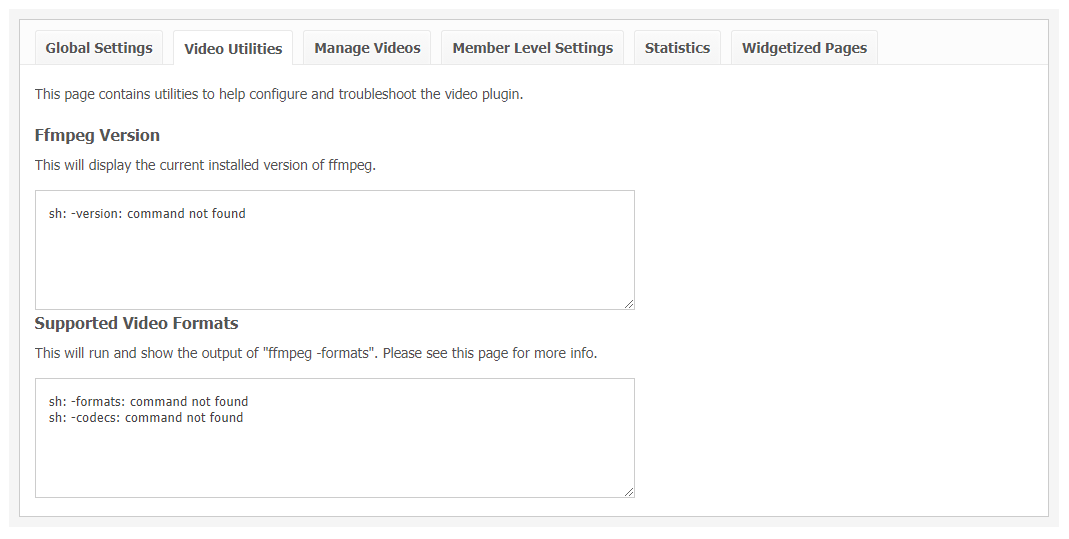 (c) Manage Videos
This page contains all the videos your users have created on your website. You can manage and monitor the entire videos of your website and edit or delete videos if you find necessary according to your platform guidelines.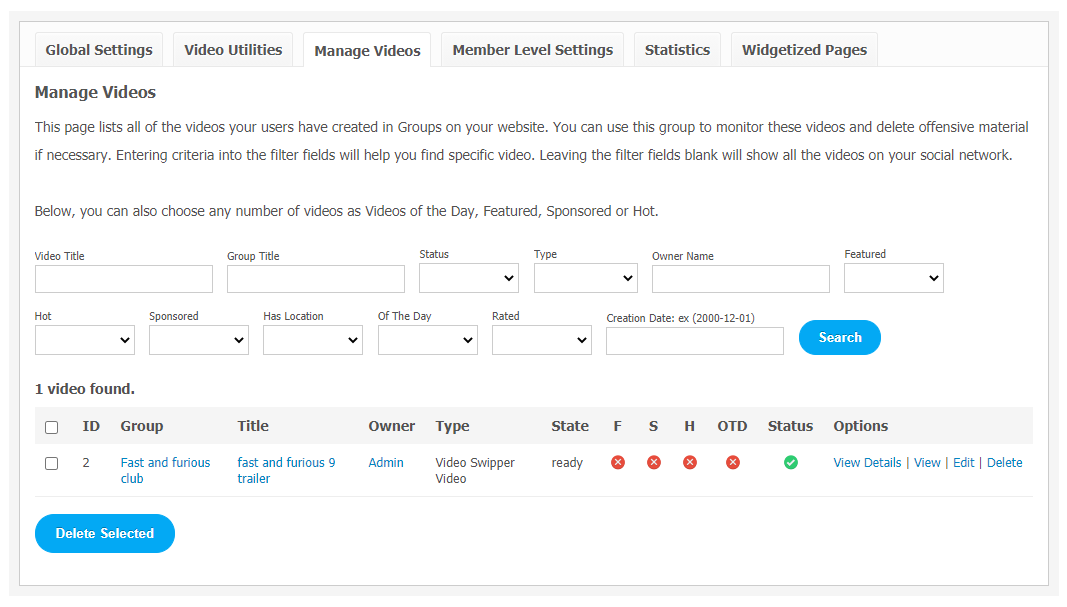 (d) Member Level Settings
This section is used to manage Member Level Settings. Here are some important features of Plugin which can be managed by the site admin for different member levels are as following:
Allow Viewing of Locked Videos
Allow User to Lock Videos
Allow Rating on Videos
Maximum Allowed Videos
Don't forget to Save Changes when done.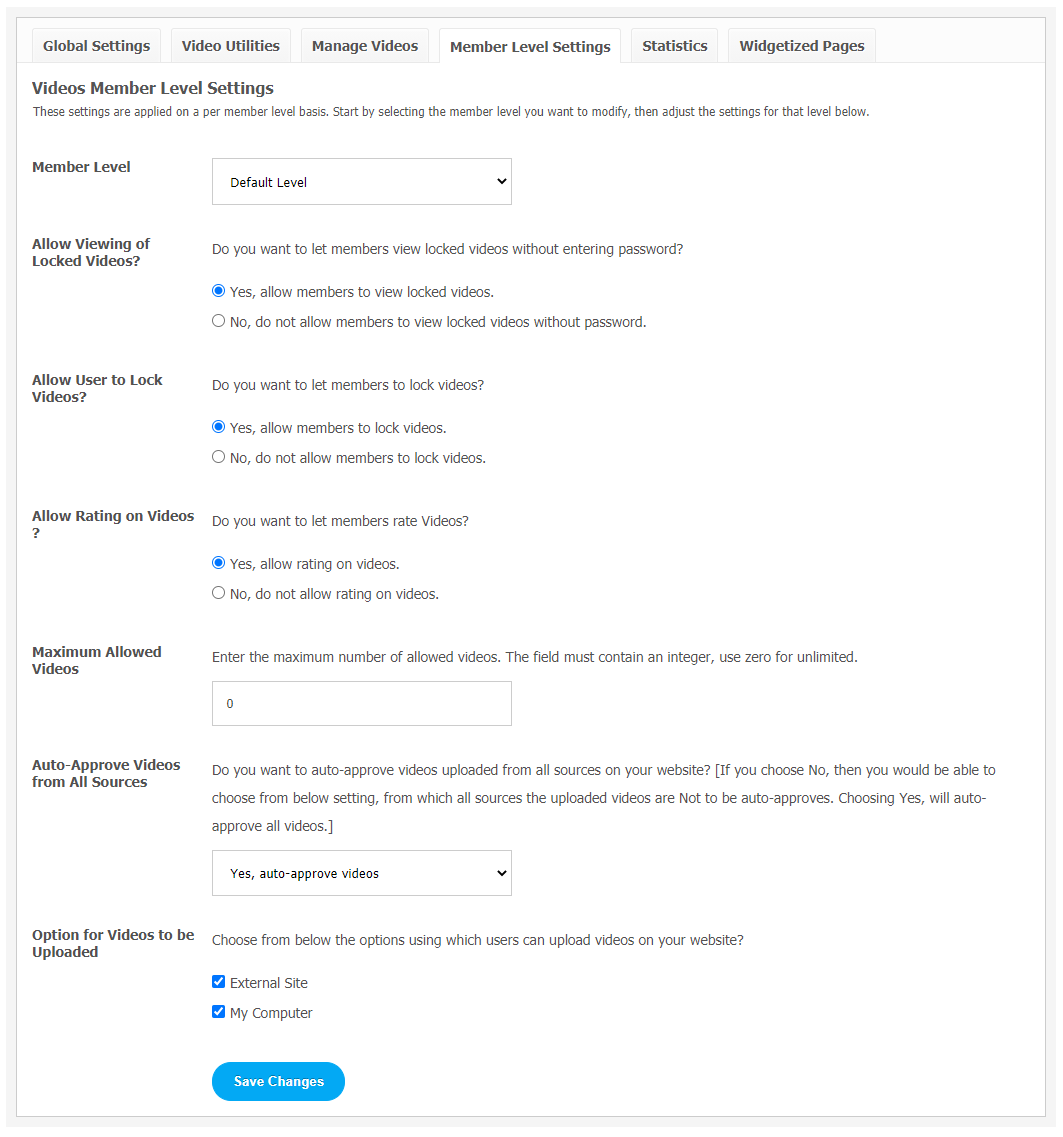 (e) Statistics
Statistics helps website owners to better understand the important event activity that is happening on their website. We often require these statistics to track our website performance too. You can see the list of important Group statistics on this page. Through this page, the admin can track how many Total Group Videos and total Featured Videos, Total Rated Videos have been posted on the website.

(f) Widgetized Pages
All the widgetized pages are shown in this section. You can go to "Layout Editor" by clicking on the respective Widgetize Page Link.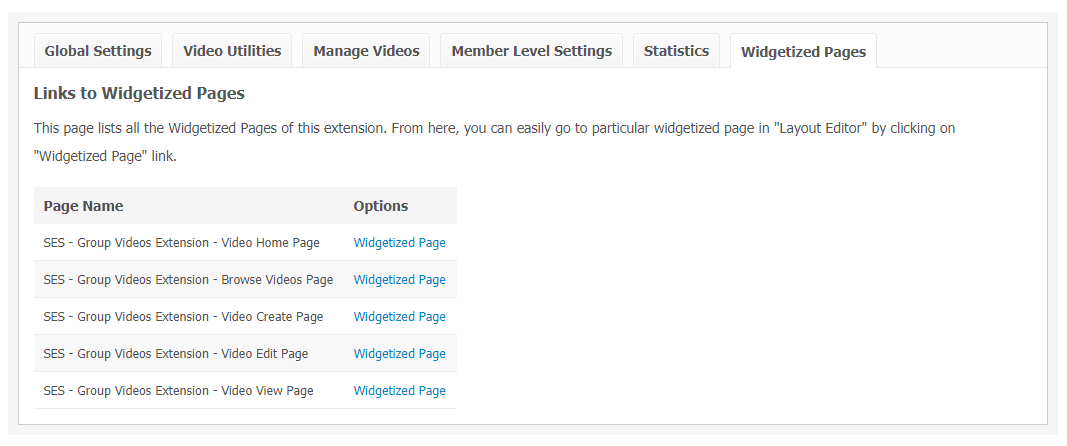 User Panel Settings
At the user-panel, your website members are allowed to create Group Videos. If you want to create Group Video in the Group Videos Extension, you can follow the steps given below:
First, install the Group Communities Plugin with Group Videos Extension. Now click on the "Layout Editor".
Search Group Profile Videos Widget and add it on the Group View Page.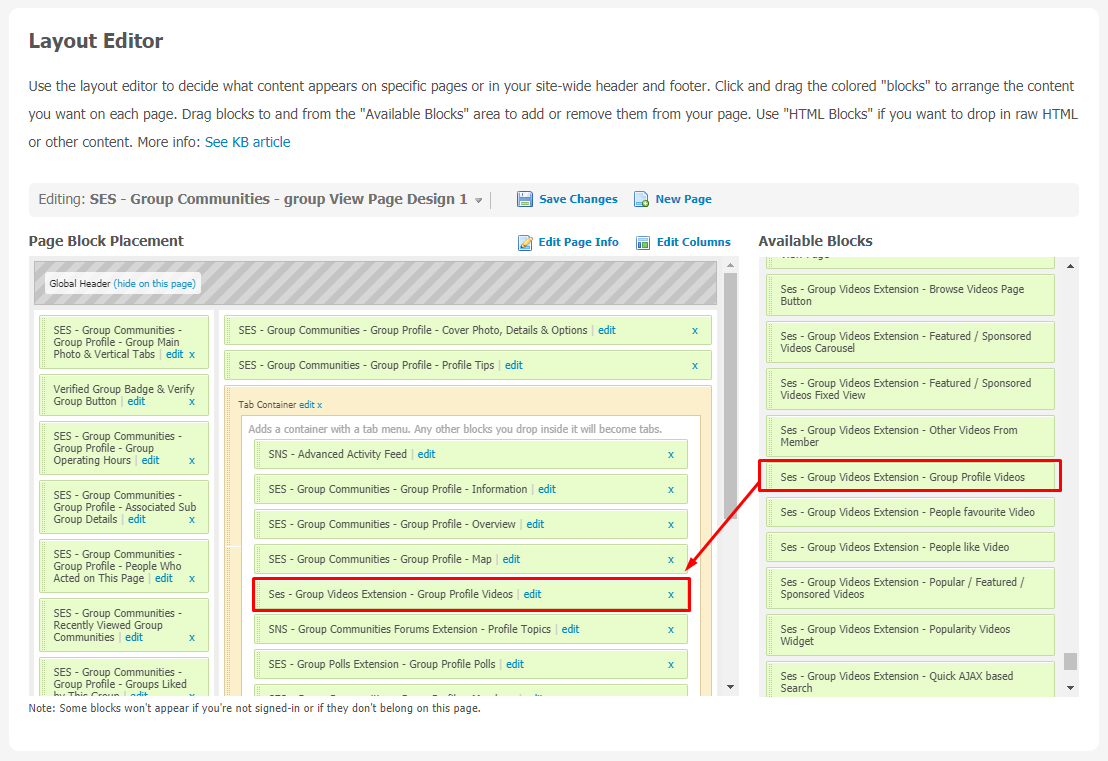 Now, click on the Group View Page.
Choose the Video Tab.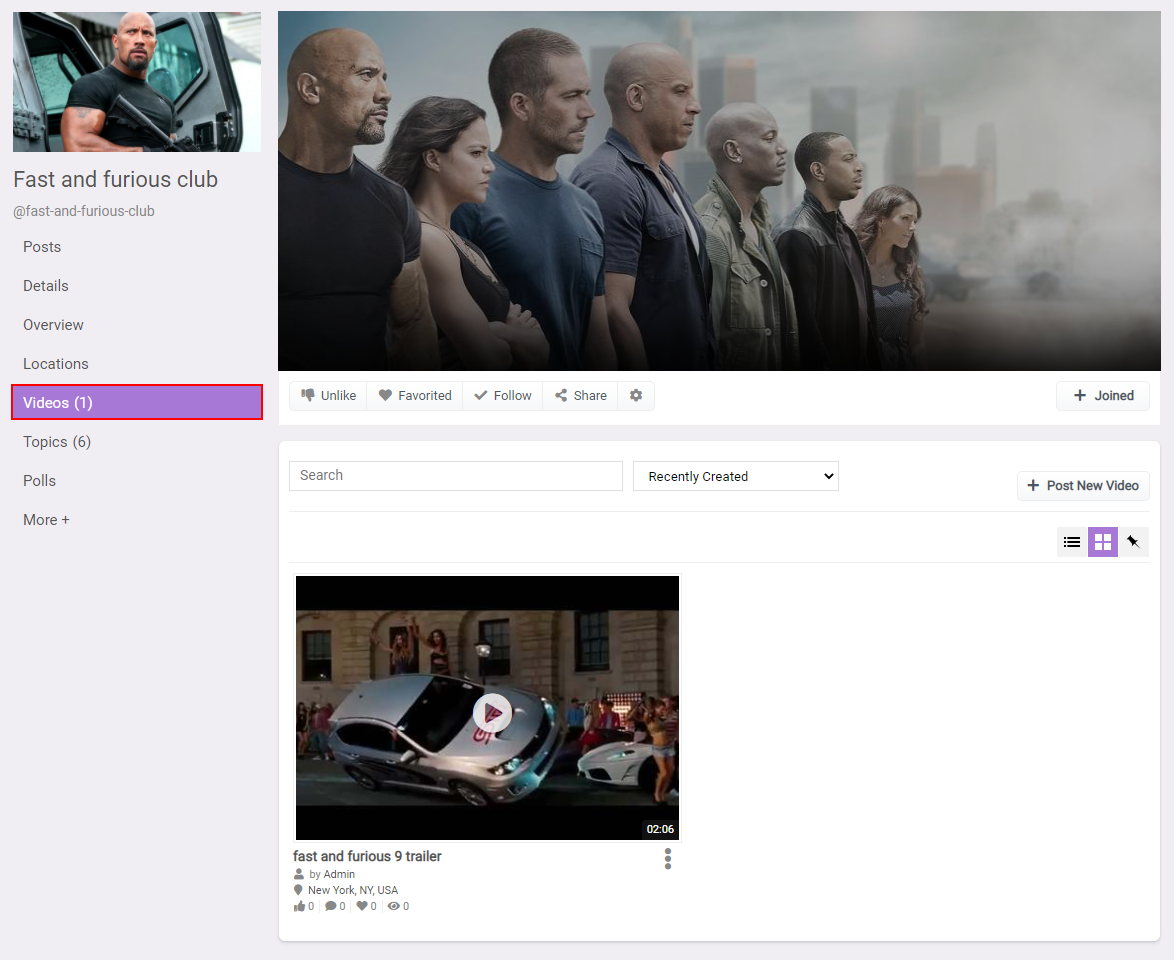 Once you select Video, you will be redirected to "Post New Video" link" as shown below.
You can use the "Post New Video" link to post your favourite videos for the group.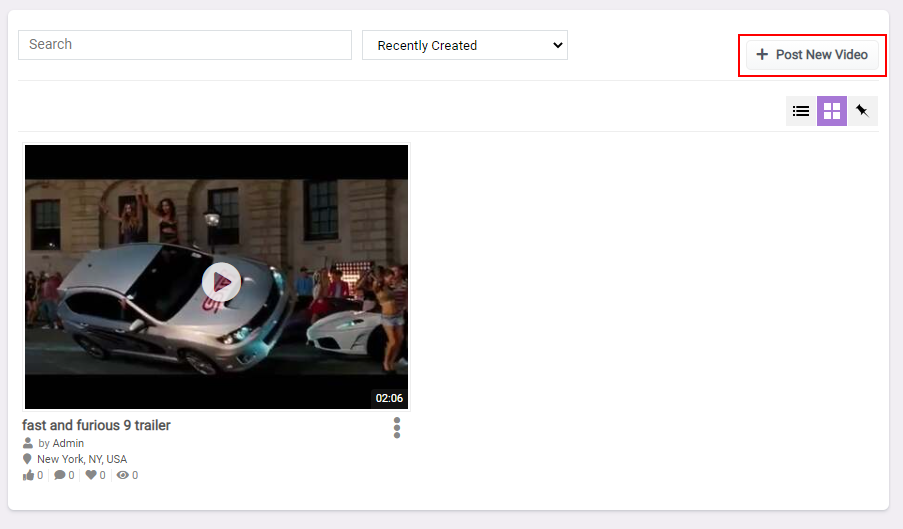 This is the step by step process of creating your First Video. Features like Video Title, Video Source, Location, Tags, Privacy, Video Description, and Video Link can be easily added from this page.
For more information, you can see the image below as a sample format.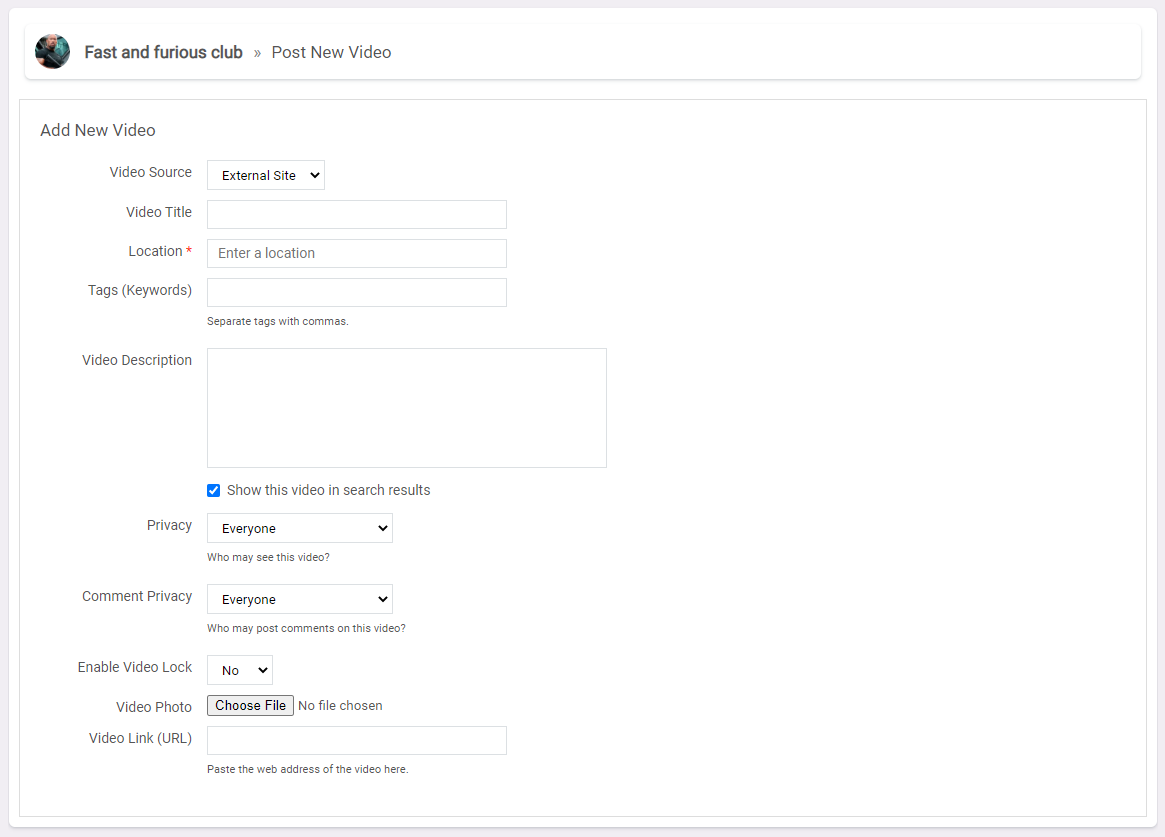 After you configure this page, your video is ready to publish on the website. These posted videos will appear on the homepage.
With this step-by-step tutorial guide, we are expecting you have successfully learnt how to use this extension for your SocialEngine website. These are the key features of this Group Videos Extension. We hope you have successfully completed the tutorial guide and ready to go. You can use this plugin extension and utilize the new opportunities of engaging with customers.