The idea of making a social networking site like Facebook looks fascinating. But it can be extremely hard if you don't know about programming. Users are constantly searching for new networking sites they can trust. So, you have the option to make your own social network using a similar-looking Facebook Clone Theme. You can easily set up your own Facebook-like social network with all the features you want. There are many benefits of using Facebook Clone Theme. Its new advanced features help to maximize the effectiveness of your social network website.
As the popularity of Facebook is growing worldwide, people also want to make their community website look more like Facebook.
Keeping in mind the demand of people, SocialNetworking.Solutions has created a new Facebook Clone Theme which looks exactly the same as Facebook. The attractive features of Facebook Clone Theme consist of many unique layouts, customized widgets which will make your website look and feel like Facebook.
Key Features of Facebook Clone Theme
100% Responsive
Easy Setup
Quick Login Setup
Activity Setup
Attractive Designs
Step-by-Step Tutorial Guide for New Users:
In this tutorial guide, we will learn about the key features of this FB Clone Theme. We are providing required screenshots for a better understanding of features and it will act as your DIY guide.
Admin Panel View
** This tutorial assumes that you are already logged in to the Admin Panel.**
If not, then you have to log in first to the admin panel after filling the admin account credentials on your website.
1. Installation of Responsive FB Clone Theme
In the Main Menu section,
Click on the tab Manage and select "Packages & Plugins" to install this theme.
After a successful installation, a new "FB Clone Theme" tab will appear on the main screen.
2. Global Setting
After clicking on "FB Clone Theme", a new window will be opened where you can activate your theme by entering the license key as shown in the below image.
Go to Global Settings.
Enter the required license key and activate your Fb Clone Theme.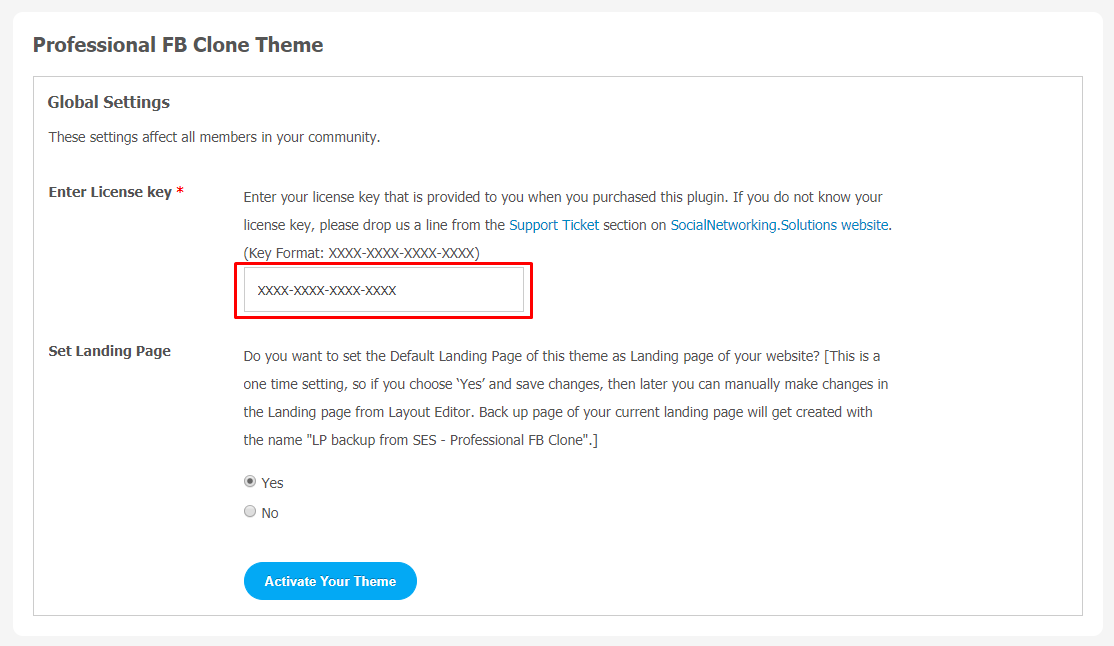 3. Manage Headers
Now, you click on Manage Header and change your logo design as per your requirement.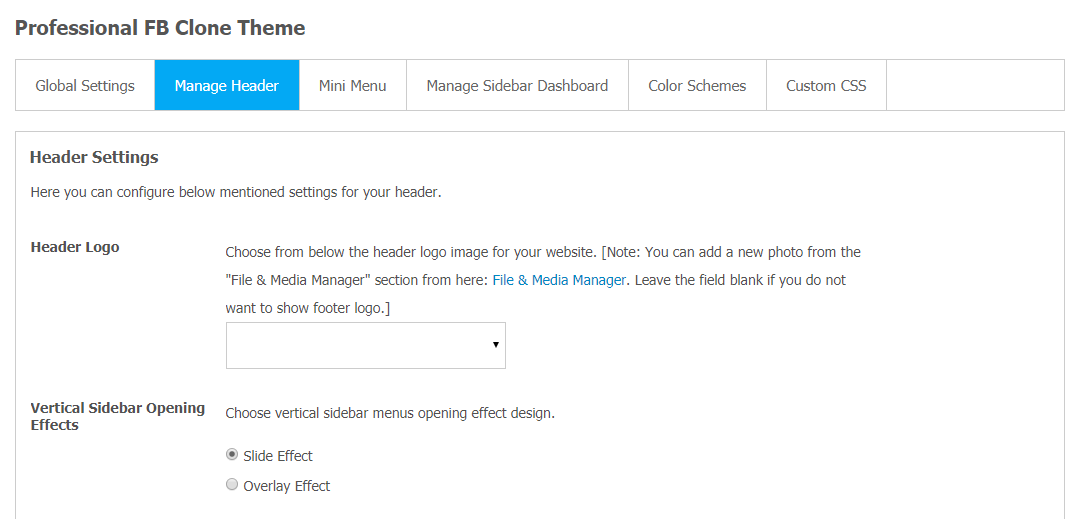 User Panel View

(a) Manage Header for logged-in Members and NonLogged in Members
If you want to manage header options for logged-in members and non-logged in members. You can choose among search, Mini Menu, Main Menu, Logo options.
By changing header options, you can easily manage how your registered members will view your website.
Simply Check and Uncheck the title box based on your requirements.


This is the landing Page view of FB Clone Theme. You can manage different header options directly through the admin panel.
4. Mini Menu
In this Mini Menu section, you can manage the menu items on the landing page. You have different options like Updates, Signup, Admin, My Profile, Messages and Notifications. Make suitable changes accordingly.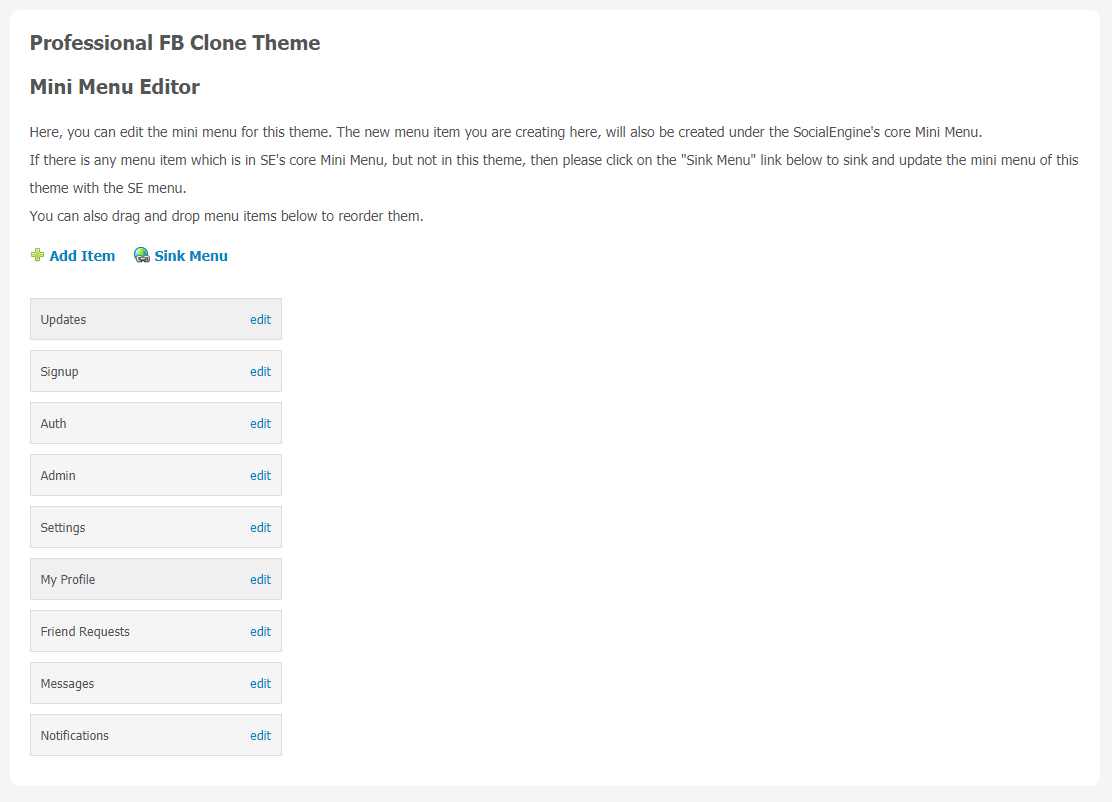 5. Manage Sidebar Dashboard
The dashboard icons can be managed from this section of the theme. You can edit or delete dashboard icons. Also, you can create categories and links from this setting option.
6. Color Schemes
If you want to change the color of your website theme, you can easily choose your favorite color among many attractive options. Different color options make your website more appealing to your community users.
Choose Color Schemes.
Now, select your favorite color theme option for your website.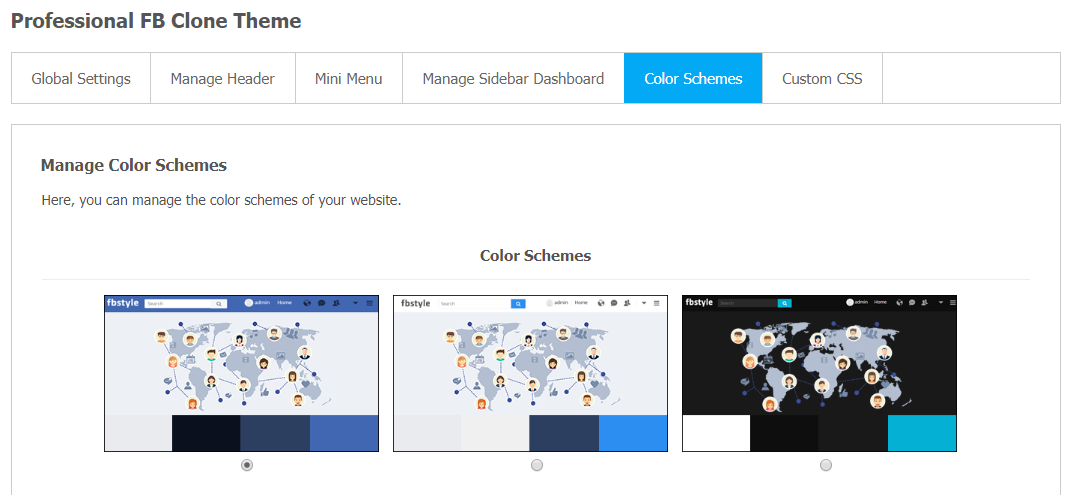 (a) Make your own color Combination
With this FB Clone Theme, the user can manually choose different theme color options. There are many color options available to make your website theme more interesting and appealing to your community audience.
Select "Make your own Theme".
Now make your own customized theme color combinations.
Don't forget to Save Changes.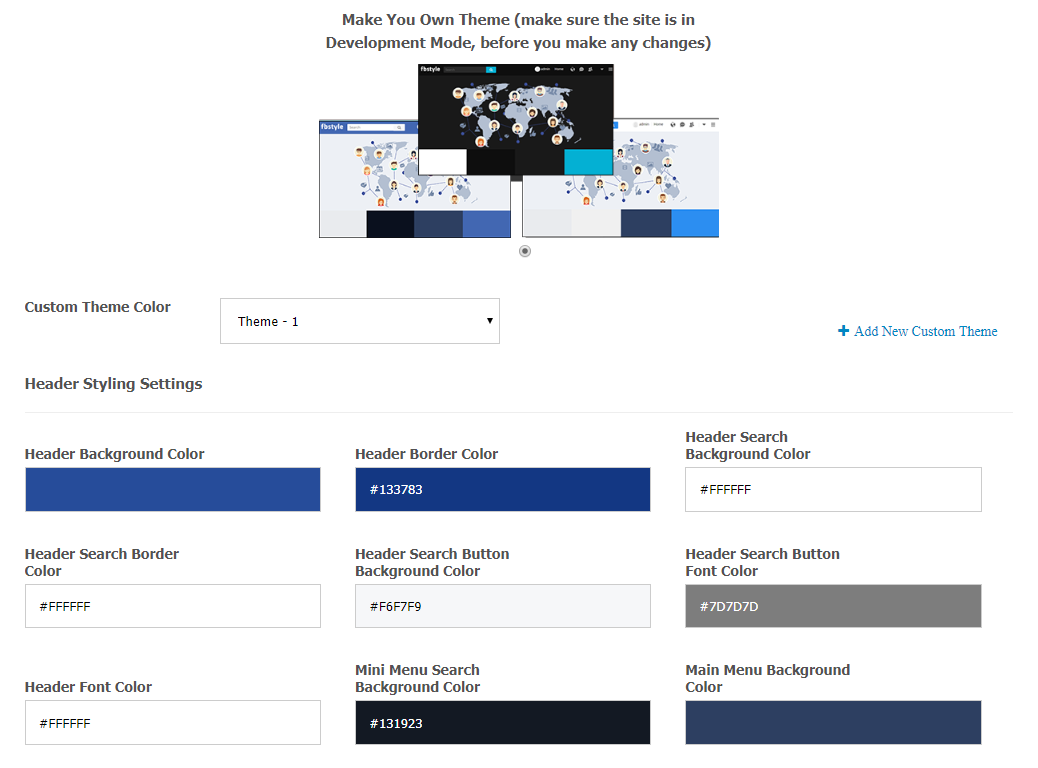 7. Custom CSS
Add custom CSS in FB Clone Theme with a single click. We suggest you add your CSS changes here instead of Theme.css file so that you do not lose your changes when you upgrade this theme. These changes will nicely show on your website.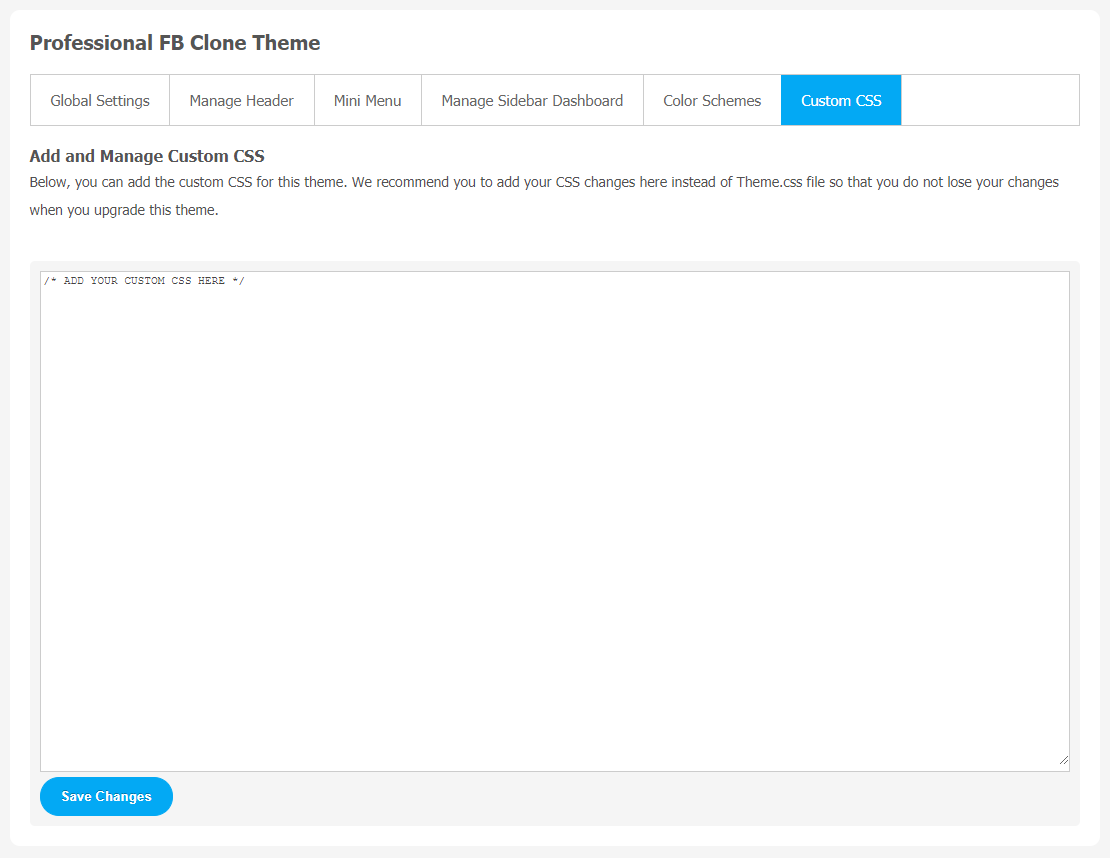 Congratulations!! You have successfully completed the installation procedure and also explored various exciting features of this FB Clone Theme. Now, your visitors and website members will be able to access & use your website with a new refreshing look.
Installation of this FB Clone Theme is very easy, but if you still need our expert to install and configure this theme for you, then you can purchase the service from here:
https://socialnetworking.solutions/social-engine/socialenginesolutions-plugin-installation/