As we all know, YouTube is the world's number one social networking platform for online video streaming.It's popularity is growing day by day and this platform has more than 1 billion monthly active users worldwide. YouTube is loved by all groups of audiences for its personalized content experience for every user right from watching comedy videos, music videos, DIY guides to easy cooking recipes and much more.
So if you also want to create a similar platform like YouTube and let your users create videos and content on the platform, then UTube Clone Theme is the right option for you.
This amazing theme comes with a vertical main menu option which gives a refreshing look to your SocialEngine based website the same as YouTube. Some of the major features of the landing page of UTube Clone Theme are Home, Albums, Members, Videos, Beautiful Header with Global Search.
It can be quite a beneficial platform for your online business branding and marketing.If you own a similar video social network platform, you can make it more engaging and appealing for users. Your users can showcase their products and benefits without any cost and get a million views to it. Let us get into the benefits offered by our UTube Clone Theme for your SocialEngine community users.
Key Features of UTube Clone Theme
100% Responsive
Quick Login Setup
Attractive Designs
Member Cloud
Banner Image Slideshow
Robust Admin Panel
Configurable HTML Block
A Step by Step Tutorial Guide for New Users
** This tutorial assumes that you are already logged in to the Admin Panel.**
Installation of this theme is very easy, but if you still need our expert to install this theme for you, then you can buy the service from here: https://www.socialnetworking.solutions/social-engine/socialenginesolutions-plugin-installation/
Now, let's come to a step by step guide for theme installation to your website.
1. Installation & Setup for Professional Linkedin Clone Theme
In the Main menu, click on the tab Manage and select "Packages & Plugins".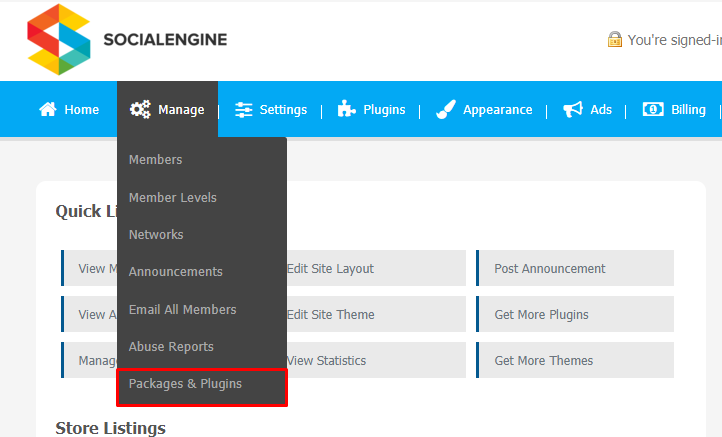 Our theme is based on SE standards so this will get installed on your website as any standard theme can. Please read the tutorial on installing themes and plugins in SE here: http://help.socialnetworking.solutions/faq/51/how-to-purchase-and-install-ses-products
After the successful installation of the theme as in Step 2 above, in the right of the admin panel dashboard menu, click on "SNS – UTube Clone Clone".
2. Global Setting
After clicking on "UTube Clone Theme", a new window will be opened where you can activate your theme by entering the license key as shown in the below image.
Go to Global Settings.
Enter the required license key and activate your UTube Clone Theme.
After entering the activation key, your theme will get activated on your website. Now, you can set the landing page as Member Homepage by choosing yes or no as shown in the below image.
Manage Body Background Image
Thumbs Image Shape
Member Avatar Shape in Mini Menu
Landing Page Width Management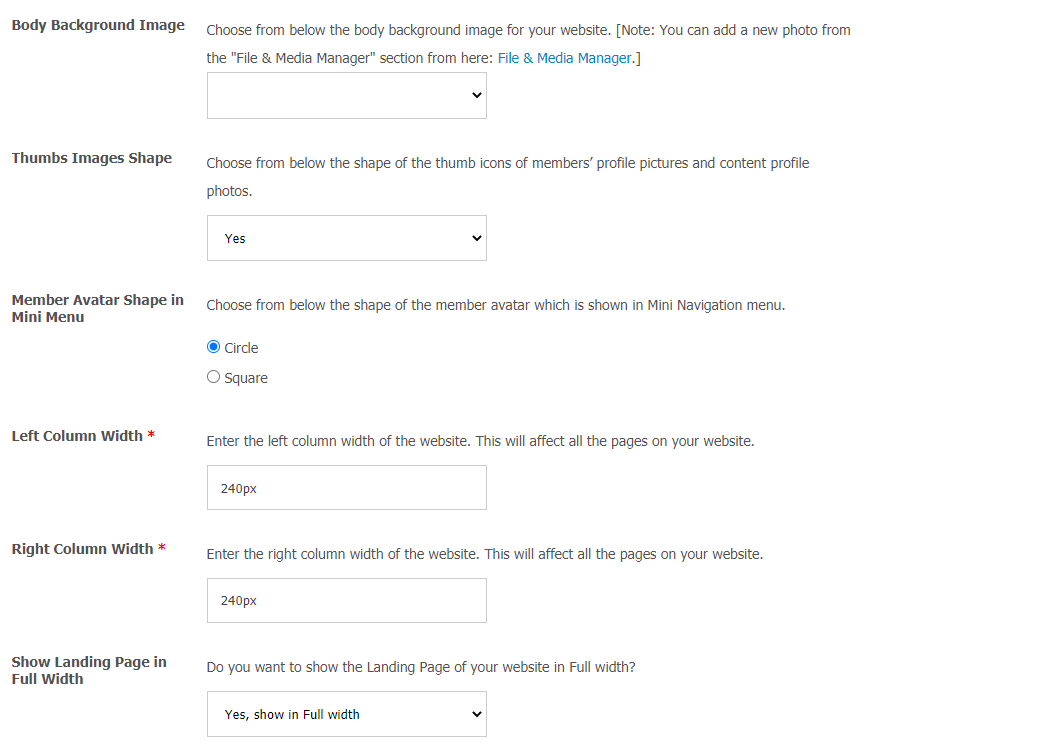 3. Manage Landing Page
The most important feature about this theme is that it looks exactly the same as the original YouTube. The landing page gives your users a similar experience like they are on YouTube. This theme is designed in a way that will help your website to look more expressive and engaging. Choose your banner image, different theme color, header setting and moving banner descriptions directly from the admin panel.
(a) Banner Image
Through this section, you can manage the banner image content like banner title, description, image on banner.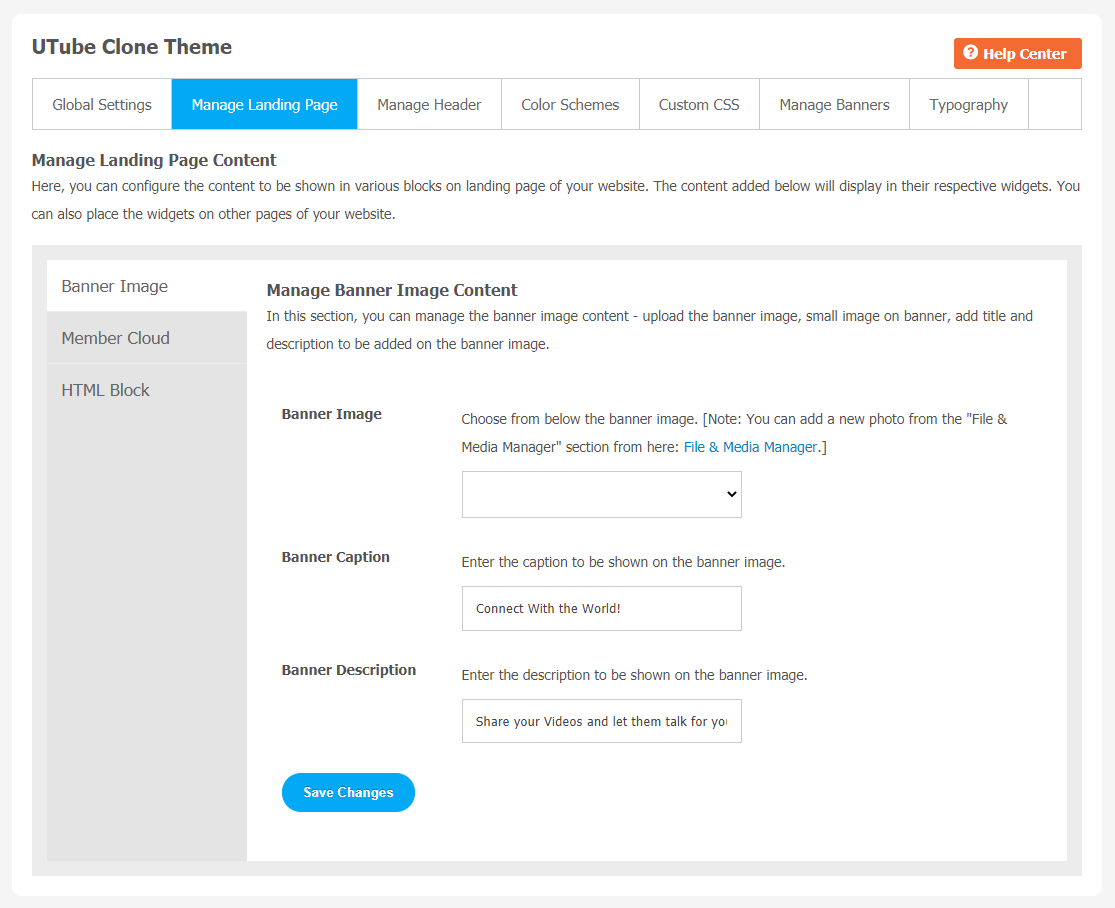 (b) Member Cloud
(c) HTML Block
HTML blocks are mainly used to highlight key features of your social networking site with text and icons having rich content of your choice entered via WYSIWYG editor.
You can configure various settings for the HTML blocks like Heading, Title and description for different blocks.
Don't forget to save changes when done.
4.Manage Header
(a) Header Setting
Now, you click on Manage Header and change your logo design as per your requirement.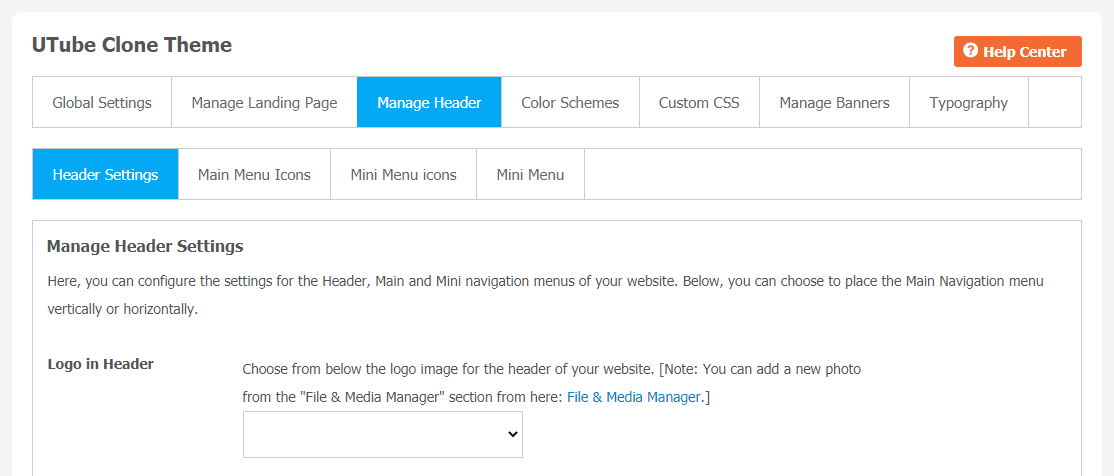 (b) Logged in and Non-Logged In Member Settings
You can manage settings for logged in and non-logged in members directly from the admin panel.This feature allows you to show or hide header options for logged in and non-logged in members.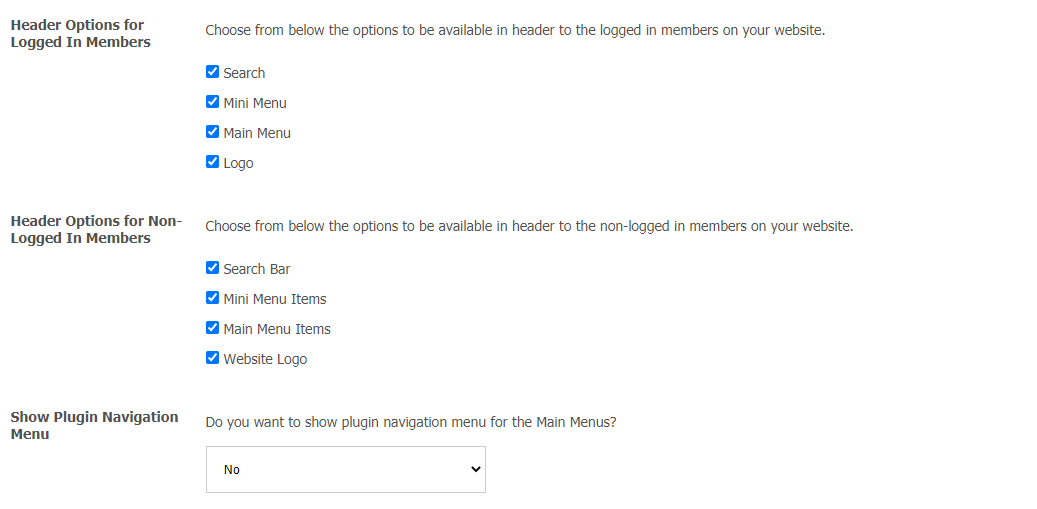 (c) Main Menu Icons
(d) Mini Menu Icons
5. Mini Menu
From this tab, you can edit the mini menu for this theme. The new menu item you are creating here will also be created under the SocialEngine's core Mini Menu. Make your own menu list for the community users. It will give more productivity to your community members.
6. Color Schemes
If you want to change the color of your website theme, you can easily choose your favorite color among many attractive options. Different color options make your website more appealing to your community users.
Choose a suitable theme color option from all 12 color schemes.
Now, select your favorite color theme option for your website.
(a) Make Own Color Combinations for your Theme
With this UTube Clone Theme, the user can manually choose different theme color options. There are many color options available to make your website theme more interesting and appealing to your community audience.
Select "Make your own Theme".
Now make your own customized theme color combinations.
Don't forget to Save Changes.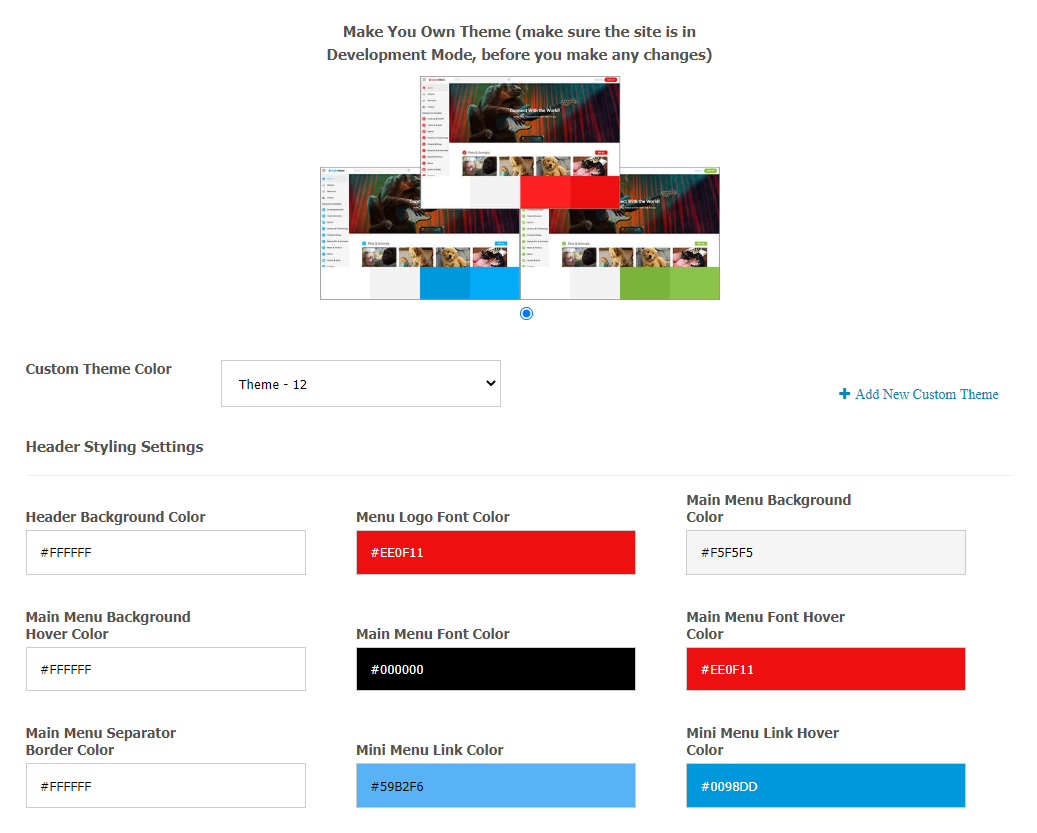 7. Manage Banners
Manage Banner Slideshow
8. Typography
This UTube Clone Theme comes with a choice of multiple fonts from Google fonts and web safe fonts which are included in this theme.
You can choose the required font style and font size on your website for the main menu, body and other places.
You can make your website look more stylish and attractive with the multiple font options.
Also, different font sizes are available for distinct section on your website.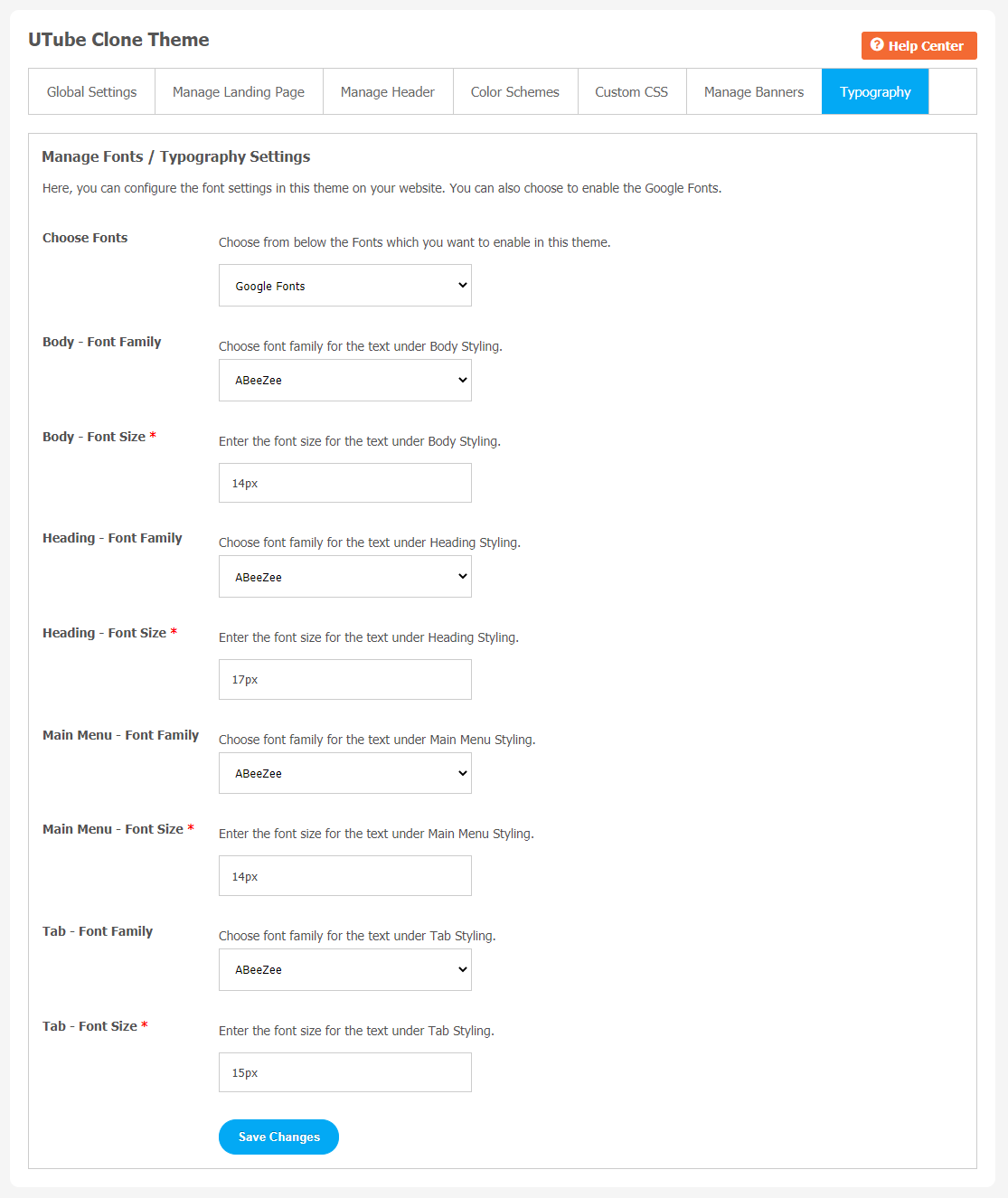 Great! You have successfully completed the Installation and Setup of this "UTube Clone Theme", now your users will be able to access your website with the astonishing look & feel like they are using YouTube. Make your social platform accessible for more users with easy navigation and interactive UI by using this theme.
Installation of this theme requires very less time & expertise, but if you still need our expert to install this theme for you, then you can purchase our fast installation service from here: https://socialnetworking.solutions/social-engine/socialenginesolutions-plugin-installation/