There are enough music production plugins available in the market. Let's take an example, maybe you sell your own music and you want to give users a preview before asking them to buy a song. For such requirements, SocialNetworking.Solutions offers an amazing plugin which can be the best solution for all your music needs. The simplest way to add audio to your SocialEngine website is with the Professional Music plugin. Unless you have some particular requirements, absolutely there is no reason to look elsewhere.
If you are planning to add music to your SocialEngine website, you have come to the right place. This plugin will help you to add music to your website. This plugin is easy to use and supports all common audio formats like .mp3, .wav, etc.
More features are available Like Attractive & Customizable design, 100 % Responsive & RTL supported, admin can add artists to their websites, choice of uploading songs for computer, Cover photo of music albums & songs, Lyrics for songs, Adding music albums, songs, Playlists & Artists for favourites, Admin settings to enable/disable various features.
Here, we are providing an interactive and easy to follow Professional Music Plugin setup & installation guide which will help you to explore its exciting features and maximize the efficiency of your website. With this help-guide, you will get a better sense of usage when you actually install this plugin on your website.
Installation of this theme is very easy, but if you still need our expert to install this theme for you, then you can purchase the service from here: https://socialnetworking.solutions/social-engine/socialenginesolutions-plugin-installation/
Step-by-Step Tutorial Guide for Users:
** This tutorial assumes that you are already logged in to the Admin Panel.**
If not, then you have to log in first to the admin panel after filling the admin account credentials on your website.
1. Installation of Professional Music Plugin
In the Main Menu section,
Click on the tab Plugin and select "Professional Music" to install this plugin as shown and below image.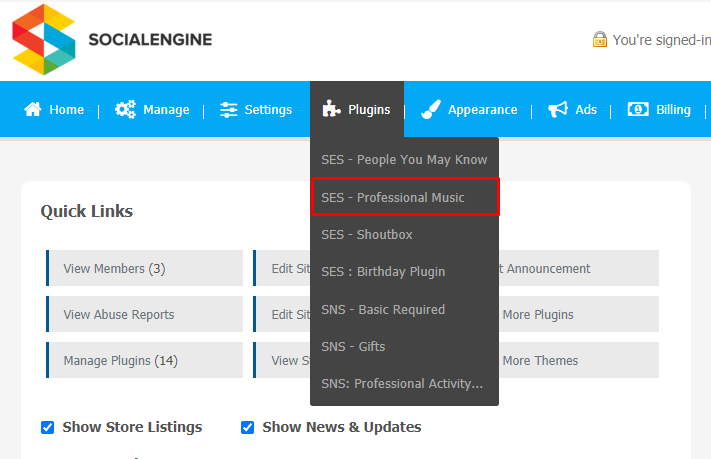 2. Setting
After a successful installation, a new Setting tab will appear where all the plugin settings can be managed easily. First, click on Settings. Then,
Enter the required license key in the below-shown box.
3. Manage Music Albums
If you want to manage music albums your users have created on a website, you can use this page. You can manage and monitor these music albums and delete offensive materials.When you enter the required information in given fields will help you find specific music albums.
You can also choose music albums as much you want. These albums will be shown randomly in the "Album/song/Artist of the Day" widget.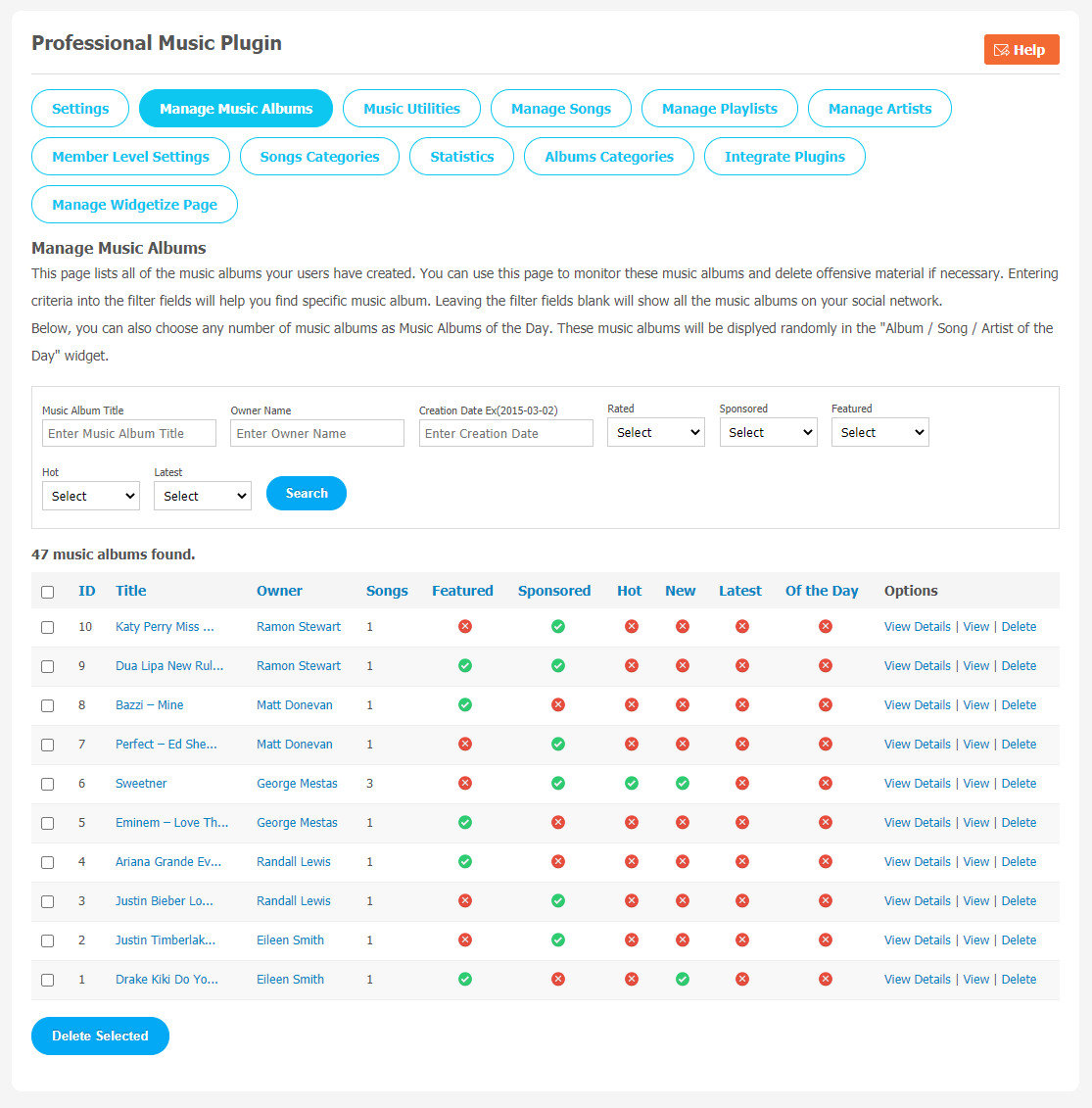 4. Music Utilities
In this page, you can configure and troubleshoot the music plugin by the help of these music utilities.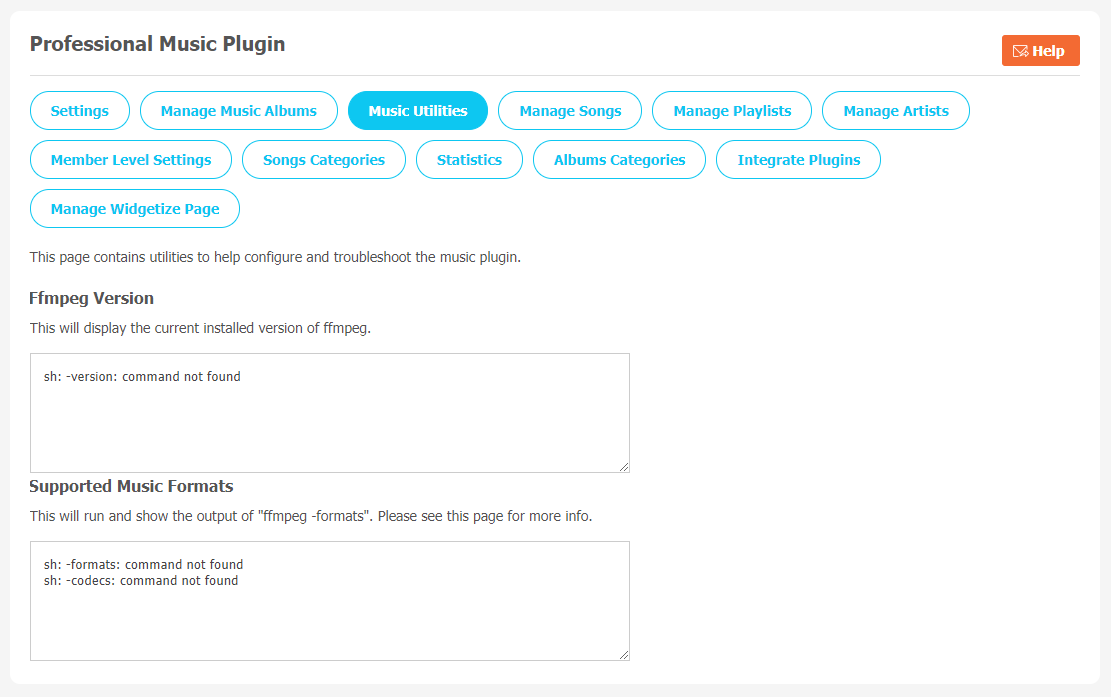 5. Manage Songs
This page saves all the songs your users have uploaded on your website. Use this page to monitor and manage these songs and delete offensive material if that doesn't suit your platform guidelines. Enter the required information in given filters to find out specific songs.
You can select any number of songs as Songs of the Day. These songs will appear randomly in the "Album/song/Artist of the Day" widget.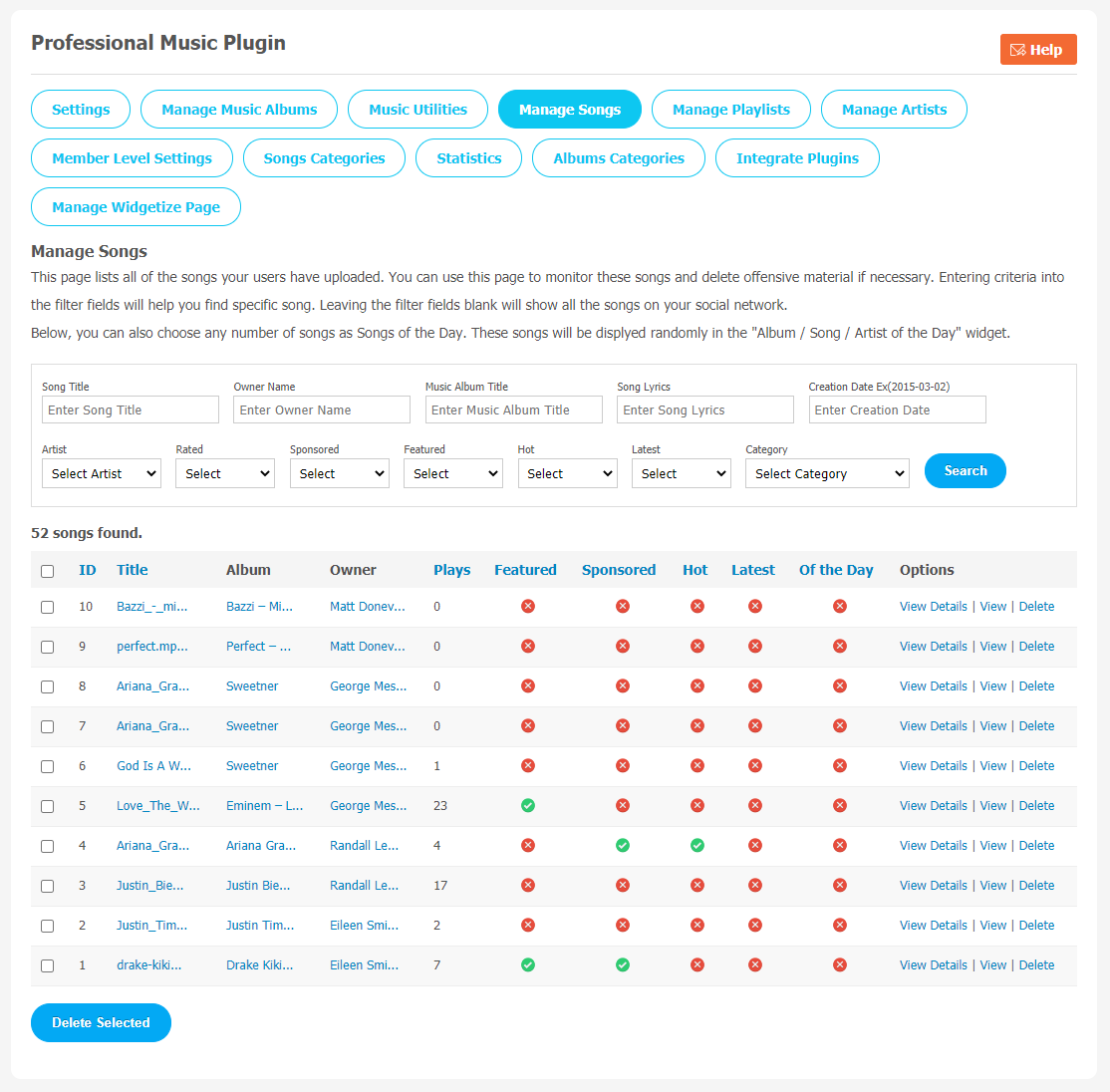 6. Manage Playlists
This section allows admin to monitor and manage Playlists created by website users. You can track posts by their name, owner name, and date.
7. Manage Artists
You can manage the website artists in this section. Also, you can add new artists by clicking on the "Add New Artist" button.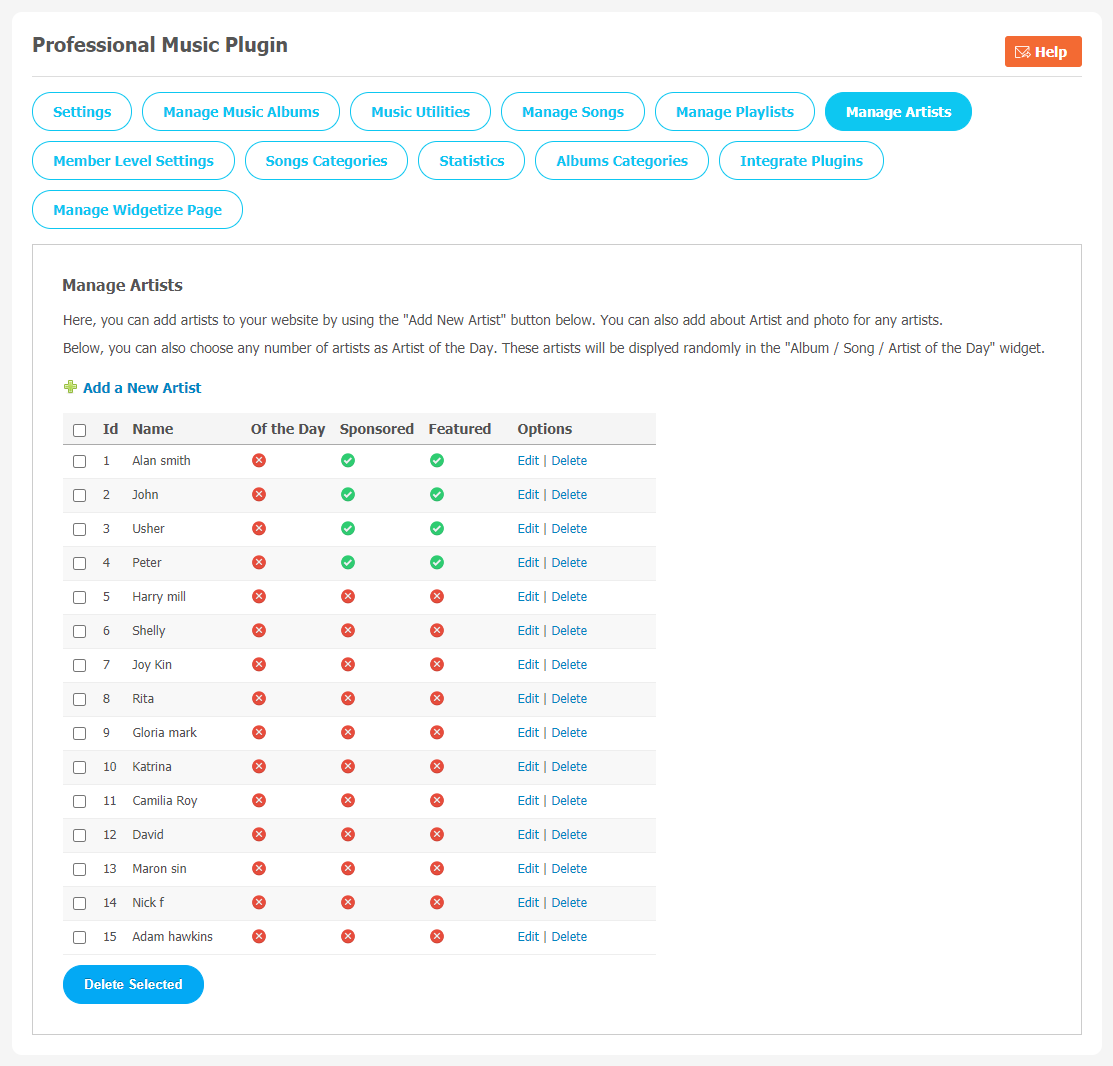 8. Member Level Settings
This section is used to manage Member Level Settings. Here are some important features of Plugin which can be managed by the site admin for different member levels are as following:
Allow Viewing of Music Albums
Allow Creation of Music Albums
Allow Upload Single Song
Allow Editing of Music Albums
Allow Deleting of Events
Allow Rating of Music Albums
Allow Rating on Songs
Allow Downloading of Songs
Music Album View Privacy
Maximum Allowed Playlists

9. Song Categories
This page will help you to manage song categories. You can create a category for the event by clicking on "Add New Category". You can choose options like Title,Slug URL, Description, Profile Type to be associated with the category, icon and Thumbnail.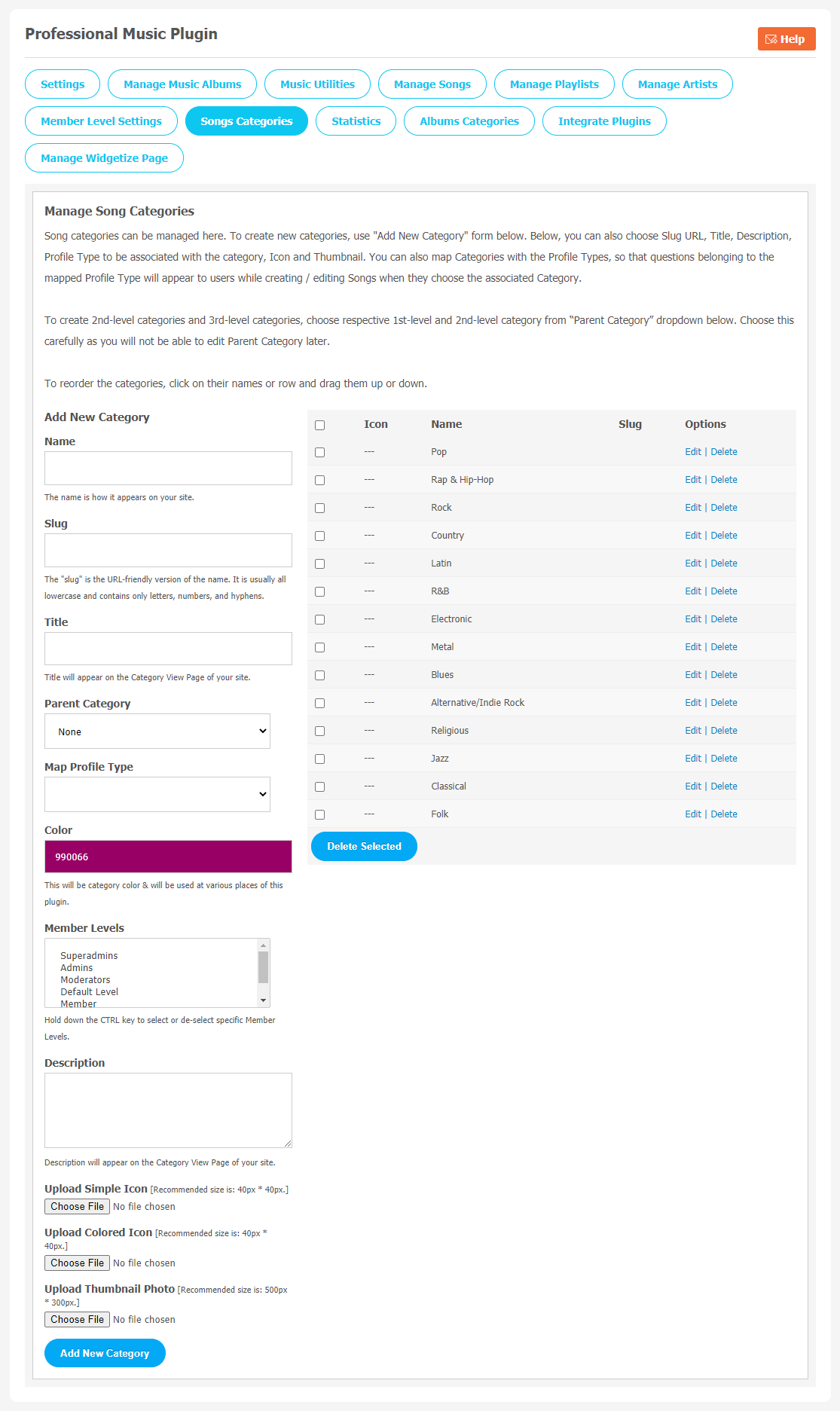 10. Statistics
Statistics helps website owners to better understand the important music activity which is happening on their website. We often require these statistics to track our website performance too. You can see the list of important music statistics on this page. Statistics like Total Albums, Total Featured Albums, Total Favourite Albums, Total Hot Albums, Total Rated Albums will be visible in this page section.
11. Album Categories
In this page, all the album categories created by users are stored here. This page can be used to manage and monitor these categories. You also can delete offensive material if required.
From this page, you can create new categories. You can map Categories with the Profile Types, so that questions belonging to the mapped Profile Type will appear to users while creating/editing Albums when they choose the associated category.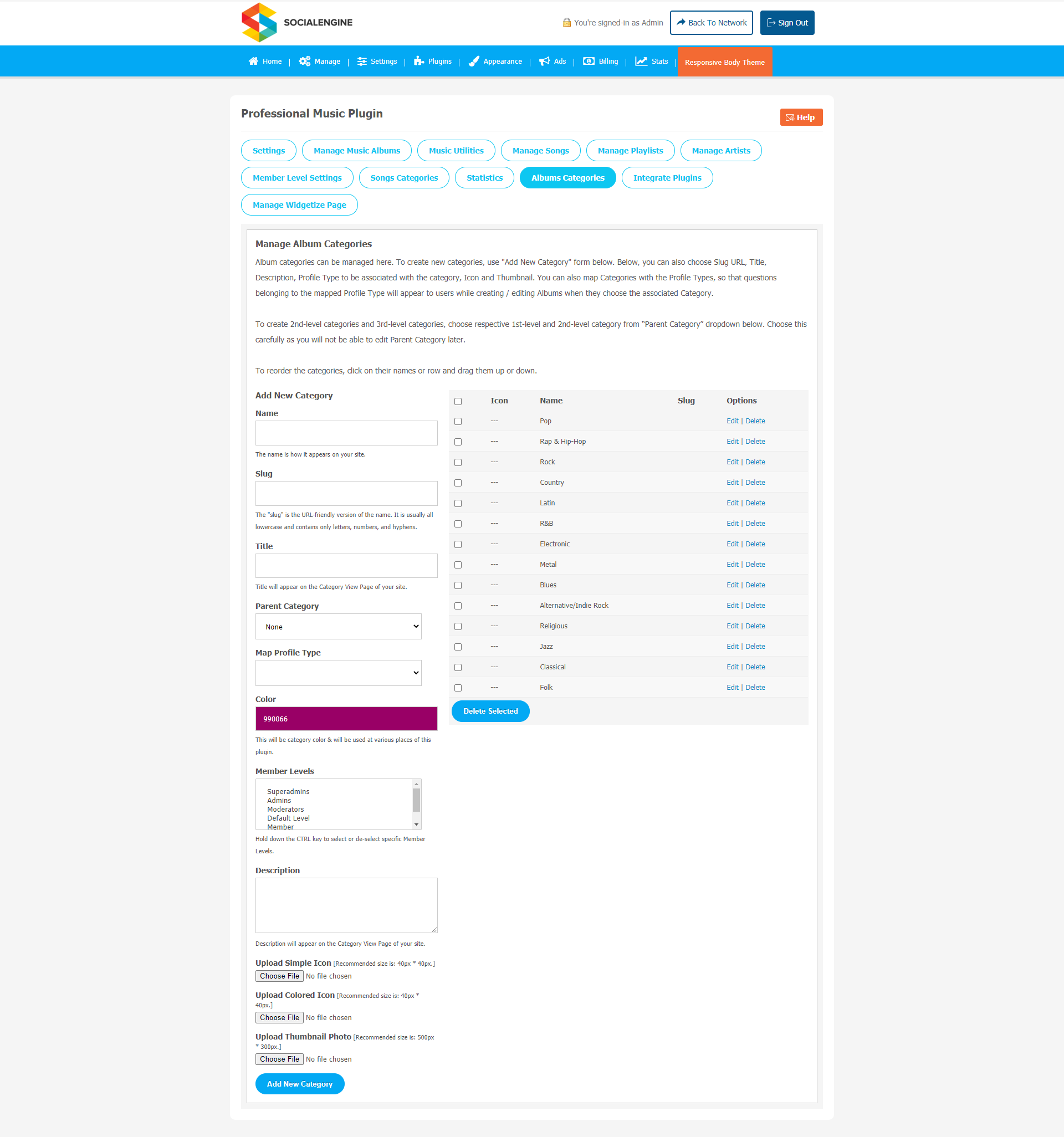 12. Integrate Plugins
If you want to add a new plugin, click on the "Add New Plugin" button. Also, the admin can enable the creation of Browse Event Page in other plugins. If you face any difficulty, you can contact our support team.
13. Manage Widgetized Page
All the widgetized pages are shown in this section. You can go to "Layout Editor" by clicking on the respective Widgetize Page Link. In this page, a complete list of Page Name is given so that the admin can manage these widgetized page.
Finally!! You have successfully completed the installation procedure and also explored various exciting features of this Professional Music Plugin. Now, your visitors and website members will be able to access & use your website with new features.
Installation of this Plugin is very easy, but if you still need our expert to install this Plugin for you, then you can purchase the service from here: http://socialnetworking.solutions/social-engine/socialenginesolutions-plugin-installation/