Nowadays, the internet is one of the most popular places where customers come for exchange of products and services. But most of the time, it feels like we are involved in emotionless exchange of services. So, we have an amazing solution for you to make your platform more engaging.
As we all know, we love compliments in our everyday life. It helps to connect with other people and make us familiar with each other. But in the digital world, you can make your website members feel appreciated by giving them access to certain online tools through your website. Exchanging compliments not only makes us more loyal to each other but it also boosts user engagement on your website as well.
If you own an online business on SocialEngine platform and want website members to compliment each other, Member Compliment Plugin is for you. You can allow your website members to give compliments to each other which will increase trust and provide better online presence for them.
Member Compliments Plugin enables your website users to create unlimited number of compliments types. A compliment button and tab will appear in each other's member profile. Users can see these compliments in the complement section.
Let us look into some of key features of Member Compliments Plugin:
Key Features:
Create Unlimited Compliment Types
Title & Icon for the Compliment
Send Compliments from Profile Page
Profile Compliments
Browse & Manage Compliments
Manage Widgetized Page
Here, we are providing an interactive and easy to follow Member Compliments Plugin setup & installation guide which will help you to explore its exciting features and maximize the efficiency of your website. With this help-guide, you will get a better sense of usage when you actually install this plugin on your website.
Installation of this plugin is very easy, but if you still need our expert to install this theme for you, then you can purchase the service from here: https://socialnetworking.solutions/social-engine/socialenginesolutions-plugin-installation/
Watch Video
Step-by-Step Tutorial Guide for Users:
** This tutorial assumes that you are already logged in to the Admin Panel.**
If not, then you have to log in first to the admin panel after filling the admin account credentials on your website.
1. Installation of Member Compliments Plugin
n the Main Menu section,
In the Main Menu section, Click on the tab Manage and select "Packages & Plugins" to install this plugin.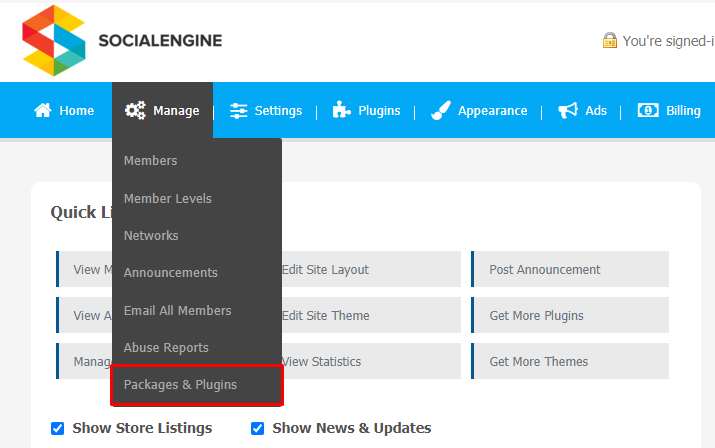 Once selecting the plugin, install this package. Now, return to the admin panel.

As shown in the above image, first choose plugin and a new tab will appear "Member Compliments Plugin". Click on it for all plugin settings configuartions.
Once you click on Member Compliments Plugin, now you will be asked for entering required License Key for plugin activation. Now, your plugin is ready to go!
2. Global Settings
With the help of the Global Settings page, you can configure various important features. Any changes made at this page will affect all the community members of your website. You can enter the license key in the given box.
3. Manage Compliments
This page is used to store all the compliments you have created on your website.New compliments can be created by clicking on the "Add New Compliment Type" link. You are allowed to delete or edit these compliments if required. These complements can be saved by different titles.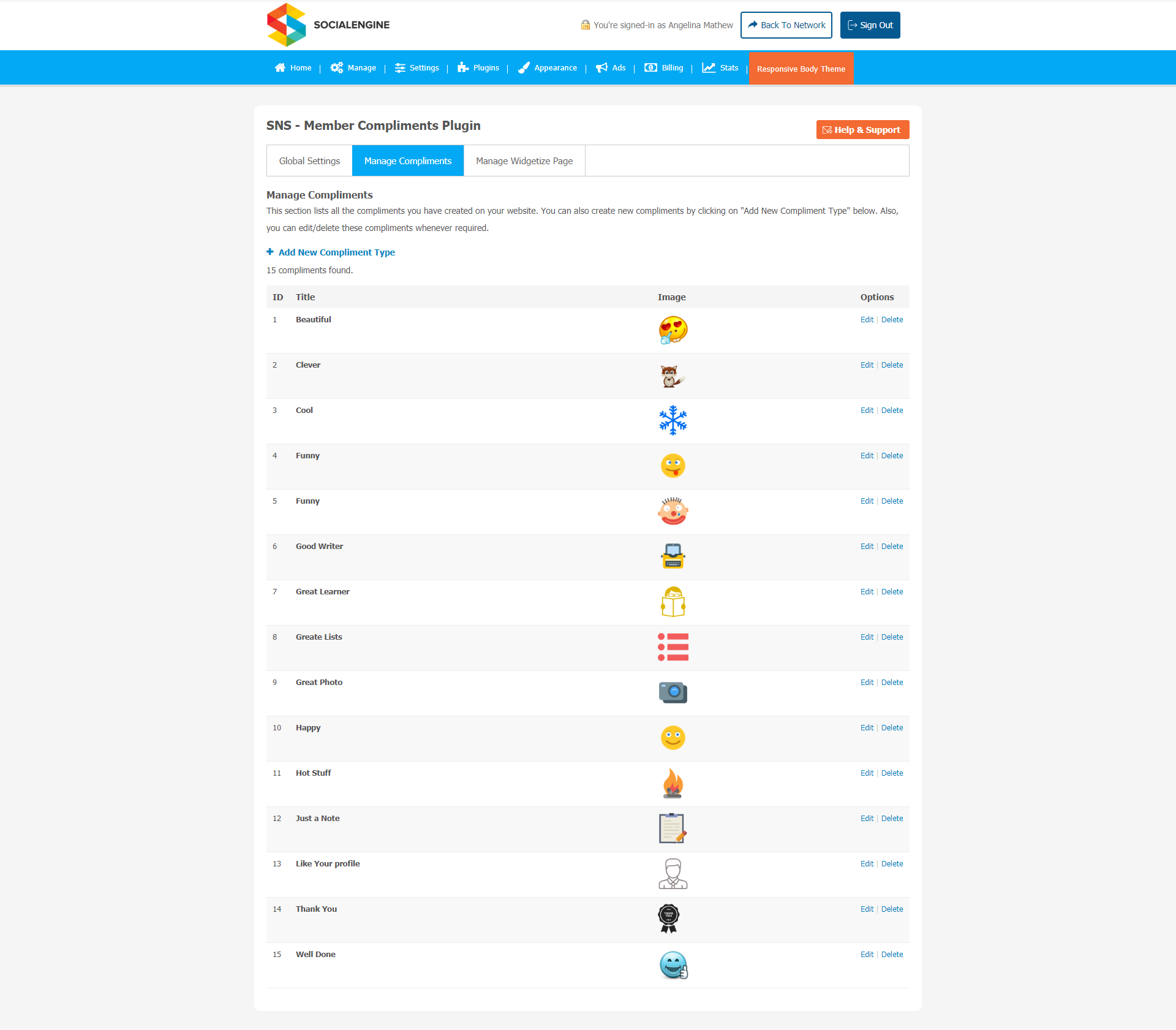 4. Manage Widgetized Page
You can see all the Widgetized Pages of this plugin here. You can easily go to a specific page by clicking on the respective desired link to see the widgetized page. You can also reset the page through the given link below.

Finally!! You have successfully completed the installation procedure and also explored various exciting features of this Member Compliments Plugin. Now, your visitors and website members will be able to access & use your website with new awesome features.
Installation of this plugin is very easy, but if you still need our expert to install this Plugin for you, then you can purchase the service from here: https://socialnetworking.solutions/social-engine/socialenginesolutions-plugin-installation/
Watch Video