As its name suggests, it is a simple yet elegant and multipurpose theme that has all the basic features your SocialEngine website must have. This elegant theme removes all the unnecessary fancy animations & graphic effects and instead focuses more on content. This theme has features like an attractive landing page for your site, quick Login & Signup Popup form for visitors, Responsive Banner Slideshow, Members Cloud widget etc.
Responsive Elegant Theme fulfills all the said requirements and it can be best choice for people belongs from fields like:
Writers
Artists
Designers
Editorial Sites
This theme comes with a pre-built landing page and Login Popup visibility to be shown to the site visitors and it makes it very easy to navigate your website for them.
Key Features of Elegant Theme:-
Attractive Landing Page
Elegant Theme- Mini Navigation Menu
Quick Login & Signup Popup
Footer Menu
Banner Slideshow
Unique Theme Widget
Installation of this theme is very easy, but if you still need our expert to install this theme for you, then you can purchase the service from here: https://socialnetworking.solutions/social-engine/socialenginesolutions-plugin-installation/
Step-by-Step Tutorial Guide for Users:
** This tutorial assumes that you are already logged in to the Admin Panel.**
If not, then you have to log in first to the admin panel after filling the admin account credentials on your website.
1. Installation of Responsive Elegant Theme
In the Main Menu section,
Click on the tab Manage and select "Packages & Plugins" to install this theme.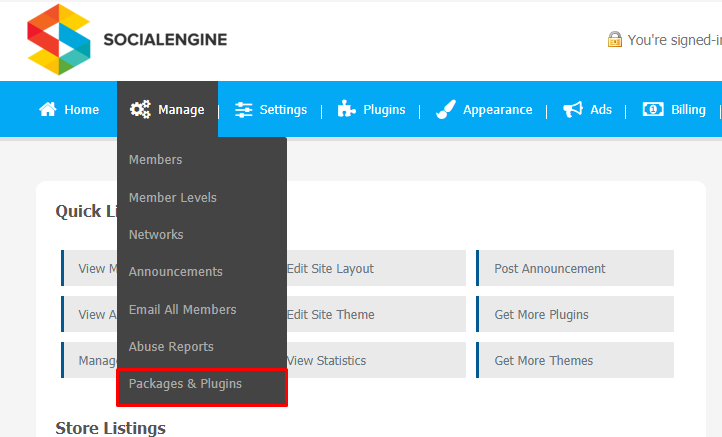 After a successful installation, a new "Responsive Elegant Theme" tab will appear on the main screen.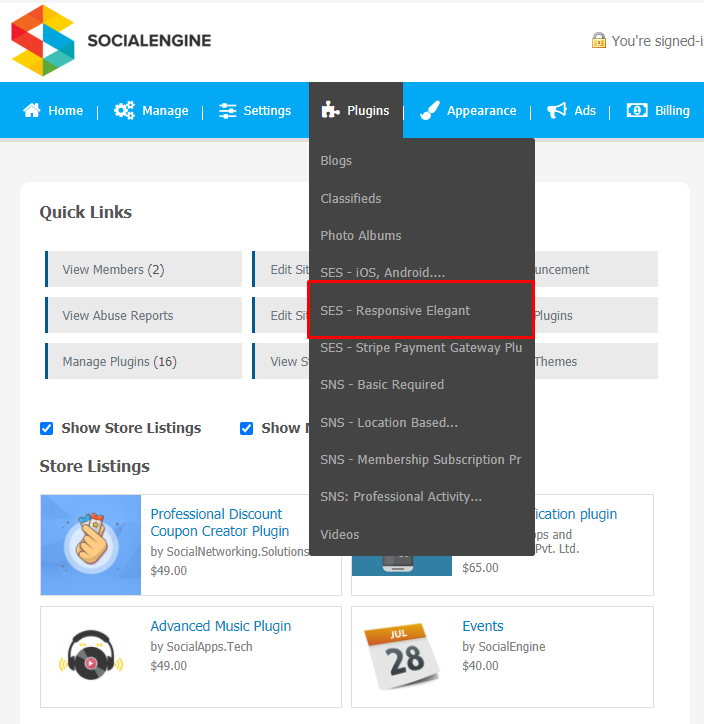 After installing the theme,
Click on the "Responsive Elegant Theme" tab. The setting window will be opened. From this window, the admin can control the whole website and add or remove the required feature considering the target audience.
2. Global Setting
After clicking on "Responsive Elegant Theme", a new window will be opened where you can activate your theme by entering the license key as shown in the below image.
Go to Global Settings.
Enter the required license key and activate your Responsive Elegant Theme.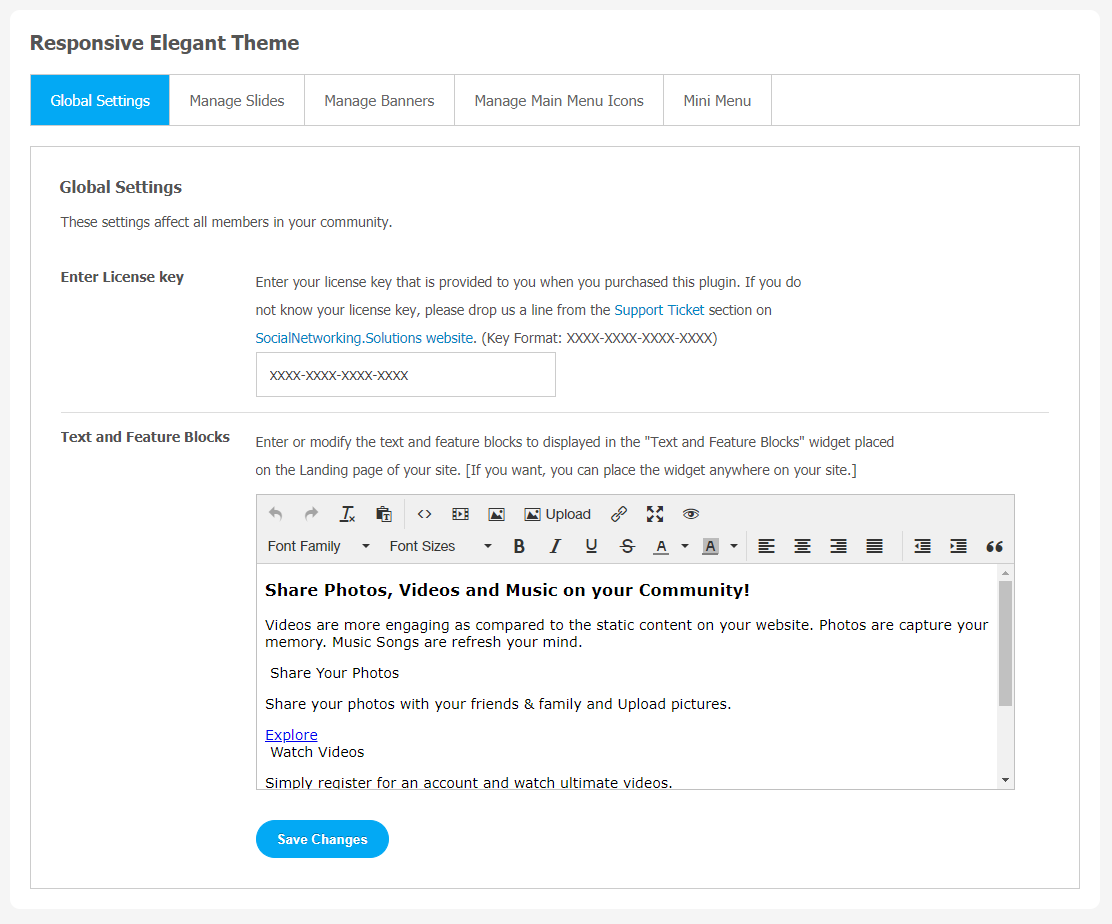 3. Manage Slides
With the help of this page, you can manage slides which will be displayed in the "Elegant Theme- Slideshow" widget. You can add new slides by using the "Upload New Image" link, edit and delete them. If you want to change the order of slides, you can click on the "Save Order" button.
4. Manage Banners
Website owners can choose multiple banner images with customized captions. It will help you to spread a clear brand message to your audience.
You can use the "Create New Banner" link to create a new banner.
Choose the required banner image from your system storage and upload it.
Add Banner Caption for effective brand awareness.
Also, choose your favourite description lines about your business by clicking on the Add link as shown in below image.
Don't Forget to Save Changes.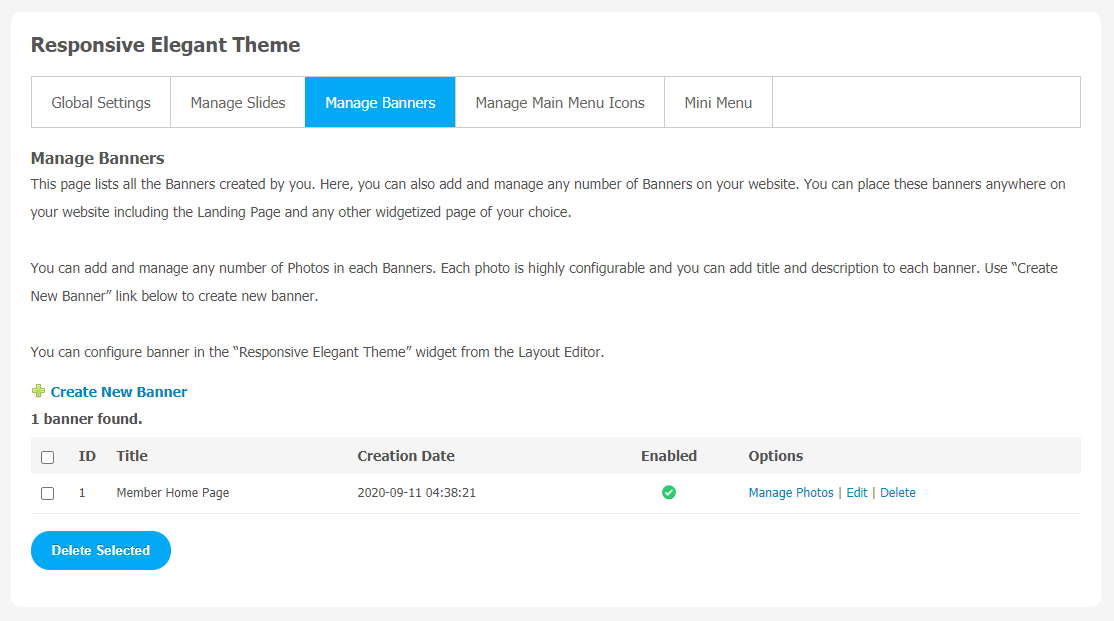 5. Manage Main Menu Icons
Here, you can manage and add main menu icons. You can also edit and delete the icons according to the requirements. List of some popular menu items are Home, Invite, Polls, Likes, Prayers, Quotes, etc.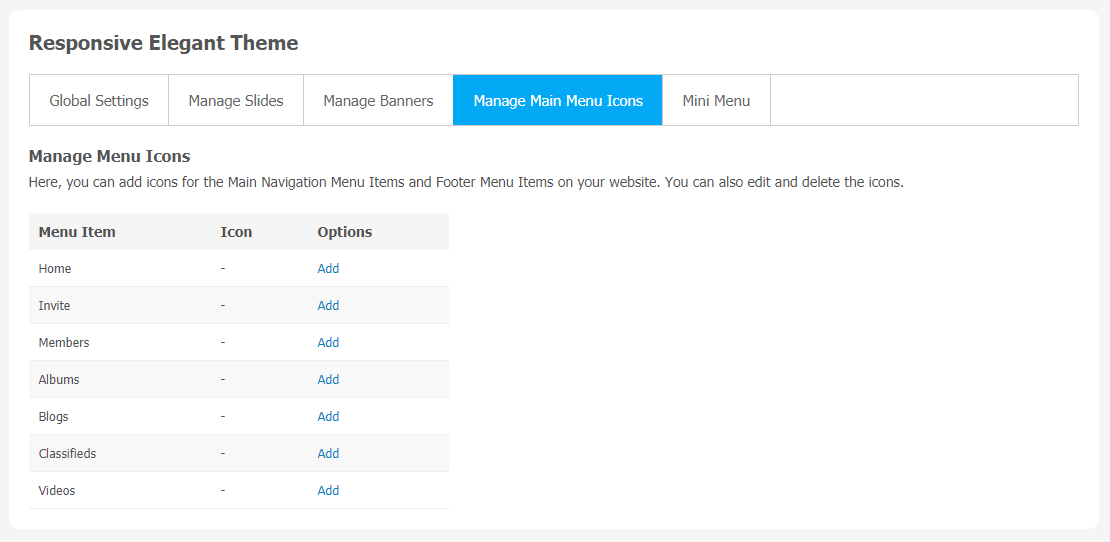 6. Mini Menu
You can manage Mini Menu icons like Updates, Signup, Admin, Setting, Messages, Notifications and lots more. Please note that the new menu item you are creating on this page, will also be created under the SocialEngine core Mini Menu.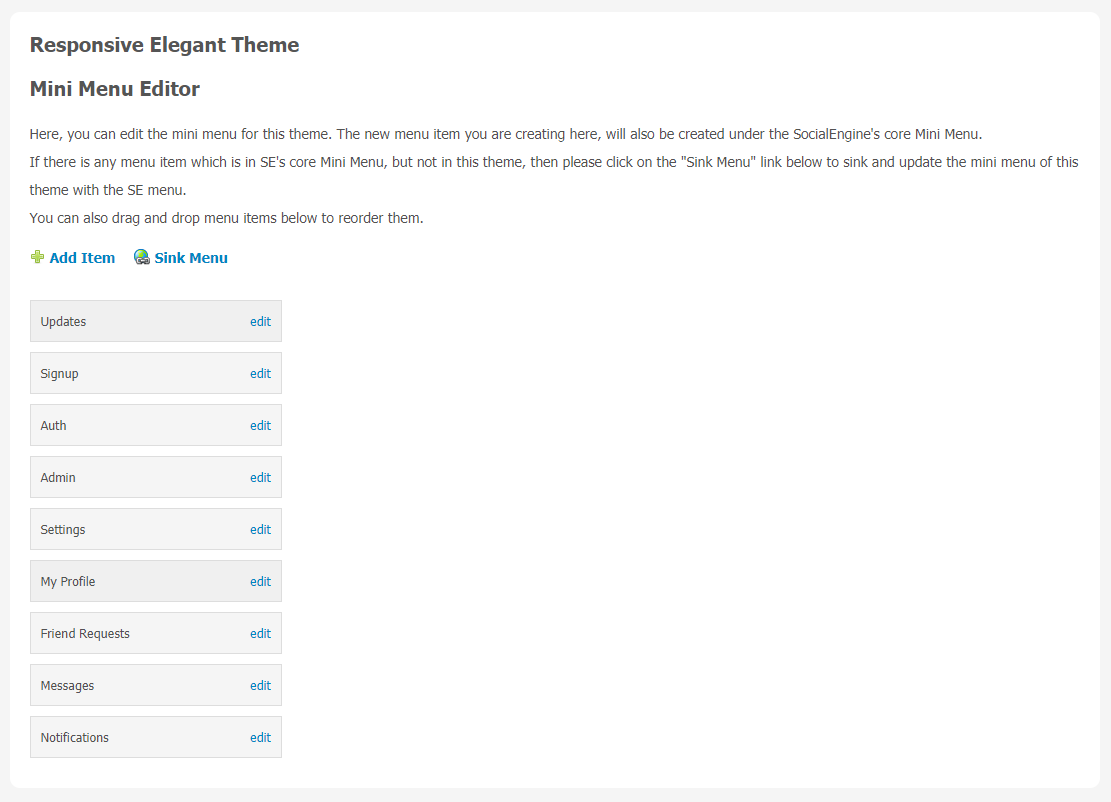 Finally!! You have successfully completed the installation procedure and also explored various exciting features of Responsive Elegant Theme. Now, your visitors and website members will be able to access & use your website with a new refreshing look.
Installation of this Theme is very easy, but if you still need our expert to install this theme for you, then you can purchase the service from here: https://socialnetworking.solutions/social-engine/socialenginesolutions-plugin-installation/