If you are in the news publishing business or in whatever business niche, there are various benefits for having a News plugin on your website.Interestingly, it really doesn't matter which type of news content you add on your website. The key question is, how you can integrate it into your website effectively with this plugin.
If you own this plugin, it will help you to minimize the time and resources needed to manage news content for your website. News/RSS Importer & Aggregator plugin is 100% responsive and easy-to-use with the SocialEngine website.It can be the best choice if you are running a news website to improve its functionalities. You can publish live news on events, latest happenings and keep your visitors updated on recent changes.
You can create news with customize publish date, add location, multiple photo upload, rating and Reviews on news. It also allows you to add RSS links which will help to bring many updated and recent news and your users can subscribe to these news for timely updates. You can take a brief look of more features we are offering with this plugin.
Impressive Features:
Unlimited News & RSS Importing
Configurable Dimensions for News Photos
Custom Public Date
Blacklist URL
Review and Ratings
RSS Settings & Subscription
Four Attractive Profile Designs
Manage News and RSS
News Statistics
Here, we are providing an interactive and easy to follow News/RSS Importer & Aggregator Plugin setup & installation guide which will help you to use & configure it properly on your website & maximize the efficiency of your website by showcasing the exciting features. With this help-guide, you will get a better sense of usage when you actually install this plugin on your website.
Installation of this theme is very easy, but if you still need our expert to install this plugin for you, then you can purchase the service from here: https://socialnetworking.solutions/social-engine/socialenginesolutions-plugin-installation/
Step-by-Step Installation & Tutorial Guide:
** This tutorial assumes that you are already logged in to the Admin Panel.**
If not, then you have to log in first to the admin panel after filling the admin account credentials on your website.
1. Installation of News/RSS Importer & Aggregator Plugin:
1. In the Main Menu section, Click on the tab Manage and select "Packages & Plugins" to install this plugin.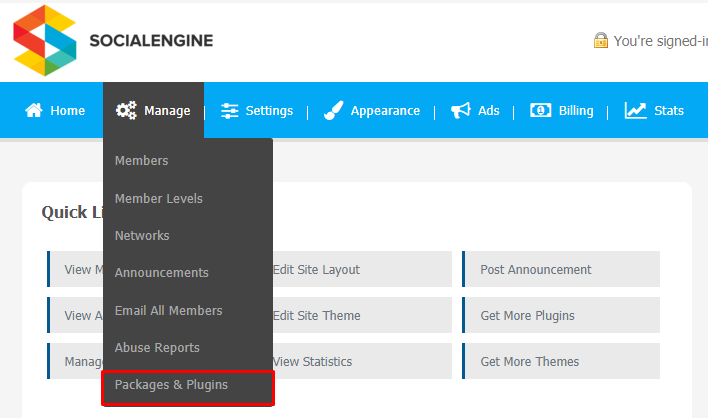 Our Plugin is based on SE standards so this will get installed on your website as any standard theme can. Please read the tutorial on installing themes and plugins in SE here: http://help.socialnetworking.solutions/faq/51/how-to-purchase-and-install-ses-products
2. After the successful installation of the plugin as in Step 2 above, under the plugins section, click on "News/RSS Importer & Aggregator Plugin".

Once you click on plugin, now you will be asked for entering required License Key for plugin activation. Now, your plugin is ready to go!

2. Global Settings
After a successful installation, a new Global Setting tab will appear where all the plugin settings can be managed easily. First, click on Global Settings. Then,
You can set Welcome as Landing Page.
Enter Text for "News"
"News" Text in URL
Enable Welcome Page Visibility
Redirection after News Creation
Set Large Photo Height and Width
Enable Location
Enable Custom News Publish Date
Allow to Favourite News
Set Default News Profile Page

3. RSS Settings
Any changes made in this settings page will be applicable for all your community members. You can ..
Enable RSS
Allow Subscribe Rss
Choose Maximum Number of Fetched News
Set numbers for "Remove Old News"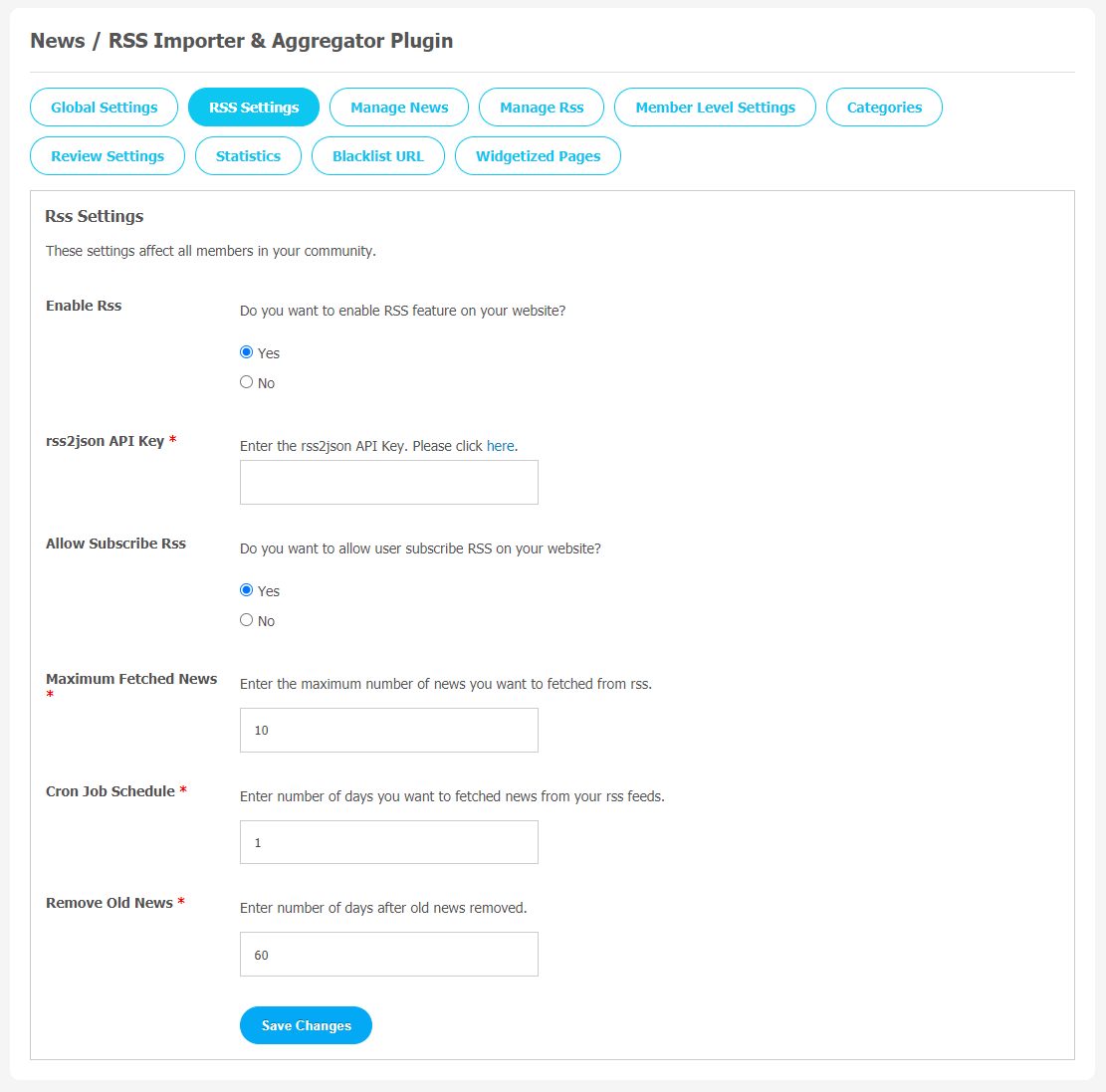 4. Manage News
This section allows admin to monitor and manage News your users have posted on the website. You can track News by their name, owner name, and date. You can choose News of the day, Featured, Sponsored, Featured, verified. Also, site admin can approve or disapprove news if they find it offensive as per their platform guidelines.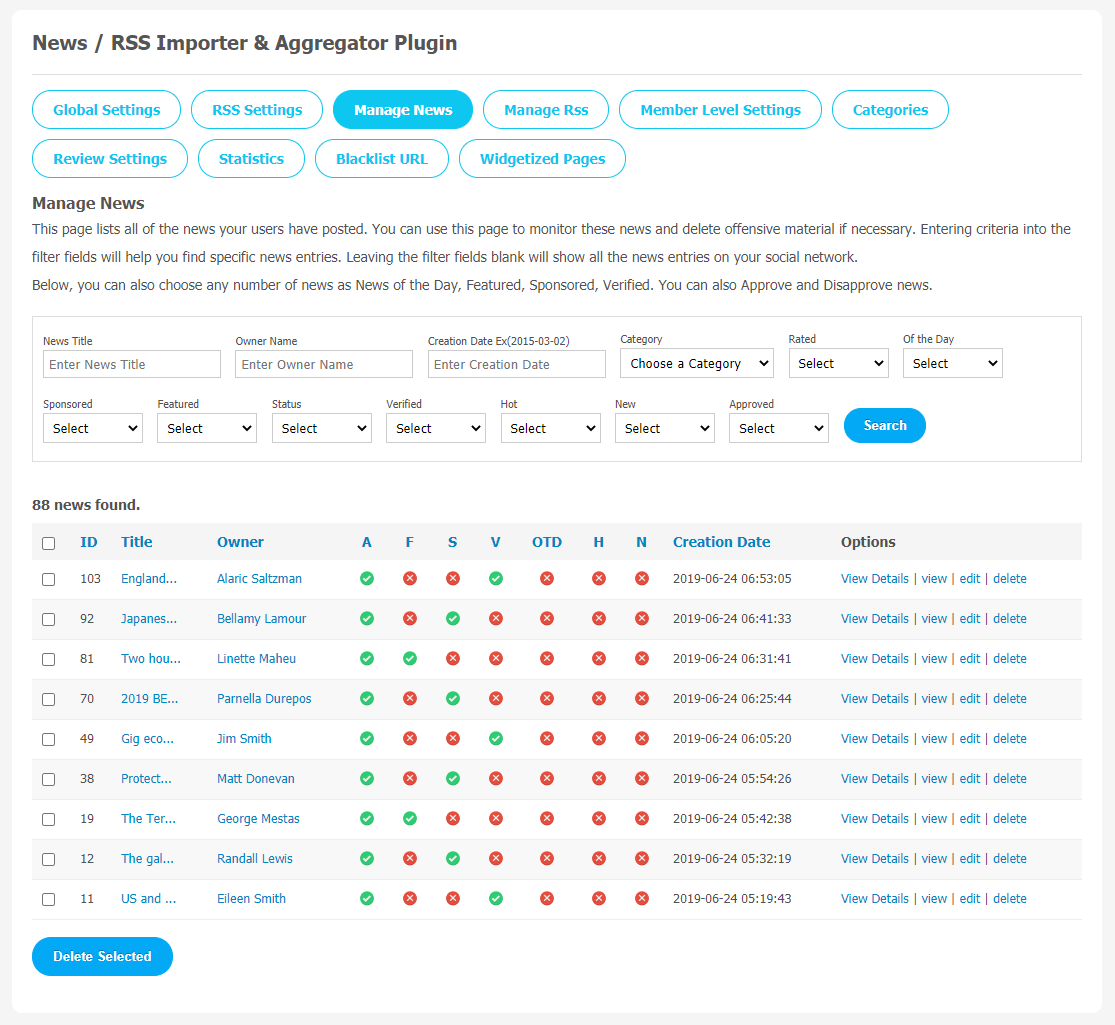 5. Manage RSS
All the "rss" created by website users are saved on this page. This section allows the admin to monitor and manage all rss created by website users. They are also allowed to delete rss if required. You can track rss entries by their name, owner name, and date.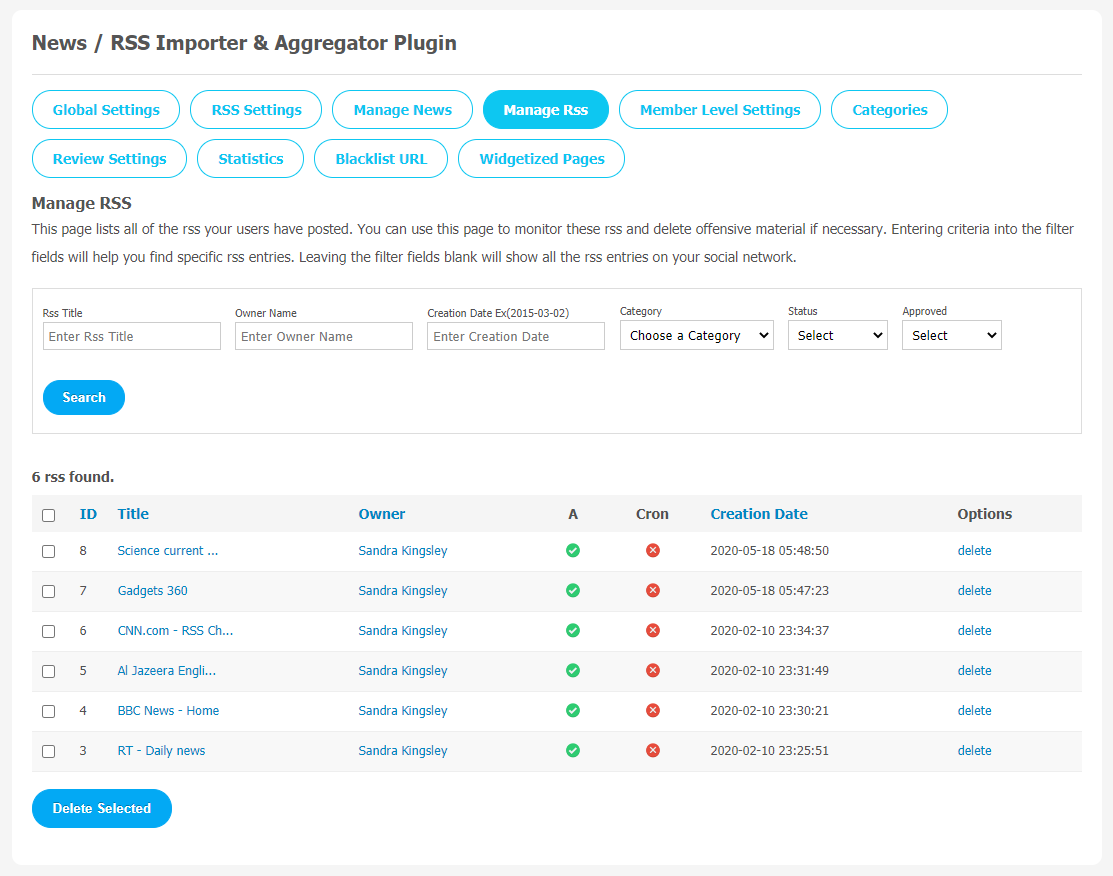 6. Member Level Settings
Member Level Settings can be used to manage some features settings which will be applicable for various members levels depending on whom you select. You can manage visibility of your News for registered members on your site. You can enable or disable the viewing of News to specific member levels by selecting Yes/No as shown below. You can manage settings like Allow Creation of News, Allow to Edit News, Deletion of News and Commenting on News, News Privacy, News Comment options, Maximum Allowed News Entries from this panel.

7. Categories
You can create a category for the News by clicking on "Add New Category". You can choose options like Title,Slug URL, Description, Profile Type to be associated with the category, icon and Thumbnail. New Categories helps your audience to navigate your website very easily. Also, there are multiple levels of categories creation options you can choose from the Parent Category.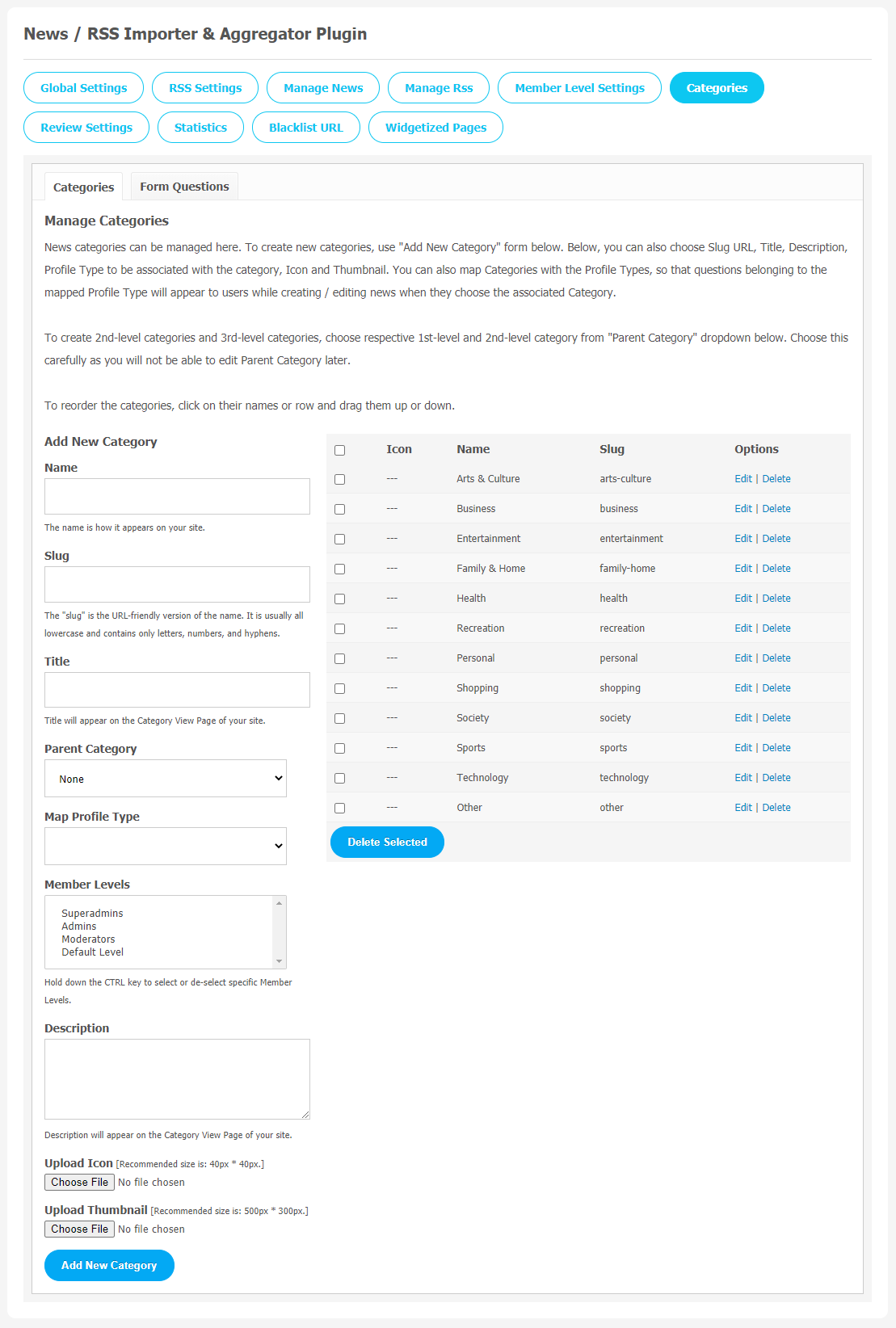 8. Review Settings
(a) Review & Rating Settings
This section lists the settings for the review. These settings include
Allow Reviews
Allow Reviews on Own News,
Allow Pros in Reviews
Allow Cons in Reviews
Allow Description in Reviews
Allow Recommended Option
Allow Share Option
Allow Report Option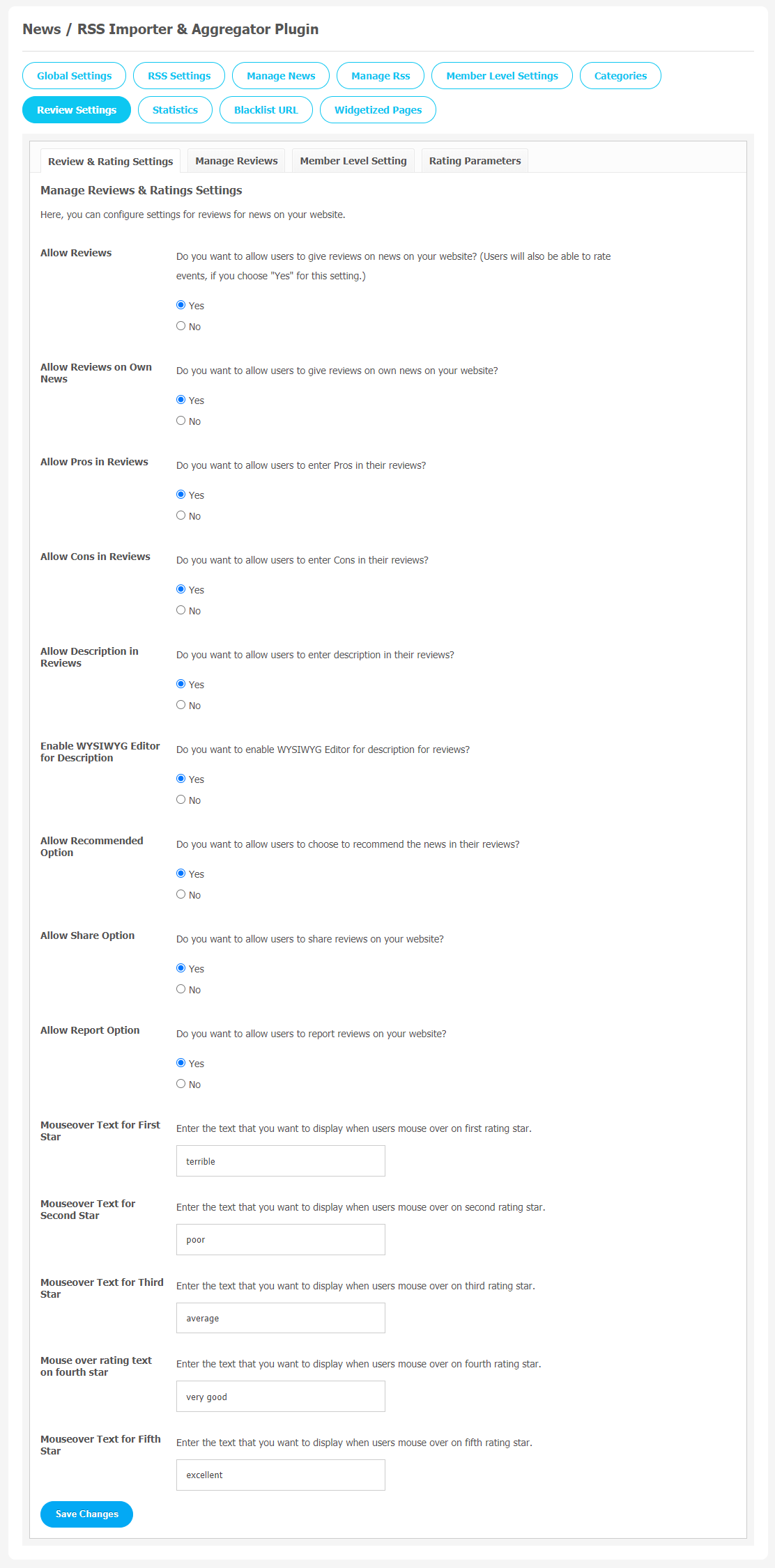 (b) Manage Reviews
In this section, you can manage various reviews which were created yet. You can delete the reviews which you find incorrect/offensive. Here you can search any reviews by filling various fields like review title, owners name, creation date, etc. You can mark any review as featured, verified and of the day.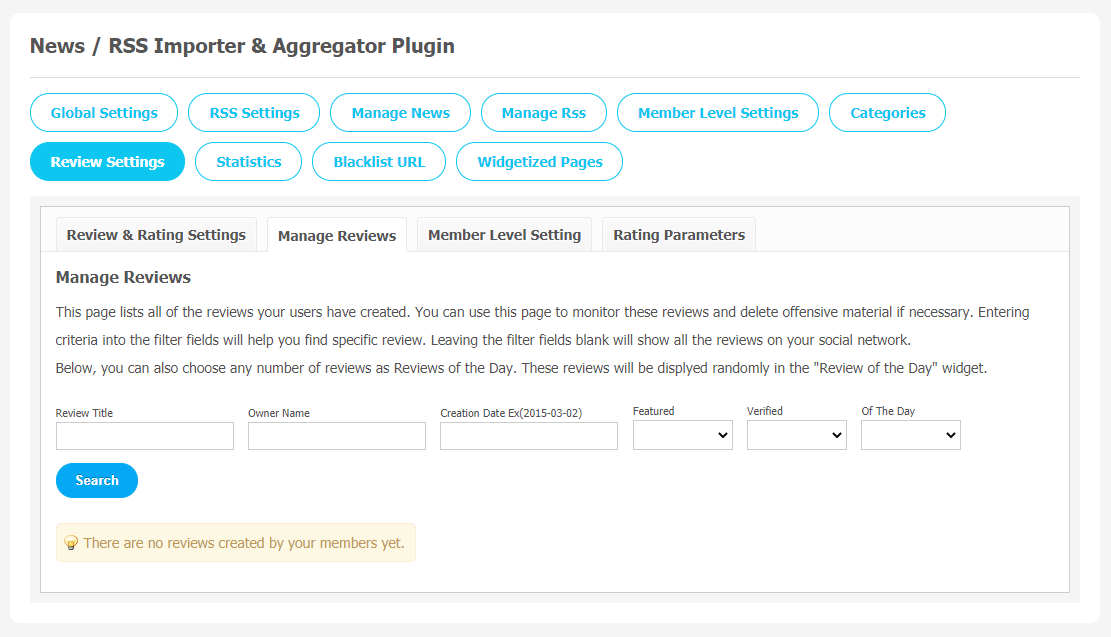 (c) Member Level Settings
These are the settings which are based on the different member levels configured by the admin of the site. These settings allow you to view, write, edit, delete and comment on the reviews.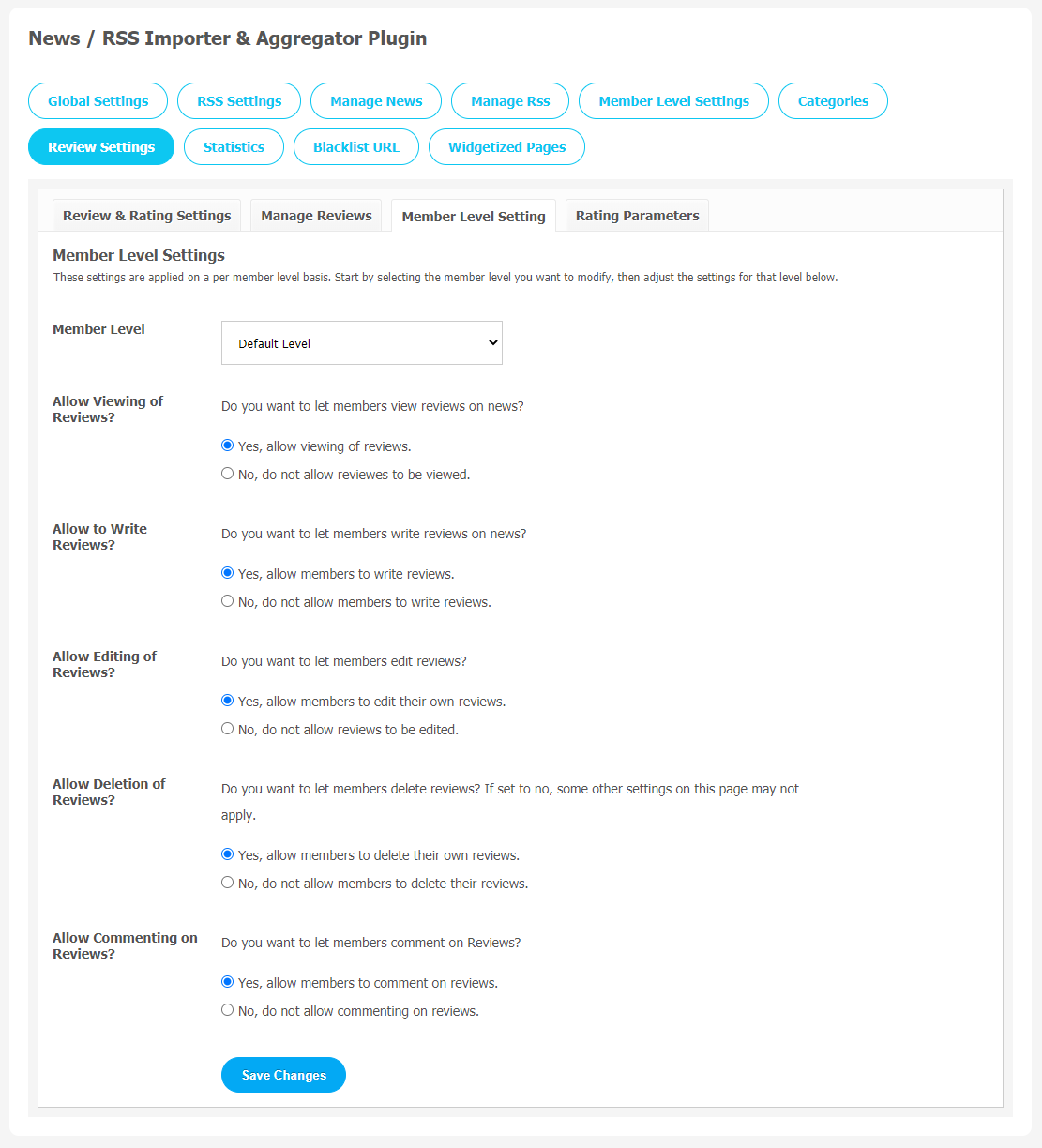 (d) Rating Parameters
Under this section, you can add the parameters for the given reviews to the different profile types.
(a) Categories & Mapping
You can create a category for the Event by clicking on "Add New Category". You can choose options like Title,Slug URL, Description, Profile Type to be associated with the category, icon and Thumbnail.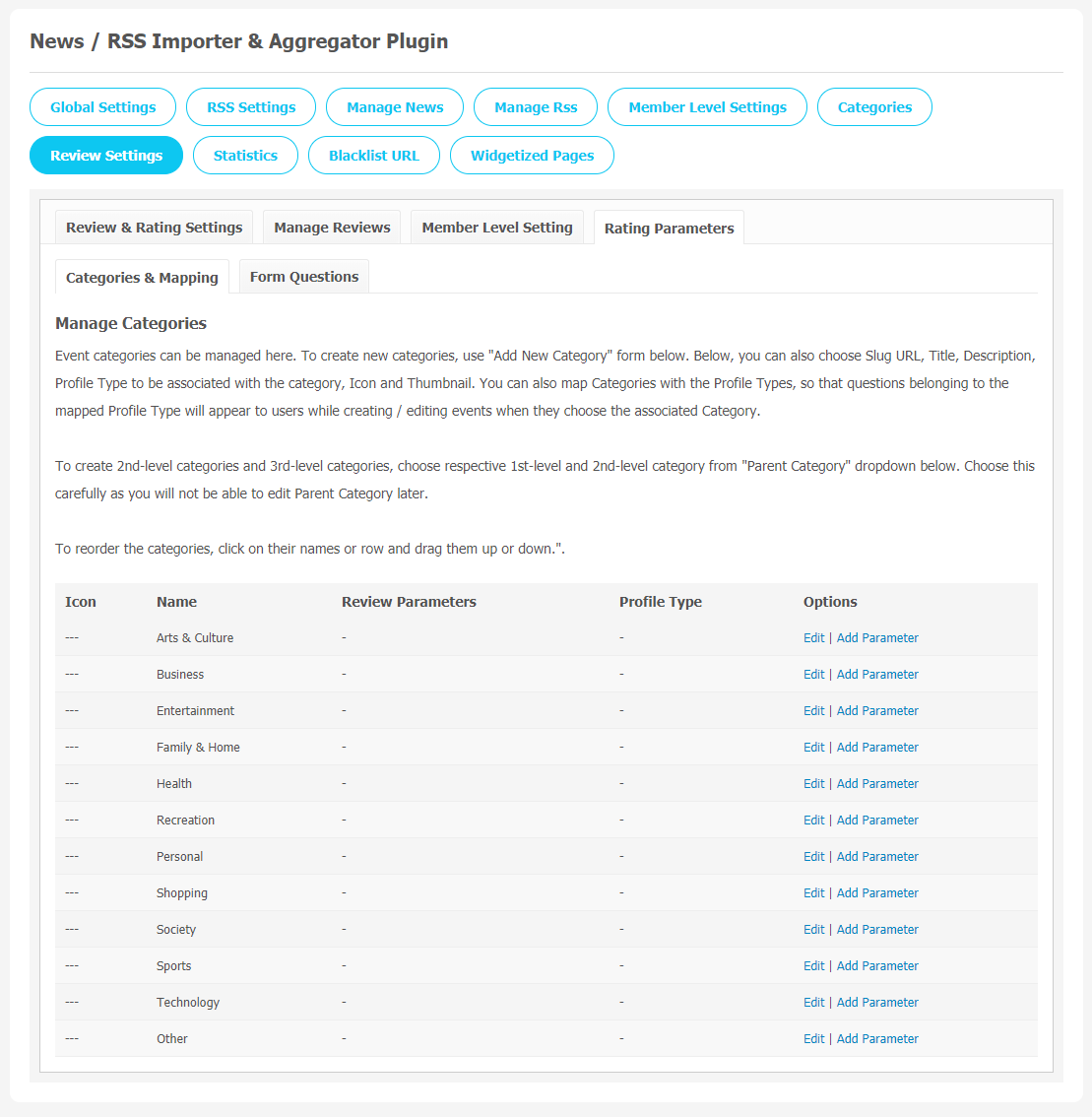 (b) Form Questions
You can use this page to provide some information about the albums of the users. You can create some customs fields of your choice.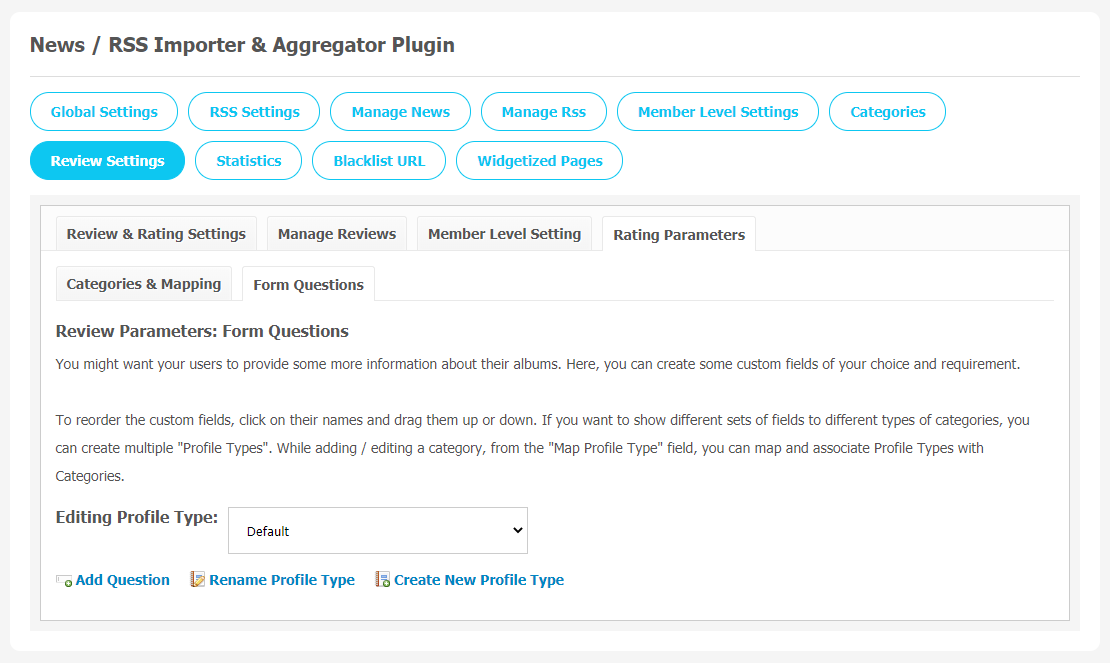 9. Statistics
Statistics helps website owners to better understand the important event activity that is happening on their website. We often require these statistics to track our website performance too. You can see the list of important News statistics on this page. Through this page, admin can track how many total approved news, featured & sponsored news and total numbers of views have been registered with the website.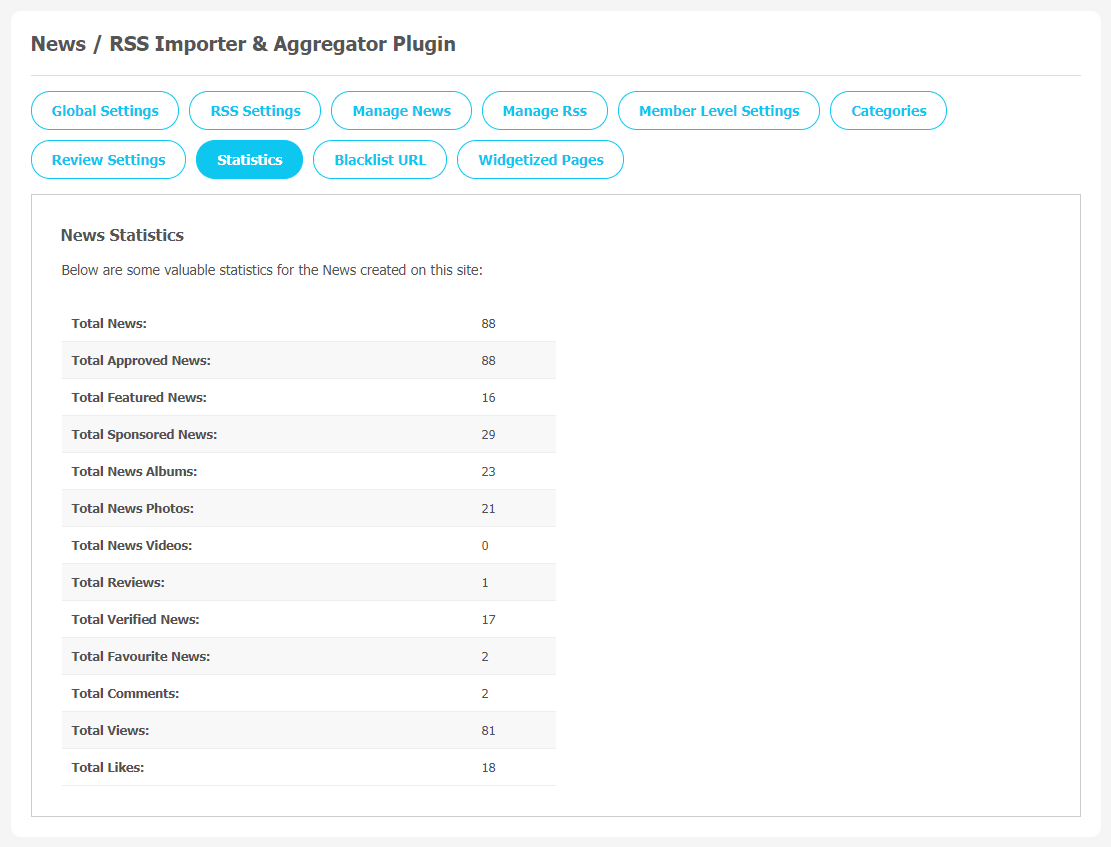 10. Blacklist URL
This page stores all the Blacklist URLs that have been created by you on your website.You can monitor them with the help of this page. You can add a new URL by clicking on the "Add New URL" button link.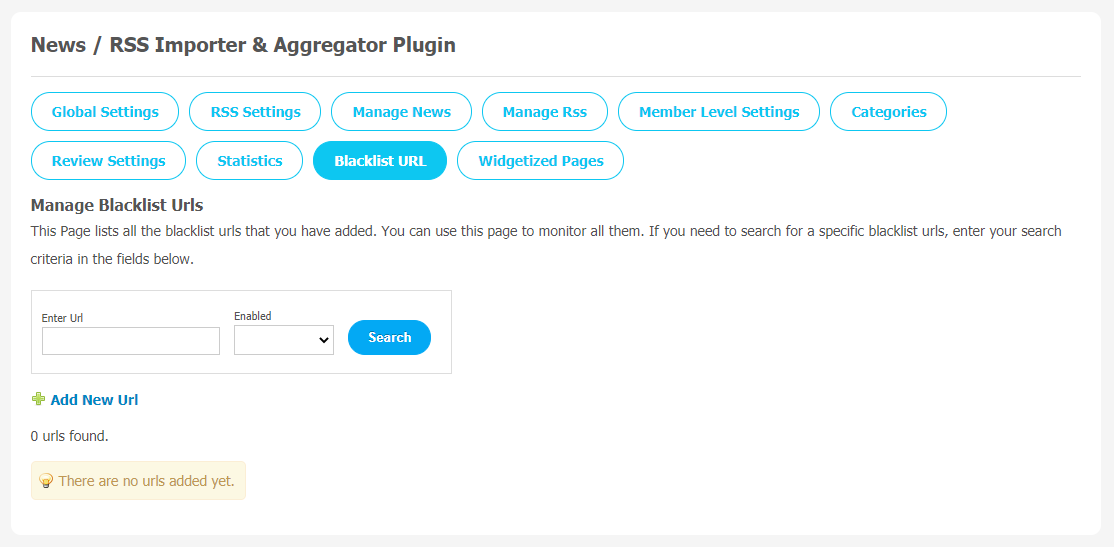 11. Widgetized Pages
All the widgetized pages are shown in this section. You can go to "Layout Editor" by clicking on the respective Widgetize Page Link.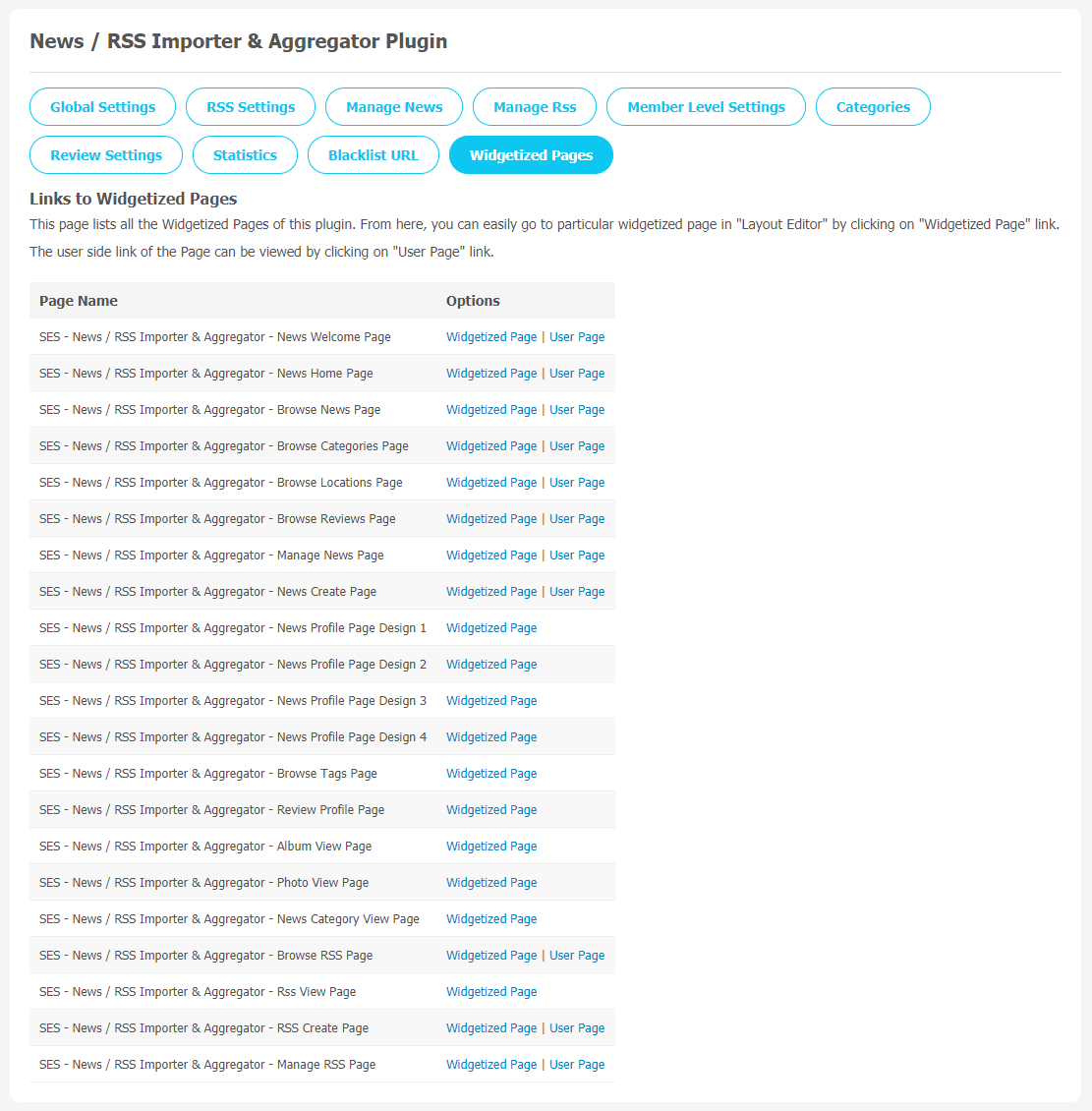 With this step-by-step tutorial guide, we are expecting you have successfully learnt how to use this plugin for your SocialEngine website. These are the key features of this News/RSS Importer & Aggregator Plugin. We hope you have successfully completed the tutorial guide and ready to go. You can use this plugin and utilize the new opportunities of engaging with customers.