When we look for a website theme, usually they come with lots of colors,complex layouts, and flashy animations. In most cases, you dont require all that. We always look for a theme that has a good design layout that helps you support your business goal and the theme must look attractive and appealing for new visitors.
If you use such a theme that looks great but doesnt help to gain business profits, then it is not a good theme and makes no sense in investing your money.
The whole purpose of web design is to help users find information they search and help site owners to gain monetary benefits at the same time. If you have any social networking platform which has a good amount of audience then investing on responsive and multipurpose themes can be a wise decision.
Responsive Material Theme fulfills all the said requirements and it can be best choice for your company, business or social networking whether its
Restaurant Website
Beauty Salon Website
Company Website
Online E-Commerce Website
This theme comes with a pre-built landing page and the scrolling box in the header and it makes it very easy to navigate your website for your users.
Key Features of Material Theme
Attractive Landing Page
Elegant Footer
9 Pre-Configured Color Schemes
Unique Theme Widget
Installation of this theme is very easy, but if you still need our expert to install this theme for you, then you can purchase the service from here: https://socialnetworking.solutions/social-engine/socialenginesolutions-plugin-installation/
Step-by-Step Tutorial Guide for Users:
** This tutorial assumes that you are already logged in to the Admin Panel.**
If not, then you have to log in first to the admin panel after filling the admin account credentials on your website.
1. Installation of Responsive Material Theme
In the Main Menu section,
Click on the tab Manage and select "Packages & Plugins" to install this theme.
After a successful installation, a new "Responsive Material Theme" tab will appear on the main screen.

After installing the theme,
Click on the "Responsive Material Theme" tab. The setting window will be opened. From this window, the admin can control the whole website and add or remove the required feature considering the target audience.
2. Global Setting
After clicking on "Responsive Material Theme", a new window will be opened where you can activate your theme by entering the license key as shown in the below image.
Go to Global Settings.
Enter the required license key and activate your Responsive Material Theme.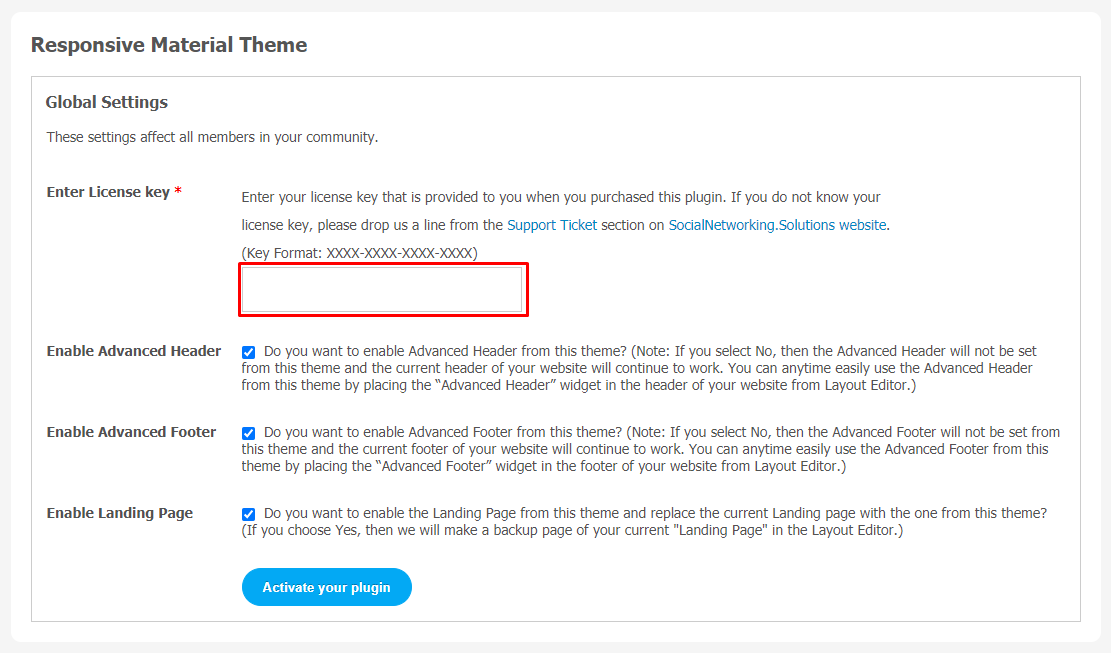 After entering the license key, you can manage theme width and landing page background image according to your requirement.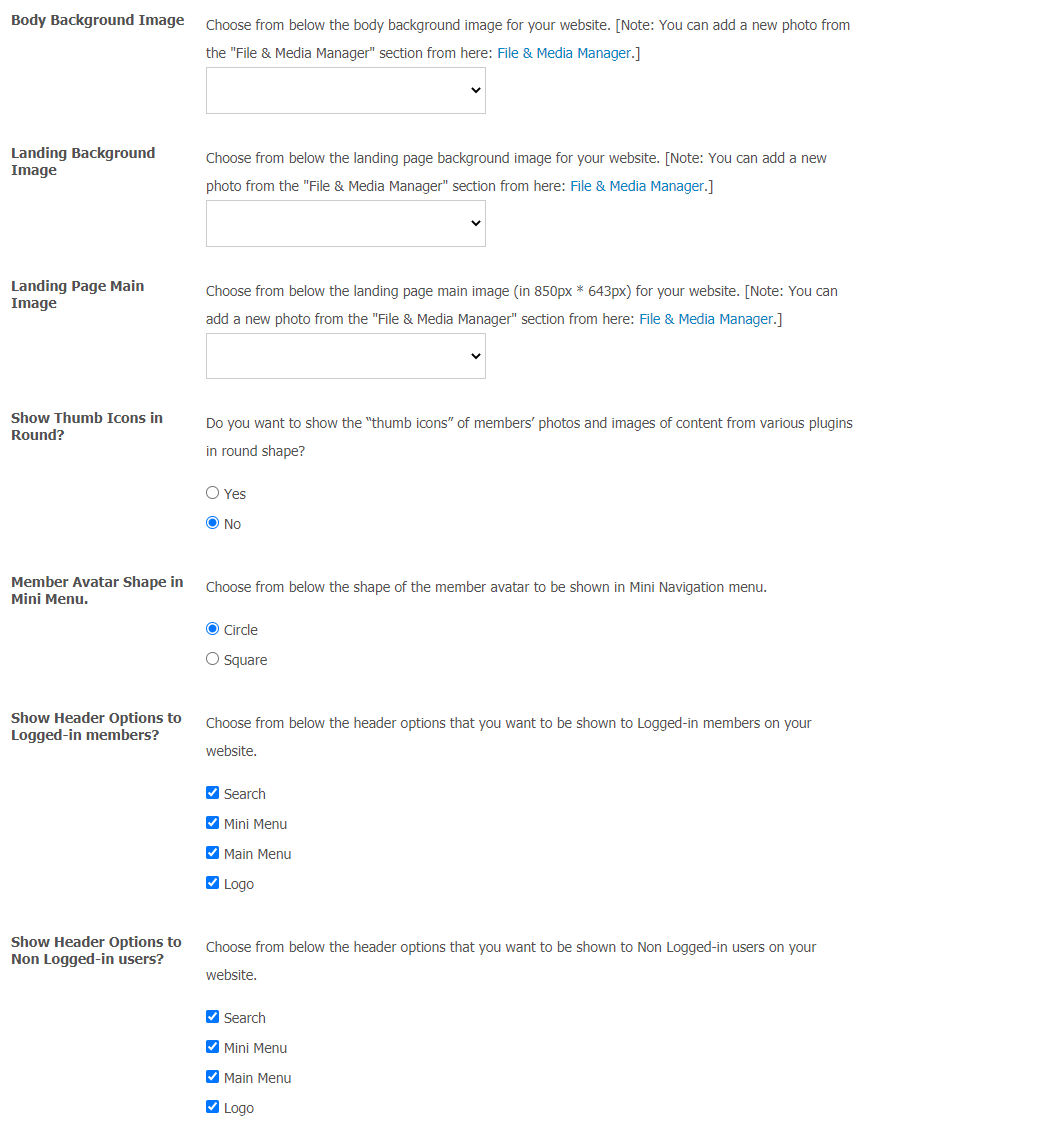 3. Manage Header
You can manage Header Content, Logo, Menu Count and a lot more through this section. The whole setting process requires few clicks and users can see these changes at the user panel.
(a) Header Setting
(b) Manage Module for Search

(c) Main Menu Icons
Here, you can manage and add main menu icons. You can also edit and delete the icons according to the requirements.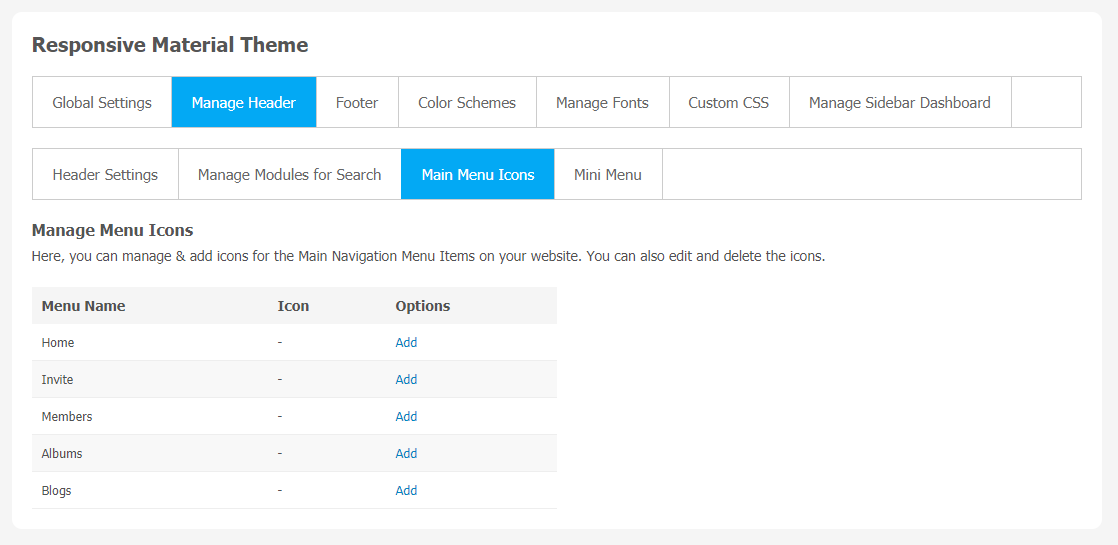 (d) Mini Menu
You can manage Mini Menu icons like Updates, Signup, Admin, Setting, Messages, Notifications and lots more.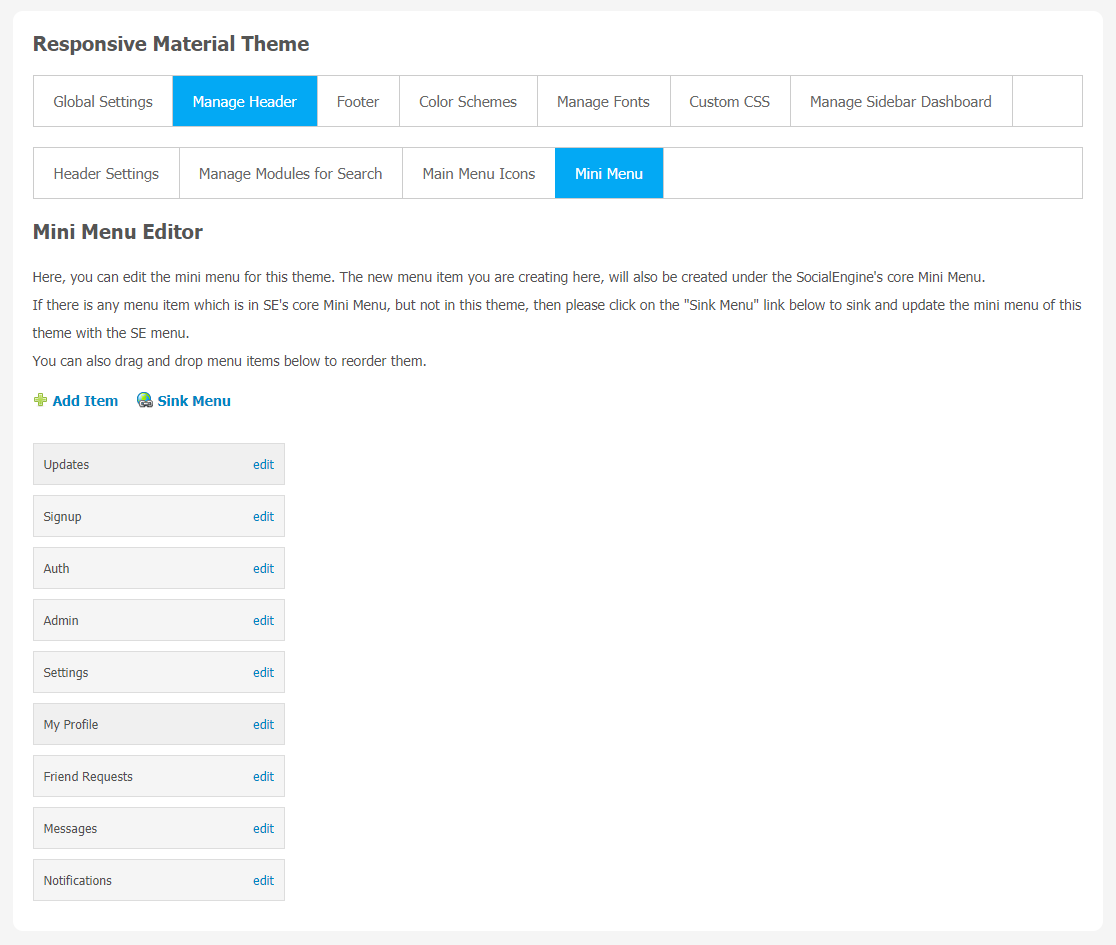 4. Footer
In the footer section, you can make changes in text and also control who can see those changes. You can add your links on multiple social media sites. You also can enable and disable any social media site as per your requirement.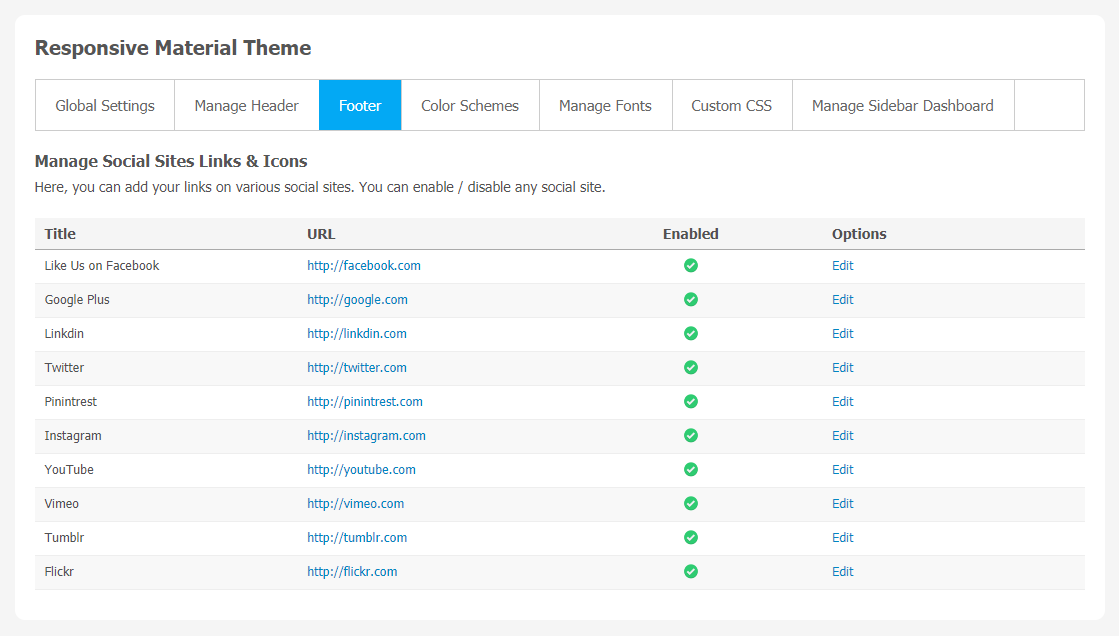 5. Color Schemes
You can add custom CSS for this theme. We would recommend you to add your CSS changes here instead of Theme.css file so that you do not lose your changes after theme up-gradation. These changes will nicely show on your website. Here, total 9 color schemes are available with different colors options.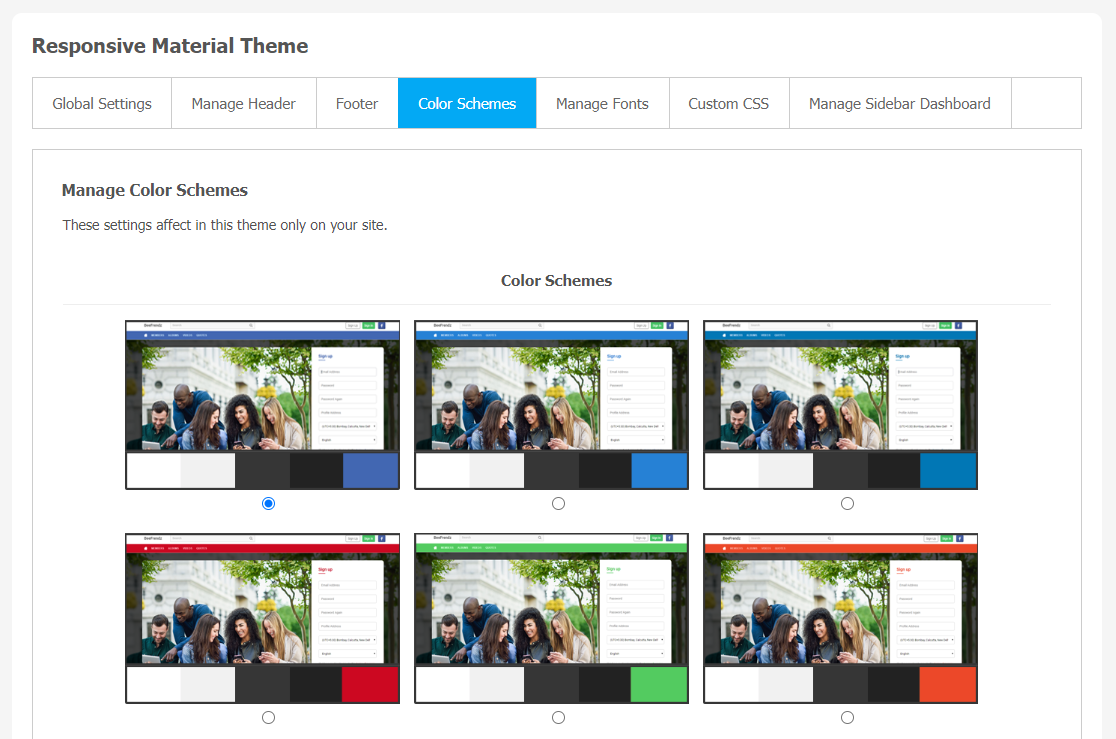 (a) Make Your Own Theme Color
Choose your favorite color for your theme in just a single click. Also, if you don't like the available color options, you can make your own theme color combinations in just a few easy steps. Create your own theme color by clicking on "Make your Own Theme".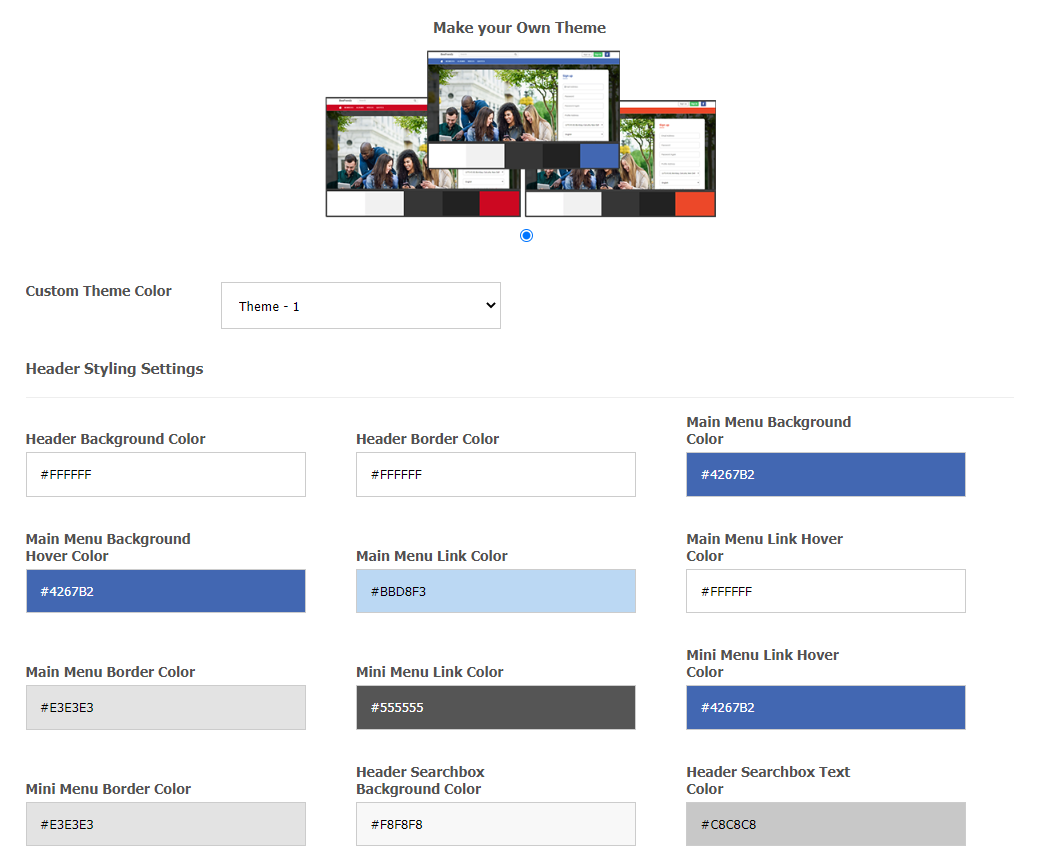 7. Manage Fonts
From this admin panel setting you can configure various font settings for this theme on your website. You can also select to enable the Font Combinations from this section.
You can easily manage family & size in a single click for the following elements on your website:
Body – Font Family & Size
Heading – Font Family & Size
Main Menu – Font Family & Size
Tab – Font Family & Size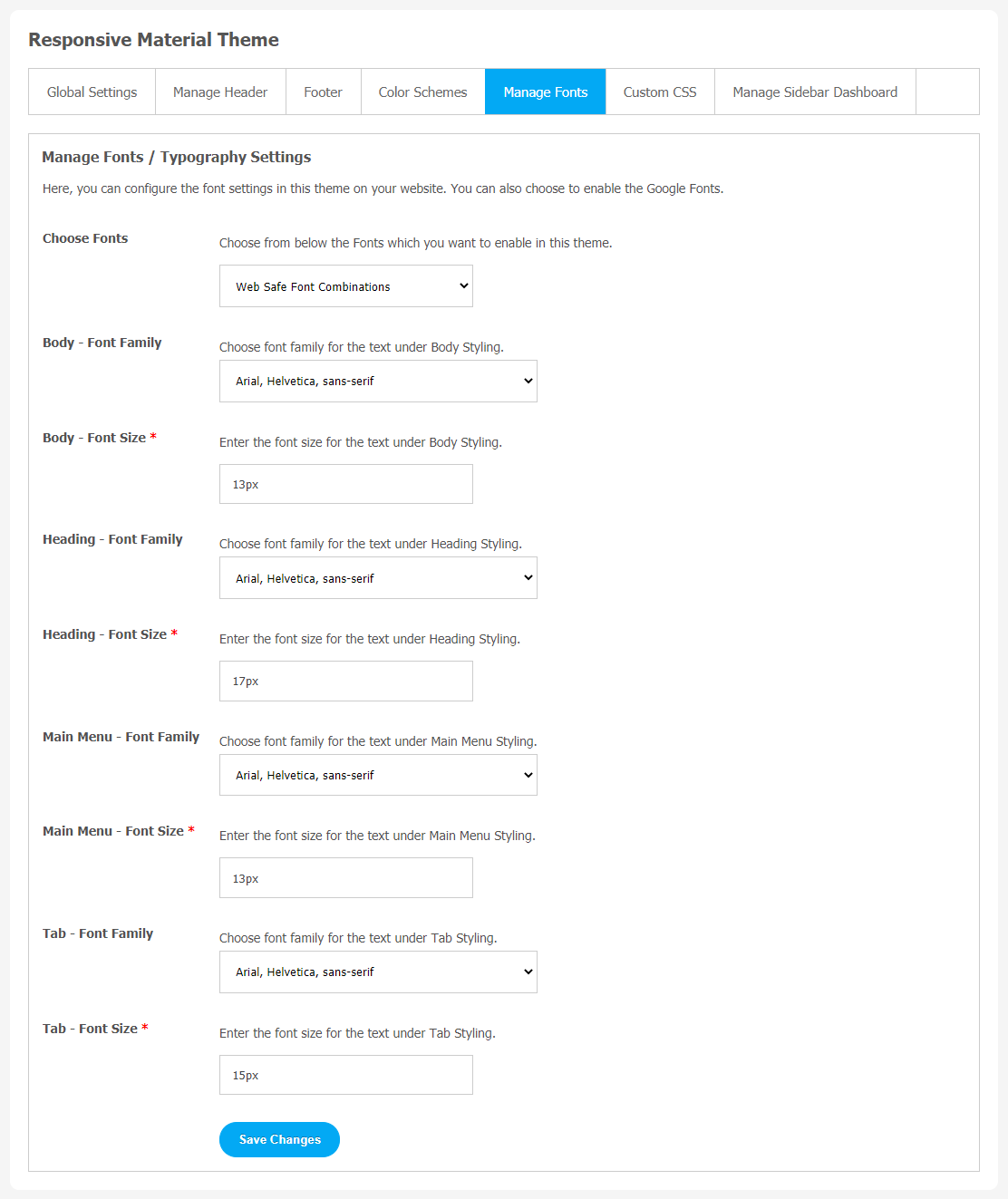 8. Custom CSS
You can add custom CSS for this theme. We suggest you to add your CSS changes here instead of Theme.css file so that you do not lose your changes after theme up-gradation. These changes will nicely show on your website.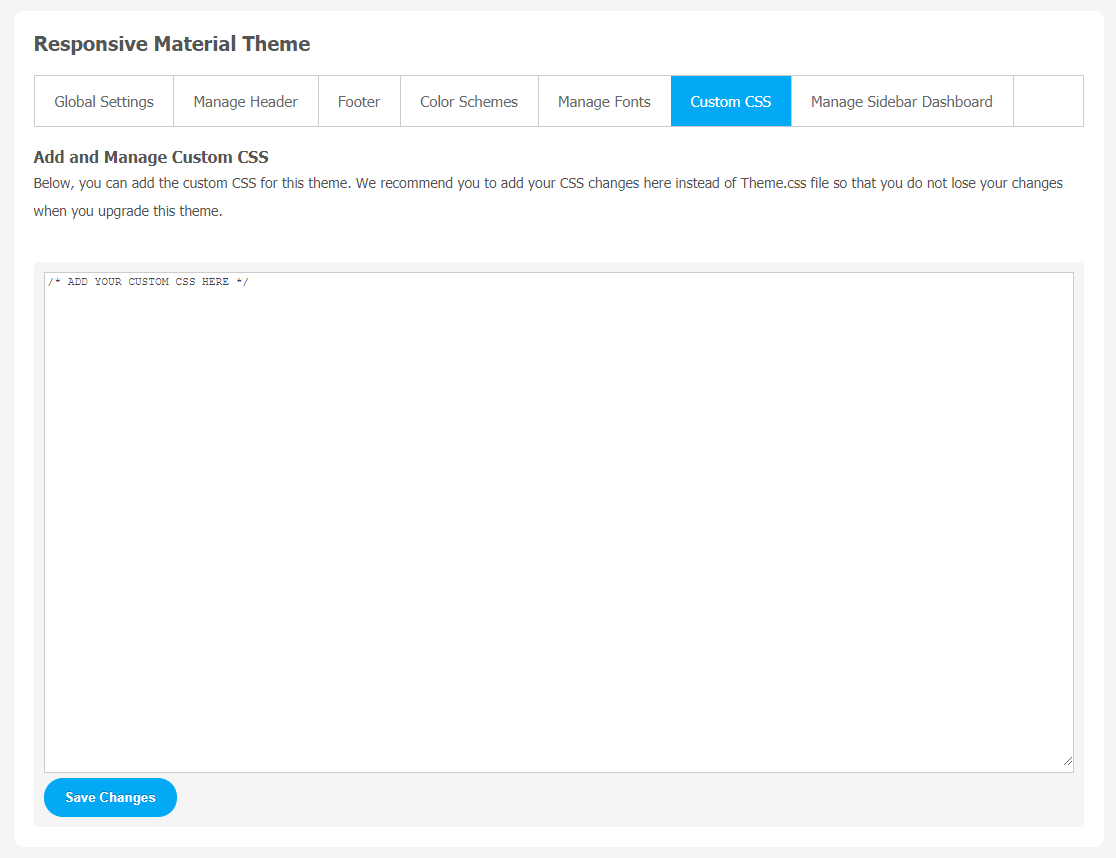 9. Manage Sidebar Dashboard
In the sidebar dashboard, you can create categories and manage links to be shown in the Dashboard widget of your website arranged under many categories.
You can delete, edit and enable/disable any category and links from here.
Finally!! You have successfully completed the installation procedure and also explored various exciting features of Responsive Material Theme. Now, your visitors and website members will be able to access & use your website with a new refreshing look.
Installation of this Theme is very easy, but if you still need our expert to install this theme for you, then you can purchase the service from here: https://socialnetworking.solutions/social-engine/socialenginesolutions-plugin-installation/