When you visit any website for the first time, simple yet effective website layout is what draws our attention. First impressions can make a powerful impact that assures either a new visitor will stay or leave your website. Headers are considered the most fundamental block of any website. It really doesn't matter which genre your website belongs to, having a Powerful Header Management Tool always keeps you ahead in the game of user-engagement.
Header is a place on a website where key links are given. If it is well-represented and managed, half the job is done. Because visitors can easily find what he/she is looking for in the least possible time.
Advanced Header Plugin fulfills all the above requirements with an astonishing admin-panel interface. This plugin comes with features like Easy Customization of icons for Mini & Main Menu Items, settings for Header like Logo, Header Options, Menu Count,Background Image, Color Schemes and Font management which can transform your website into a complete refreshing look.
Key Features at a Glance
Easily Configurable Main Menu
15 Attractive Header Designs
15 Pre Configured Color Schemes
Quick Login & Sign Up
Logo Management
Manageable Module for Search
Extra Links in Mini Menu
Easily Configurable Fonts
Header Options for Logged In/Non Logged In Members
If you exciting to see the live demo of this plugin, you can click on the given link: https://themebuilder.socialnetworking.solutions/
Here, we are providing an interactive and easy to follow Advanced Headers Plugin setup & installation guide which will help you to use & configure it properly on your website & maximize the efficiency of your website by showcasing the exciting features. With this help-guide, you will get a better sense of usage when you actually install this plugin on your website.
Installation of this Plugin is very easy, but if you still need our expert to install this plugin for you, then you can purchase the service from here: https://socialnetworking.solutions/social-engine/socialenginesolutions-plugin-installation/
Step-by-Step Installation & Tutorial Guide:
** This tutorial assumes that you are already logged in to the Admin Panel.**
If not, then you have to log in first to the admin panel after filling the admin account credentials on your website.
1. Installation of Advanced Headers Plugin:
a) In the Main Menu section, Click on the tab Manage and select "Packages & Plugins" to install this plugin.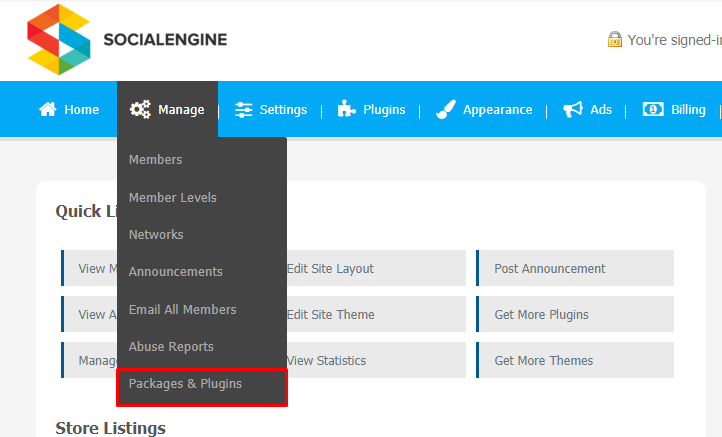 b) Our Plugin is based on SE standards so this will get installed on your website as any standard plugin can. Please read the tutorial on installing themes and plugins in SE here: http://help.socialnetworking.solutions/faq/51/how-to-purchase-and-install-ses-products

c) After the successful installation of the Advanced Headers Plugin as shown in Step 2 above, under the plugins section, click on "Advanced Headers Plugin".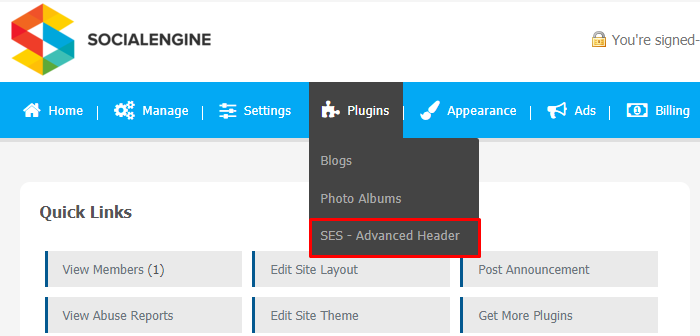 You will be prompted to enter the license key to activate this plugin. Please enter the license key provided by us in the given field.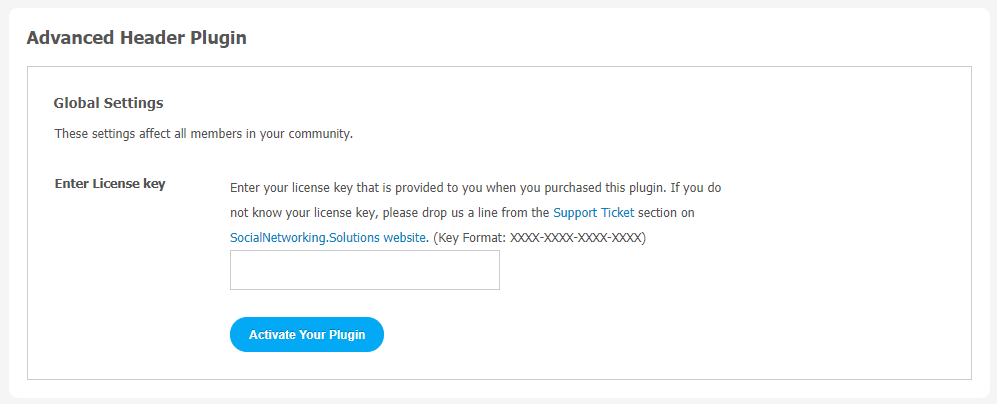 2. Global Settings
After a successful installation, a new Global Setting tab will appear where all the plugin settings can be managed easily. First, click on Global Settings. Then,
Enter the required license key in the below-shown box.
Choose your favourite Avatar Shape for Member in Mini Menu
Enable Popup for Sign In & Sign Up
You can also your users to Close SignIn Popup
Choose Logo and Background Image for Login & Sign Up Popup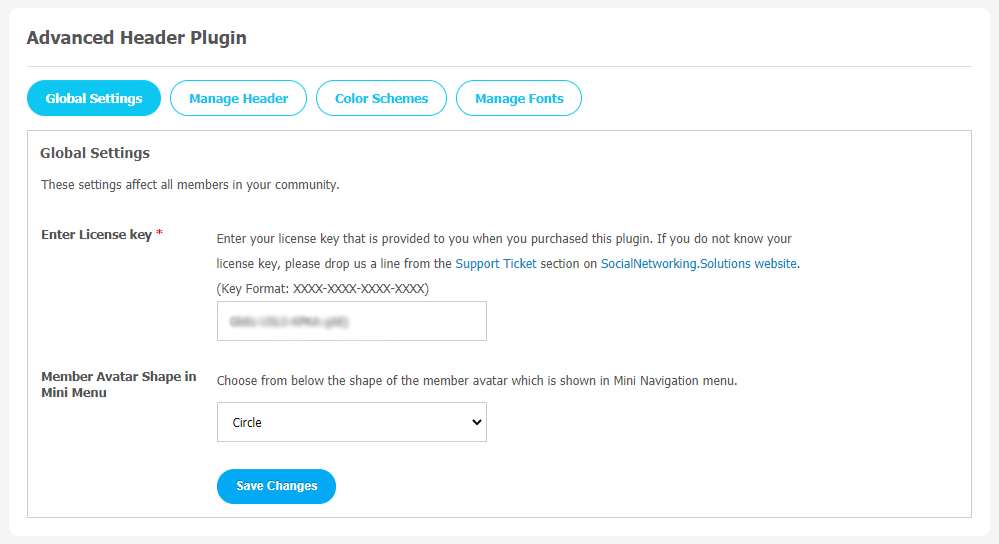 3. Manage Header
This plugin is all about header. This page is categorized into four sections- Header Settings, Manage Module for Search, Main Menu Icons, Mini Menu Icon,Mini Menu. You can configure all the header related settings from this page.
(a) Header Settings
This page is used to manage settings for the header, main & mini navigation menus of your website. You can see the exciting templated design on this page. You can select your favorite header template design from these given options.
Some more features like Main Menu Alignment, Logo in Header, Header Options for Logged In Members as well as Non-Logged in members.You can also manage Logo width, Fixed Header and Menu Count. At the bottom of this page, you can "Create New Campaign" for ads too.

(b) Manage Module for Search
With this setting page, you can enable users to search on the basis of various modules installed on your website via AJAX. You can manage various modules from the "Manage Modules for Search" section. It will help your users for easy navigation on the website with a more user-friendly experience.
The name of these modules can be easily edited by clicking on the "Edit" link.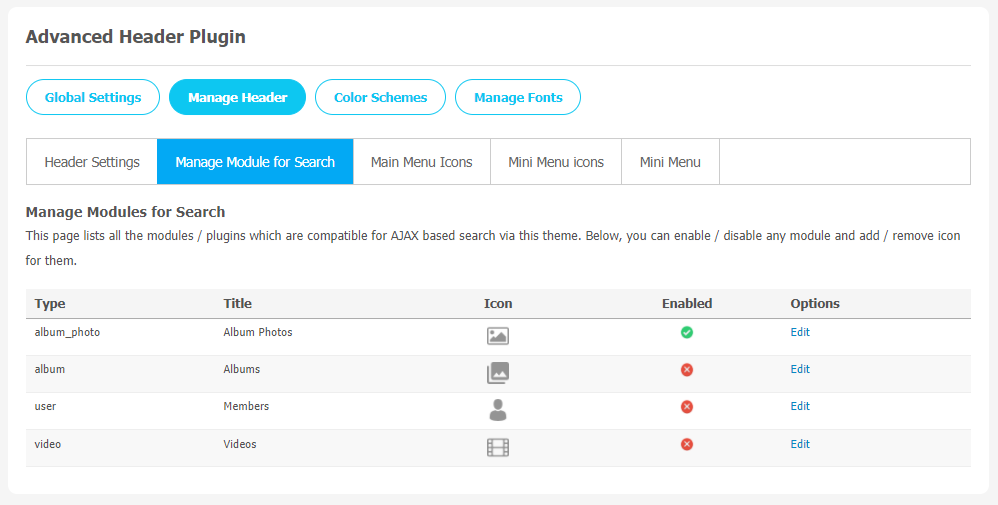 (c) Main Menu Icons
If you want to add icons for the Main Navigation Menu Items of your website. These icons can be edited and deleted easily. You have to just simply drag and drop menu items as per requirement of your website. You can see the menu items like Home,Invite, Albums,Thoughts etc on this page.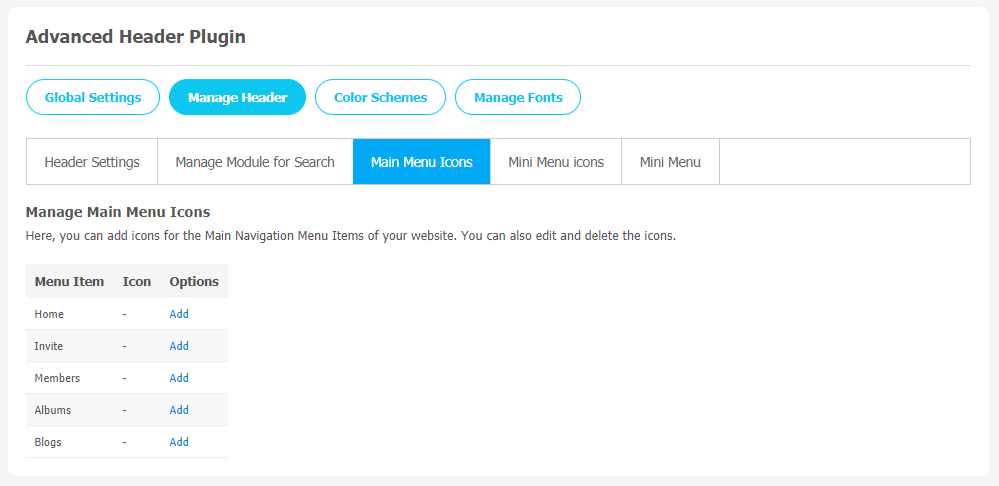 (d) Mini Menu Icons
Edit and choose Main Menu Items to make your SocialEngine website more productive for users.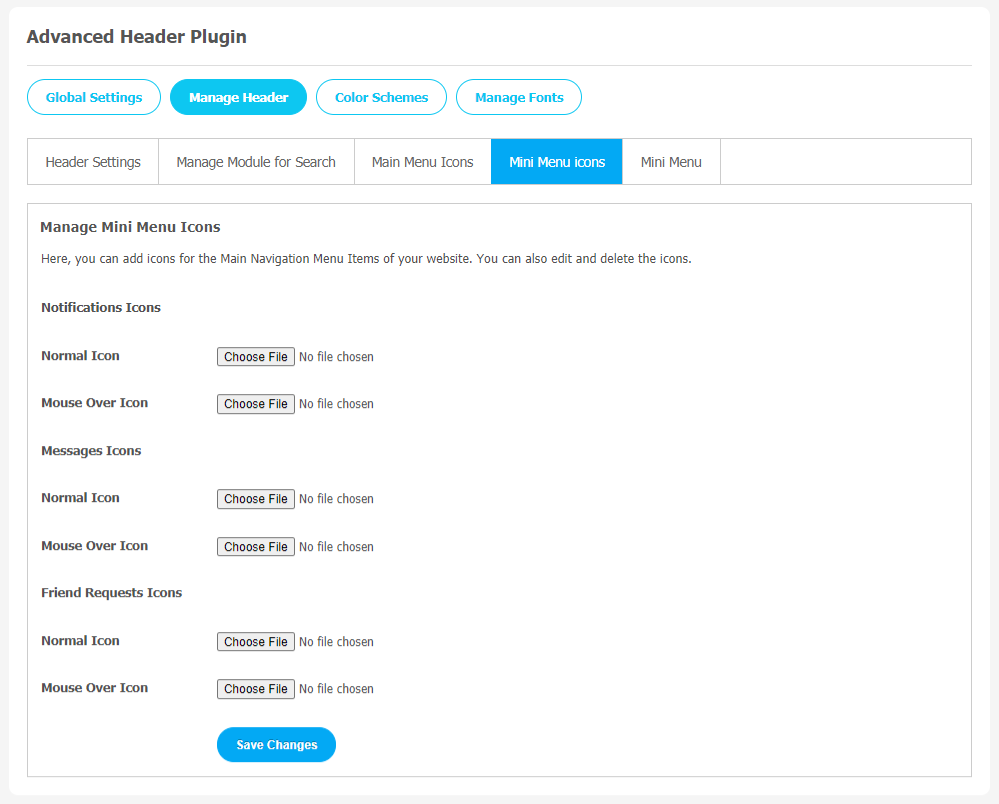 (e) Mini Menu
Edit the mini menu for this theme from this page. Please remember when you create a new menu item on this page, it will be automatically created under the SocialEngine's core Mini Menu.
You can use the "Sink Menu" link to update the mini menu of this theme with the SocialEngine menu. Simply, drag and drop menu items to reorder these menu items.
4. Color Schemes
Choose your favorite color for your website in just a single click. Also, if you don't like the available color options, you can make your own theme color combinations in just a few easy steps. Create your own theme color by clicking on "Make your Own Theme". Please make sure your website is in the development mode before making any changes.
** Don't forget to save changes when done.**

5. Manage Fonts
You can manage different font sizes for our landing page text content. Text gives meaning to your platform. So, choose your favourite suitable font for your website content as described below.
Choose the required Font Type.
Select the Font Family for the Main Menu.
You can also choose Font size according to your requirement.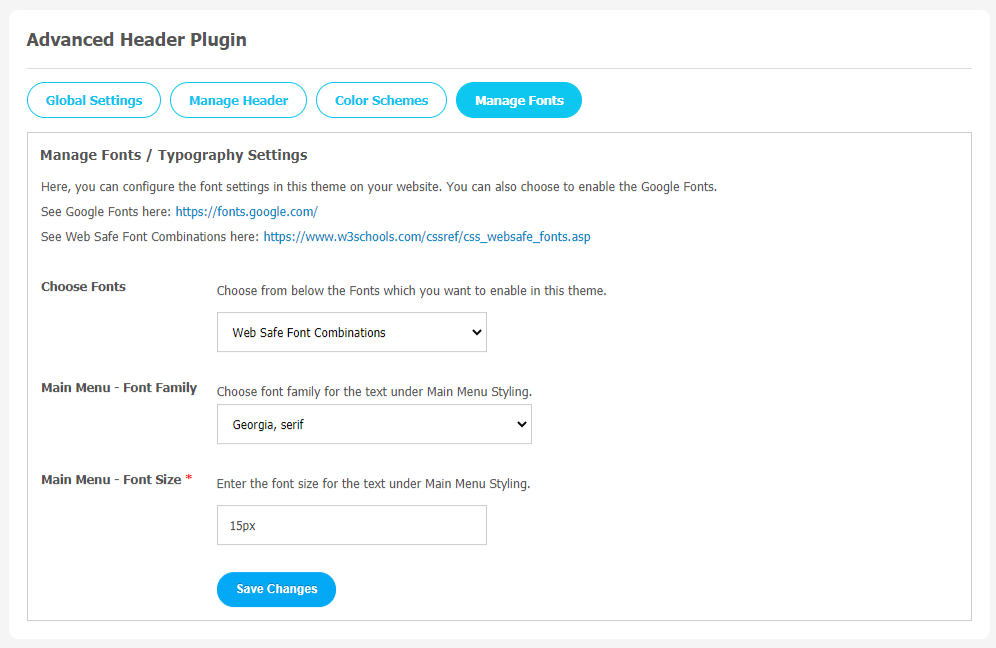 That's all. You have successfully explored all the major features of this Advance Headers Plugin. We have tried our best to simplify the admin panel settings so you can easily make changes you want for your SocialEngine website.Now, your visitors and new website members will be able to access and use your website with a lot of ease.
Grow your social community platform fast with this amazing Advanced Headers Plugin!!
Installation of this Plugin is very easy, but if you still need our expert to install and configure this Plugin for you, then you can purchase the service from here:
https://socialnetworking.solutions/social-engine/socialenginesolutions-plugin-installation/