Are you ready to convert your SocialEngine website into a fully-functional membership website.If yes, then this plugin can make it possible for you. It will allow you to permit access to downloads,online content,forums and other queries assistance for registered only.
We see a lot of high-end plugins in the market but either they come with unnecessary features or most of them have compatibility issues with websites.So,choosing SocialEngine for Membership Cards Plugin can make a huge difference when it comes to growing your business and gaining monetary benefits.
Membership Cards Plugin allows you to assign highly configurable membership cards based on the different member levels of your website. You can avail amazing benefits as it helps to get more user engagement and their loyalty to your platform. Membership Cards also assure your users to get verified recognitions on your platform. Site admin can configure various plugin related settings and designs for members based on their member levels and profile types
Key features:
Member Level & Profile Type based Card Available
Attractive front and Back Designs for Cards
Custom and Designing Options
Website Title/Logo for Front & Back Cards
Custom Card Designing Options
Configurable Fonts, Style & Colors for Cards
Website Title/ Logo for Fronts & Black Cards
You can explore more about this plugin with this tutorial guide. Here, we are providing an interactive and easy to follow Membership Cards Plugin setup & installation guide which will help you to use & configure it properly on your website & maximize the efficiency of your website by showcasing the exciting features. With this help-guide, you will get a better sense of usage when you actually install this plugin on your website.
Installation of this plugin is very easy, but if you still need our expert to install this plugin for you, then you can purchase the service from here: https://socialnetworking.solutions/social-engine/socialenginesolutions-plugin-installation/
Step-by-Step Installation & Tutorial Guide:
** This tutorial assumes that you are already logged in to the Admin Panel.**
If not, then you have to log in first to the admin panel after filling the admin account credentials on your website.
1. Installation of Membership Cards Plugin
a) In the Main Menu section, Click on the tab Manage and select "Packages & Plugins" to install this plugin.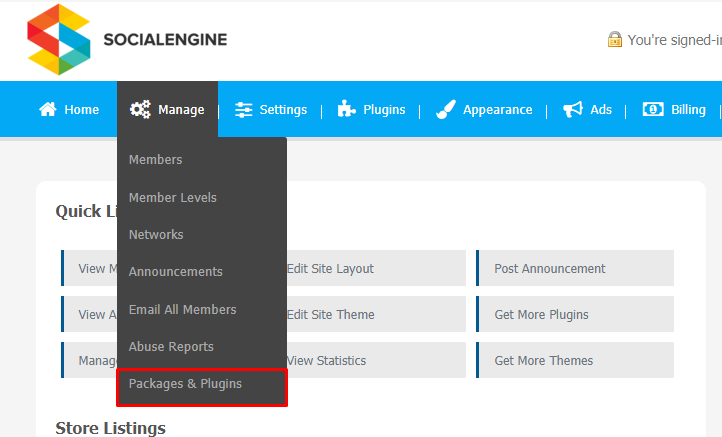 b) Our Plugin is based on SE standards so this will get installed on your website as any standard plugin can. Please read the tutorial on installing themes and plugins in SE here: http://help.socialnetworking.solutions/faq/51/how-to-purchase-and-install-ses-products

c) After the successful installation of the plugin as in Step 2 above, under the plugins section, click on "Membership Cards Plugin".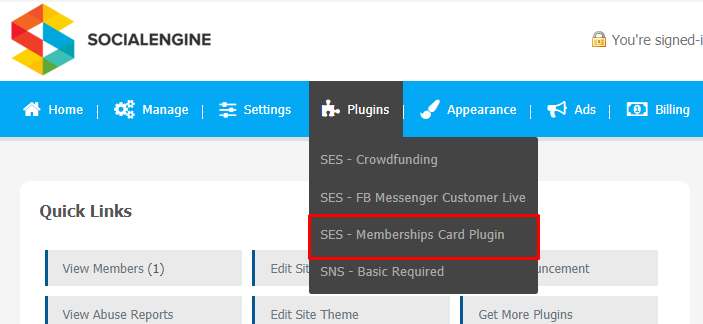 Once you click on plugin, now you will be asked for entering required License Key for plugin activation. Now, your plugin is ready to go!

2. Global Settings
After a successful installation, a new Global Setting tab will appear where all the plugin settings can be managed easily. First, click on Global Settings. Then,
You can set Membership cards Visibility
Enable Print Membership Cards for different member levels.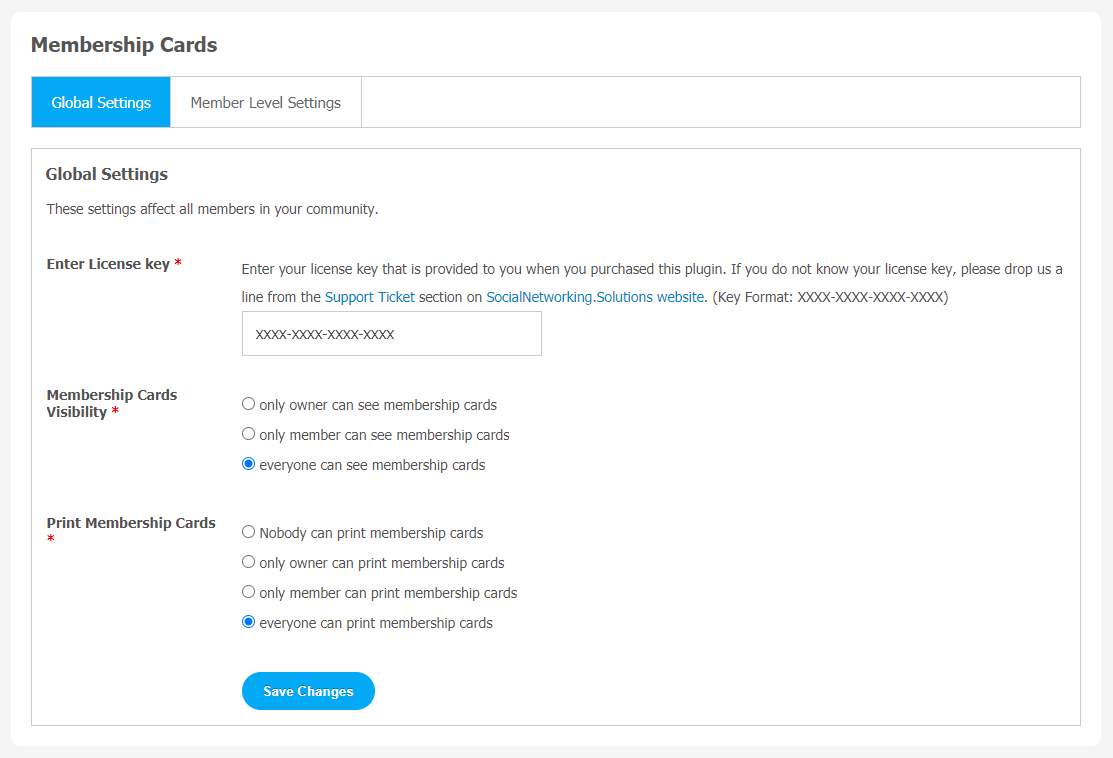 3. Member Level Settings
This section is used to manage Member Level Settings. You can make changes in some features and it will be applicable for selected members.
Enable Membership Cards
Templates/ Custom
Select Font Employee
Enable Logo Title
You can choose various menu items from Profile Fields.
You can upload Back Logo
Choose Card Alignment either Horizontal or Vertical from here.

Finally!! You have successfully completed the installation procedure and also explored various exciting features of Membership Cards Plugin. Now, your visitors and website members will be able to access & use your website with some new multipurpose features.
Installation of this Plugin is very easy, but if you still need our expert to install this Plugin for you, then you can purchase the service from here: https://socialnetworking.solutions/social-engine/socialenginesolutions-plugin-installation/