If you are in an online business, having a loyal customer base can be very crucial for your business growth. We have an amazing hack for you. You can use this unique Professional Discount Coupon Creator Plugin to give exciting discounts to your loyal customers without compromising with your profits. Since coupons are still in great demand in the market and considered as one of the key tools you can use to get loyal customers. With these coupons, website audiences can get a chance to save some money on the purchase of your product or service.
Nowadays, most people go for online purchasing mainly for reasonable discounts offers. Due to this reason almost every site provides Discounts Coupons on many items to boost the website traffic. This is the plugin you must be searching for as it will help you to create coupons on your site with multiple discount types on many plugins and packages etc.
If you are still curious about the features of this plugin, here is a brief look at Professional Discount Coupon Creator Plugin features.
Key features
You can create Unlimited Coupons.
Provide a limited & Unlimited number of coupons per code.
Manage Coupon Start & End Date
Auto- Approve Coupons
Allow to Upload Coupon Photo
Help your Users in Coupon FAQ
Here, we are providing an interactive and easy to follow Professional Discount Coupon Creator Plugin setup & installation guide which will help you to use & configure it properly on your website & maximize the efficiency of your website by showcasing the exciting features. With this help-guide, you will get a better sense of usage when you actually install this plugin on your website.
Installation of this plugin is very easy, but if you still need our expert to install this plugin for you, then you can purchase the service from here: https://socialnetworking.solutions/social-engine/socialenginesolutions-plugin-installation/
Step-by-Step Installation & Tutorial Guide:
** This tutorial assumes that you are already logged in to the Admin Panel.**
If not, then you have to log in first to the admin panel after filling the admin account credentials on your website.
1. Installation of Professional Discount Coupon Creator Plugin:
1. In the Main Menu section, Click on the tab Manage and select "Packages & Plugins" to install this plugin.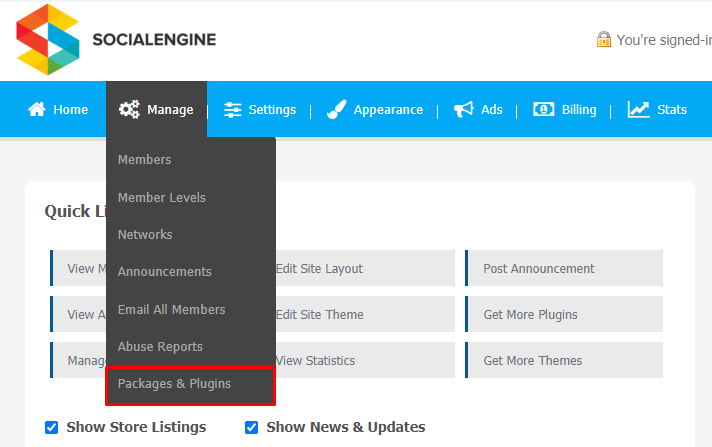 Our Plugin is based on SE standards so this will get installed on your website as any standard theme can. Please read the tutorial on installing themes and plugins in SE here: http://help.socialnetworking.solutions/faq/51/how-to-purchase-and-install-ses-products

3. After the successful installation of the plugin as in Step 2 above, under the plugins section, click on "Professional Discount Coupon".
Once you click on Professional Discount Coupon Creator Plugin, now you will be asked for entering the required License Key for plugin activation. Now, your plugin is ready to go!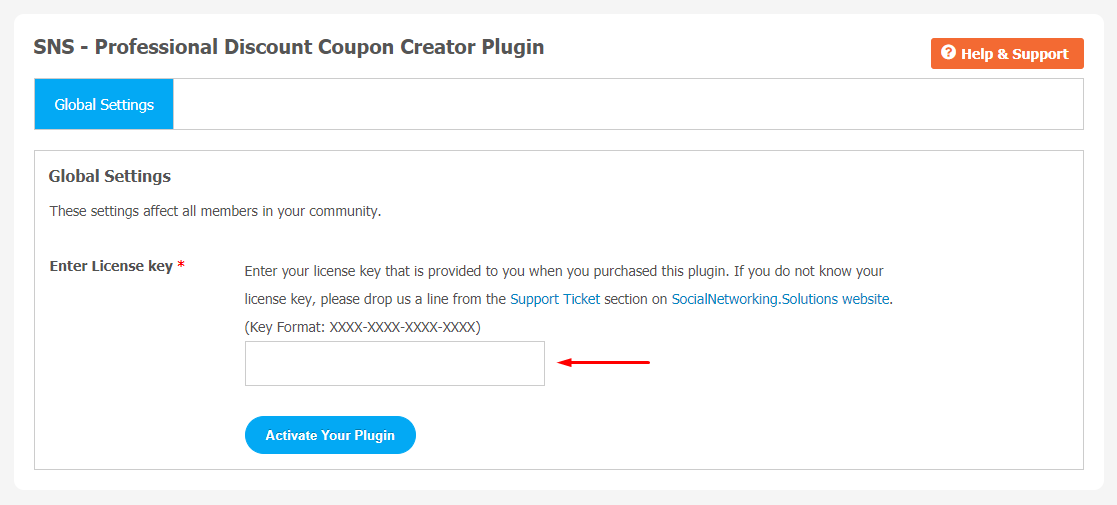 2. Global Settings
With the help of the Global Settings page, you can configure various important features. Here is a brief list of features you can change which will be applicable for all community members of your website.
Page or Popup from Create Icon
Allow to Like
Allow to Favourite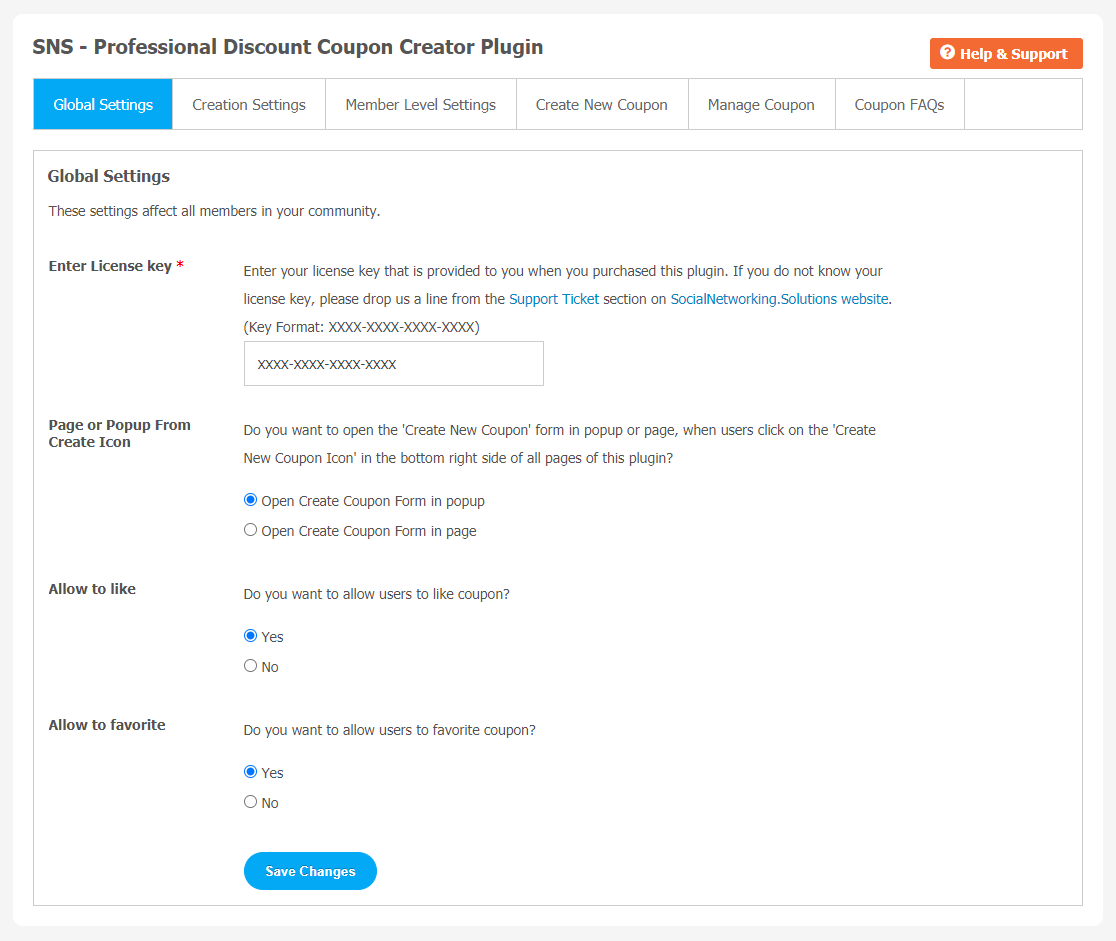 3. Creation Settings
In this page, you can configure Store Creation settings. In the given list, you can enable or disable required features if necessary.
Create Coupon Form Type
Enable Coupon Description
Make Coupon Description Mandatory
You can Enable Coupon Photo, Discount, Coupon
Don't forget to save changes when done.
4. Member Level Settings
This section is used to manage Member Level Settings. Here are some important features of Plugin which can be managed by the site admin for different member levels are as following:
Allow Viewing of Coupon
Allow Creation of Coupon
Allow Editing of Coupon
Allow Deletion of Coupon
Allow Commenting on Coupon
You are allowed to choose the maximum number of coupons to be created by members of this level.

5. Create New Coupon
This page is used to configure a new coupon, then you can click "Create Coupon" Enter the "Title" and check coupon code availability with course descriptions.
With this page, you can configure settings like Type of Discount, Discount Value, Minimum Order Amount and other important coupon related features..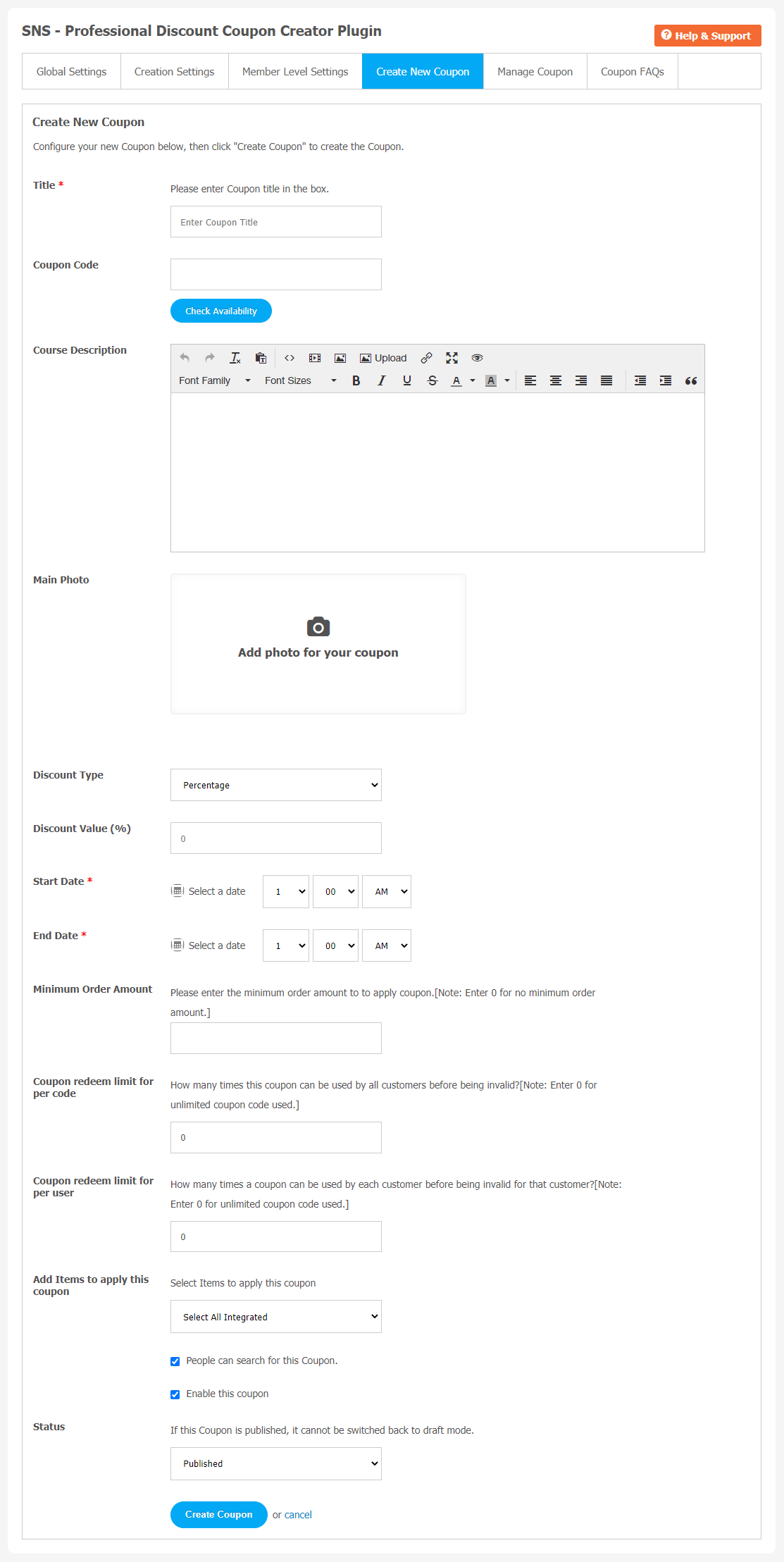 6. Manage Coupon
You can see a list of all of the Coupons which are created from your website. You can manage and monitor these orders from this page. If you find out a specific coupon, fill all the required details in the given search box.
Admin can approve or reject coupons if you encounter any issue in coupons. In the given below search box, you can choose any number of Coupons as Coupon of the Day, Featured, Sponsored and much more.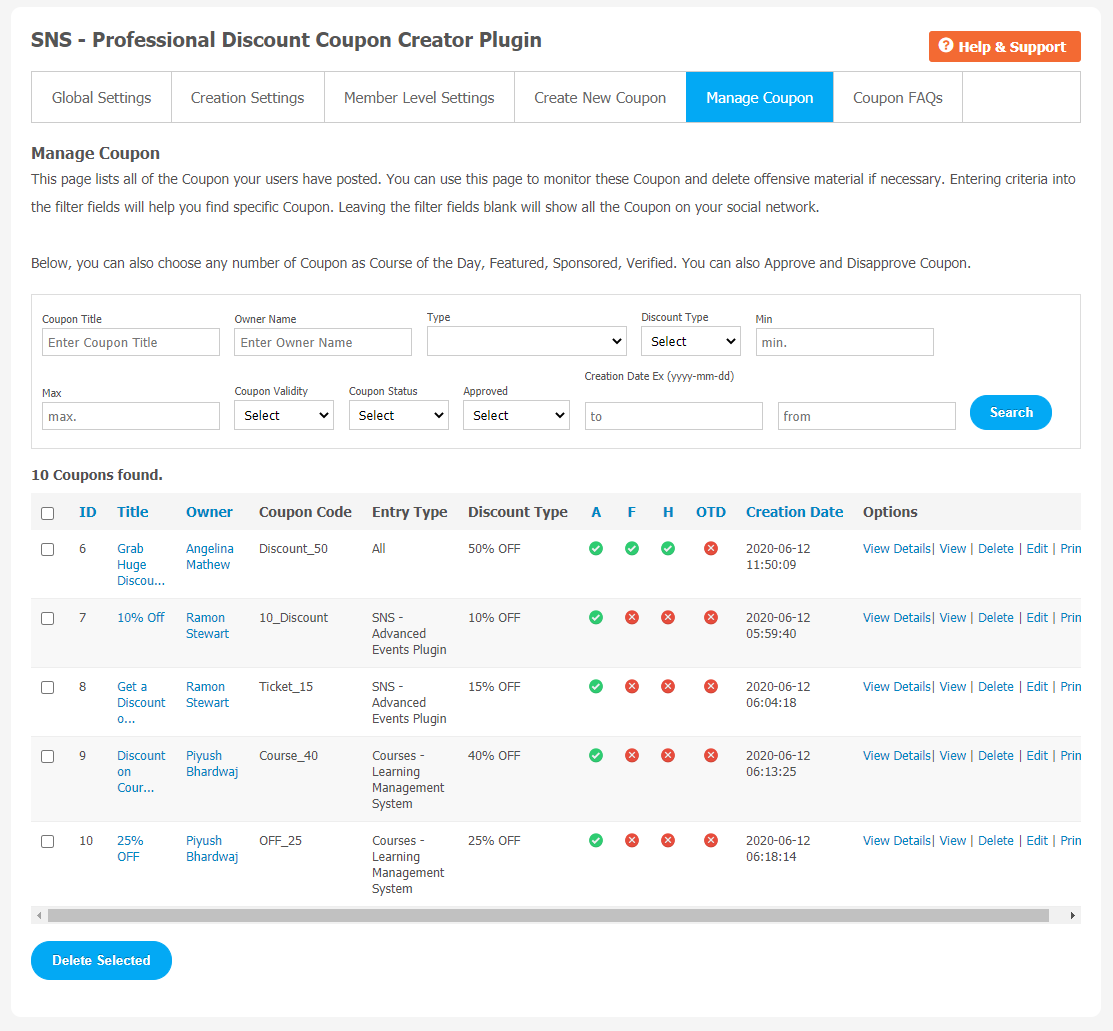 7. Coupon FAQs
FAQs are important for user queries. To make a more user-friendly experience on your website, FAQs can be a great way to connect with your customers.
You can choose the Title for Coupons FAQs. After choosing the name, you can use this given box to write FAQs in detail.
Finally!! You have successfully completed the installation procedure and also explored various exciting features of this Professional Discount Coupon Creator Plugin. Now, your visitors and website members will be able to access & use your website with new awesome features.
Installation of this plugin is very easy, but if you still need our expert to install this Plugin for you, then you can purchase the service from here: https://socialnetworking.solutions/social-engine/socialenginesolutions-plugin-installation/