Now, we see petitions websites more frequently than ever before. The reason behind it is, people are now more aware about their rights. For a basic idea, Petition can be defined as creating an appeal officially.
Earlier petitions were used in the courtrooms. But with the access of digital media, now it has become more popular on online platforms too.People can raise their voice through petitions and can reach a large number of people. Because technology creates a tremendous impact all over the world.
Petitions can be considered as an formal written request signed by many people for a specific cause. So, in short we can say if you want to attract a valuable class of audience then you must go for Advanced Petitions Plugin. It will not only change the world for a good cause but would definitely change your website brand image. Having such an awesome plugin will attract a bigger audience and these random visitors can be your supporter real quick.
This plugin will allow users to create unlimited online petitions, and gather signatures. Your users can share these petitions on all popular social media platforms. Site owners can track petitions progress and set end date and start date for petitions.
Key Features:
Create Unlimited Petitions Instantly
Set Signature Goals
Sign/Unsign Petitions
Progress Bar for Signed Petitions
Mark Petitions Victory
Schedule Petitions
Sponsoring Petitions
Here, we are providing an interactive and easy to follow Advanced Petitions Plugin setup & installation guide which will help you to use & configure it properly on your website & maximize the efficiency of your website by showcasing the exciting features. With this help-guide, you will get a better sense of usage when you actually install this plugin on your website.
Installation of this plugin is very easy, but if you still need our expert to install this plugin for you, then you can purchase the service from here: https://socialnetworking.solutions/social-engine/socialenginesolutions-plugin-installation/
Step-by-Step Installation & Tutorial Guide:
** This tutorial assumes that you are already logged in to the Admin Panel.**
If not, then you have to log in first to the admin panel after filling the admin account credentials on your website.
1. Installation of Advanced Petitions Plugin:
In the Main Menu section, Click on the tab Manage and select "Packages & Plugins" to install this plugin.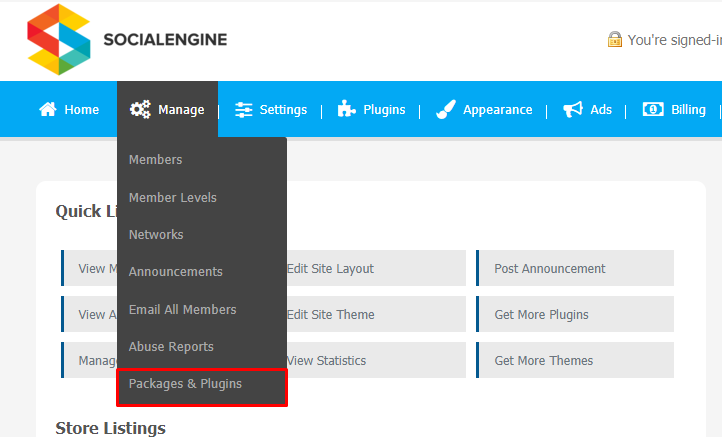 a) Our Plugin is based on SE standards so this will get installed on your website as any standard plugin can. Please read the tutorial on installing themes and plugins in SE here: http://help.socialnetworking.solutions/faq/51/how-to-purchase-and-install-ses-products
a) After the successful installation of the plugin as in Step 2 above, under the plugins section, click on "Advanced Petitions".

Once you click on plugin, now you will be asked for entering required License Key for plugin activation. Enter the license key provided by us. Now, your plugin is ready to go!
2. Global Settings
After a successful installation, a new Global Setting tab will appear where all the plugin settings can be managed easily. You can activate some of the following important plugin features directly from Global Settings.
Set Welcome Page as Landing Page
Singular Text for "Petition"
Plural Text for "Petitions"
Set Welcome Page Visibility for different Member Levels
Petition Main Menu Redirection
Manage Photo Height and Width

3. Petition Creation Settings
This page is used to configure the settings related to Petition Creation. You are allowed to show categories to your users before page creation on your website. You can choose a redirection page where you want to land your users once they create a petition. More features are as follows:
Enable Title
Edit Custom URL
Enable Petition Description
Enable Petition Description Overview
Enable Petition Deadline
Enable Status Field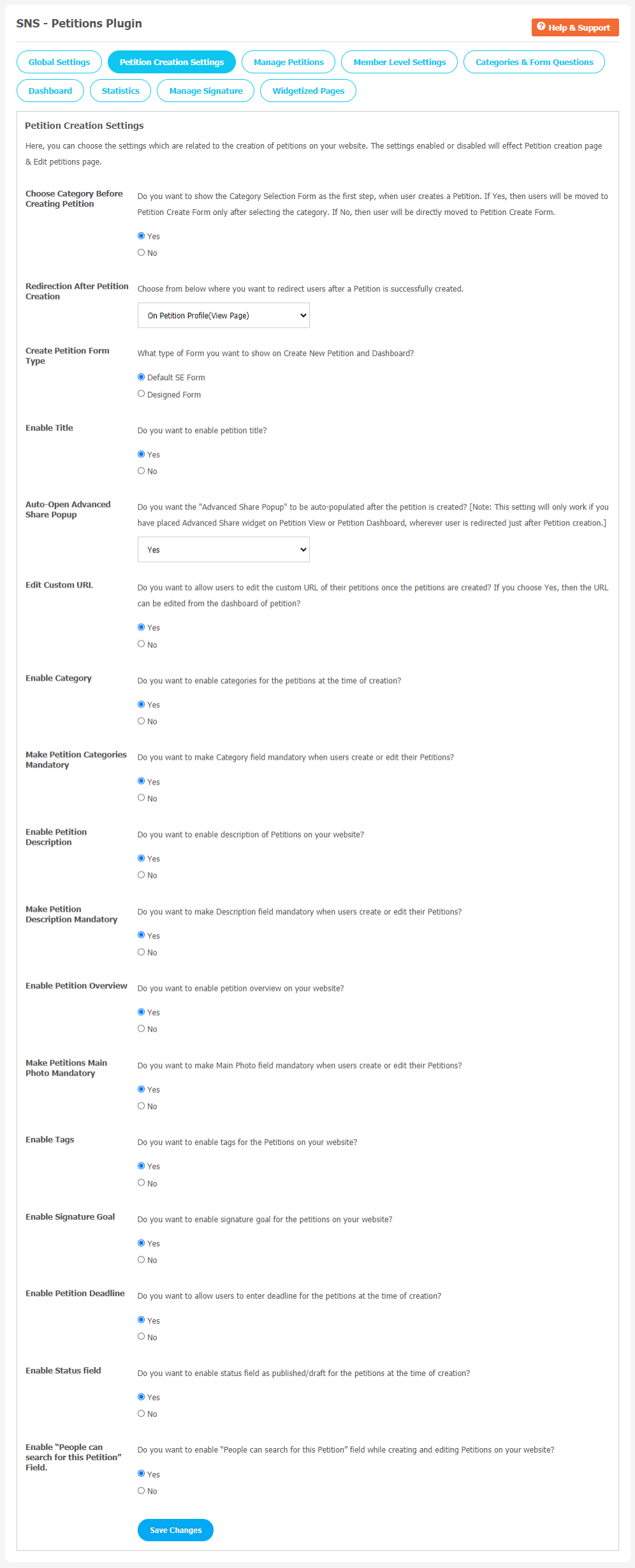 4. Manage Petitions
This section allows admin to monitor and manage Petitions created by website users. You can track any number of petitions as Petition of the Day, Featured, Sponsored by their name, owner name, and date.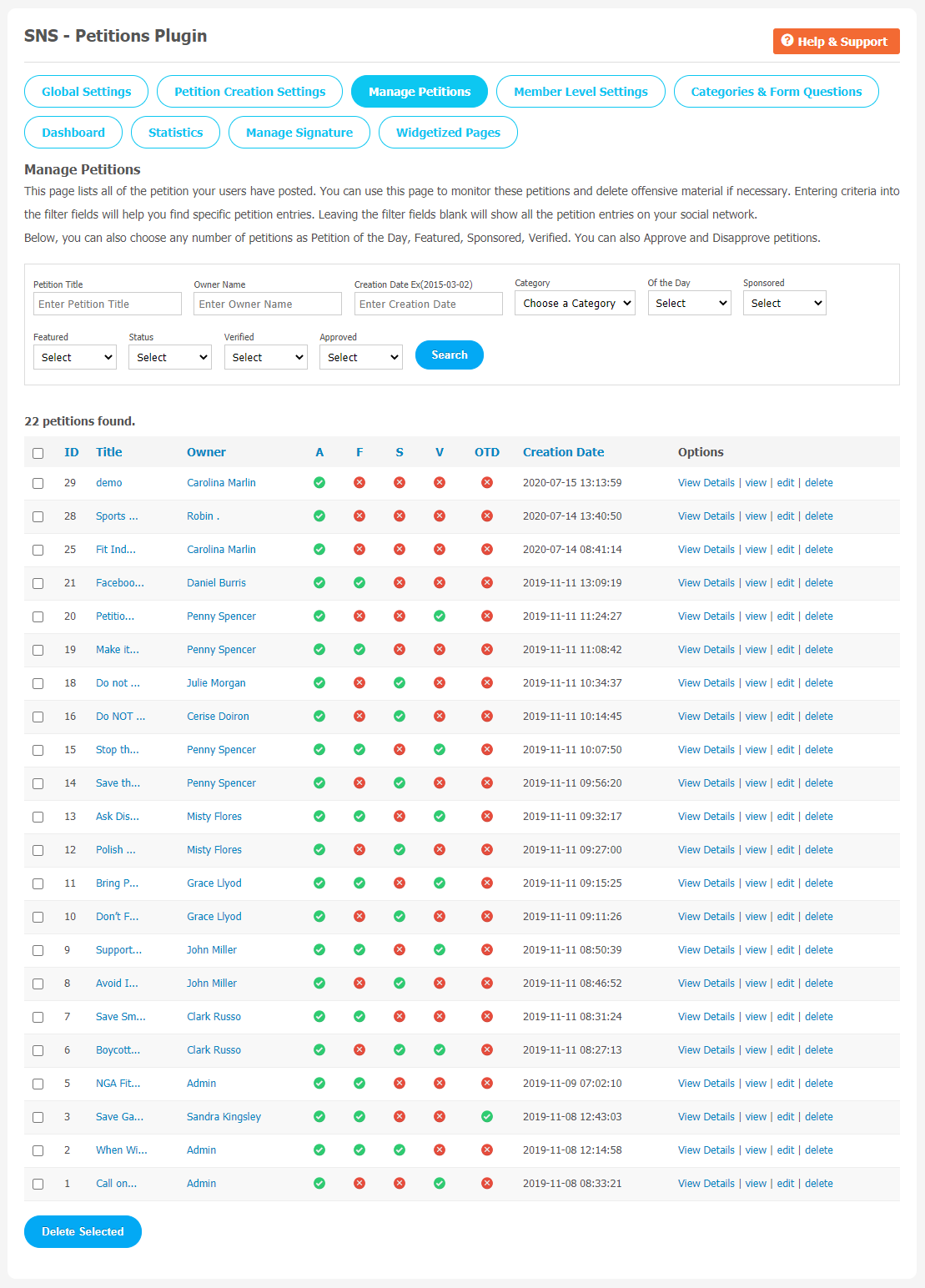 5. Member Level Settings
This section is used to manage Member Level Settings. Here are some important features of Plugin which can be managed by the site admin for different member levels are as following:
Allow Viewing of Petitions
Allow Creation of Petitions
Allow Editing of Petitions
Allow Petition Privacy
Allow Deletion of Petitions
Auto Approve Petitions
You can also add HTML in Petitions entries.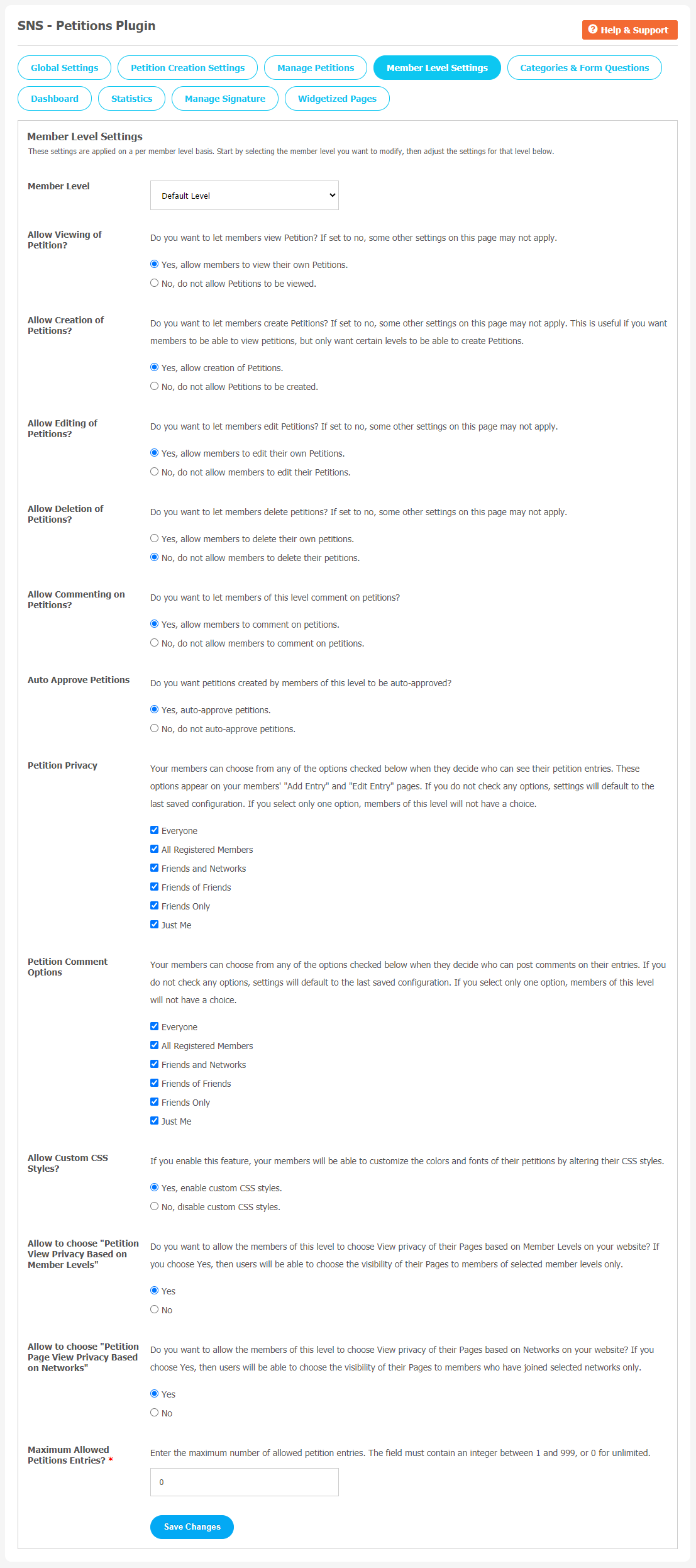 6. Categories & Form Questions
You can create a category for the Petitions by clicking on "Add New Category". You can choose options like Title,Slug URL, Description, Profile Type to be associated with the category, icon and Thumbnail. Organising Petitions categories can help your audience to navigate your website very easily.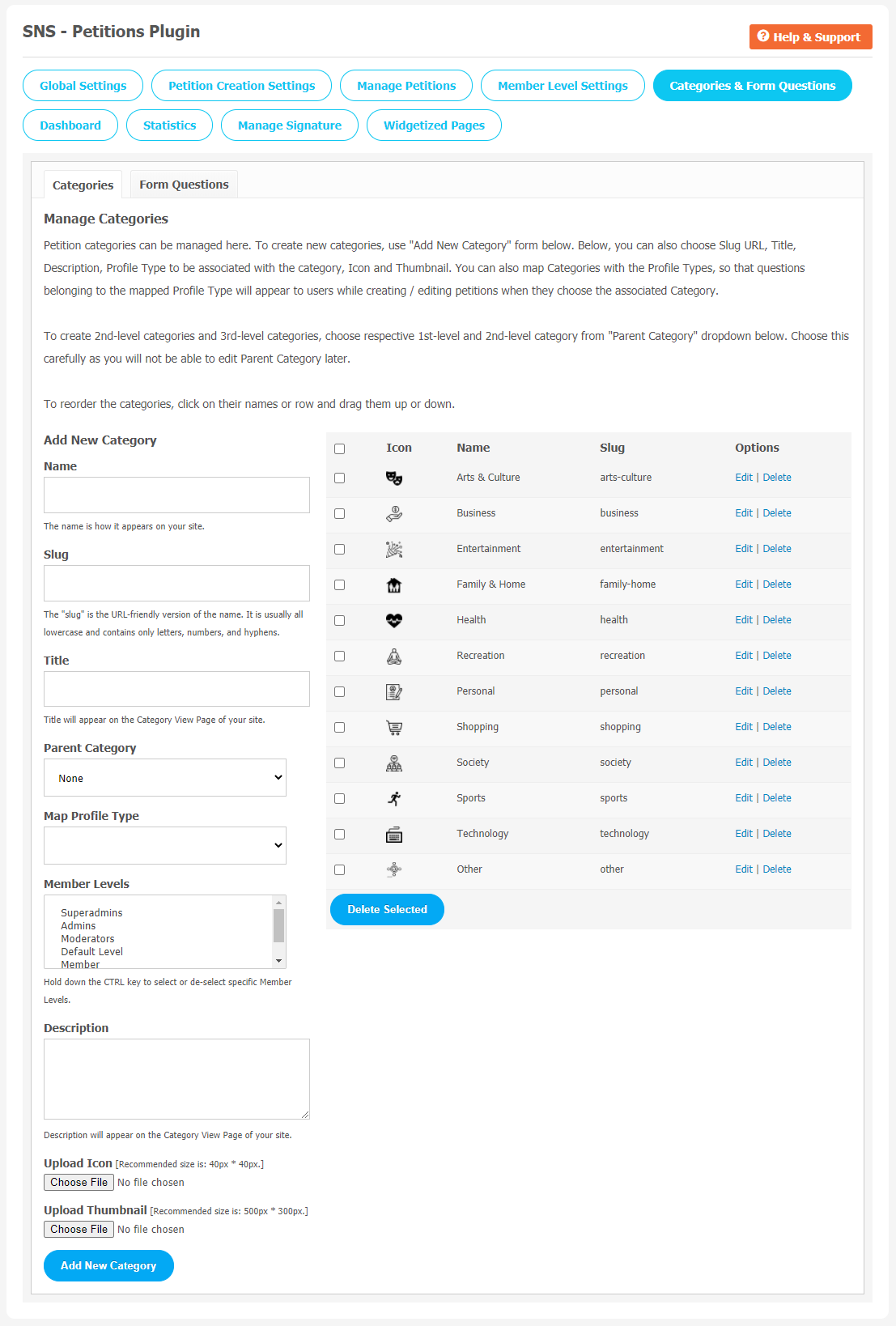 7. Dashboard
Managing Dashboard items is also an essential part of managing this Petition Plugin. With the help of this page, you can Edit, Enable/Disable dashboard menu items given below.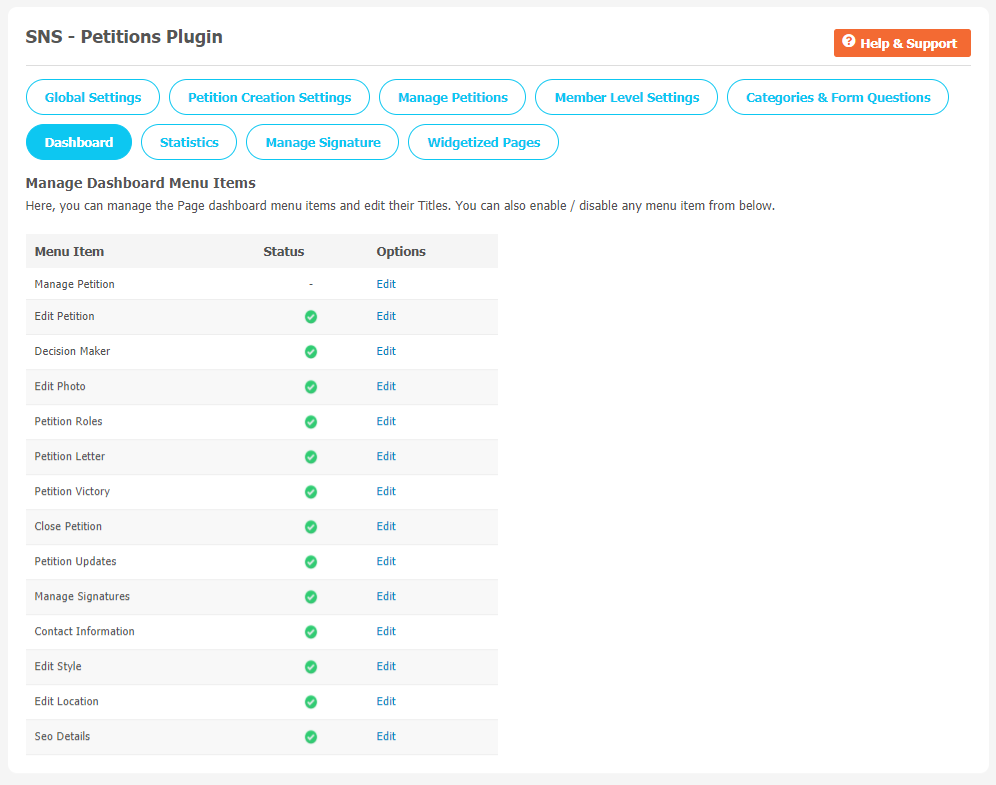 8. Statistics
Statistics helps website owners to better understand the important event activity related to petitions that is happening on their website. We often require these statistics to track our website performance too. You can see the list of important Petitions statistics on this page. Through this page, the admin can track how many featured petitions, total approved petitions, Total Reviews,Total Views & Likes, & Total Verified Petitions etc.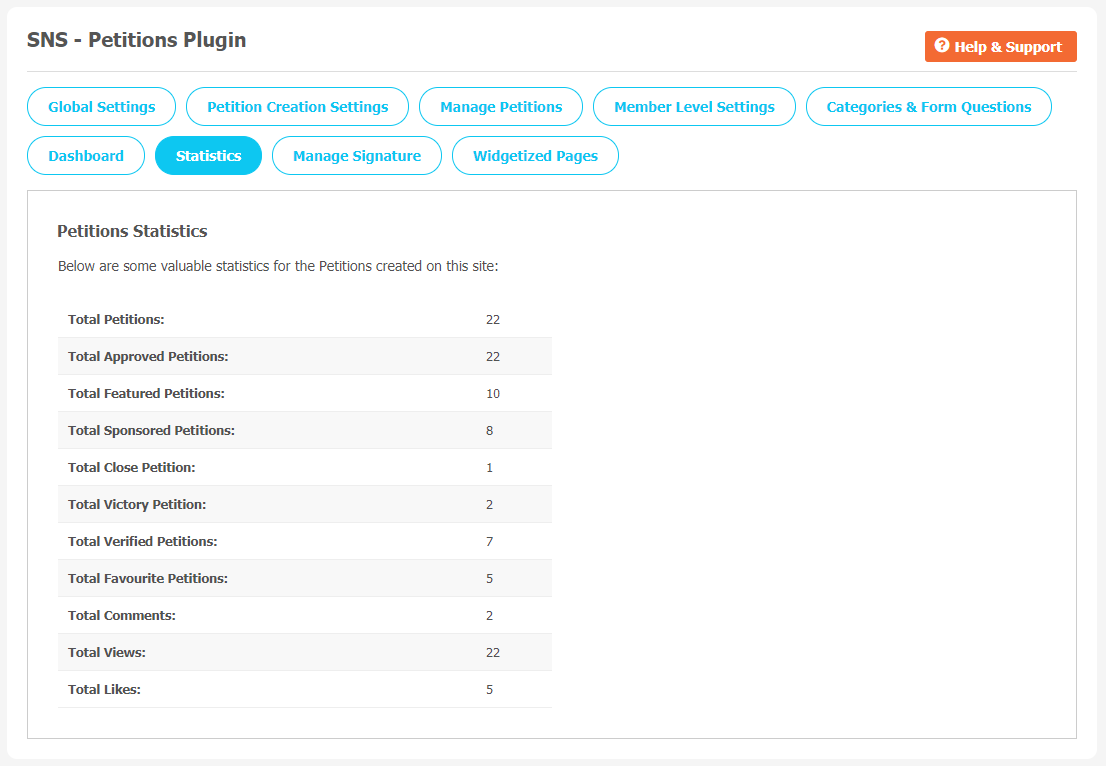 9. Manage Signature
You can easily manage all the Petitions Signature data based on their creation date, user type. Filling the given fields with required details can help in finding the Petitions Signature related data.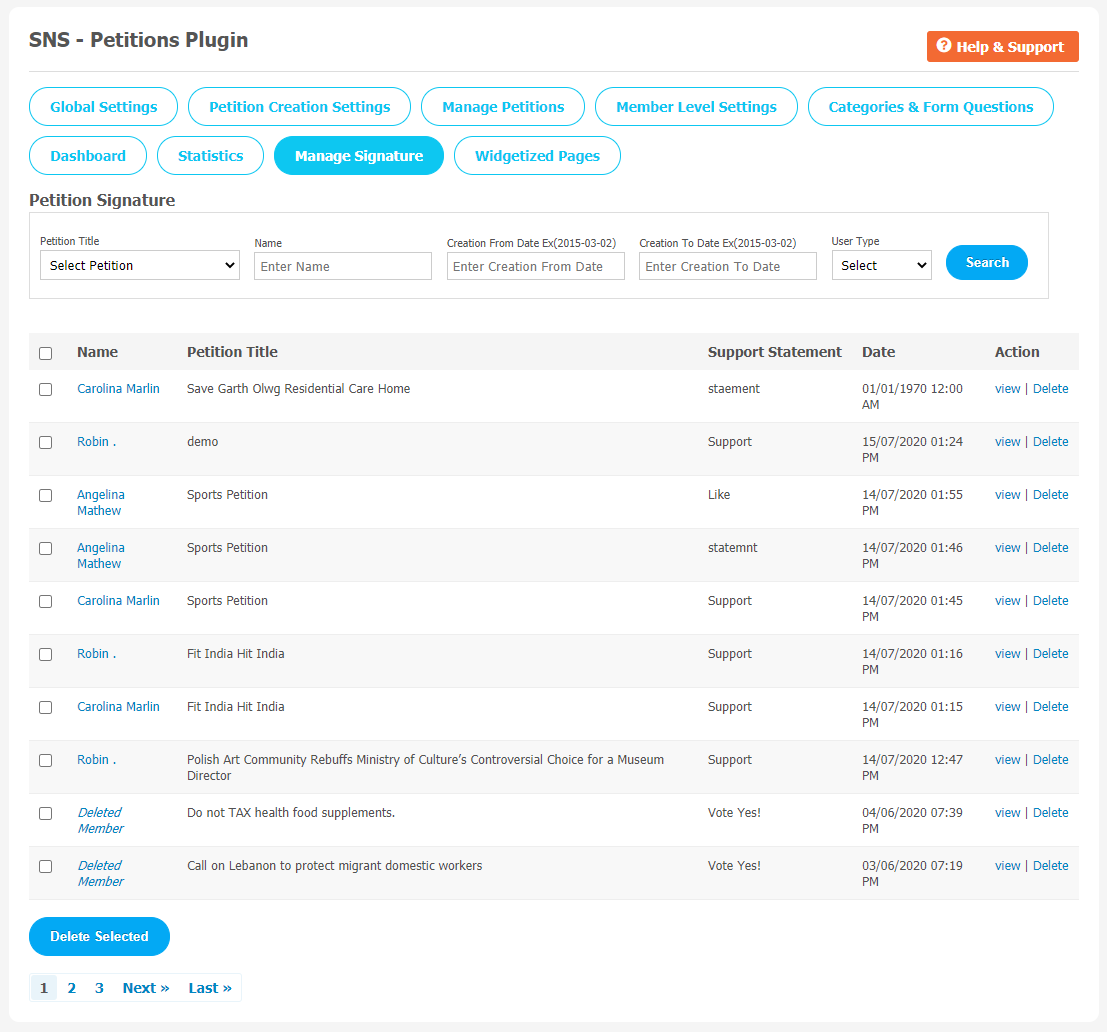 10. Widgetized Pages
All the widgetized pages are shown in this section. You can go to "Layout Editor" by clicking on the respective Widgetize Page Link.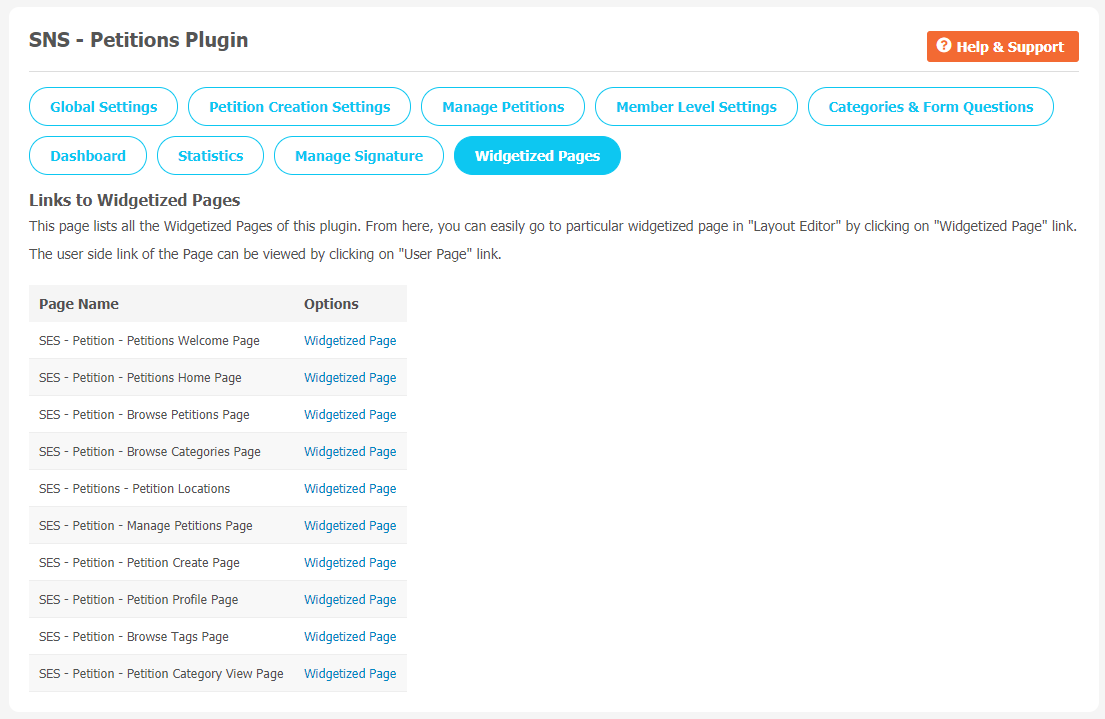 Finally!! You have successfully completed the installation procedure and also explored various exciting features of this Advanced Petitions Plugin. Now, your visitors and website members will be able to access & use your website with new awesome features.
Installation of this plugin is very easy, but if you still need our expert to install this Plugin for you, then you can purchase the service from here: https://socialnetworking.solutions/social-engine/socialenginesolutions-plugin-installation/