With the rise of online shopping for a wide range of products, people are asking a lot of product related queries. When it comes to software-based products, they often ask questions related with product installation and features. But, often they face some time delay to get the answers and ultimately leave the website for poor service.
If you receive a lot of queries emails from your customers for some similar problems, then it starts consuming a lot of time for your support team. It also feels annoying for them to answer the same questions multiple times.
Hence, adding a Multi-Use Tutorials Plugin to your website can help you to save so much time for you. You can add a list of frequently asked questions so that new visitors can directly come to this list. These tutorials can provide real time help from beginning to end for the visitors so they can find the right information. You can also use this plugin as FAQs.
This plugin comes with three design layouts and category designs which can be used to show tutorials in an attractive way. You can also take help of widgets to create tutorials on your website.
Multi-Use Tutorials is a user-friendly and responsive plugin. The attractive looks of layouts makes it more clean and best suits SocialEngine based website owners. It provides multiple choice for tutorials customizations with attractive design layouts.
Key Features:
Add & Manage Tutorials
Banner with Tutorials Search via AJAX
Re-Ordering of Tutorials
Three Attractive Design Layouts
More than 5 Views for Displaying Categories
Add & Manage Tutorials
Visibility Privacy for Each Tutorials
Here, we are providing an interactive and easy to follow Multi-Use Tutorials Plugin setup & installation guide which will help you to use & configure it properly on your website & maximize the efficiency of your website by showcasing the exciting features. With this help-guide, you will get a better sense of usage when you actually install this plugin on your website.
Installation of this plugin is very easy, but if you still need our expert to install this plugin for you, then you can purchase the service from here: https://socialnetworking.solutions/social-engine/socialenginesolutions-plugin-installation/
Step-by-Step Installation & Tutorial Guide:
** This tutorial assumes that you are already logged in to the Admin Panel.**
If not, then you have to log in first to the admin panel after filling the admin account credentials on your website.
1. Installation of Multi-Use Tutorials Plugin:
a) In the Main Menu section, Click on the tab Manage and select "Packages & Plugins" to install this plugin.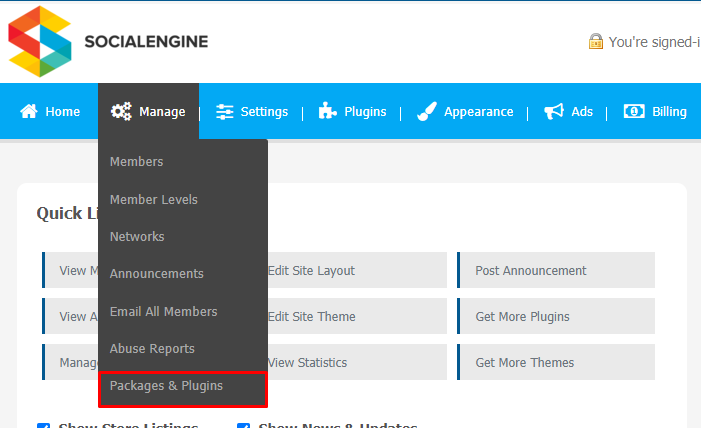 b) Our Plugin is based on SE standards so this will get installed on your website as any standard theme can. Please read the tutorial on installing themes and plugins in SE here: http://help.socialnetworking.solutions/faq/51/how-to-purchase-and-install-ses-products

c) After the successful installation of the plugin as in Step 2 above, under the plugins section, click on "Multi-Use Tutorials".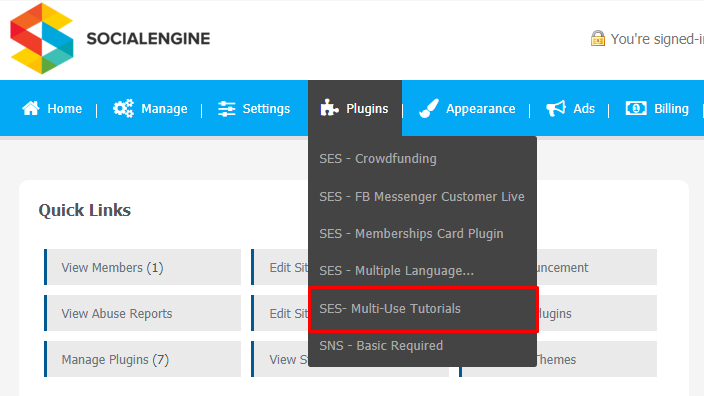 Once you click on Multi-Use Tutorials Plugin, now you will be asked for entering the required License Key for plugin activation. Now, your plugin is ready to go!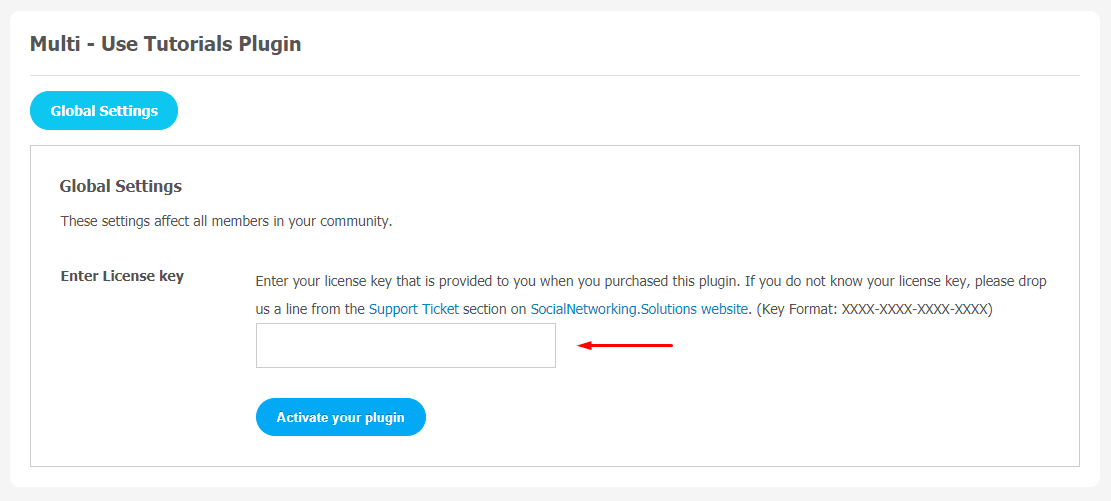 2. Global Settings
With the help of the Global Settings page, you can configure various important features. Here is a brief list of features you can change which will be applicable for all community members of your website.
Singular Text for "Tutorials"
Plural Text for "Tutorials"
"Tutorials" Main Menu Redirection
Allow to Report Tutorials
Allow to Share Tutorials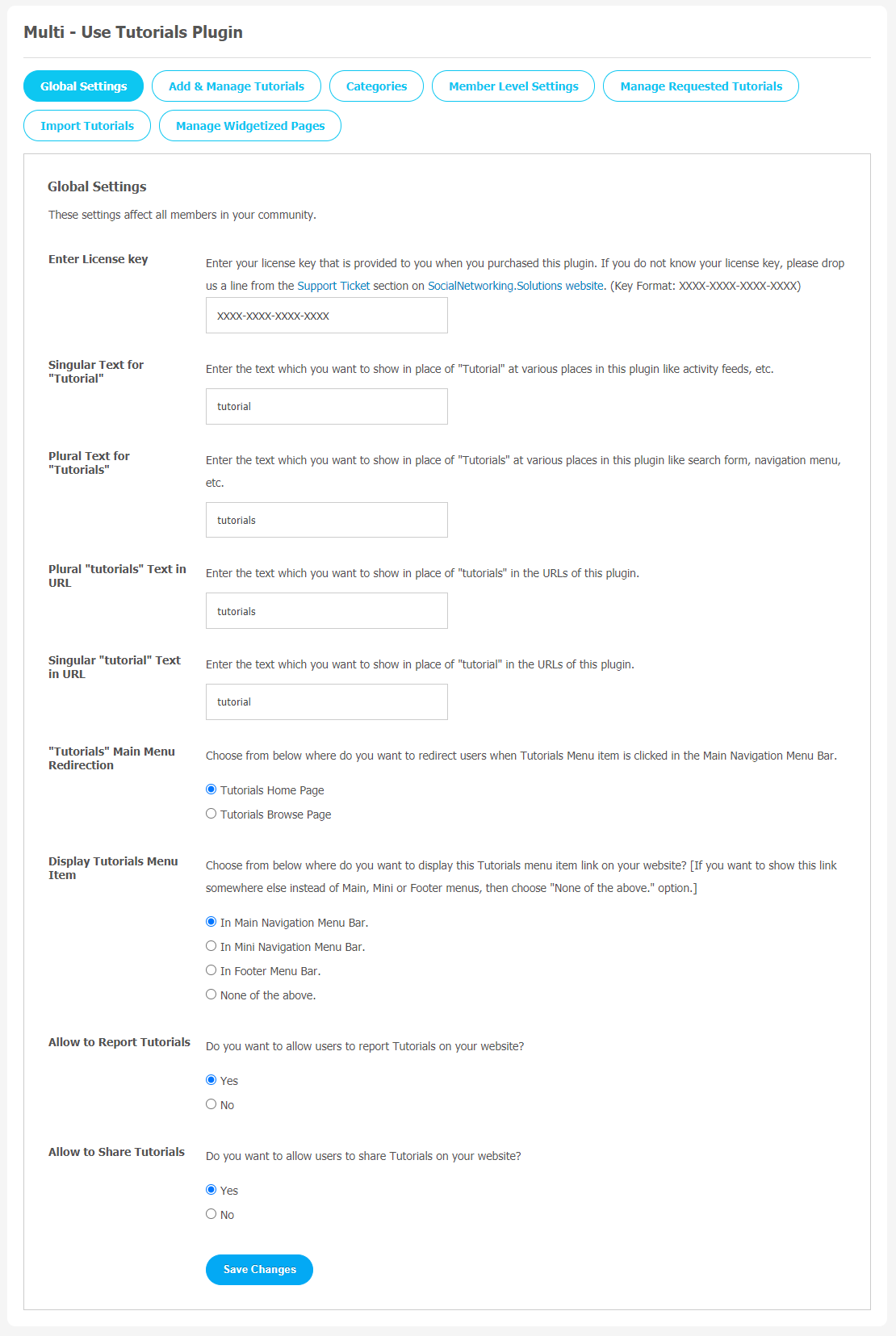 3. Add & Manage Tutorials
You can see all the Tutorials you have created on the website.This page can be used to monitor these tutorials. You can delete offensive material if required. Enter the criteria into the given filter fields will help you to search for specific tutorials.
Site admin can enable or disable any tutorials, view their rating and helpful statistics.You can use the "Add New Tutorial" to add new tutorials.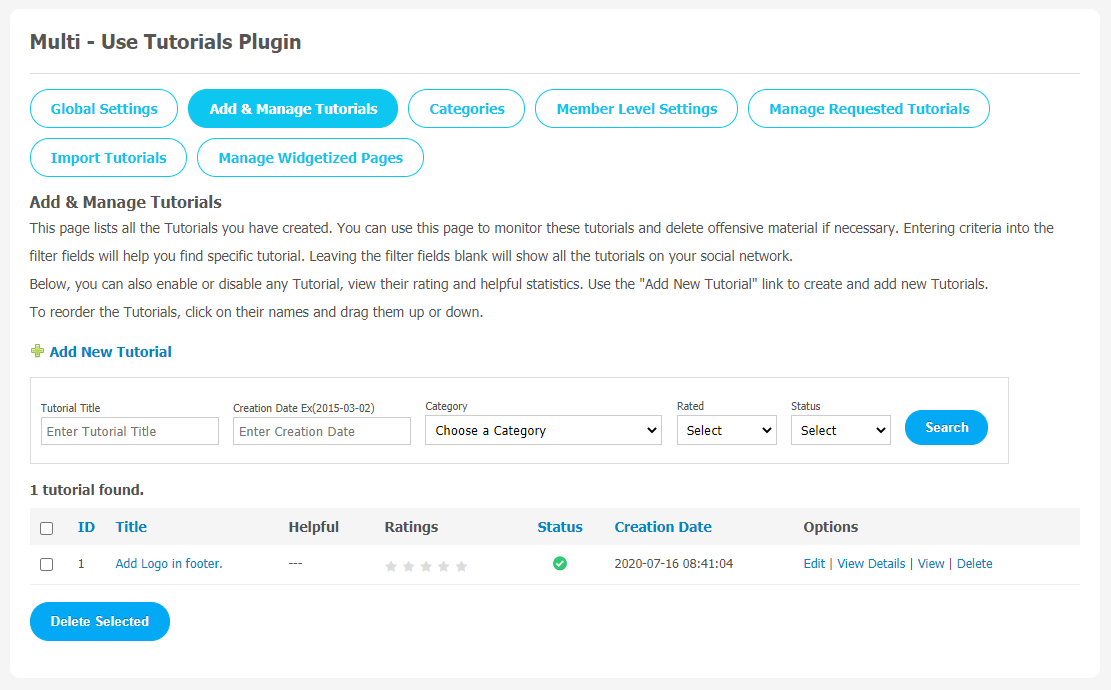 4. Categories
You can manage tutorial categories from this page. You can create a category for the Tutorials by clicking on "Add New Category". You can choose options like Title, Slug URL, Description, Profile Type to be associated with the category, icon and Thumbnail.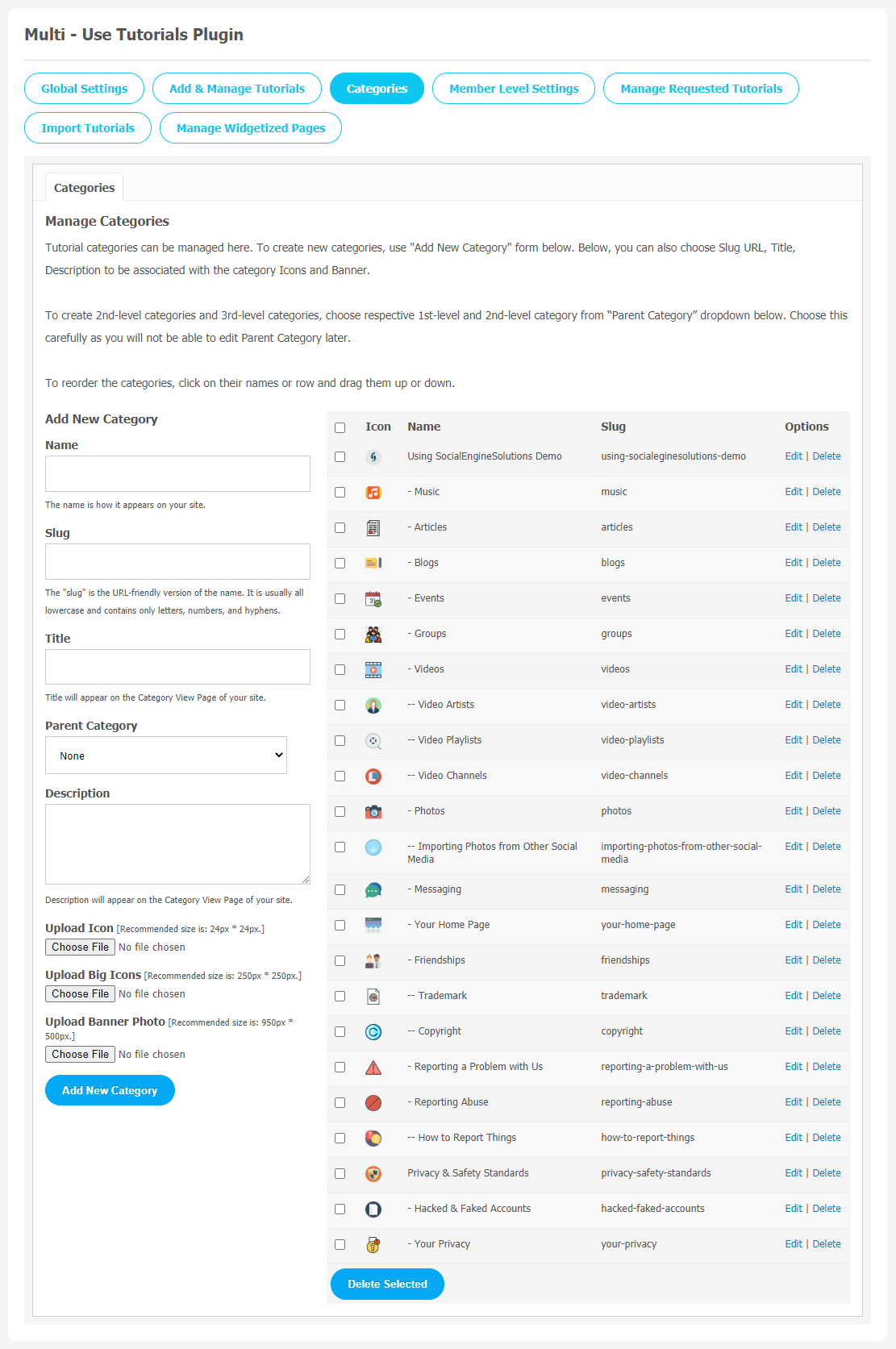 5. Member Level Settings
You can manage visibility of your Tutorials for registered members on your site. You can enable or disable the viewing of Tutorials to specific member levels by selecting Yes/No as shown below. You can manage settings like Allow Viewing of Tutorials, Allow to Request Ask Question, Allow Commenting on Tutorials, Allow to Select Tutorials as Helpful etc. from this panel.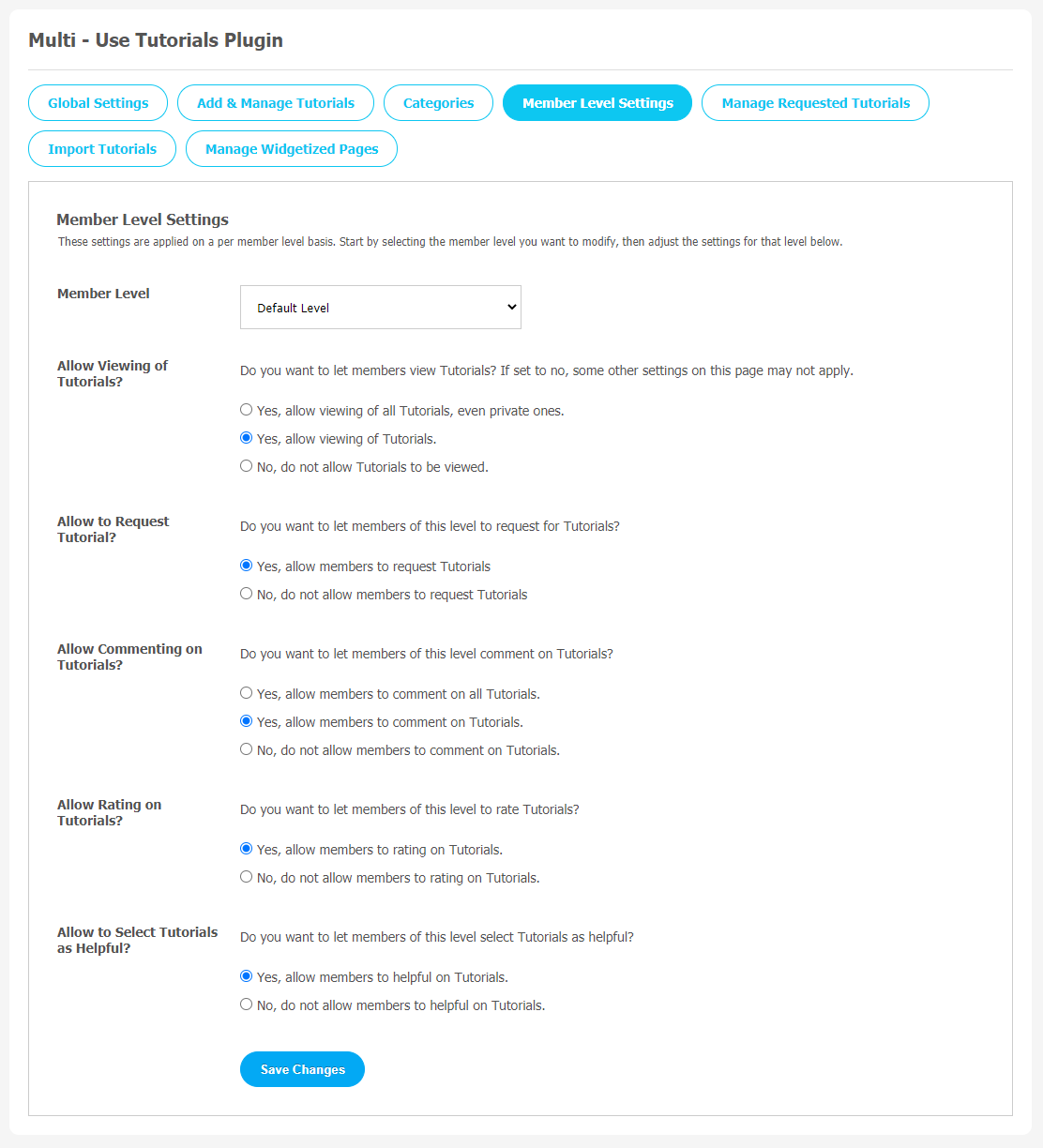 6. Manage Requested Tutorials
If you want to see all the Questions asked by the users on your website, you can use this page. You can use this given search box to find out specific tutorials or you can make tutorials based on user requests.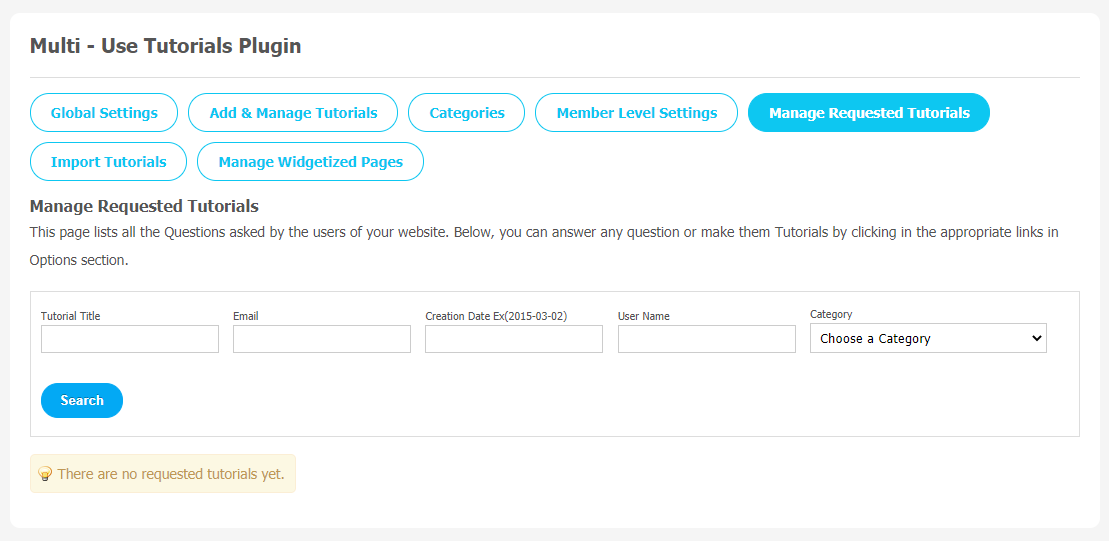 7. Import Tutorials
With the help of this page, you can import Tutorials on your website from a CSV file. Site admin can download the template file using the "Download Template File" button as shown in the image. To begin the importing FAQs, click on the Import FAQs button.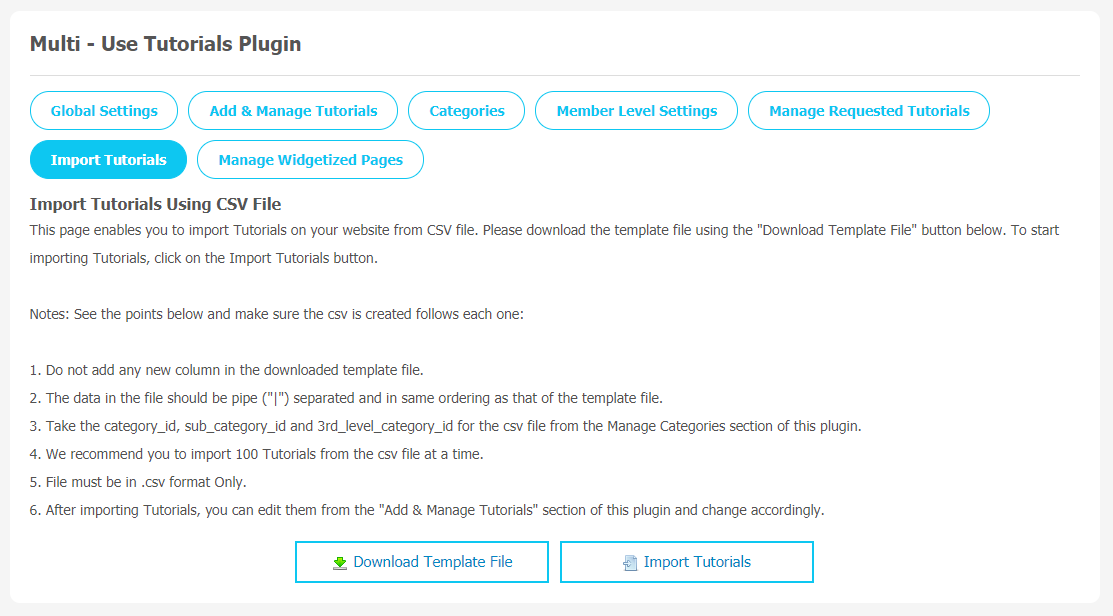 8. Manage Widgetized Pages
All the widgetized pages are shown in this section. You can go to "Layout Editor" by clicking on the respective Widgetize Page Link.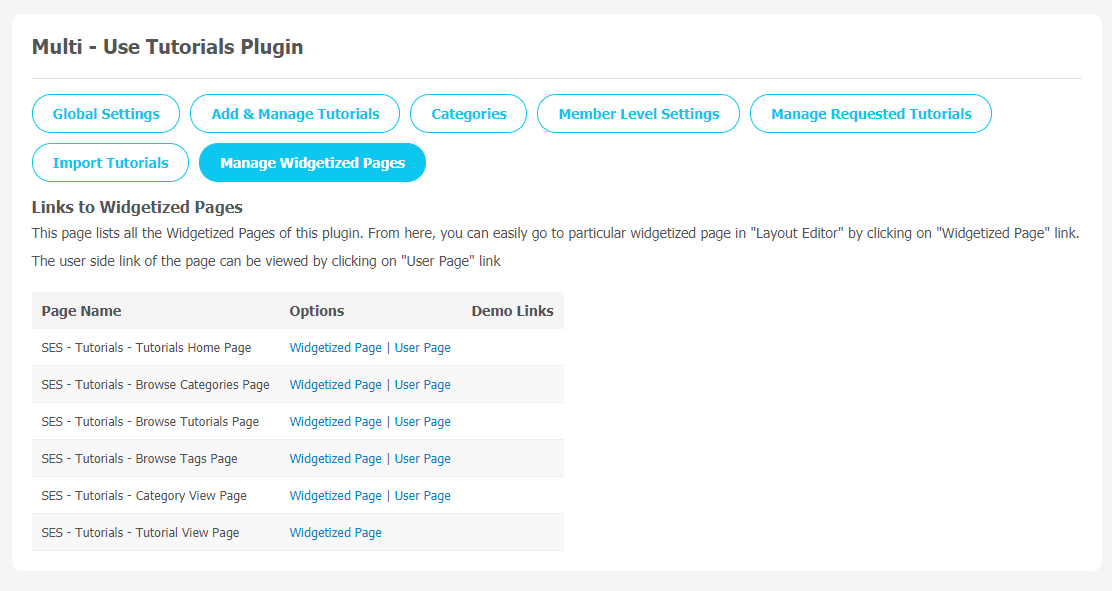 With this step-by-step tutorial guide, we are expecting you have successfully learnt how to use this plugin for your SocialEngine website. These are the key features of this Multi-Use Tutorials Plugin We hope you have successfully completed the tutorial guide and are ready to go. You can use this plugin and utilize the new opportunities of engaging with customers.