We all love sharing emojis with each other. The power of emojis are always underrated as they can do wonder for your social community. If you are already using our "Professional Activity & Nested Comments Plugin" you must be aware about its features. Your users can post emoticons in their status updates. But sadly, these emojis cannot be shown in iOS and Android Mobile apps. So, here we are with this new plugin known as iOS, Android & Browser Unicode Emojis Plugin. Now you can post emojis that will work on all types of browser, iOS, Android phones.
This plugin will allow your users to add exciting emojis in their posts and comments. With the help of these emojis, they can share their thoughts, quotes, messages, wishes and lots of other stuff. The only reason why we find these emojis so amusing is because they can make more impact than just simple text or photos. It holds the attention of the audience.
As a site administrator, you can categorize to enable easy browsing of Emojis on your website. It will help in easy navigation for users. This plugin is very easy to install even for beginners. To explore its key features. Take a look at listed key features given below:
Key features:
Universal Unicode Emojis
More than 350 Emoji Icons
Engaging comments with Emojis
8 Pre-configured Categories
Re-Ordering of Emojis in Browsers
Easily Compatible with Background Images in Status Updates Plugin
Here, we are providing an interactive and easy to follow iOS, Android and Browsers Unicode Emojis Plugin setup & installation guide which will help you to use & configure it properly on your website & maximize the efficiency of your website by showcasing the exciting features. With this help-guide, you will get a better sense of usage when you actually install this plugin on your website.
Installation of this plugin is very easy, but if you still need our expert to install this plugin for you, then you can purchase the service from here: https://socialnetworking.solutions/social-engine/socialenginesolutions-plugin-installation/
Step-by-Step Installation & Tutorial Guide:
** This tutorial assumes that you are already logged in to the Admin Panel.**
If not, then you have to log in first to the admin panel after filling the admin account credentials on your website.
1. Installation of iOS, Android and Browsers Unicode Emojis Plugin:
a) In the Main Menu section, Click on the tab Manage and select "Packages & Plugins" to install this plugin.
b) Our Plugin is based on SE standards so this will get installed on your website as any standard theme can. Please read the tutorial on installing themes and plugins in SE here: http://help.socialnetworking.solutions/faq/51/how-to-purchase-and-install-ses-products

c) After the successful installation of the plugin as in Step 2 above, under the plugins section, click on "iOS, Android and Browsers Unicode Emojis Plugin".
Once you click on , now you will be asked for entering the required License Key for plugin activation. Now, your plugin is ready to go!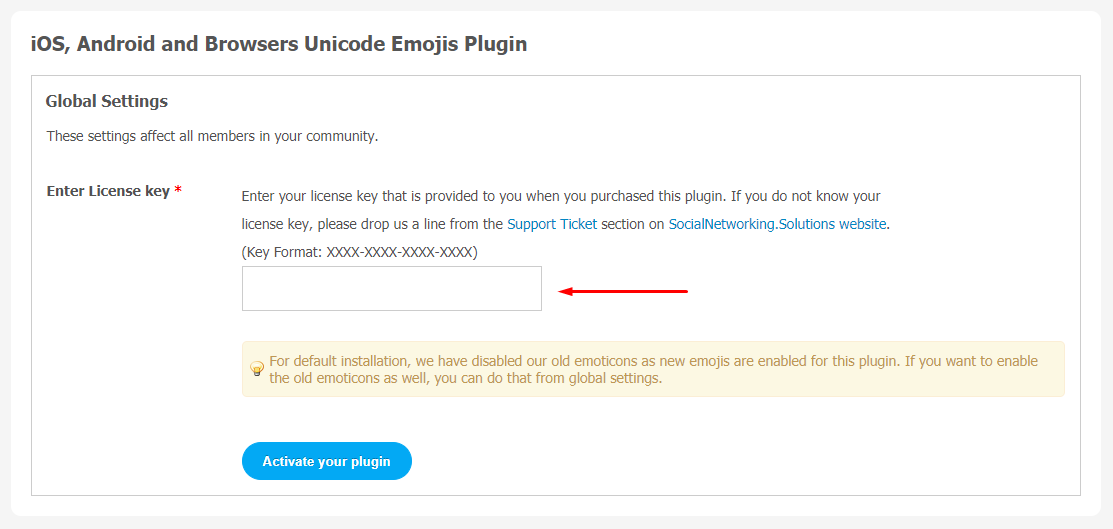 2. Global Settings
With the help of the Global Settings page, you can configure various important features. Here is a brief list of features you can change which will be applicable for all community members of your website.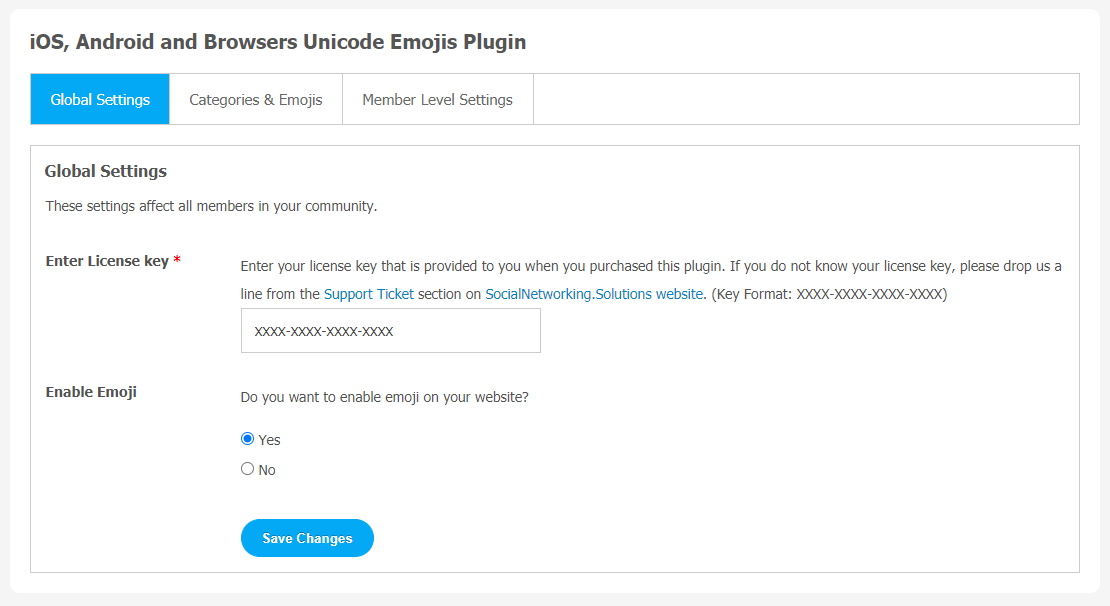 3. Categories & Emojis
These unicode emojis are easily compatible for Android, iOS and browsers. You will get 8 Pre-configured emojis and categories in multiple categories.
Name and photo can be edited in these categories. But please note that you cannot change unicode images as they are universal. You can simply reorder these categories by simply drag their names up and down.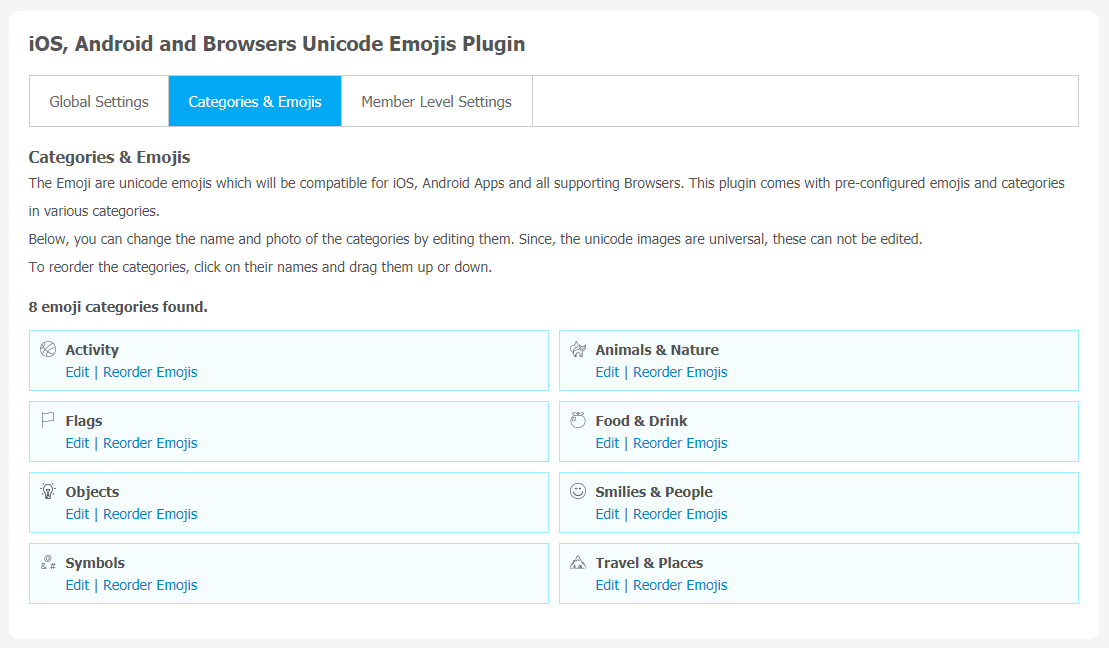 4. Member Level Settings
This section is used to manage the Member Level Settings. Here are some important features of Plugin which can be managed by the site admin for different member levels are as following:
You can Enable Emojis Specific member level.
Choose Emoji Categories among Activity, Flags,Symbols etc.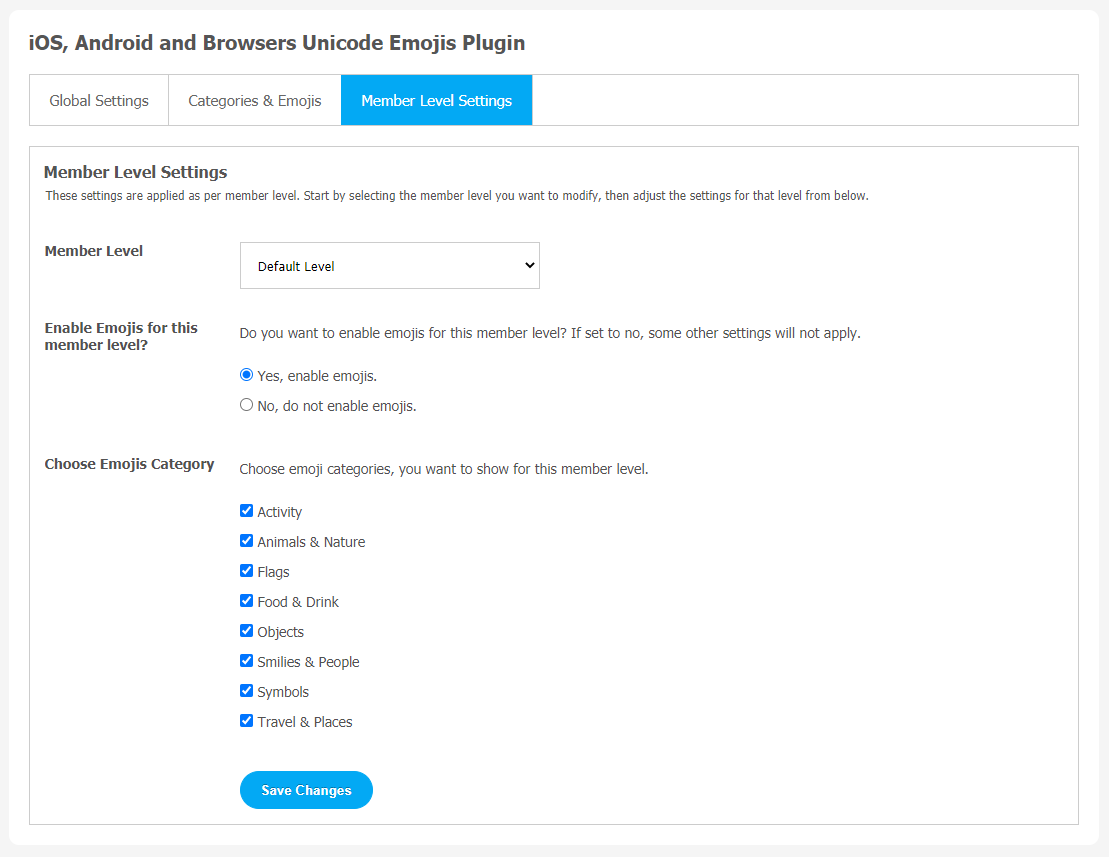 Finally!! You have successfully completed the installation procedure and also explored various exciting features of this iOS, Android and Browsers Unicode Plugin. Now, your visitors and website members will be able to access & use your website with new features.
Installation of this Plugin is very easy, but if you still need our expert to install this Plugin for you, then you can purchase the service from here: https://socialnetworking.solutions/social-engine/socialenginesolutions-plugin-installation/