The primary business model of the website basically works on user engagement and service subscription plans. But most websites don't offer an effective system of subscription membership renewals and timely updates of plan expiry to its users. This is a really frustrating experience for users.
When we visit any website, we often see a Signup link to get access website's prime features and benefits. As we all know, a subscription plan is one of the most effective ways to earn money for any website. It gives complete information about the offer to visitors. Although, many online business owners offer discounted services for more user engagement. But subscribers assures the fixed profit of these businesses.
We have introduced an amazing business tool that will help you to present your subscriber plans for your customer in the most simple way. Membership Subscription Pricing Table & Plan Layout Plugin does its job very effectively. You can customize the designs for the Subscription Page of your website.
Make your website subscription page more unique and powerful. With the help of templates, you can design the subscription plans as per your requirements. You are allowed to enable/disable these templates whenever required. You can look up to some of the popular features of this plugin below.
Key Features
Well Integrated with SE Plans
Table Title and Description
No. of Feature Rows
Configure Feature Rows with Title & Icon
Template with Preview Option
Configurable Template Elements
Configure Plans Layout & Styling
Plans basic Layout Settings
Column Button Settings
Easy to Set Up
Here, we are providing an interactive and easy to follow Membership Subscription Pricing Table & Plan Layout Plugin setup & installation guide which will help you to use & configure it properly on your website & maximize the efficiency of your website by showcasing the exciting features. With this help-guide, you will get a better sense of usage when you actually install this plugin on your website.
Installation of this plugin is very easy, but if you still need our expert to install this plugin for you, then you can purchase the service from here: https://socialnetworking.solutions/social-engine/socialenginesolutions-plugin-installation/
Step-by-Step Installation & Tutorial Guide:
** This tutorial assumes that you are already logged in to the Admin Panel.**
If not, then you have to log in first to the admin panel after filling the admin account credentials on your website.
1. Installation of Membership Subscription Pricing Table & Plan Layout Plugin
a) In the Main Menu section, click on the tab Manage and select "Packages & Plugins" to install this plugin.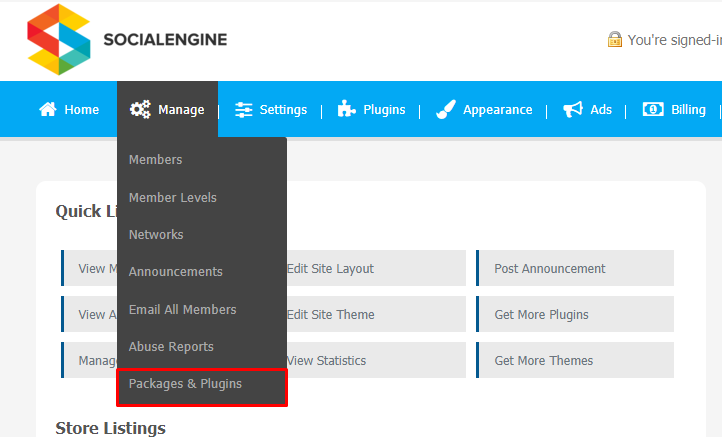 b) Our Plugin is based on SE standards so this will get installed on your website as any standard plugin can. Please read the tutorial on installing themes and plugins in SE here: http://help.socialnetworking.solutions/faq/51/how-to-purchase-and-install-ses-products
c) After the successful installation of the plugin as in Step 2 above, under the plugins section, click on "Membership Subscription Pricing Table & Plan Layout Plugin".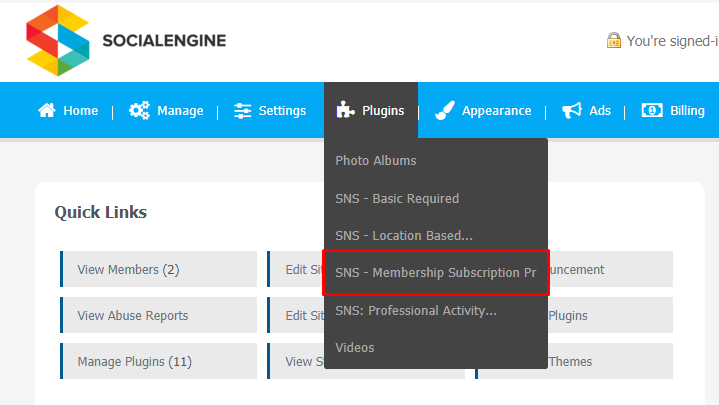 Once you click on the plugin, now you will be asked for entering the required License Key for plugin activation. Now, your plugin is ready to go!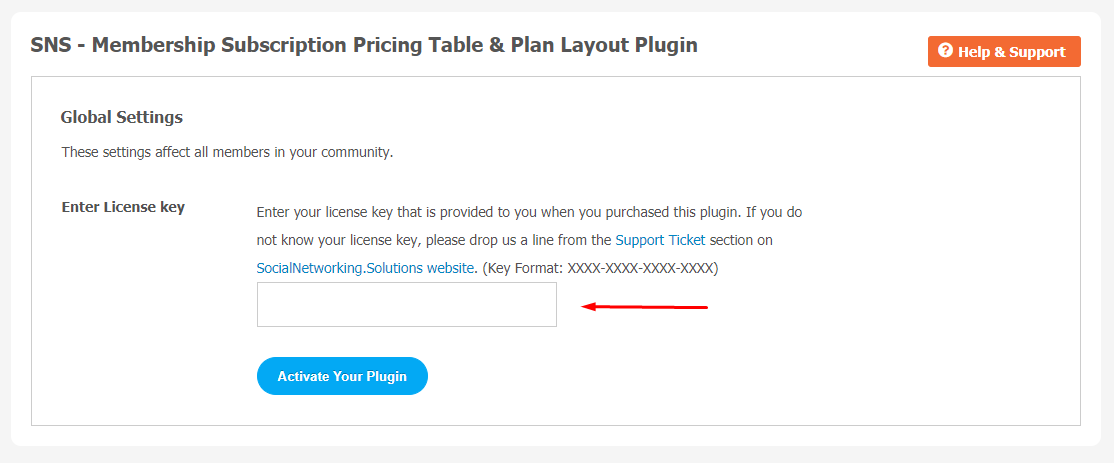 2. Global Settings
After a successful installation, a new Global Setting tab will appear where all the plugin settings can be managed easily. First, click on Global Settings. Then,
Enter the number of Feature Row Count
Title of Pricing Table
Description of Pricing Table
Show Note in Pricing Table Footer
You can also add Note Text.
Don't forget to "Save Changes" when done.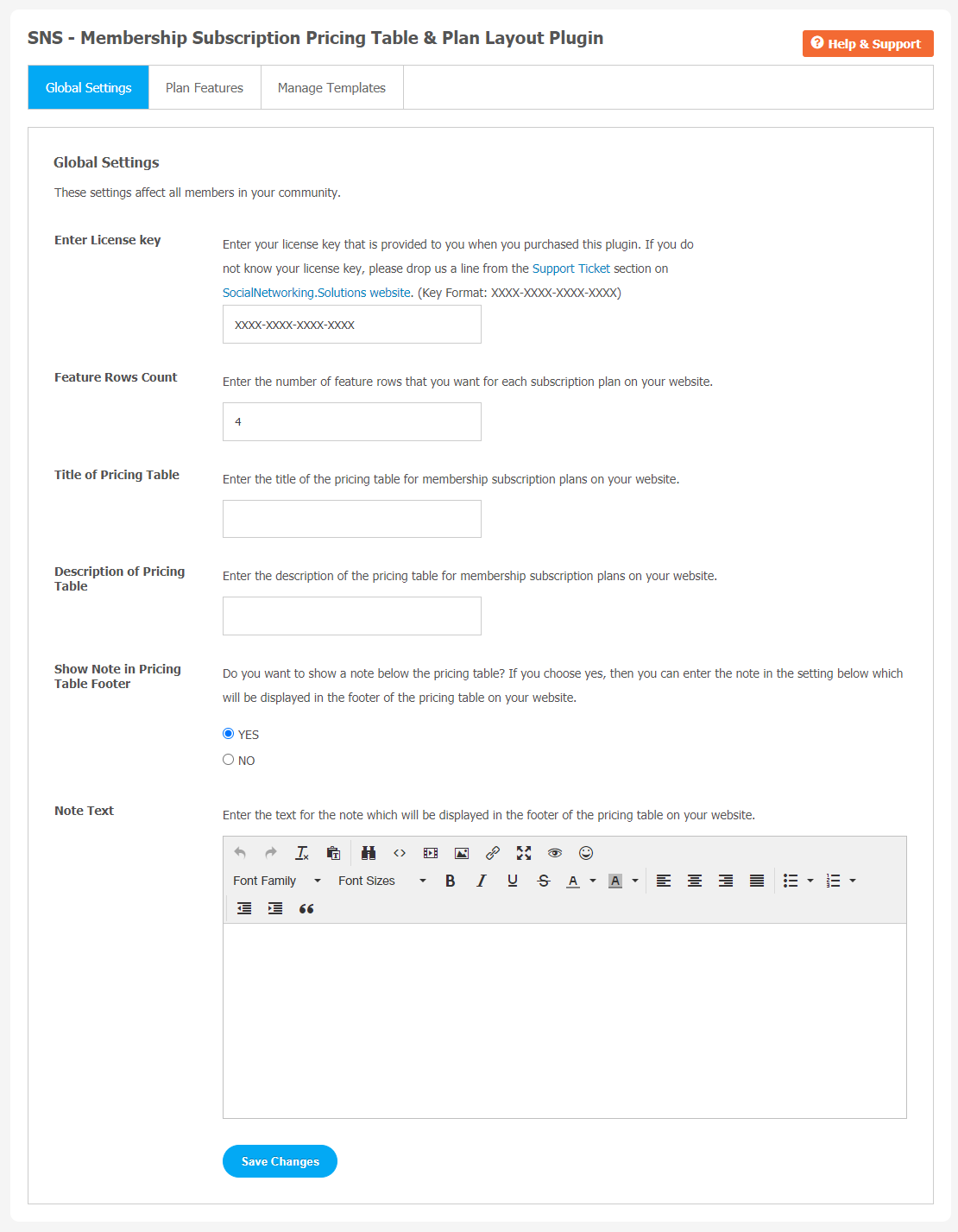 3. Plan Features
In this page section, the admin is allowed to manage features to be shown in the pricing table for all subscription plans on the website. You can also choose a plan which will be changed for members when their current subscribed plan expires.

4. Manage Templates
This page is used to manage all the templates of membership subscription plans. You are allowed to create as many templates as many you want for the plans. These templates will help to optimize all the membership subscription plans you have created on your website.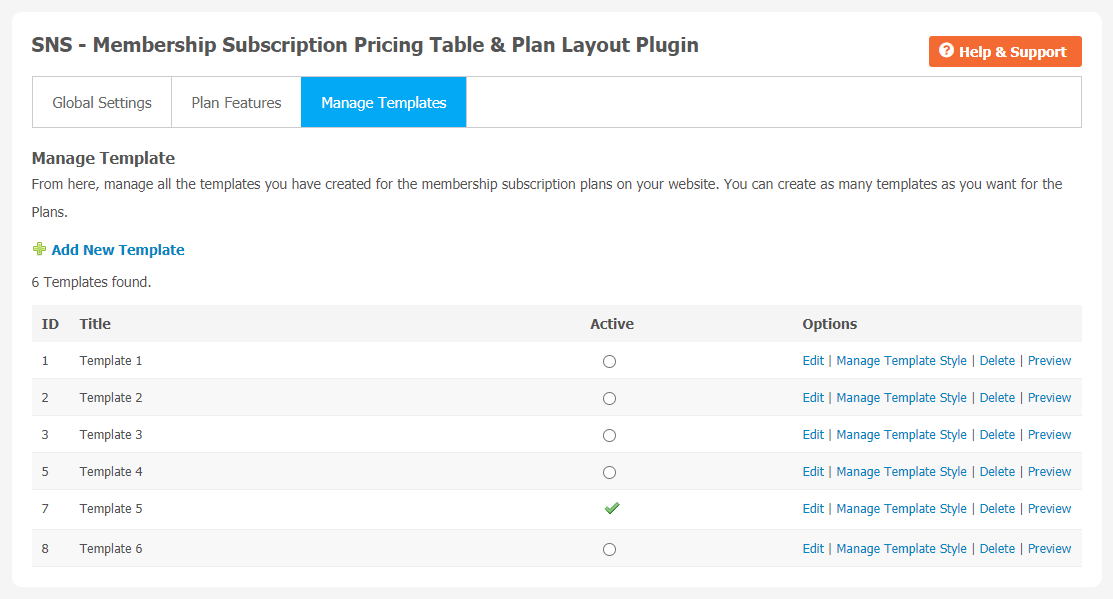 To add a new template, you can click on the "Add New Template" button. Once you click on this link button, it will redirect to a new page where you can create a new template and make required configurations like Template Name, Table Container Background Color, Overlap Table Over Header, etc.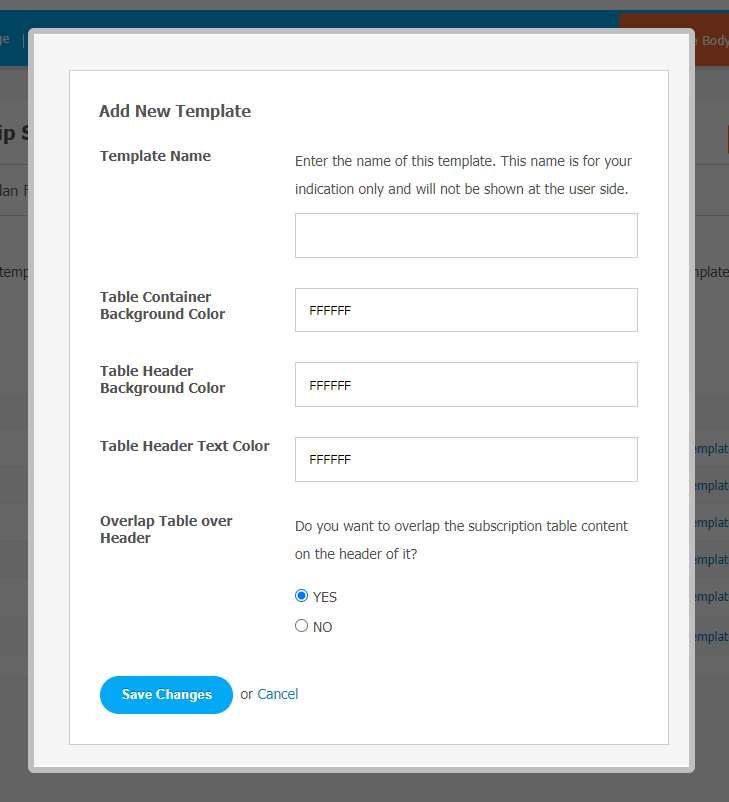 Finally!! You have successfully completed the installation procedure and also explored various exciting features of the Membership Subscription Pricing Table & Plan Layout Plugin. Now, your visitors and website members will be able to access & use your website with some new multipurpose features.
Installation of this Plugin is very easy, but if you still need our expert to install this Plugin for you, then you can purchase the service from here: https://socialnetworking.solutions/social-engine/socialenginesolutions-plugin-installation/