We are pleased to know that you have chosen one of the finest and most powerful money raising tools available in the market. As we know that "Crowdfunding and FundRaising" are some of the most used terms among business people. Many people have powerful business ideas but they lack funding at the right time. So, we must find some effective systems to deal with such issues. This plugin comes as an impactful alternate for all your crowdfunding, charity, fundraising and donation solutions.
In basic terms, Crowdfunding can be defined as the process of raising funds with the help of family, friends, investors and customers. Crowdfunding is usually carried out through websites or social networking platforms and you can capitalize these platforms through the right tool.
Crowdfunding Plugin is that right tool which provides assistance to raise money and build powerful businesses from a few hundred dollars to a few million dollars.All credit goes to this crowdfunding process, which is a powerful and viable alternative to bank loans and credit cards.
With the help of this plugin, site admins can create crowdfunding campaigns with fixed funding goals, campaign duration, and commission rates which they will pay to the website owner. You can set an expiration date for the crowdfunding and fundraisers are allowed to raise money for multiple categories as well. Secure PayPal Payment Gateways are used to distribute and collect funds both for site owner and fundraiser.
This plugin consists some more useful features such as:
Unlimited Crowdfunding Creation
Interactive Dashboard
Easily Manageable Campaigns
Crowdfunding donations
category and Profile-fields
Sharing on Social Media platforms
Like, Comment, Report on Crowdfunding
Payments and Settings
Rewards for Donors
Configurable Widgets
Custom Crowdfunding Duration
Here, we are providing an interactive and easy to follow Crowdfunding/Charity/Fundraising/Donation Plugin setup & installation guide which will help you to use & configure it properly on your website & maximize the efficiency of your website by showcasing the exciting features. With this help-guide, you will get a better sense of usage when you actually install this plugin on your website.
Installation of this plugin is very easy, but if you still need our expert to install this plugin for you, then you can purchase the service from here: https://socialnetworking.solutions/social-engine/socialenginesolutions-plugin-installation/
Step-by-Step Installation & Tutorial Guide:
** This tutorial assumes that you are already logged in to the Admin Panel.**
If not, then you have to log in first to the admin panel after filling the admin account credentials on your website.
1. Installation of Crowdfunding/Charity/Fundraising/Donation Plugin
a) In the Main Menu section, Click on the tab Manage and select "Packages & Plugins" to install this plugin.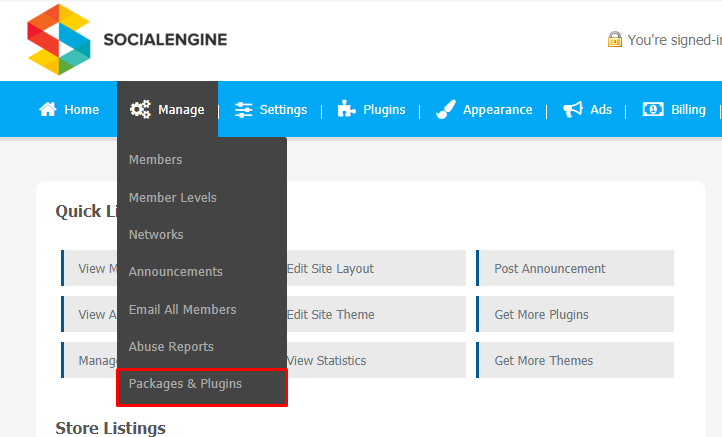 b) Our Plugin is based on SE standards so this will get installed on your website as any standard plugin can. Please read the tutorial on installing themes and plugins in SE here: http://help.socialnetworking.solutions/faq/51/how-to-purchase-and-install-ses-products

c) After the successful installation of the plugin as in Step 2 above, under the plugins section, click on "Crowdfunding".
After clicking on "Crowdfunding", a new window will be opened where you can activate your plugin by entering the license key as shown below: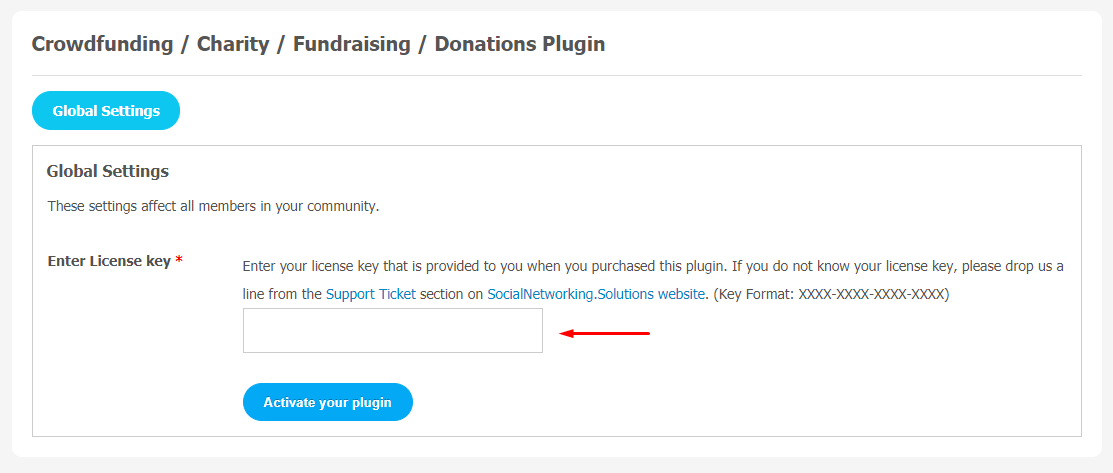 2. Global Setting
After a successful installation, a new Global Setting tab will appear where all the plugin settings can be managed easily. First, click on Global Settings. Then,
Enter the required license key in the below-shown box.
You can add Plural Text for "crowdfunding" in URL.
Enable Custom Crowdfunding Publish Date
Enable Location.
Menu Items Count in Main Navigation.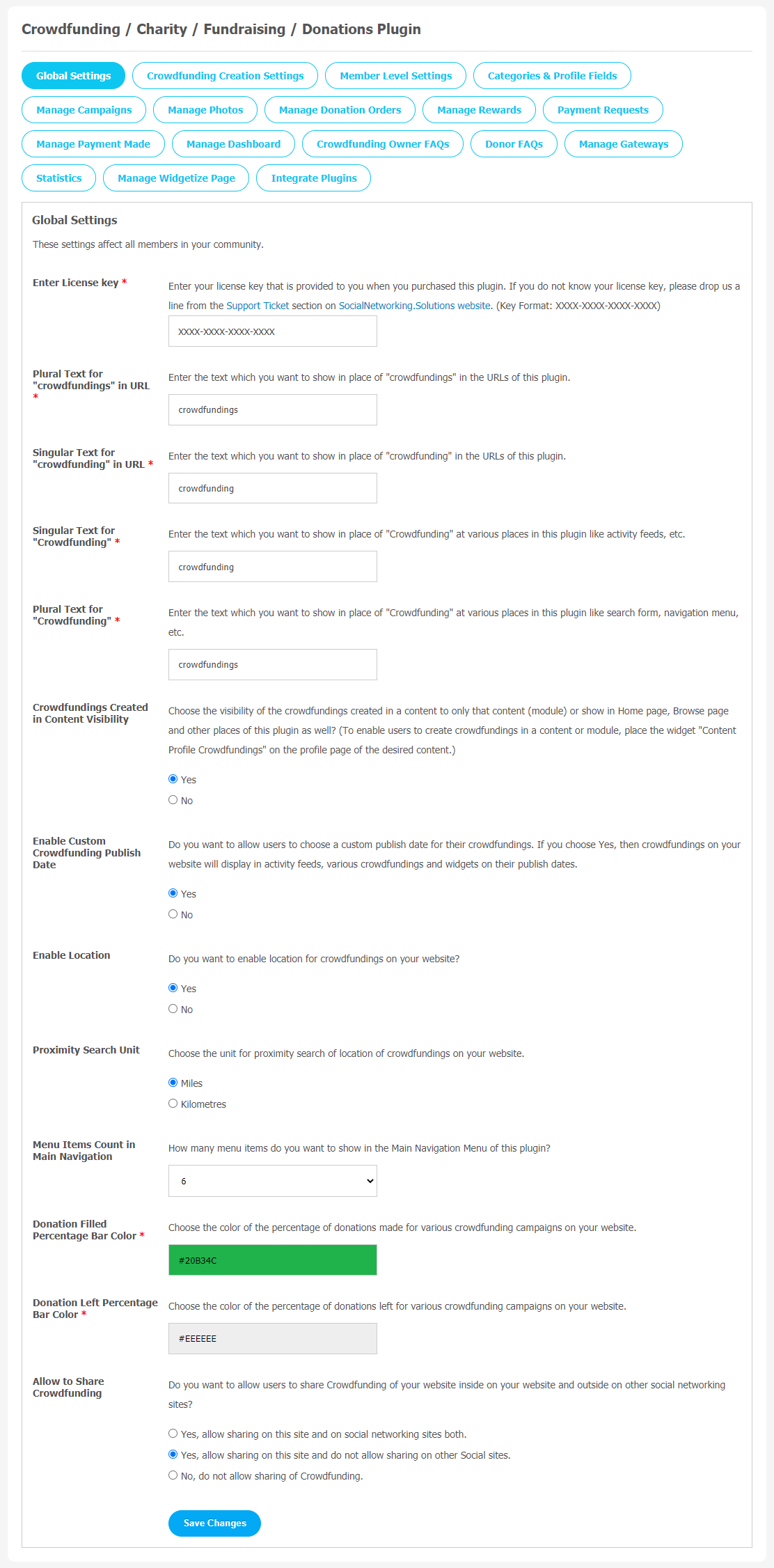 3. Crowdfunding Creation Settings
In this page, you can configure Crowdfunding Creation settings. In the given list, you can enable or disable required features if necessary.
Redirection after Crowdfunding Creation.
Auto-Open Advanced Share Popup
Make Crowdfunding Description Mandatory.
4. Member Level Settings
This section is used to manage Member Level Settings. Here are some important features of Plugin which can be managed by the site admin for different member levels are as following:
Allow Viewing of Crowdfunding
Allow Creation of Crowdfunding
Allow Editing of Crowdfunding
Allow Commenting of Crowdfunding
Allow Photos Upload in Crowdfunding
Threshold Amount of Releasing Payments

5. Categories and Profile Fields
(a) Categories and Mapping
You can create a category for the Crowdfunding by clicking on "Add New Category". You can choose options like Title,Slug URL, Description, Profile Type to be associated with the category, icon and Thumbnail.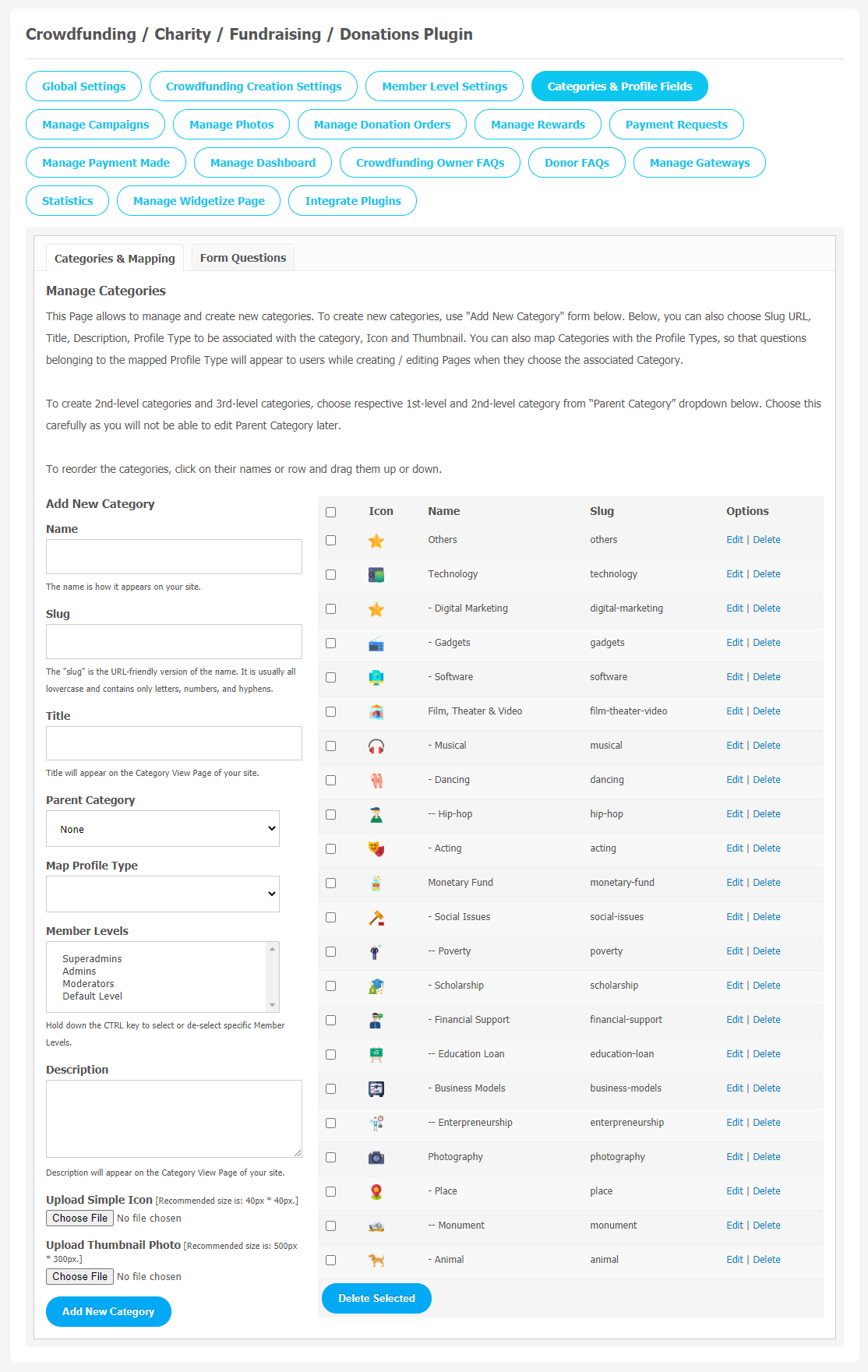 (b) Form Questions
If you want to give more important information about your user's crowdfunding, you can use this page by creating custom fields of your choice.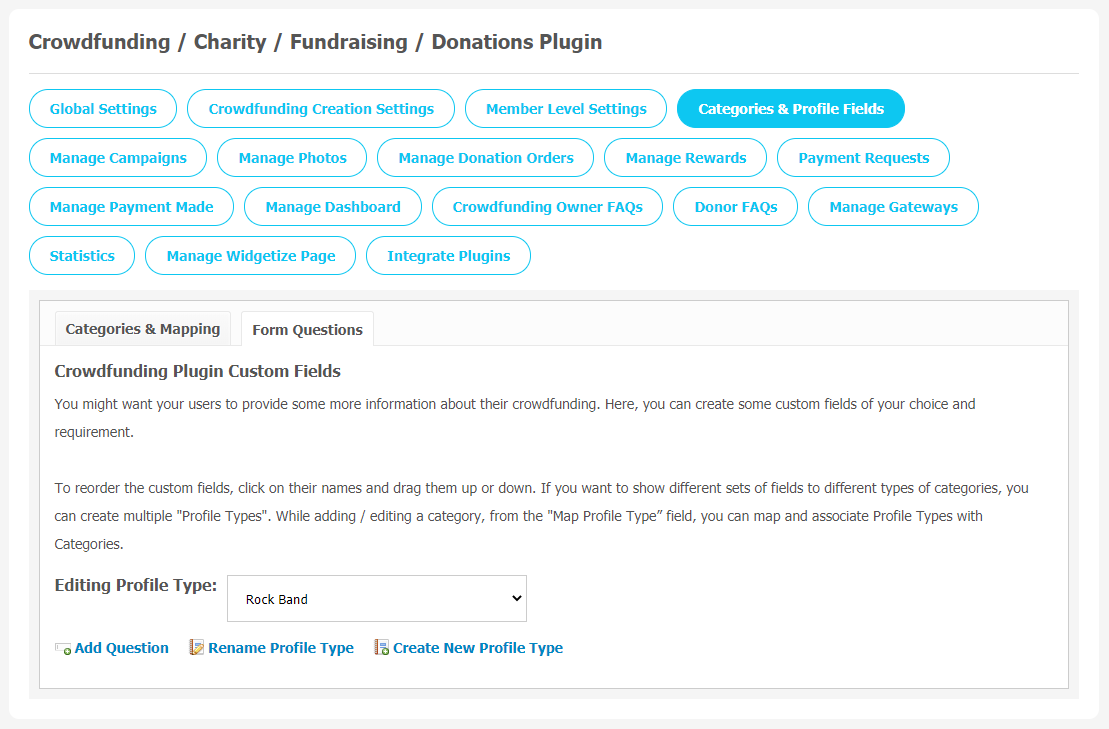 6. Manage Campaigns
This section allows admin to monitor and manage Campaigns created by website users. You can track contests by their name, owner name, date and their sponsors. You can approve or disapprove contests as per your platform guidelines.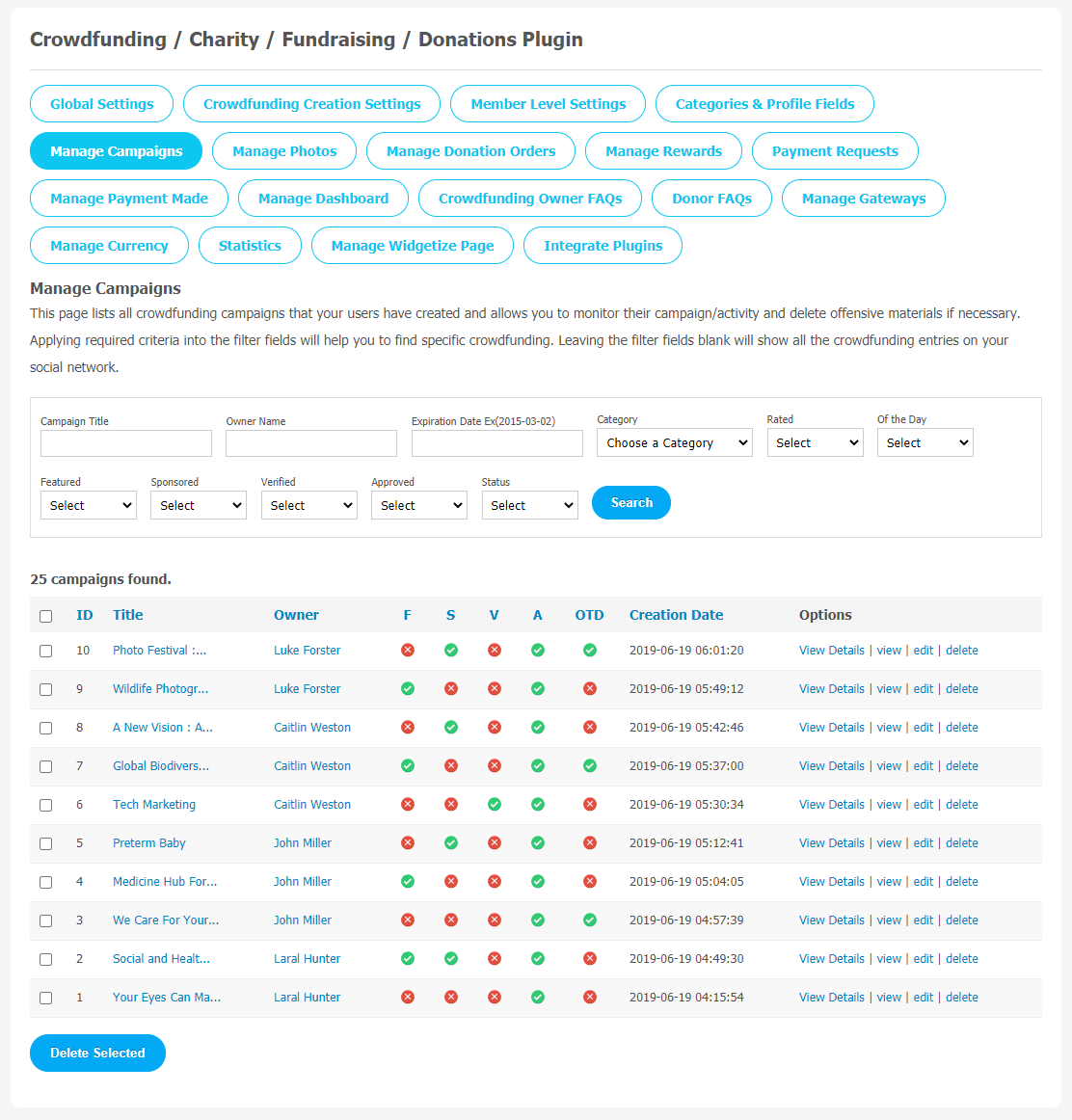 7. Manage Photos
This section contains all the Photos your users have created on the page. Admin can monitor or delete the offensive materials if necessary. The particular photos can be searched by filling the required details as shown in the below image.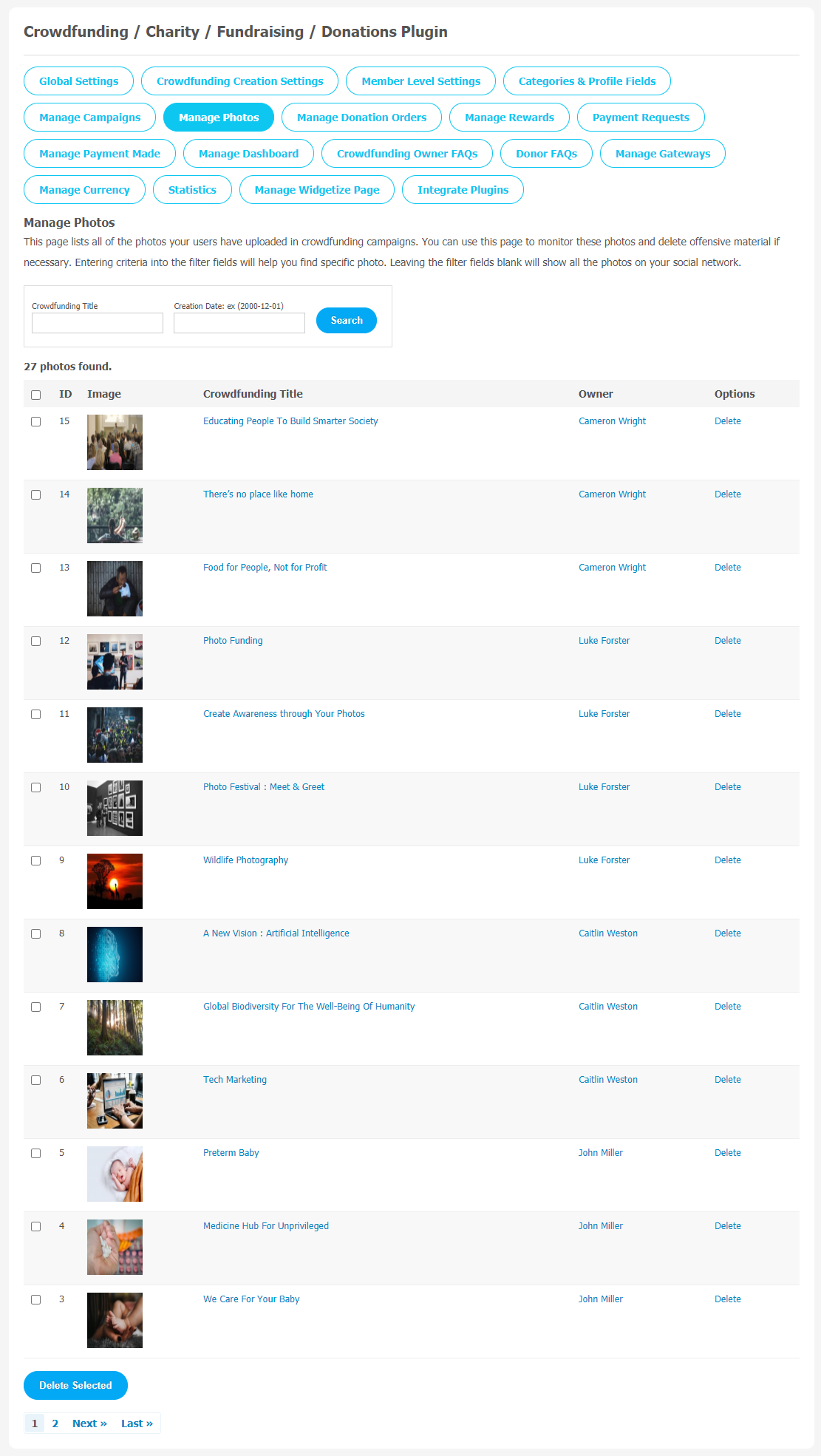 8. Manage Donation Orders
In this page, you can see all crowdfunding by orders.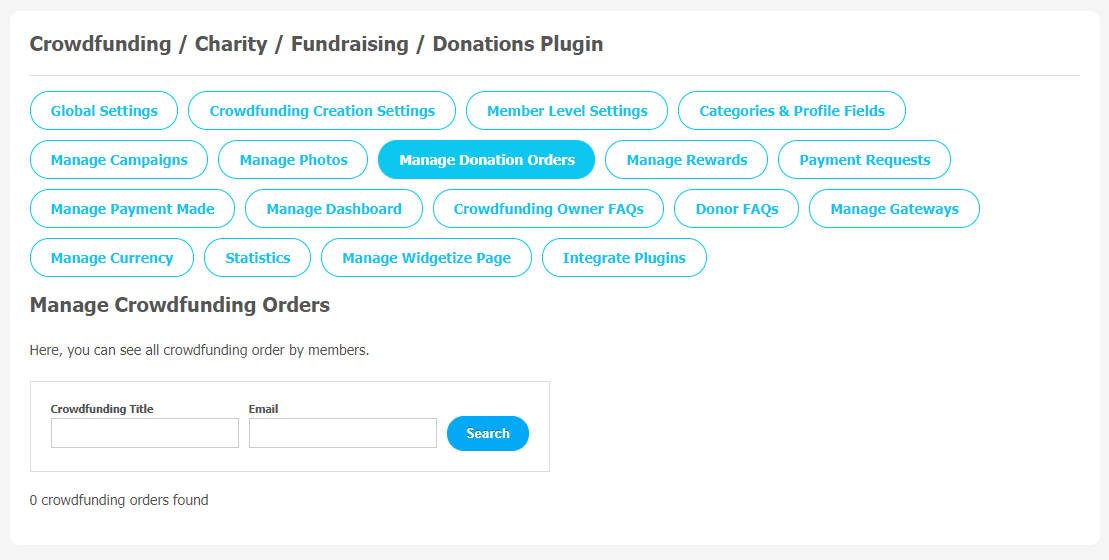 9. Manage Rewards
Here, you can manage all of the Rewards your users have created. All the rewards can be managed and also can be deleted if you find anything not suitable for your platform. Fill the required details to find the specific entries.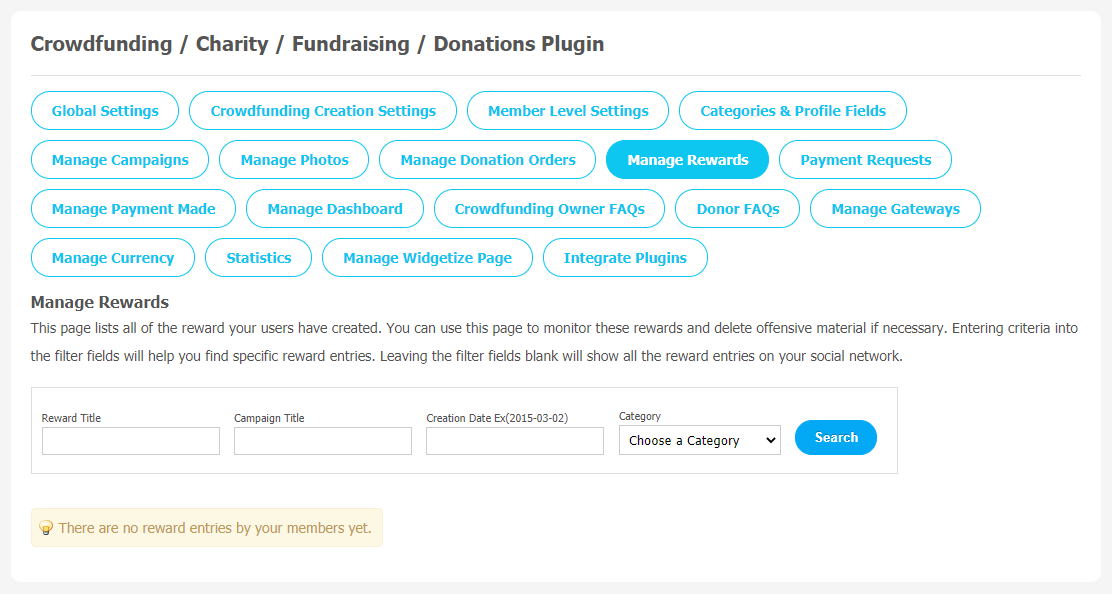 10. Payment Requests
All payments requests sent by your users can be managed here. You can approve and disapprove the claim request for better website experience.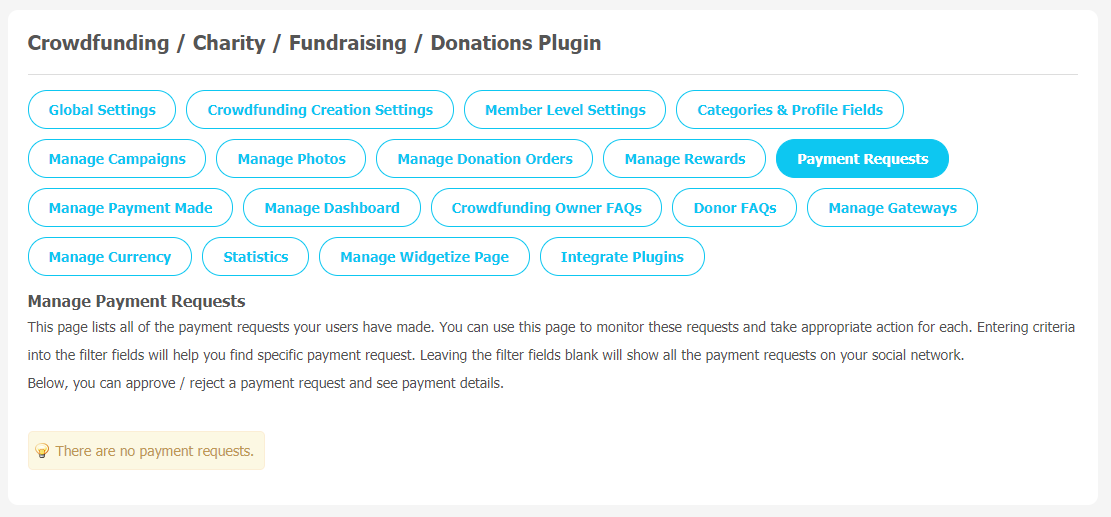 11. Manage Payment Made
This page is used to manage and monitor all the payments data made by crowdfunding owners on your website.You can enter required information in the given search fields to find out the details of specific payment.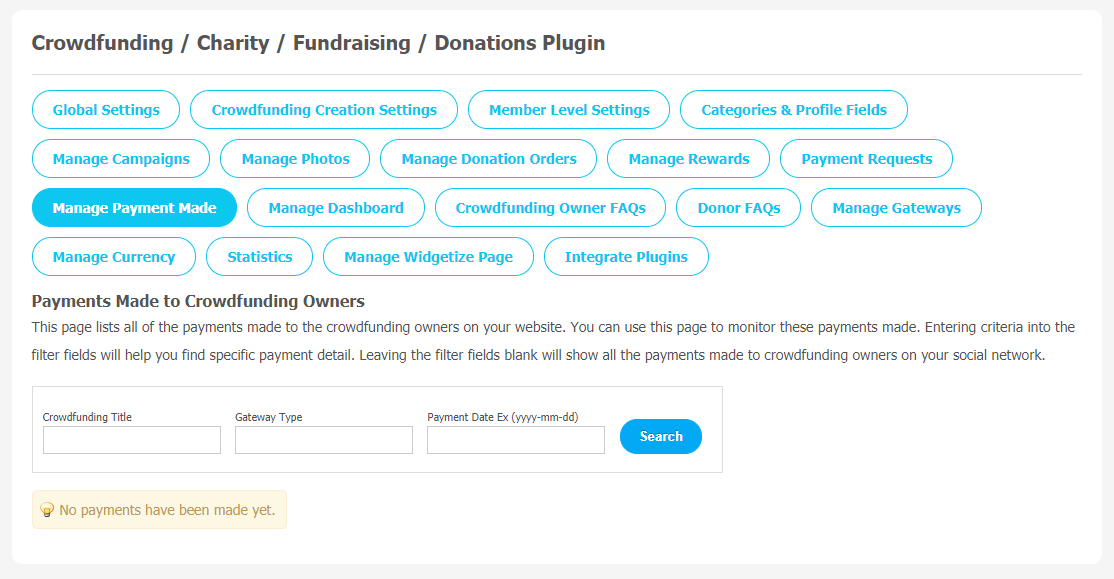 12. Manage Dashboard
Managing the Crowdfunding dashboard becomes very easy with this feature. You can create new items and arrange them into particular categories. The only reason why we are saying this process is so simple because you can add or arrange menu items in categories by dragging and dropping them vertically as shown in the page below.
This feature allows you to edit, enable/disable, delete the menu items if necessary. Also, note that the default menu items cannot be deleted. There are few menu items you can manage from this feature like Manage Crowdfunding, Edit Crowdfunding, SEO, Promotion, About You etc.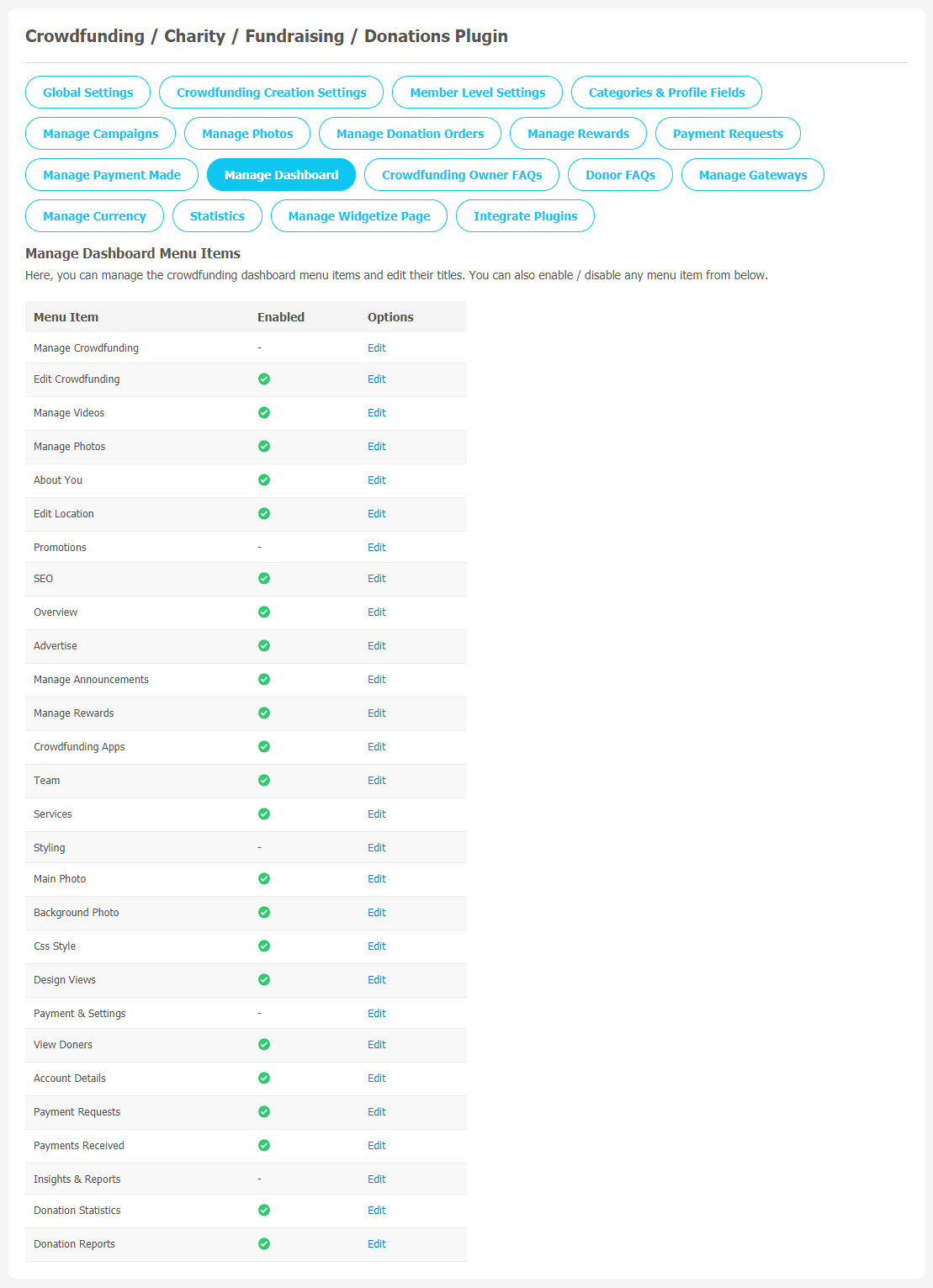 13. Crowdfunding Owner FAQs
You can enter the FAQs for crowdfunding campaign owners on your website. All these FAQs will be appeared on the respective page at the user end.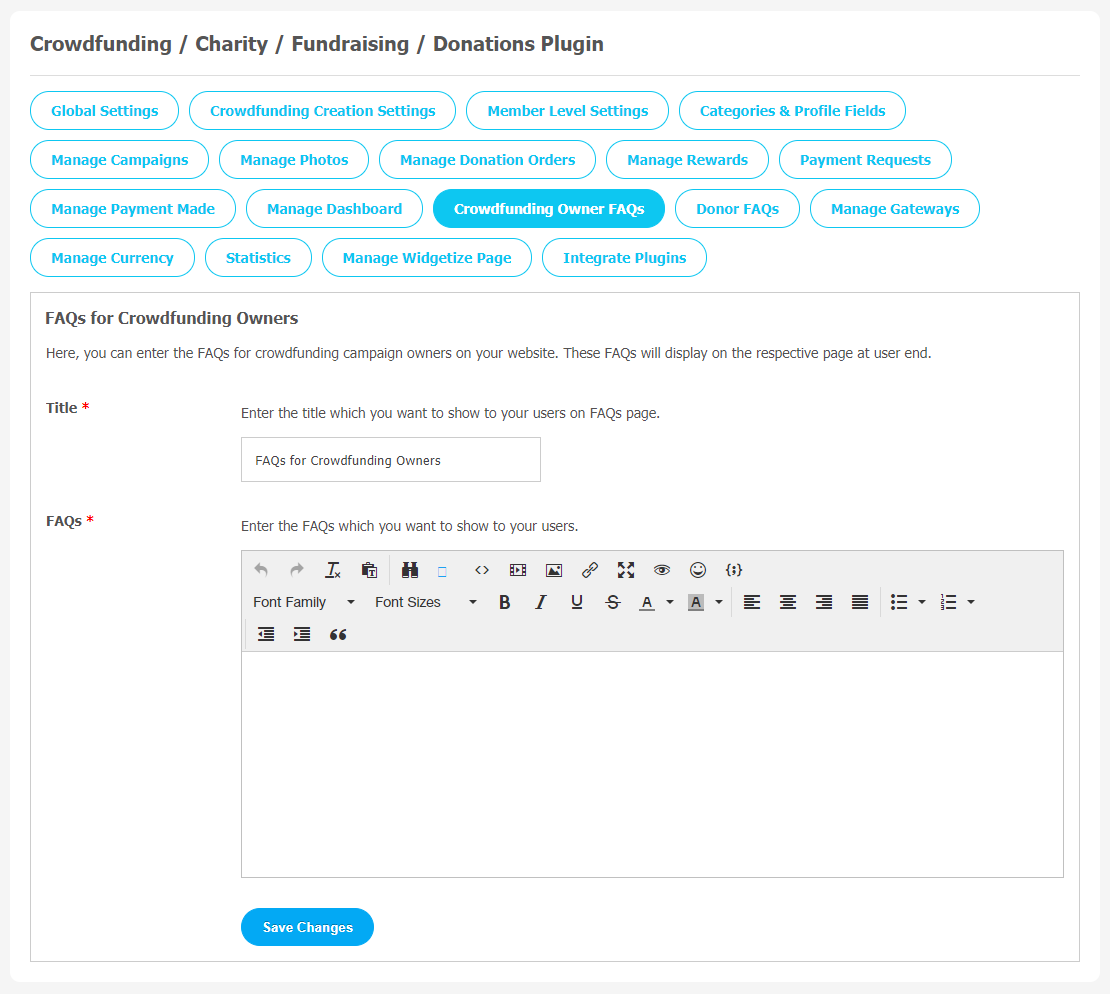 14. Donor FAQs
You can enter the FAQs for donors on your website. All these FAQs will be appeared on the respective page at the user end.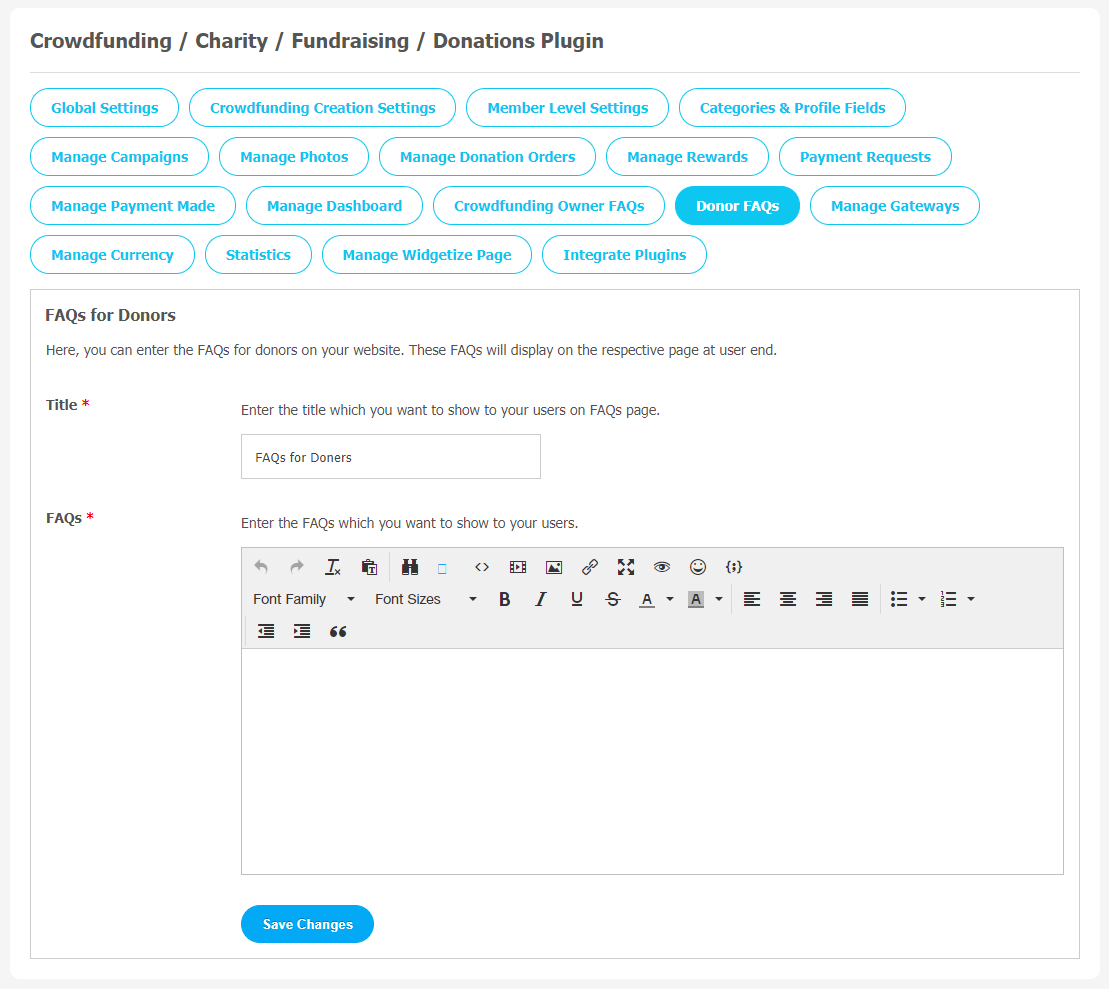 15. Manage Gateways
Through this page, all the payment Gateways can be managed for optimized payment services between site admin and donor.
When you select "Manage Gateways" Tab, a new window will appear from where you can choose different payment Gateways options.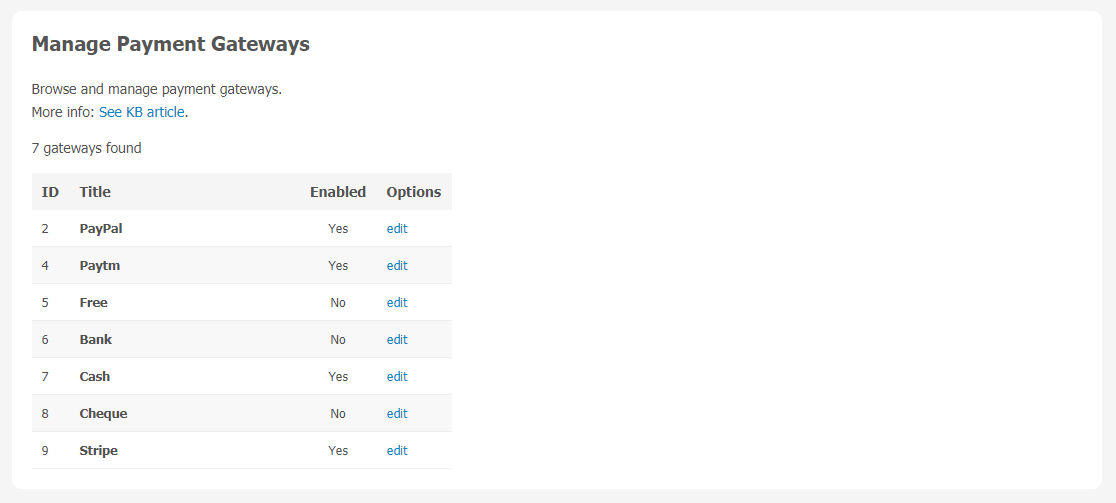 16. Statistics
This Page contains the valuable statistics for Crowdfunding created on your website. You can check the total number Crowdfunding created,Total Featured Videos,Total Reviews, Total Comments, Total Views, Total Likes etc.. from this section.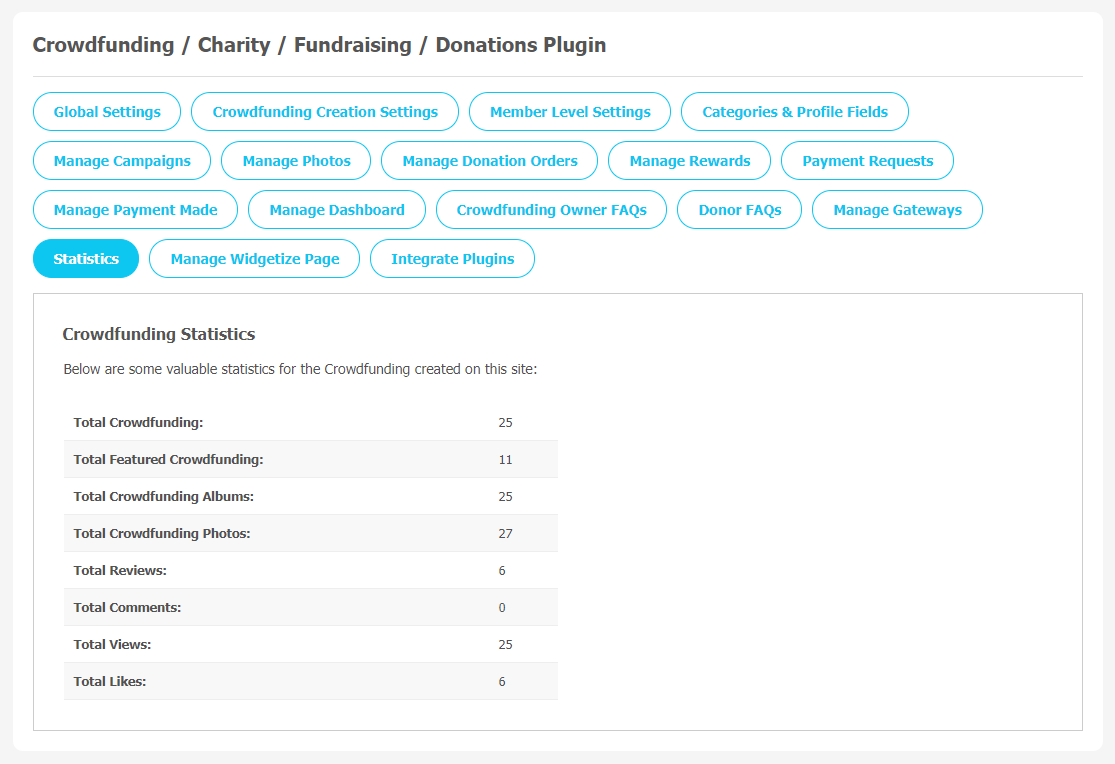 17. Manage Widgetized Page
All the widgetized pages are shown in this section. You can go to "Layout Editor" by clicking on the respective Widgetize Page Link.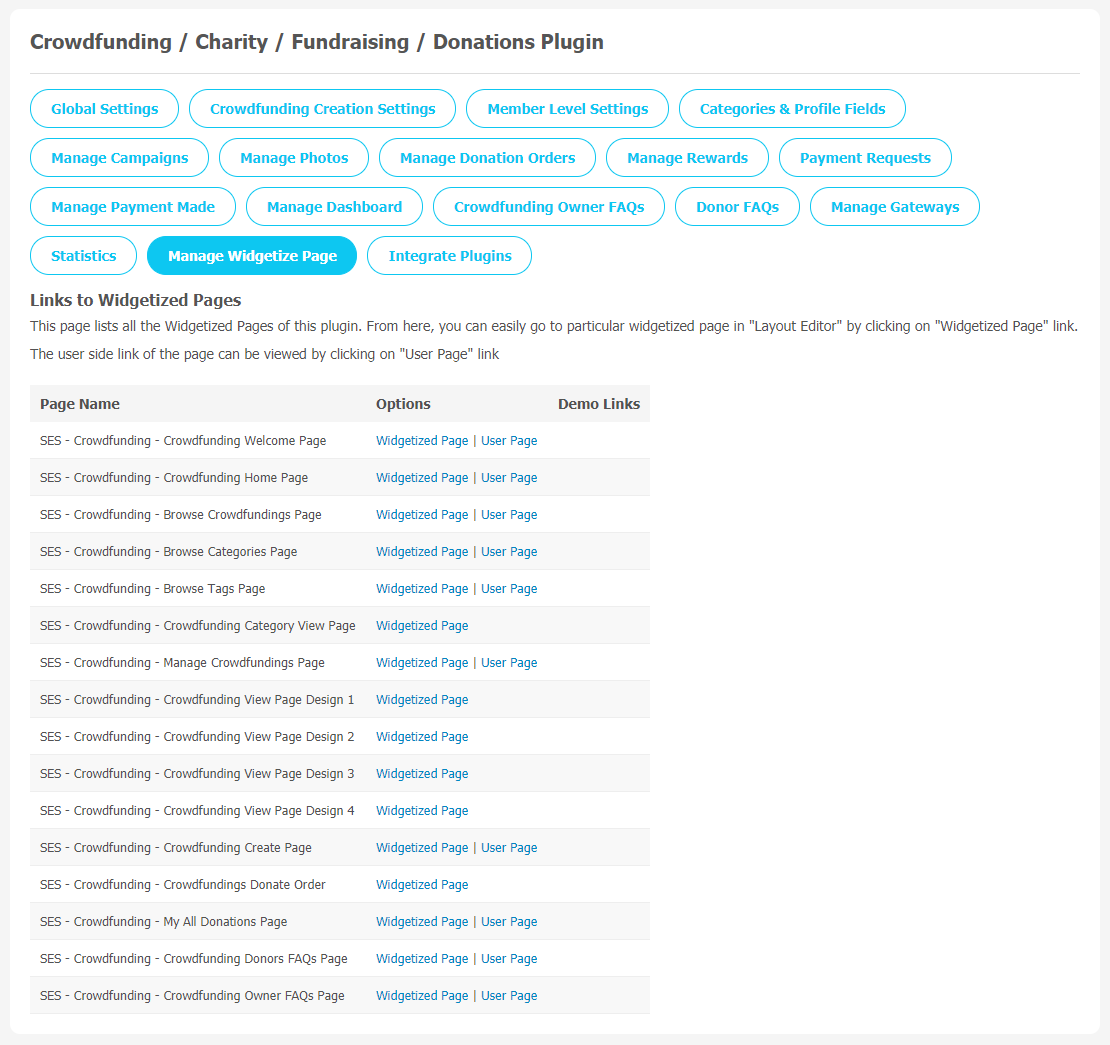 18. Integrate Plugins
You can activate the creation of Browse Crowdfunding Page in other plugins from this section by adding the modules which are installed on your website. You can add as many modules as you want from here.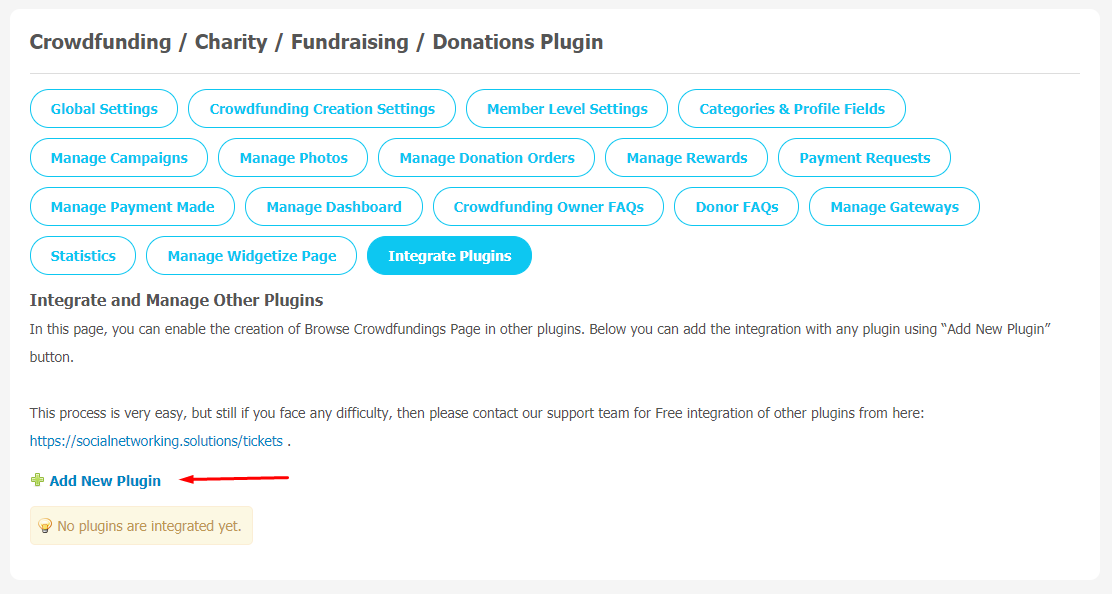 Finally!! You have successfully completed the installation procedure and also explored various exciting features of this Crowdfunding / Charity / Fundraising / Donation Plugin.
Now, your visitors and website members will be able to access & use your website with new features.
Installation of this Plugin is very easy, but if you still need our expert to install this Plugin for you, then you can purchase the service from here: https://socialnetworking.solutions/social-engine/socialenginesolutions-plugin-installation/