The key reasons behind any successful online community are strong user-base and powerful content. They play a significant role in building brand image. If your platform holds a genuine audience, it will automatically attract more users to your website and increase trust among people as well.
The biggest benefit that comes with this plugin is you can refine the quality of subscribers on your website. It allows you to remove those who only visit your site for their benefits by registering with fake email ids.
Using this plugin you can easily refine the quality of subscribers and eliminate those who only come to your website for their benefits by registering with the fake emails. If you are really serious about building an army of the genuine and loyal users who provide value to your business, then this amazing plugin is for you.
Member Verification by Other Members Plugin allows your site members to get verified from other members on your site.Once verified, an badge is awarded to their profiles which reduces the risk of fake users and helps in increasing the platform credibility.
This plugin includes features like Verify Badge, Member Level Based Verification, Threshold Limit for Verification, Manage Verification Requests, Display Comments for Verified Members, Mails and Notifications etc.
Here, we are providing an interactive and easy to follow Member Verification by Other Members Plugin setup & installation guide which will help you to use & configure it properly on your website & maximize the efficiency of your website by showcasing the exciting features. With this help-guide, you will get a better sense of usage when you actually install this plugin on your website.
Installation of this plugin is very easy, but if you still need our expert to install this plugin for you, then you can purchase the service from here: https://socialnetworking.solutions/social-engine/socialenginesolutions-plugin-installation/
Step-by-Step Installation & Tutorial Guide:
** This tutorial assumes that you are already logged in to the Admin Panel.**
If not, then you have to log in first to the admin panel after filling the admin account credentials on your website.
1. Installation of Member Verification by Other Members Plugin:
1. In the Main Menu section, Click on the tab Manage and select "Packages & Plugins" to install this plugin.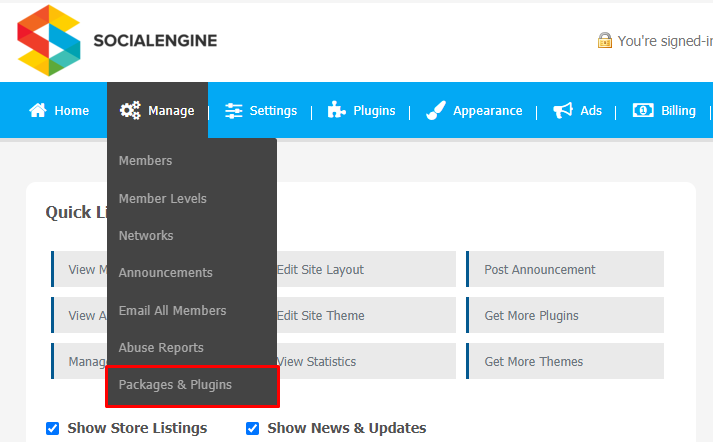 2. Our Plugin is based on SE standards so this will get installed on your website as any standard theme can. Please read the tutorial on installing themes and plugins in SE here: http://help.socialnetworking.solutions/faq/51/how-to-purchase-and-install-ses-products
3.After the successful installation of the plugin as in Step 2 above, under the plugins section, click on "Member Verification".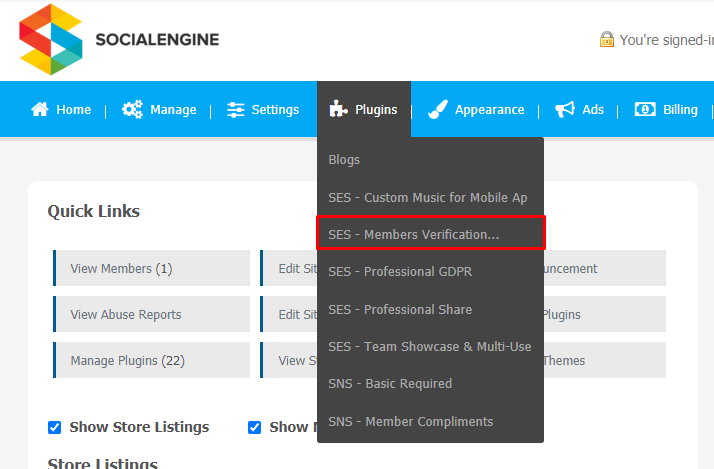 Once you click on plugin, now you will be asked for entering required License Key for plugin activation. Now, your plugin is ready to go!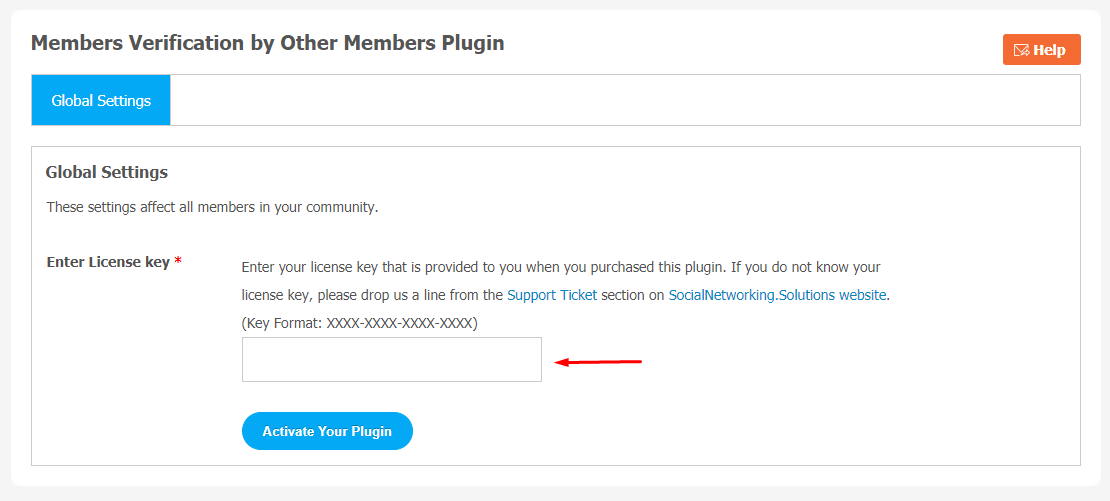 2. Global Settings
After a successful installation, a new Global Setting tab will appear where all the plugin settings can be managed easily. First, click on Global Settings. Then, you can configure features like
Allow Members to Verify Others Members
Upload Verify Badge Image
Enable Members to Add Comments
Display Comments for Verified Members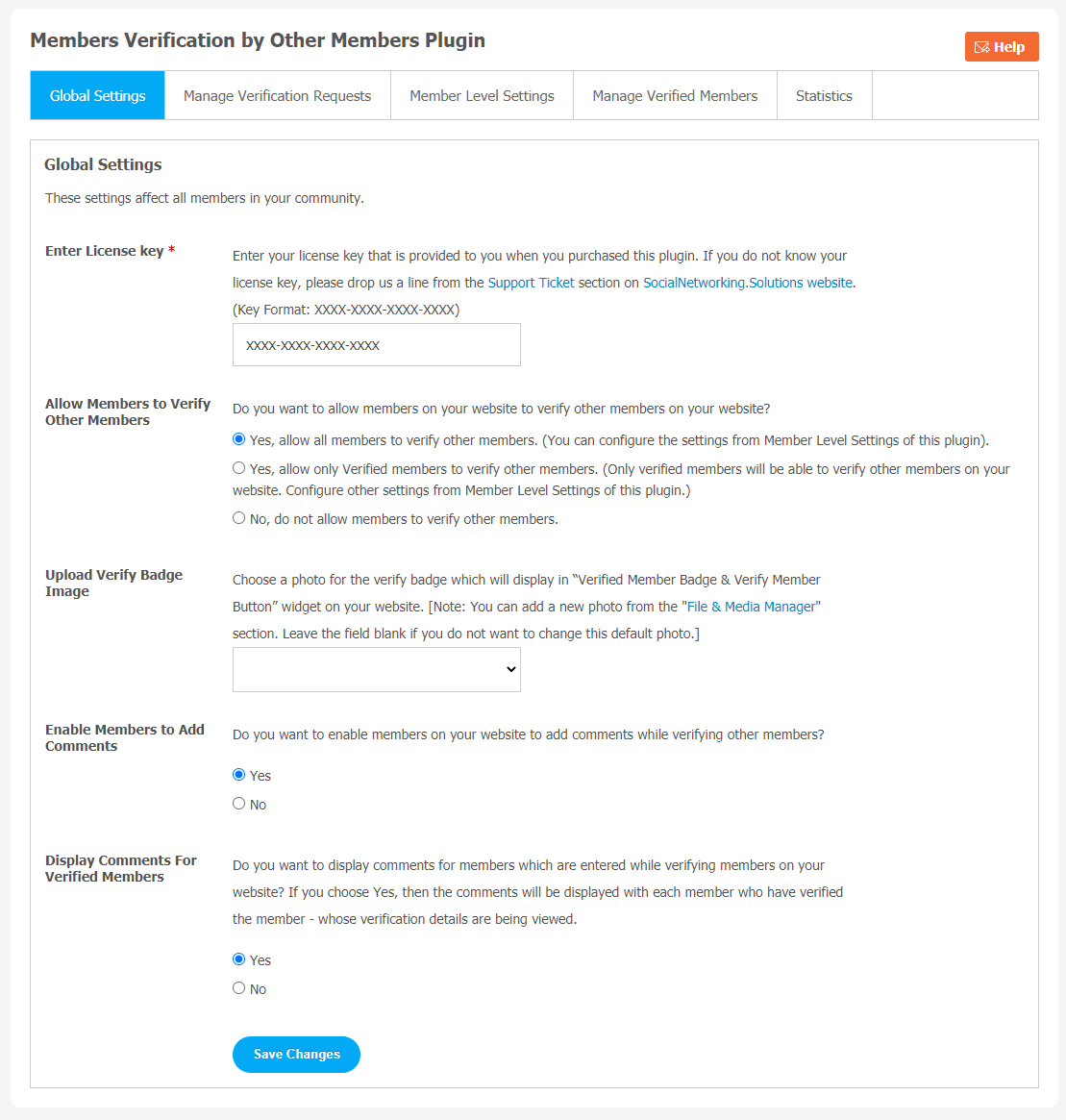 3. Manage Verification Requests
This page records all the member verifications requests made on your website which are waiting for admin approval.You can approve, reject or delete requests as per your platform requirements. Fill up the details as per required fields to find out the specific requests. Approved Pages will appear in the "Manage Verified Members" section.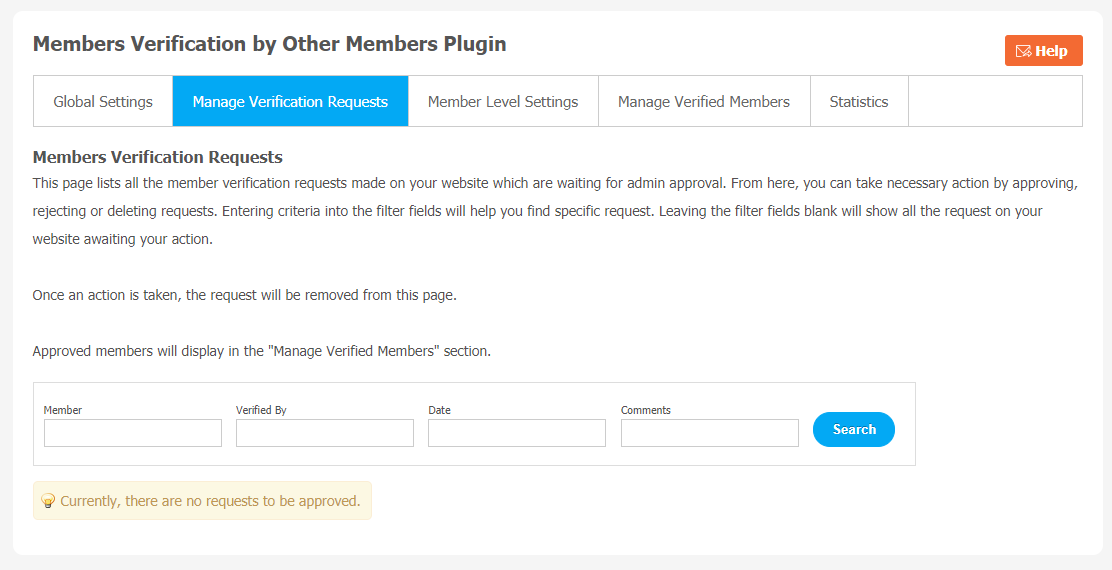 4. Member Level Settings
Through this page, you can manage member level settings where you can easily select the required setting based on your platform requirements.
Allow Verification of Members
Auto Approve Verifications
Allow Editing of Verifications
Allow Cancellations of Verifications
Enable Members Verifications
Minimum Verifications Limit
Don't forget to Save Changes when done.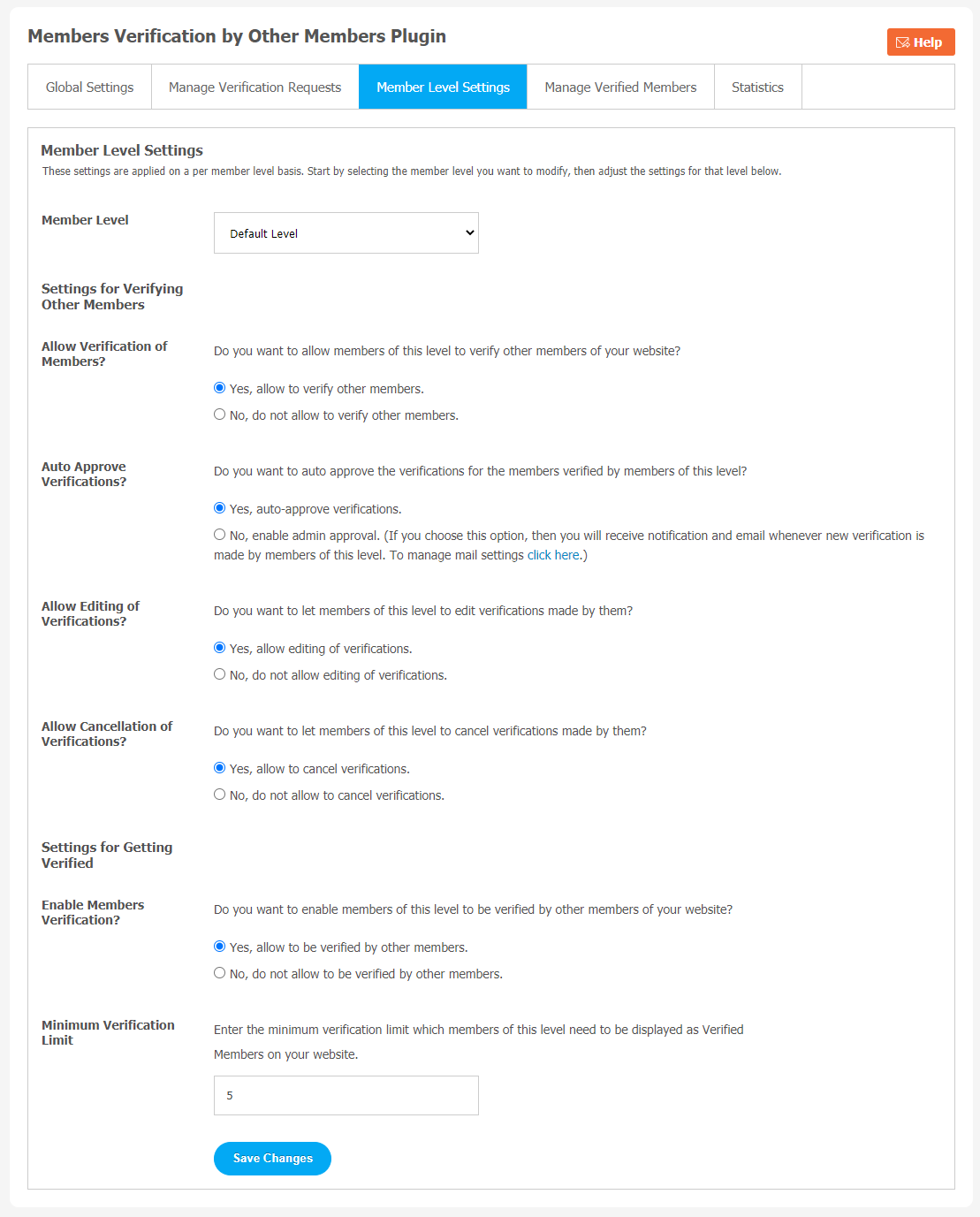 4. Manage Verified Members
In this page, all the Members verified by the members on your website can be managed and monitored. You can delete offensive material if not suitable for your platform guidelines. Enter the required information in the given fields to find out the specific group.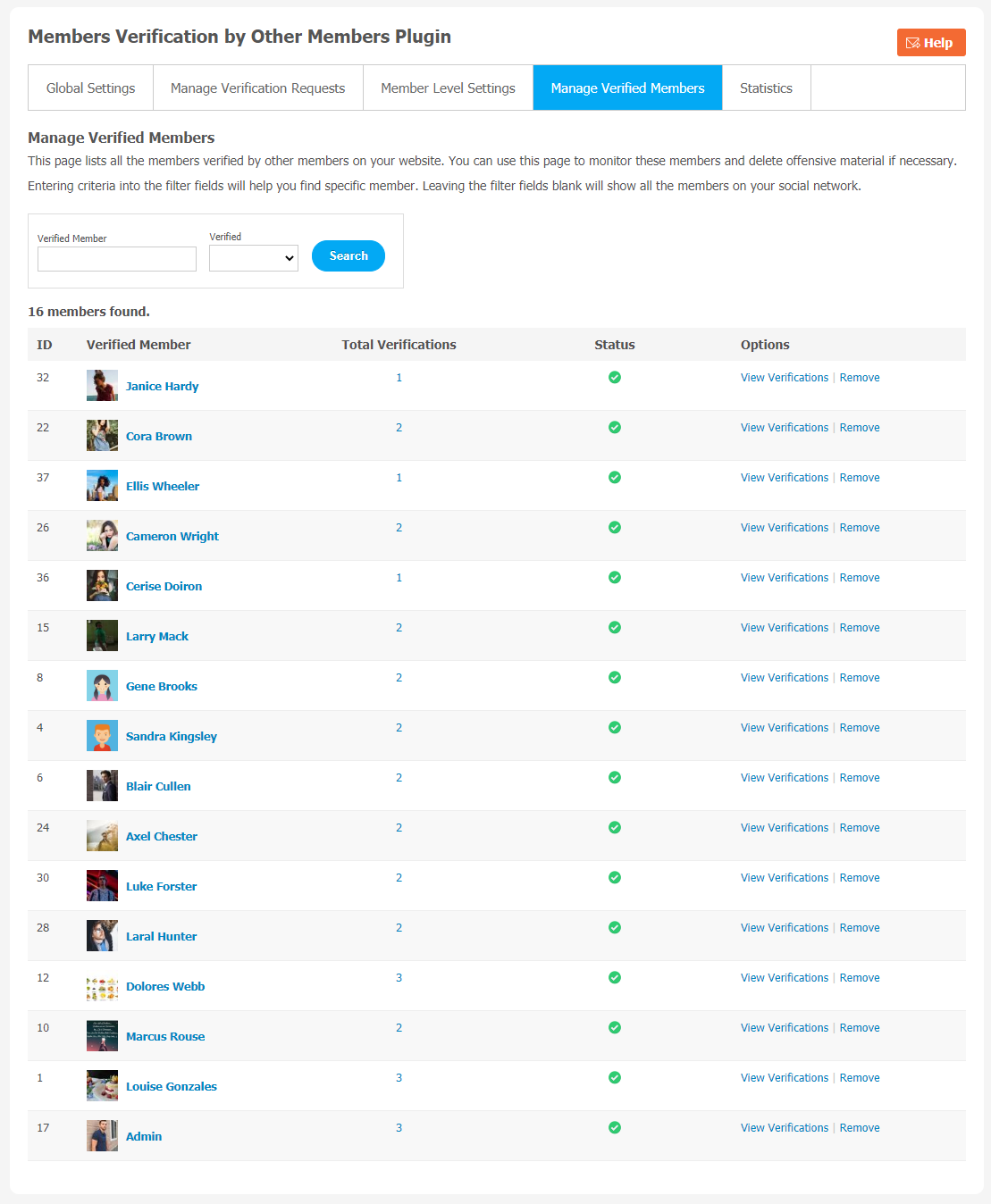 5. Statistics
Statistics helps website owners to better understand the important event activity that is happening on their website. We often require these statistics to track our website performance too. You can see the list of important statistics. Through this page, the admin can track how many Total verifications and Total User Verifiers have been done on your website.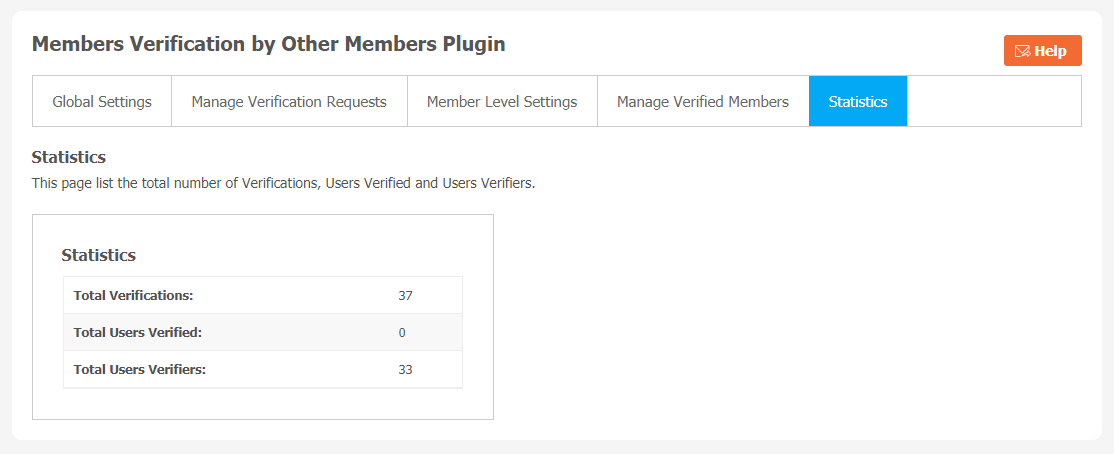 Finally!! You have successfully completed the installation procedure and also explored various exciting features of Members Verification by Other Members Plugin. Now, your visitors and website members will be able to access & use your website with some new multipurpose features.
Installation of this Plugin is very easy, but if you still need our expert to install this Plugin for you, then you can purchase the service from here: https://socialnetworking.solutions/social-engine/socialenginesolutions-plugin-installation/