Avatar is generally used for user profile images.They have become widely popular on SocialEngine platform. If you observe closely at the comments, forum section of any site, you will see a photo next to the commenter. They are called avatars. Basically, it is a graphical representation of any user. It helps to build your brand image, and makes your website more credible among new audiences. Having an avatar next to the profile image helps to look more professional, and ultimately boosts user engagement to your website.
Custom Avatar Plugin allows you to choose your favorite Avatar among 50 pre uploaded Avatars, Manage Avatar Images, Upload Custom Avatar, Edit your Avatar etc. Also, some additional benefits like this plugin are simple and very lightweight. It will make no impact on your website's loading time.You can allow your users to upload their own Avatar on your SocialEngine website. You also have freedom to choose a default avatar for every user on your website.
Here, we are providing an interactive and easy to follow Custom Avatar Plugin setup & installation guide which will help you to use & configure it properly on your website & maximize the efficiency of your website by showcasing the exciting features. With this help-guide, you will get a better sense of usage when you actually install this plugin on your website.
Installation of this plugin is very easy, but if you still need our expert to install this plugin for you, then you can purchase the service from here: https://socialnetworking.solutions/social-engine/socialenginesolutions-plugin-installation/
Step-by-Step Installation & Tutorial Guide:
** This tutorial assumes that you are already logged in to the Admin Panel.**
If not, then you have to log in first to the admin panel after filling the admin account credentials on your website.
1. Installation of Custom Avatar Plugin:
(a) In the Main Menu section, Click on the tab Manage and select "Packages & Plugins" to install this plugin.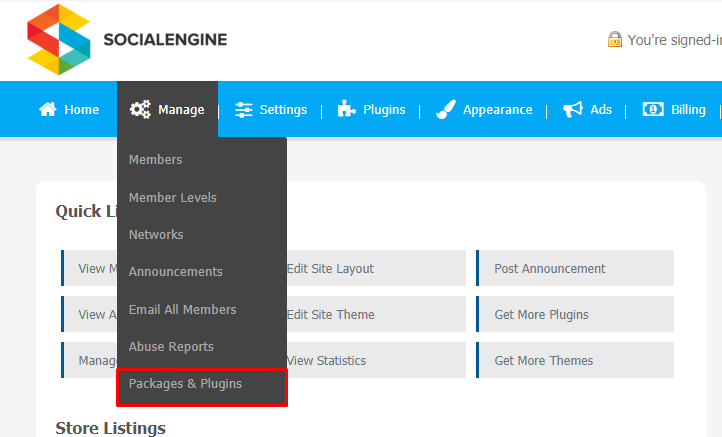 (b) Our Plugin is based on SE standards so this will get installed on your website as any standard theme can. Please read the tutorial on installing themes and plugins in SE here: http://help.socialnetworking.solutions/faq/51/how-to-purchase-and-install-ses-products
(c) After the successful installation of the plugin as in Step 2 above, under the plugins section, click on "Custom Avatar".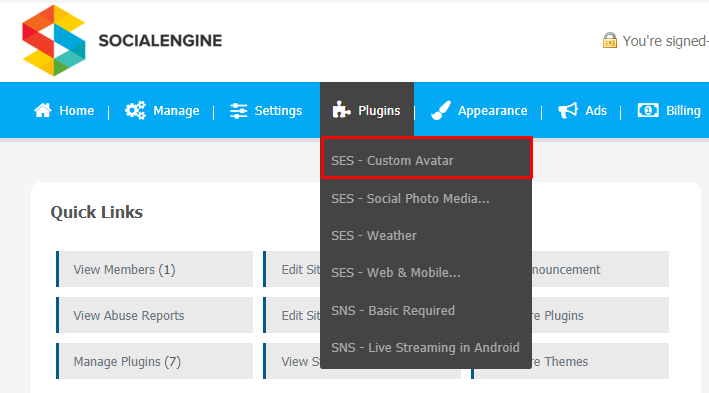 Now, you will be asked for plugin activation. You can activate this plugin by entering the right license key in the given box.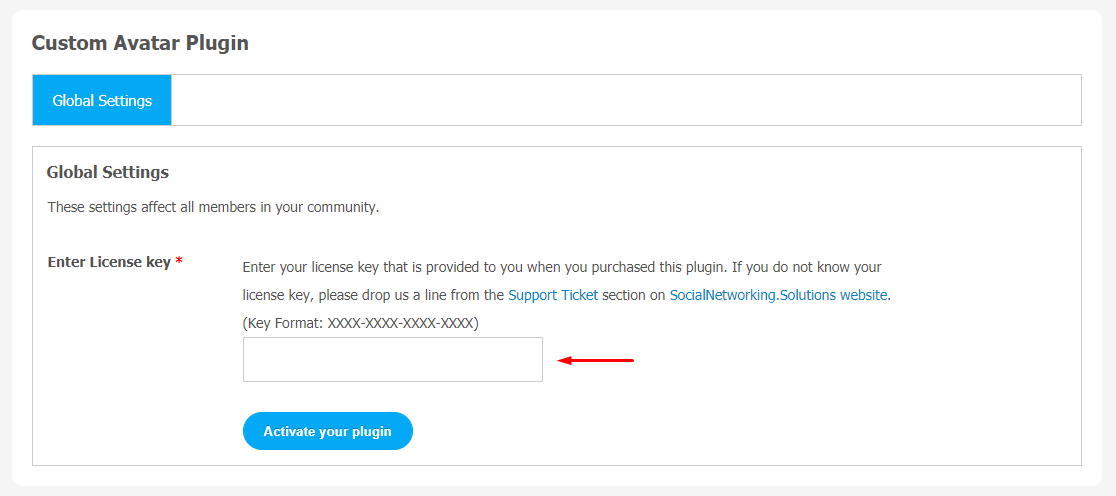 Once the plugin is installed and activated click on Global Settings, to head straight to the plugin configuration page.
2. Global Settings
After a successful installation, a new Global Setting tab will appear where all the plugin settings can be managed easily.
3. Manage Avatar Images
Here, you can see all the Avatar uploaded by you on your website. This plugin enables you to upload Avatar from your computer or File Manager.
If you want to upload Avatar Image, you can choose by clicking on the box as shown below in the image. You will get at least 50 pre-uploaded avatar images with this plugin. You can choose your favourite avatar as per your requirement.

It was so simple! You can now visit the front end of your website to see the changes you made. You can see that those anonymous comments that have been made by visitors with no avatar now have an avatar based on what you set through this Custom Avatar Plugin. We hope that this tutorial guide will help you to understand the features of this plugin better!