Online polls and surveys are excellent ways to attract users and can be used as an effective marketing tool to increase user engagement on your site. You can get a better idea of what your audience likes and dislikes about your products and services. It can be very helpful to get your website in the top search engine rankings.
Some site owners are unsure to add such an amazing plugin to their site because they presume that it will cost more or require technical skills.
But this simple yet professional Advanced Polls Plugin can be your one-stop destination for all your polls related needs for your platform. You can create unlimited polls on your SocialEngine website. Many powerful features come with this plugin where you can edit polls, Upload GIF files for Poll, Poll Voting, share on multiple platforms like FB, Twitter etc.
Key Features:
Create Unlimited Polls
Image & GIF File Upload for Poll options
Poll Voting
Reporting
Sharing on FB, Twitter & Pinterest
Polls Privacy Settings
Here, we are providing an interactive and easy to follow Advanced Polls Plugin setup & installation guide which will help you to use & configure it properly on your website & maximize the efficiency of your website by showcasing the exciting features. With this help-guide, you will get a better sense of usage when you actually install this plugin on your website.
Installation of this plugin is very easy, but if you still need our expert to install this plugin for you, then you can purchase the service from here: https://socialnetworking.solutions/social-engine/socialenginesolutions-plugin-installation/
Step-by-Step Installation & Tutorial Guide:
** This tutorial assumes that you are already logged in to the Admin Panel.**
If not, then you have to log in first to the admin panel after filling the admin account credentials on your website.
1. Installation of Advanced Polls Plugin:
a) In the Main Menu section, Click on the tab Manage and select "Packages & Plugins" to install this plugin.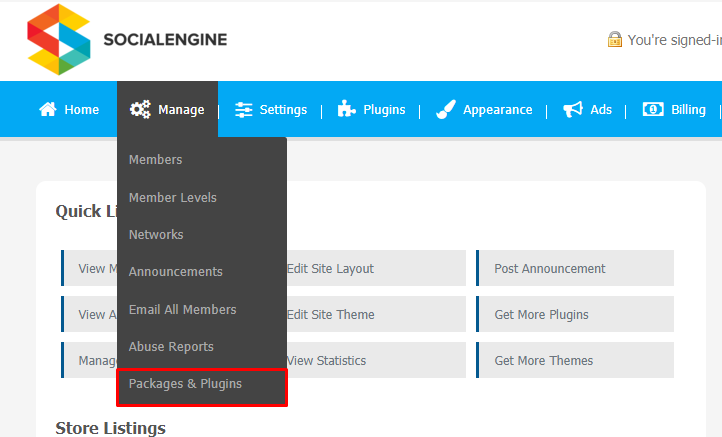 b) Our Plugin is based on SE standards so this will get installed on your website as any standard theme can. Please read the tutorial on installing themes and plugins in SE here: http://help.socialnetworking.solutions/faq/51/how-to-purchase-and-install-ses-products

c) After the successful installation of the theme as in Step 2 above, under the plugins section, click on "Advanced Polls Plugin"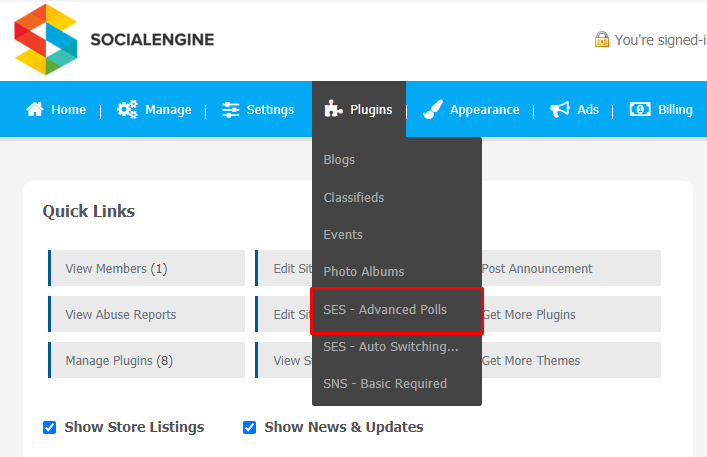 Now, you will be asked for plugin activation. You can activate this plugin by entering the right license key in the given box.

Once the plugin is installed and activated click on Global Settings. You will be landed straight to the plugin configuration page.
2. Global Settings
After a successful installation, a new Global Setting tab will appear where all the plugin settings can be managed easily. First, click on Global Settings. Then, manage the following mentioned settings:
Plural "polls" text in URL.
You can set a limit on the maximum number of polls answers.
You can change your vote.
Allow Favourite for Polls
Allow to share polls.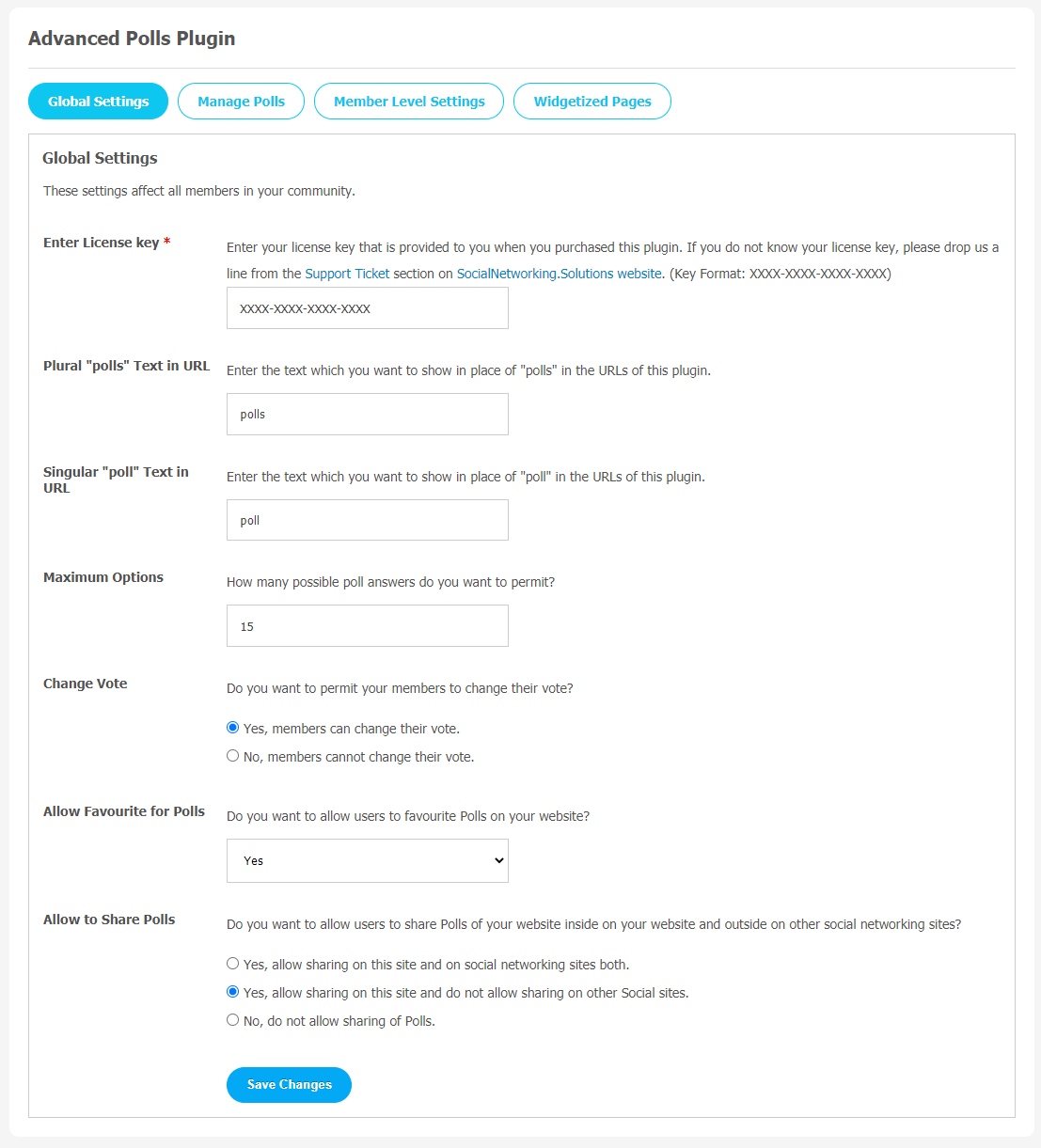 3. Manage Polls
This section allows admin to monitor and manage polls created by website users. You can track events by their name, owner name, date and their sponsors.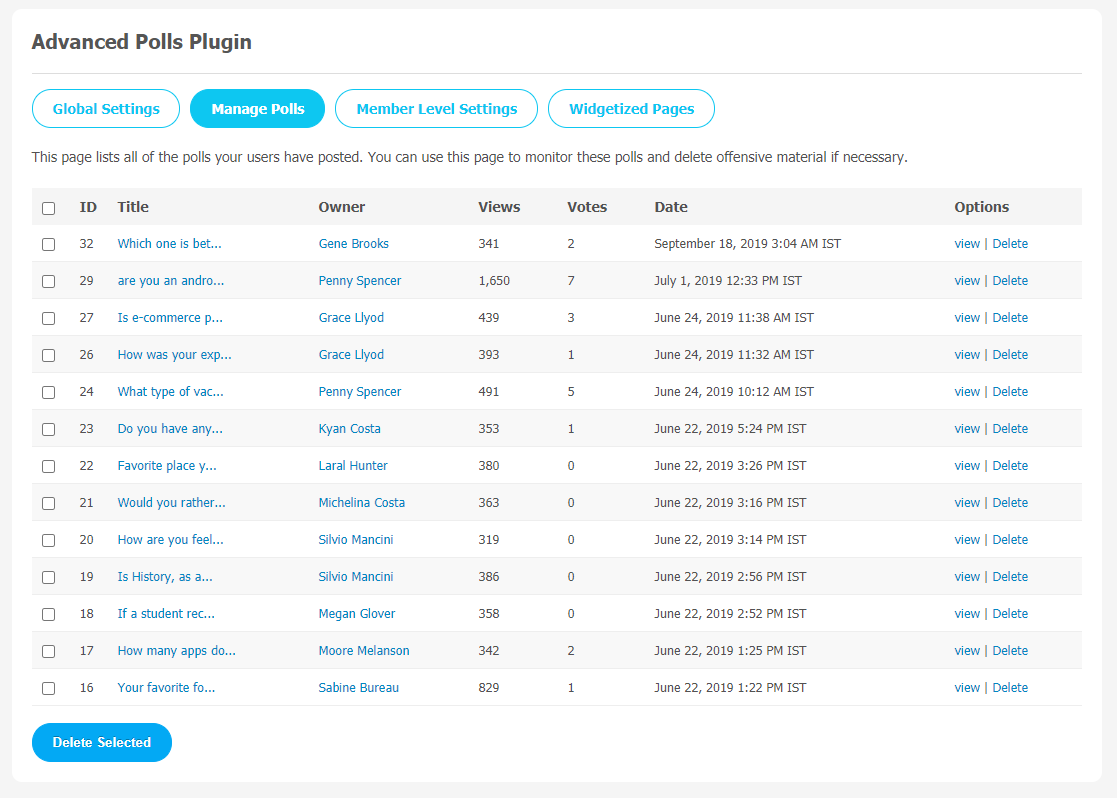 4. Member Level Settings
This section is used to manage Member Level Settings. Here are some important features of Plugin which can be managed by the site admin for different member levels are as following:
Allow Viewing of Polls
Allow Creation of Polls
Allow Editing of Polls
Allow Commenting of Polls
Allow Deletion on Polls
Set Poll Privacy
Manage Poll Comment Options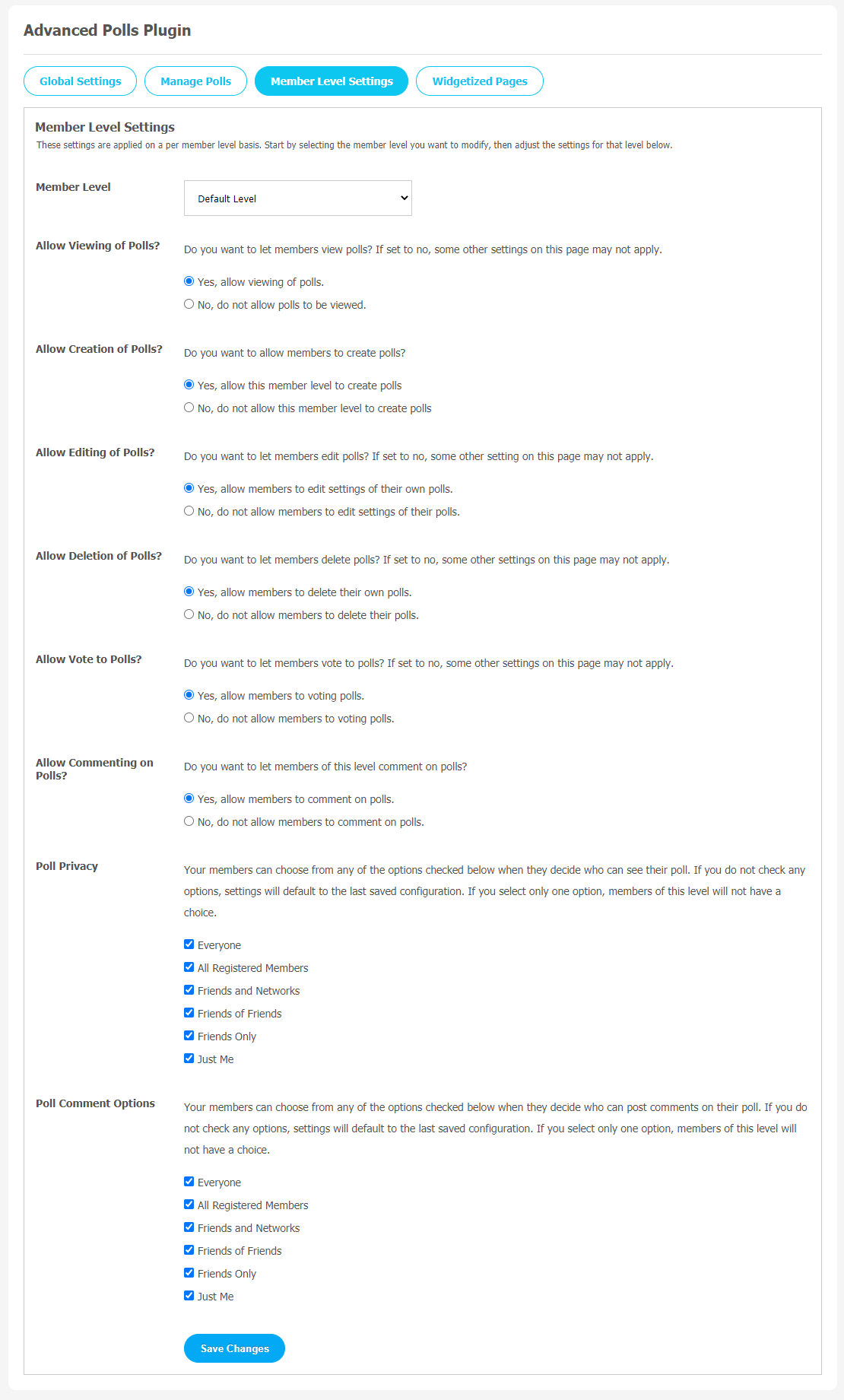 5. Widgetized Pages
All the widgetized pages are shown in this section. You can go to "Layout Editor" by clicking on the respective Widgetize Page Link.
Finally!! You have successfully completed the installation procedure and also explored various exciting features of this Advanced Polls Plugin. Now, your visitors and website members will be able to access & use your website with new features.
Installation of this Plugin is very easy, but if you still need our expert to install this Plugin for you, then you can purchase the service from here: https://socialnetworking.solutions/social-engine/socialenginesolutions-plugin-installation/