Having a Banner Slideshow plugin to your SocialEngine website can be a wise choice for your online business growth. SocialNetworking.Solutions Banner Slideshow Plugin that is designed to work effortlessly on SocialEngine platform.
We know that banner slideshows are engaging. If you add a beautiful and interactive slide to your posts or pages with some good quality pictures with attractive styles, you will witness the increased user engagement on your website.
This plugin contains two slides, fixed caption, floating caption, 2 CTA buttons etc. You can select the website header to show inside and outside the banner. The best thing about this plugin is it is easy and quick to set up.
Unlimited Slideshow
Double Slides
Slide Description
Background Color and Gradient
Watch Video Button
Frames of Slides
For more settings configuration, you can manage them directly from the admin panel. All the changes made at admin panel settings will be applicable for all website members.
We are giving a brief tutorial guide to explore the useful features of this amazing plugin. It will help you to understand the important aspects of Double Banner Slideshow Plugin feature and how you can optimize these features to get the best out of it.
1. Installation of Double Banner Slideshow Plugin
(a) In the Main Menu section, Click on the tab Manage and select "Packages & Plugins" to install this plugin.
(b) Our Plugin is based on SE standards so this will get installed on your website as any standard plugin can. Please read the tutorial on installing themes and plugins in SE here: http://help.socialnetworking.solutions/faq/51/how-to-purchase-and-install-ses-products

(c) After the successful installation of the plugin as in the below image, under the plugins section, click on "Double Banner Slideshow".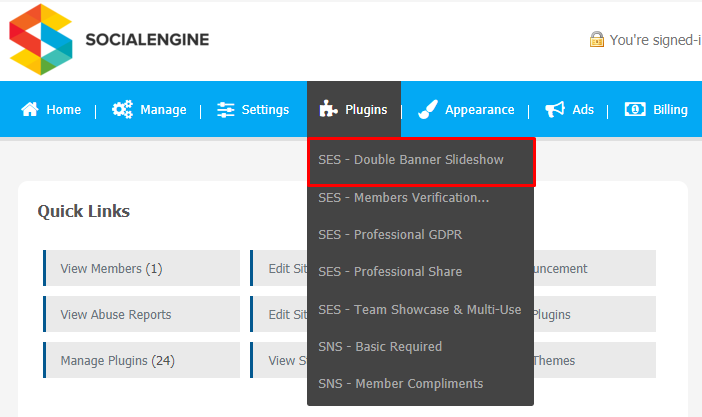 A new window will appear where you can enter the required license key to activate the plugin.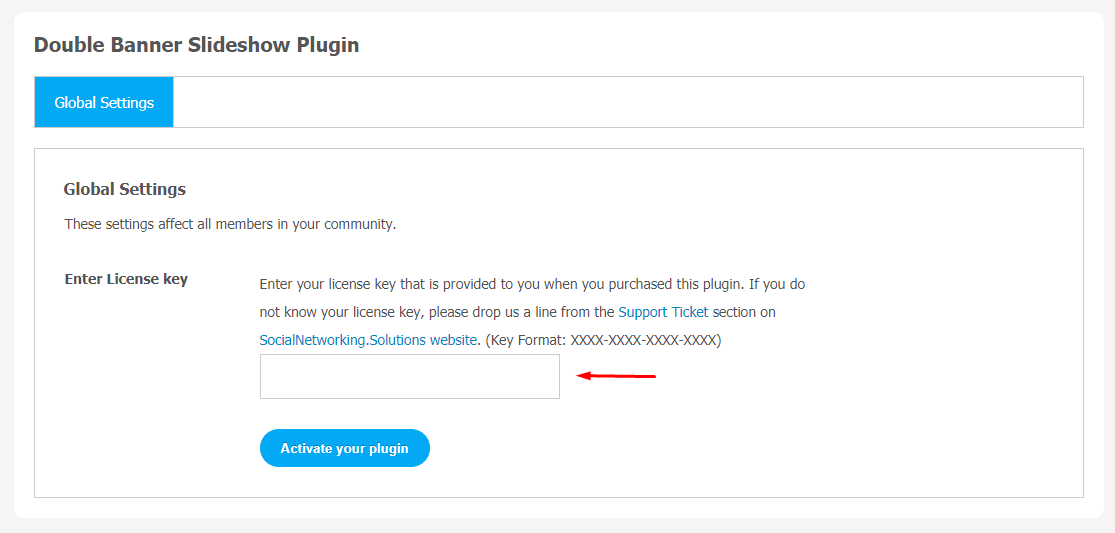 2. Global Settings
Global settings are used to make some configuration changes which will be applicable for all the community members.
3. Manage Slideshow
Basically, this is a banner slideshow plugin. So you can see all the Banner Slideshow created by you on this page. Site admin can add and manage many slideshows on your website. Banner can be placed anywhere on the website including the Landing Page and widgetized page.
You can easily add and manage multiple photo slides in every Banner Slideshow. You can configure these slides and add title and description to each banner as well. With the help of "Create New Slideshow" you can create a new banner.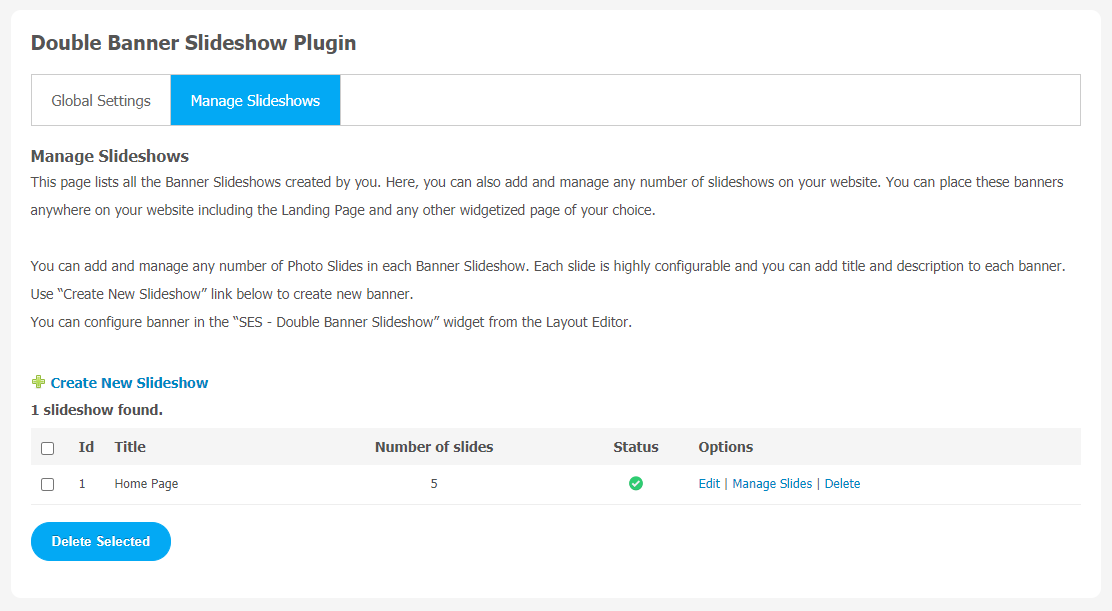 These are the key features of this Double Banner Slideshow Plugin. We hope you have successfully completed the tutorial guide and ready to go. You can use this plugin and utilize the new opportunities of engaging with customers.