If you bring value to user inboxes, email can be a great tool for online marketing. To stay ahead in the game of online marketing, you need to be creative for better results. Most of the time email marketers face hard times to convert their brand message into plain and simple text emails for their target audience. Often, users expect a certain level of professionalism and visual appeal in email communications.
So, choosing Ultimate Email Template Plugin can be very helpful to improve your online marketing campaign.
You can send highly professional-looking emails from your SocialEngine website. This plugin comes with 10 pre-configured template designs which allow you to send professional emails.
You can design your own templates with easy configurations like Email Header, Email Footer, Tagline & Body for email template.
Site owners are allowed to add the logo, email signature, set favourite colors, and typography easily. Ultimate Email Templates plugin helps to customize your email effortlessly.
You must be curious about the features of this plugin, here is a brief list of key features.
Key Features:
10 Pre-Configured Templates
Unlimited Custom Templates
Poplar Social Sites URL
Advanced Email All Members
Test Mail Feature
Global Template Activation
High-Configured Templates Settings
Here, we are providing an interactive and easy to follow Ultimate Email Templates Plugin setup & installation guide which will help you to use & configure it properly on your website & maximize the efficiency of your website by showcasing the exciting features. With this help-guide, you will get a better sense of usage when you actually install this plugin on your website.
Installation of this plugin is very easy, but if you still need our expert to install this plugin for you, then you can purchase the service from here: https://socialnetworking.solutions/social-engine/socialenginesolutions-plugin-installation/
Step-by-Step Installation & Tutorial Guide:
** This tutorial assumes that you are already logged in to the Admin Panel.**
1. Installation of Ultimate Email Templates Plugin:
a) In the Main Menu section, Click on the tab Manage and select "Packages & Plugins" to install this plugin.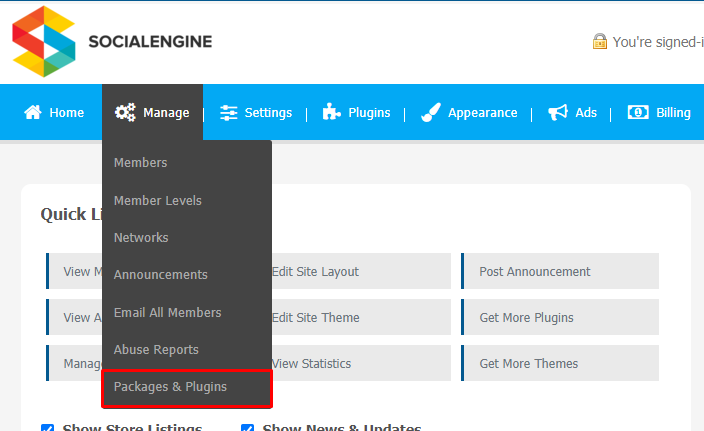 b) Our Plugin is based on SE standards so this will get installed on your website as any standard plugin can. Please read the tutorial on installing themes and plugins in SE here: http://help.socialnetworking.solutions/faq/51/how-to-purchase-and-install-ses-products

c) After the successful installation of the plugin as in Step 2 above, under the plugins section, click on "Ultimate Email Templates".
Once you click on Ultimate Email Templates Plugin, now you will be asked for entering required License Key for plugin activation. Now, your plugin is ready to go!

2. Global Settings
You can use Global Settings to manage multiple important features directly from the admin panel.
You can make Signature from this page which you want to display in the Email Template.
You can enter the URLs of some of the most popular social media websites like Facebook, Twitter, Instagram, Linkedin etc.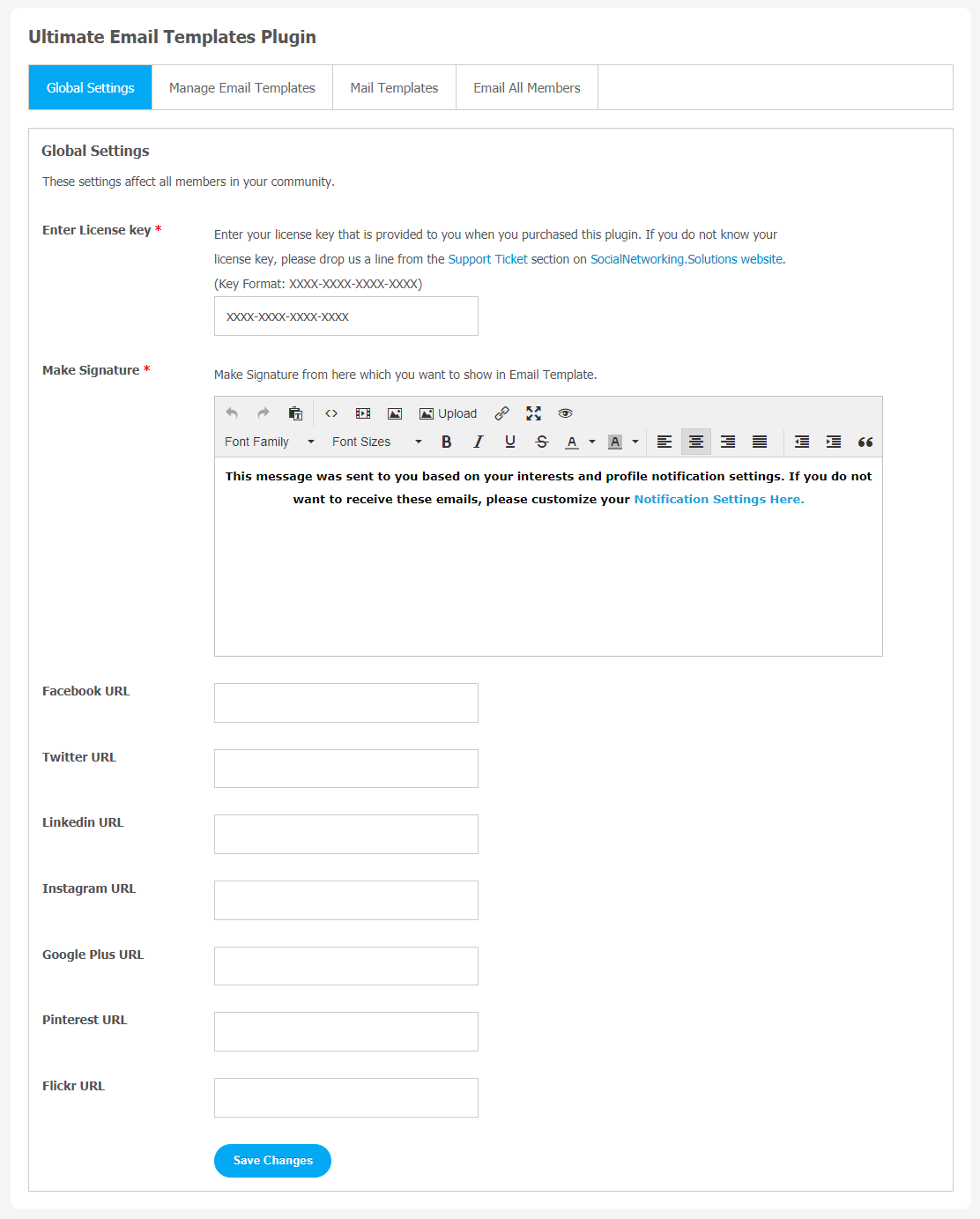 3. Manage Email Templates
You can see all the templates which you have created on this page through this plugin. Use "Create New Template Link" to create a new template. If you want to manage Email Template, you can use multiple links for them in the "Options" section. You can Edit/Delete/Duplicate/Send Test Mail from here.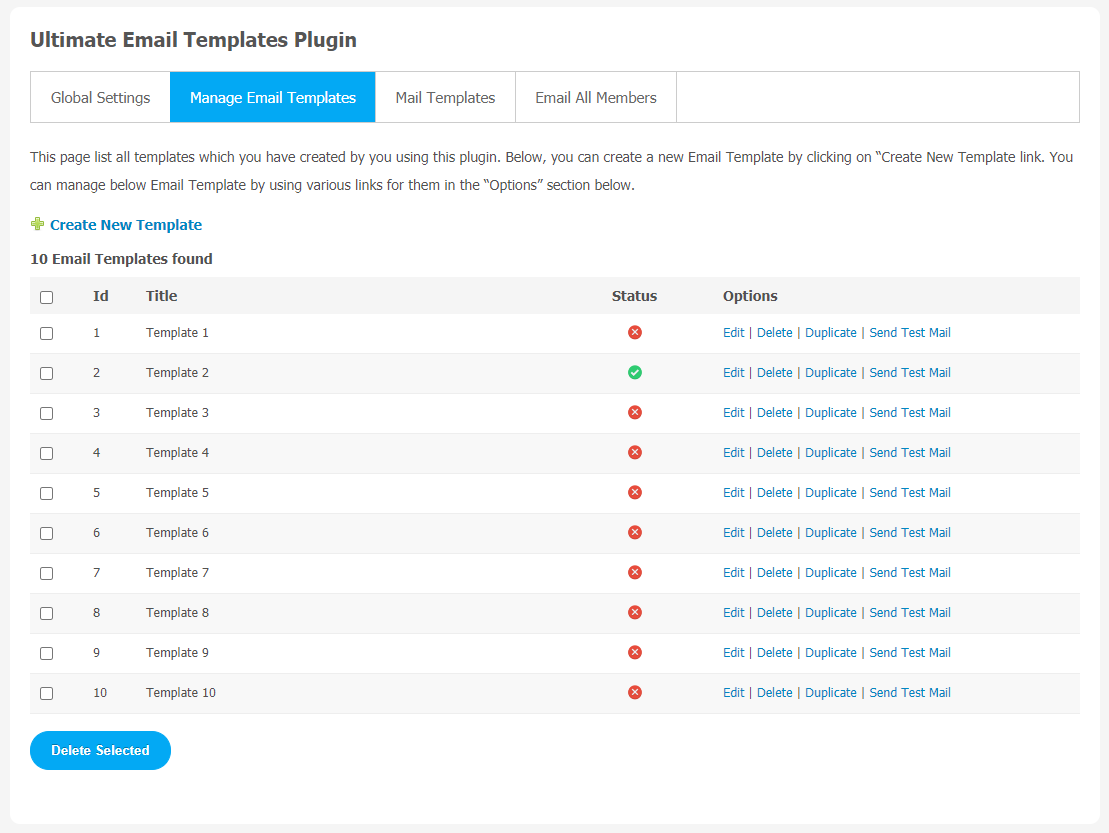 4. Mail Templates
When your website members interact with the community, they receive various email notifications. This page will help you to customize the content of these emails.You can choose your favourite template.
Please note that, after making required changes in the page, you must click on "Save Changes" to save these changes.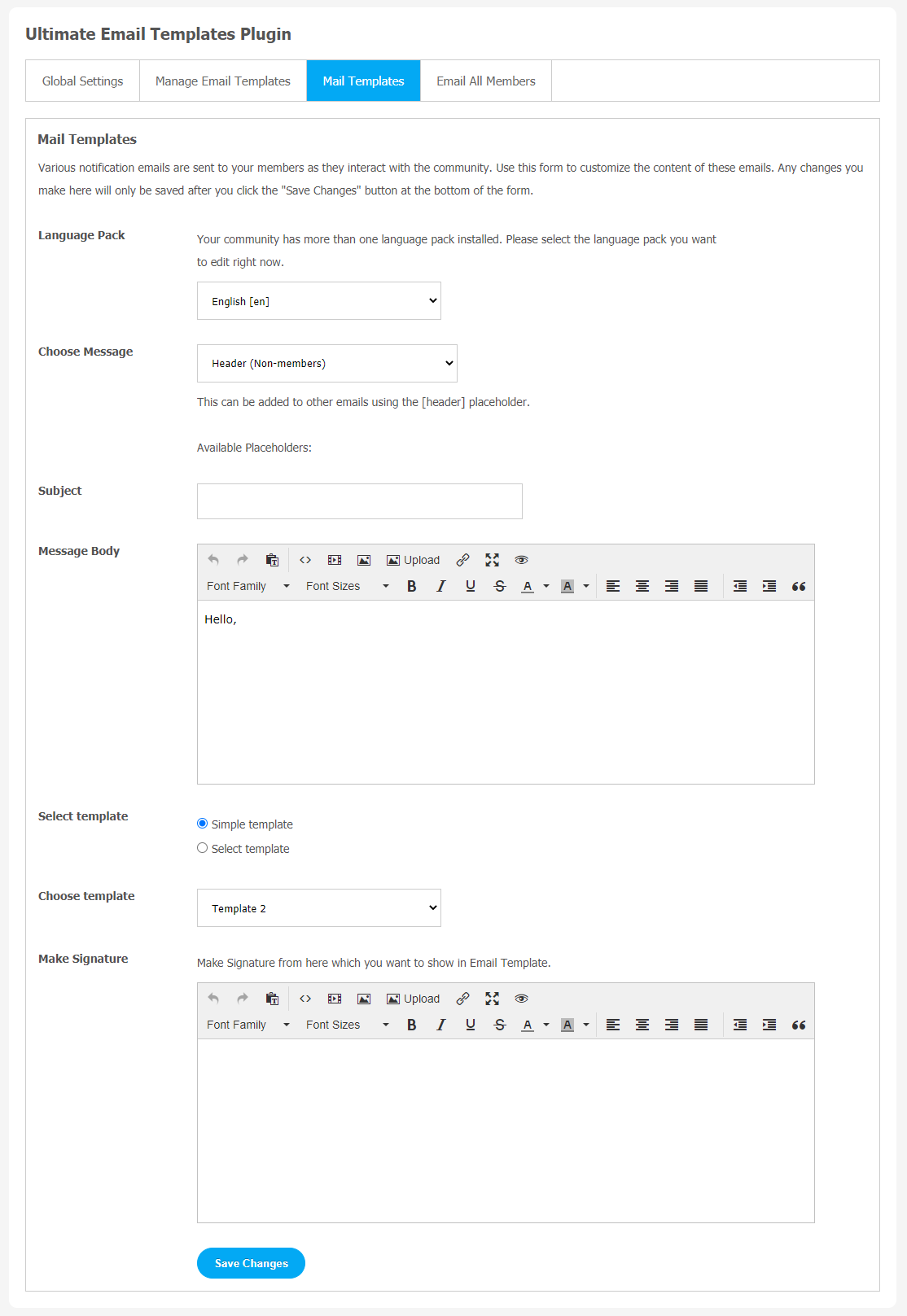 5. Email All Members
You can use this page to send an email to all the members of your choice. This plugin uses a queue system to send Emails, so it will take some time.
Enter the Email address and Admin Name
Add subject and Write Body of Email
You can choose your template designs and member level.
Enter Member Name and Write down the mail you want to send.
Click on "Send Emails" after entering all the information.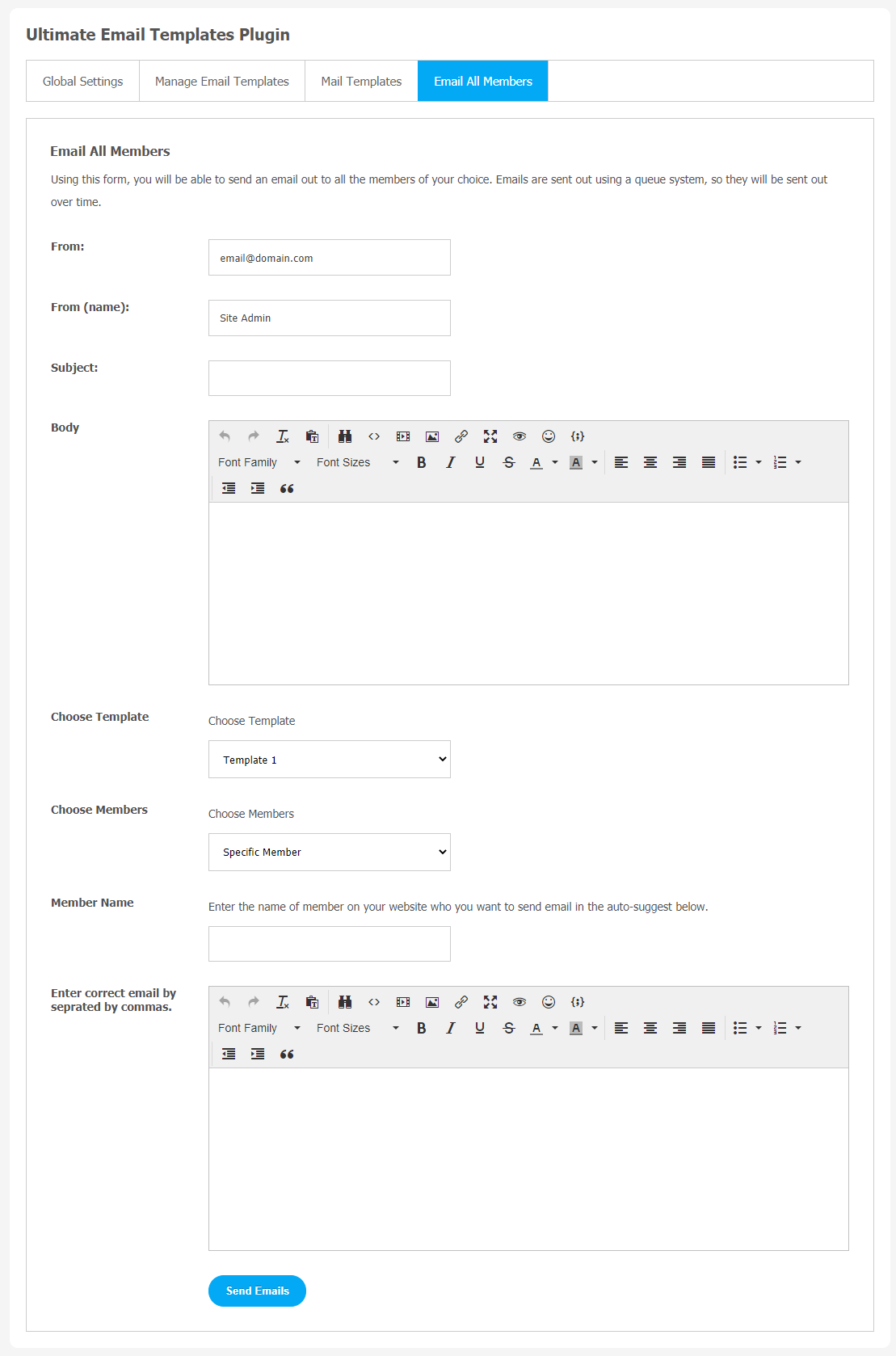 With this step-by-step tutorial guide, we are expecting you have successfully learnt how to use this plugin for your SocialEngine website. These are the key features of this Ultimate Email Templates Plugin We hope you have successfully completed the tutorial guide and are ready to go. You can use this plugin and utilize the new opportunities of engaging with customers.