Apart from products and services, people love an emotional connection with the brand. There are a lot of innovative tools that have been used by many businesses to attract customers. Quotes is also one of them which gives freedom to express your customer's thoughts. It is one of the simplest ways to post useful content on your SocialEngine website.
Your users can post quotes, share their valuable knowledge and wishes, prayers and much more through Quotes Plugin. With the help of a robust admin panel, site owners can easily manage all the quotes in various categories. The best thing about Quotes Plugin is that it has its own Quote Content, Source, Category, Tages and Photo.
This Quotes plugin allows your users to Share Quotes, Browse Quotes, Quotes of the Day, Popular Quotes, Quotes Browse Menu. The quotes creation is very easy for users which can attract more audience to your platform. Robust admin panel lets you manage multiple Quotes Plugins more effectively.
Note: Your users can post quotes from "Status Box of Activity Feed" of Professional Activity & Nested Comments Plugin. They do not need to go to Create Page every time to post a New Quote.
Here is the Live Demo Link of Quotes Plugin: https://demo.socialnetworking.solutions/quotes
Here, we are providing an interactive and easy to follow Quotes Plugin setup & installation guide which will help you to use & configure it properly on your website & maximize the efficiency of your website by showcasing the exciting features. With this help-guide, you will get a better sense of usage when you actually install this plugin on your website.
Installation of this plugin is very easy, but if you still need our expert to install this plugin for you, then you can purchase the service from here: https://socialnetworking.solutions/social-engine/socialenginesolutions-plugin-installation/
Step-by-Step Installation & Tutorial Guide:
**This tutorial assumes that you are already logged in to the Admin Panel.**
If not, then you have to log in first to the admin panel after filling the admin account credentials on your website.
(a) In the Main Menu section, Click on the tab Manage and select "Packages & Plugins" to install this plugin.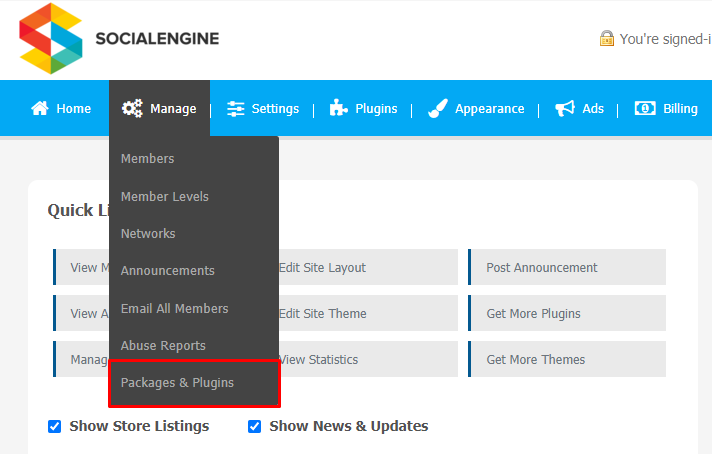 (b) Our Plugin is based on SE standards so this will get installed on your website as any standard theme can. Please read the tutorial on installing themes and plugins in SE here: http://help.socialnetworking.solutions/faq/51/how-to-purchase-and-install-ses-products
(c) After the successful installation of the plugin as in Step 2 above, under the plugins section, click on "Quotes Plugin".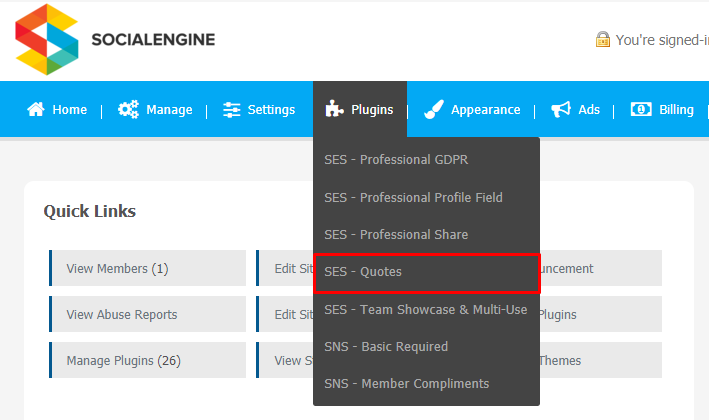 Now, you will be asked for plugin activation. You can activate this plugin by entering the right license key in the given box.
Once the plugin is installed and activated click on Global Settings. You will be landed straight to the plugin configuration page.
2. Global Settings
After a successful installation, a new Global Setting tab will appear where all the plugin settings can be managed easily. First, click on Global Settings. Then,
Singular Text for "Quote"
Plural Text for "Quote"
Singular "quote" text in URL.
Plural "quotes" text in URL
Quote Content Character Limit
Show Quotes
Allow Sharing & Reporting
Enable Category
Make Quote Categories Mandatory
Quotes Created in Content Visibility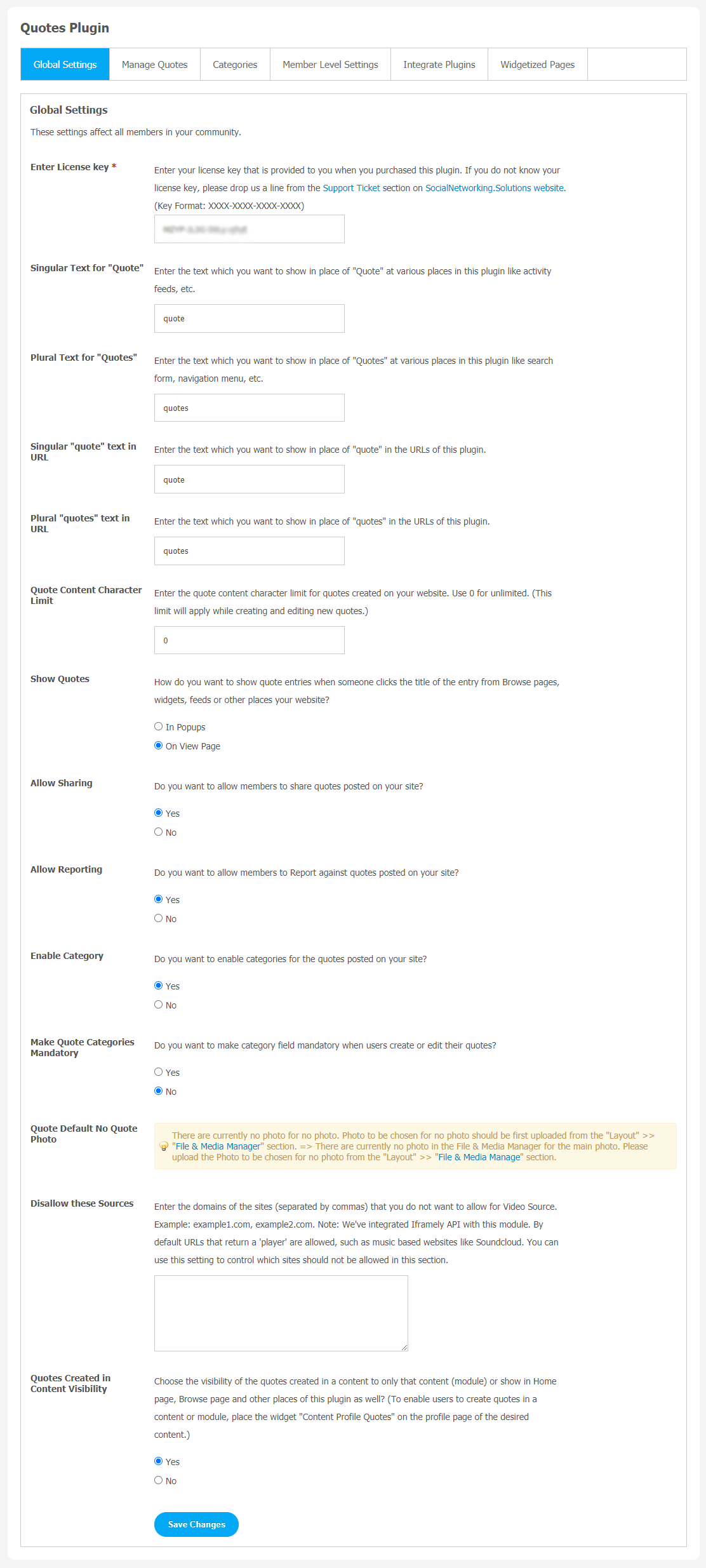 3. Manage Quotes
This page can be used to manage and monitor quotes. This page stores all the quotes your users have created. You can search specific quotes by their name, owner name, date and category. If you leave all the filter fields blank will display all the quotes on your social network.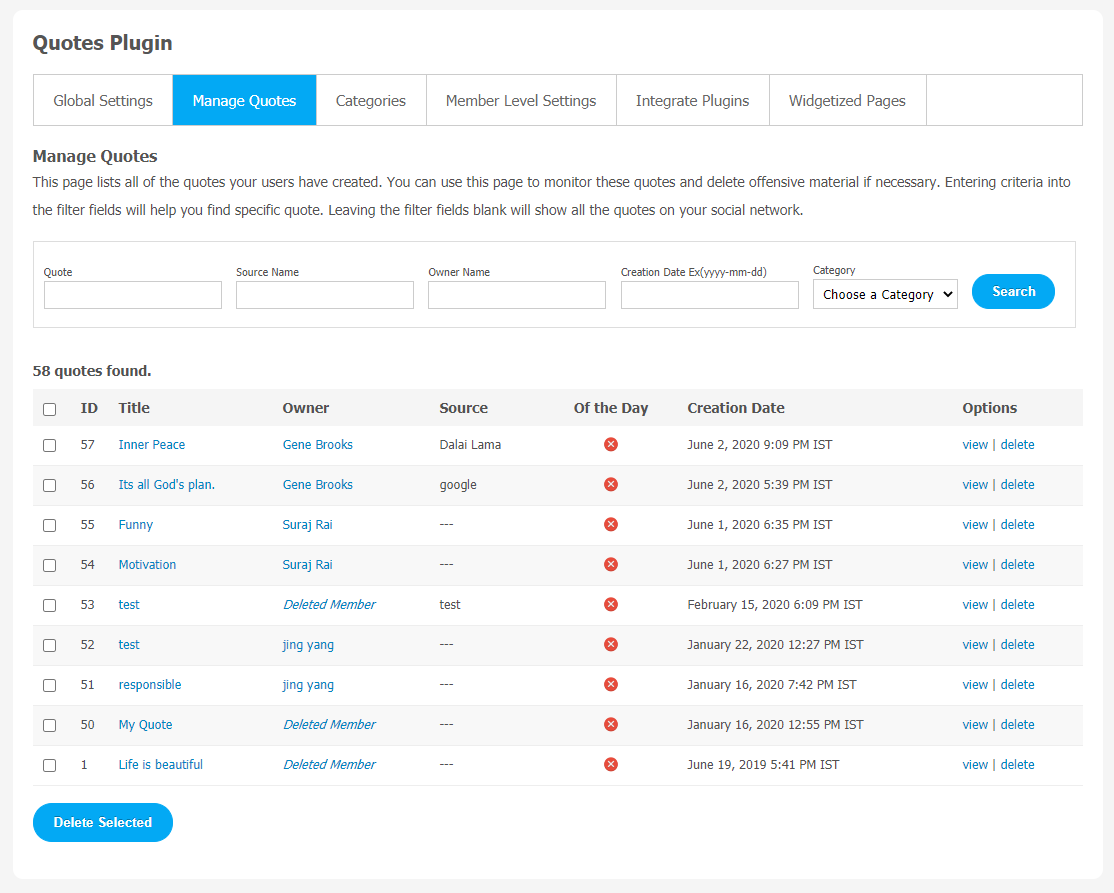 4. Categories
This section is used to create categories for Quotes. You can create a category for Quotes by clicking on "Add New Category". You can choose options like Title, Description, Profile Type to be associated with the category, icon and Thumbnail.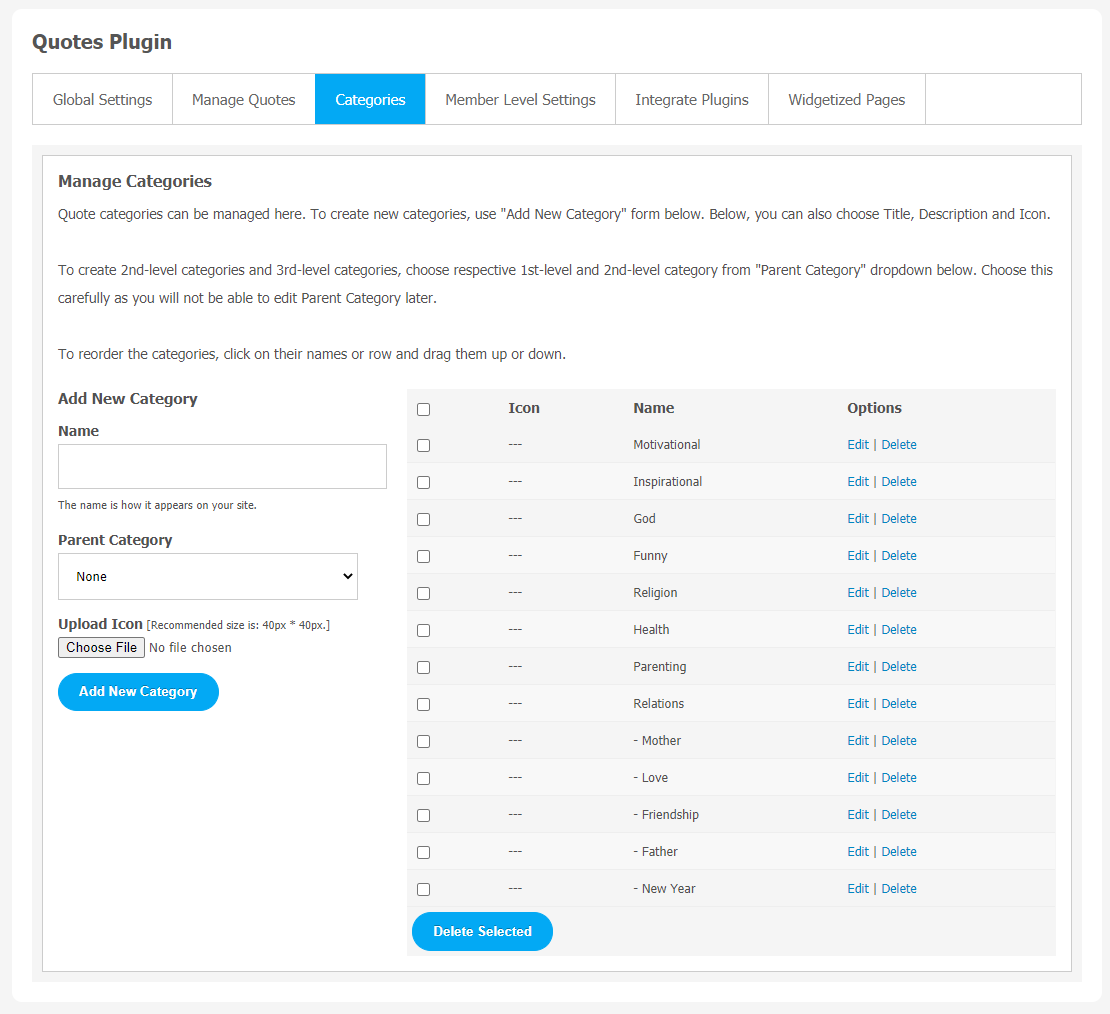 5. Member Level Settings
This section is used to manage Member Level Settings. Here are some important features of Plugin which can be managed by the site admin for different member levels are as following:
Allow Viewing of Quotes
Allow Creation of Quotes
Allow Editing of Quotes
Allow Commenting of Quotes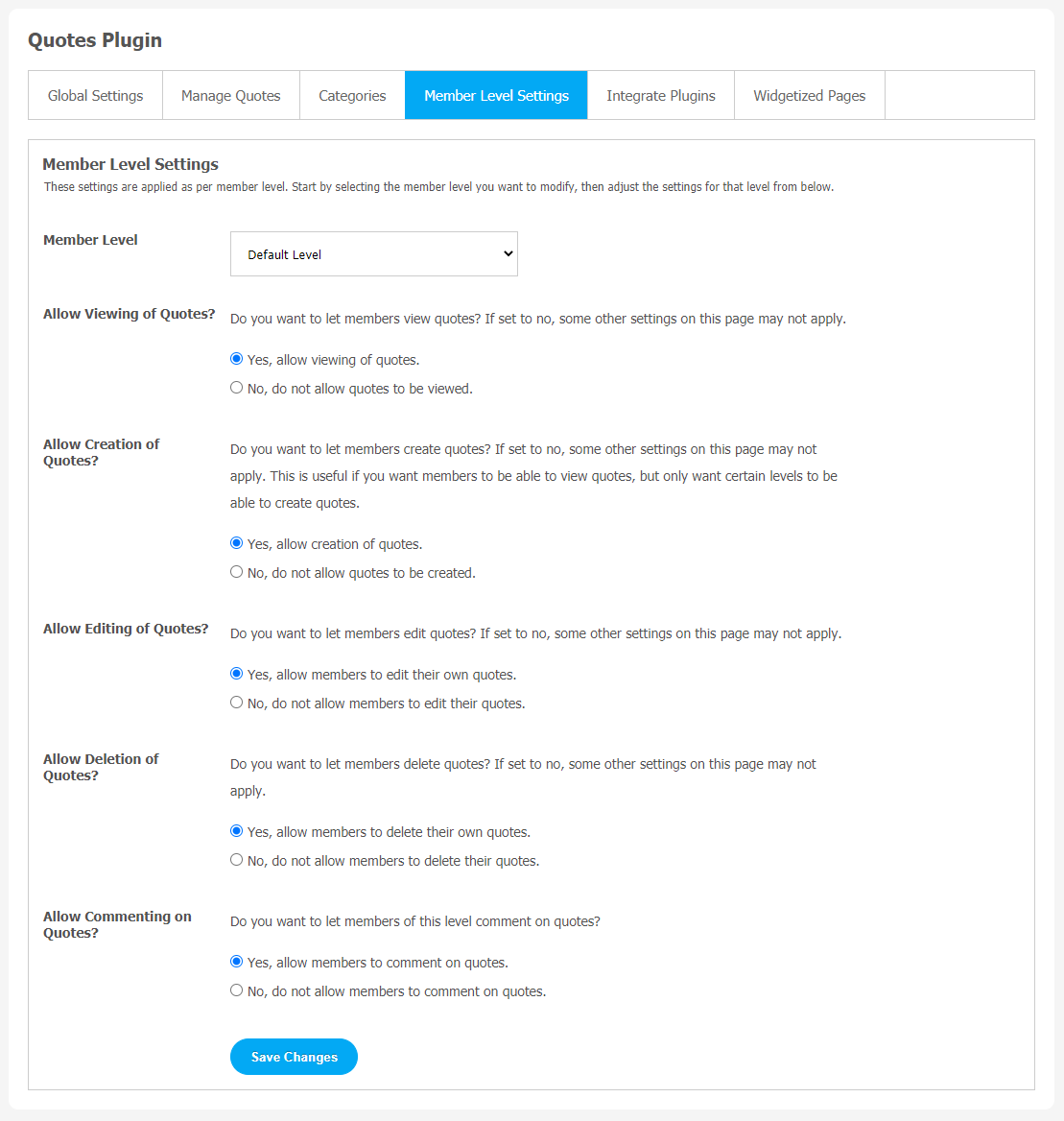 6. Integrate Plugins
If you want to add a new plugin, click on the "Add New Plugin" button. Also, the admin can enable the creation of Browse Event Page in other plugins. If you face any difficulty, you can contact our support team by clicking on the given link.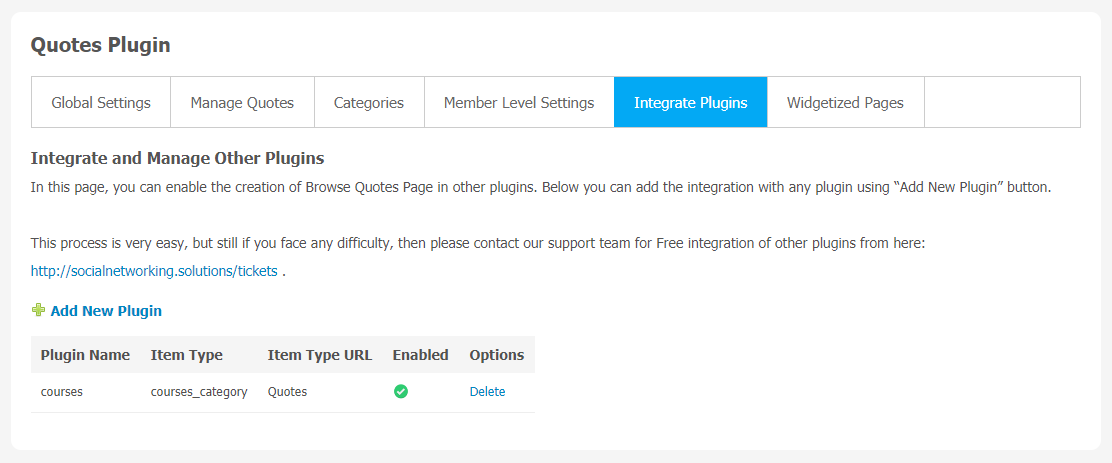 7. Widgetized Pages
All the widgetized pages are shown in this section. You can go to "Layout Editor" by clicking on the respective Widgetize Page Link.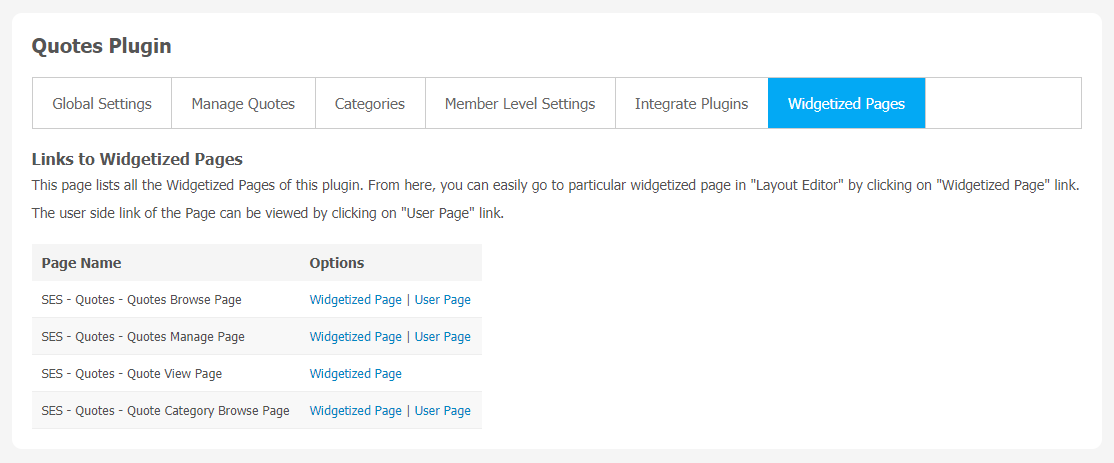 With this step-by-step tutorial guide, we are expecting you have successfully learnt how to use this plugin for your SocialEngine website. These are the key features of this Quotes Plugin. We hope you have successfully completed the tutorial guide and ready to go. You can use this plugin and utilize the new opportunities of engaging with customers.