Holding the attention of the audience is the most important thing on the internet. In the cut-throat market competition, simplicity is what attracts the customers. They are constantly bombarded with a lot of information and choices. Making a quick signup process on a website can do wonders for your business to add more members to your community.
For every user who looks for some product online, a long procedure of signup with many steps may force them to lose interest in your website. They possibly get irritated and leave the signup process midway.
To fix such problems, we will require a powerful plugin which offers an easy and single step signup process. Fortunately, we have a plugin called Quick & One Step Signup Plugin for you.
This plugin allows you to make Signup fast for your SocialEngine based websites. The website owner has the freedom to decide which profile and order of fields he wants to display on the landing page. This plugin is fully customizable for admin and provides time saving experience for users.
Highlighted Features:
Quick Single Step Signup
Easily Configurable Profile Fields/Types
Profile Questions for Multiple Profile Types
Manageable Signup Form Fields
Title & Description for Signup Form
Here, we are providing an interactive and easy to follow Quick & One Step Signup Plugin setup & installation guide which will help you to use & configure it properly on your website & maximize the efficiency of your website by showcasing the exciting features. With this help-guide, you will get a better sense of usage when you actually install this plugin on your website.
Installation of this plugin is very easy, but if you still need our expert to install this plugin for you, then you can purchase the service from here: https://socialnetworking.solutions/social-engine/socialenginesolutions-plugin-installation/
Step-by-Step Installation & Tutorial Guide:
** This tutorial assumes that you are already logged in to the Admin Panel.**
If not, then you have to log in first to the admin panel after filling the admin account credentials on your website.
1. Installation of Quick & One Step Signup Plugin:
a) In the Main Menu section, click on the tab Manage and select "Packages & Plugins" to install this plugin.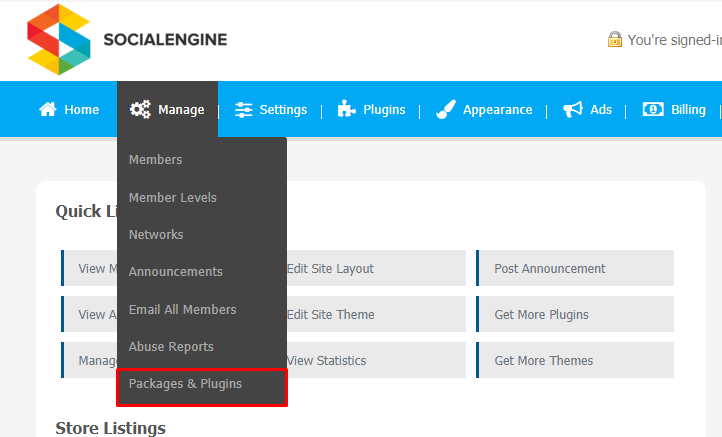 b) Our Plugin is based on SE standards so this will get installed on your website as any standard plugin can. Please read the tutorial on installing themes and plugins in SE here: http://help.socialnetworking.solutions/faq/51/how-to-purchase-and-install-ses-products

c) After the successful installation of the plugin as in Step 2 above, under the plugins section, click on "Quick & One Step Signup Plugin".

Once you click on the plugin, a new page will pop up where you can enter the license key provided by us. Now, your plugin is ready to go!

2. Global Settings
After a successful installation, a new Global Setting tab will appear where all the plugin settings can be managed easily. First, click on Global Settings. Then,
Enter the required license key in the below-shown box if required.
Enable Quick & One Step Signup
Enable Signup form Title
Enable Descriptions of Fields
Enable Email Confirmation Fields
Enable Password Confirmation Field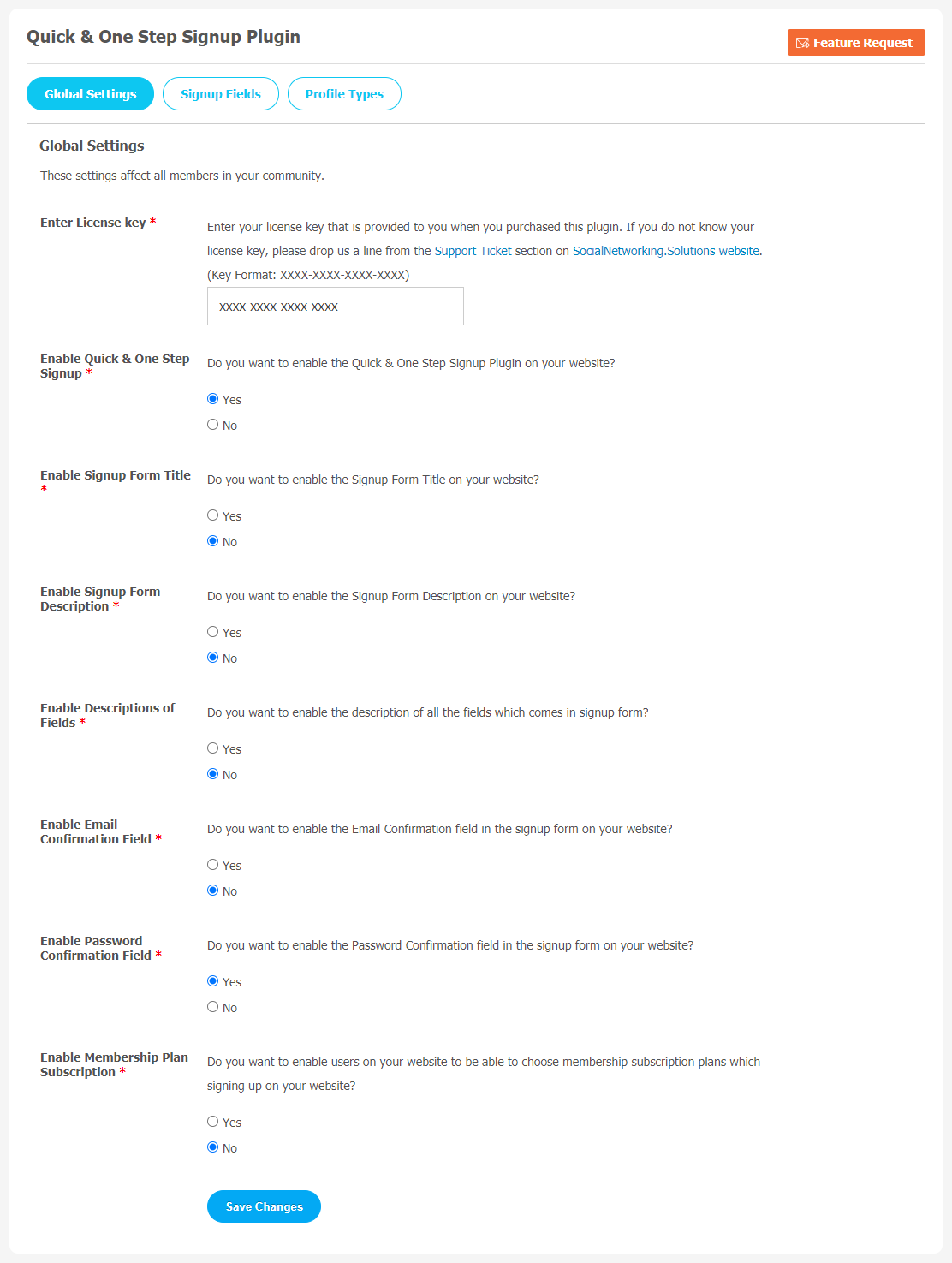 3. Signup Fields
If you want to manage the visibility of fields in the signup form, you can enable/disable them. Features like Email, Password and Profile Fields are necessary and they cannot be disabled.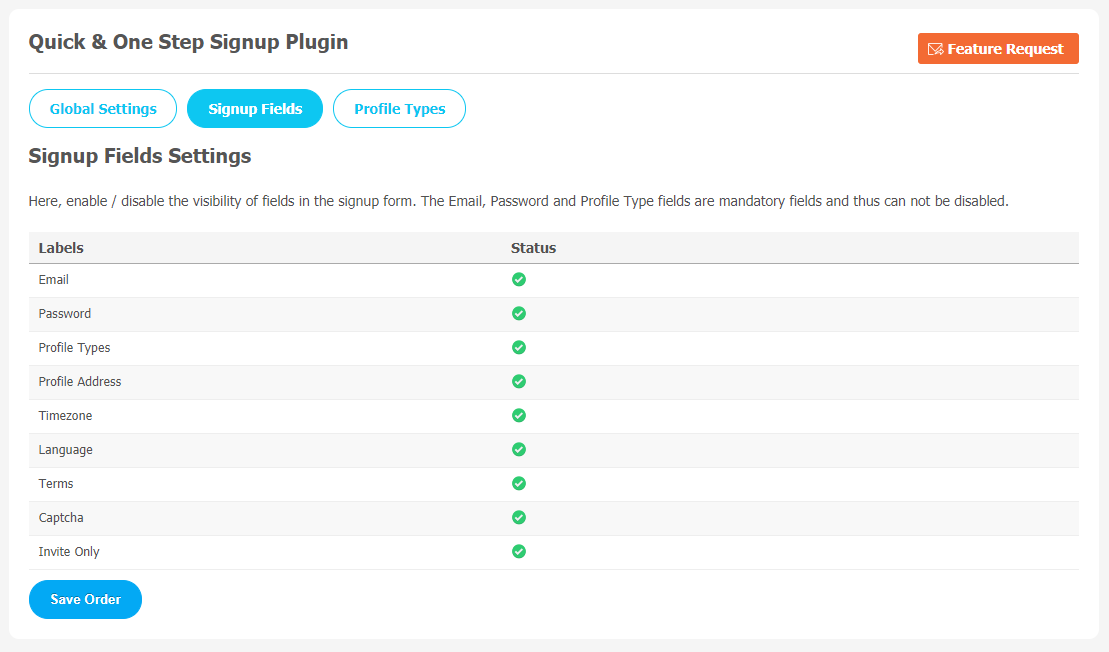 4. Profile Types
This page can be used to enable/disable the profile fields for every profile type on your website. These are the popular profile types like Personal Information, Contact Information, About Me etc. on this page.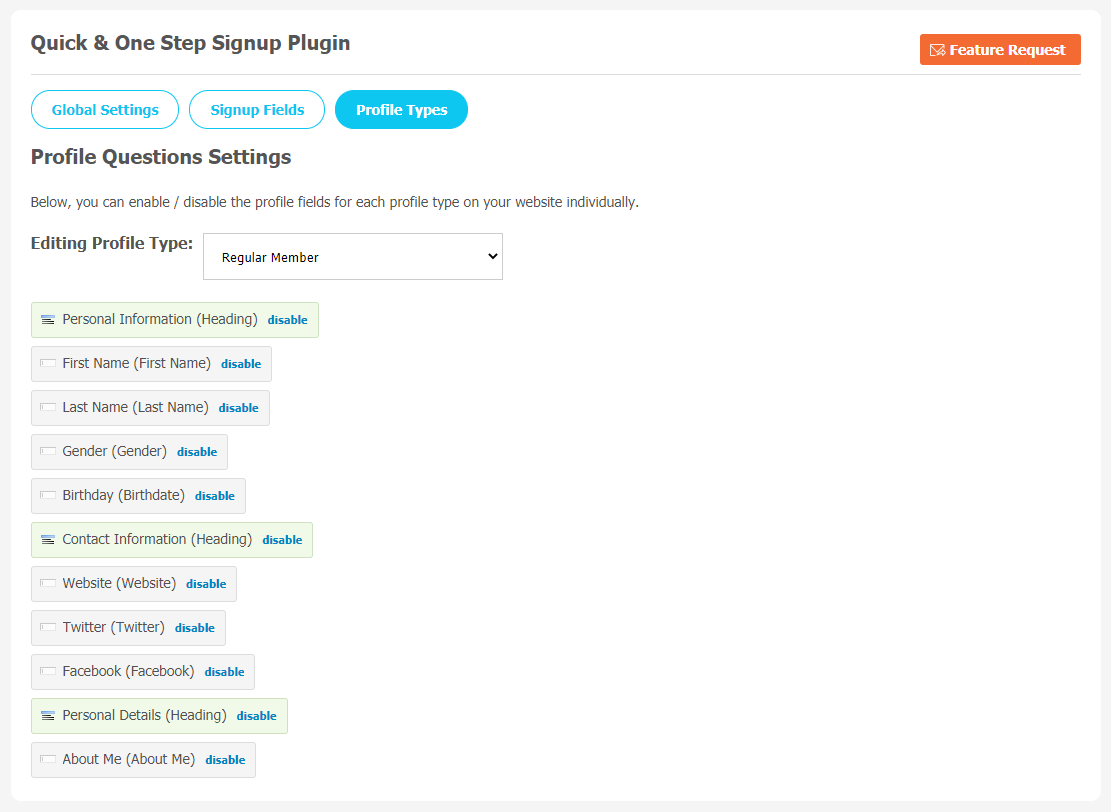 Finally!! You have successfully completed the installation procedure and also explored various exciting features of this Quick & One Step Signup Plugin. Now, your visitors and website members will be able to access & use your website with new features.
Installation of this Plugin is very easy, but if you still need our expert to install this Plugin for you, then you can purchase the service from here: https://socialnetworking.solutions/social-engine/socialenginesolutions-plugin-installation/