All the major popular social media platforms including Instagram, Facebook etc. are capitalizing the Live Streaming services. The key reason for the huge demands of live streaming apps is that instant way to connect with your large audience. In general life, we like sharing our important life experiences with our loved ones. If you are missing your friends and family who are not with you in any special event, Live Streaming is the solution.
It will help you to connect with your friends and loved ones anytime and anywhere in this world. This is the most powerful thing about Live Streaming. If you are an online business owner, and you want to connect with your audiences during any product launch. Live Streaming Android Mobile Apps plugin can solve this issue in minutes. All you need to do is purchase this mobile app plugin and start enjoying the benefits of Live Streaming Services.
We are giving a brief tutorial guide to explore the useful features of this amazing plugin. It will help you to understand the important aspects of Live Streaming Plugin feature and how you can optimize these features to get the best out of it.
1. Installation of Live Streaming Android Mobile Apps Plugin
(a) In the Main Menu section, Click on the tab Manage and select "Packages & Plugins" to install this plugin.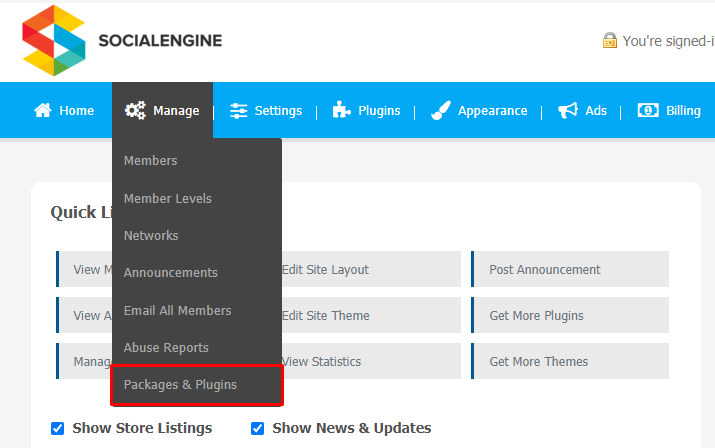 (b) Our Plugin is based on SE standards so this will get installed on your website as any standard theme can. Please read the tutorial on installing themes and plugins in SE here: http://help.socialnetworking.solutions/faq/51/how-to-purchase-and-install-ses-products

(c) After the successful installation of the plugin as in the below image, under the plugins section, click on "Live Streaming".
A new window will appear where you can enter the required license key to activate the plugin.

2. Global Settings
Global settings are used to make some configuration changes which will be applicable for all the community members. In Global settings you can enter the "Agora App ID".
Enable/Disable if you want to Show images in Stories.
Enter Stream Base URL if required.
You can choose Playlist Default Photo.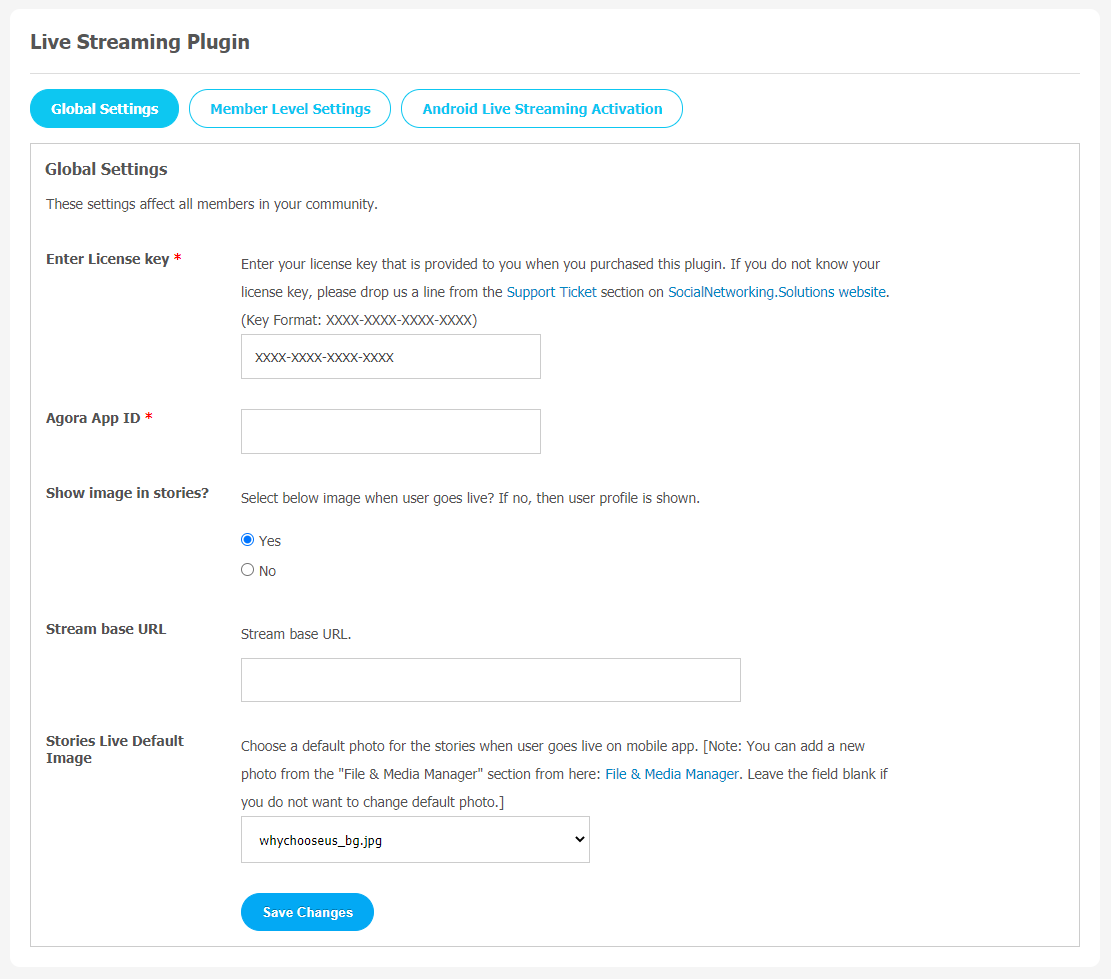 3. Member Level Settings
Member Level Settings are used to configure plugin settings based on a specific website member group. You can select any particular member level you want to modify in the given box.
Features that can be enabled/disabled list are following:
Live Streaming
Allow Save Live Video
Shareable Places for Live Video
Maximum Allowed Live Video Duration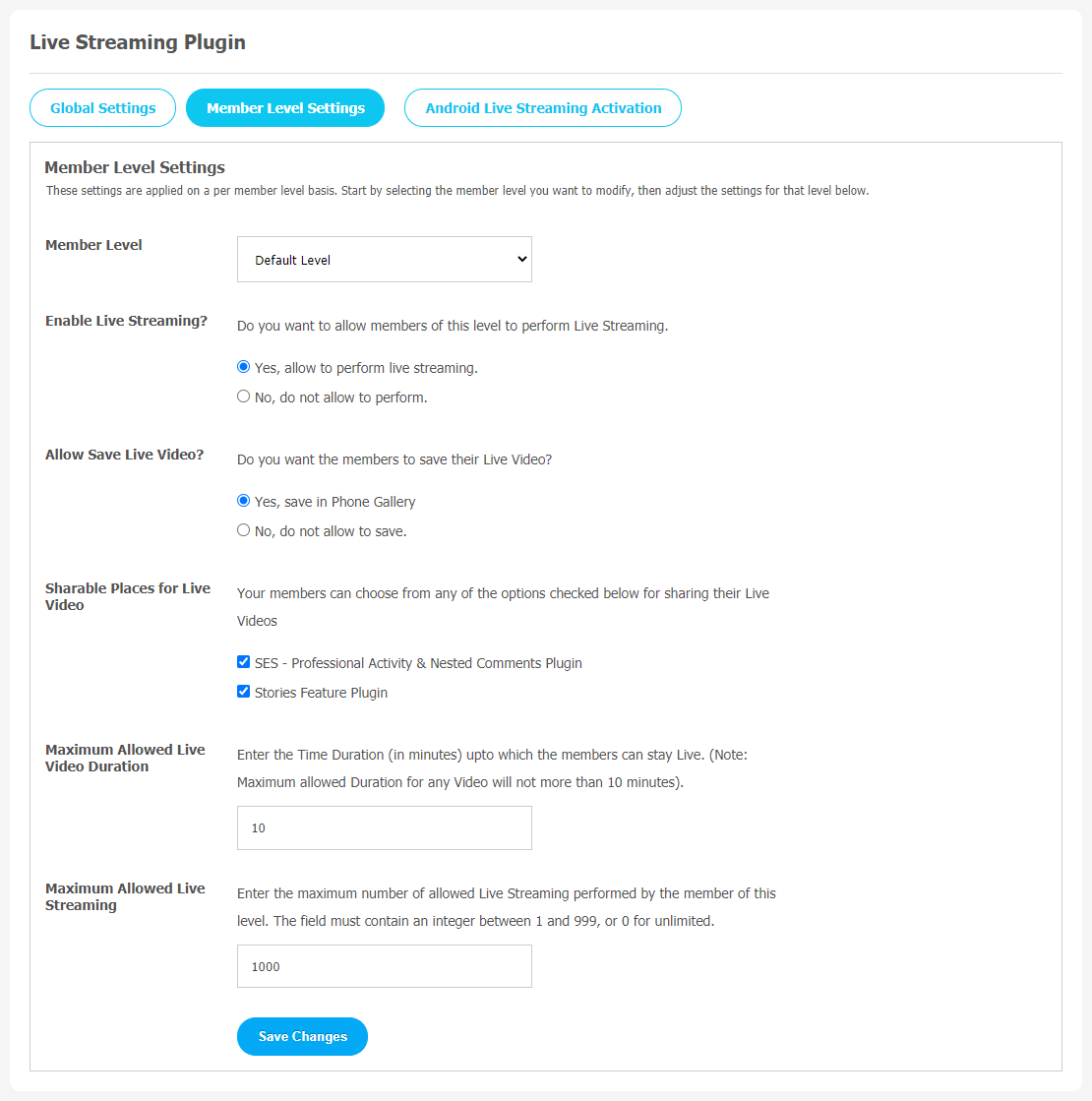 These are the key features of this Live Streaming Android Mobile Apps plugin. We hope you have successfully completed the tutorial guide and ready to go. Live streaming is trending on every social media platform, so don't miss this opportunity to gain more visitors on your platform. Enjoy more live streaming features of this plugin and make your SocialEngine platform more engaging and successful.