Although, SocialEngine by default is quite search friendly with major platforms. But, using SocialEngine SEO tools and plugins, your dream of appearing your website on the first page can be possible. As we know SEO is a powerful strategy which is mainly used to improve site's ranking in search engines. SEO process includes finding the right keyword and tags which can be best suitable for your target audience.
But all these processes require a lot of efforts. What if all these technical things can be done by a powerful plugin, so you can stay stress-free about your website performance and visibility in the search engines ranking. All you need to do is install this SEO plugin and this SEO plugin allows you to easily add metadata with your each website pages. They are crucial and guide search engines what the page is about.
Advanced SEO & Sitemap Plugin allows site admins to instantly optimize certain important elements of a website's code and structure to make it more crawlable by major search engines. It will help you to optimize your website performance as well as you can make your website faster, gain more user-engagement and user-friendly website experience for your website visitors.
Some More Plugin functions
Better Sitemap
Robots.txt and htaccess
Canonical Element
To explore more features of Advanced SEO & Sitemap Plugin, this tutorial guide will help you out.
Here, we are providing an interactive and easy to follow Advanced SEO & Sitemap Plugin setup & installation guide which will help you to explore its exciting features and maximize the efficiency of your website. With this help-guide, you will get a better sense of usage when you actually install this plugin on your website.
Installation of this plugin is very easy, but if you still need our expert to install this plugin for you, then you can purchase the service from here: https://socialnetworking.solutions/social-engine/socialenginesolutions-plugin-installation/
Step-by-Step Tutorial Guide for Users:
** This tutorial assumes that you are already logged in to the Admin Panel. **
If not, then you have to log in first to the admin panel after filling the admin account credentials on your website.
1. Installation of Advanced SEO & Sitemap Plugin
In the Main Menu section, click on the tab Manage and select "Packages & Plugins" to install this plugin.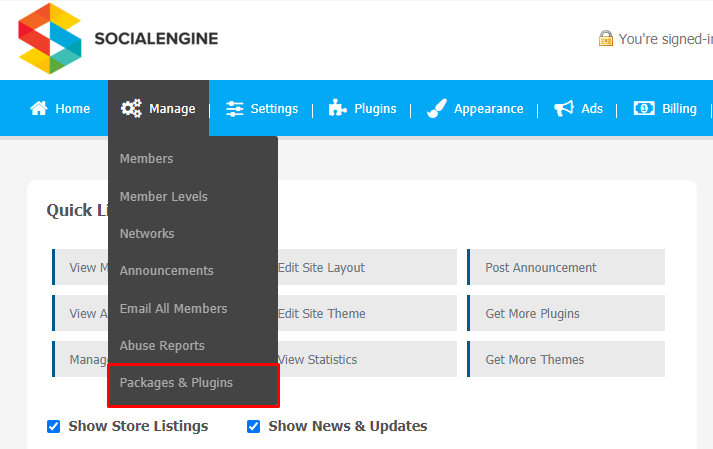 In the Main Menu section,
Click on the tab Plugin and select "Advanced SEO & Sitemap Plugin" to install this plugin.

After the successful installation of the plugin as in Step 2 above, under the plugins section, click on "Advanced SEO".
Once you install the plugin, you can enter the required license key in the given box.

2. Global Settings
After a successful installation, a new Global Setting tab will appear where all the plugin settings can be managed easily. First, click on Global Settings. Then,
Enable hreflang URL on your website.
Enable Canonical Tags
Open Search Description
Meta Image
Any changes in above-given features will be affected for all your community members.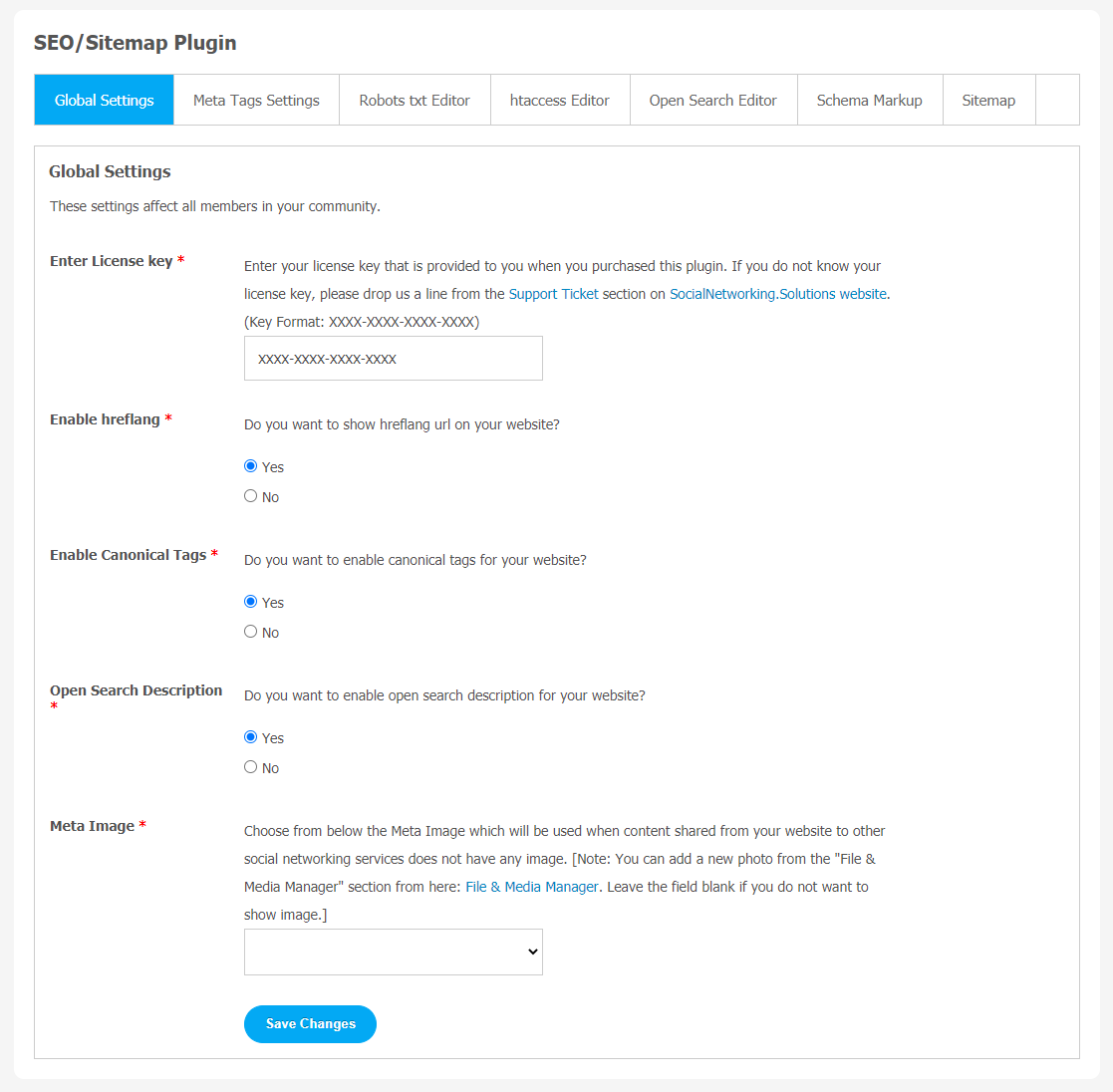 3. Meta Tag Settings
This page can be used to manage Meta Tag settings. You can enter the meta title, Meta Description and Meta Image for search engines for all the widgetized pages on your website.
All the content view pages and member profile page will have their own meta tags. These tags will be attached to their tags automatical based on latest SE standards.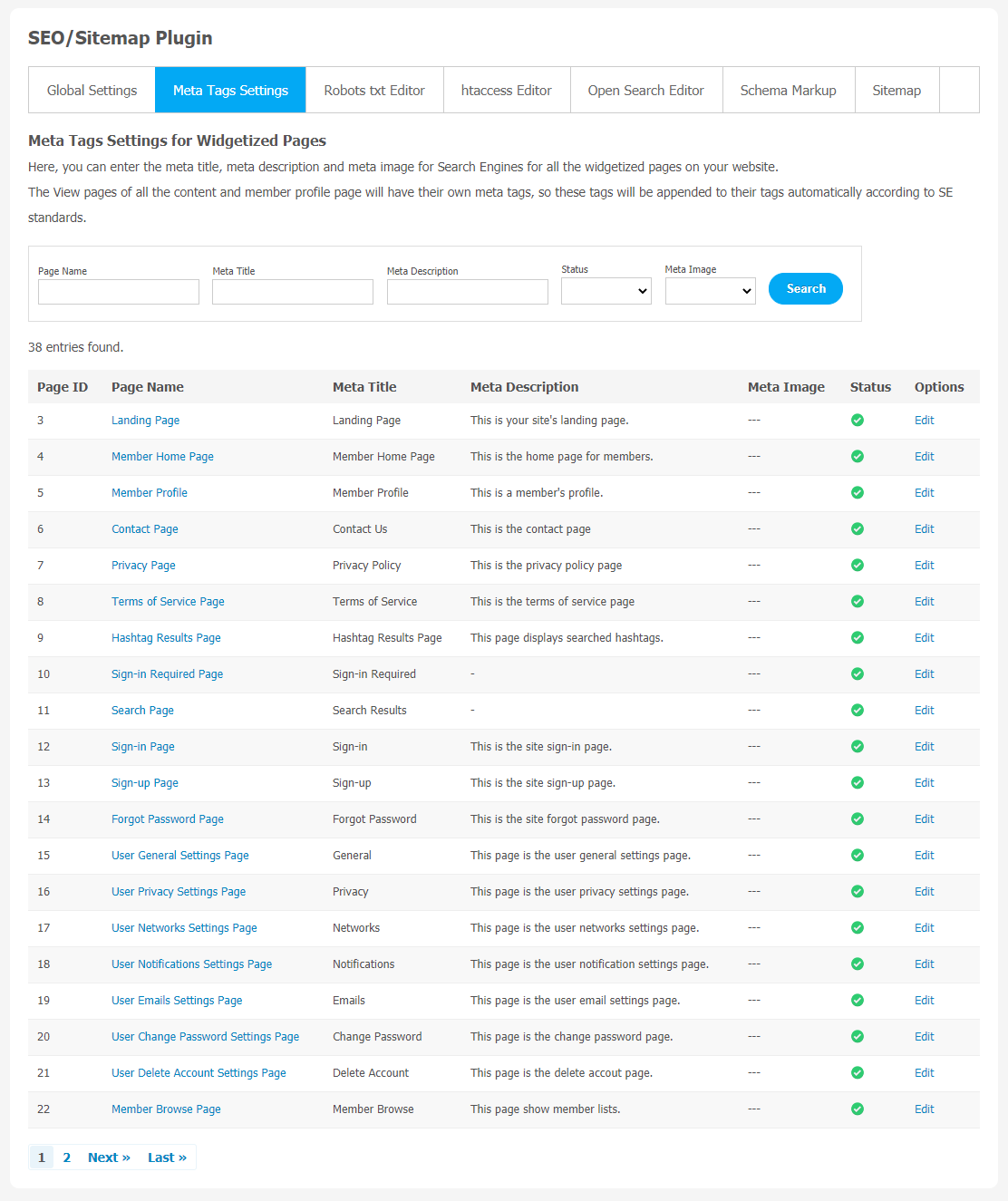 4. Robots Text Editors
Robot text files play crucial roles in managing your website pages to crawling. Robots.txt file guides and helps the search engine in crawling.
You can also control the access of your website by engine crawlers through this page.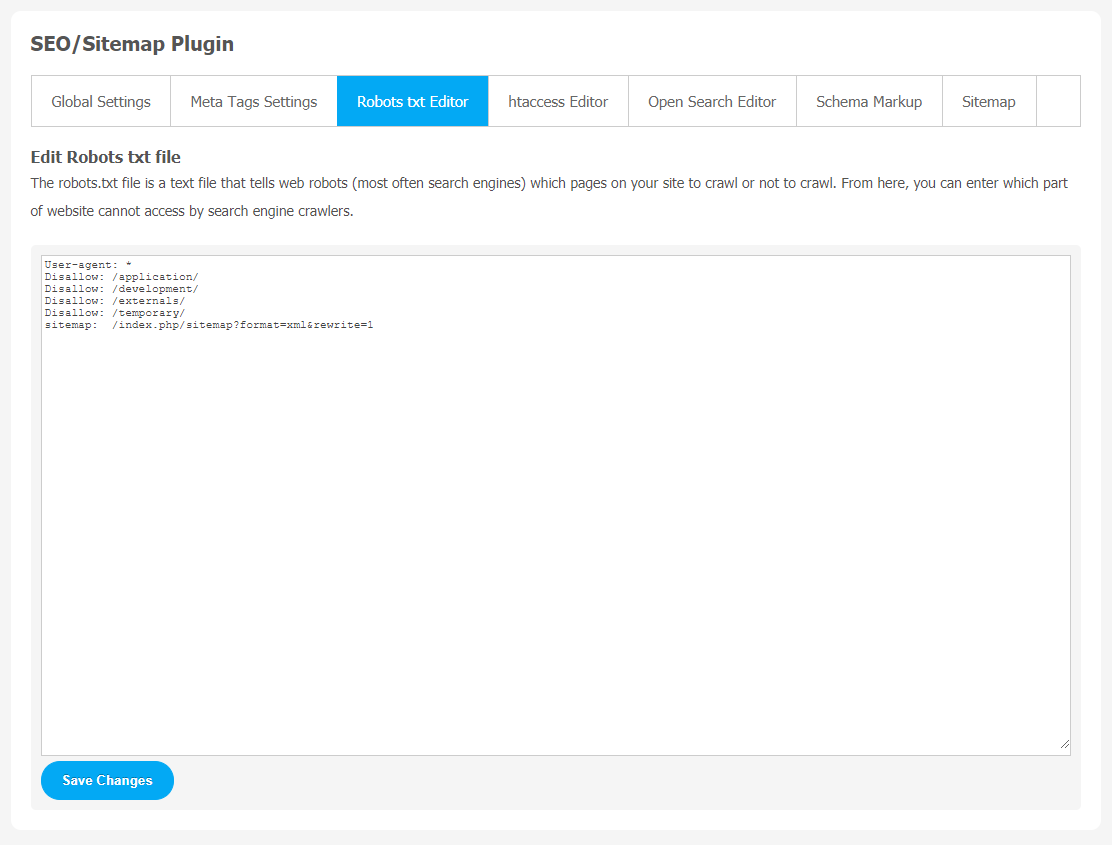 5. Htaccess Editor
Htaccess files are used as a configuration text file for your website. Site admin can control and restrict specific root or central directory folders so that no one can get access on your website.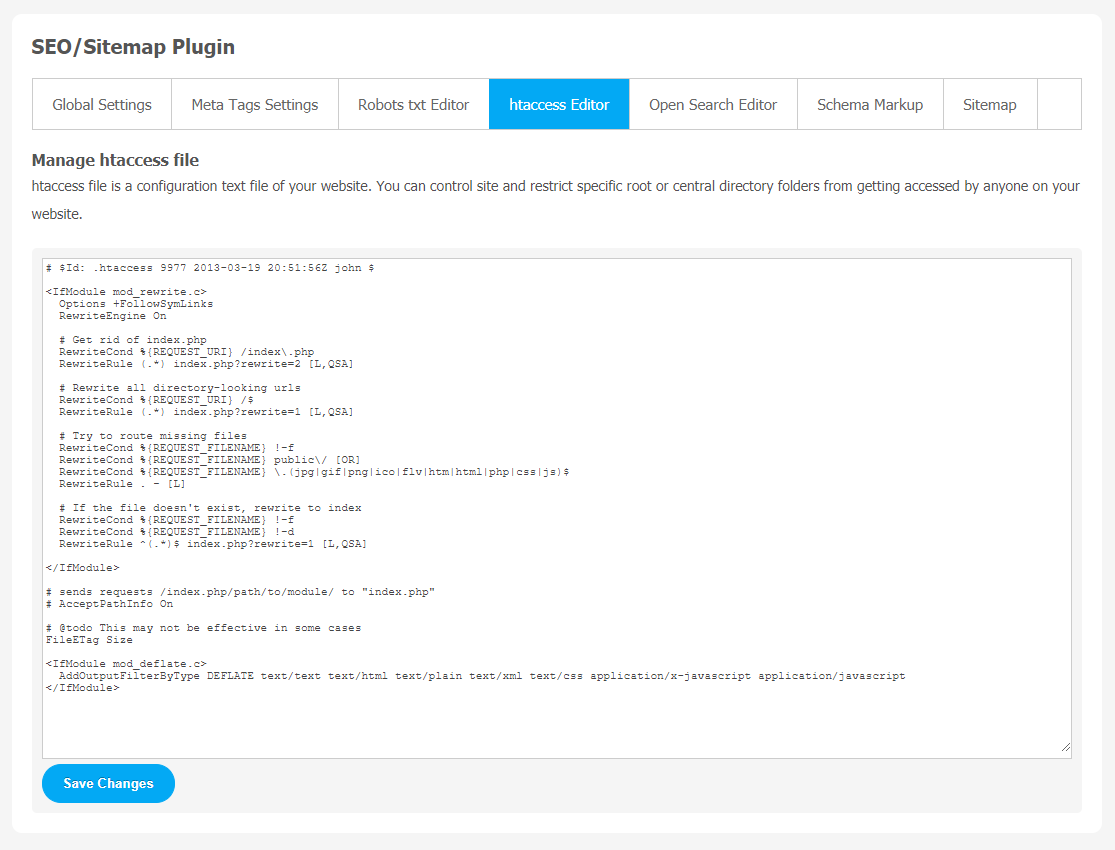 6. Open Search Editor
This page contains Open Description File and used to manage Open Search.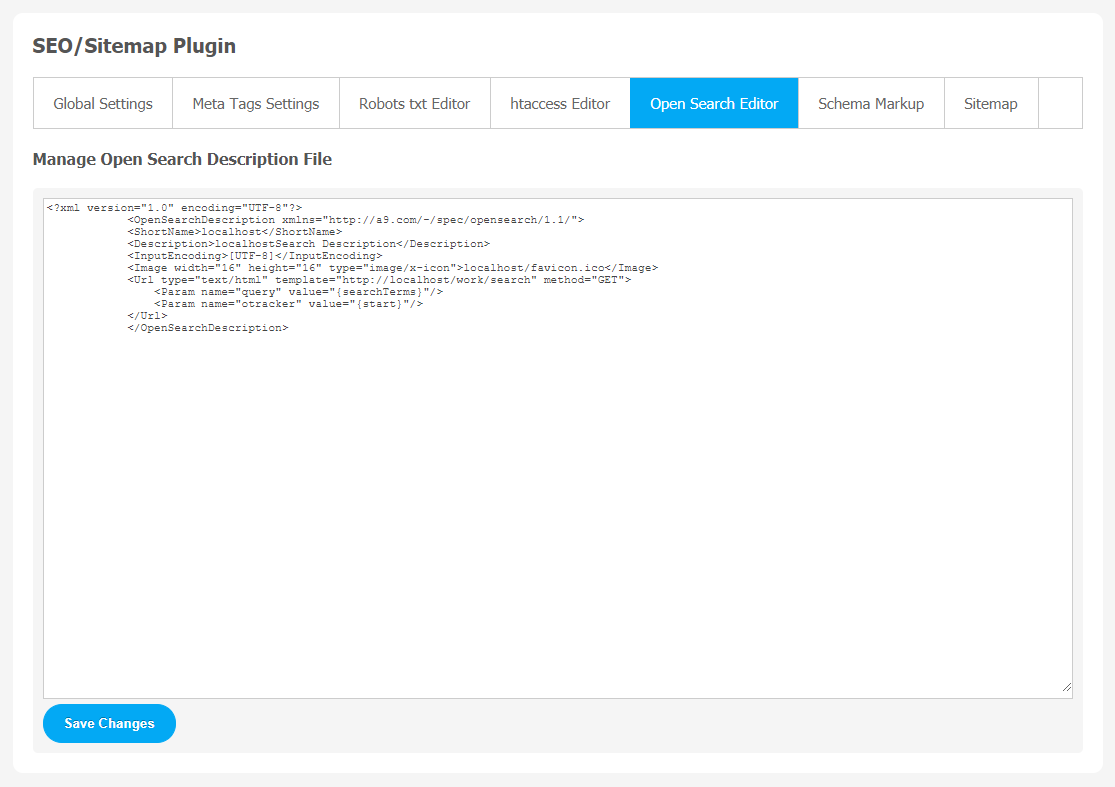 7. Schema Markup
With the help of Schema Markup, you can show the rich and quality content of your website in Search Engine Results Pages by entering the required information. You also can add major social media platforms URLs.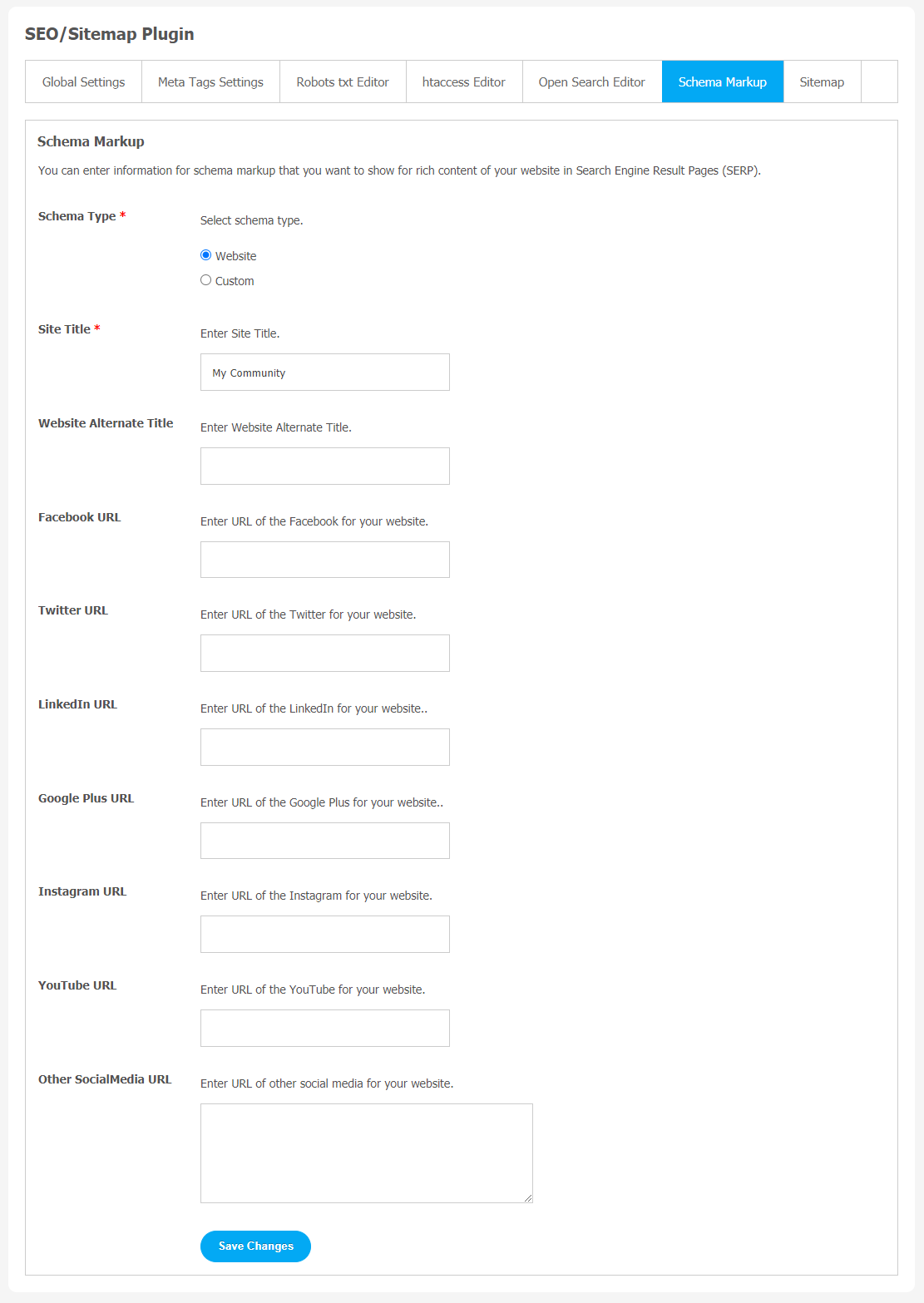 8. Sitemap
This setting page is used to see all content sitemap files. Site admin can create a sitemap for specific content. "Edit" link can be used to modify settings.
Finally!! You have successfully completed the installation procedure and also explored various exciting features of this Advanced SEO & Sitemap Plugin. Now, your visitors and website members will be able to access & use your website with new awesome features.
Installation of this plugin is very easy, but if you still need our expert to install this Plugin for you, then you can purchase the service from here: https://socialnetworking.solutions/social-engine/socialenginesolutions-plugin-installation/