Facebook is one of the most widely used SocialMedia platforms with almost 1.5 billion daily active users. If we talk about in terms of user engagement and audience reach, it clearly dominates other social media platforms. This app is popular because people can communicate with each other virtually. Same goes for the Live Chat feature because costumes love Live Communication through chat with any business. Several surveys claim that customers are more likely to return to a website who offers live chat. So, we have made a Customer Live chat plugin which can be very helpful for direct communication with your customers.
This "FB Messenger Customer Live Chat Plugin" allows you to instantly integrate with Facebook Messenger in your SocialEngine website. You can link your Facebook Page through which your users will communicate in Live chat with you.
Key Features
Add FB Messenger Customer Live Chat on your SocialEngine website with enable/disable feature.
You can integrate this plugin with your favourite FB page just by entering the FB Page ID
You can choose custom start and end display time.
Messenger Theme Color.
Greeting Message for Logged-In Users in FB in the current Browser.
Here, we are providing an interactive and easy to follow FB Messenger Customer Live Chat Plugin setup & installation guide which will help you to use & configure it properly on your website & maximize the efficiency of your website by showcasing the exciting features. With this help-guide, you will get a better sense of usage when you actually install this plugin on your website.
Installation of this plugin is very easy, but if you still need our expert to install this plugin for you, then you can purchase the service from here: https://socialnetworking.solutions/social-engine/socialenginesolutions-plugin-installation/
Step-by-Step Installation & Tutorial Guide:
** This tutorial assumes that you are already logged in to the Admin Panel.**
If not, then you have to log in first to the admin panel after filling the admin account credentials on your website.
1. Installation of FB Messenger Customer Live Chat Plugin:
a) In the Main Menu section, Click on the tab Manage and select "Packages & Plugins" to install this plugin.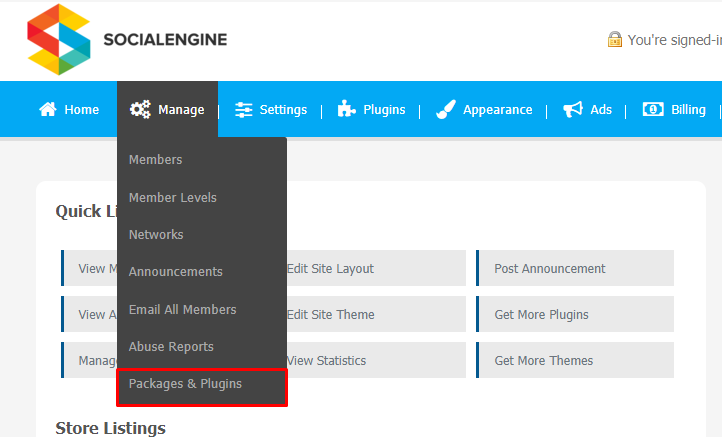 b) Our Plugin is based on SE standards so this will get installed on your website as any standard theme can. Please read the tutorial on installing themes and plugins in SE here: http://help.socialnetworking.solutions/faq/51/how-to-purchase-and-install-ses-products
After the successful installation of the plugin as in Step 2 above, under the plugins section, click on "FB Messenger Customer Live".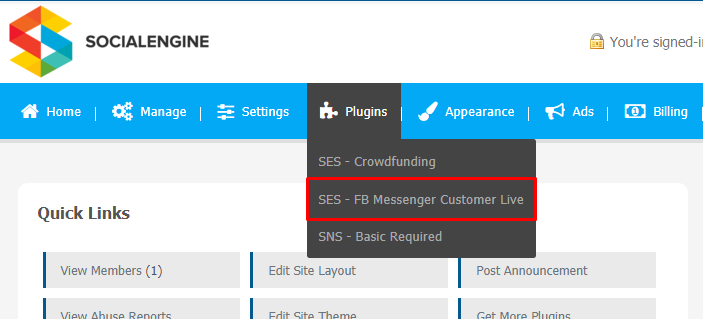 Now, you will be asked for plugin activation. You can activate this plugin by entering the right license key in the given box.

Once the plugin is installed and activated click on Global Settings. You will be landed straight to the plugin configuration page.
2. Global Settings
You can use Global Settings to manage multiple important features directly from the admin panel. These are the list of the features that can be configured from here and it will be applicable for all your community members.
You can enable/Disable FB customer chat.
Facebook Package ID
Manage Custom Start and End Display Time
Set Start and End Time
FB Messenger Icon Visibility
Greeting Text for Logged-in Users
Greeting Text for Logged-Out Users
Messenger Theme Color
Display Based on Devices
Position for FB Messenger Icon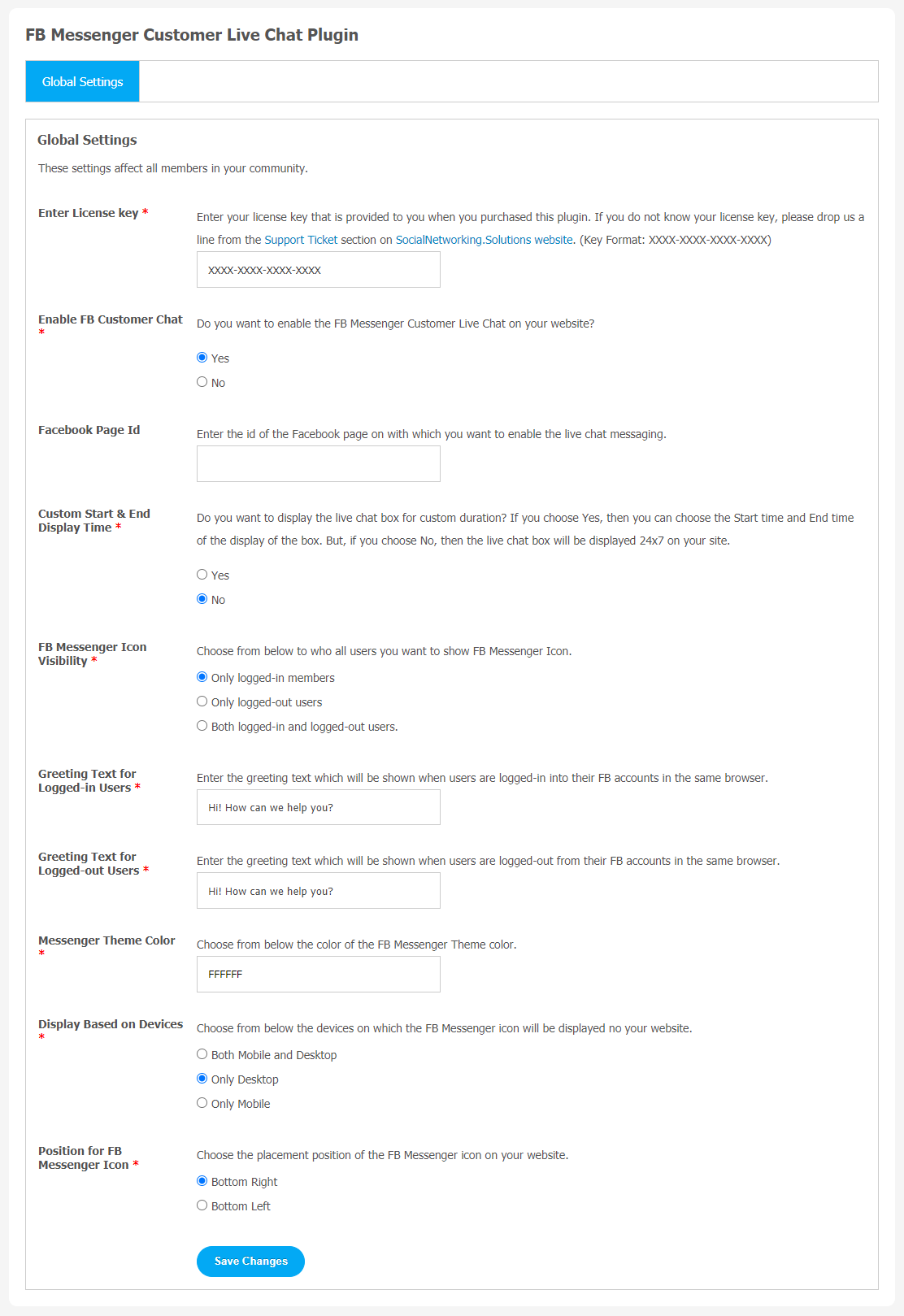 With this step-by-step tutorial guide, we are expecting you have successfully learnt how to use this plugin for your SocialEngine website. These are the key features of this FB Messenger Customer Live Chat Plugin. We hope you have successfully completed the tutorial guide and ready to go. You can use this plugin and utilize the new opportunities of engaging with customers.