Whether you own a website and deals in writing blogs, sharing freebies like music, videos or any type of creative work- just by having a SocialEngine website alone you can't make much of it. We are living in the social media era where we can never be sure when someone is going to want to share your content story with someone else. So, you can make this process more easy with the help of social share buttons.
To get more user attention for your product and services, you can utilize social sharing icons. As we all know, social media platforms provide more engagement, allowing users to connect with others who share common interests. You can capitalize the benefits of social media.
So, we are introducing this amazing plugin i.e. Professional Share Plugin.This plugin is one stop destination for all your social media sharing requirements. Professional Share Plugin is compatible with all the major social media platforms which will help to easily share your content and build your social following much faster.
Here, we are providing an interactive and easy to follow Professional Share Plugin setup & installation guide which will help you to use & configure it properly on your website & maximize the efficiency of your website by showcasing the exciting features. With this help-guide, you will get a better sense of usage when you actually install this plugin on your website.
Installation of this theme is very easy, but if you still need our expert to install this theme for you, then you can purchase the service from here: https://socialnetworking.solutions/social-engine/socialenginesolutions-plugin-installation/
Step-by-Step Installation & Tutorial Guide:
** This tutorial assumes that you are already logged in to the Admin Panel.**
If not, then you have to log in first to the admin panel after filling the admin account credentials on your website.
Installation of Professional Share Plugin:
1. In the Main Menu section, Click on the tab Manage and select "Packages & Plugins" to install this plugin.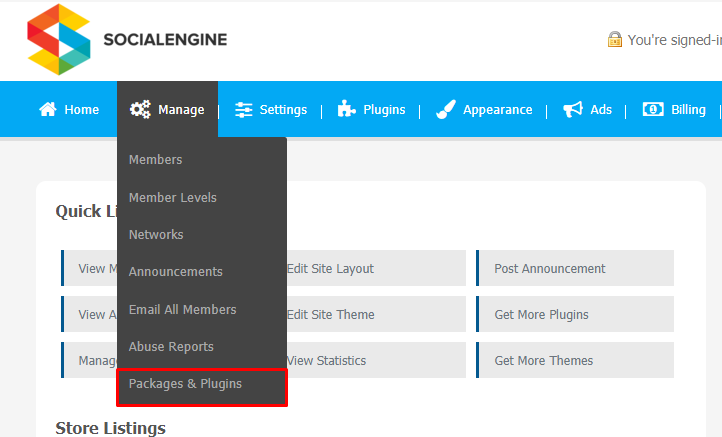 2. Our Plugin is based on SE standards so this will get installed on your website as any standard theme can. Please read the tutorial on installing themes and plugins in SE here: http://help.socialnetworking.solutions/faq/51/how-to-purchase-and-install-ses-products
3. After the successful installation of the theme as in Step 2 above, under the plugins section, click on "Professional Share Plugin".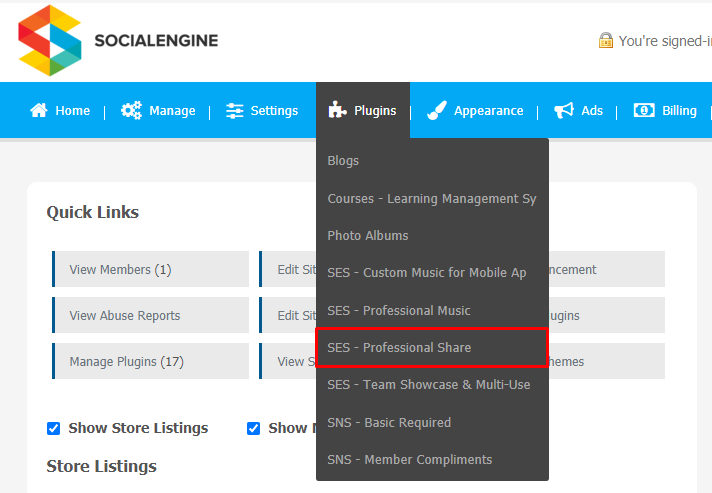 2. Global Settings
After clicking on "Professional Share Plugin", a new window will be opened where you can activate your plugin by entering the license key as shown below:
Enter the required license key in the below-shown box.
You can configure settings like Heading in More Popup, Enable Captcha in Email, Facebook Client ID Text on More Icon, Enable Outside Sharing in SE Share.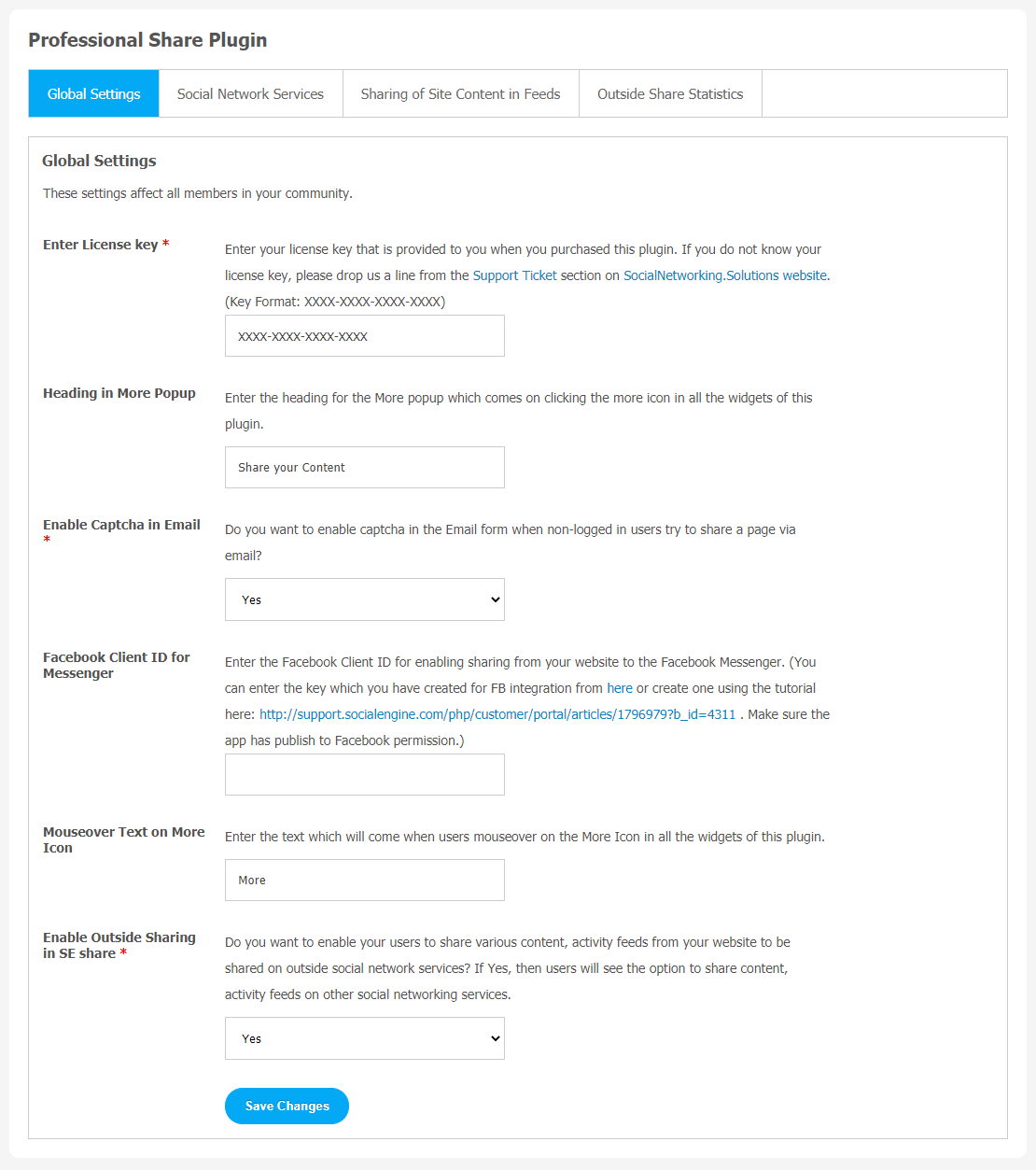 3. Social Network Services
All the Social Networking services are saved on this page, so that you can share your content from your website. You are allowed to enable/disable those social networks if required.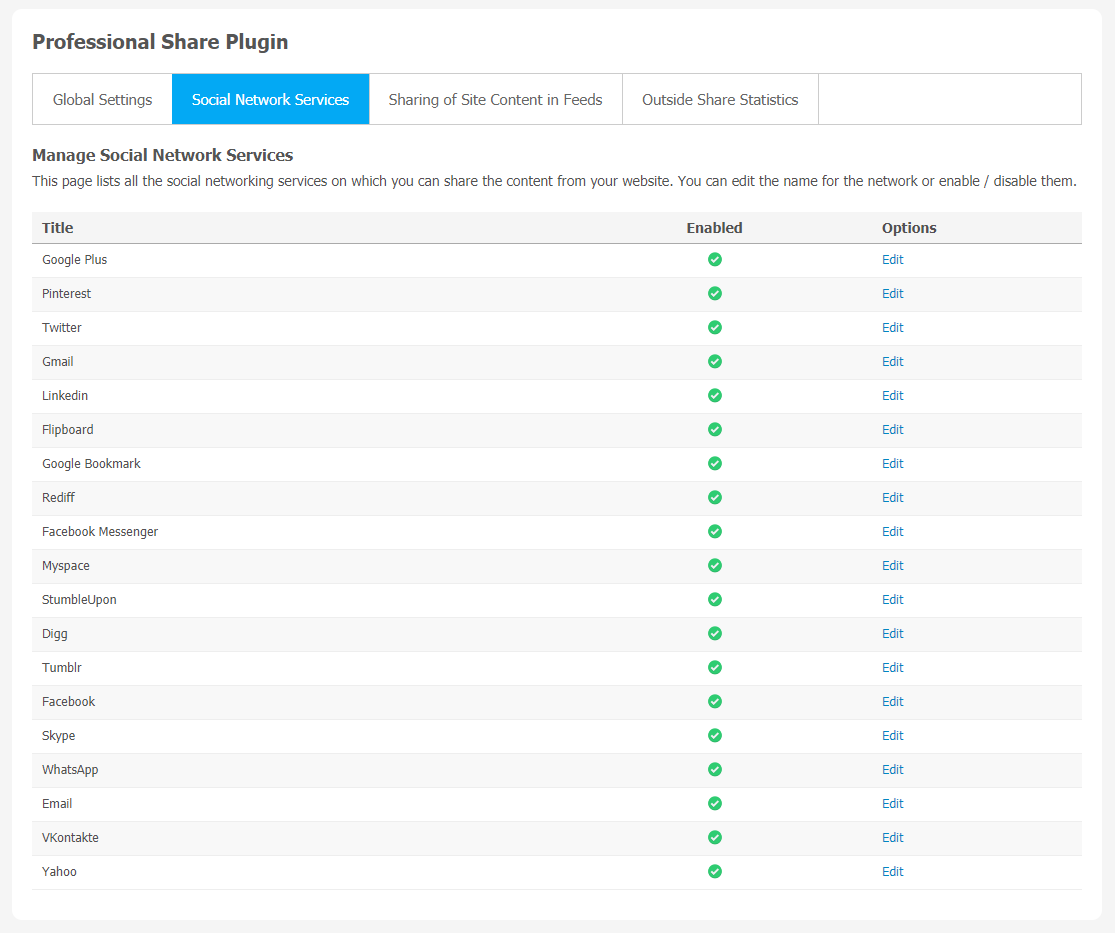 4. Sharing of Site Content in Feeds
This setting page is used to enable/disable the plugins. It will allow your website users to share different content, other activity feeds within your website. You can use the "Add New Plugin" link to add a new plugin to share the content. The shared content will appear in the Updates tab of the plugin which have Activity Feeds. Make sure to place the Activity feeds widget on enabled plugins view pages.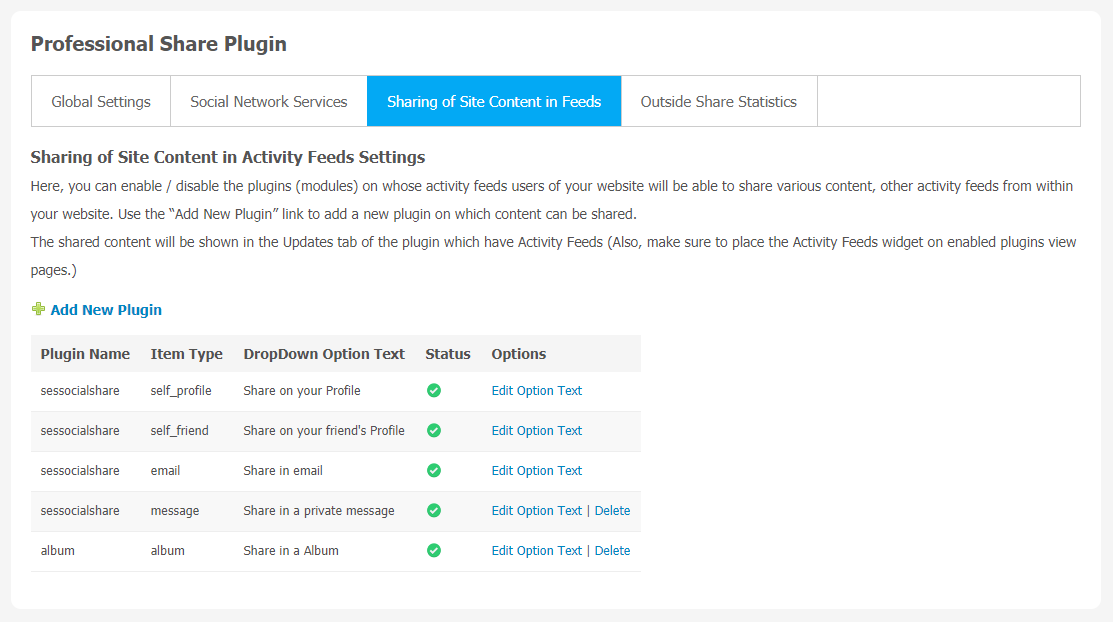 5. Outside Shine Statistics
Statistics are used to monitor your website performance. This page does the same, so you can manage statistics of links shared from your website on other social media platforms. With the help of filters, you can observe multiple metrics and their change in a given interval of time periods.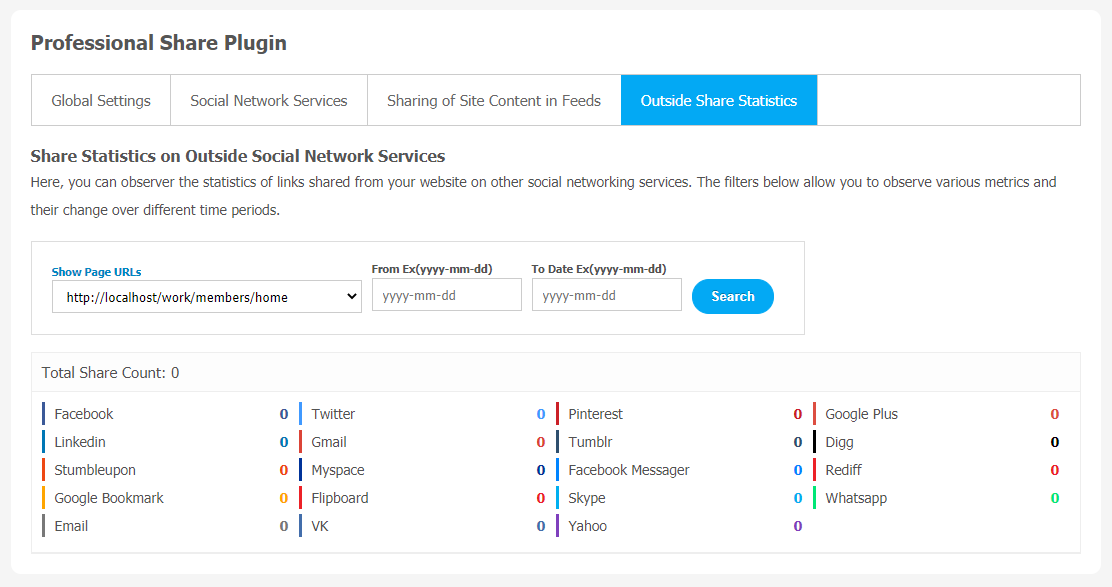 Finally!! You have successfully completed the installation procedure and also explored various exciting features of Professional Share Plugin. Now, your visitors and website members will be able to access & use your website with some new multipurpose features.
Installation of this Plugin is very easy, but if you still need our expert to install this Plugin for you, then you can purchase the service from here: http://socialnetworking.solutions/social-engine/socialenginesolutions-plugin-installation/