We are living in the world of social media influencers. Everybody wants to be famous and become influencers on these platforms.The key factor behind the social media popularity is directly related to the number of likes you get on content you post. But likes is the most crucial factor along with the quality of content. It lets your users showcase and share each other's content by liking on your website.
Professional Likes Plugin is that awesome free tol which offers an optimized like system that allows your users to Like their favourite content. Likes provides a vast exposure to quality content which helps to make your platform more popular and credible. With the help of the Advance Content Profile Button, your users can like their content from Content's Profile Page. They can see who liked their post,Member's Profile they like and what their friends are liking on the platform. Users get notifications for whoever liked their content.
You will be able to use various widgets for several content types. These content are related to most liked items over various admin configurations duration like 1 Week, 1 Month, Overall, etc.
Key Features:
Like Based Content Sorting
Notifications on New Content Like
Real Time Reports
Content Based Likes
Well-Integrated with in-built SE like system
Integrated with all 3rd Party Plugins
Support Like for Member Profiles
To know more about this plugin, you can visit the Live Demo by clicking this link given below: https://demo.socialnetworking.solutions/likes
You can explore more about this plugin with this tutorial guide. Here, we are providing an interactive and easy to follow Professional Likes Plugin setup & installation guide which will help you to use & configure it properly on your website & maximize the efficiency of your website by showcasing the exciting features. With this help-guide, you will get a better sense of usage when you actually install this plugin on your website.
Installation of this plugin is very easy, but if you still need our expert to install this plugin for you, then you can purchase the service from here: https://socialnetworking.solutions/social-engine/socialenginesolutions-plugin-installation/
Step-by-Step Installation & Tutorial Guide:
** This tutorial assumes that you are already logged in to the Admin Panel.**
If not, then you have to log in first to the admin panel after filling the admin account credentials on your website.
1. Installation of Professional Likes Plugin:
a) In the Main Menu section, Click on the tab Manage and select "Packages & Plugins" to install this plugin.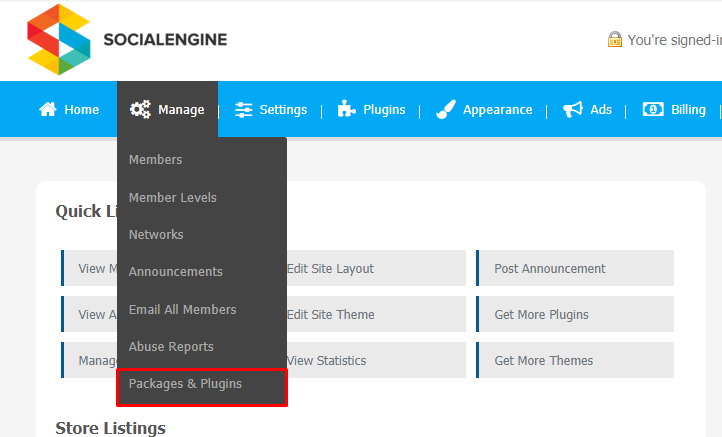 b) Our Plugin is based on SE standards so this will get installed on your website as any standard plugin can. Please read the tutorial on installing themes and plugins in SE here: http://help.socialnetworking.solutions/faq/51/how-to-purchase-and-install-ses-products

c) After the successful installation of the plugin as in Step 2 above, under the plugins section, click on "Professional Likes Plugin".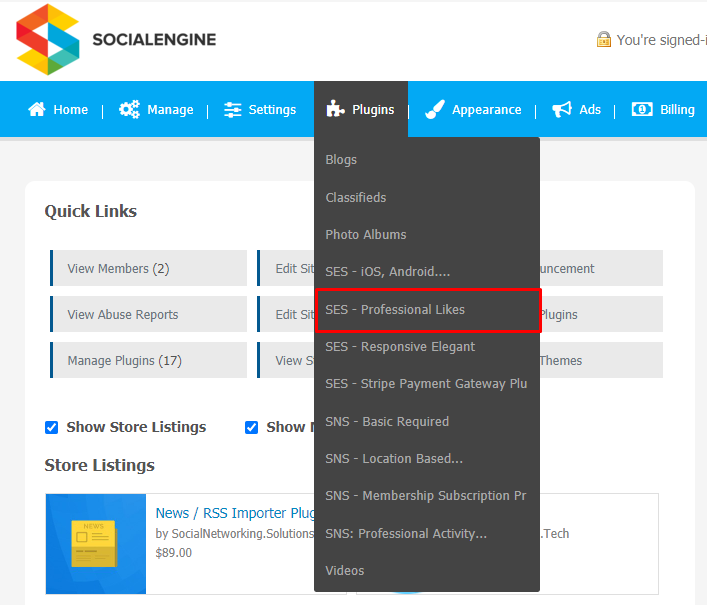 2. Global Settings
After a successful installation, a new Global Setting tab will appear where all the plugin settings can be managed easily. First, click on Global Settings. Then,
You can Enable/Disable User Profile Like.
Enable Default Profile Like Settings
Don't forget to "Save Changes" when done. All the changes made on this page will be applicable for all the members of your community.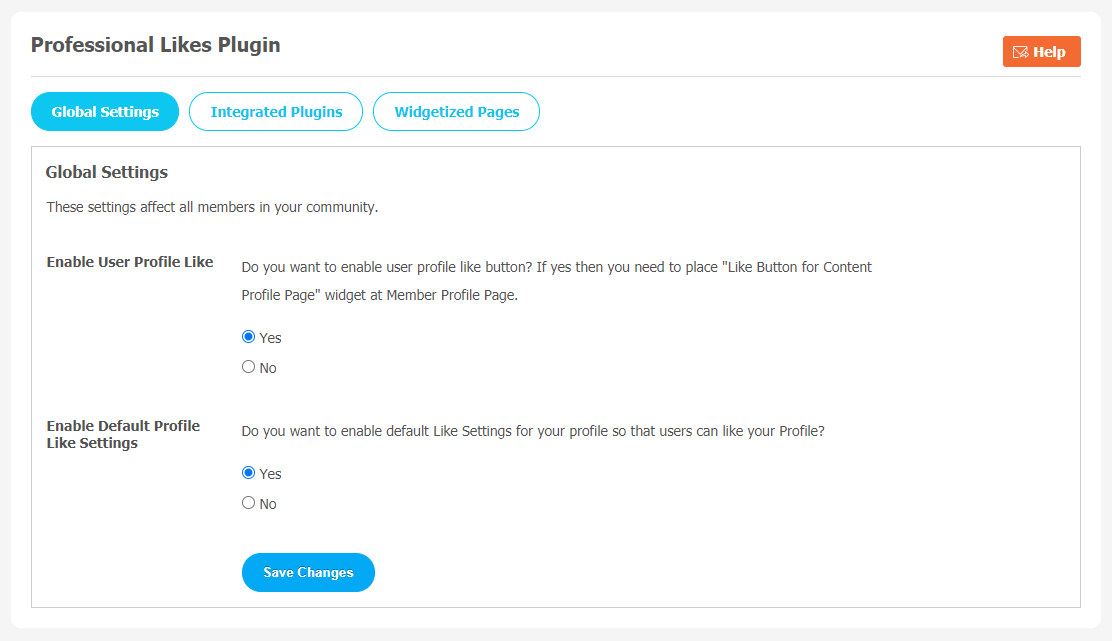 3. Integrated Plugin
With the help of this page, you can enable other plugins very easily. If you want to add a new plugin, please click on "Add New Plugin" link. You can also delete these integrated plugins.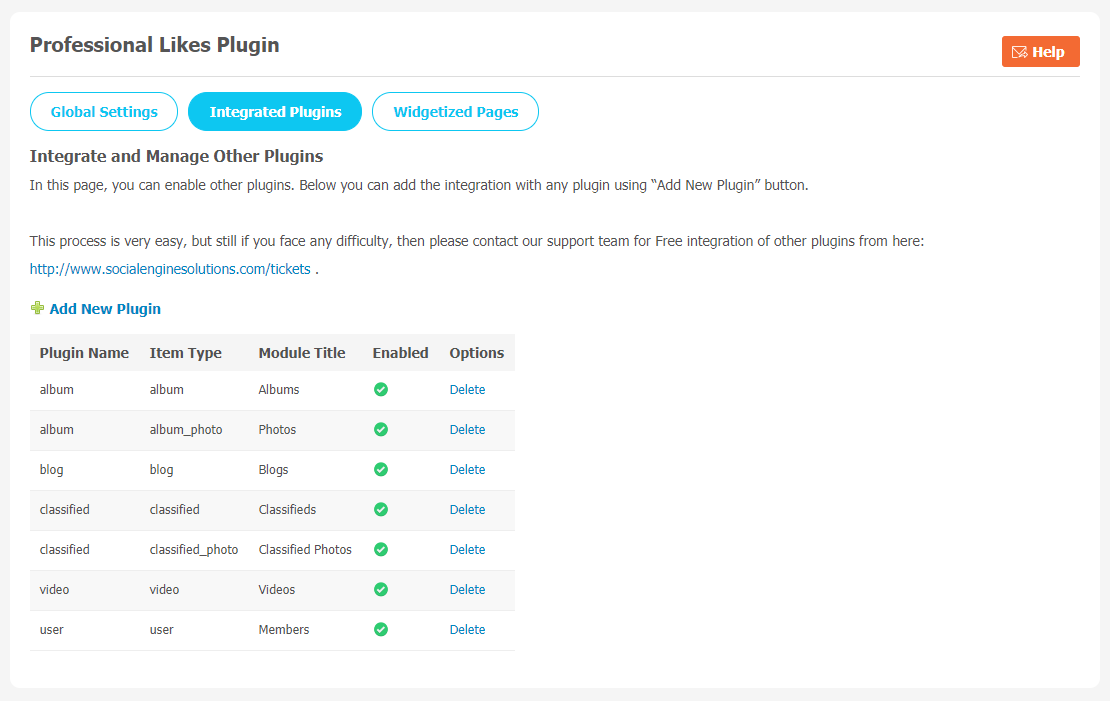 4. Widgetized Pages
You can see all the Widgetized Pages of this plugin here. You can go to a specific widgetized page in "Layout Editor" by clicking on the "Widgetized Page" link.
Finally!! You have successfully completed the installation procedure and also explored various exciting features of this Professional Likes Plugin. Now, your visitors and website members will be able to access & use your website with new awesome features.
Installation of this plugin is very easy, but if you still need our expert to install this Plugin for you, then you can purchase the service from here: https://socialnetworking.solutions/social-engine/socialnetworkingsolutions-plugin-installation/