If you have the need to display different content based on the user's location, you must check out our new Location Based Member & Content Display Plugin. It allows users to filter the content based on the location information of the person viewing the content.
As we know content is king and a prime element for any website. In the initial stage when the community is smaller, it is very easy to manage the content. But when your SocialEngine community grows, managing content requires extra efforts. For Example, it becomes an annoying experience if users see irrelevant content because it is very hard to manage content for the millions of users. To fix this issue, this plugin shows the content based on their current location.
This plugin will enable users to search any of the content based on their current location. This plugin is loaded with advanced technology to integrate with Google Maps and the ability to detect the user's current location. Moreover, cookies can be used to save a user's last filtered location and save time. Users can use a global location search in the header to get the content based on their specific location. As a site owner, you can set Default search miles for the proximity search of the content.
This plugin is easily compatible with Group Communities Plugin & Group – Videos Extension, Stores Marketplace Plugin, Advanced Blog Plugin, Advanced Article Plugin, Advanced Listing Plugin, Advanced Photos & Albums Plugin, Advanced Videos & Channels Plugin, Questions & Answers Plugin, News / RSS Importer & Aggregator Plugin, Advanced Members Plugin, Recipes with Reviews & Location Plugin, Booking & Appointments Plugin, Advanced Petitions Plugin, Courses – Learning Management System Plugin, Advanced Job Plugin, Crowdfunding Plugin
To know more about this plugin, you can click on the link given below:
https://demo.socialnetworking.solutions/
Top Features
Well Integrated with Google Apps
Global Location Detect Widget
Automatic Notifications
Default Search Files
Detect Current Location
Integrated with SNS Plugins
You can explore more about this plugin with this tutorial guide. Here, we are providing an interactive and easy to follow Location Based Member & Content Display Plugin setup & installation guide which will help you to use & configure it properly on your website & maximize the efficiency of your website by showcasing the exciting features. With this help-guide, you will get a better sense of usage when you actually install this plugin on your website.
Installation of this plugin is very easy, but if you still need our expert to install this plugin for you, then you can purchase the service from here: https://socialnetworking.solutions/social-engine/socialenginesolutions-plugin-installation/
Step-by-Step Installation & Tutorial Guide:
** This tutorial assumes that you are already logged in to the Admin Panel.**
If not, then you have to log in first to the admin panel after filling the admin account credentials on your website.
1. Installation of Location Based Member & Content Display Plugin
a In the Main Menu section, click on the tab Manage and select "Packages & Plugins" to install this plugin.
b) Our Plugin is based on SE standards so this will get installed on your website as any standard plugin can. Please read the tutorial on installing themes and plugins in SE here: http://help.socialnetworking.solutions/faq/51/how-to-purchase-and-install-ses-products

c) After the successful installation of the Professional Activity Feeds Plugin as shown in Step 2 above, under the plugins section, click on "Location-based Member & Content Display Plugin".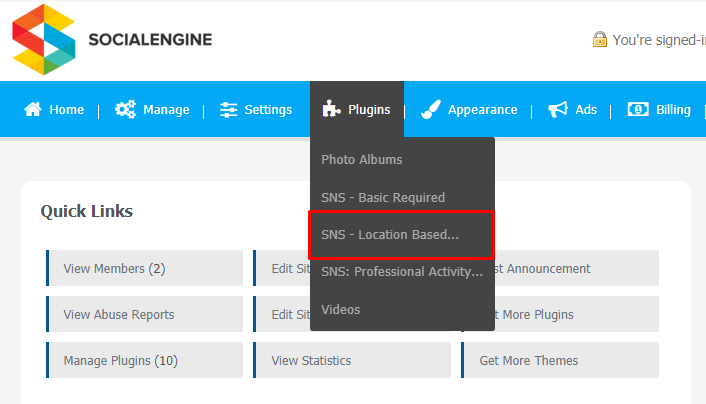 d) Once you click on the plugin, now you will be asked for entering the required License Key for plugin activation. Now, your plugin is ready to go!

2. Global Settings
After a successful installation, a new Global Setting tab will appear where all the plugin settings can be managed easily. First, click on Global Settings. Then,
Enable Location Search
Default Search Miles
Don't forget to "Save Changes" when done.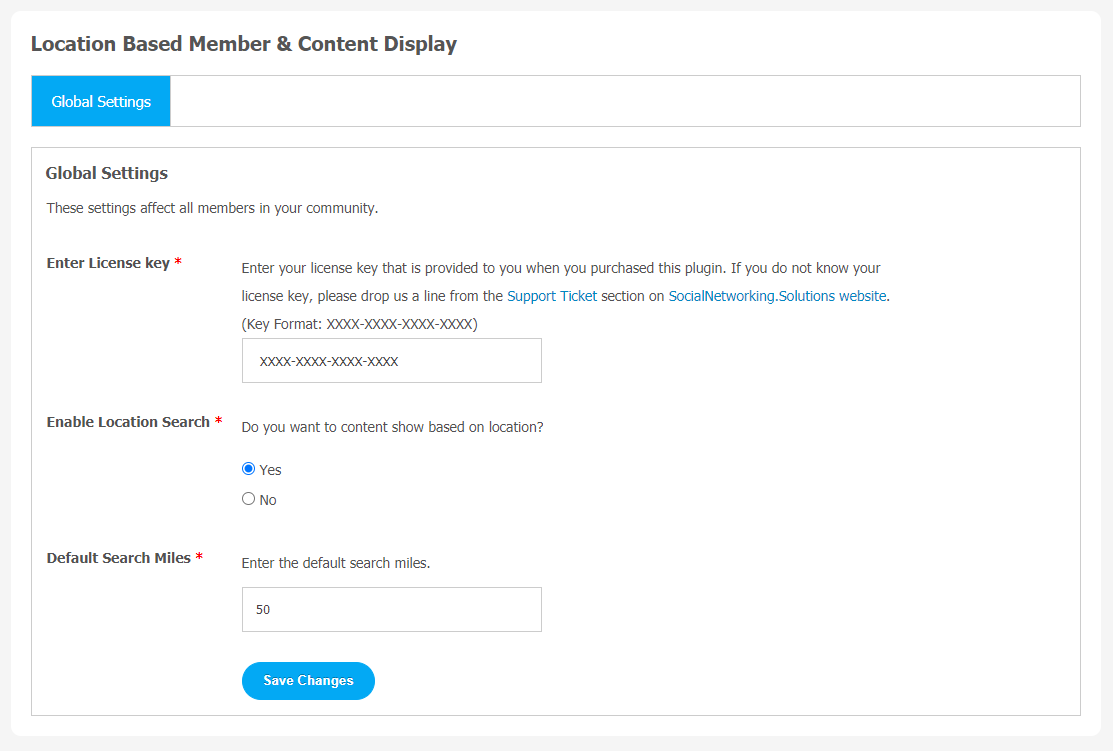 Finally!! You have successfully completed the installation procedure and also explored various exciting features of Location Based Member & Content Display Plugin. Now, your visitors and website members will be able to access & use your website with some new multipurpose features.
Installation of this Plugin is very easy, but if you still need our expert to install this Plugin for you, then you can purchase the service from here: https://socialnetworking.solutions/social-engine/socialenginesolutions-plugin-installation/