According to the traditional ways, all the documents are paper based, which increases the overhead to maintain it and its security is the biggest issue to worry about. But in this fast moving world, everything becomes fast, advanced & handy. Similarly, using Google Drive for storing Documents will prevent you from any loss and are easily accessible from anywhere.
With the help of Documents Sharing Plugin, you can easily share your documents and they all are stored safe in a single Google Email. You can access these documents anytime, anywhere which saves your time and helps in sharing things in an easy manner.
Document Sharing Plugin is highly customizable which will help to configure various settings as per your choice and based on the different Member Levels. Users can create documents according to the different categories and can easily share them on various social sites and also download. Also this plugin comes up with the default Icon type (Video, Image, Textual etc.) for the documents which help you to recognize well.
Please read more about this Plugin here: https://socialnetworking.solutions/documents-sharing-plugin
Watch demo here: https://demo.socialnetworking.solutions/documents
This tutorial will walk you through steps you need to follow to install the Document Sharing Plugin on your website.
** This tutorial assumes that you are already logged in to the Admin Panel.
Installation and Setup of this plugin is very easy, but if you still need our expert to install this plugin for you, then you can purchase the service from here: https://help.socialnetworking.solutions/faq/51/how-to-purchase-and-install-ses-products
Video Tutorial: In addition to this written tutorial, we have also created a video tutorial which will help you to setup and configure this extension easily. Watch the below video: https://www.youtube.com/watch?v=48s1zxrMslw
Steps to Install & Setup Documents Sharing Plugin
1. Installation of Documents Sharing Plugin
a) In the Main menu, click on the tab Manage and select "Packages & Plugins".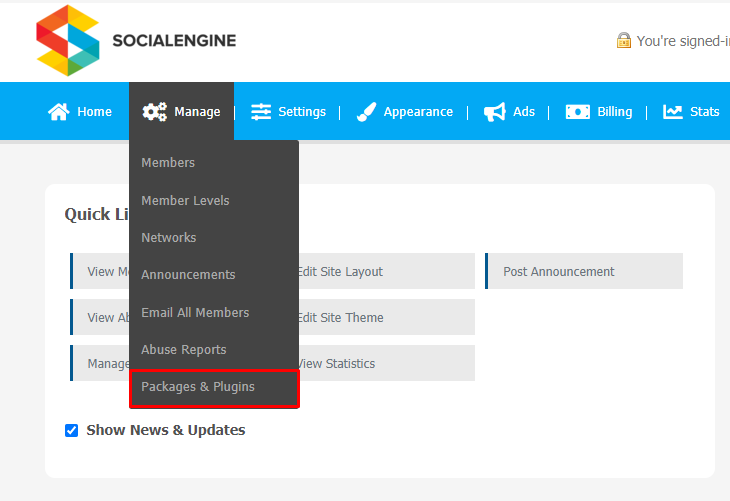 b) Please read the tutorial on Installing plugins in SNS here: https://help.socialnetworking.solutions/faq/51/how-to-purchase-and-install-ses-products
c) After the successful installation of the plugin as in Step 2 above, go to "Plugins" dropdown in the Main menu and select "SNS – Documents Sharing".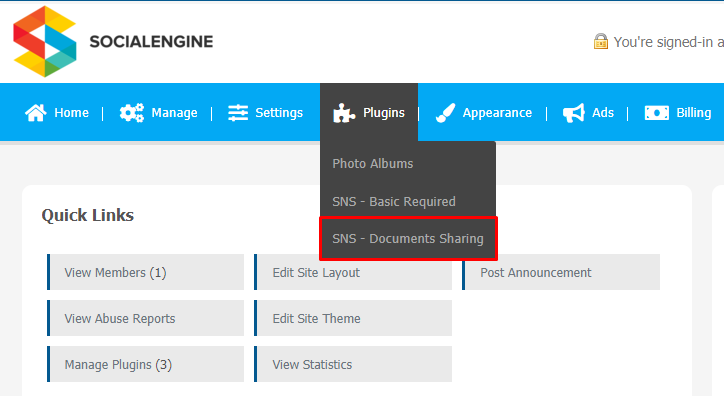 2. Global Settings
Activate this plugin from the Global Settings section of this plugin. In this section, you can add your google email from where you can access all the documents created by users & you need to enter the client id and client secret key and can change various settings like Singular Document Title, Plural Document Title, Allow Rating, Report as inappropriate, Allow to Share Documents, Document Thumbnails, Document Extension and many more…

3. Manage Documents
In this section, you can manage various documents which were created yet. You can delete the documents which you find incorrect/offensive. Here you can search any document by filling various fields like document title, owners name, creation date, etc. and can approve, make featured, sponsored, verified and of the day any of the documents.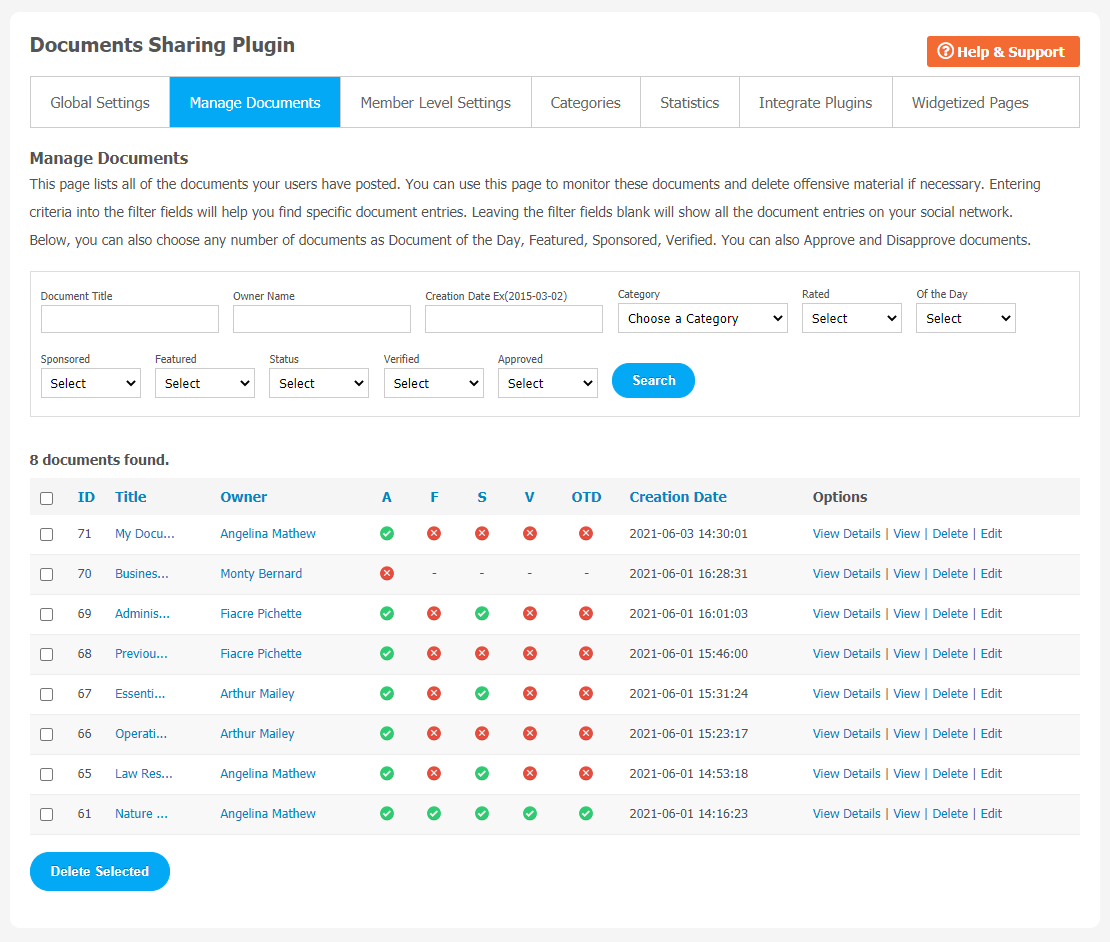 4. Member Level Settings
These are the settings which are based on the different member levels configured by the admin of the site. These settings allow you to view, create, edit, delete and comment on the documents and also allow you to do the document view privacy, document comment options. Here, you can enable / disable the settings for auto-approve, featured, sponsored, highlight, etc.. as well.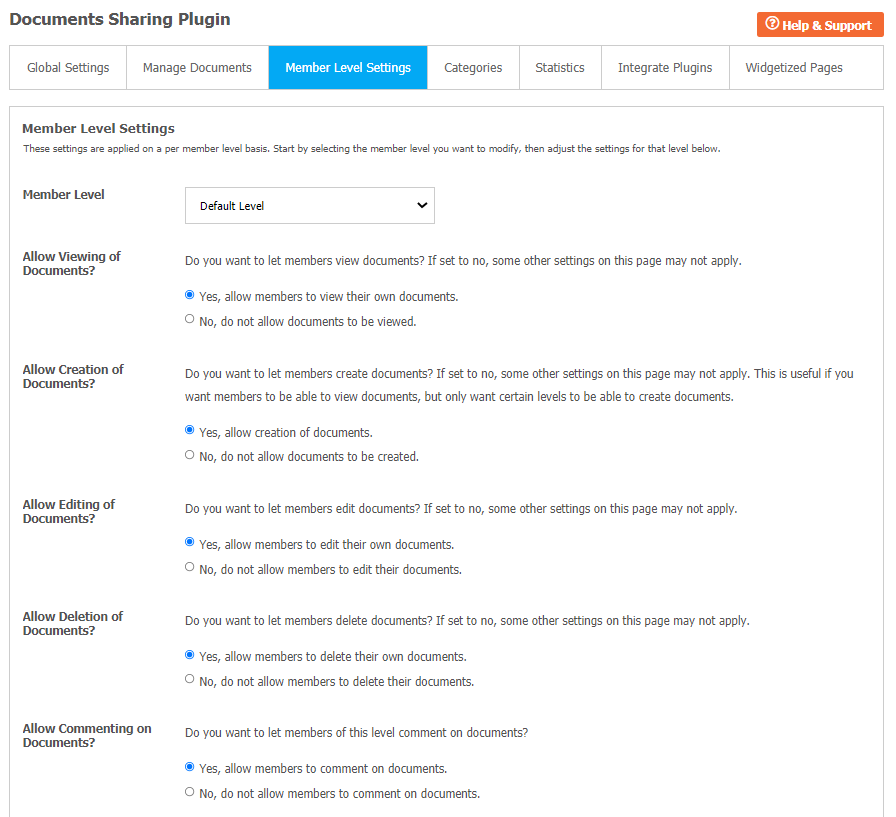 5. Categories
This section is divided into two parts, one is Categories & Mapping and the other one is Form Questions. In Categories & Mapping, you can modify or delete the existing categories and also add new categories by filling up the form given at this page. 2nd & 3rd Level Categories are also supported.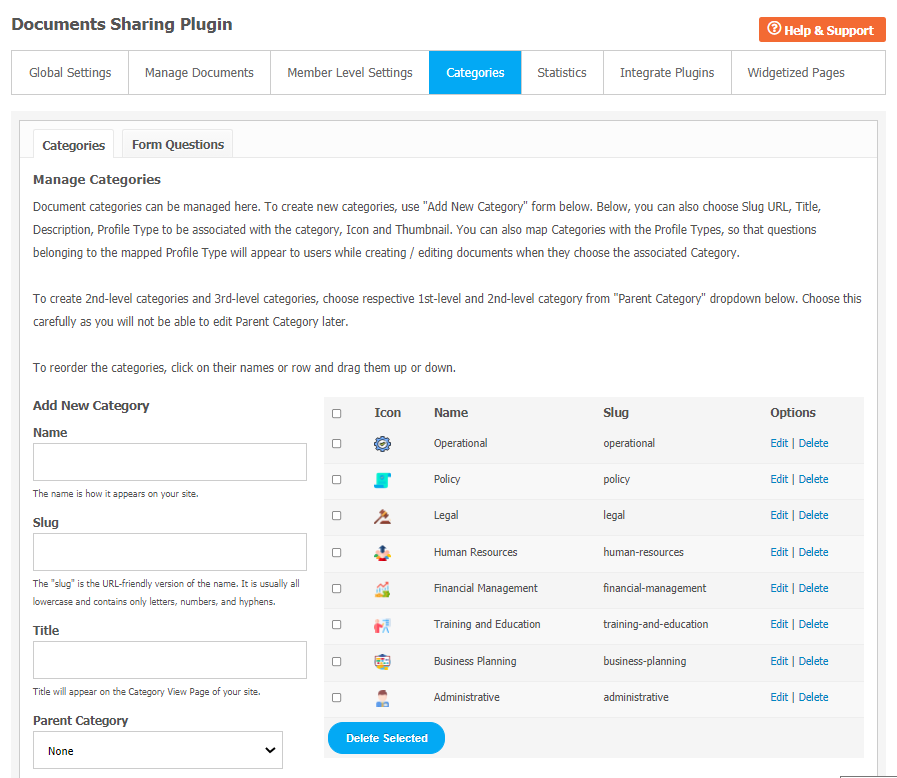 In Form Question, you can add various Profile Questions in order to get some more knowledge about the documents for particular profile type and also you can add questions to existing profile type or can create new profile type or can rename the profile type.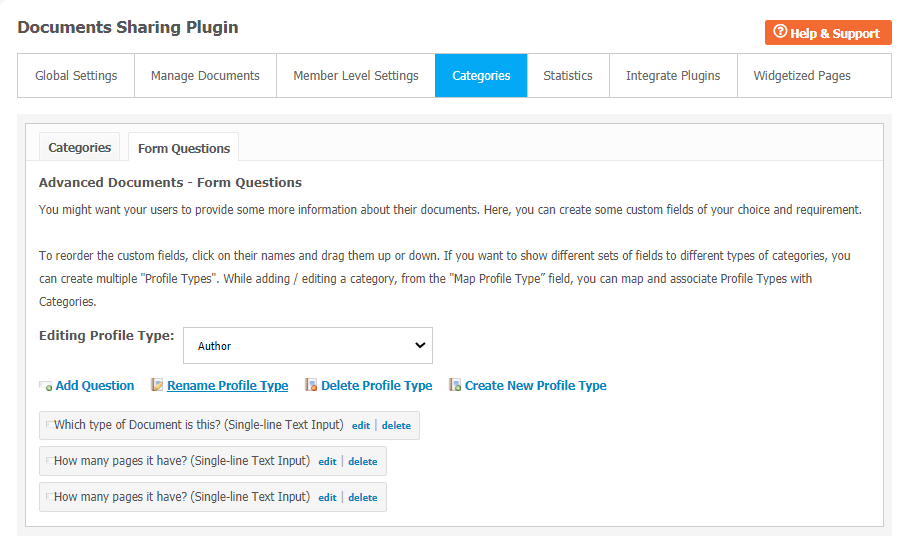 6. Statistics
It will create the valuable statistics for the documents that users have created on your website like total documents, total featured documents, total views, total likes, etc.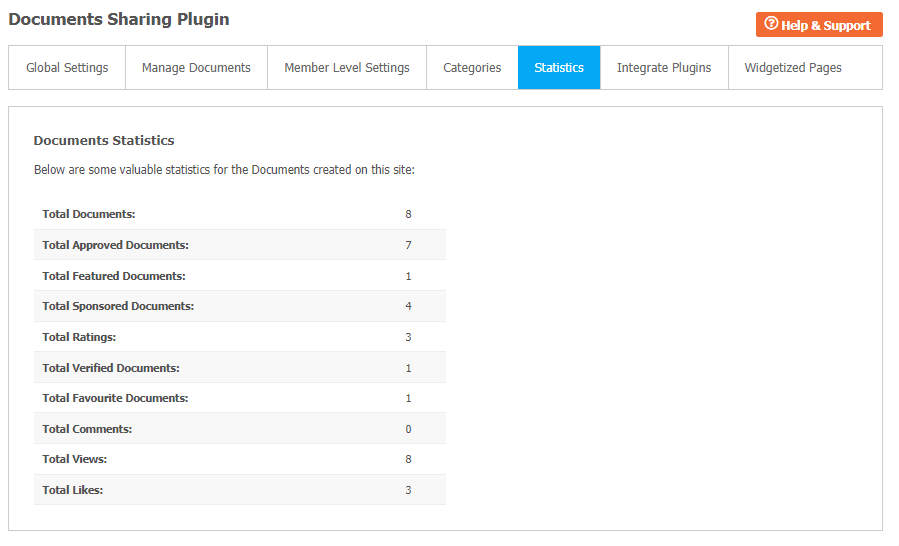 7. Integrate Plugins
From this section, site admin can integrate various Plugins with this plugin which allows other site users to create documents in various other plugins as well.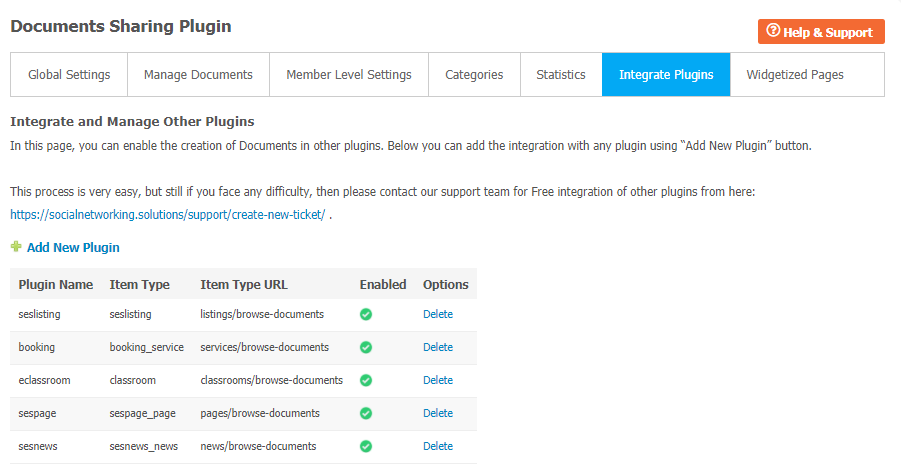 8. Widgetized Pages
This page lists all the required Widgetized Pages which are present under Layout Editor for this plugin.
With the help of this section you can go to either Widgetized page or User page directly by clicking on their links respectively.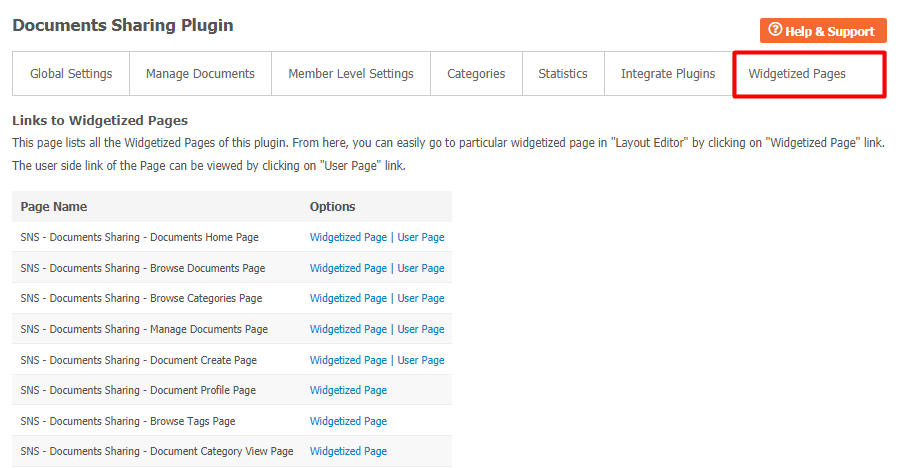 9. Help
If users have any query or doubt in creating, managing and configuring their documents on a website, then they can refer to this page.This page will help you out with all the Queries regarding Documents on your Website.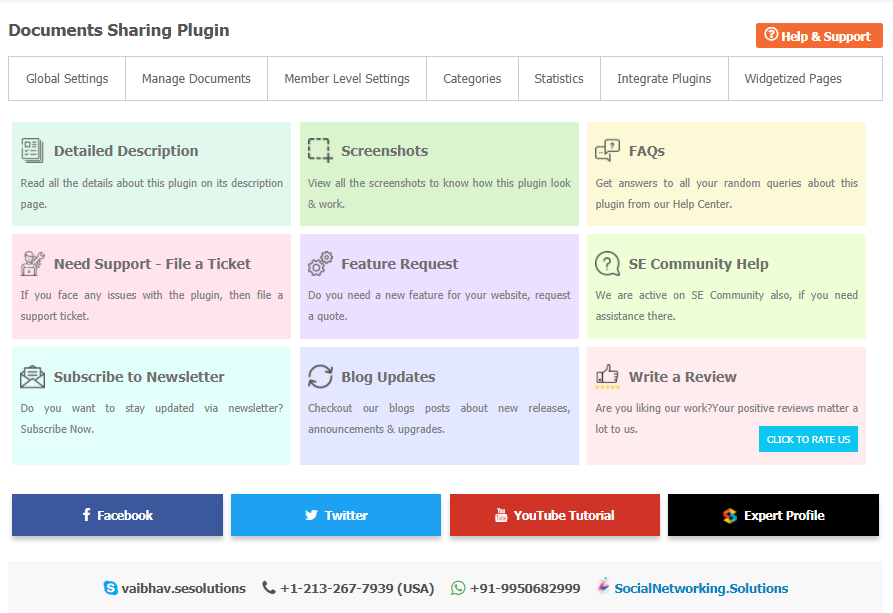 10. Layout Editor
Layout Editor is the only place for our SES Products where you can place various widgets for your pages and configure those widgets according to your requirement as well.
There are certain pages for this plugin which are categorized as "SNS – Documents Sharing – PAGE_NAME" in which you can place any widget that are also categorized as "SNS – Documents Sharing – WIDGET_NAME" format.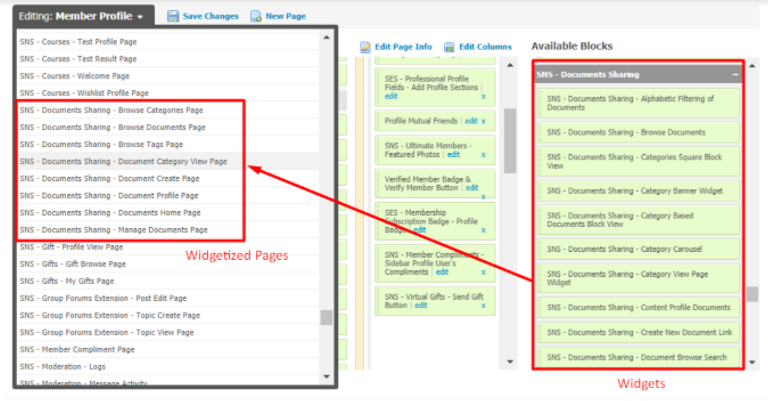 Great! You have completed the installation and setup of this plugin and now you are able to create documents of your choice.
Installation of this plugin is very easy, but if you still need our expert to install this plugin for you, then you can purchase the service from here: https://socialnetworking.solutions/social-engine/socialnetworkingsolutions-plugin-installation/