Every time you come up with an idea to create an online event booking platform, choosing the right plugin which comes with robust features can be a difficult task. In the software market, there are multiple options available for choosing a plugin for your SocialEngine website. But if you want to always keep your standard high, you must try this awesome "Advanced Event Plugin" created by SocialNetworking.Solutions.
For making the best user experience, you need to provide reliable and productive features for your audience. If you really want to attract more people to create events on your website, you have to provide appealing photos of previous events and hosting members details either they are site members or non-site members for better reliability. It will draw the attention of your users and they can trust you with your events. Advanced Events Plugins fulfils all the requirements.
Also, your users require new productive features, so that they can engage with your website by creating, managing and promoting events. This plugin comes with features like members can invite other users to join the event. They can write reviews and give ratings to their event experience. Users can choose to associate the location with their friends.
In short, with Advanced Event Plugin users can create events for
Workshops
Conferences
Social Events
Fundraising Events
Sports Events and much more
Featured Highlights
100% Responsive
Custom Fields
Robust Admin Panel
Attractive Welcome Page
Innovative and Customizable Design
Multiple Categories for Events
Reviews and Rating Events
Location and Location Cluster
Multiple Widgetized Pages
Here, we are providing an interactive and easy to follow Advanced Events Plugin setup & installation guide which will help you to explore its exciting features and maximize the efficiency of your website. With this help-guide, you will get a better sense of usage when you actually install this plugin on your website.
Installation of this theme is very easy, but if you still need our expert to install this theme for you, then you can purchase the service from here: https://socialnetworking.solutions/social-engine/socialenginesolutions-plugin-installation/
Step-by-Step Tutorial Guide for Users:
** This tutorial assumes that you are already logged in to the Admin Panel.**
If not, then you have to log in first to the admin panel after filling the admin account credentials on your website.
1. Installation of Advanced Events Plugin
In the Main Menu section,
Click on the tab Plugin and select "Advance Events" to install this plugin.

2. Global Setting
After a successful installation, a new Global Setting tab will appear where all the plugin settings can be managed easily. First, click on Global Settings. Then,
Enter the required license key in the below-shown box.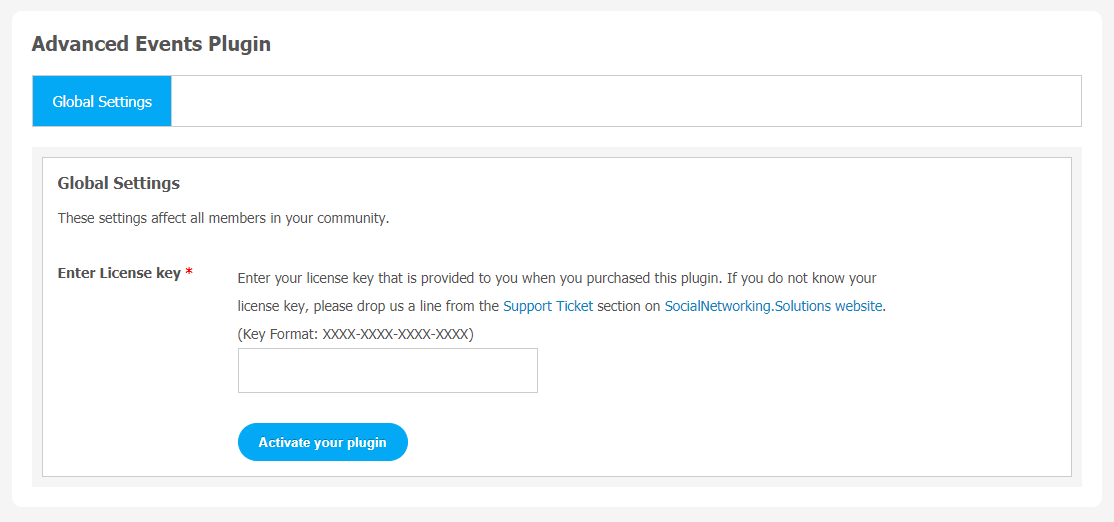 Here, you can choose Event Main Menu redirection for Logged-in Users and Non-Logged In users.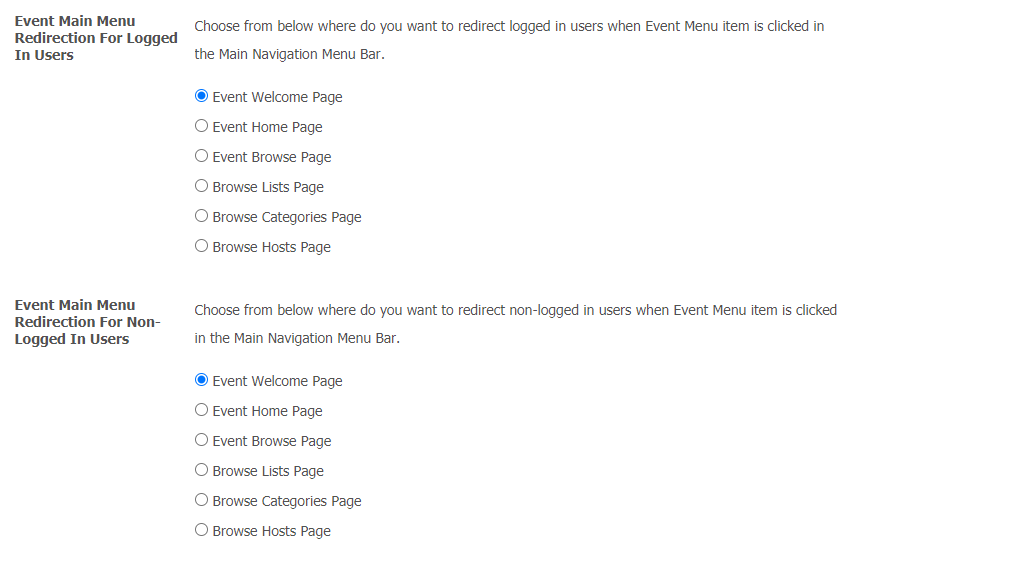 You can enter the name of required text in place of "events" in the URL of this plugin.
Enable/Disable Location
Set Proximity Unit of the location of events.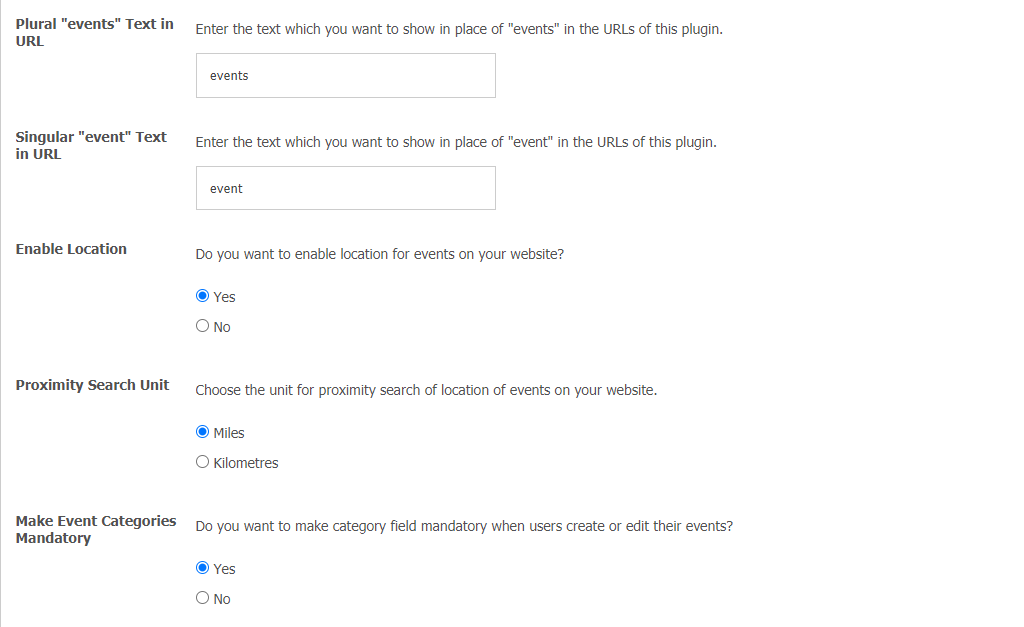 Set Advanced Share Popup when the event is created.
In this section, you can make required changes which are related to Events.

3. Event Create Page Settings
In this section, you can make various changes related to "Event Create Page" like Show Event Description, Main Photo of the events and Popup for "Create New Event" by simply choosing Yes/No.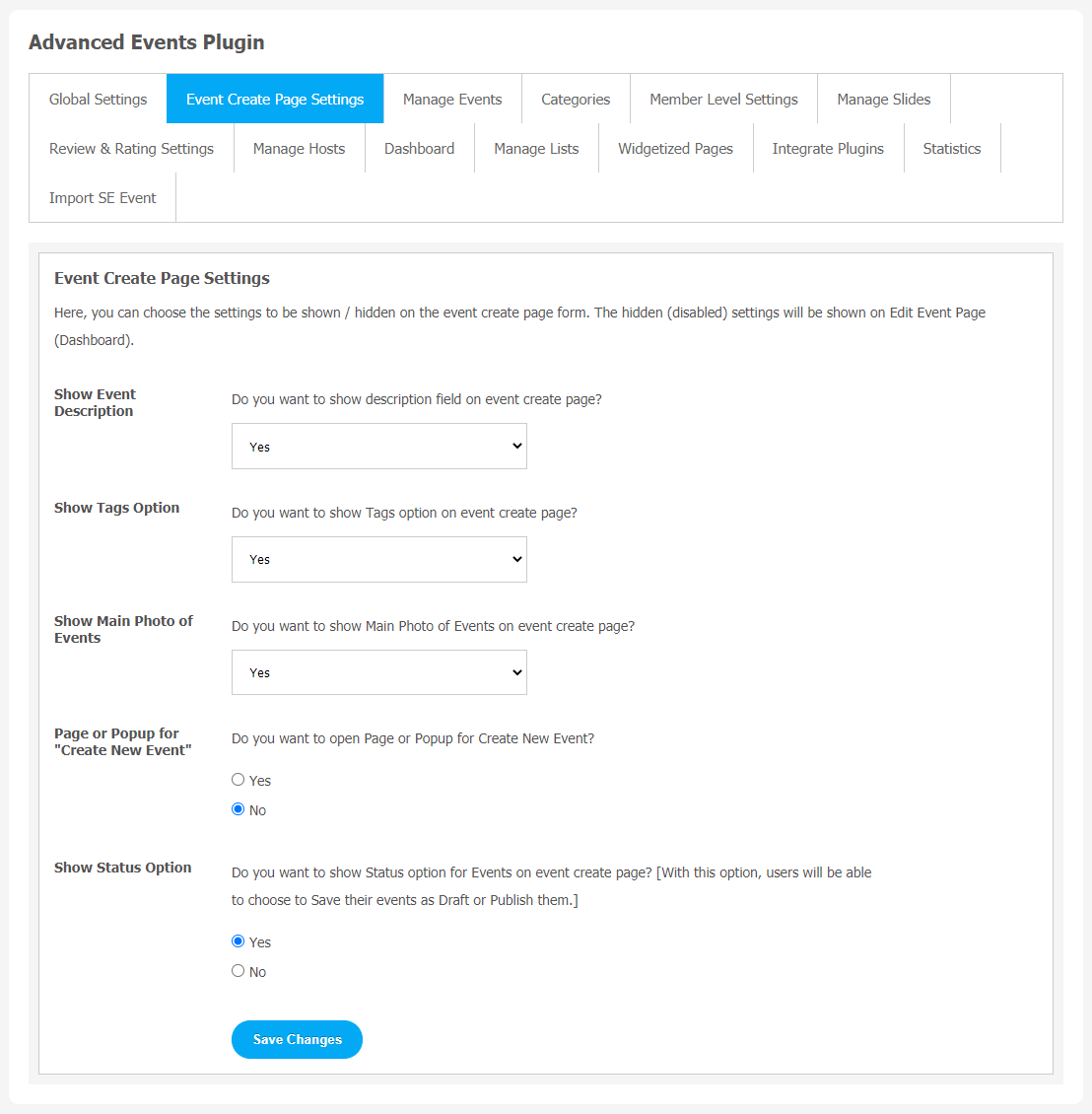 4. Manage Events
This section allows admin to monitor and manage events created by website users. You can track events by their name, owner name, date and their sponsors.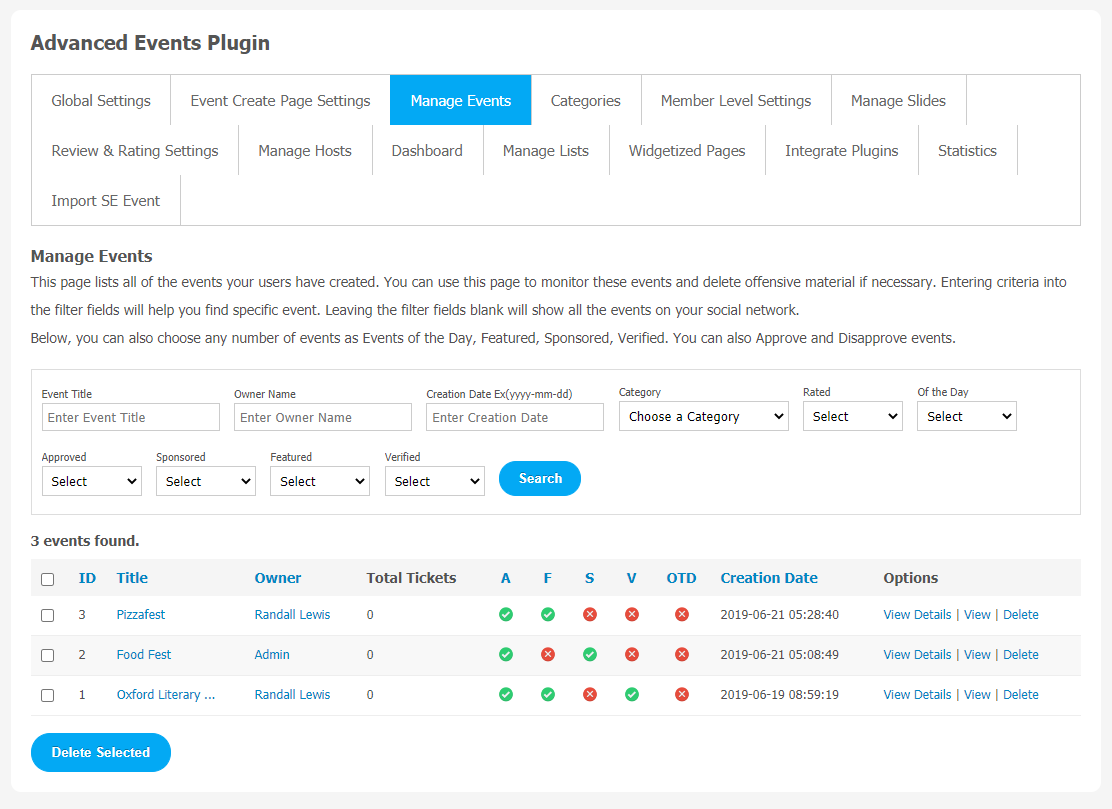 5. Categories
You can create a category for the event by clicking on "Add New Category". You can choose options like Title, Slug URL, Description, Profile Type to be associated with the category, icon and Thumbnail.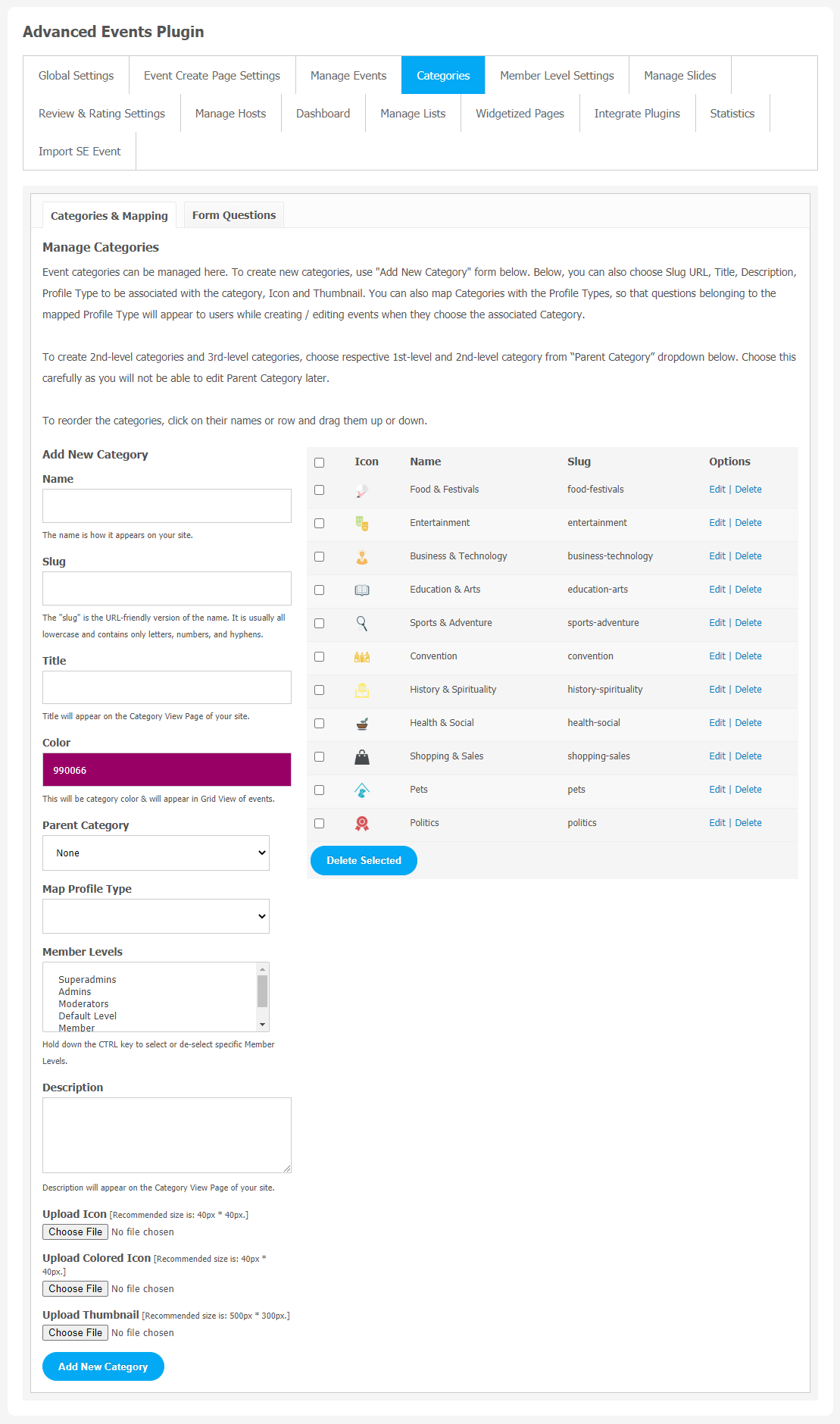 6. Member Level Settings
This section is used to manage Member Level Settings. Here are some important features of Plugin which can be managed by the site admin for different member levels are as following:
Allow Viewing of Events
Allow Creation of Events
Allow Editing of Events
Allow Commenting of Events
Event Privacy
Event Comment Options
Photo Upload Options
Topic Post Options
Default Event Cover Photo

7. Manage Slides
You can manage the website slideshow in this section. Also, you can create a new slideshow by clicking on the "Upload New Slide".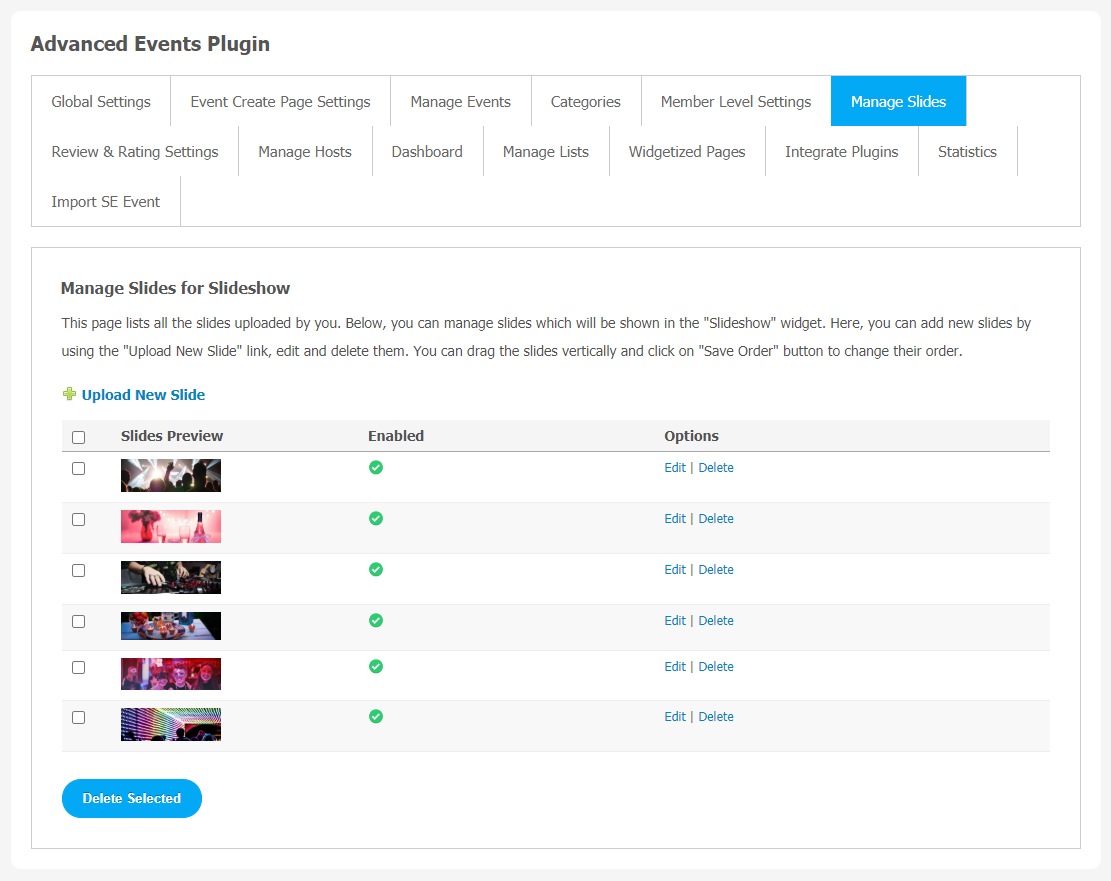 8. Review & Rating Settings
Review and rating play a very crucial role in the brand image of any business. If you are running any event website, reviews can make or break your business brand image in the market. So, it becomes important to manage review and rating settings for your audience.
First Click on "Review and Rating Settings".
Then choose "Settings".
Now, configure all the required settings
Apart from Settings, site admin can also choose to Manage Reviews, Member Level Settings, Parameters & Custom Fields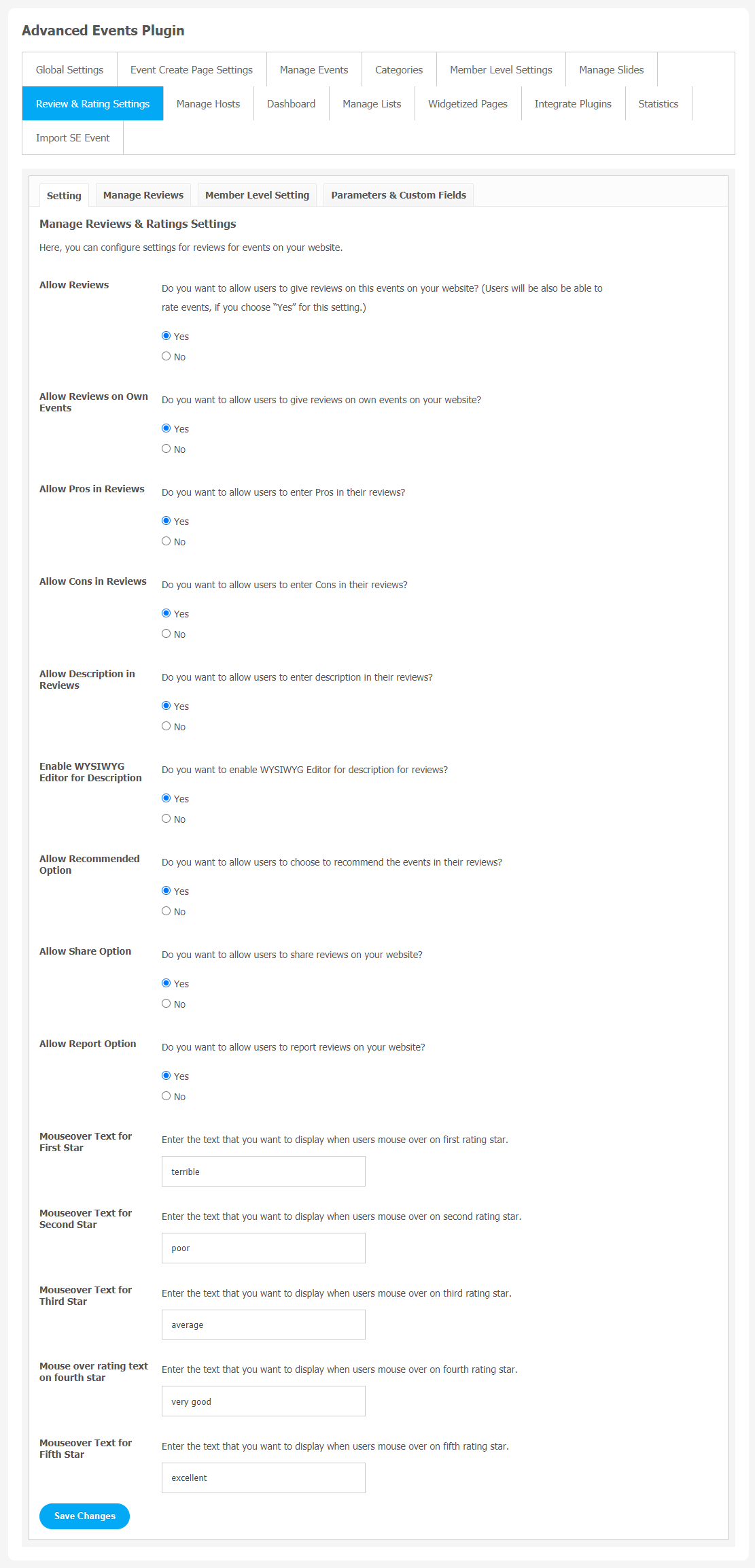 9. Manage Hosts
Tracking all the hosts either they are site members or non-site members can be a very time consuming task. In this plugin, this important task can be monitored in a very easy way. You can search any registered hosts by entering the details in required fields.
10. Dashboard
Manage menu items in Event Dashboard. Enable/Disable any menu items as per shown in below image.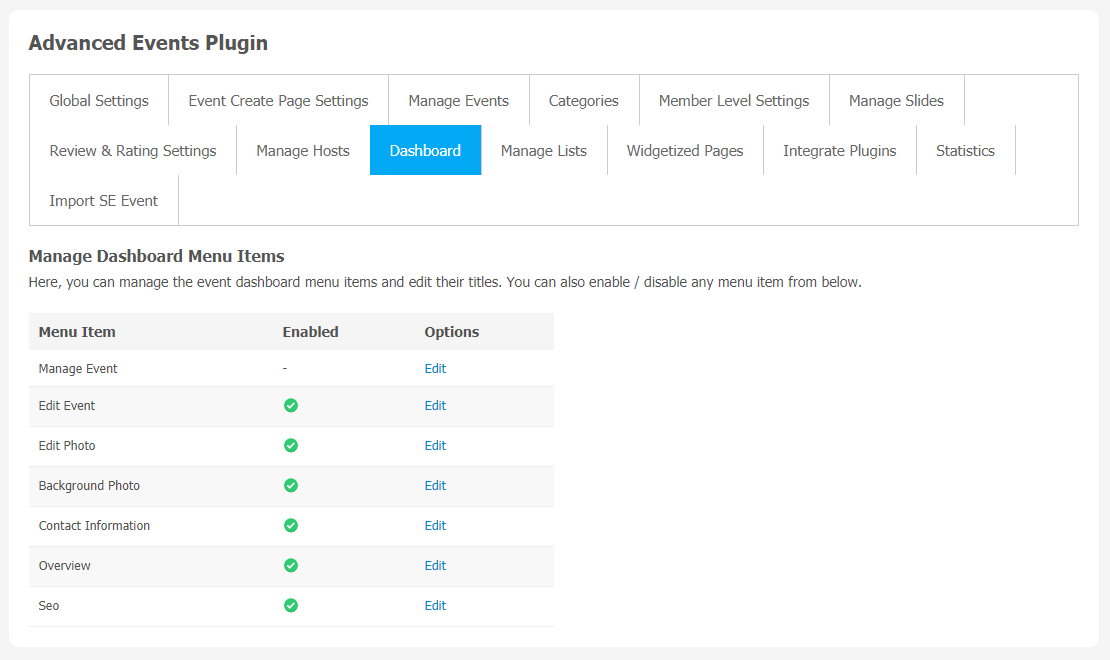 11. Manage Lists
Manage all of the lists your users have created through this page.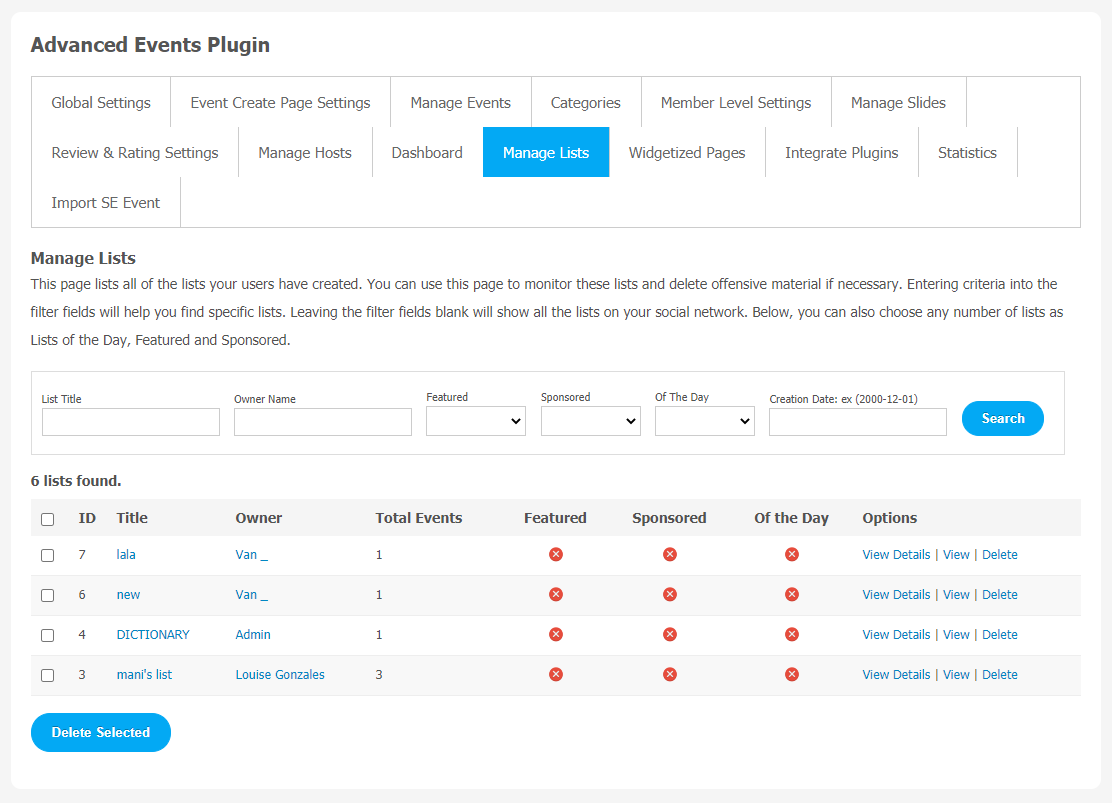 12. Widgetized Pages
All the widgetized pages are shown in this section. You can go to "Layout Editor" by clicking on the respective Widgetize Page Link.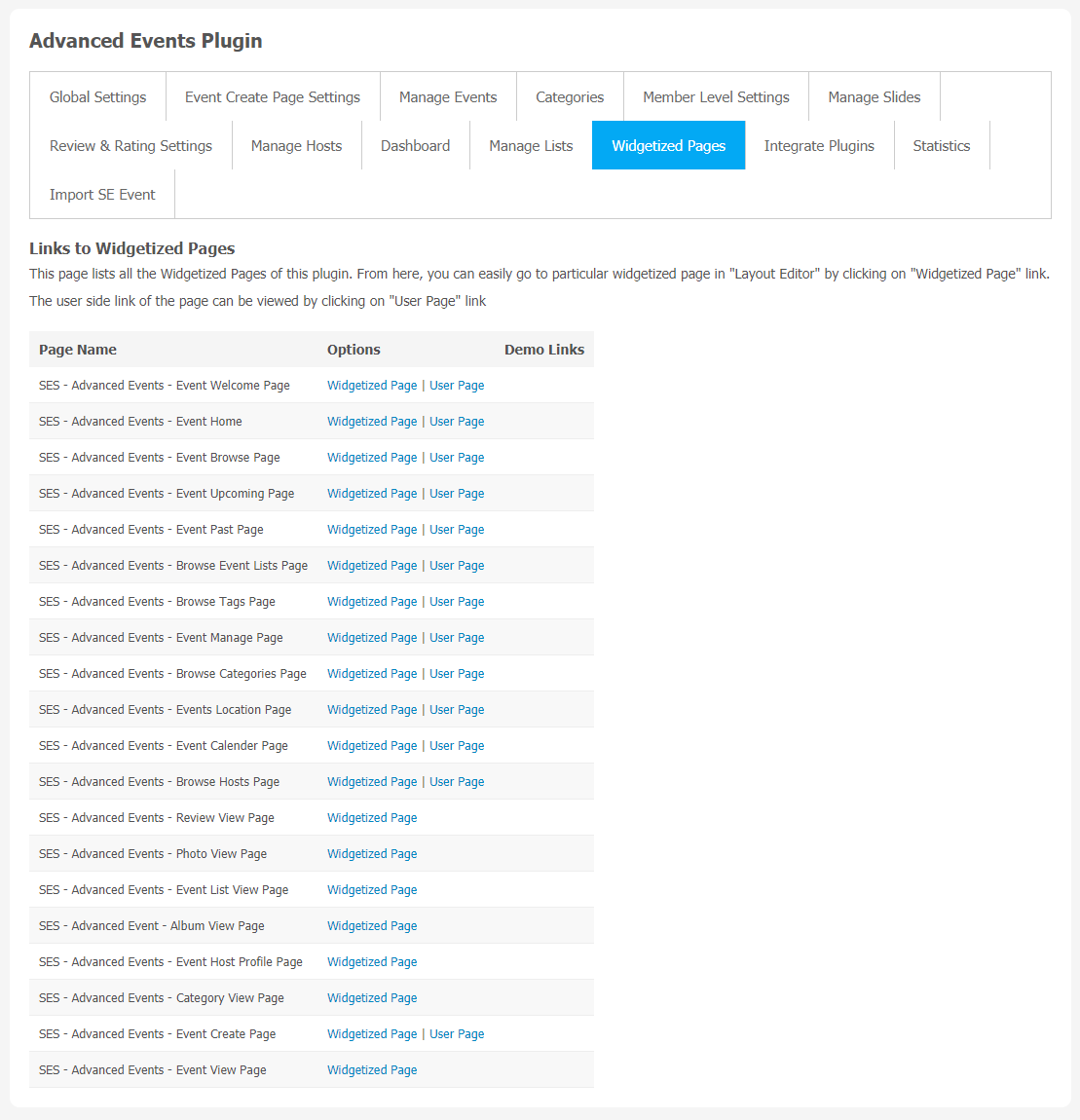 13. Integrate Plugin
If you want to add a new plugin, click on the "Add New Plugin" button. Also, the admin can enable the creation of Browse Event Page in other plugins. If you face any difficulty, you can contact our support team.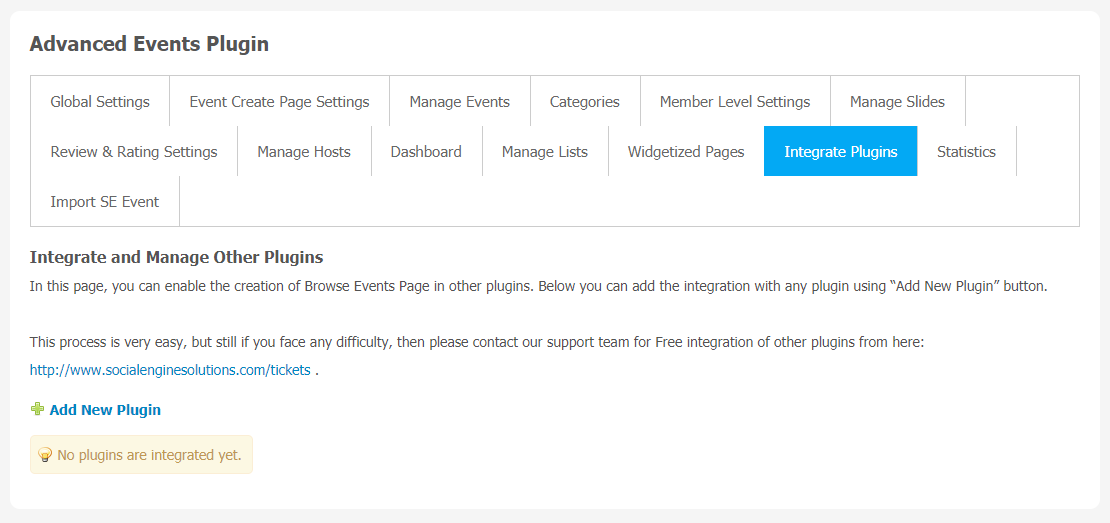 14. Statistics
Statistics helps website owners to better understand the important event activity which is happening on their website. We often require these statistics to track our website performance too. You can see the list of important events statistics on this page.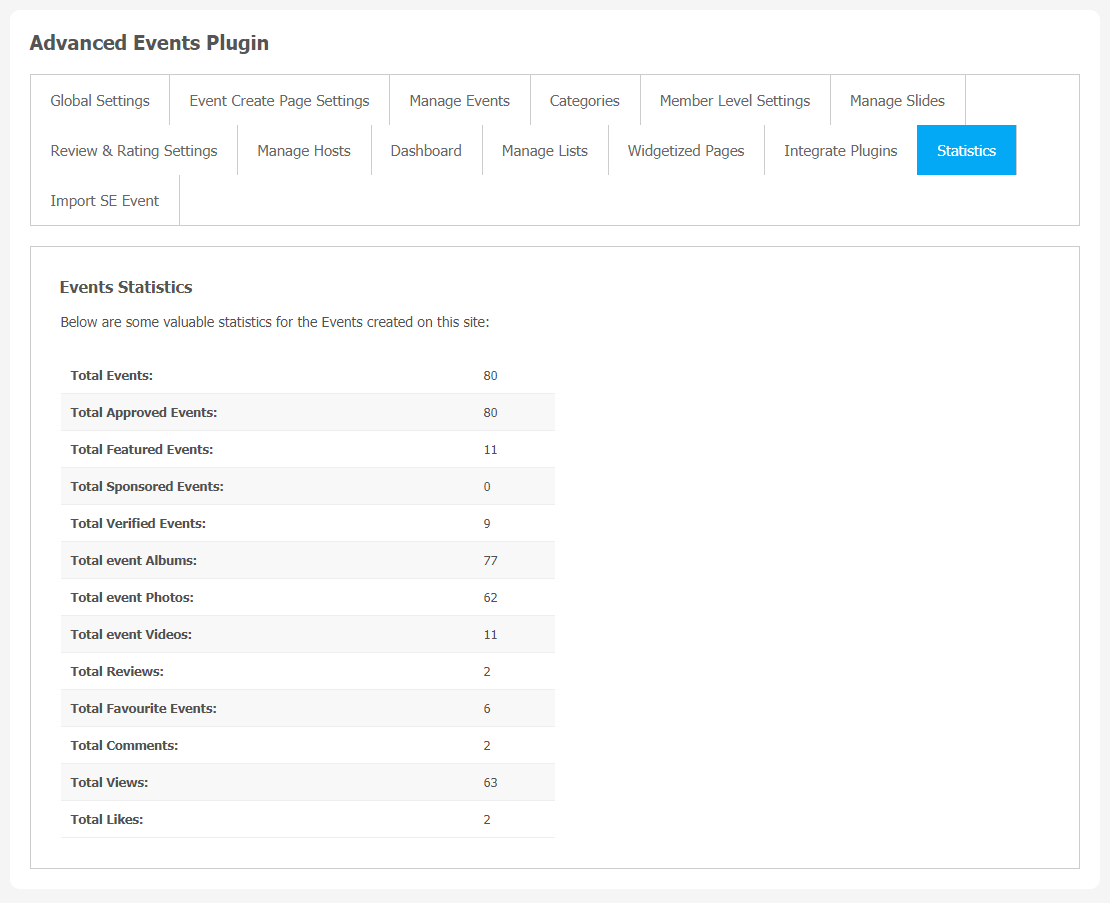 15. Import SE Events
From this page section, You can easily import events from SE Event Plugin into this plugin.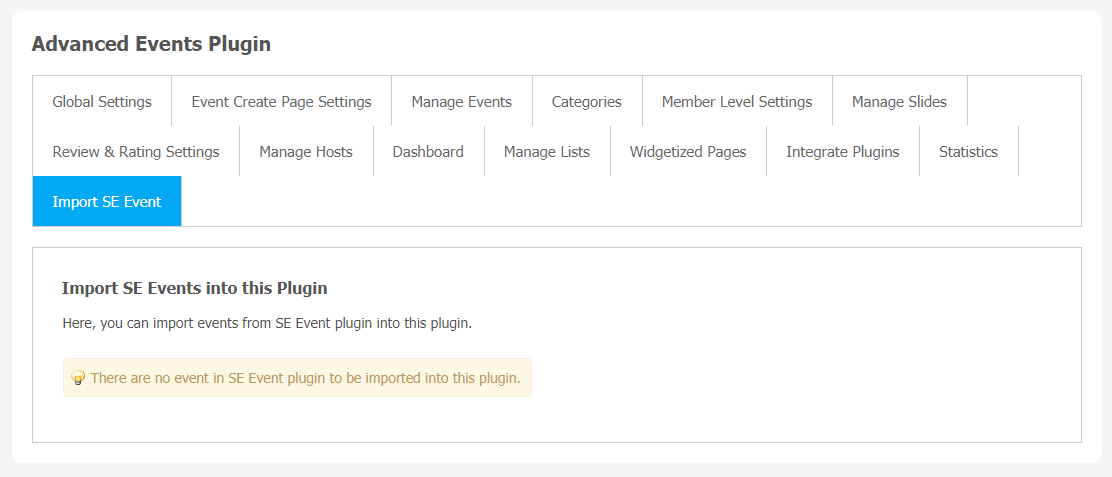 Finally!! You have successfully completed the installation procedure and also explored various exciting features of this Advanced Event Plugin. Now, your visitors and website members will be able to access & use your website with new features.
Installation of this Plugin is very easy, but if you still need our expert to install this Plugin for you, then you can purchase the service from here: https://socialnetworking.solutions/social-engine/socialenginesolutions-plugin-installation/