If you are creating a membership website to earn more money, choosing the right plugin for your website can play a deciding role in the future of your business. Because it is hard to back out if your decision turns out to be wrong. So, we are assuring you if you choose the Advanced Member Plugin for your SocialEngine website, it can transform your online business.
The other Membership SocialEngine plugin comes with their individual features but Advanced Members Plugin is unique in its own way which makes it more robust and multifunctional.
This Advanced Members Plugin provides you all the features required to increase member engagement on your website – Follow Members, Members Verification, Reviews & Ratings, Location & Proximity Search, Compliments, Featured, Sponsored, VIP, Member Of the Day and Automatic Birthday Wishes.
Members can Follow other members to get notified for new content created in all Official SE Plugins (Photo Albums, Blogs, Groups, Events, Music Sharing, Forums, Classifieds, Video Sharing, Polls), Advanced Photos & Albums Plugin, Advanced Videos & Channels Plugin and will work for 3rd party plugins on request.
Here, we are providing an interactive and easy to follow Advance Members Plugin setup & installation guide which will help you to use & configure it properly on your website & maximize the efficiency of your website by showcasing the exciting features. With this help-guide, you will get a better sense of usage when you actually install this plugin on your website.
Installation of this theme is very easy, but if you still need our expert to install this plugin for you, then you can purchase the service from here: https://socialnetworking.solutions/social-engine/socialenginesolutions-plugin-installation/
Step-by-Step Installation & Tutorial Guide:
** This tutorial assumes that you are already logged in to the Admin Panel.**
If not, then you have to log in first to the admin panel after filling the admin account credentials on your website.
Installation of Advanced Members Plugin:
1. In the Main Menu section, Click on the tab Manage and select "Packages & Plugins" to install this plugin.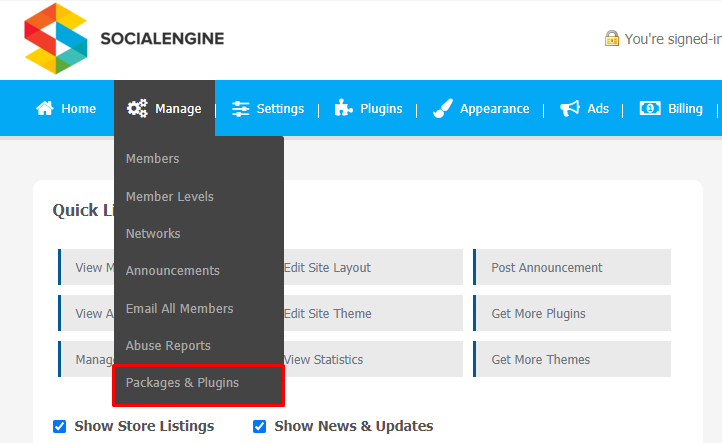 2. Our Plugin is based on SE standards so this will get installed on your website as any standard theme can. Please read the tutorial on installing themes and plugins in SE here: http://help.socialnetworking.solutions/faq/51/how-to-purchase-and-install-ses-products
3. After the successful installation of the plugin as in Step 2 above, under the plugins section, click on "Advanced Members Plugin".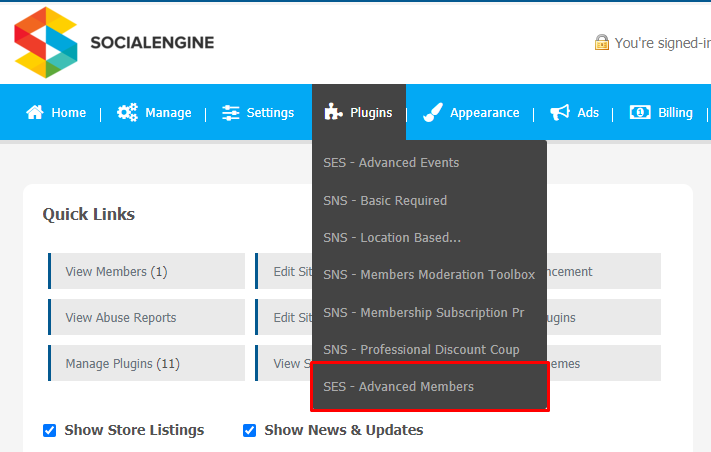 2. Global Settings
Activate this plugin from the Global Settings section of this plugin. In this section, you can enable/disable the various settings for the different fields like
Enable Location
Show Location Field On Signup Page
Member Auto Verified, Auto Verified Type
Enable Follow Functionality
Auto Follow / Approvals.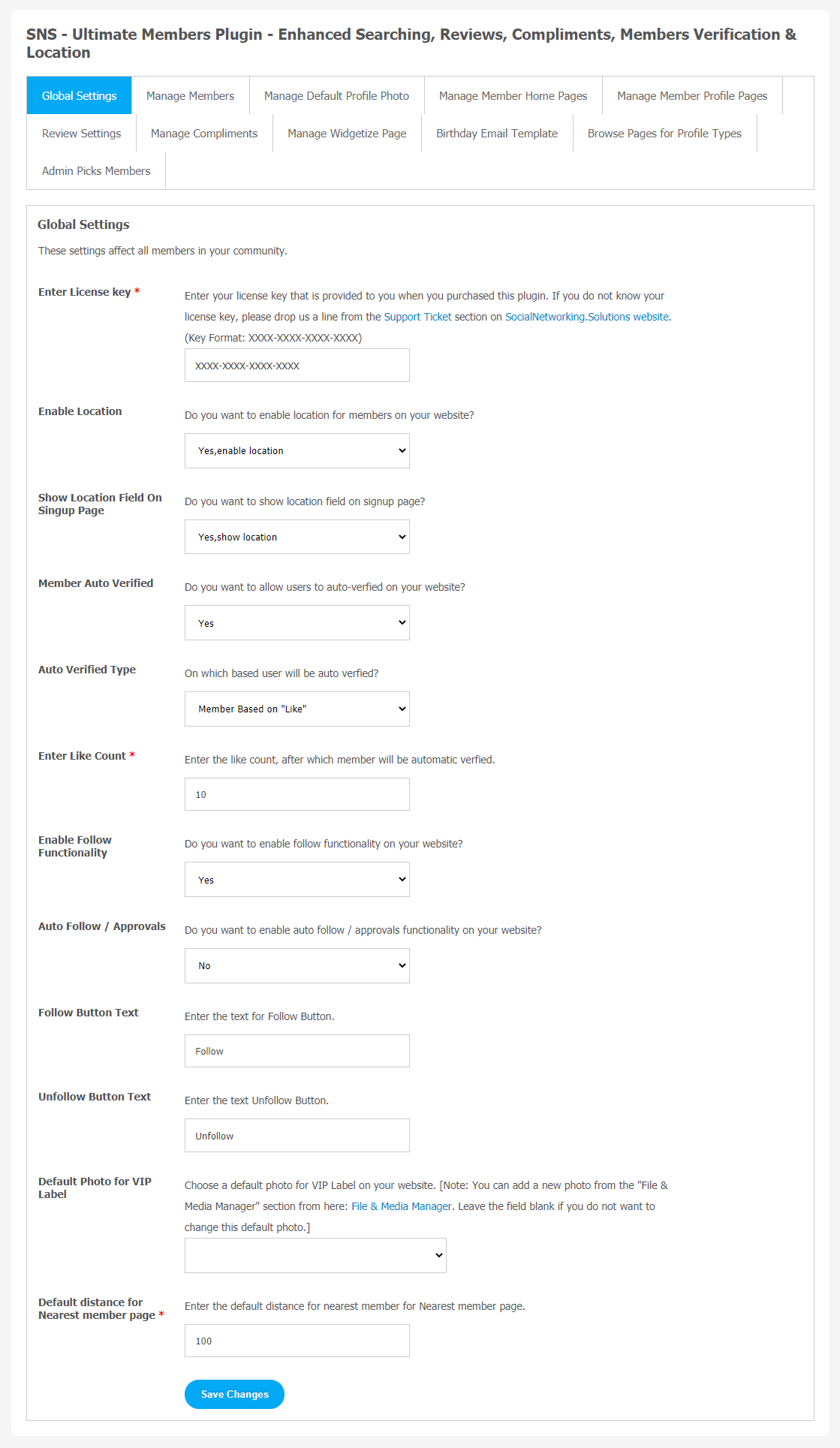 3. Manage Members
Using this page, you can get the list of members which are present in your network and you can manage these members and search them by applying filters of various fields. As shown in the below image, a total six members are found. You can manage these members through this page.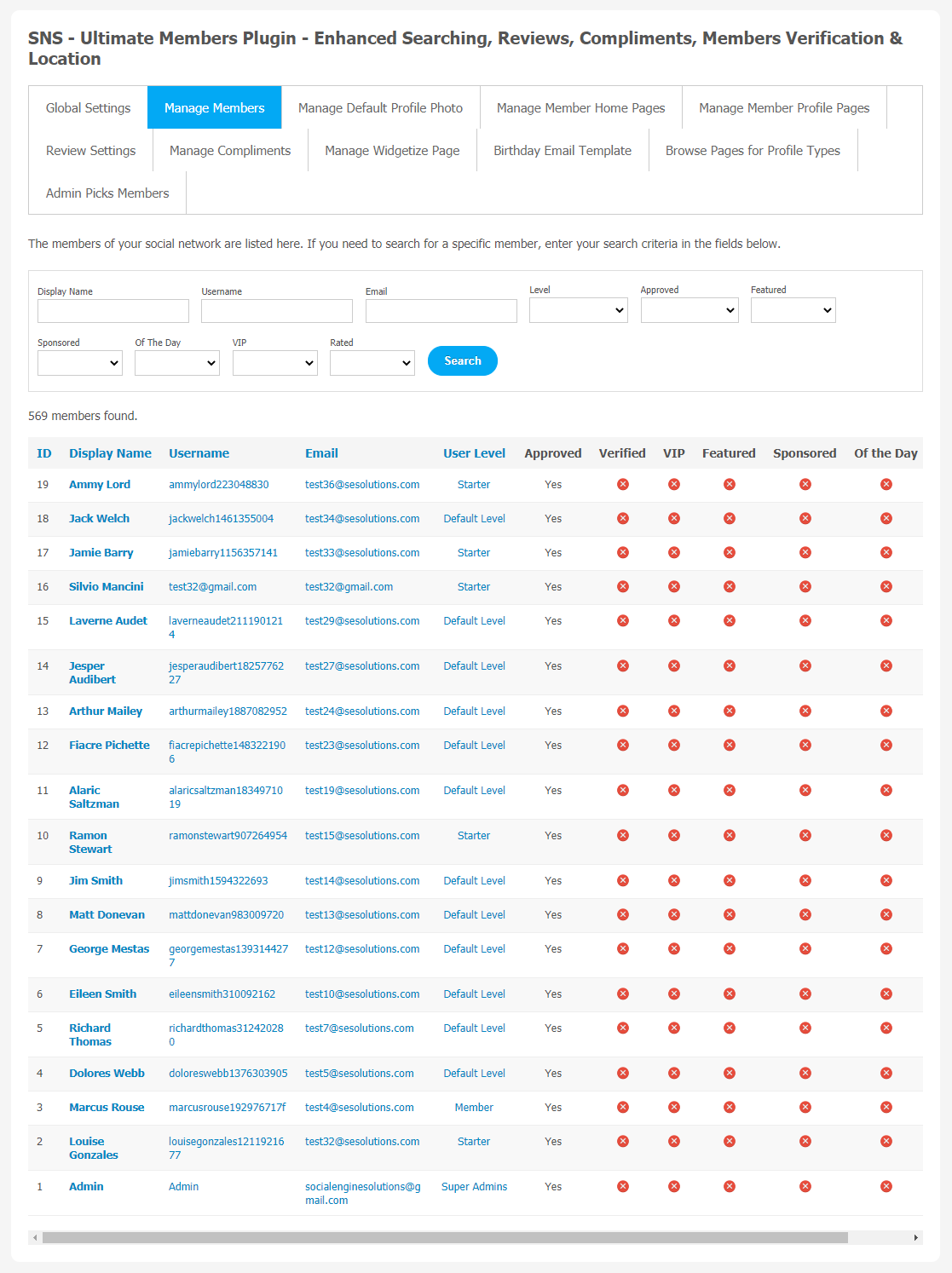 4. Manage Default Profile Photo
In this section, you can add the default profile photo for the various profile types. When the user signs up or has an account without a profile photo for that profile type then, this photo will become the profile photo of that user's profile photo.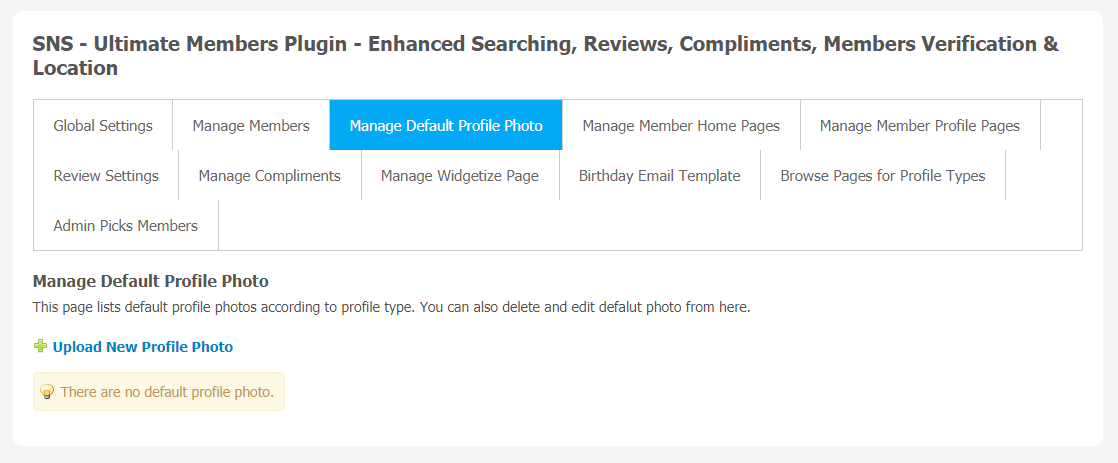 5. Manage Member Home Pages
This section lists all the Widgetized pages created by you. When you create any page of your choice by clicking on the 'Create Option' then that page will become a Member Home Page for your site, you can manage this page from the layout editor.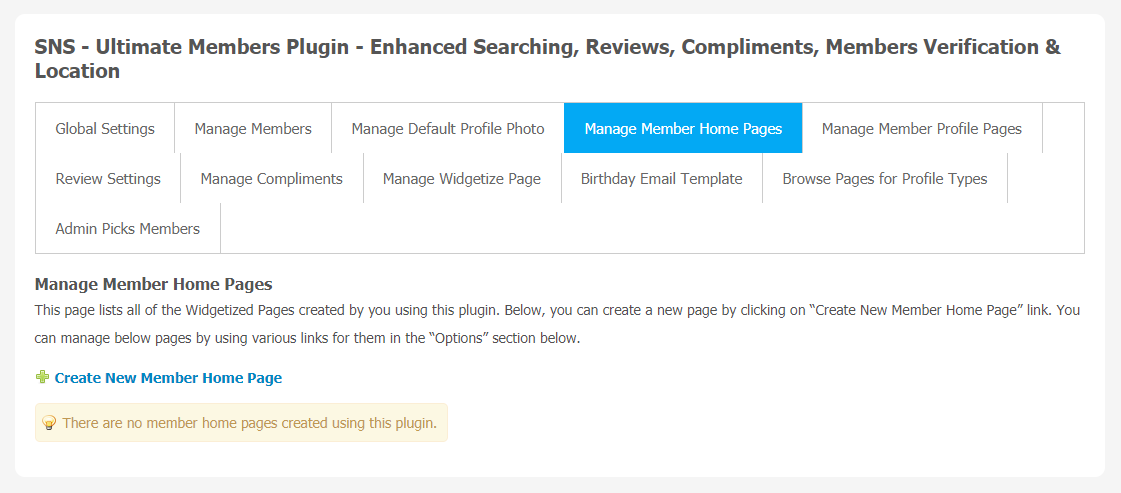 6. Manage Member Profile Pages
This section lists all the Widgetized pages created by you. When you create any page of your choice by clicking on the 'Create Option' then that page will become a Member's Profile Page for your site, you can manage this page from the layout editor.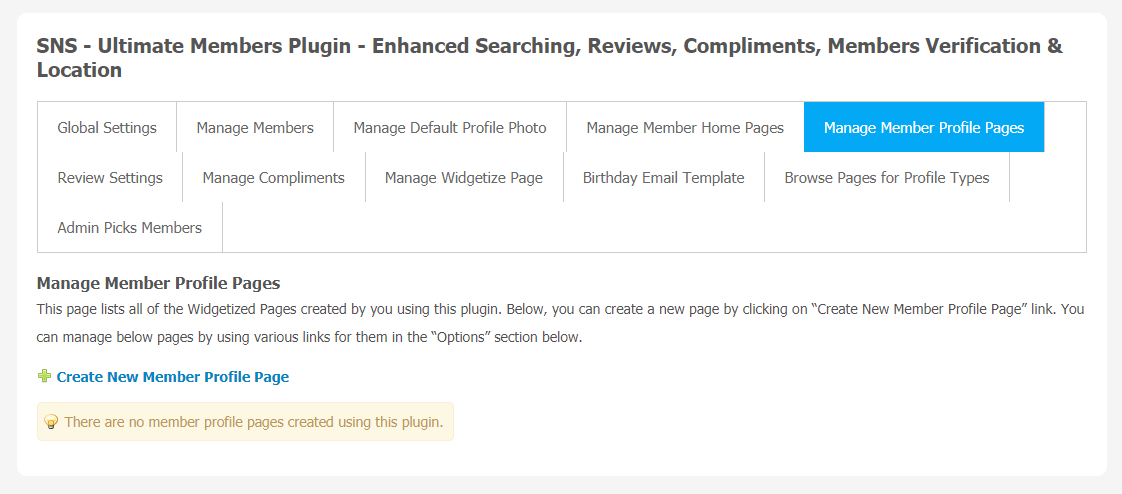 7. Review Settings
(a) Setting
This section lists the settings for the review. These settings include
Allow Reviews
Allow Reviews on Own Profile,
Allow Pros in Reviews
Allow Cons in Reviews
Allow Description in Reviews
Enable WYSIWYG Editor for Description
Allow Recommended Option, etc..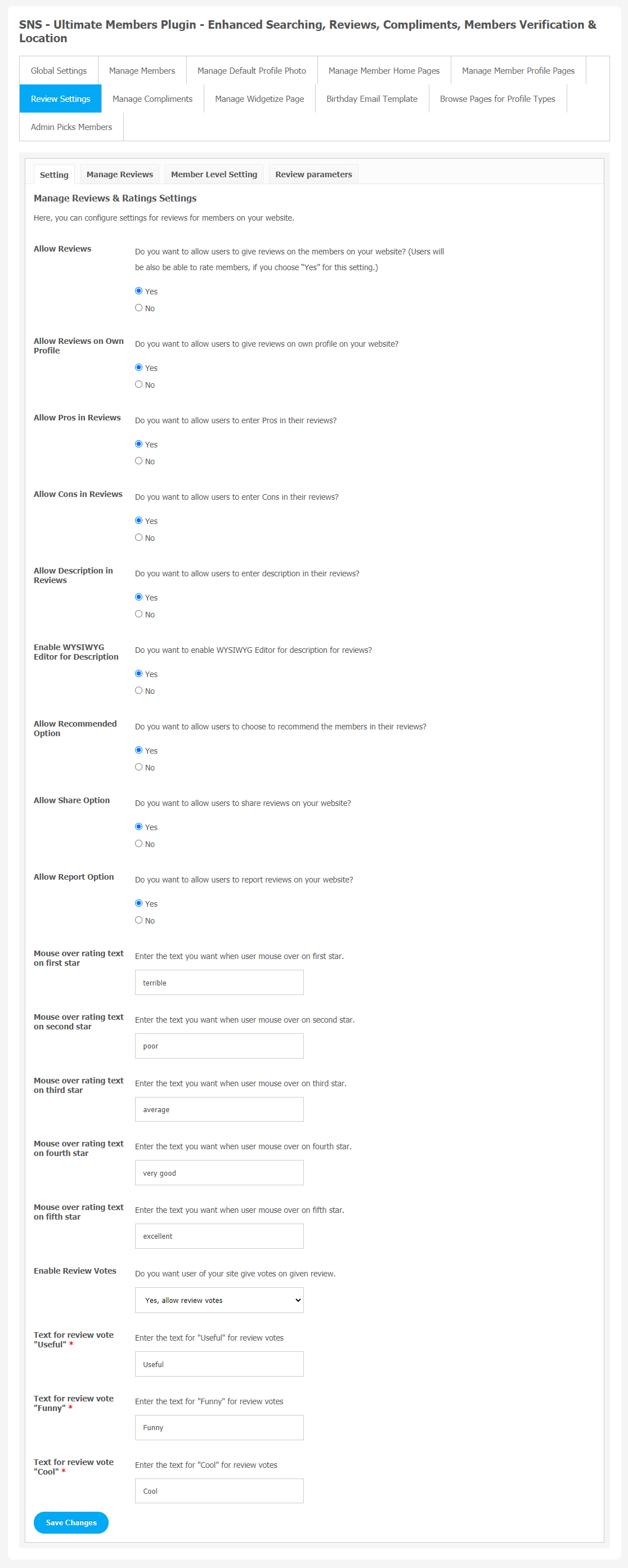 (b) Manage Reviews
In this section, you can manage various reviews which were created yet. You can delete the reviews which you find incorrect/offensive. Here you can search any reviews by filling various fields like review title, owners name, creation date, etc. You can mark any review as featured, verified and of the day.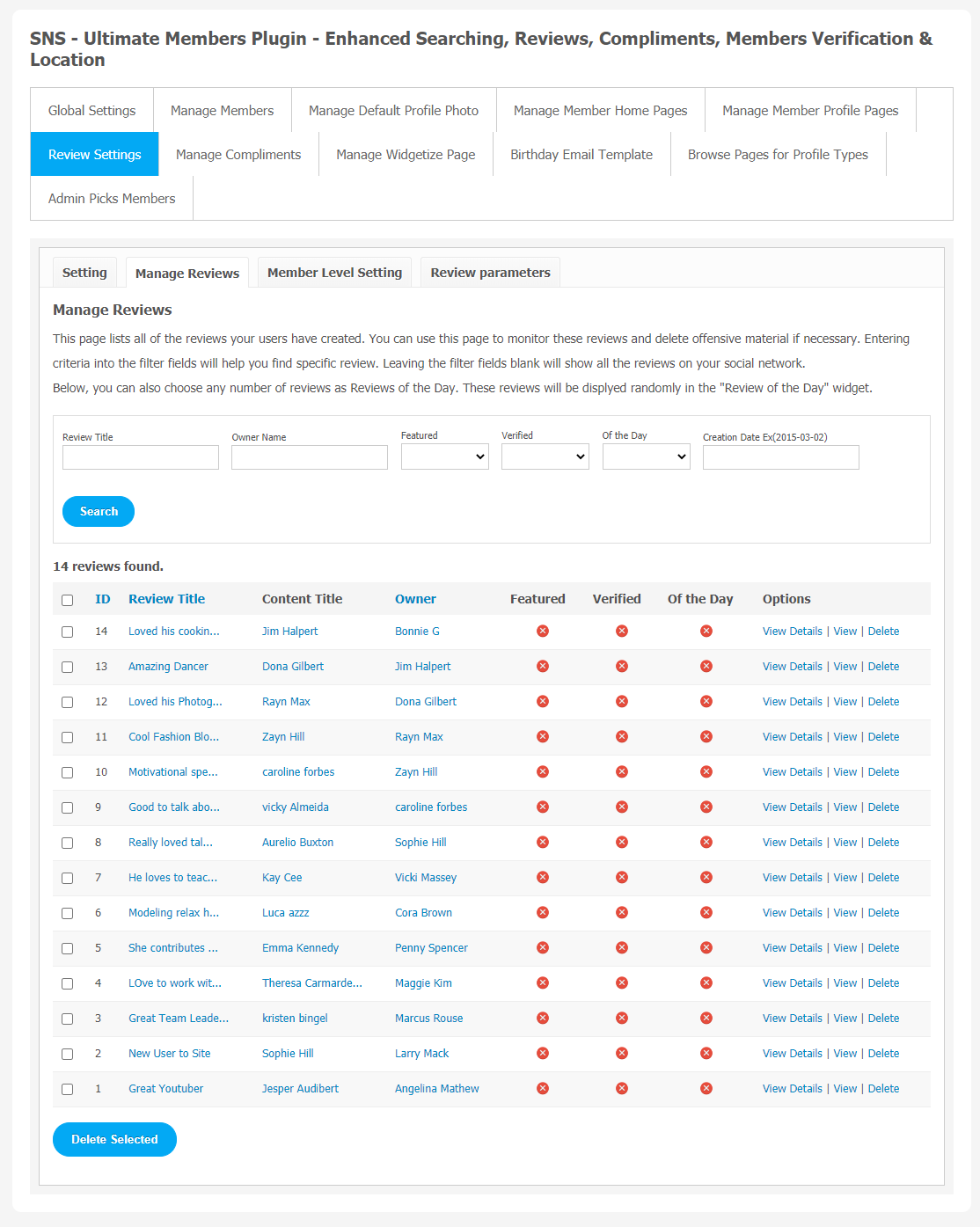 (c) Member Level Settings
These are the settings which are based on the different member levels configured by the admin of the site. These settings allow you to view, write, edit, delete and comment on the reviews.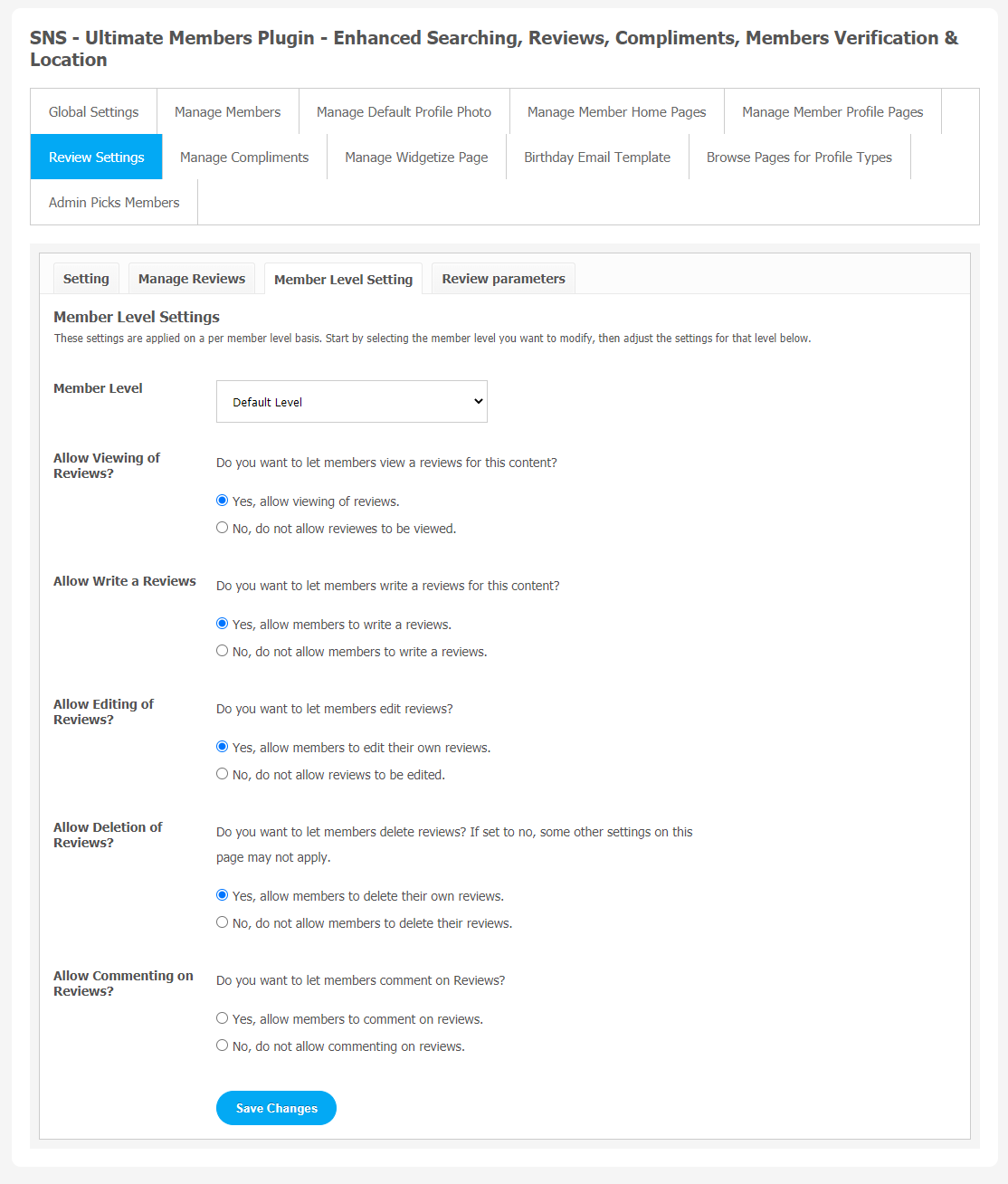 (d) Review Parameters
Under this section, you can add the parameters for the given reviews to the different profile types.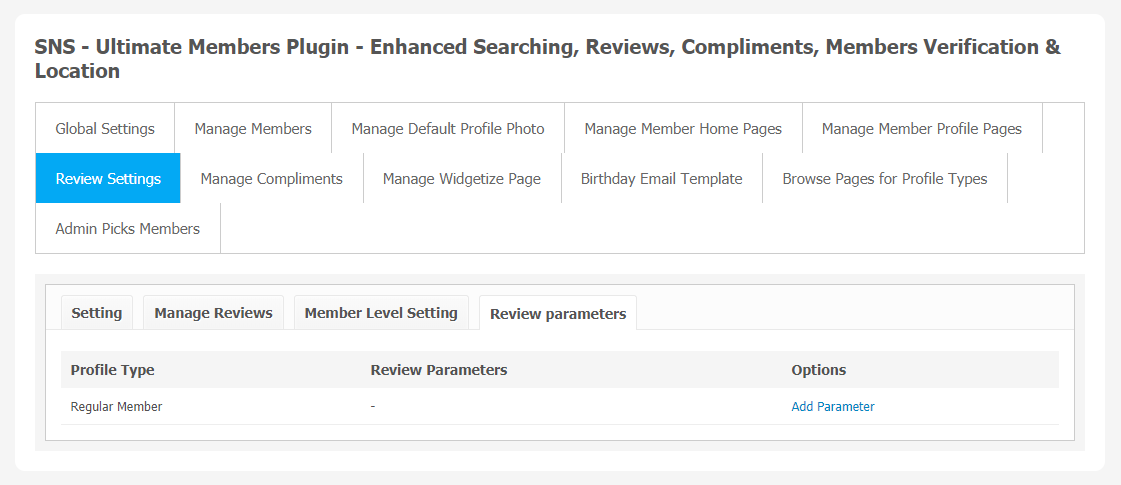 8. Manage Compliments
This page lists all the compliment types which were present in this plugin. You can create a new complement type by clicking on the "Add New Compliment Type".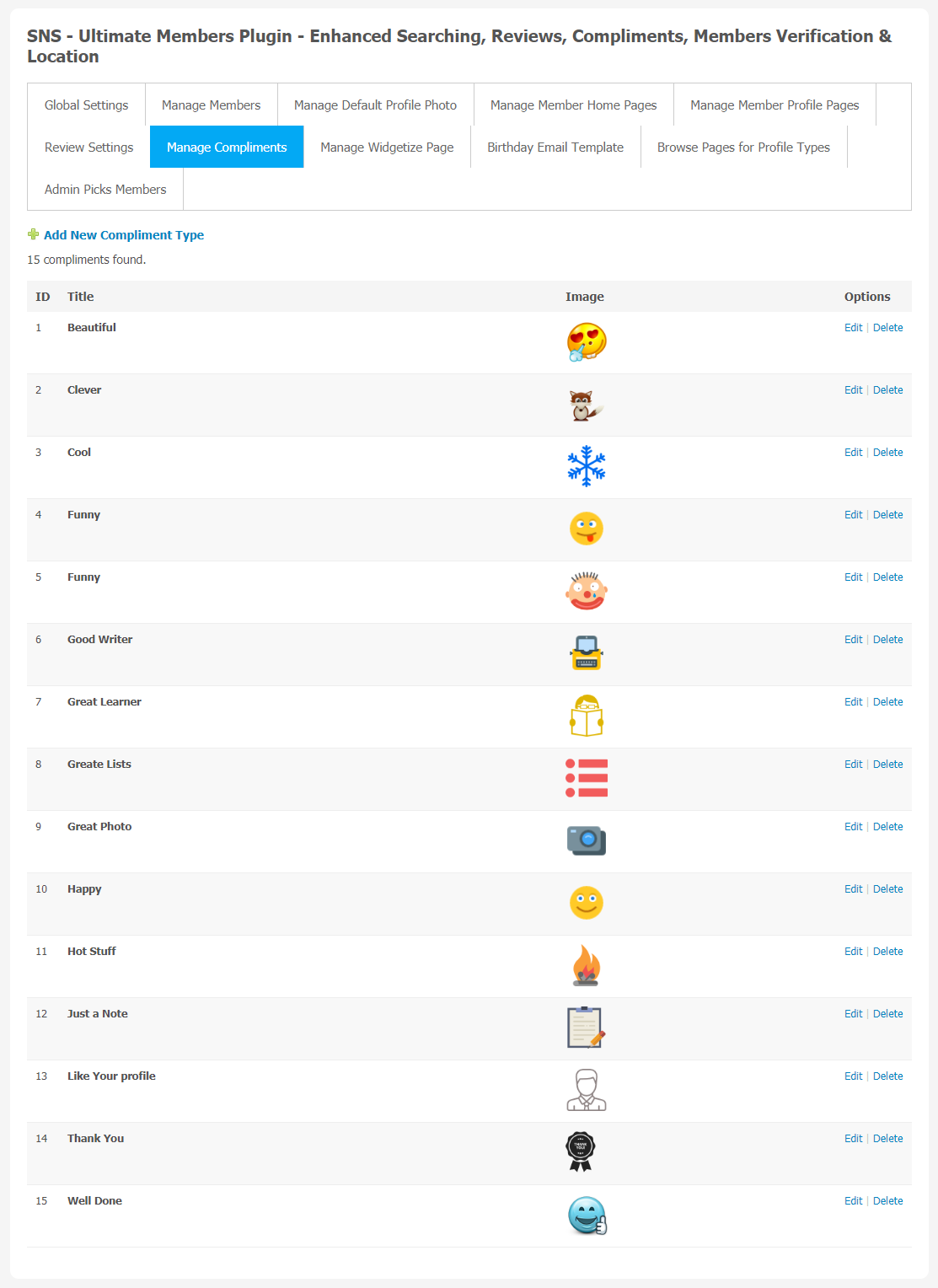 9. Birthday Email Template
Using this section, you can enable/disable the birthday email templates for the site members and can write the birthday wish email of your choice.
10. Browse Pages for Profile Types
All the widgetized pages created by you using this plugin are saved in this page.You can create a new page by clicking on the "Create Browse Page for Profile Type" link. Pages can be managed by using multiple links for them in the "options" section.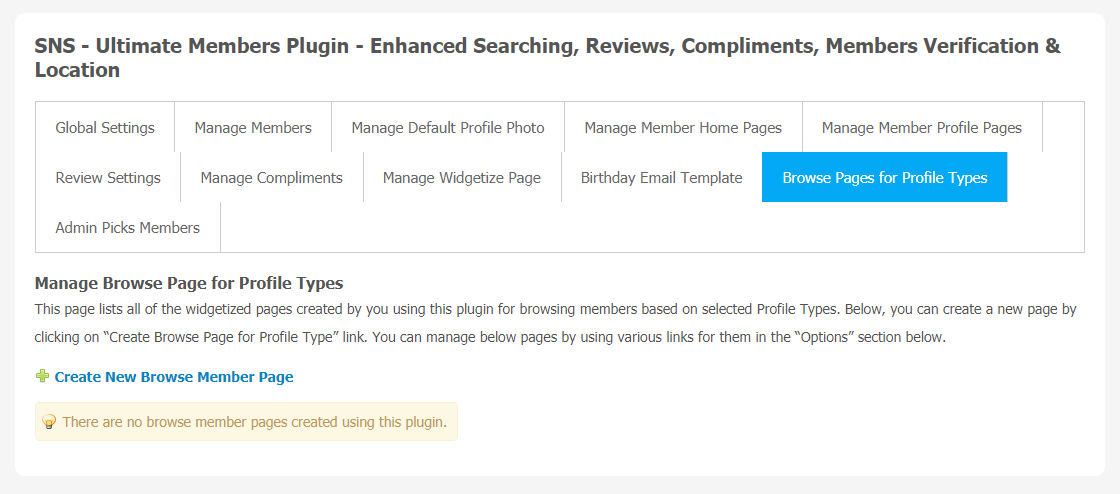 11. Admin Pick Members
In this section, there is a list of members picked by the admin. Admin can search the particular member by their name, username, email or level type.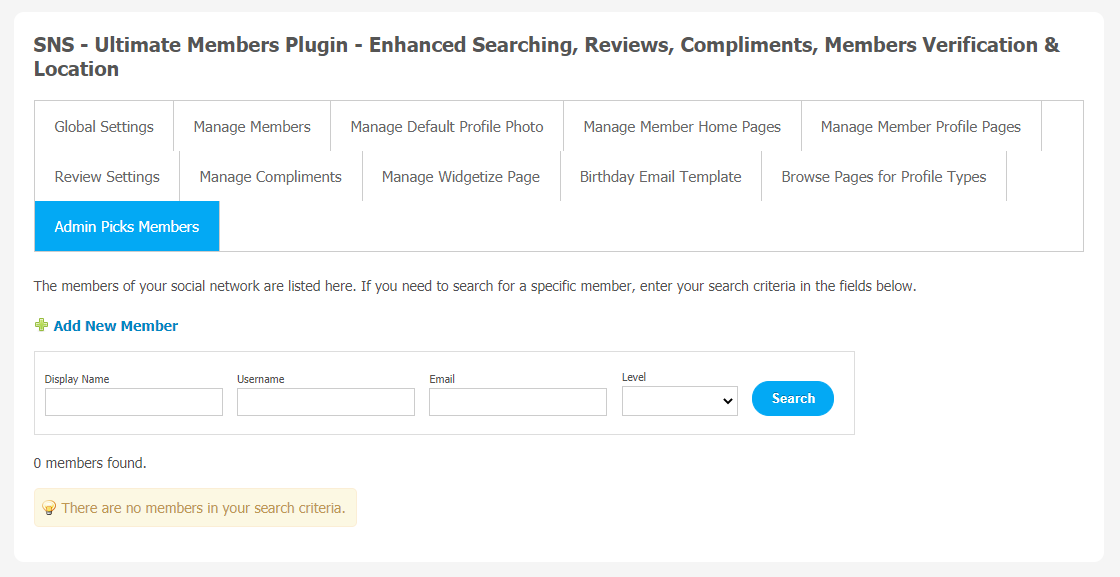 12. Manage Widgetized Page
This page records all the required Widgetized Pages which are present under Layout Editor for this plugin.
With the help of this section you can go to either Widgetized page or User page directly by clicking on their links respectively.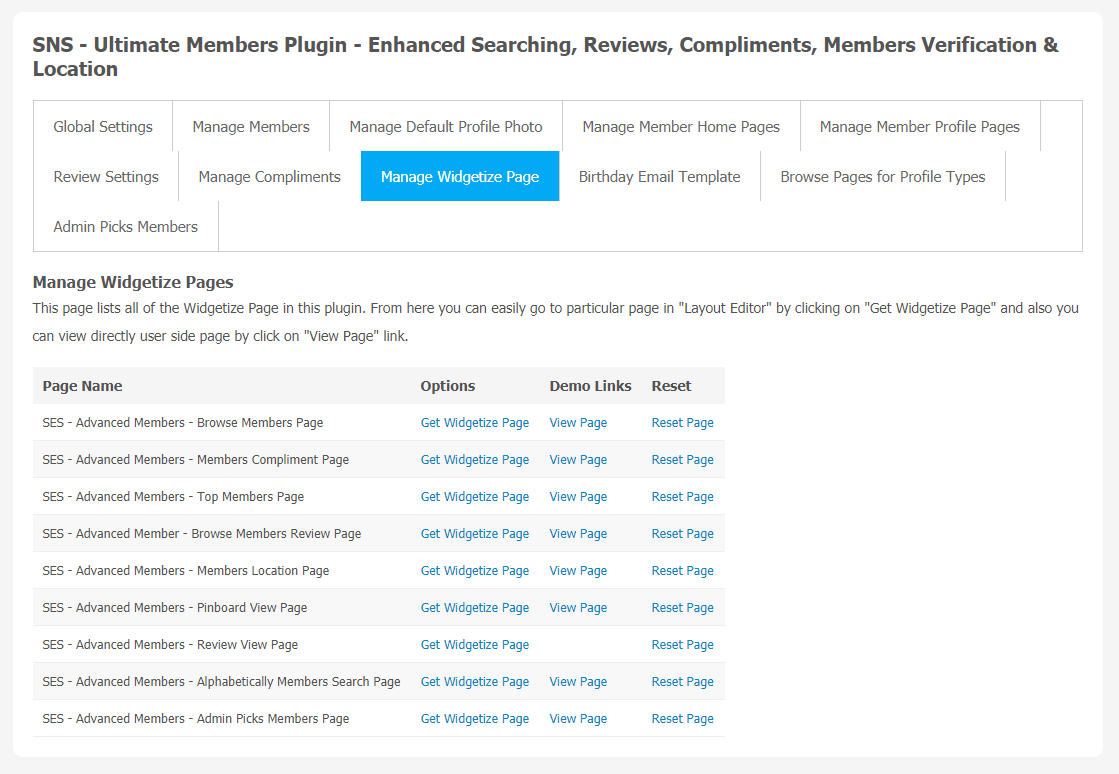 Finally!! You have successfully completed the installation procedure and also explored various exciting features of Advanced Members Plugin. Now, your visitors and website members will be able to access & use your website with some new multipurpose features.
Installation of this Plugin is very easy, but if you still need our expert to install this Plugin for you, then you can purchase the service from here: https://socialnetworking.solutions/social-engine/socialenginesolutions-plugin-installation/