If you ever used Facebook, you must be aware of an interesting feature i.e "People You May Know". It suggests the profiles of other users the platform thinks you may have a connection with. This tool can be used for increasing user engagement and friendship on your Social Network.
Users are allowed to suggest content to their friends. They can import their friend's contact information from email services and applications and invite them to the website.
With the help of People You May Know Plugin which permits your users to connect to their friends on your website. Based on friend's connections this plugin suggests new people to them.
Key Features:
Highly Customizable Design
People You May Know Suggestions like Facebook
Users can suggest content and friends to their friends
Intelligent Display of Suggestions
Invite Friends
Random Display of Suggestions
Here, we are providing an interactive and easy to follow People You May Know Plugin setup & installation guide which will help you to use & configure it properly on your website & maximize the efficiency of your website by showcasing the exciting features. With this help-guide, you will get a better sense of usage when you actually install this plugin on your website.
Installation of this plugin is very easy, but if you still need our expert to install this plugin for you, then you can purchase the service from here: https://socialnetworking.solutions/social-engine/socialenginesolutions-plugin-installation/
Step-by-Step Installation & Tutorial Guide:
** This tutorial assumes that you are already logged in to the Admin Panel.**
If not, then you have to log in first to the admin panel after filling the admin account credentials on your website.
1. Installation of People You May Know Plugin:
a) In the Main Menu section, Click on the tab Manage and select "Packages & Plugins" to install this plugin.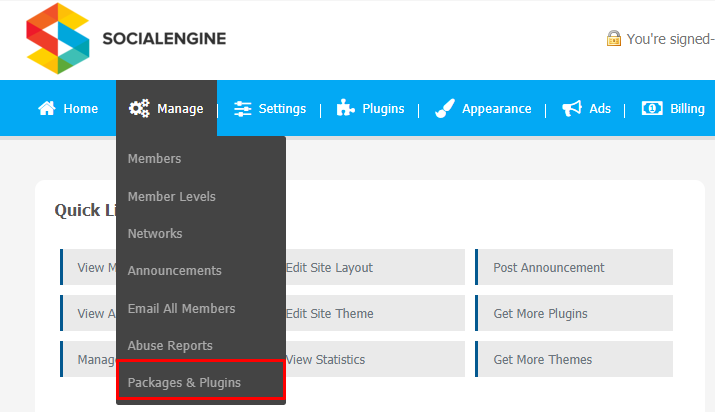 b) Our Plugin is based on SE standards so this will get installed on your website as any standard plugin can. Please read the tutorial on installing themes and plugins in SE here: http://help.socialnetworking.solutions/faq/51/how-to-purchase-and-install-ses-products

c) After the successful installation of the plugin as in Step 2 above, under the plugins section, click on "People You May Know Plugin".
Once you click on Multi-Use FAQs Plugin, now you will be asked for entering required License Key for plugin activation. Now, your plugin is ready to go!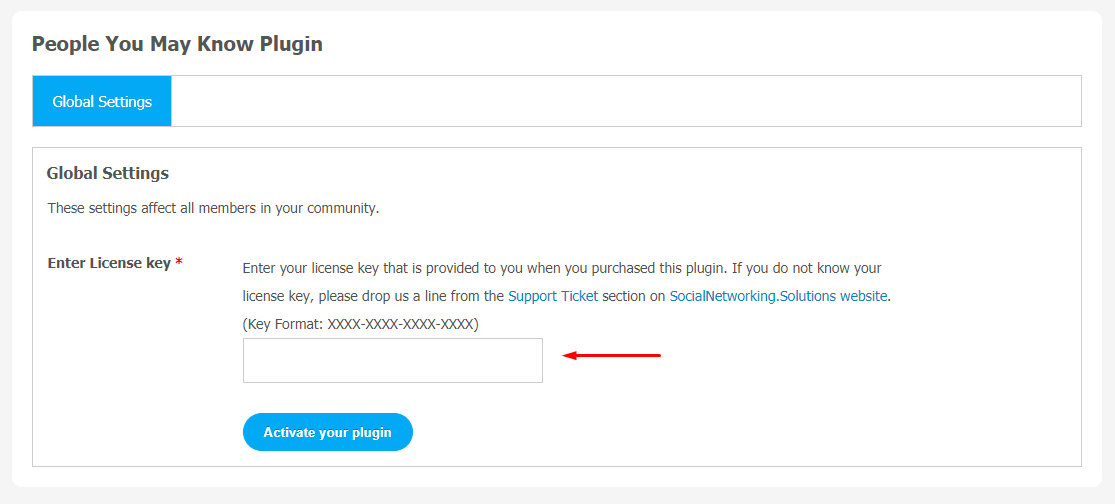 2. Global Settings
With the help of the Global Settings page, you can configure various important features. Any changes made on this page will affect all members in your community. You can enter the license key in the required format.
3. Widgetized Pages
All the widgetized pages are shown in this section. You can go to "Layout Editor" by clicking on the respective Widgetize Page Link.

With this step-by-step tutorial guide, we are expecting you have successfully learnt how to use this plugin for your SocialEngine website. These are the key features of this People You May Know Plugin We hope you have successfully completed the tutorial guide and are ready to go. You can use this plugin and utilize the new opportunities of engaging with customers.