Are you planning to make a beautiful website for your business? It all begins with choosing the right theme like a suitable design that controls page layout, widget areas and default style. Finding the right theme for your business website among hundreds of available themes is a very time consuming task.
You all search ends at SocialNetworking.Solutions where we have collections of different themes which are highly appreciated by its users.In the same way, The Company & Business -Responsive Multi-Purpose Theme is the new arrival in this series.
We have introduced this exciting and feature-rich theme which is a complete package of multipurpose features like an attractive landing page, attractive and smooth slideshow, 100% responsive design and lots more.
Imagine if you want to publish product related content on your website or want to show your team to your audience. Do you require a design that showcases photos? If yes, choose this Responsive Company Theme that allows to post photos, blog posts, testimonials and other important features.You can manage your page with a single click by using "Floating Navigation Bar".
Some Key features of this Company Theme
2 Attractive Landing Page
Uniquely Curated Header
Client & Portfolios
Smooth and Attractive Slideshow
Floating Navigation Panel
100% Responsive
1. Installation & Setup for Responsive Company Theme
In the Main menu, click on the tab Manage and select "Packages & Plugins".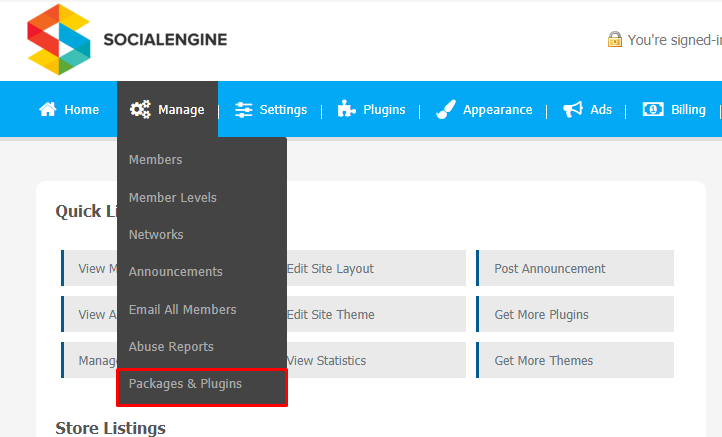 Our theme is based on SE standards so this will get installed on your website as any standard theme can. Please read the tutorial on installing themes and plugins in SE here: http://help.socialnetworking.solutions/faq/51/how-to-purchase-and-install-ses-products
After the successful installation of the theme as in Step 2 above, in the right of the admin panel dashboard menu, click on "SES Company Theme".

2. Global Setting
After clicking on "Responsive Company Theme", a new window will be opened where you can activate your theme by entering the license key as shown in the below image.
Go to Global Settings.
Enter the required license key and activate your Responsive Company Theme.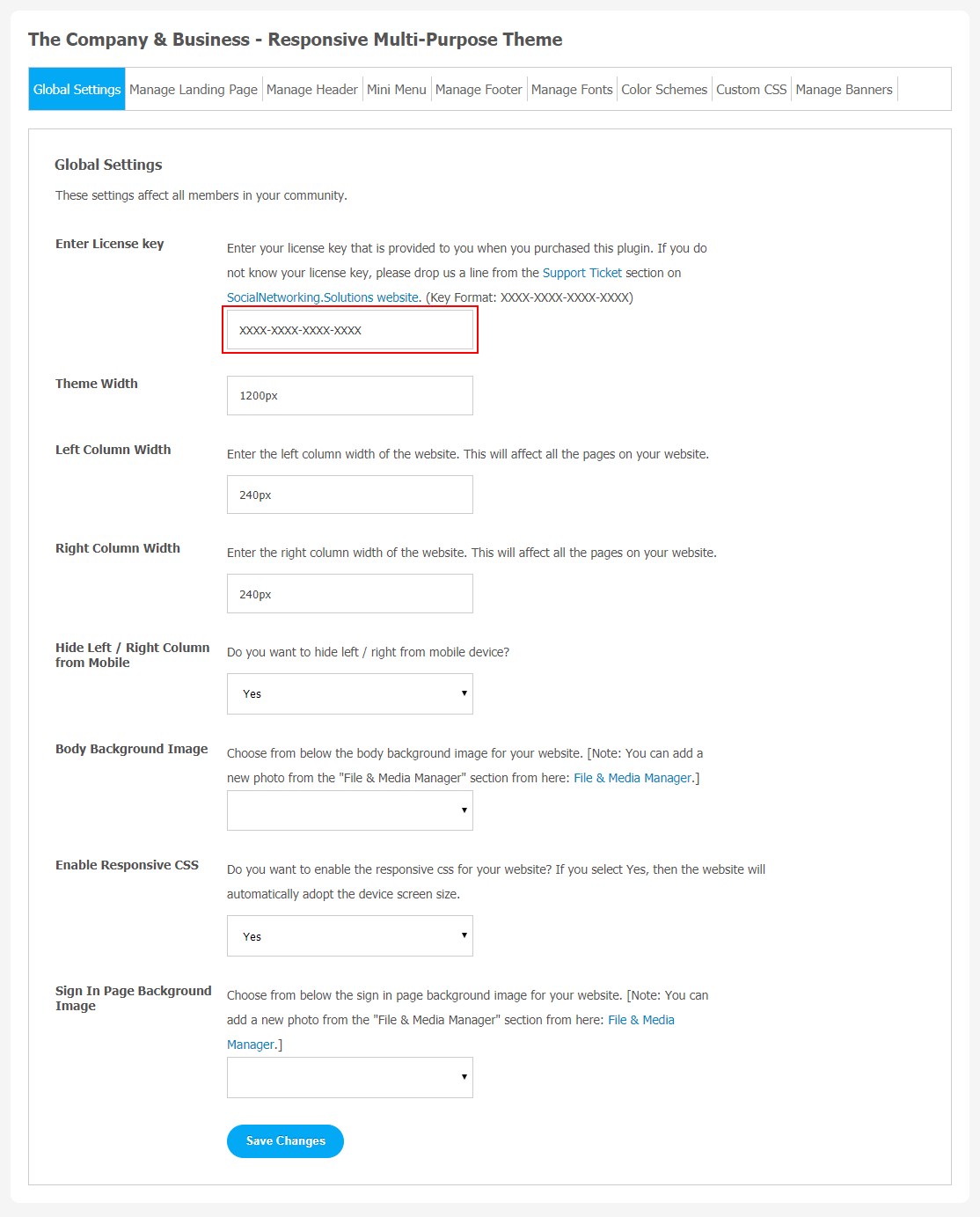 3. Manage Landing Page
(a) Landing Page Setting
Landing pages plays a very crucial role in making a first impression for your website. Through this setting page, you can manage important page configurations like Testimonials, Clients, Highlighted Features, Slides,Introduction Video and Features,Team as shown in following images sequentially.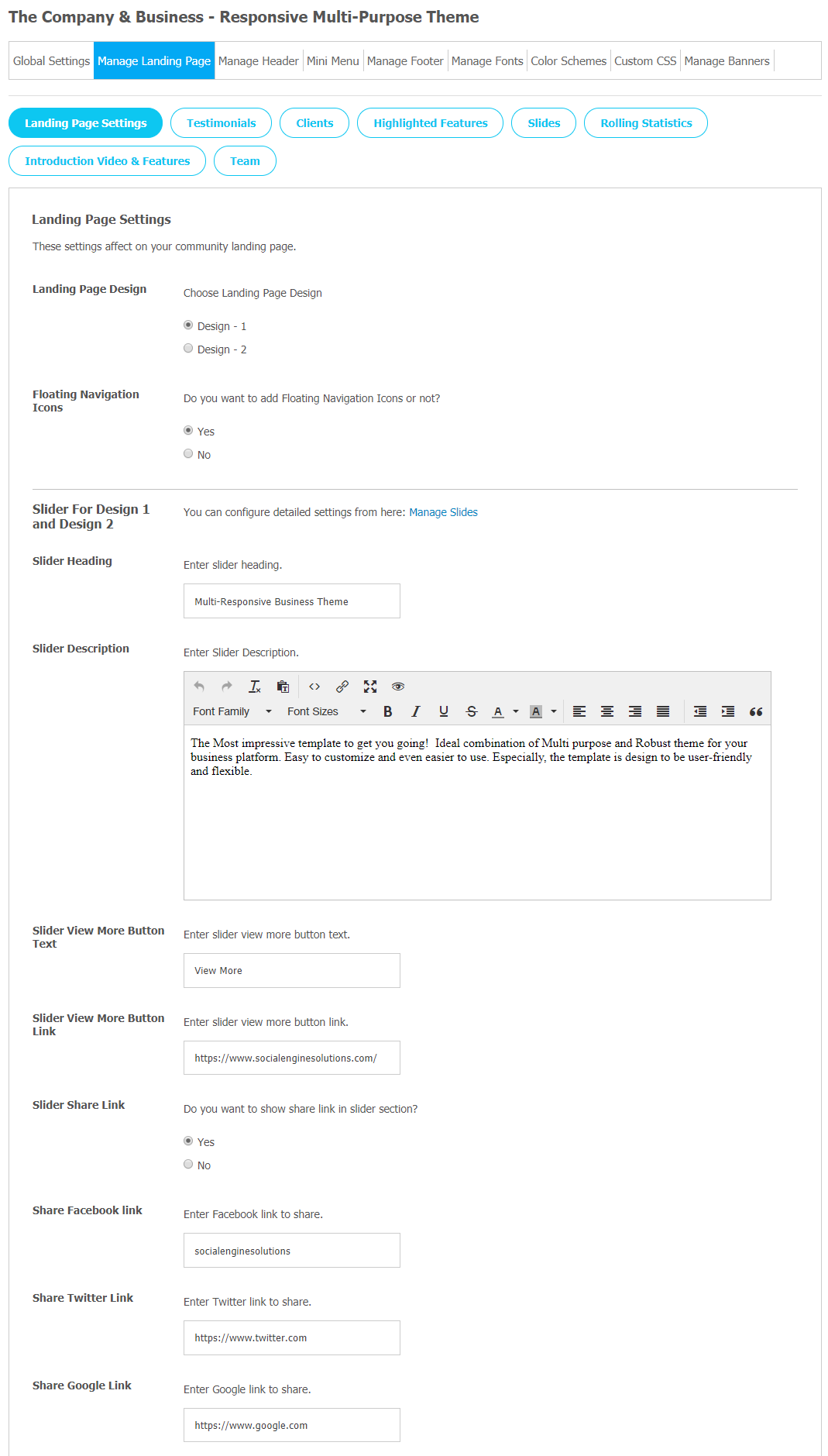 Landing Page setup for Photo Gallery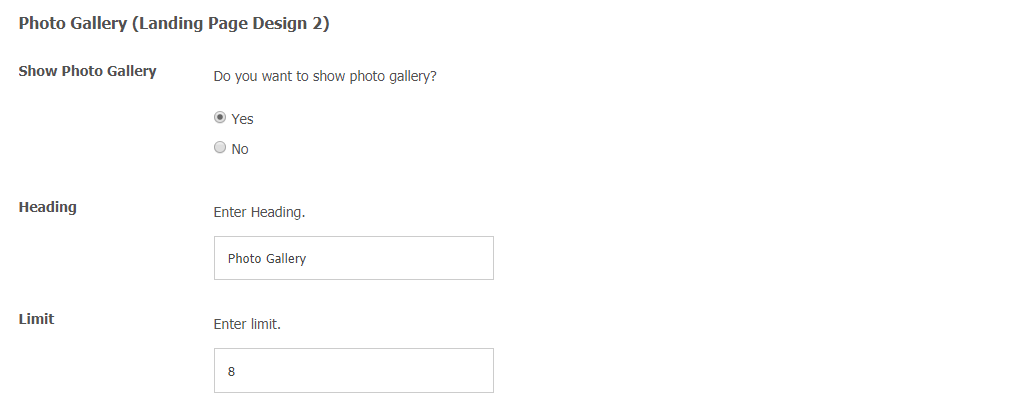 (b) Testimonials
In this setting, you can display all the user testimonials in the auto-play slideshow. It will help you to make your platform more trustworthy to your users. You can modify testimonials based on the following categories:
Name
Designation
Description
Client's Photo
Click on Testimonials and configure all the required settings.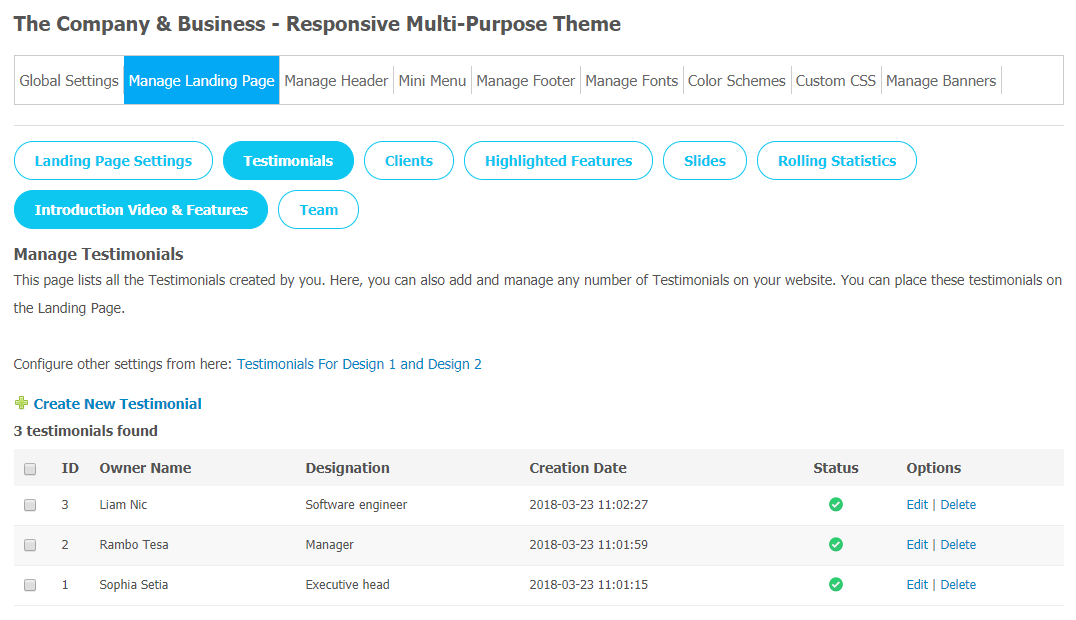 (c) Clients
Clients' names can be represented by different sections with their own logo to your website. You can manage any number of clients on your website. List of setting can be managed by :
Client Name
Client Link
Client Photo
Background Image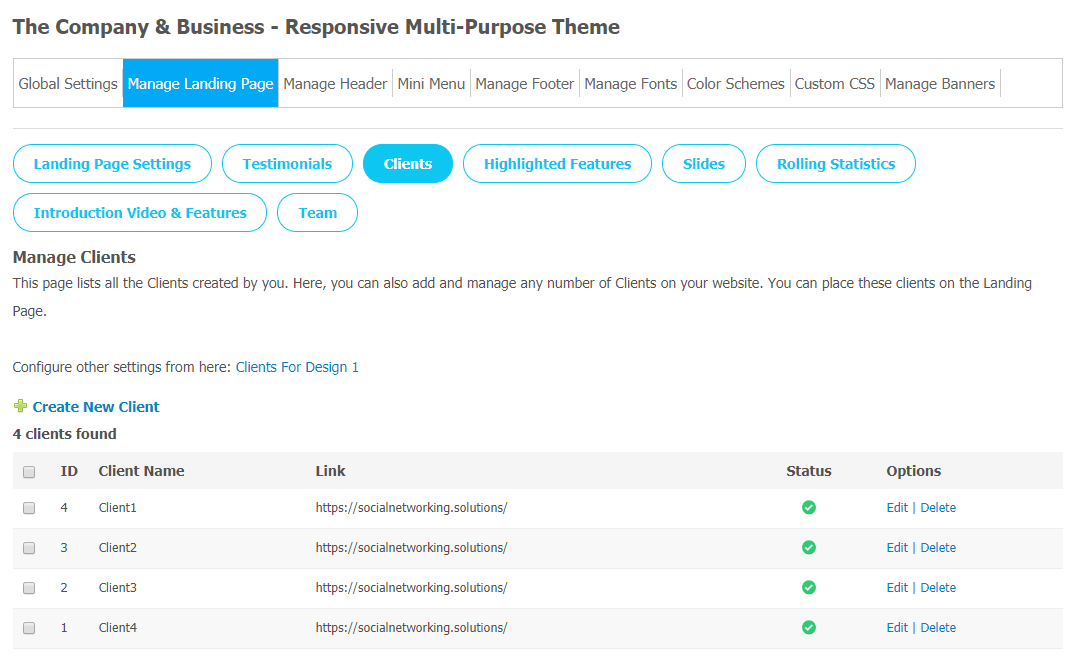 (d) Highlighted Features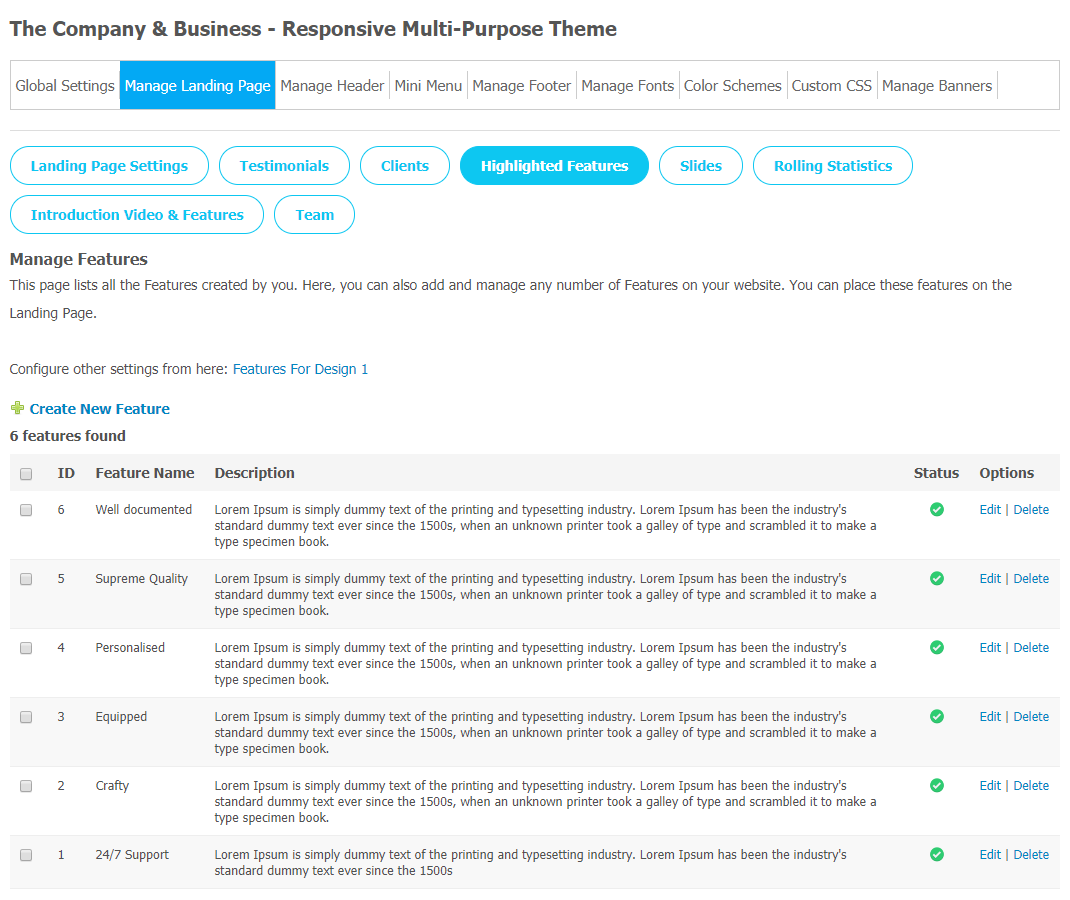 (e) Slides
(f) Rolling Statistics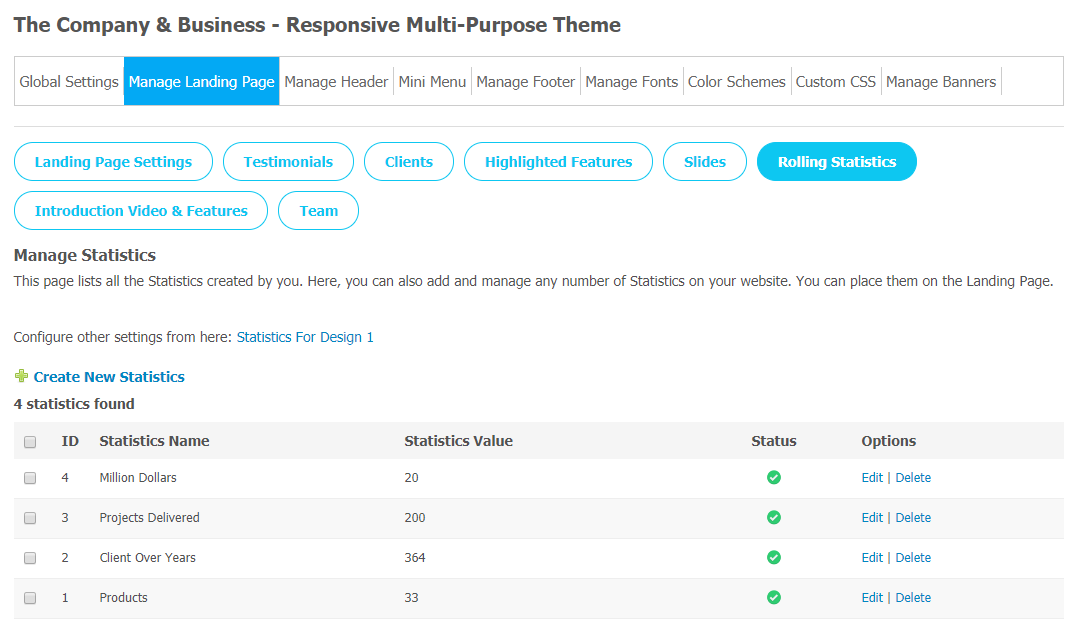 (g) Introduction Video and Features
(h) Team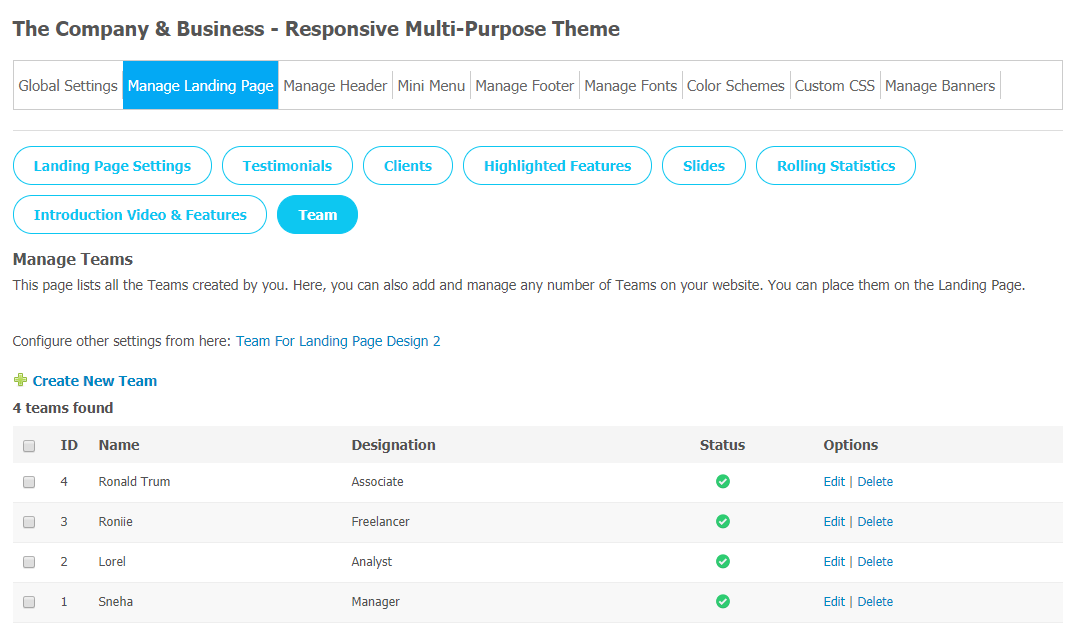 User Panel View after setting up the landing Page.

4. Manage Footer
In the footer section, you can make changes in text and also control who can see those changes. Make your website footer more unique and appealing for your online audience with this amazing feature. You can also manage footer background images.
You can manage "About Us Heading".
About Us Description
Quick Links Heading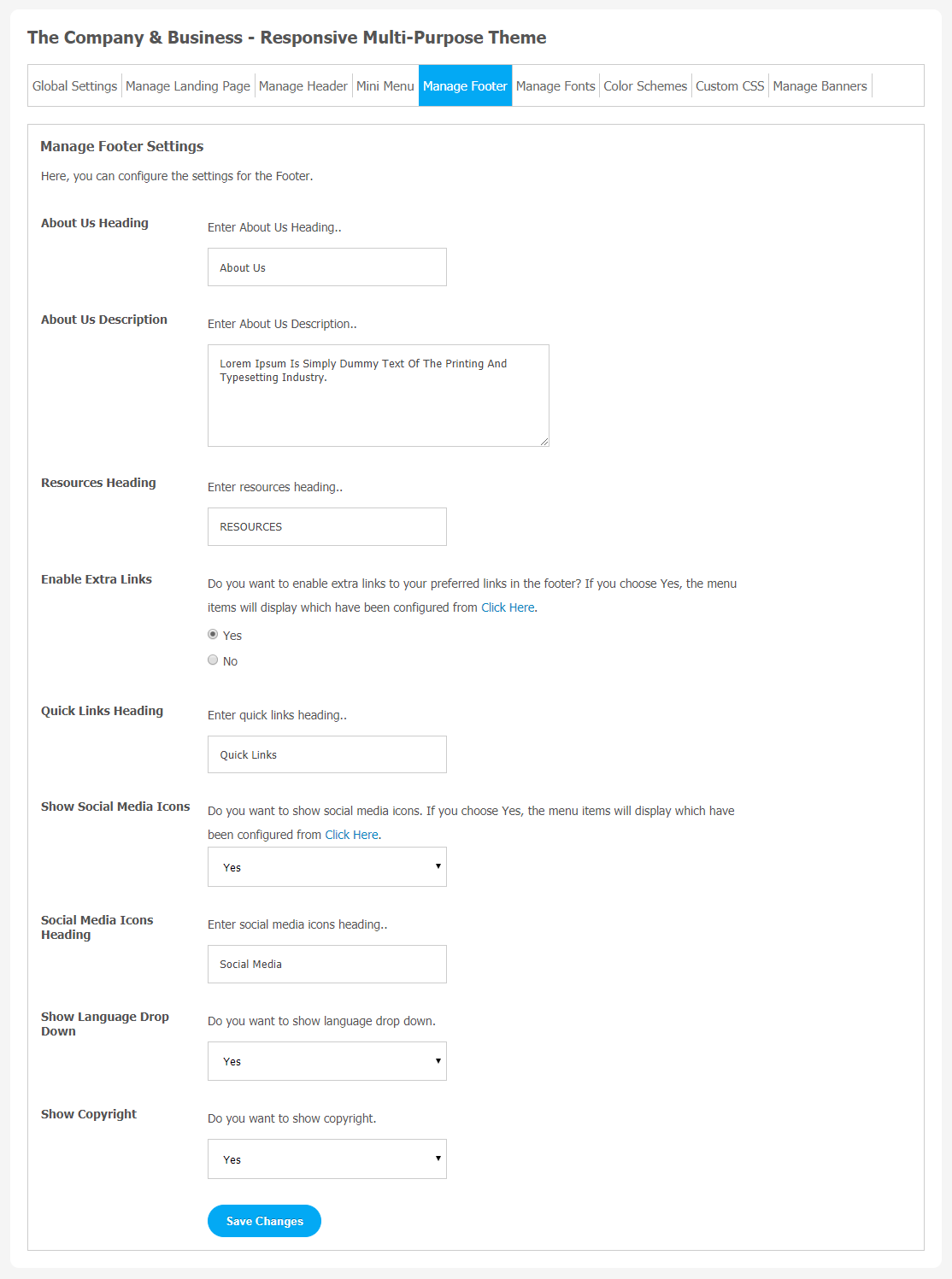 5. Manage Fonts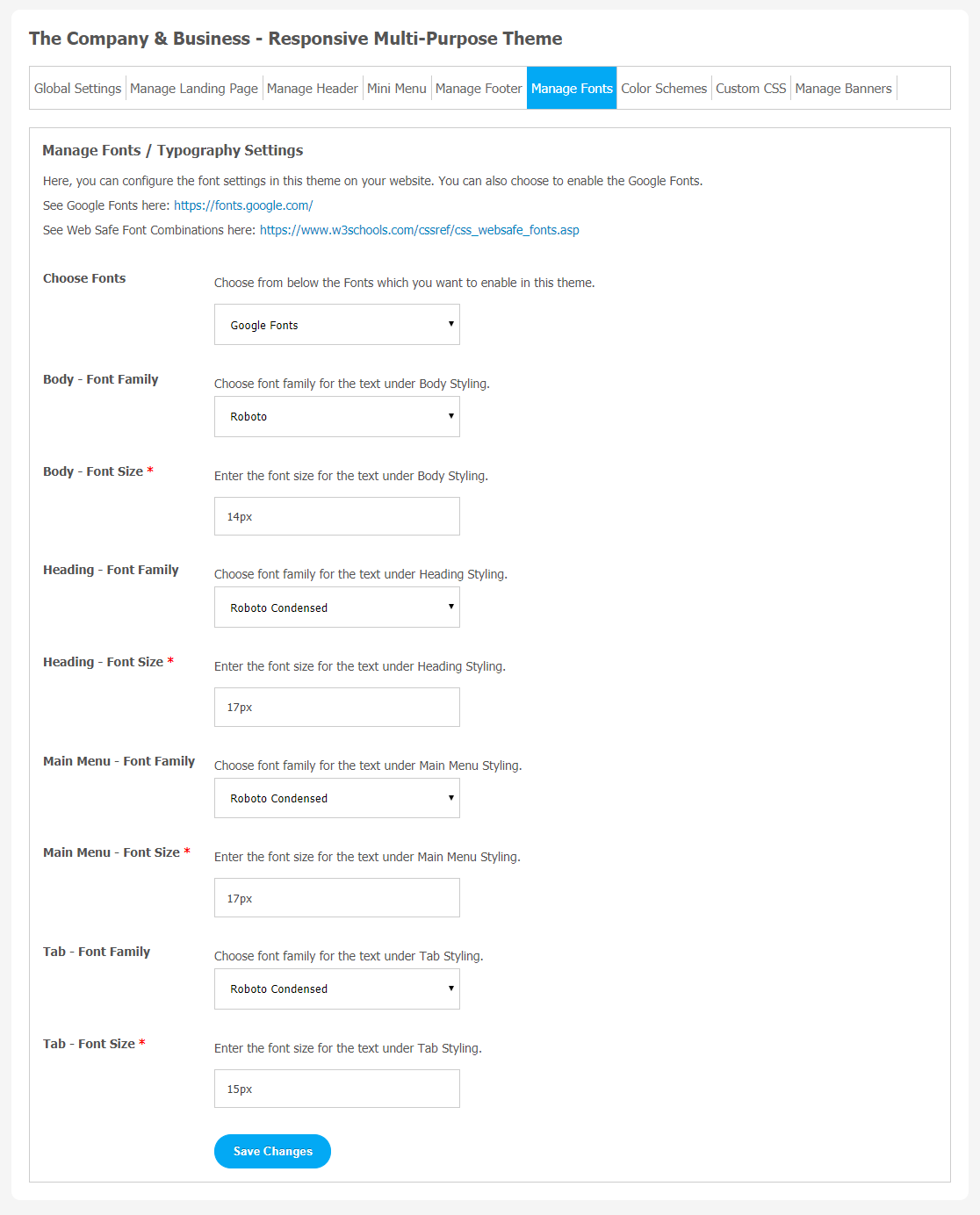 6. Color Schemes
Choosing a different theme color makes your website more refreshing and attractive for your users. We have provided multi-color options to make your Twitter more engaging. Also, you can make your own color combination for Responsive Company Theme.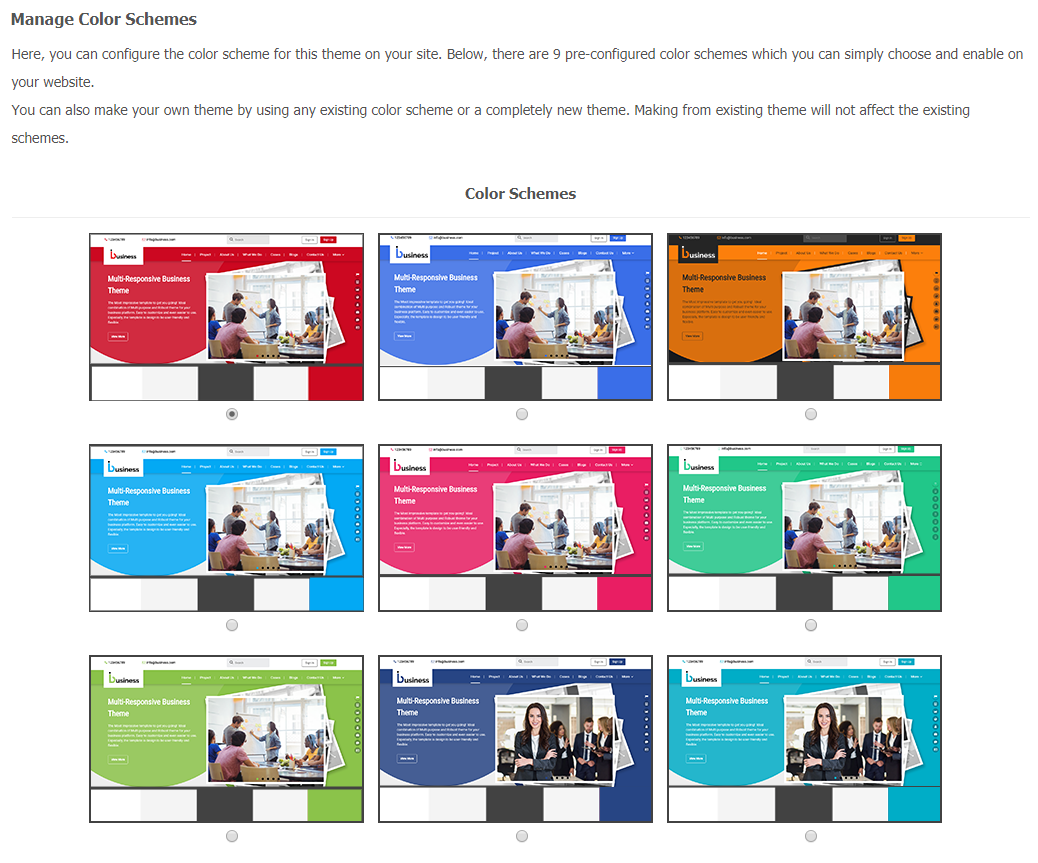 (a) Make Your Own Custom Theme Color
With this Responsive Company Theme, the user can manually customize theme color options. There are many color options available to make your website theme more interesting and appealing to your community audience.
Select "Make your own Theme".
Now make your own customized theme color combinations.
Don't forget to Save Changes.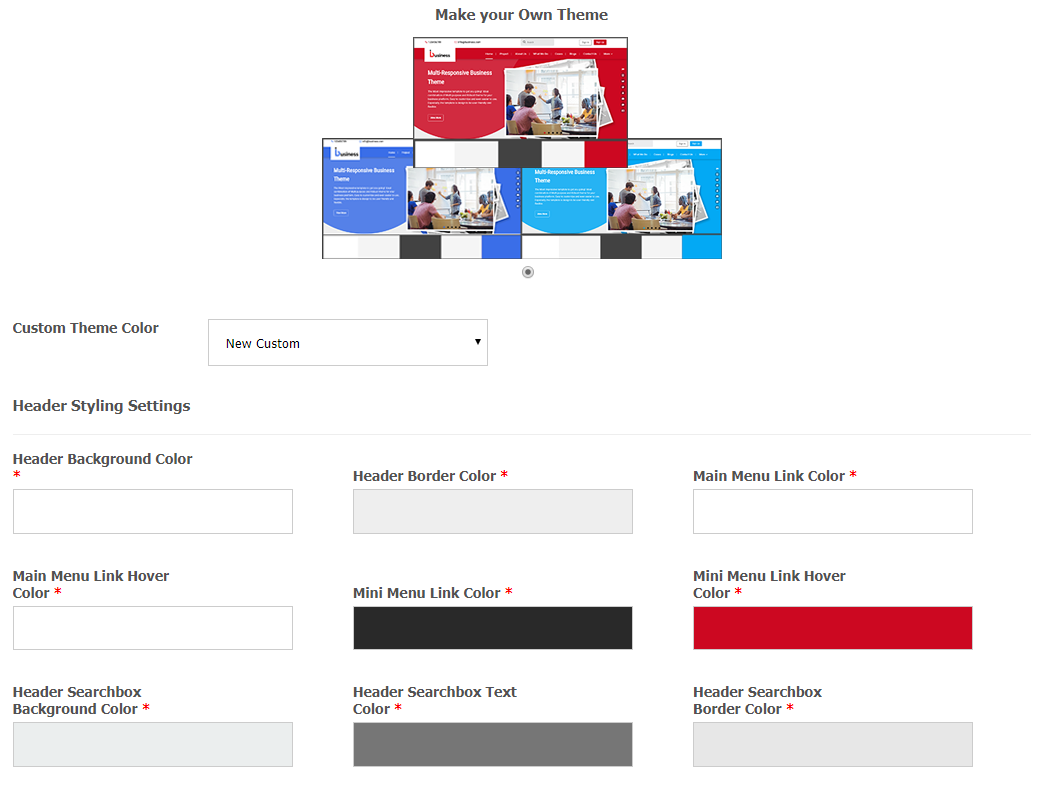 7. Custom CSS
Add custom CSS in Responsive Company Theme with a single click. We suggest you add your CSS changes here instead of Theme.css file so that you do not lose your changes when you upgrade this theme. These changes will nicely show on your website.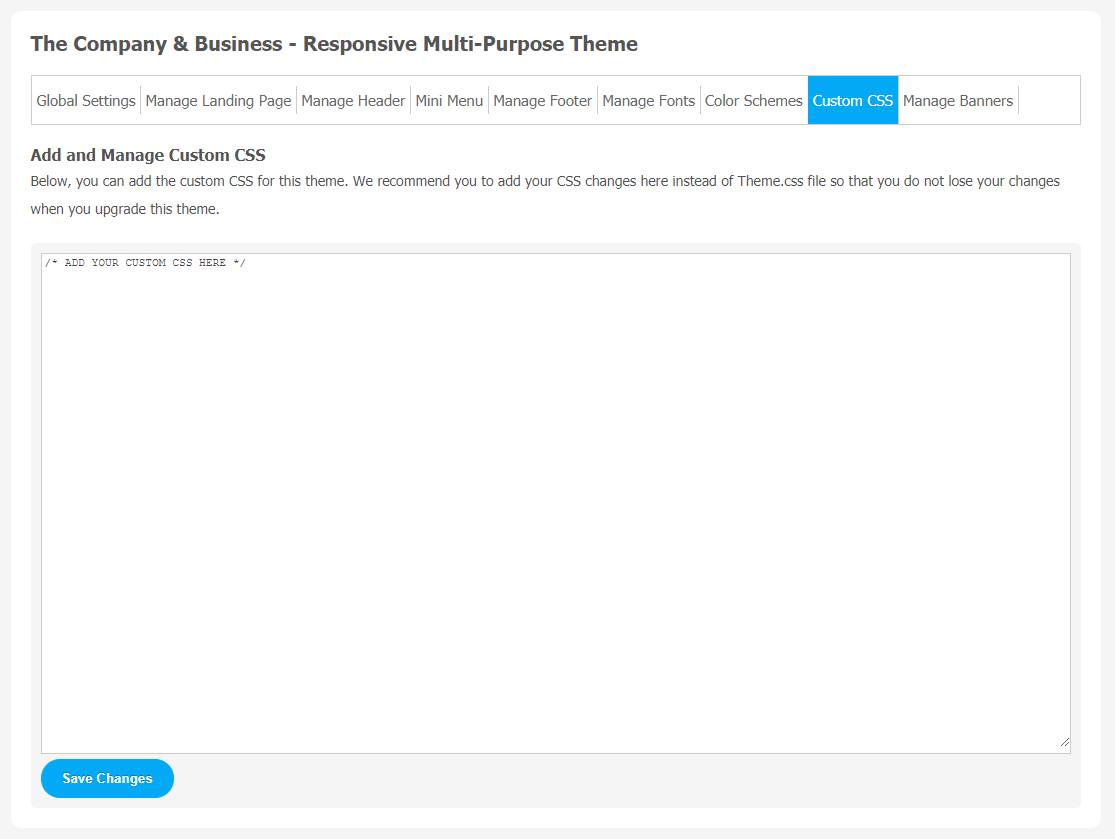 8. Manage Banners
Manage your website banner by choosing the photo from your system storage or create a new one if you want to give a refreshed look to your website.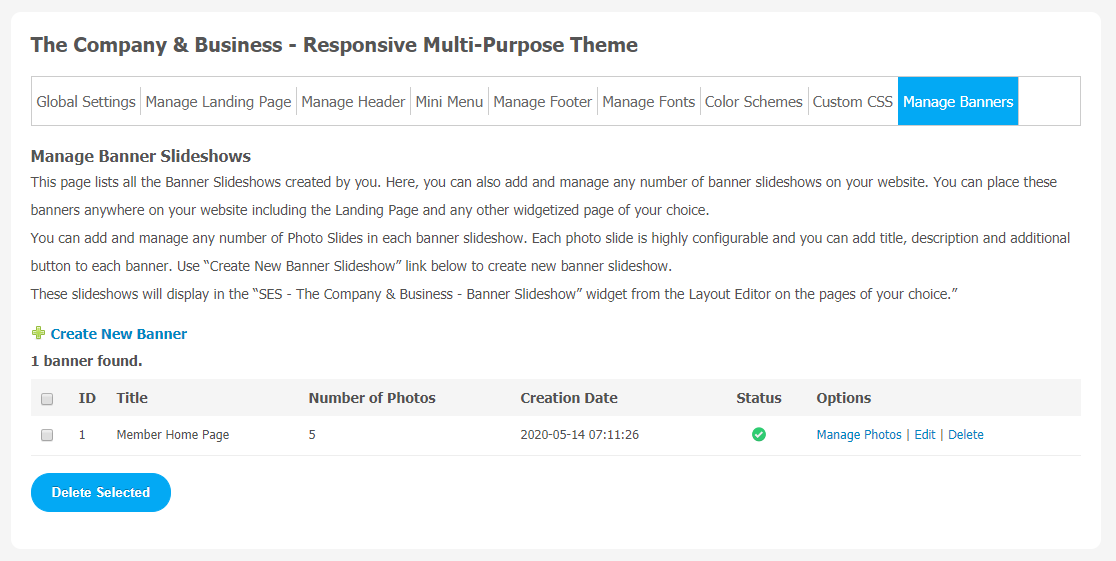 Finally!! You have successfully completed the installation procedure and also explored various exciting features of this Responsive Company Theme. Now, your visitors and website members will be able to access & use your website with a new refreshing look.
Installation of this Theme is very easy, but if you still need our expert to install this theme for you, then you can purchase the service from here:
https://socialnetworking.solutions/social-engine/socialenginesolutions-plugin-installation/