You might have come across some websites where the first letter of the name of a user gets used as their profile picture. This amazing plugin helps you do the same for your site. Letter Avatars of Member Name Plugin does not use any images, scripts, or font icons on your website. It creates a Letter Avatar for the users who signup on your website without uploading their profile pictures.
Site admin can choose the letters of First Name, Last Name or Username to be displayed in the place of a default profile picture. Admin can choose their favorite background color for the letter. You can set a fixed background-color and also generate a random background color for each letter avatar.
When a site member removes their profile pictures, you can select the default picture with the Letter Avatar. This plugin helps in generating a letter avatar manually and automatically as well. It will be applicable to the existing members too.
Key Features
Attractive Letter Avatars
Manually & Automatically Generate Letter Avatars
Letter Font Styling
Letter Avatar background Color
Manage Letter Height and Width
Compatibility in Activity Feeds & Comments
3rd Party Plugins Compatibility
Here, we are providing an interactive and easy to follow Letter Avatar of Member Name Plugin setup & installation guide which will help you to use & configure it properly on your website & maximize the efficiency of your website by showcasing the exciting features. With this help-guide, you will get a better sense of usage when you actually install this plugin on your website.
Installation of this plugin is very easy, but if you still need our expert to install this plugin for you, then you can purchase the service from here: https://socialnetworking.solutions/social-engine/socialenginesolutions-plugin-installation/
Step-by-Step Installation & Tutorial Guide:
** This tutorial assumes that you are already logged in to the Admin Panel.**
If not, then you have to log in first to the admin panel after filling the admin account credentials on your website.
1. Installation of Letter Avatar of Member Name Plugin:
a) In the Main Menu section, click on the tab Manage and select "Packages & Plugins" to install this plugin.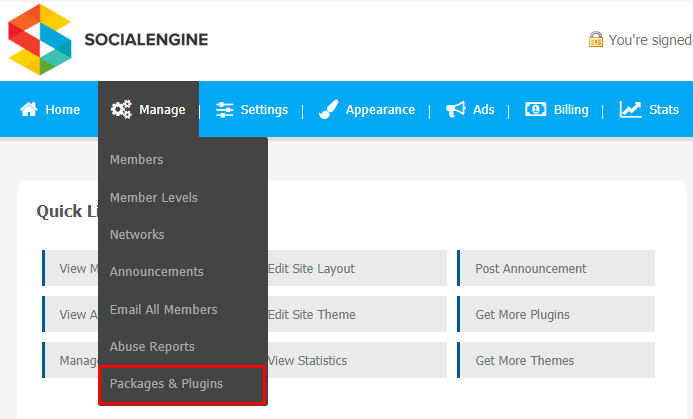 b) Our Plugin is based on SE standards so this will get installed on your website as any standard theme can. Please read the tutorial on installing themes and plugins in SE here: http://help.socialnetworking.solutions/faq/51/how-to-purchase-and-install-ses-products
After the successful installation of the plugin as in Step 2 above, under the plugins section, click on "Letter Avatar of Member Name Plugin".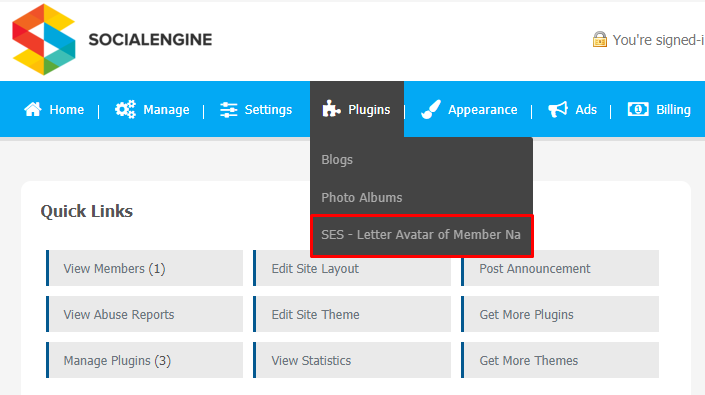 Now, you will be asked for plugin activation. You can activate this plugin by clicking on "Activate Your Plugin" as shown below.

2. Global Settings
After a successful installation, a new Global Setting tab will appear where all the plugin settings can be managed easily.
You can Replace Default Photos with Letter Avatars
You can also choose the Number of Letter in the Avatar of Members on your site.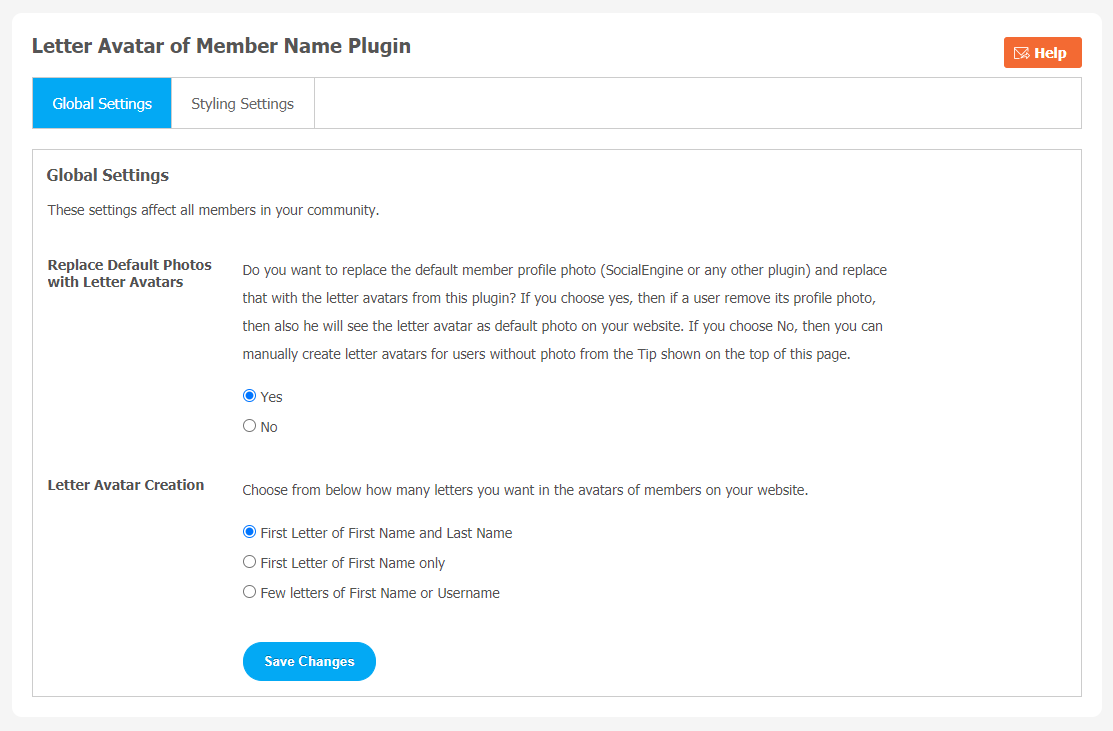 3. Styling Settings
The styling option is the most important feature of this plugin. From this page, you can configure many settings for the style of fonts. You can select the background of the letter as random or can choose the color of your choice and also you can adjust the height & width of the letter avatar.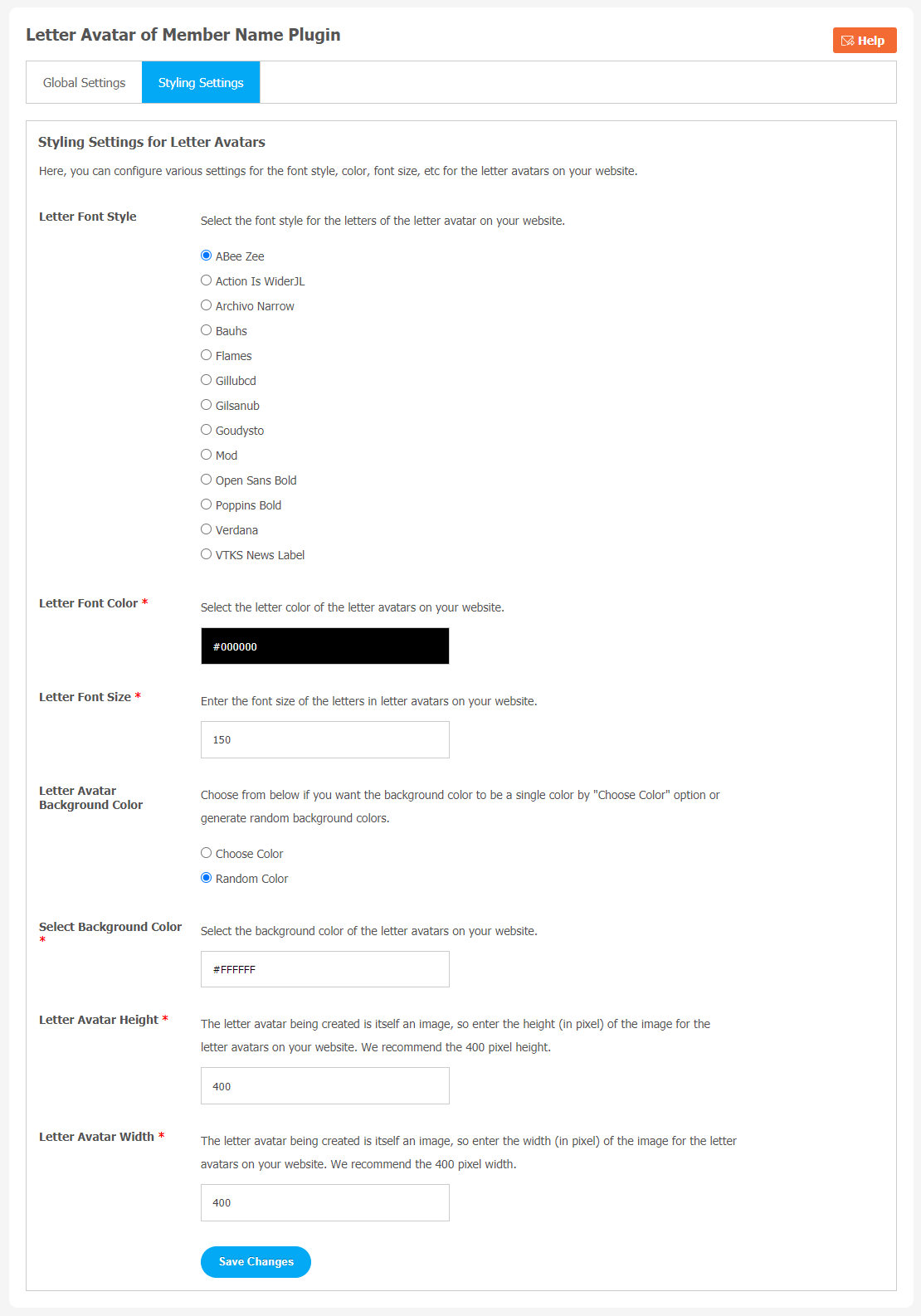 Finally!! You have successfully completed the installation procedure and also explored various exciting features of Letter Avatar of Member Name Plugin. Now, your visitors and website members will be able to access & use your website with some new multipurpose features.
Installation of this Plugin is very easy, but if you still need our expert to install this Plugin for you, then you can purchase the service from here: https://socialnetworking.solutions/social-engine/socialenginesolutions-plugin-installation/