If you are running a multilingual website, you can have direct access to your wider audience. Language plays an important part when it comes to expanding your business community. You can target a wide range of people if you use an effective translation tool.
You can translate your website in multiple languages like English, Italian, Hindi, Urdu etc. The best way to translate a SocialEngine-based website into these popular languages is to install a multilingual plugin.
Such plugins must come with features like automatic translation.To fulfill this need, we are offering a Multiple Language Translator Plugin with some SEO-friendly features. It will also help you to boost website traffic.
You can attract international visitors to your multilingual website.Because this plugin supports more than one hundred languages. Google Cloud Translation API feature provides a simple and programmatic interface for translating an arbitrary into any supported language using state-of-art Neural Machine Translation.
Key Features
Google Cloud Translation API Key
Supports more than 100+ Languages
Easy setup & Installation
Robust Admin Panel
Here is the website demo link: https://demo.socialnetworking.solutions/
Here, we are providing an interactive and easy to follow Multiple Language Translator Plugin setup & installation guide which will help you to use & configure it properly on your website & maximize the efficiency of your website by showcasing the exciting features. With this help-guide, you will get a better sense of usage when you actually install this plugin on your website.
Installation of this plugin is very easy, but if you still need our expert to install this plugin for you, then you can purchase the service from here: https://socialnetworking.solutions/social-engine/socialenginesolutions-plugin-installation/
Step-by-Step Installation & Tutorial Guide:
** This tutorial assumes that you are already logged in to the Admin Panel.**
If not, then you have to log in first to the admin panel after filling the admin account credentials on your website.
1. Installation of Multiple Language Translator Plugin:
a) In the Main Menu section, click on the tab Manage and select "Packages & Plugins" to install this plugin.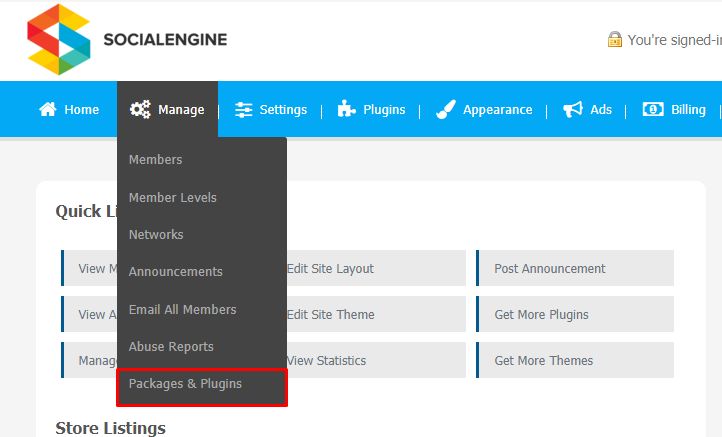 b) Our Plugin is based on SE standards so this will get installed on your website as any standard plugin can. Please read the tutorial on installing themes and plugins in SE here: http://help.socialnetworking.solutions/faq/51/how-to-purchase-and-install-ses-products

c) After the successful installation of the plugin as in Step 2 above, under the plugins section, click on "Multiple Language".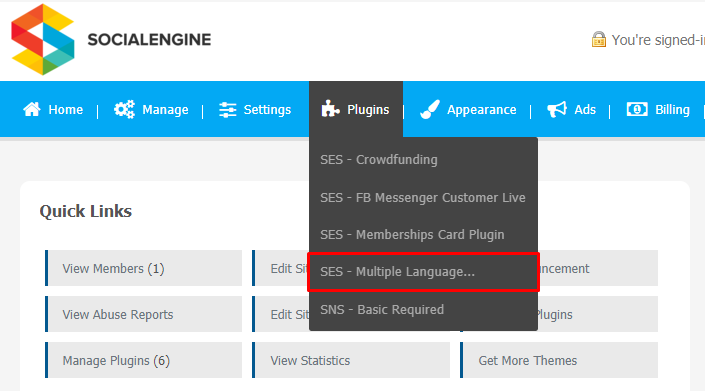 Once you click on plugin, now you will be asked for entering required License Key for extension activation. Now, your extension is ready to go!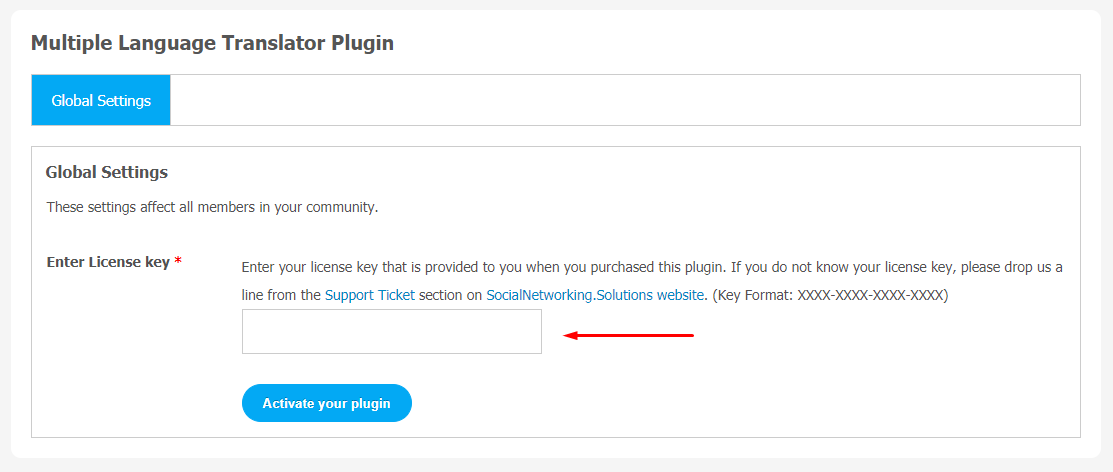 2. Global Settings
After a successful installation, a new Global Setting tab will appear where all the plugin settings can be managed easily. First, click on Global Settings. Then,
You can enter Google Translation Key.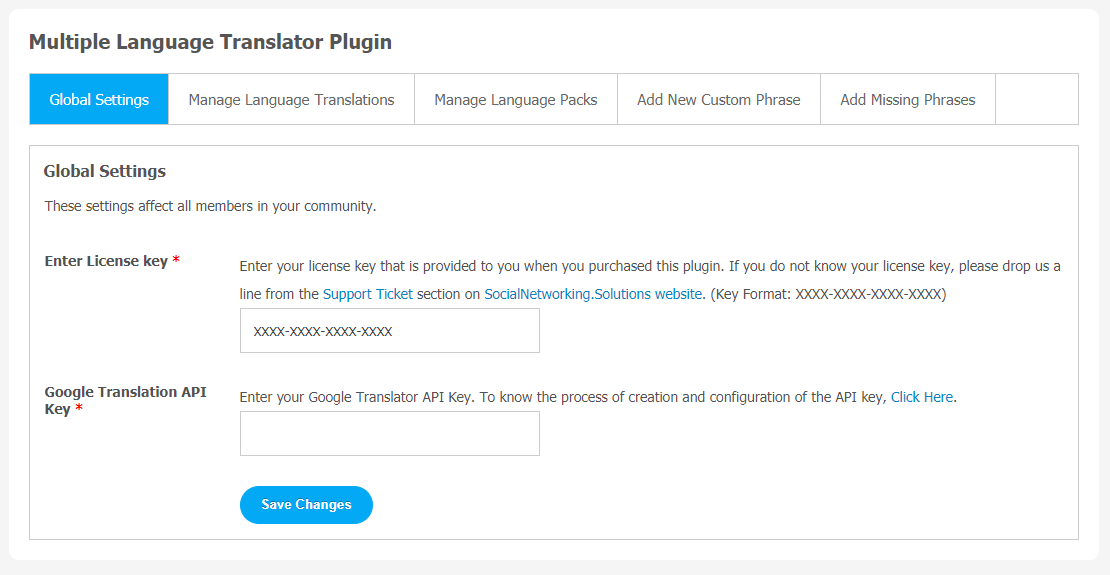 3. Manage Language Translations
You can use this page to create a CSV file of the selected plugins in any chosen language. For the first time CSV files translation in a language, a new language pack will be created automatically. If you choose any existing language on your website for CSV translation, in that case the new CSV file in that language will be added to the existing pack.
4. Manage Language Packs
This page stores all the language packs on your website which you have created from the Language Manager or this plugin. You can see hundreds of phrases of text in a language pack.
You are allowed to download/delete these packs from below and edit phrases in each pack from the Language Manager. If you want to create a new language pack for selected plugin's CSV files in the chosen language, you can click on the "Create New Pack" link. It will redirect you to the Manage Language Translations section.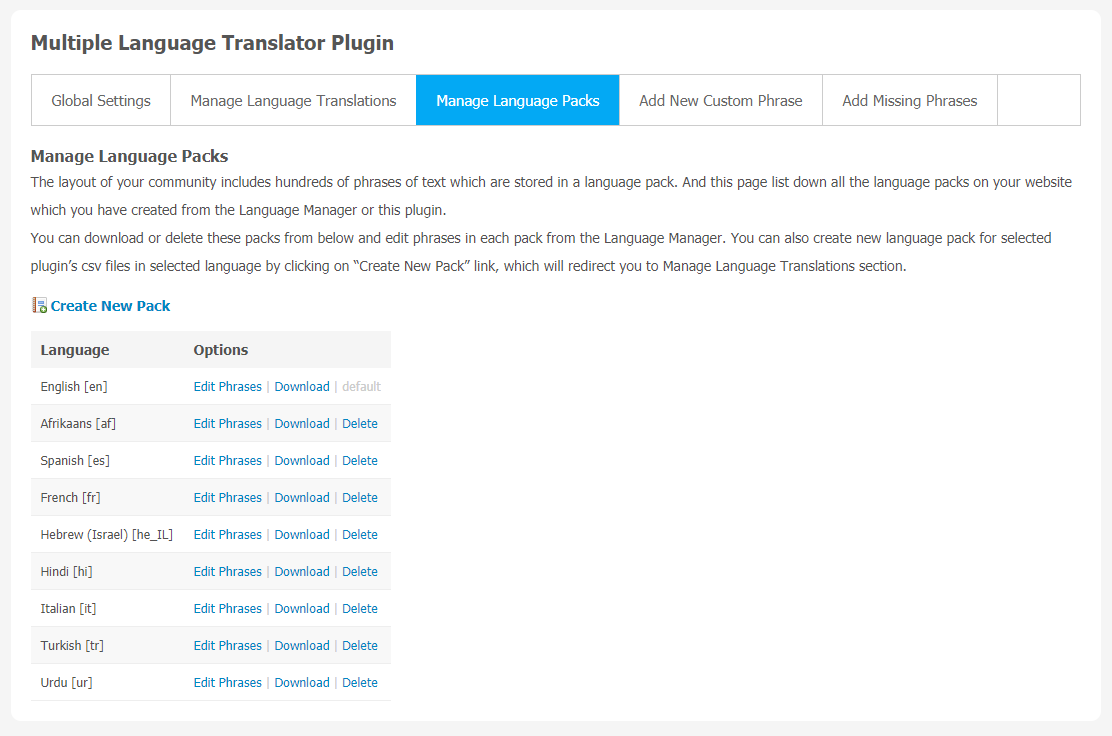 5. New Custom Phrase
This setting page can be used to translate any custom phrase from English to selected languages. All the translated text will automatically be added to the custom.csv file.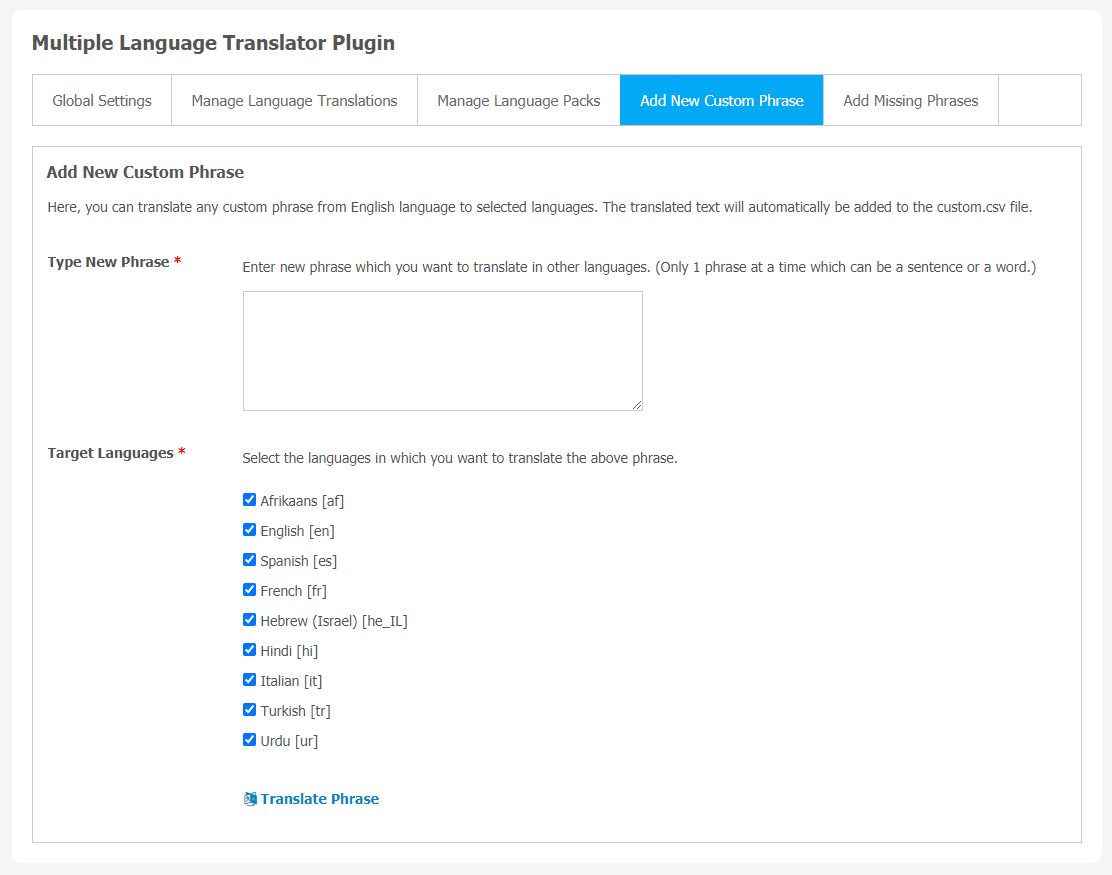 6. Add Missing Phrases
Finding the missing phrases while translating is crucial. So, you can use this page to find those missing phrases and add them in the custom.csv file in the chosen language. Adding these phrases is so easy. You can just click on the "Add Phrases Link" and the phrase will be added to the custom.csv file automatically.
Note ~ Please remember that this is not an automatic process, we don't suggest you to edit anything in the Missing Phrases section below. In case, you want any change then edit the phases in the custom.csv file later on.
Finally!! You have successfully completed the installation procedure and also explored various exciting features of this Multiple Language Translator Plugin. Now, your visitors and website members will be able to access & use your website with new features.
Installation of this Plugin is very easy, but if you still need our expert to install this Plugin for you, then you can purchase the service from here: https://socialnetworking.solutions/social-engine/socialenginesolutions-plugin-installation/