Forum is a great way to build an online user community. It can be the best platform to exchange ideas with like-minded people from all over the world. If you are a company, a forum can be used as a common place where your customers can talk about your product and service. Creating a discussion forum on the SocialEngine website is super easy, all you need to do is to install this Advanced Forums Plugin. You are almost done.
People can initiate a discussion, ask their queries and encourage each other for active participation. If you are using the SocialEngine website, you should definitely go for this amazing Advanced Forums Plugin offered by SocialNetworking.Solutions.
Key features of Advanced Forums Plugin
100% Responsive
Easy Member Level Setting Configurations
Like, Share, Report Topics
Single Click Installation
Unlimited Forum Creation
Here, we are providing an interactive and easy to follow Advanced Forums Plugin setup & installation guide which will help you to use & configure it properly on your website & maximize the efficiency of your website by showcasing the exciting features. With this help-guide, you will get a better sense of usage when you actually install this plugin on your website.
Installation of this theme is very easy, but if you still need our expert to install this plugin for you, then you can purchase the service from here: https://socialnetworking.solutions/social-engine/socialenginesolutions-plugin-installation
Step-by-Step Installation & Tutorial Guide:
** This tutorial assumes that you are already logged in to the Admin Panel.**
If not, then you have to log in first to the admin panel after filling the admin account credentials on your website.
1. Installation of Advanced Forums Plugin
a. In the Main Menu section, Click on the tab Manage and select "Packages & Plugins" to install this plugin.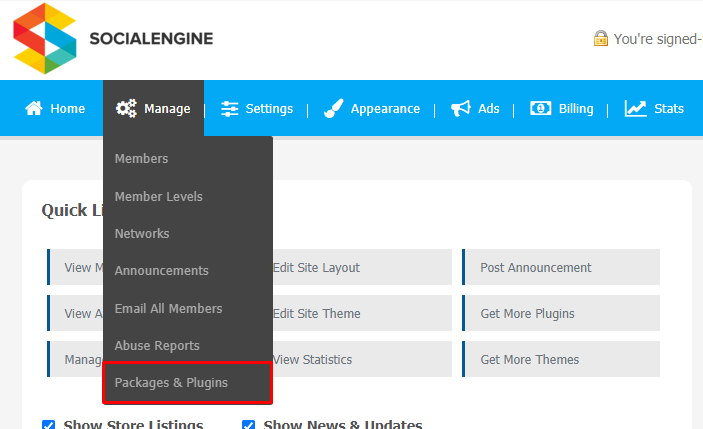 b. Our Plugin is based on SE standards so this will get installed on your website as any standard theme can. Please read the tutorial on installing themes and plugins in SE here: http://help.socialnetworking.solutions/faq/51/how-to-purchase-and-install-ses-products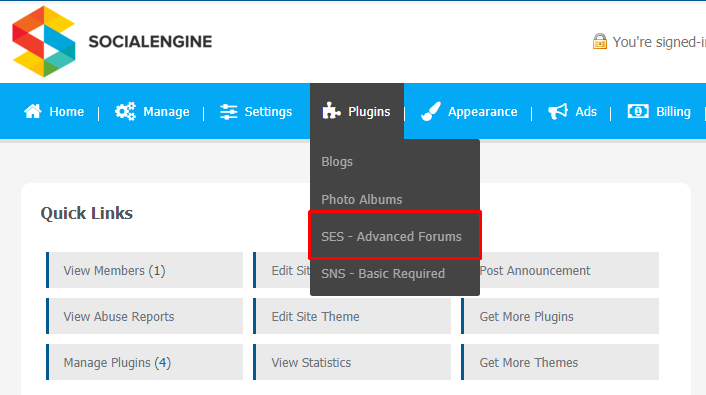 2. Global Settings
After a successful installation, a new Global Setting tab will appear where all the plugin settings can be managed easily. First, click on Global Settings. Then,
Enter the required license key in the below-shown box.
Singular "Forum" Text in URL
Plural "Forum" Text in URL
Enable BBCode
Enable HTML
Enable Rating.
Enable Reputations
Make Tags Mandatory.
3. Manage Categories & Forums
In this page, all the categories and forums created by users are stored here. This page can be used to manage and monitor these categories and forums. You also can delete offensive material if required.
From this page, you can create new categories and forums. You also can add moderators for the created forums to provide access for making changes in the forum. Click on the move up link below to move it to the top to change the sequence of the forum. Fill the required information in the given filters to search specific topic entries.
4. Manage Topics
This section allows admin to monitor and manage topics your users have created in the forums. You can track topics by their name, owner name, and date.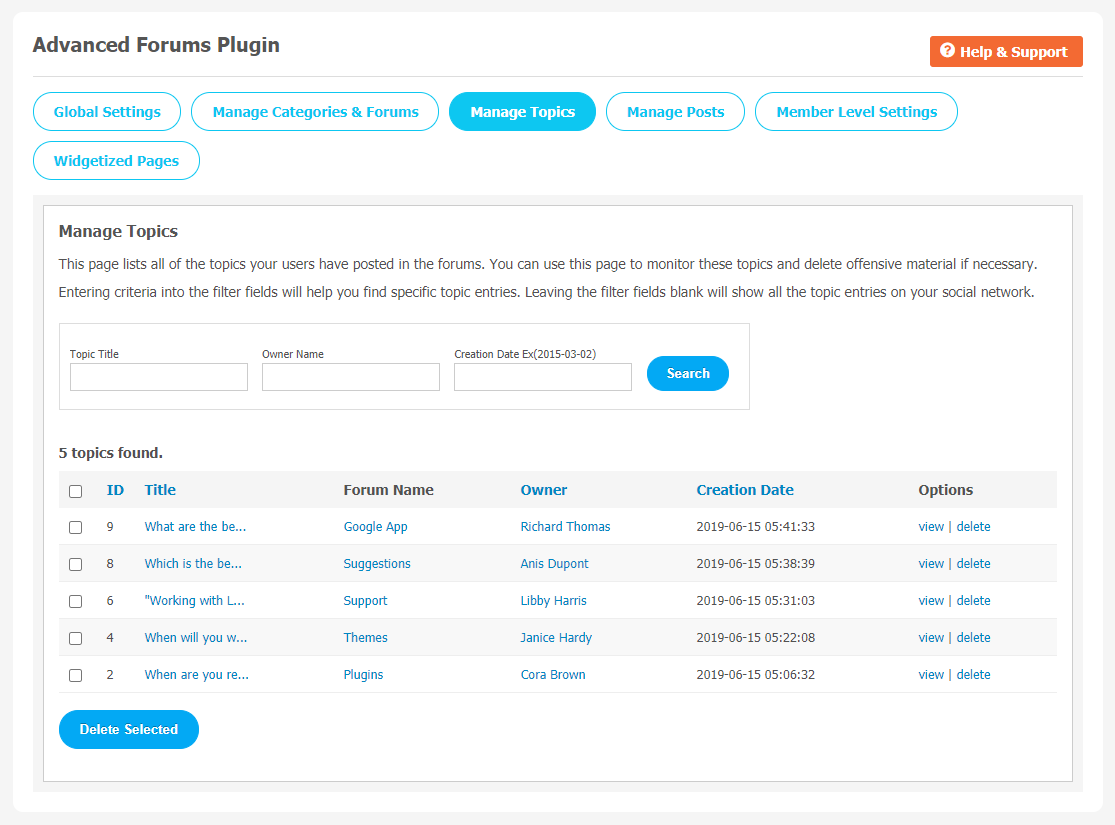 5. Manage Posts
This section allows admin to monitor and manage posts created by website users in your forums. You can track posts by their name, owner name, and date.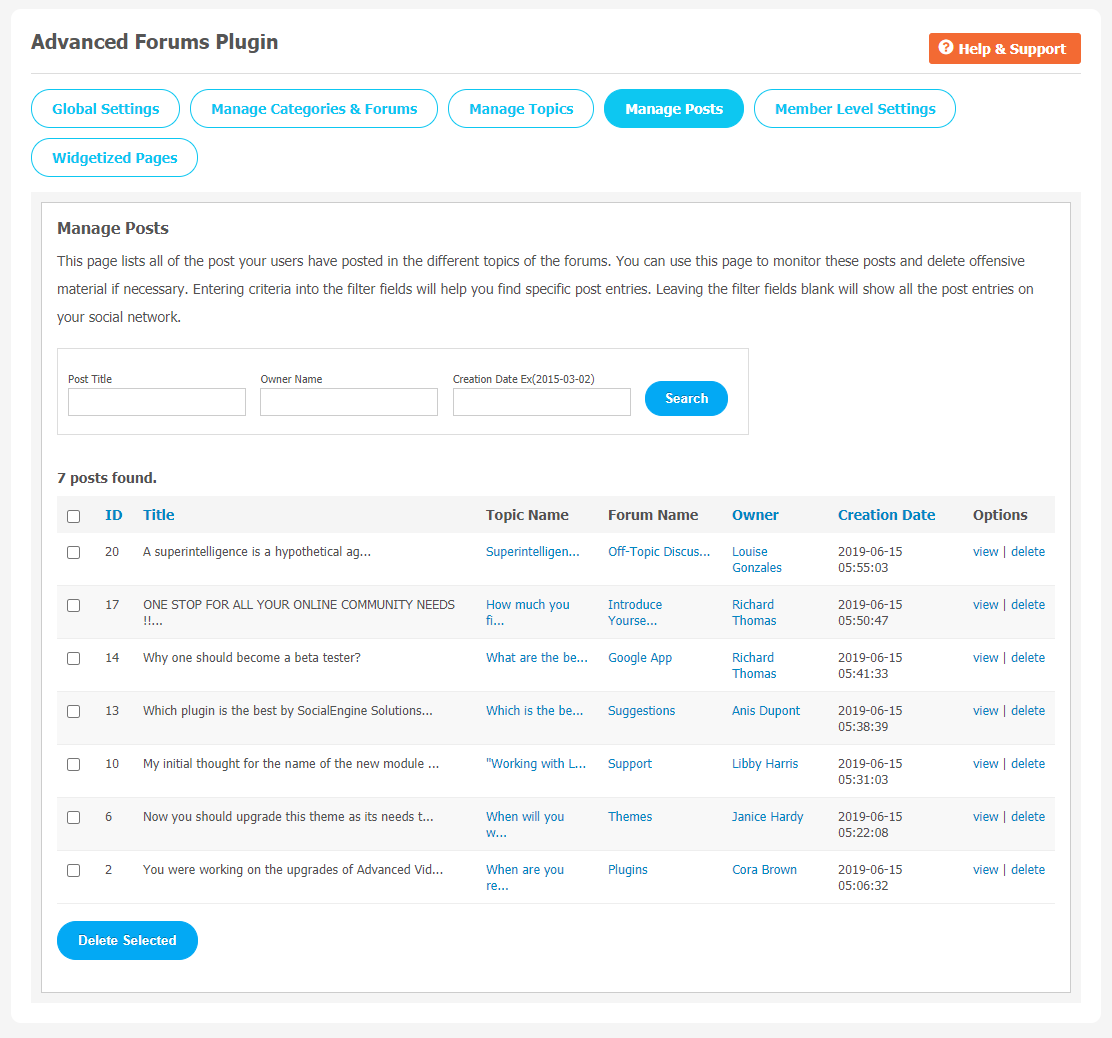 6. Member Level Settings
This section is used to manage Member Level Settings. Here are some important features of Plugin which can be managed by the site admin for different member levels are as following:
Allow Viewing of Forums
Allow Creation of Topics
Allow Editing of Topics
Allow Posting
Allow Deletion of Posts
Allow HTML in Posts
Contests Comment Options
Don't forget to "Save Changes" when done.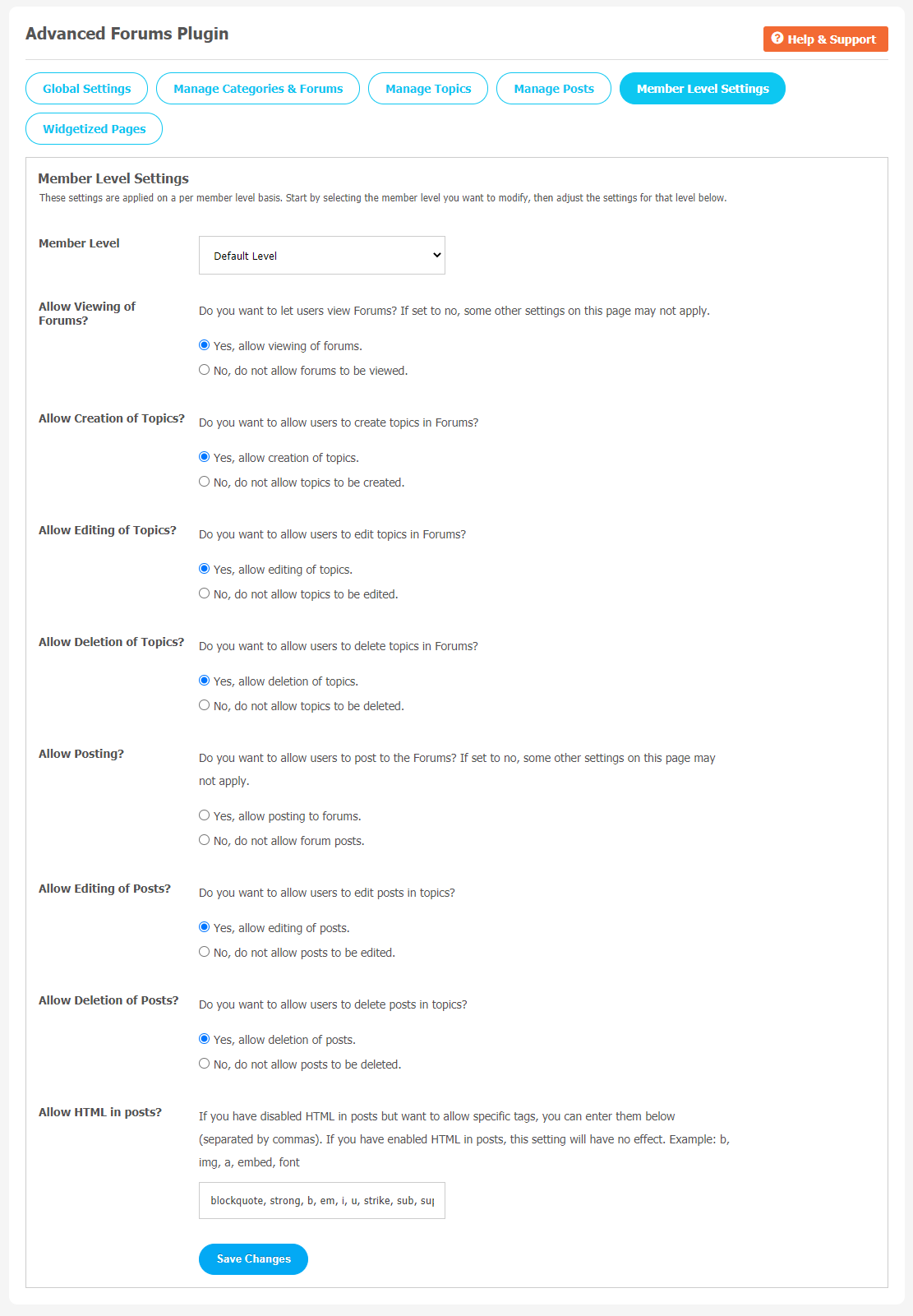 7. Widgetized Pages
All the widgetized pages are shown in this section. You can go to "Layout Editor" by clicking on the respective Widgetize Page Link.
Finally!! You have successfully completed the installation procedure and also explored various exciting features of this Advanced Forums Plugin. Now, your visitors and website members will be able to access & use your website with new features.
Installation of this Plugin is very easy, but if you still need our expert to install this Plugin for you, then you can purchase the service from here: https://socialnetworking.solutions/social-engine/socialenginesolutions-plugin-installation/