You must have come across the GDPR term once in a while if you are related to the online business industry. Basically, "GDPR is a privacy law built for citizens to give them control of their personal data". Privacy is becoming a big concern for users and as they are asking for their online safety and privacy to all big and small organizations. Under the GDPR, most similar privacy-related laws, it is important that your privacy policy be available from every page of your website. But privacy tools do not automatically do this, so you may require a Professional GDPR Plugin.
SocialEngine is making it easier for website owners to assure their users for privacy security. SocialNetworking.Solutions has come up with a powerful plugin which follows the latest GDPR standards. This plugin has many useful features like Cooking Settings, DPO Requests, Privacy Settings, Audit Log, Forget me etc.
Here, we are providing an interactive and easy to follow Professional GDPR Plugin setup & installation guide which will help you to explore its exciting features and maximize the efficiency of your website. With this help-guide, you will get a better sense of usage when you actually install this plugin on your website.
Installation of this plugin is very easy, but if you still need our expert to install this theme for you, then you can purchase the service from here: https://socialnetworking.solutions/social-engine/socialenginesolutions-plugin-installation/
Step-by-Step Tutorial Guide for Users:
** This tutorial assumes that you are already logged in to the Admin Panel.**
If not, then you have to log in first to the admin panel after filling the admin account credentials on your website.
1. Installation of Professional GDPR Plugin
In the Main Menu section, Click on the tab Manage and select "Packages & Plugins" to install this plugin.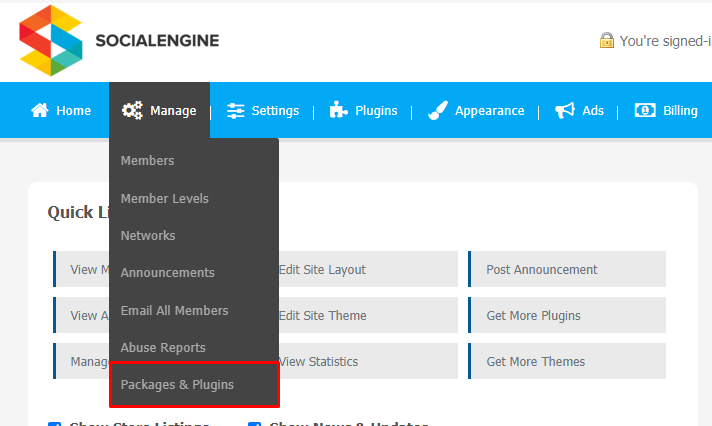 In the Main Menu section,
Click on the tab Plugin and select "Professional GDPR" to install this plugin.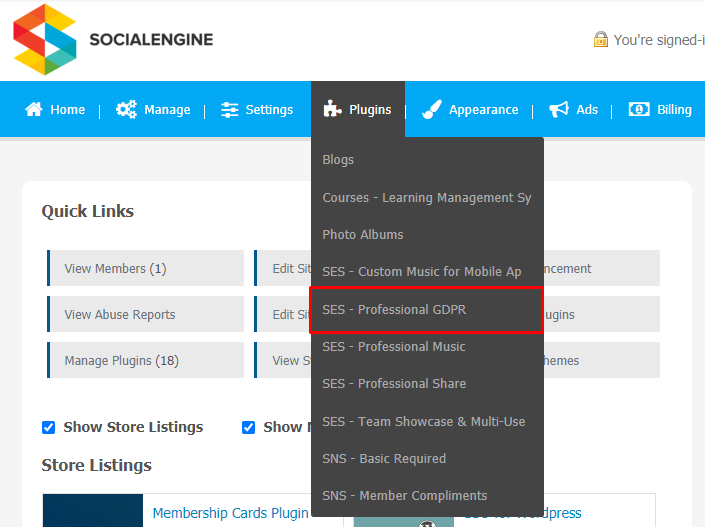 2. Global Settings
After clicking on "Professional GDPR Plugin", a new window will be opened where you can activate your plugin by entering the license key as shown below:
Enter the required license key in the below-shown box.
You can configure settings for Consents, Display Privacy Policy in Popup etc.
3. Cooking Settings
Configuring the cooking setting is important. Site admin can enter the text for the cookie contest banner and choose colors of it. They also can select the options displayed in the banner with the placement and design.
You can enable/disable Cookie Consent Banner, Banner Design Template, Banner Options, Background color and text. You can also add the privacy policy URL of your website.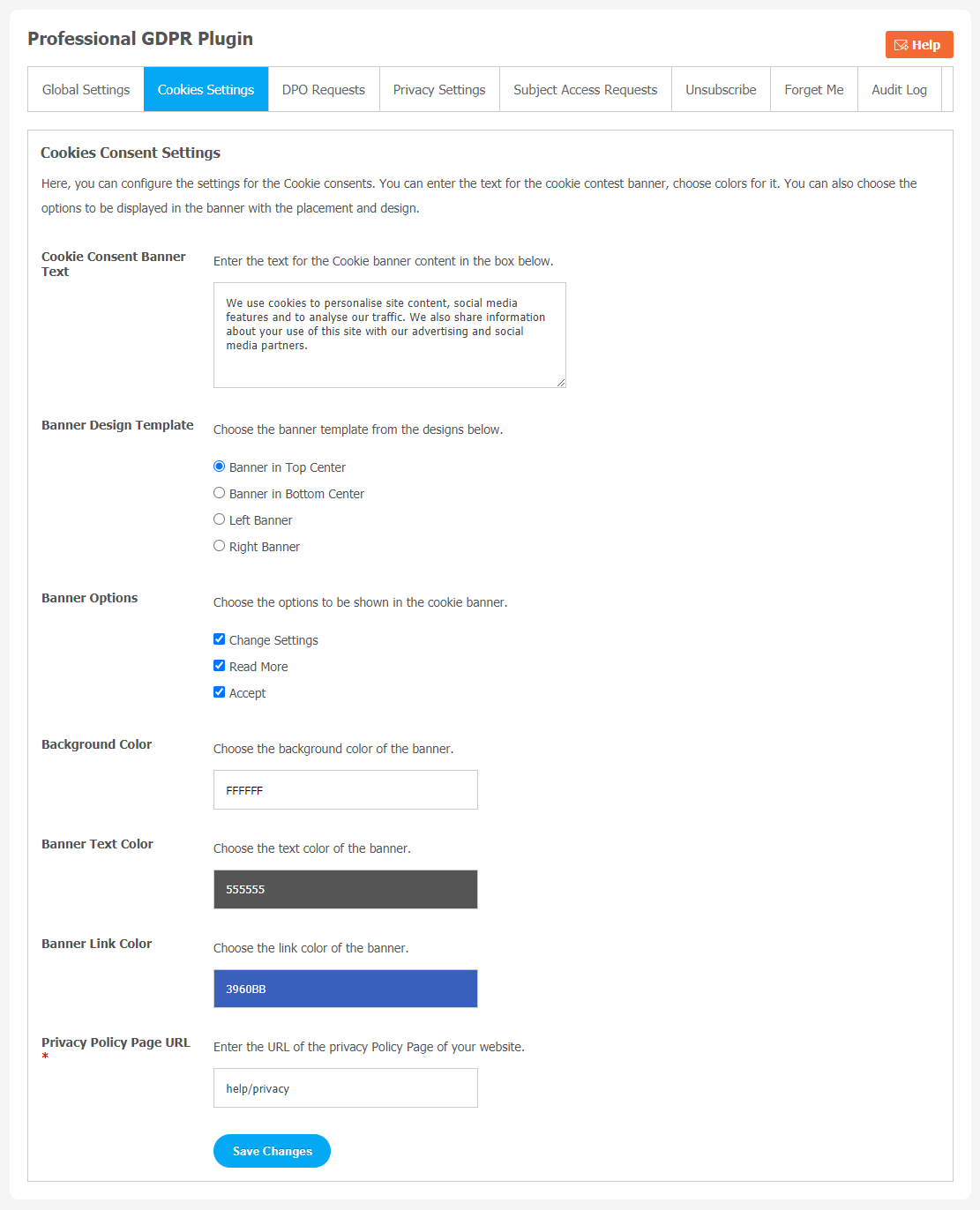 4. DPO Requests
Here, DPO stands for Data Protection Officer. All the special requests made by the users of your website related to their personal data to your DPO are saved in this page. You can enter the email for your DPO and other configuration below. You have also the choice to take action on their requests.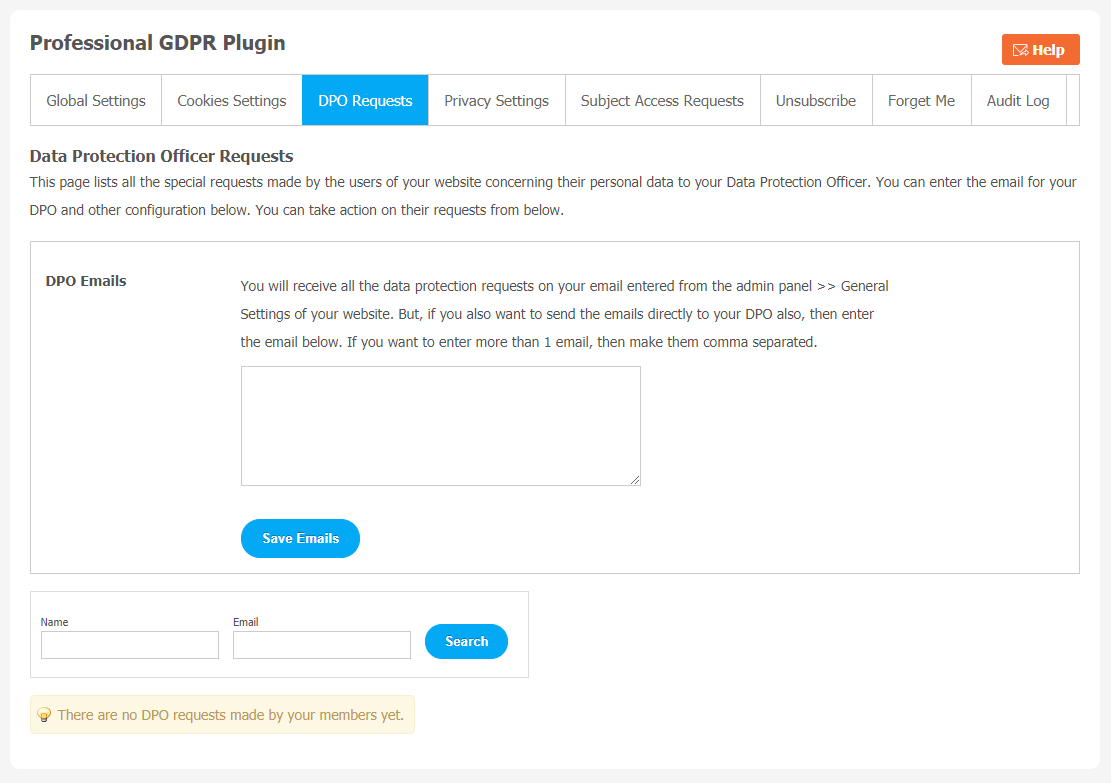 5. Privacy Settings
This page can be used to add third party services from popular social networking platforms like Facebook,YouTube, LinkedIn etc. These platforms are used on your website for login, video uploading, sharing and importing photos.
You can use an "Opt Out" option which will appear on your website for your users to add or enable service.They will be redirected to the configured link to adjust the settings for other 3rd party services on their websites.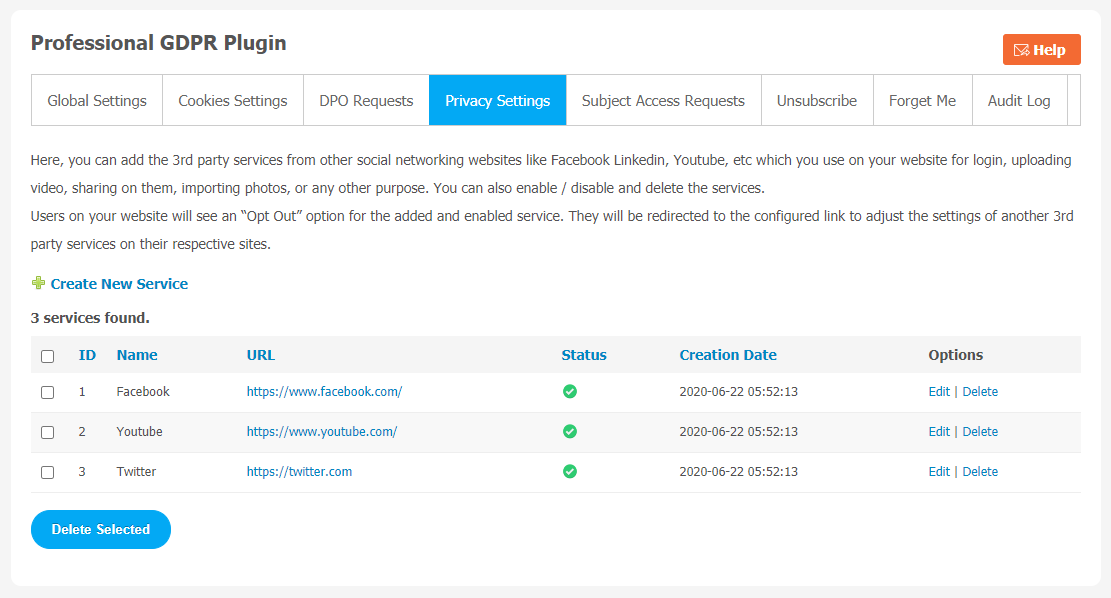 6. Subject Access Request
This page is used to save all the subject access made by the users of your website concerning their personal data you have. Site admin can take action on their requests as shown in the below image.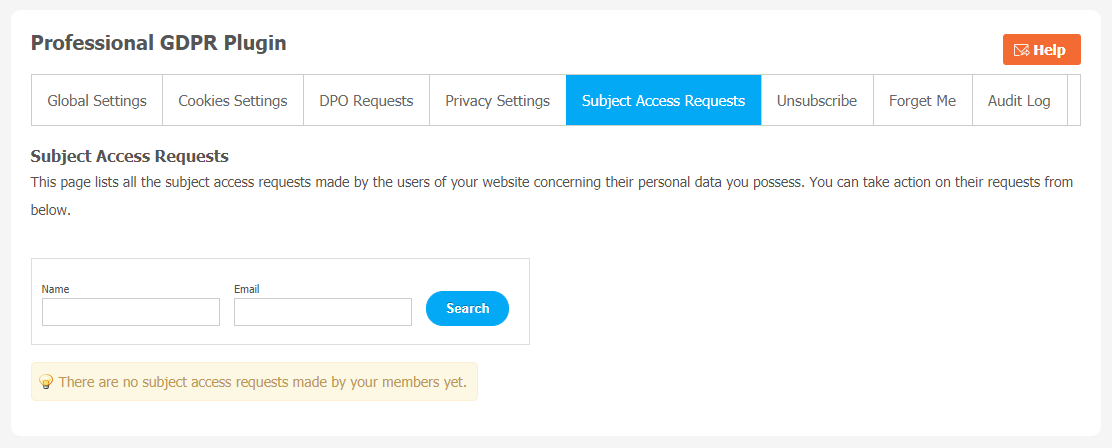 7. Unsubscribe
If users are making requests to Unsubscribe them from all the email services are saved in this page.If the user is also added to any other marketing, advertising email list or any other email list, then you should also unsubscribe the user from those as well. Site admin can take action on their requests as shown in the below image.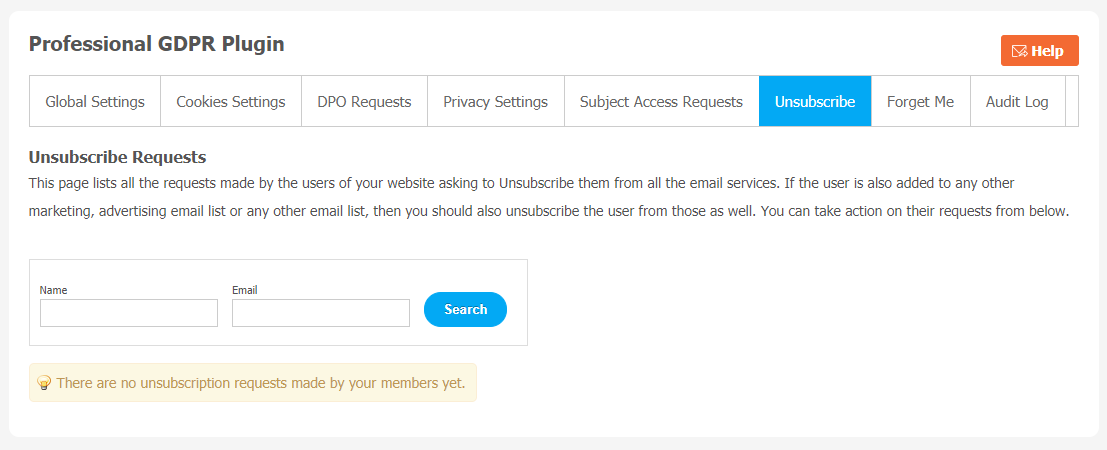 8. Forget Me
If users want them to forget from your website, all the requests made by them will be saved in this page. Site admin can erase all the data from the site.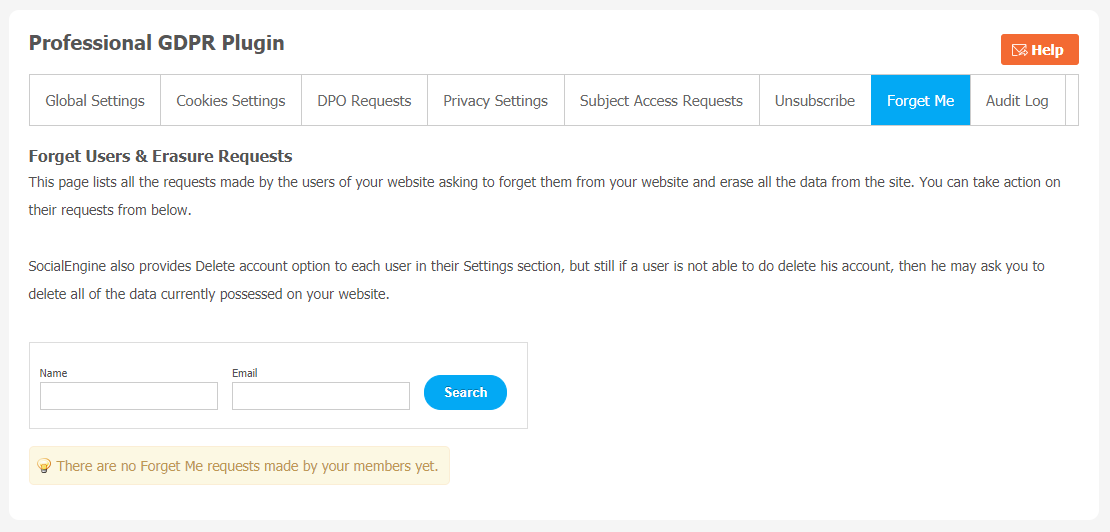 9. Audit Log
This page is used to save all the audit logs for the user selected by you. You can use the search box as shown below to find the user which you want to see the audit log for various consents on your SocialEngine website.

Finally!! You have successfully completed the installation procedure and also explored various exciting features of this Professional GDPR Plugin. Now, your visitors and website members will be able to access & use your website with new features.
Installation of this Plugin is very easy, but if you still need our expert to install this Plugin for you, then you can purchase the service from here: https://socialnetworking.solutions/social-engine/socialenginesolutions-plugin-installation/