If you want to grow your website, reach to more people and engage your users and convert user visitor to the members on your website, then you should spread your content around the web using this plugin to other social networking services including Facebook, Twitter, LinkedIn, Whatsapp, Skype, Email and many more.
No matter how valuable content you create, it is more important to give as much exposure as possible to your content by allowing your users to share the content with their hundred of Friends on Facebook, thousands of Followers on Twitter and many more.
This plugin quickly deploy the social sharing options on your website. With a variety of display types like sticky social share buttons in sidebar, fly-ins, social share buttons with counter, etc your visitors can easily share your content on various social medias of their choice. This plugin also encourages inside site sharing and users can share content within the site in messages, activity feeds, different content, etc.
Note: This plugin will work well with all the Official SocialEngine plugins, our plugins and all 3rd party plugins which have options to Share content.
Recommendations: Use the "Open Graph & Twitter Card Meta Tags Plugin" for best social sharing experience on Other Social networking website with Rich content.
Better Design

Increased Sharing

Lighting Fast
More Locations
Easily Share Your Content and Boost Your Social Following
It is very important for all the websites whether large, small or individual to build and retain a social following. With this plugin you can connect your website to various social networking services with a variety of display types like sticky social share buttons in sidebar, fly-ins, social share buttons with counter, etc. This plugin also encourages inside site sharing and users can share content within the site in messages, activity feeds, different content, etc.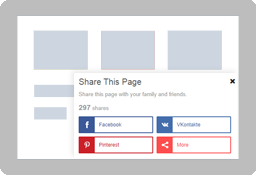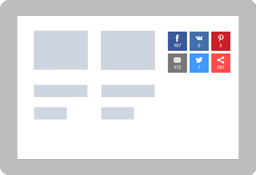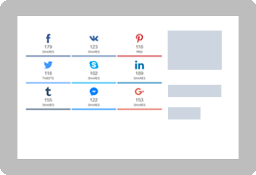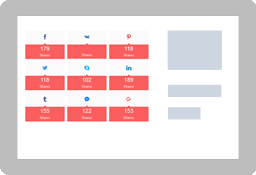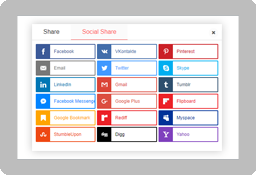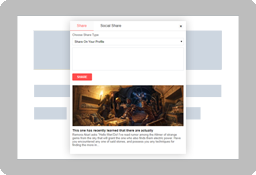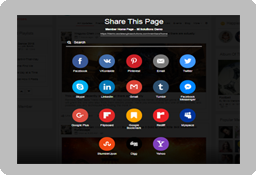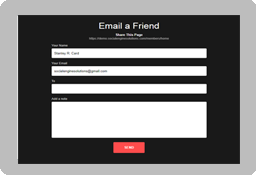 Supported Social Networking Service Providers
Key Features
Sticky Social Share Sidebar
With the Social Sticky Sidebar give your users the ability to share your content on various social networking services from all the pages of your website. You can choose to place this widget in Right or Left sidebar on all the pages or on selected pages from admin panel
1. Chosen networks will display attractively with option to show share count. More networks will show on clicking More Icon in very attractive popup.
2. Automatically moved to bottom of the screen and placed horizontally according to screen size like in mobiles.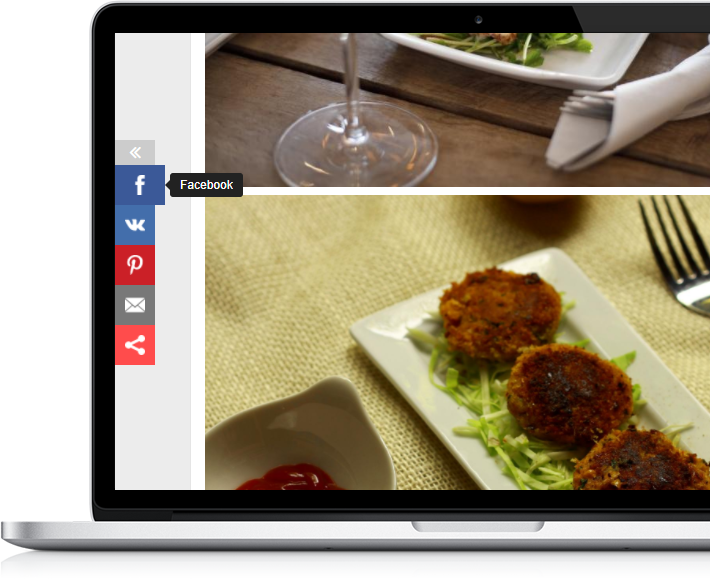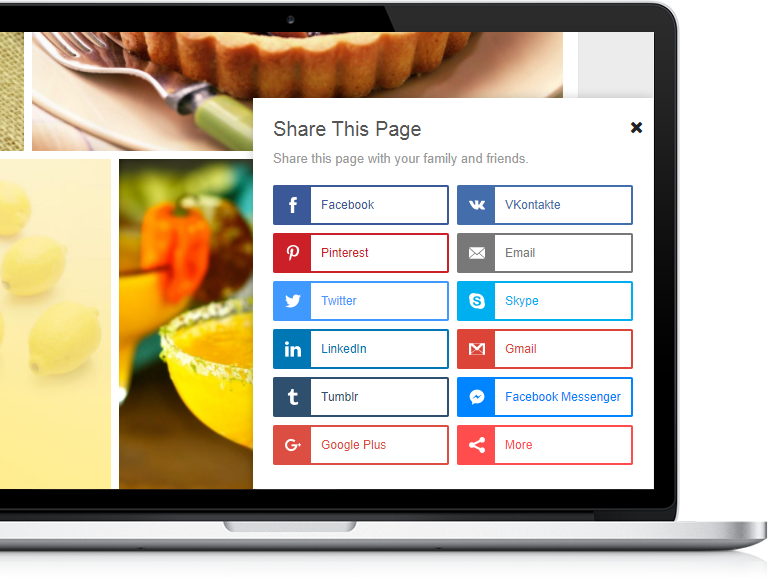 Automatic Sharing Fly-Ins
With Automatic Fly-ins you can increase user engagement on your website as these fly-ins:
1. Will automatically come as users scroll down the page.
2. Admin can choose to show the fly-ins in bottom right or bottom left corner of user's screen.
3. The Fly-in's title, description, share counts, etc are admin configurable.
More Social Share Popup
Since this plugin provides you more than 15 social networking websites, it is not possible to display all the social sites at once, so we have given option in admin panel to choose the number of sites to show for each widget placement and after this count More icon appears clicking on which an attractive pop up displays which shows all the social networking sites.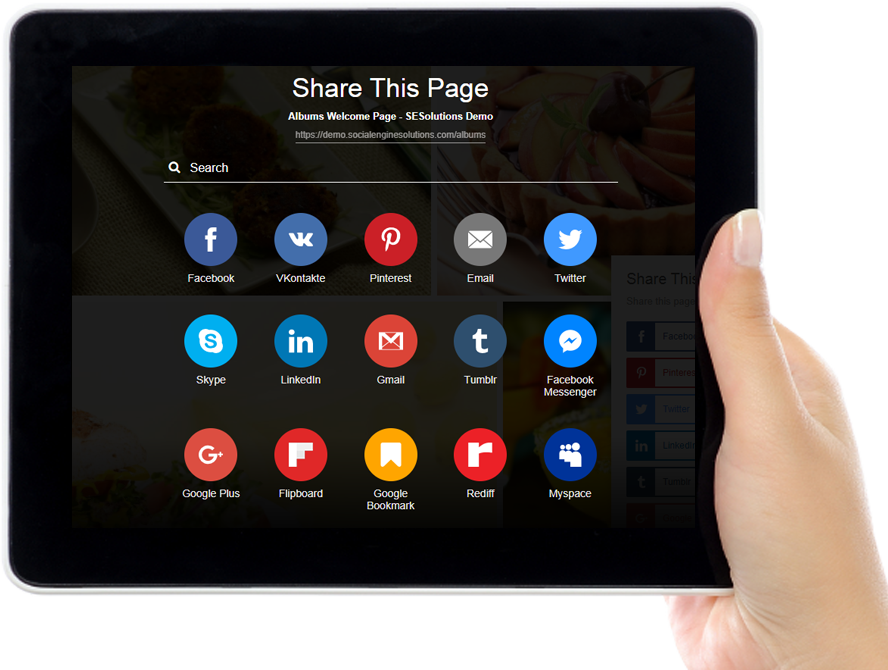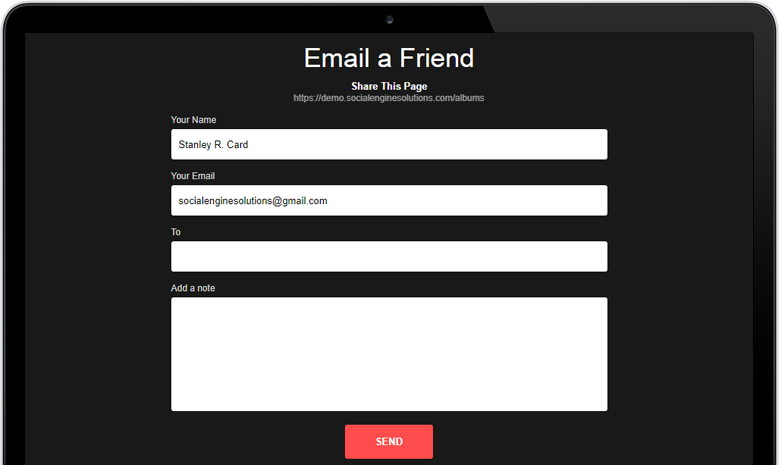 Share via Emails
In addition to sharing all the content on various social networking services, you can easily allow your users to share your website's content via Emails. People can easily share content with their friends, office colleagues, or people whom they are not socially connected via other sites in emails.
Display Social Networks & Share Counts
This plugin has 2 widgets providing 3 views to display social networking services to share the content from your website. The 2 widgets are:
a. Social Share Services in Flat & Square View
b. Social Share Services in Buttons View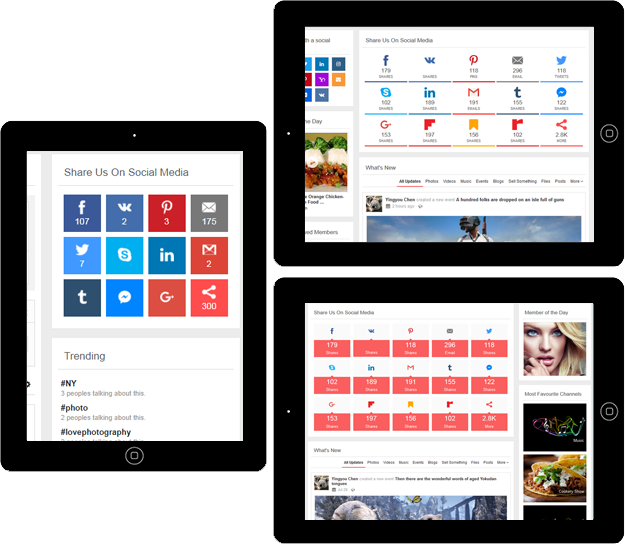 Integration with SocialEngine's Share System
This plugin is also integrated with the SocialEngine's Share system. Now, users can easily share content in their Feeds, Messages or other Content (which have feeds) like Groups, Events, Blogs, etc on your website. The 2 ways to share via SE share system:
Sharing on various content within site (Inside site sharing)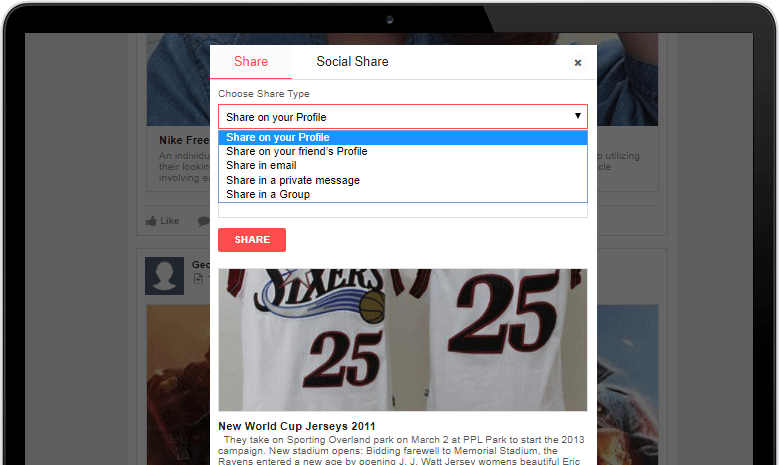 Sharing on various social networking sites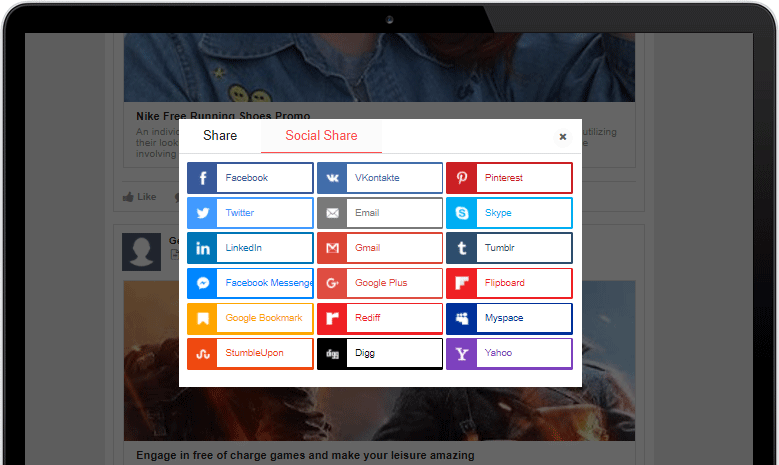 Track Shares for Each Page Shared
It is very important to see which page of your website is trending with more shares and and on which social media people are sharing it. So, this plugin has a very attractive and useful Statistics section in its admin panel. Now, easily keep a track of your user's engagement over time for each page.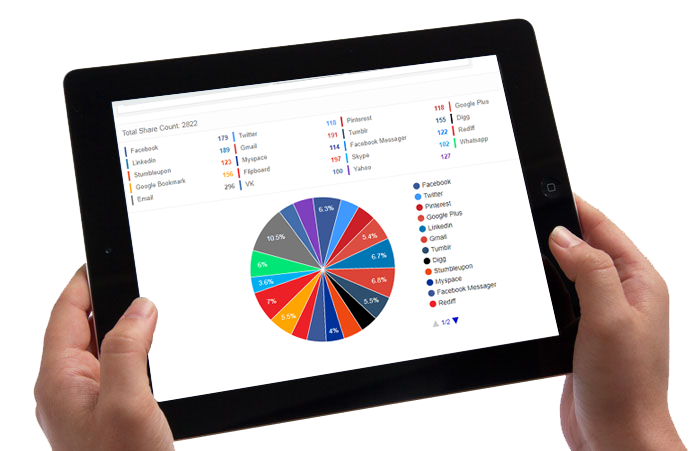 100% Responsive Across All Devices
The social share interface is optimized for all devices and will automatically adjust to the resolution of your website in Mobile phones, tablets and desktop.
Mobile Supported Social Networking service like WhatsApp automatically displays in mobile view.
Take a look at our Live Preview.
Highlights
Integrations
Integrated with the "Advanced News & Activity Feeds Plugin" as you can choose the number of social sites to show when users mouse over on "share" option in feeds.  
~ With SocialEngine activity feed or any other feed, advanced sharing will be available on click only and in our plugin, you will see advanced sharing options on mouseover as well as on click.
Integrated with Photo and Video Lightbox Viewer in "Advanced Photos & Albums Plugin  " and "Advanced Videos & Channels Plugin " respectively. Advanced sharing options will be available in the viewer with their own admin settings.
Integration with all our plugin: This plugin is integrated with all our plugins and shown advanced sharing option on mouseover on content in various widgets. Every widget has admin setting to show number of social site icons and More icon.  
Inside Site Sharing:
Share on your Profile
Share on your friend's Profile
Share in email
Share in a private message
Share in an event
Share in a group
Share in a blog
And many more…
Supported Social Networks
Facebook
VKontakte
Pinterest
Email
WhatsApp
Twitter
Skype
LinkedIn
Gmail
Tumblr
Facebook Messenger
Google Plus
Flipboard
Google Bookmark
Rediff
Myspace
StumbleUpon
Digg
Yahoo
Share content faster and easier
With a one-click share, this plugin will share on any social network of your choice.
Seamless Integration
Advanced Sharing Options are fully customizable and will seamlessly integrate with existing SocailEngine's Share system of your website.
Benefits
Increased Google Ranking and Fast Indexing: The links shared to social networking sites will be indexed faster by the search engines, your website's ranking will be increased with more number of indexing and social existence.
It's Free Advertising: Since, users will not have to signup on any of the social media site, you will get more user engagement and more shares which will cost you nothing.
More Traffic and Develops Natural Links: Bring more traffic when your users share content from your website with their hundreds of Facebook friends, thousands of Twitter followers and many more.
Native Social Sharing from the Site: The native social sharing that comes straight from the site is more effective. The native social share buttons do not have advertisement of any other brand, so these are more trusted by users.
Share Counters in Buttons: You can enable / disable share counters, so that users of your website knows how popular your website is. You can also set minimum number of counts after which the counter will show.
Widgets
Sticky Social Share Sidebar
Automatic Sharing Fly-Ins
Social Share Services in Flat & Square View
Social Share Services in Buttons View
Admin Panel
Admin can enable / disable social network service provider according to the requirements.
Admin can enable / disable Captcha in Email sharing.
Enable / disable the plugins (modules) on whose activity feeds users of your website will be able to share various content and other activity feeds.
Configure Widgets for the placement and design of Social Share buttons on various places.
View Statistics.