Key Features
Gain clients' trust, legal safety and peace of mind.
Cookies & Privacy Policy Consent
Contact DPO
Privacy Settings
Request Archive
Unsubscribe
Forget & User Erasure
Read Complete GDPR Act
What is GDPR?
The General Data Protection Regulations (GDPR) are new set of rules formulated by European Union to give people more control over how organizations use their personal data.
The GDPR carries provisions that require businesses to protect the personal data and privacy of the citizens of the European Union (EU) for transactions that occur within EU member states, as well as provisions for regulating the export of personal data outside the EU.
The GDPR also introduces penalties for organizations that violate the rules as well as remedies for those that suffer data breaches.
Privacy Center
Privacy Center of this Professional GDPR plugin provides a very easy to use dashboard where users can easily make and manage their data protection enquiries and cookie consents.
Privacy center is automatically created page – YourSite.com/privacy-center
Clearly demonstrate a proactive approach to GDPR compliance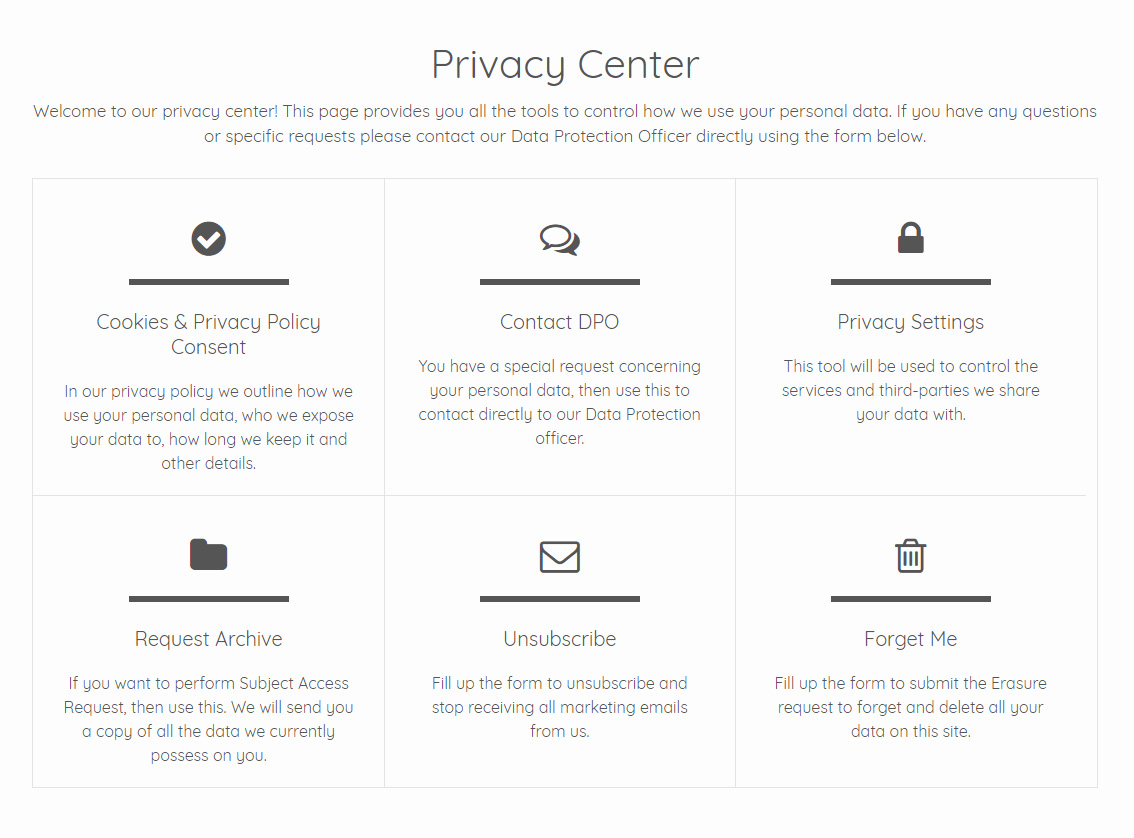 Cookies & Privacy Policy Consent
With this plugin your users can not only provide consent to accept cookies, but they can also:
Accept Privacy Consent
See the date on which consent has been given.
Withdraw their Consent.
Re-accept Consent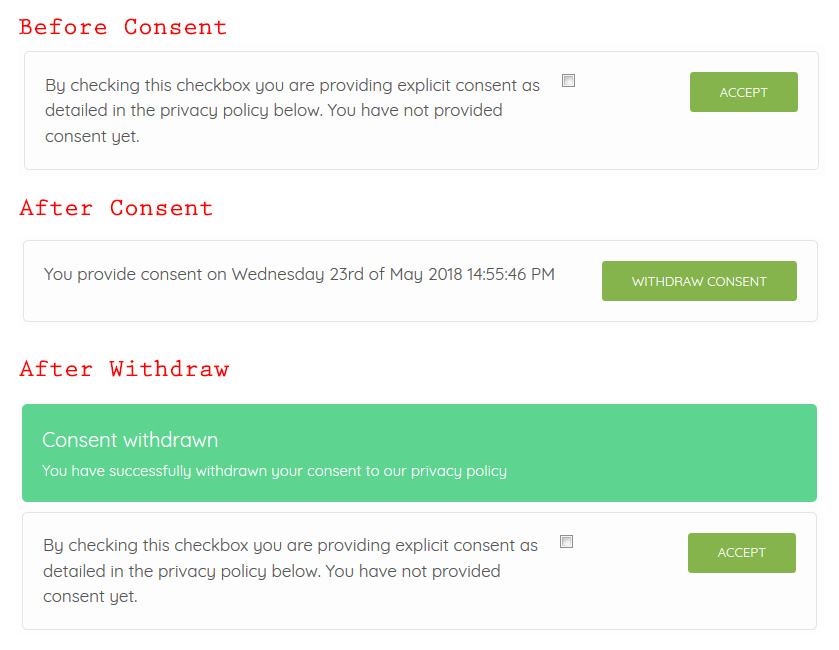 Audit Log
This plugin provides you all the control on which all consents be enabled on your website with acceptance of Privacy Policy to be mandatory to access your site.
The Audit Log is one of the most important feature which gives a complete log of users on your website when they are providing consents, withdrawing them and making any requests with date and time in the admin panel of your website.

This plugin provides various features and request forms using which users can make various requests as explained below. You will receive an email for all the requests so that you can easily take action on them ASAP. You can also reply to the requests from the admin panel of this plugin.
Cookies & Privacy Policy Consent

Display Cookie consent in attractive banner (Admin configurable).
This plugin automatically blocks all cookies until cookie consent is given.
Users can easily view their consent date and withdraw if they do not want to continue their consent.

Contact DPO

Easily accessible form for the users of your website to make a special request concerning their personal data to the Data Protection Officer of your website and business.
You can also enter the emails of all DPOs of your website.

Privacy Settings

With this plugin, you can easily enter all the 3rd party services which are used on your website from admin panel. You can also enable / disable them.
Users can easily Opt Out configure their settings on the website of respective service provider.

Request Archive

There is an easily accessible form to perform Subject Access Request. This is required to allow users to provide a way using which they can request you to provide all the data that you possess on them.

Unsubscribe

You might be sending emails to your users via various mailing services, so using this form they can easily request you to remove them from all the mailing lists.

Forget Me

Easily accessible form for the users of your site to request deletion and erasure of all the stored data.
SocialEngine already has Delete option for each user which you can use to take action.
Integration with SocialEngine Mail Templates: This plugin is seamlessly integrated with the SocialEngine's mailing system. Admins will receive an email as soon as new Consent request is made by the users of the website.
Widgets
Privacy Center: This widget displays the options for requesting and changing settings for their Privacy consents given on your website. This widget should be placed on the "SES – Privacy Center Page".
Cookies & Privacy Policy Consent: This widget displays the options to accept the cookies consent and withdraw the cookies consent on your website. This widget should be placed on the "SES – Privacy Center Page" or privacy policy page of your website.
Cookies Banner: This widget displays the Cookies banner which you have configured from the admin panel of this widget. This widget should be placed in the Header of your website.
Admin Panel
Consents Choice

You can choose which all consents do you want to enable on your website easily from the admin panel of your website.

Display Privacy Policy in Popup

You can choose to display the Privacy Policy of your website in popup until user has given consent. You can also choose to make this mandatory to be accepted to view your site.

Cookies Settings

You can configure Cookie Consent Banner settings easily from admin panel:

Banner Text
Banner Design Template
Banner Options
Banner Background, Text and Link colors

DPO Requests

You can easily manage all DPO requests from the admin panel.
You can also enter the comma separated emails of all the DPOs of your website so that they receive the emails whenever users make this request on your site.

Privacy Settings

You can easily add and manage 3rd party services which you use on your website like Facebook, Youtube, Vimeo, Twitter, etc.
Since different plugins provide different features, so this section will help you easily enter new services as needed.

Subject Access Requests

Users on your website can request you to provide all their data. With this plugin you can easily manage those requests in the admin panel of your website.
You can reply, add note or delete the request from admin panel only.

Unsubscribe

You can easily find and manage the subscription requests from all mailing lists made by the users on your website.

Forget Users

Users can request your to erase and delete them from your website and you can easily find and manage all these requests in the admin panel of this plugin.

Audit Log

This is very important feature of this plugin if you want to show the consent and request made by any specific user on your website.
If a non-logged in user request from any consent form, then you can see that also.
Lifetime Upgrades with 90 Days Free Support
Get free upgrades lifetime for this plugin and free support for first 90 days of your purchase.