"Live news teaches you some incredibly strong lessons: that every day is a new day, and it's never too late to fix something". Similarly, this News / RSS Importer & Aggregator Plugin will keeps you updated everyday, everytime. As this plugin provides you with some advanced features like you can create news with custom publish date, continue reading option, locations, multiple photos upload, reviews, etc. and also you can add RSS links which will help you to fetch many latest news at a single time and also your users can subscribe these RSS news for which they will get the timely updates.
News / RSS Importer & Aggregator Plugin provides you with unique and attractive views of news which will enable you to highlight and showcase your news easily on your website. Here, you can create the news in different categories according to the interests of your users which will help them to get the latest news of their interests.
Unlimited News and RSS Importing
By using this plugin, you can create unlimited News and RSS and if you want to limit the creation of news and rss according to different member levels then you can change it from the Member Level Settings also.
Member Level Settings is divided into two parts, one is for News and one is for RSS and according to your requirements you can change various settings for both separately.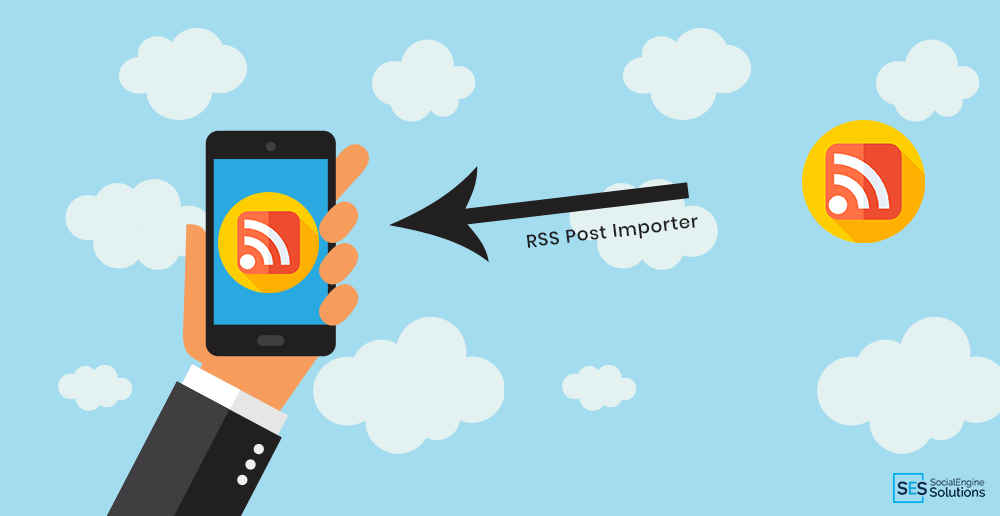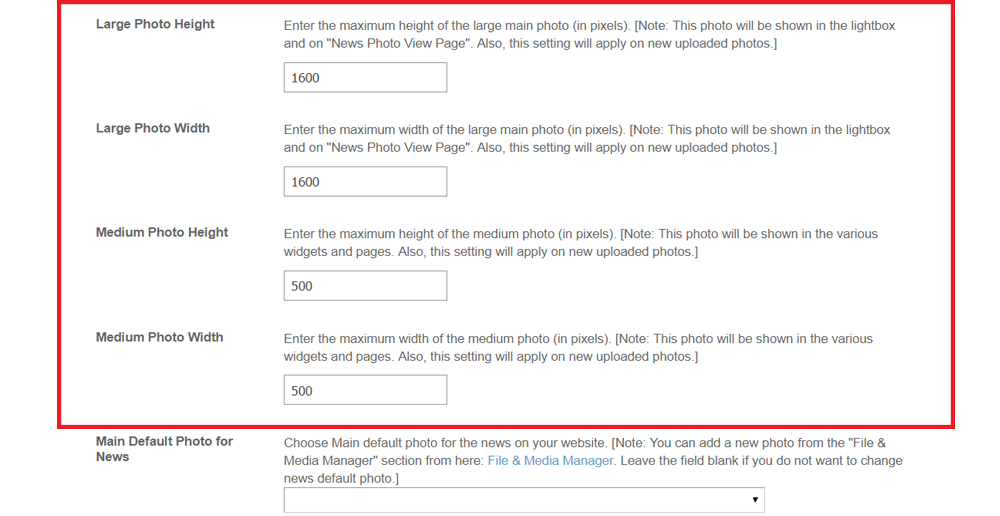 Configurable Dimensions for News Photos
Admin can configure the Height and Width for the Large photo of the News which is shown at the various places like in the lightbox and in "News Photo View Page".
Admin can manage the height and width of Medium Photos also which is shown at various widgets and pages of this plugin.
RSS Settings & Subscription
Using this plugin, you can configure various settings for the RSS from the Admin Panel.
You can enable / disable the RSS News and for this you have to get the Mercury Web Parser API Key.
If you allow your users to Subscribe the RSS news then they can subscribe the RSS and gets the latest updates everytime related to the News they are subscribed to.
You can enter the number of news to be fetched from the RSS at a single time.
Cron Job Schedule is used to fetch the news from the RSS after the entered number of days.
You can set the days for the removal of old news from the same settings.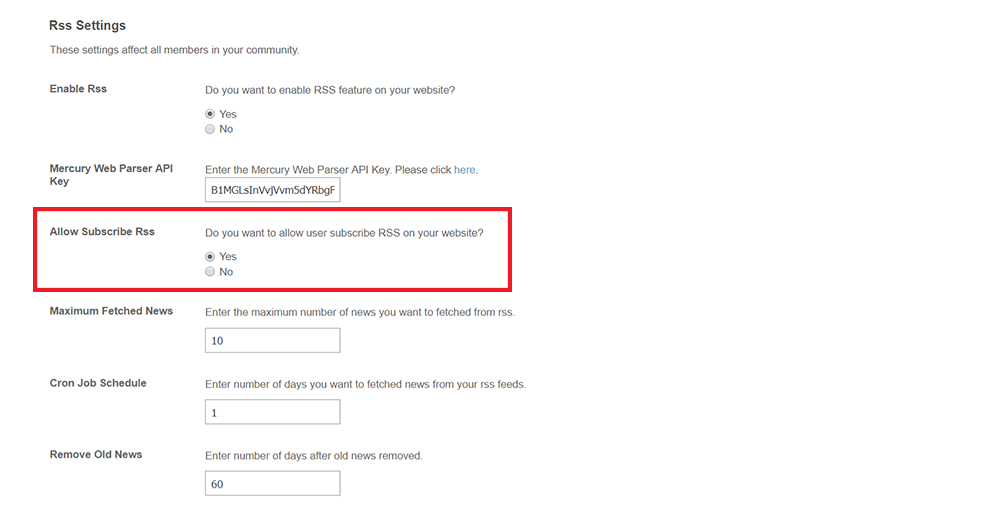 4 Attractive Profile Designs
Users can choose different Profile Design views for the News Profile Page from a choice of 4 designs.
These Different widgetized pages will make news to be appeared more attractively on your website.
Users can choose designs for their news from create and edit news pages.
Admin can enable / disable this feature if required from the Admin panel of this Plugin.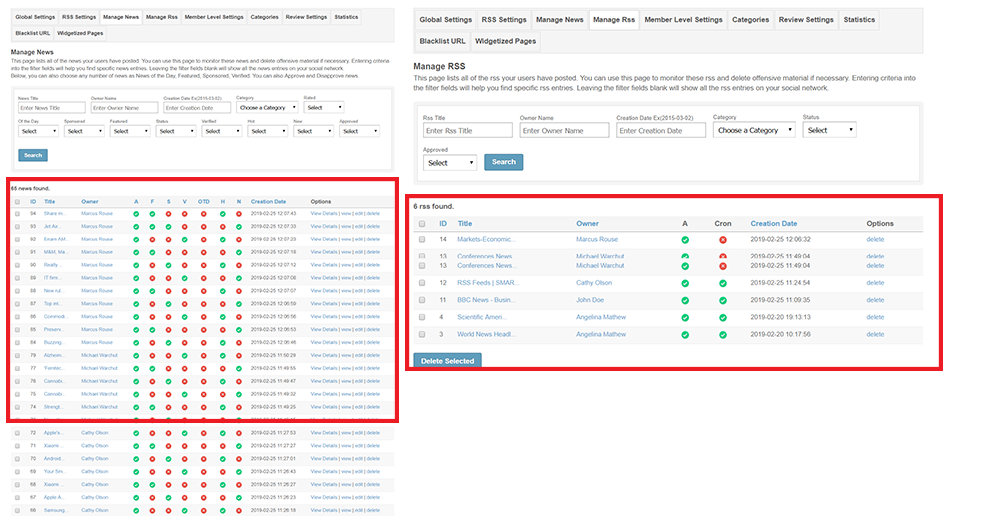 Manage News and RSS
These are two different pages which are managed by the Admin from the Admin Panel.
These pages lists all the News and RSS created by the Users. Admin can manage these pages and can delete the offensive ones.
From these pages, Admin can also mark any News as Featured, Sponsored, Hot, New, Verified or Of the Day.
News Categories & Custom Field
Admins can create Parent categories, 2nd-level categories and 3rd-level categories for News which allows you to easily categorize News into various Categories, 2nd-level categories and 3rd-level categories of your choice.
Categories can have Icon, Thumbnails, Description, Own Category Slug.
You can create, add or remove the unlimited number of Custom Fields from the Form Questions section in Admin Panel.
When you map the created custom fields with any category then on the creation of any news in that category will ask the same fields and will display it on the 'News Profile Page'.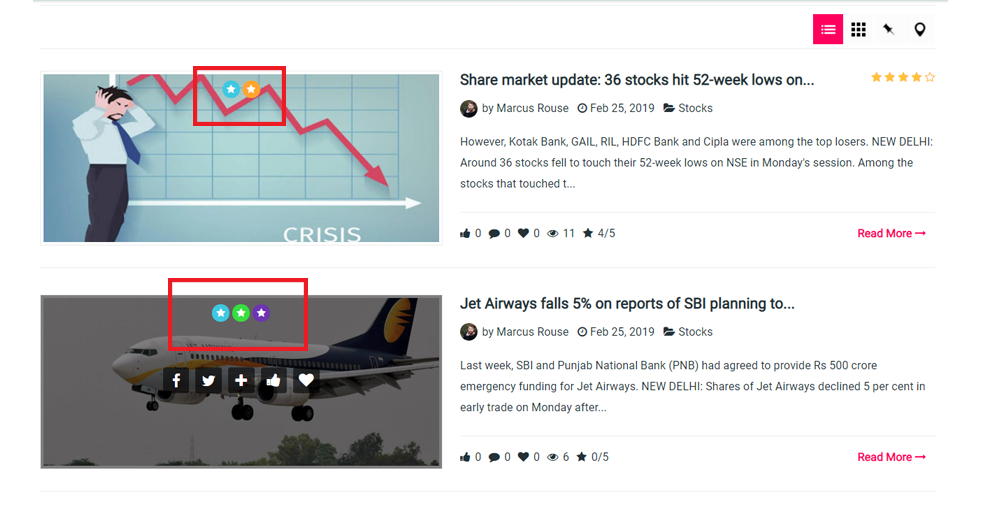 3 News Labels
3 labels can be displayed on your website for the news like Featured, Sponsored and Verified.
These labels are decided by the Admin and help users to make their news more popular through these labels and this will help other users to get the best news and hence increase the visibility of news on your website.
Review and Ratings
Members can give review and rate for News.
Various Settings can be enabled / disabled for reviews for his own news.
While creating any review for the news, you can give Pros and Cons, Description and Recommended Option.
Reviews can be Shared and Reported.
Rating Parameters can be added based on categories.
Reviews can also be marked Featured, Verified and Of the Day from Admin Panel.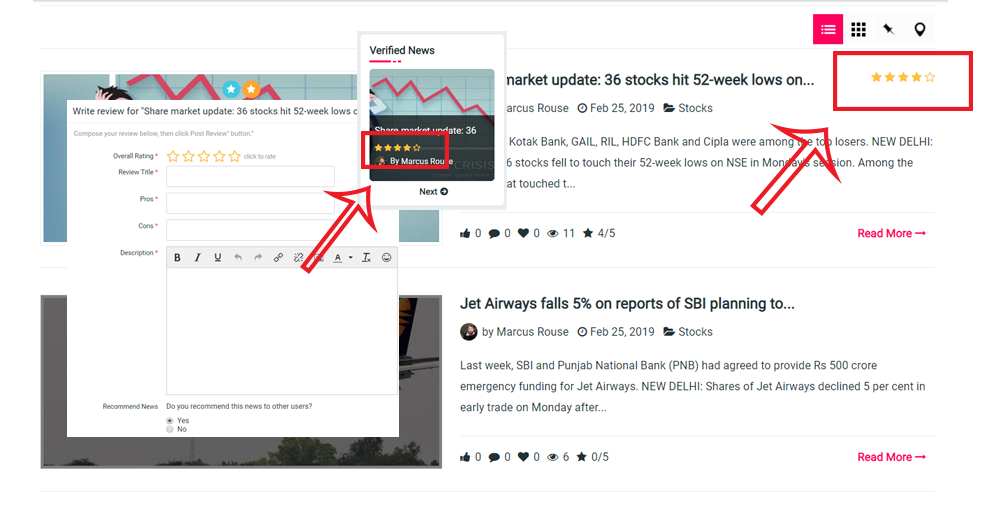 Locations & Location Cluster
Users can choose to associate Locations with their News.
They can enter address for their news.
They can choose Time zone for their news.
Filtering of news over these locations is available in News Search widgets.
The searched news are displayed in attractive location cluster.
When there is more than 1 news for same location, then this cluster is formed and is opened very nicely in circular format.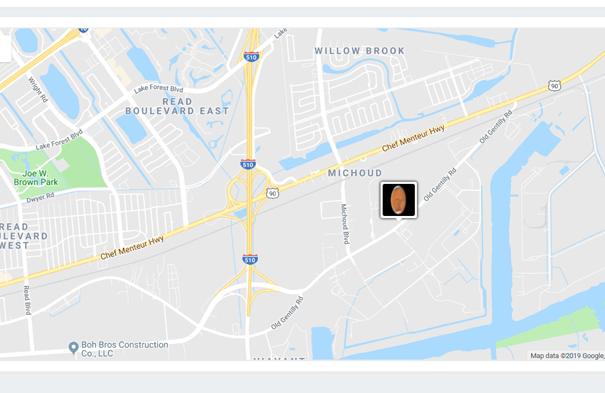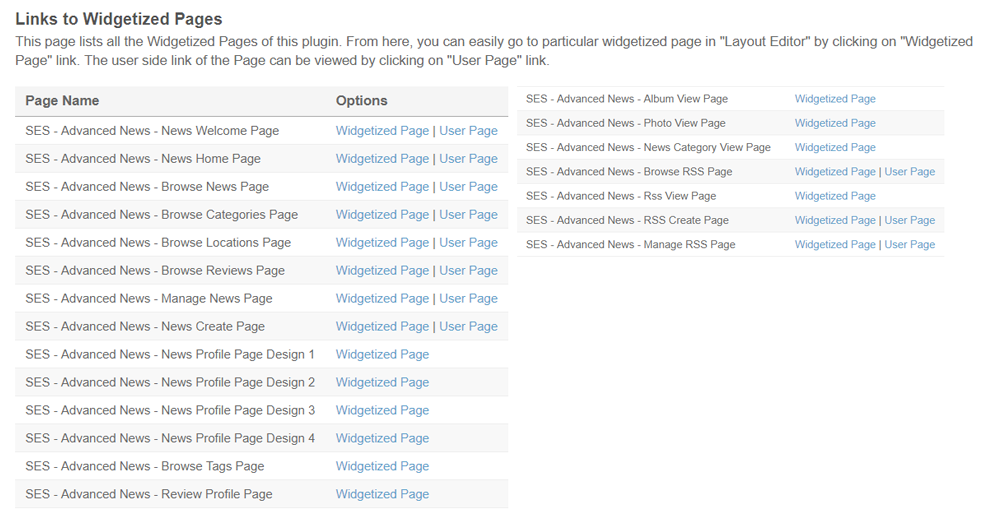 Widgetized Pages
This plugin has many widgetized pages which will help you to create your News, RSS, will help you to see the content in various attractive views, slideshows, etc. With the help of these widgetized pages Admin can configure these pages as per choice from the layout editor in admin panel.
100% Responsive
The plugin is 100% responsive. Automatically adapts to any devices
(Mobile phone, tablet and desktop). You can take full control of the
color scheme and designing of slides with our powerful yet easy-to-use
admin panel of this plugin from setting to styling.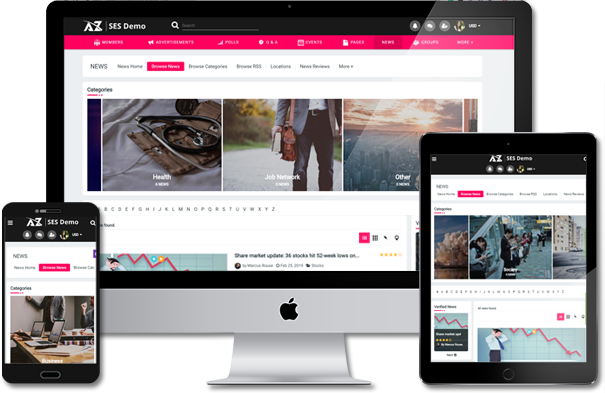 1 Click Install & Easy To Setup
This plugin can be easily installed with 1 click and can be easily
configured. Helpful Video Tutorials, Installation Tutorial and FAQs for
this plugin will make it more easy for you to setup and allow your users
to send birthday wishes to their friends very easily.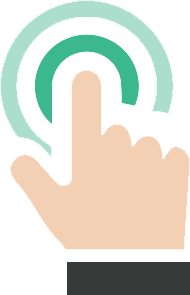 90 Days Free Support
Get free upgrades lifetime for this plugin and free support for first 90 days of your purchase.