Today, everything is based on representation that how we present the things to anyone and then it will decides the value for it. Similarly, this thing happens for websites also more attractive the website is more users will come on it. So, Advanced Banner Plugin is one of them through which you can make your website more attractive. As this plugin has some features like Unlimited Slides with Background Images, Captions, Descriptions, Slides Overlay Color & Opacity with 30 Overlay Patterns, highly configurable 2 CTA buttons etc. and you can use different banners on multiple pages as everything can be enabled / disabled and configured from the admin panel only.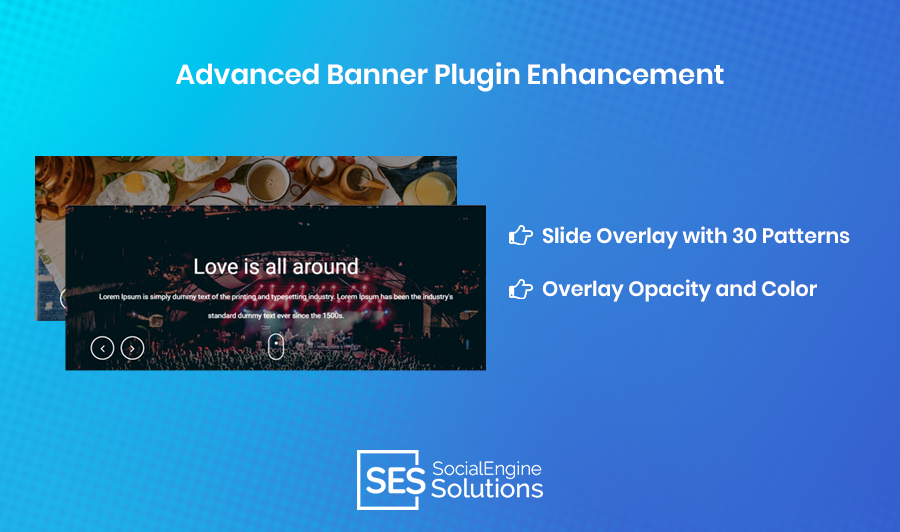 So to make your banners more attractive and highly-configurable, we have introduced a new feature in it. And we're glad to bring new enhancement in our Advanced Banner Plugin which will help you to make your banners more attractive and eye-catching. So have a look over the upgraded feature below:
Slide Overlay with 30 Patterns:

For each Slide in Banner you can now choose

any pattern from the available 30 Patterns from the Admin Panel

. You can choose the Opacity for the selected pattern.

Overlay Opacity and Color:

For each slides you can choose to enable Overlay, and for the overlay you can choose

to change the opacity and color of slide according to the slide.
With these custom settings, you can make slide images too much appealing to your users as the texts will be beautifully displayed if background images have overlay. When texts on slide needs to be impactful, then this setting will come for your rescue.
Purchase Plugin Now Send Upgrade Request **
** If you do not have a support subscription plan, you can subscribe your suitable plan from here: https://www.socialenginesolutions.com/support-mobile-apps-subscriptions.
To stay tuned to our latest updates
Follow us on Twitter, Like us on Facebook, Subscribe our Newsletter
For urgent issues reach out to us at:
+91-9950682999 | vaibhav.sesolution