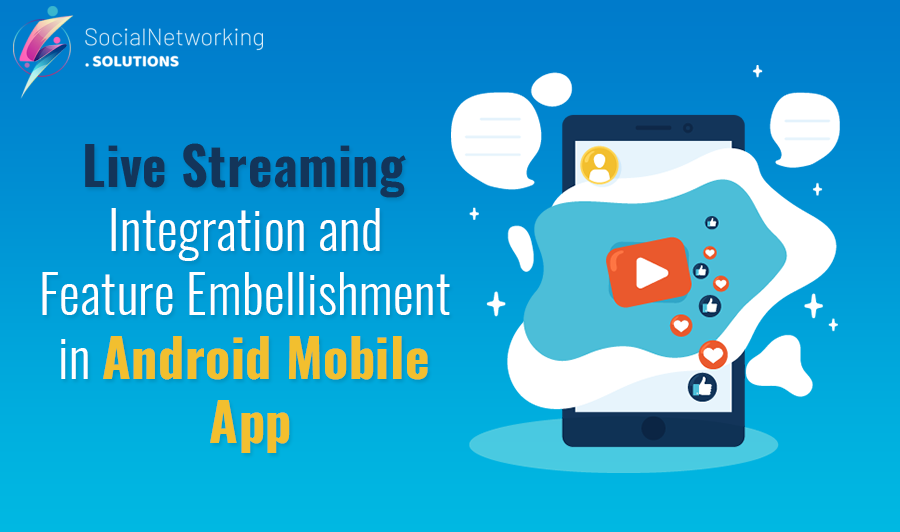 Today, the availability of Mobile Apps is in great demand such that it produces a noticeable change in the way humans feel and experience computing. The importance of mobile phones in our everyday life and activities is undeniably unending. On a daily basis individuals seek for updated versions of the apps. Therefore, we are also doing the same & we have integrated our many plugins with the Native Android Mobile App so that users can excess these plugins on their Mobile Phones easily with the updated versions.
So by keeping this in mind, we always do timely upgrades & enhancements in our mobile apps which make them run smoothly besides lets you stay abreast. We have improvised our Native Android Mobile App & to make it more user friendly and rich in features we have recently upgraded our android app which will bring a lot of new experiences and enhancements in it.
Let's have a look over the upgrades & enhancements done in our app:
Live Streaming Plugin is now integrated in the Android Mobile App with various functionality which will help your users to start their Live sessions and connect with friends to share the experience. Users can share their experiences even after ending the Live Sessions by sharing them in Stories and Activity Feeds or they can save videos in their Gallery also.
There are many interesting and exciting benefits of Live Streaming Plugin & few of them are listed below:

Users can Go Live and connect more people to share their experiences.
They can Comment and give Reactions when Live session is going on.
Users can share their Live Video at various places like in Activity Feed, Stories.

Few Bugs Fixes
See our latest updated App where we have done few bugs fixes also to give you the better Experience:

You can now Report feeds in activities feeds, if you find them inappropriate.
Hashtag functionality is fixed:
~ When you click on Hashtags from the Activity Feeds then it will open the feeds related to the hashtag only.
Alert for Activity Feed, Friend Request, Notifications.
~ When you get any new Feed, Request, Notifications then, it will show the Alerts for the same.
Uploading Video in Activity Feed from the Device is fixed.
And a few more minor bugs has been fixed.
** Live Streaming through Video Extension in Page Directories, Business Directories and Group Communities is coming soon!! **
To stay tuned to our latest updates
Follow us on Twitter, Like us on Facebook, Subscribe our Newsletter
For urgent issues reach out to us at:
+91-9950682999 | vaibhav.sesolution