We are glad to share with you all that we recently released our most awaited feature "Live Streaming" in Native Android App which helps users to start their Live sessions and connect with their friends anytime anywhere & share their experiences. To add more fun & engagement in your mobile app, you can add this exclusive feature very easily.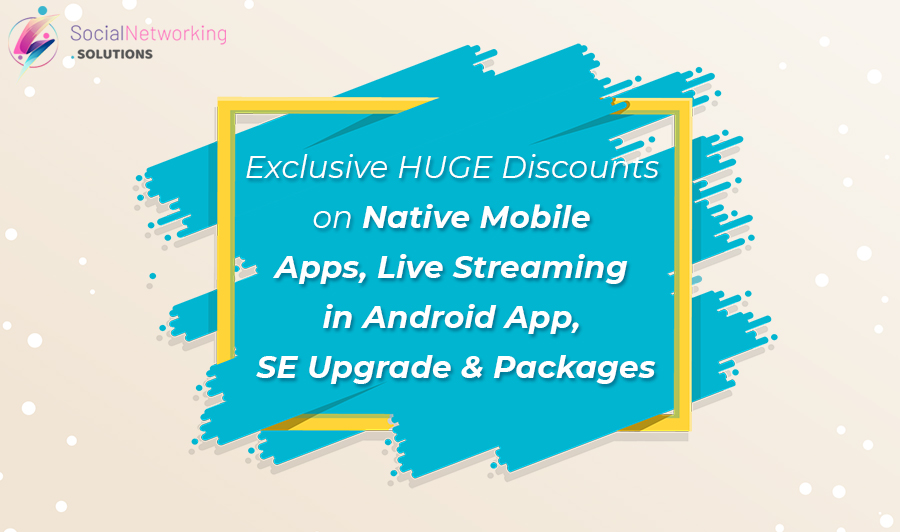 So on behalf of this great enhancement, we would like to offer below discounts till 30th September, 2019:
Flat 50% Off on both Native Mobile Apps
Flat 20% Off on Live Streaming
Flat 60% Off on Upgrade to SocialEngine PHP 4.10.5 without Losing Custom Work
In addition to the above HUGE discounts, we're glad to offer below discount for new SocialEngine purchases. These discounts will be applicable on any Plugin, Theme or Bulk Deal.
50% Off on purchase of SE Advanced
40% Off on purchase of SE Musical
30% Off on purchase of SE Essential
** To claim this discount, kindly send us the invoice on email sales@socialnetworking.solutions . Invoices till 30th September, 2019 will be considered.
Hurry Up!
Offer valid till 30th September, 2019 only.
To stay tuned to our latest updates
Follow us on Twitter, Like us on Facebook, Subscribe our Newsletter
For urgent issues reach out to us at:
+91-9950682999 | vaibhav.sesolution