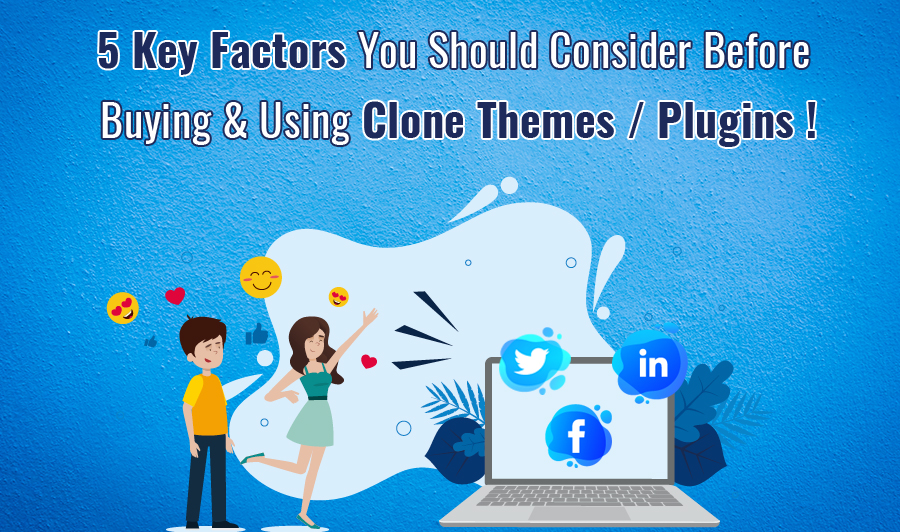 Are you using "Clone Scripts" on your website? Do you know what you should consider before using the same on your website? If not, then in this blog post we would like to draw your attention towards the key factors you should consider before buying & using clone themes on your website.
These key factors which help your online brand identity to get in danger if you use such clone scripts on your website. We do not recommend you to use the clone scripts without knowing the proper legalities of copyright issues which may cause danger to your online brand identity. To sum up the legalities of copying a website design, we have come up with the top 5 key factors – legalities which you all should know if you are using clone scripts on your website.
We follow these legalities while developing our clone scripts to give you similar but not exactly the same copied scripts by replicating the 'feel' of a website without copying any of the copyrighted elements.
Duplicate Source Code: All Social Media communities such as Facebook, Linkedin, Twitter etc. have their legal policies, constraints & copyrights which if not followed properly can cause a great harm to your online brand & duplicating the source code is one of them. The clone scripts created by us are free from copied source code which you can examine by doing inspect element over the script element on our demo sites.
a. Facebook Clone: https://fbclonetheme.socialnetworking.solutions/
b. Twitter Clone: https://twittertheme.socialnetworking.solutions/
c. LinkedIn Clone: https://linkedintheme.socialnetworking.solutions/
Work Title & Logo: Title & Logo are the unique elements which are always identical & recognizes the originality of any brand. There are so many principles for concerning the privacy of these elements. No one wants to get them copied which they have created with their own mind, skills & creativity. So we always take care of this while creating our clone scripts / themes such that it may not harm your brand due to illegal issues.
Same Icons: Somehow it's also illegal to copy Icons for making clone scripts as they reveal the originality of any reputed brand / Company. So we have developed our Clone Scripts with this perspective of mind with different & unique icons to remove misunderstanding between original & clone.
Duplicate Taglines: Text is the crucial part of any website which if copied can change the whole game. It simply signifies the purpose of any community / website and its services. So the text which we have used for our clone scripts are always different based on our own ideas & imagination. You can check on our clone script demos also.
Same Designs: Designs plays a major role in convincing the visitors to stay longer on your site & emphasis them to navigate more. Designs can resemble but cannot be the same as original as it is against the violation of copyright policies & patent laws. But if designs for clone scripts/theme are exactly the same, then unfortunately it can cause a great harm to your brand & you yourself will be responsible. So to protect you from such danger, our designers always come up with the new, attractive & fresh designs which gives somewhat similar look & feel to your website but in a different way.
We hope this blog post will answer your questions that why our clone scripts are not the exact as the original websites. For any other information about our clone themes, or any other product, please contact our team at sales@socialnetworking.solutions and we would be glad to assist you at our best.

To stay tuned to our latest updates
Follow us on Twitter, Like us on Facebook, Subscribe our Newsletter
For urgent issues reach out to us at:
+91-9950682999 | vaibhav.sesolution