Digital technologies and social media have created new avenues for assisting others and supporting communities, donating funds to new ventures and products, and raising awareness of causes. If you are thinking of creating a crowdfunding website, then you should look for an effective plugin amongst available crowdfunding plugins provided by SocialEngine 3rd party developers. We, at SocialNetworking.Solutions are experts in application development and providing PHP SocialEngine solutions.
When done correctly, crowdfunding provides numerous benefits to your business idea, ranging from a few hundred dollars to a few million dollars. This concept has been around long before the internet, e.g., benefit events, but digital technologies have opened up the playing field. It is asking for voluntary financial contributions over the internet for a specific goal or purpose.
What is a crowdfunding community / website?
It is a type of crowdsourcing in which people volunteer to participate in an activity. Anyone with no technical knowledge or money can ask for funds. And, similarly, anyone who can pay for something online can support a project or donate money to someone.
Crowdfunding is a method of collecting money from a large group of people. Large groups of people pool small individual investments to provide the capital needed to start a business or project. Campaigns for specific causes can be launched by individuals, charities, or businesses, and anyone can contribute.
Essential features of the crowdfunding community apps:
If you want to run effective fundraising campaigns on your website, you'll need a crowdfunding platform or community app first, that can keep up with your requirements, like:
1. Accepting multiple currencies:
At its most basic, accepting multiple currencies provides a competitive advantage over other websites that do not. Accepting major currencies, as well as a variety of others, will help you attract more fund raisers and contributors. You will also gain public trust by demonstrating your website's capability to accept support from other currencies.
2. Easily track campaign progress:
The concept of the progress meter is simple: it's a graphic that shows how close something is to being completed. The pleasure we derive from such a reward is a result of our societal mindset. We prefer to complete things rather than leave them incomplete. So, the plugin you choose should have this feature of displaying campaign progress.
3. Sharing on social networks to expand your reach
One of the most difficult aspects of crowdfunding is finding the right crowd, and crowdfunding plugins can help you with engagement on your site. People are easy to find, but finding people who care about what is being done on your site is difficult. The best way to expand your reach is through social media. Fundraisers that are shared on social networks raise up to three times more money, so give your users the option of sharing their campaigns on social media.
Create a crowdfunding website with the SocialEngine crowdfunding plugin:
"The Crowdfunding Plugins" can aid in the raising of funds and the creation of some of the most successful projects on your site. With the help of best crowdfunding plugin for SocialEngine, you get almost all the functionality that you will need to create crowdfunding campaigns on your website and get donations for needy ones.
Our SocialEngine crowdfunding plugin has a very robust and feature-rich dashboard. You can easily configure it from the Admin panel of your site. All the features can also be made available based on the member levels. The Dashboard consists of managing crowdfunding, promotions, descriptions, payment and settings, duration, and reports. All these sections are explained below:
1. Set description
With the short and long descriptions, fundraisers can express their ideas and views through text, which is the reason behind raising funds via crowdfunding. This section will assist in increasing the effectiveness of crowdfunding. It will show the fundraiser's inspiration and motivation for creating crowdfunding.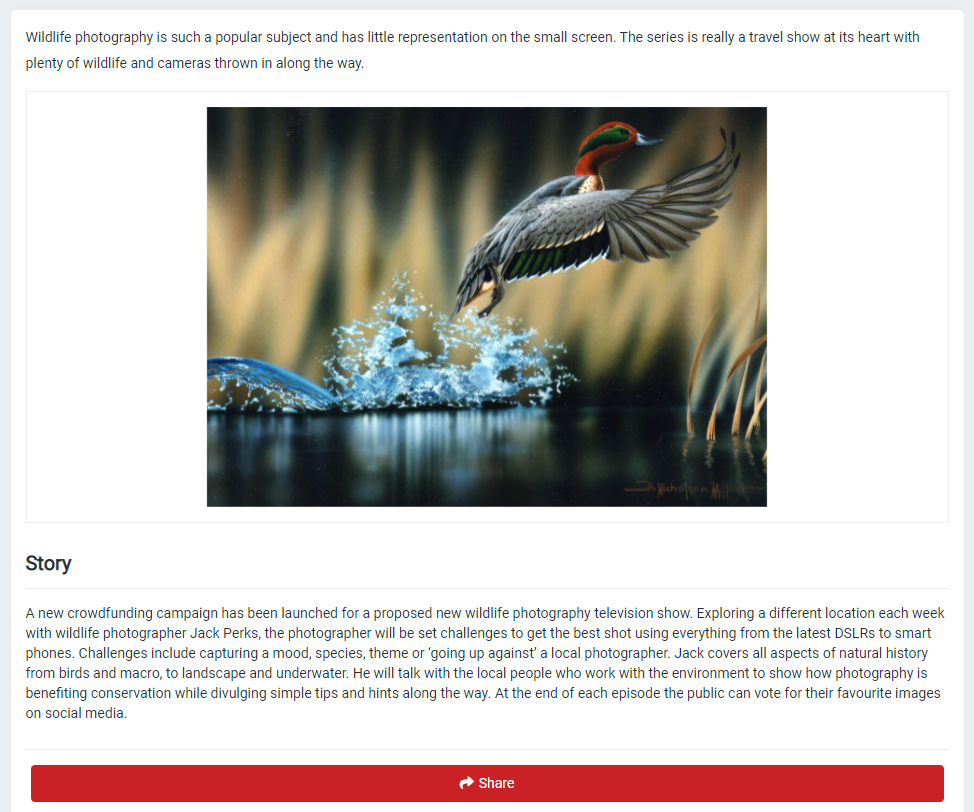 2. Payments and rewards settings
All the settings related to payment and rewards can be managed from the payments and settings section. You can check under the dashboard of the crowdfunding by viewing donors such as donor name with the amount donated, order date, and ID.
Details of the payment can be entered by the fundraiser for the crowdfunding under this section. By setting up all the details, the fundraiser can accept donations from the donors.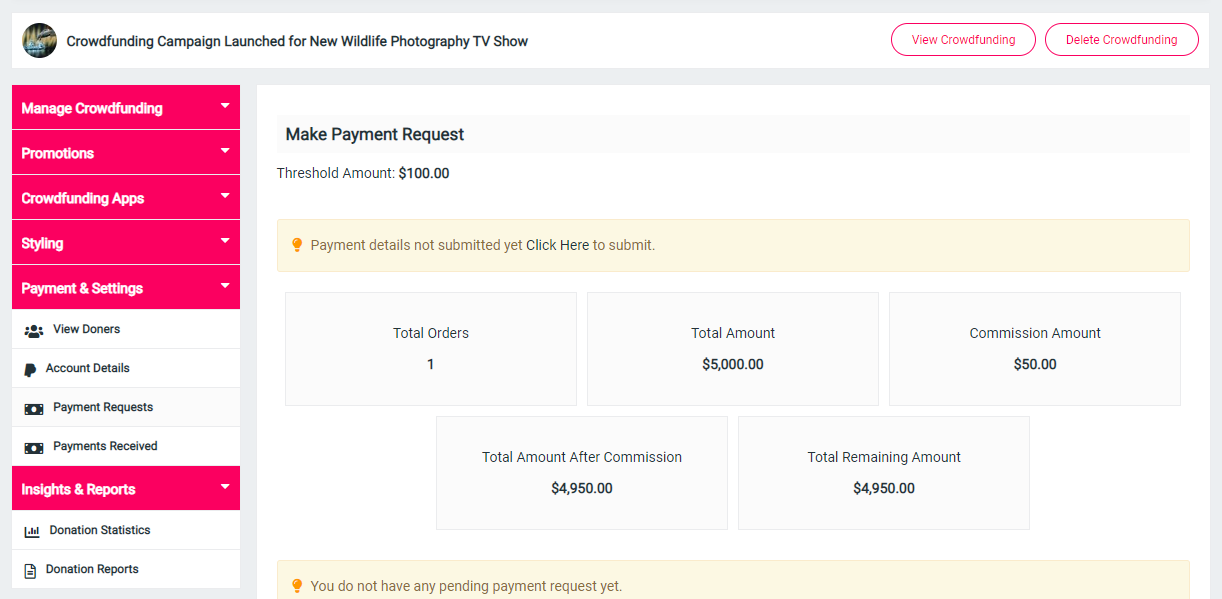 3. Manage Donation Orders
From here, the admin can manage all the donation orders with the respective details of the donors, such as name, amount, and order ID. Crowdfunding owners can set a specific goal amount per the requirements during its creation. This goal amount will be visible to the donors and other crowdsourcing viewers on various widgetized pages of this SocialEngine plugin.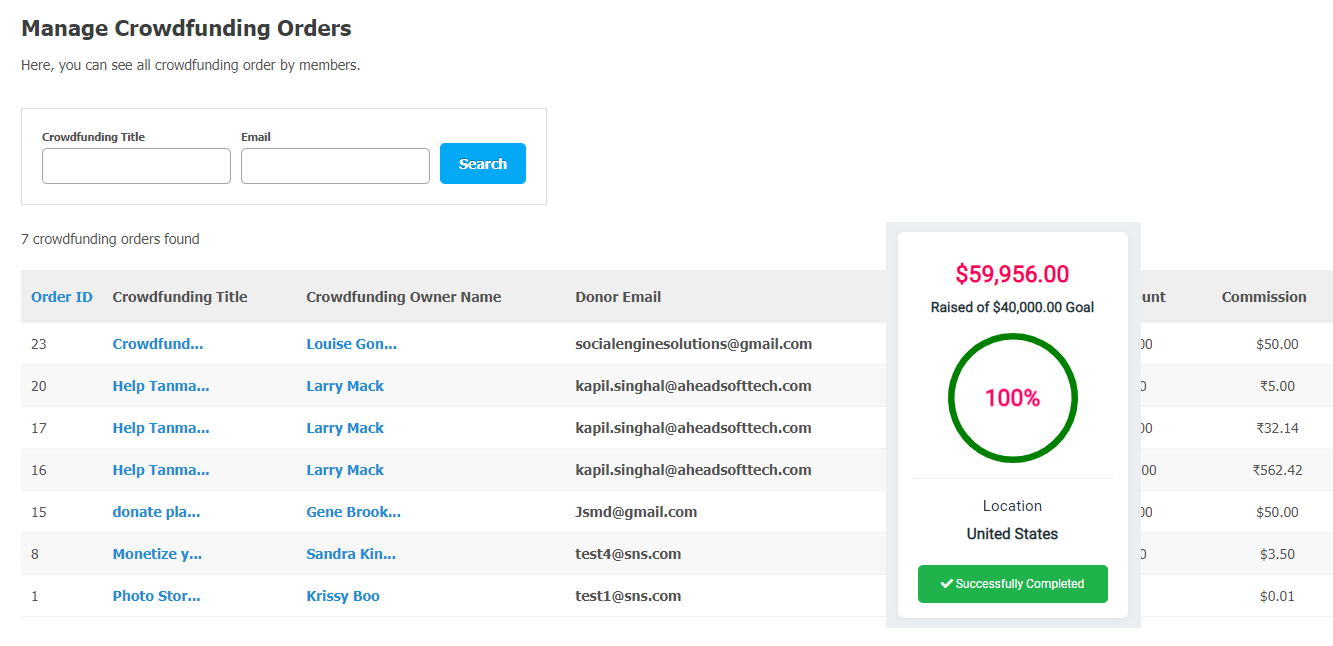 4. Manage the crowdfunding section.
Fundraisers can edit their profiles and configure various features from the Manage Crowdfunding section. The details include the owner's name, photo, and email ID. The Admin can view, edit, and delete any specific crowdfunding with its details at any time. These campaigns can be marked as featured, sponsored, verified, or of the day according to the choice and requirements.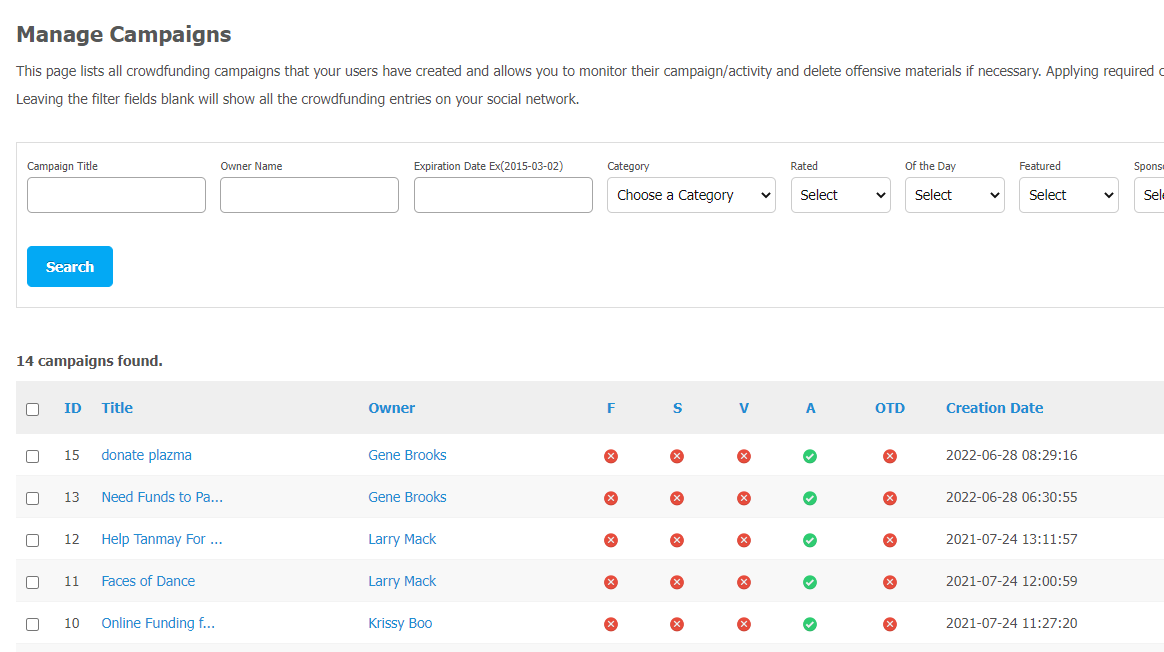 5. Set a duration for the donation
Fundraisers are allowed to set a custom duration for the crowdsourcing campaign on their website. This duration can be unlimited or the crowdfunding owner needs to enter the expiration date for the limited duration. This customized duration will be displayed to the other site users and visitors who are interested in donating to crowdfunding.

6. Promote the page
In this section of the crowdfunding plugin, fundraisers can customize the promotional settings. The settings contain everything related to advertising, managing crowdfunding, and the rewards that donors will get when they submit enough amounts to the fundraiser.
The site share option enables users to easily and quickly share crowdfunding campaigns on your site, thus increasing user engagement on your site.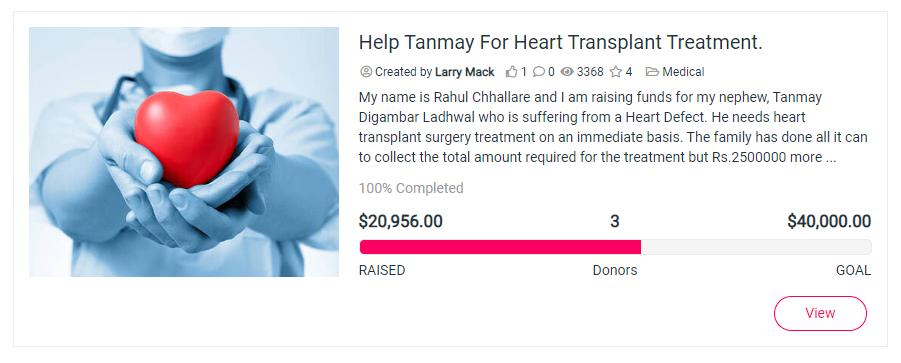 7. Statistics for crowdfunding
This section will show the statistics report for this plugin's various aspects, such as total crowdfunding, featured crowdfunding, albums, photos, and reviews. From the FAQ section, the admin can also write to the crowdfunding users and donors, which can be beneficial for them if they find any queries while using this plugin.

How the SocialEngine crowdfunding plugin can help you to build a crowdfunding website?
All our SocialEngine plugins are reliable and secure to provide your users with a seamless experience while building your website. The crowdfunding plugin allows you to create as many campaigns as you want on your site and easily manage currency and transactions. Duplicate data will not be created on your website as a result of this integration, and users can easily create crowdfunding campaigns on your website without uploading the same content repeatedly.
This plugin is also compatible with Android and iOS mobile apps to assist you in reaching the right and a large number of donors more easily and simplifying the fundraising process.
Wrap up:
With the help of social networking app development solutions, you can create a crowdfunding community using the famous crowdfunding plugin, which is closely and seamlessly integrated with other plugins to provide your users with the ability to create as many crowds on your site and manage currency and transactions easily. The Crowdfunding Plugins come with highly configurable widgetized pages, with the help of which the site admin can set up pages with different widgets of their choice.
GET CONNECTED WITH US !!!
To boost up the relationship between Experts & Clients, SocialEngine has introduced a new section within their community. So, to stay updated with our New releases, Upgrades & Exciting Offers, please join our SocialNetworking.Solutions Group on SocialEngine Community (after signup).
To stay tuned to our latest updates
Follow us on Twitter, Like us on Facebook, Subscribe our Newsletter
For urgent issues reach out to us at:
+91-9950682999 | vaibhav.sesolution