ABOUT FACEBOOK THEME
With Professional Facebook Theme Give your SE based website a complete Facebook Style Look.
Facebook is the largest social networking site in the world, with 750+ million active users as of July 2011 and this Advanced Facebook Style Theme is one of its kind which will give a new and interesting Facebook look to your SocialEngine based website.
The Vertically placed main menu of this theme to provide beautiful look to your website and easy access to your members made this theme best suitable for your website.
Beautiful Header and Very Awesome Activity Feed.
It's fast & simple theme providing beautiful touch and awesomeness of Facebook.
Key features
100% Responsive

This theme is 100% responsive which automatically adapts the screen size of any device like Mobile Phones, tablets and desktops.

Clean Design

The very clean, attractive & modern design of this theme is surely going to attract people who are fond of Facebook and we all know they are in millions.

Interesting Concept

Concept of this theme is based upon the highlights of the facebook majorly. All the little things like icons and buttons are customized like that.

Easy Setup

It is Very easy to set up this theme on your website as No Coding Knowledge required.

Customized Dashboard

The dashboard consisting of various options like events, forums, groups and many more things, for providing easy access to your users is completely customizable from admin panel.

Quick Login & Signup

For providing quick login to your members this theme also supports login using Facebook and Twitter accounts which will save a lot of time of your users.

Attractive Landing Page

The very attractive landing page of this theme is surely going to give a complete feel of facebook to your users that they might get confused for a while that they are on facebook.

Member Profile

Members can easily view and edit their profile either from left menu or header.

Icons and Fonts

We have used Font Awesome Icons in this theme which will make your website lighter to load.

Main Menu Opening Effects

In Vertical Placement of Main Menu the awesome Slide and Overlay Opening Effects will make your website more beautiful.

Global Search

Global Search in Header works for all modules installed on your website helps your members to find things more easily.

Activity feeds

All the buttons and icons in activity feed have been modified in a new look just like Facebook.

Beautifully Designed Header

Login option in the header of the landing page just like facebook encourage the users to quickly and easily login / signup on your SocialEngine based website.
COLOR SCHEMES
Professional Facebook Theme comes with 3 pre-built Color Schemes.
Existing Color Schemes can be easily customized. You can even make your own new color scheme.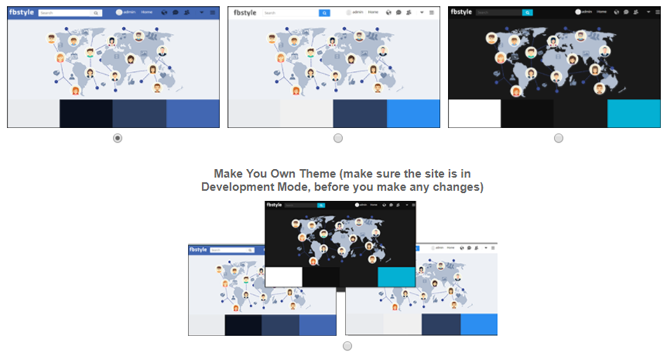 Take a look at our Live Preview.
Highlights
Integration with Various Modules
Facebook Style Theme supports official plugins by SocialEngine and all 3rd party plugins which are developed following SE standards.
New Sidebar Main Menu
Now the dashboard menu items like events, forums, groups etc. of the website are not just limited to a single section now you can place the main menu on any Widgetized page according to your requirement.
Fully Responsive Design
To make your website look amazing on any device, this Theme is made responsive with a Fluid Grid System with which your SocialEngine website automatically adapts any device of any size including tablets, smartphones and desktops etc.
Custom CSS
Being an admin you can easily mention theme custom works in the Custom CSS section in the admin panel of this widget.
The custom work saved here will not be lost during theme upgrade.
For this theme, you do not have to mention the changes in the theme.css file.
Advanced Header
For Vertical Header Sidebar panel, Main Menu Opening effect are of two types
~ Slide Effect
~ Overlay Effect
Search box with AJAX based searching enabled for various modules installed on your website.
Search is also available in the vertical menu in sidebar to increase the usability of this theme.
Attractive Dashboard
Categories like Explore and Create are built.
Under various categories, menu items are built with attractive icons.
The outlook of the Dashboard makes the website just like Facebook.
This theme is a better way for actors, musicians, journalists and other influencers to stay in touch with their followers and the people and things they care about on Facebook.
This Facebook Theme provides a great feature of highlighting your module with attractive image on the landing page. This feature can be used to get highlighted in very attractive manner.
Miscellaneous
Easy Download, and one click installation.
FREE Lifetime Updates!
Right-to-Left Language Support
Works and looks absolutely perfect with all the official SocialEngine plugins and any other 3rd party plugins with SocialEngine standards.
Tested and works well with all modern browsers.
Best coding practices and techniques used for styling using CSS3.
Free 90 days Support.
and a lot more!
Administration
Header logo can be changed and placed by the admin.
Sidebar Dashboard is totally under admin control
~ Icons of the links can be added and changed.
~ Admin can enable / disable / edit / delete the links.
~ Admin can place menu items under various categories.
Admin can manage Vertical Header as well
~ Admin can choose any of the sliding effect from Slide and Overlay effects.
~ Admin can choose to show footer in the vertical menu section.
Image and description on the Landing Page can be changed from its widget by admin.
Admin can customize theme without worrying about losing changes in upgrade in Custom CSS section of this theme.