LinkedIn is a social network for professionals as it connects millions of professionals worldwide. It has helped millions of professionals open the door of new opportunities! It's like Facebook for your career. Whether you're a marketing executive, a business owner or even a first year college student looking for their first job after graduating, LinkedIn is for anybody and everybody who's interested in taking their professional life more seriously by looking for new opportunities to grow their careers and to connect with other professionals.
So do you also want to build up your own Linkedin type Social Network and want the same look & feel for your website like it, then our Professional Linkedin Clone Theme will help you to build a successful customized social network for professionals with the various customizations such as for Header, Footer, Login/Signup Popups, Mini Menu, Color Schemes (for Header, Footer, Body, Landing Page etc.). You can also choose Vertical Sidebar Opening Effects for the header which will give a more professional look to your website. Also this theme provides you full control over every element placed on the Attractive Landing Page which site owner can easily configure from the widgets in Layout Editor.
Note: This theme is 100% responsive and compatible with all 3rd party plugins which are developed following SE standards.
Attractive Landing Page
The very attractive and professional looking landing page of this theme is surely going to give a complete feel of Linkedin to your users that they might get confused for a while. Settings for every element placed on the Landing Page such as Image, heading text, description for the Banner, Landing Page Features, Categories, Member jobs etc. can be easily configured from the Widgets in Layout Editor.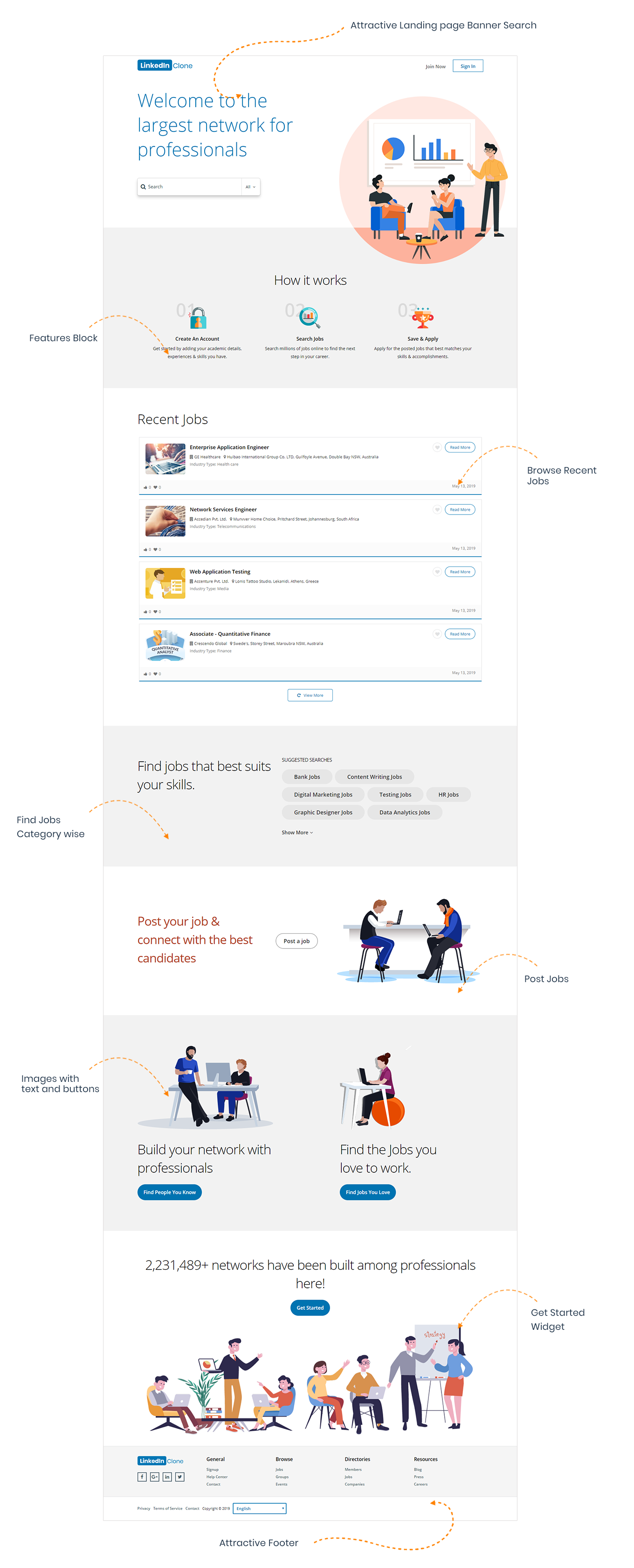 Highly Configurable Header
Header decides the overall quality & look of your website. It is the first thing that every website visitor notices. You can transform the look of your website by enabling various settings for the header of this theme from the Admin Panel.
You can choose Header Logo, Vertical Sidebar Opening Effects, Header Options to Logged-in / Non Logged-in members, Footer in Vertical Sidebar from the Admin Panel which will enhance the header and make it look more professional.

2 Pre Configured Light & Dark Color Schemes
One click and easy to choose theme colors from the available 2 Pre Configured color schemes categorized as – Light Color Scheme & Dark Color Scheme.
You can also make your own custom Color Scheme by configuring it according to your requirement from the Admin Panel.
Design a new theme just by configuring the below settings:
Header Styling Settings
Footer Styling Settings
Body Styling Settings
Landing Page Settings
You can create as many new themes you want, Edit them and Remove them also.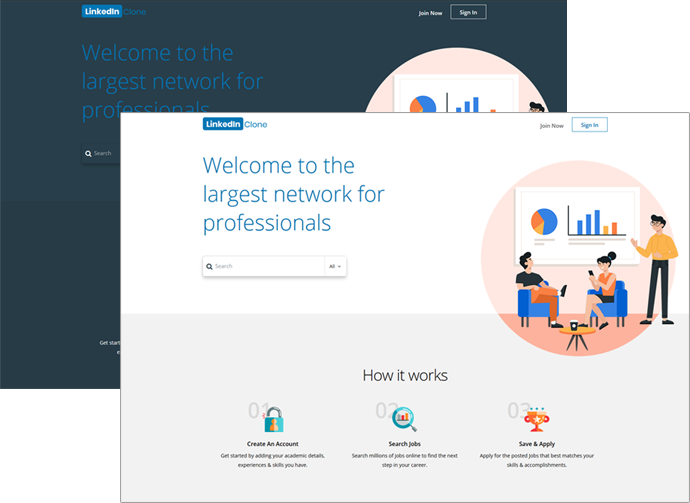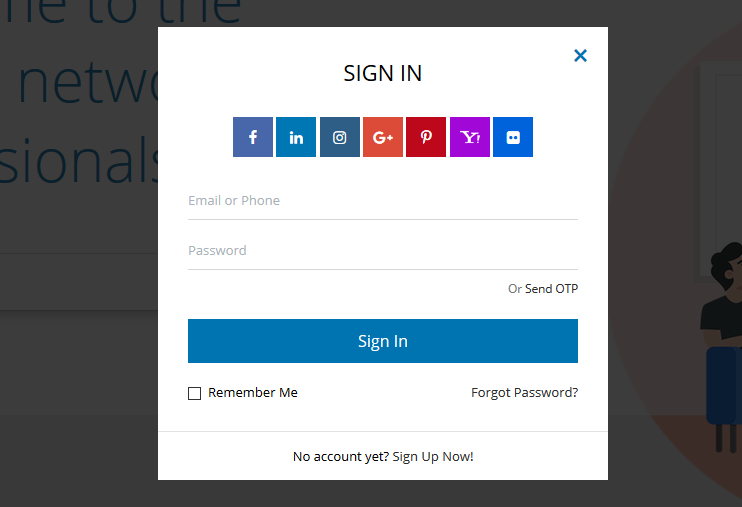 Quick Login & Signup Popup
Login popup is visible only to site visitors to encourage them to quickly and easily login / signup on your SocialEngine based website.
Admin can configure various settings for the Pop Ups such as Enable Popup for Sign In & Sign Up, Open Sign In Popup Automatically, Sign In Popup Visibility, Allow to Close Sign In Popup etc. from the Admin Panel of this theme.
Advanced Global Search
Advanced Global search with AJAX based searching enables quick searching from Header of your website for various modules installed on your website.
Also site owner can manage searchable module from "Manage Module for Search" section and can give title and upload icon for them. Also you can enable/disable the, anytime you want from this section.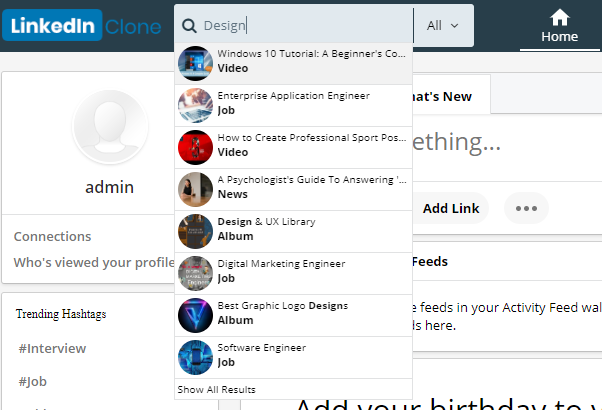 Manageable Fonts
This theme comes with a choice of Multiple Fonts from Google Fonts and Web Safe Fonts which are included in this theme. Based on body, Heading, Main Menu & tabs, you can choose the Font Style and Font Size on your website.
Custom CSS
Admins can easily mention theme custom works in the Custom CSS section in the admin panel. With this theme, you do not have to mention the changes in the Theme.CSS file.
9 Highly Configurable Widgets
Professional Linkedin Clone Theme has 9 uniquely designed and highly configurable widgets which will make your website more elegant and unique so that it can stand out from others. This Theme comes with various widgets such as:
Header

Footer

Home Photo

Landing Page

Landing Page Bottom Banner

Landing Page Categories

Landing Page Features

Landing Page Members Jobs

Landing Page Post Job
Robust Admin Panel
This Theme has a very robust admin panel and all the features explained in this description can be very easily disabled/enabled and configured from the admin panel of this theme. With the Admin Panel you can:
Configure various Global settings.
Set your own color scheme.
Set attractive landing page.
Customize settings for the Header.
Choose Logo for Footer etc…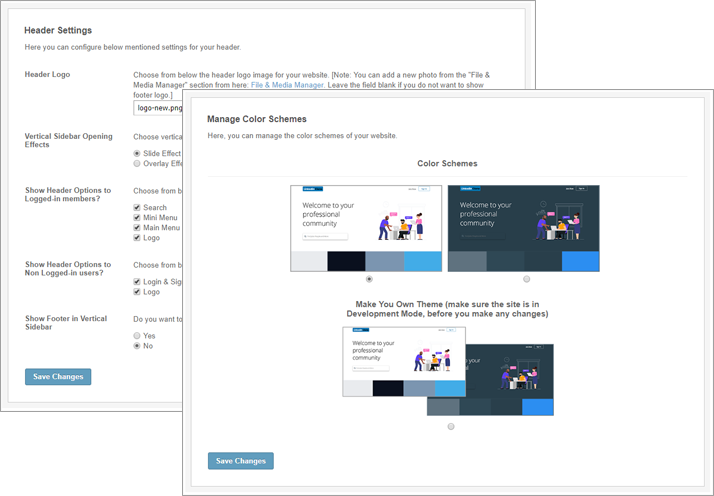 100% Responsive
The theme is 100% responsive. Automatically adapts to any devices (Mobile phone, tablet and desktop). You can take full control of the color scheme and designing of theme with our powerful yet easy-to-use admin panel of this theme from setting to styling.
1 Click Install & Easy To Setup
This theme can be easily installed with 1 click and can be easily configured. Helpful Video Tutorials, Installation Tutorial and FAQs for this theme will make it easier for you to setup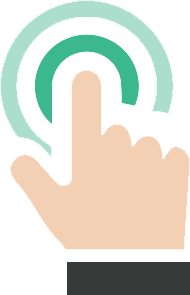 Lifetime Upgrades & 90 Days Free Support
Get free upgrades lifetime for this plugin and free support for first 90 days of your purchase.