Encourage users to add more Photos to your website with this plugin.
The importance of Photos and Social Networking sites like Facebook, Instagram, Flickr, Google, and 500px is not hidden from anyone in Today's web world. If you are looking for ways to increase user engagement and more content to be uploaded on your website, then Social Photo Media Importer Plugin is the appropriate tool to enrich your website as this plugin enables users to import and manage their photos at one place instead of keeping their photos at various other platforms.
This plugin supports import of photos from Facebook, Instagram, Flickr, Google, 500px sites and uploading of photo via Zipped Folder. With this plugin, users can now bulk import their photos from the zipped folder on any of their device. Once this plugin is installed on your website, you users will not have to visit different websites to store and upload their different type of photos.
WITH THIS PLUGIN YOU CAN
Use up to 5 different social media and Zip Folder Upload
From Facebook, Instagram, Google, Flickr, 500px and Zipped Folder.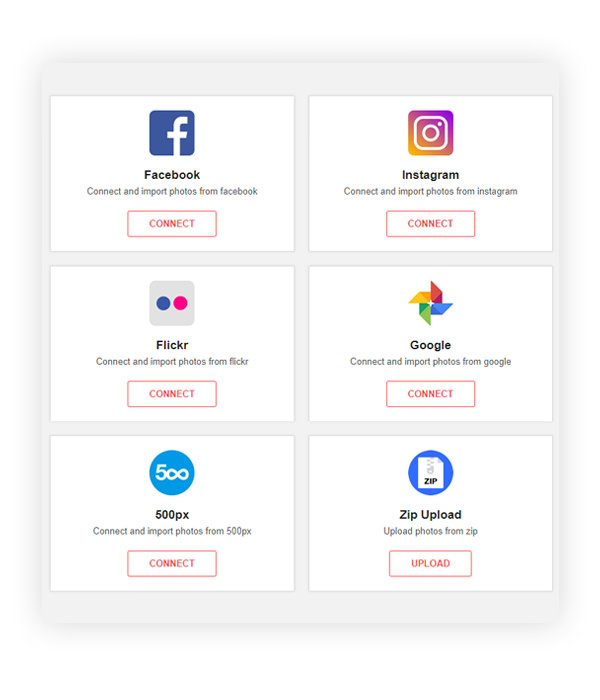 Let users manage all the photos from just one place
Thanks to this plugin that your users will now be able to add and import photos from other social networks to our website.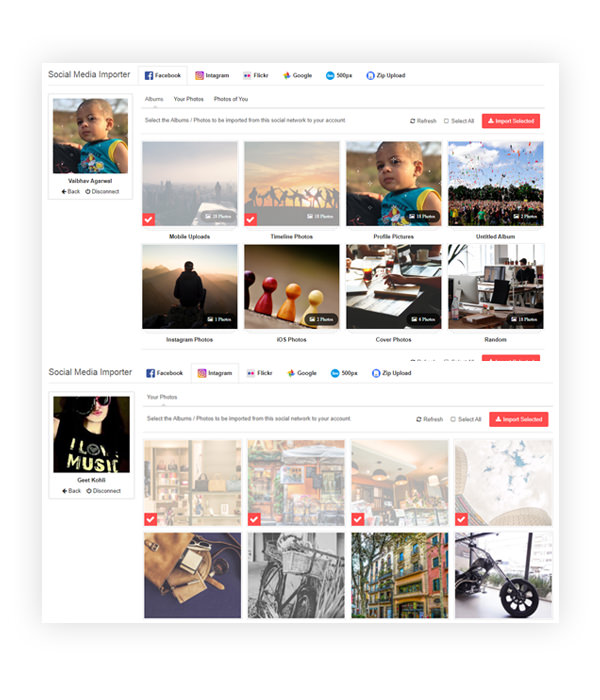 Connect to the desired Social Networking Site
Users can easily connect with the social networking site. They just have to click on Connect button and enter their login details to get connected.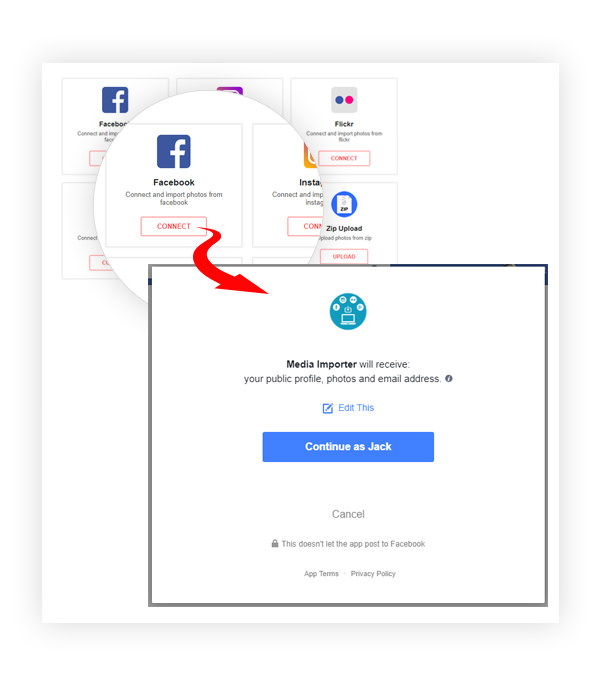 Select the Albums and Photos to be Imported
Very easy process to select the albums and photos which your users want to import on your website. 1 click "Select All" option to reduce time in selecting individual photo.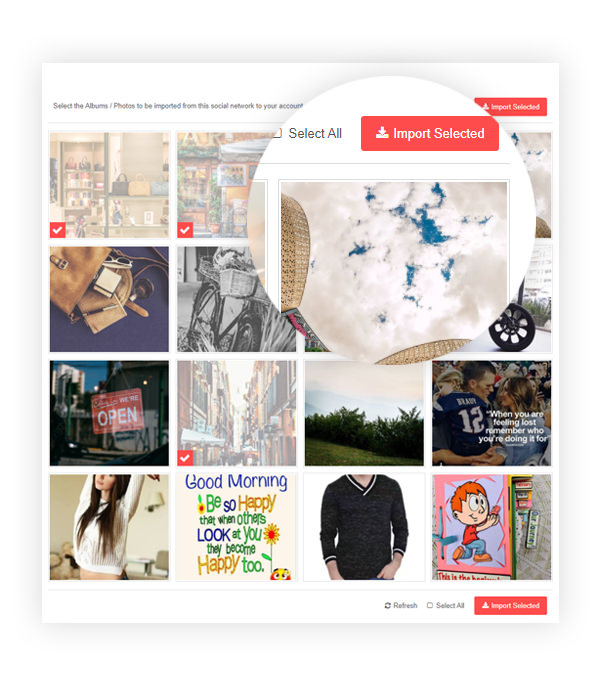 Add imported photos in Desired Albums
This plugin enabled users to directly import the photos in already existing albums or in a new album on your website.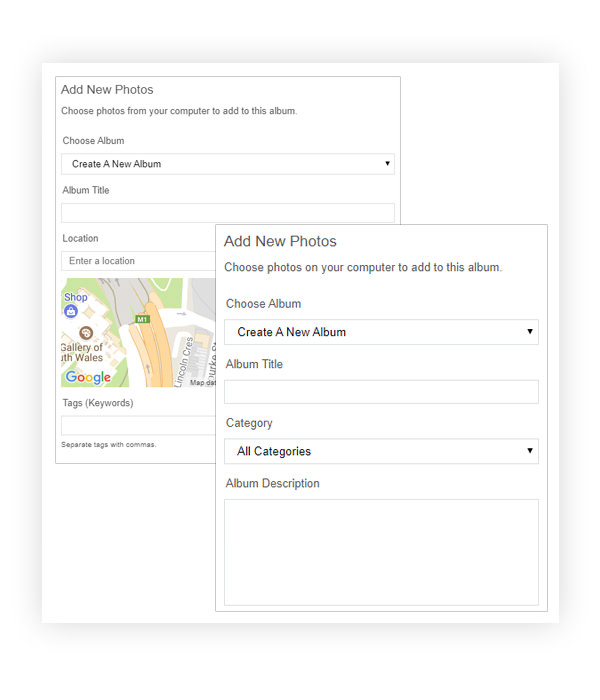 Place the social media import buttons wherever you want
You can place the "Shortcuts to Photo Import" widget anywhere on your website where you want to display the social site options.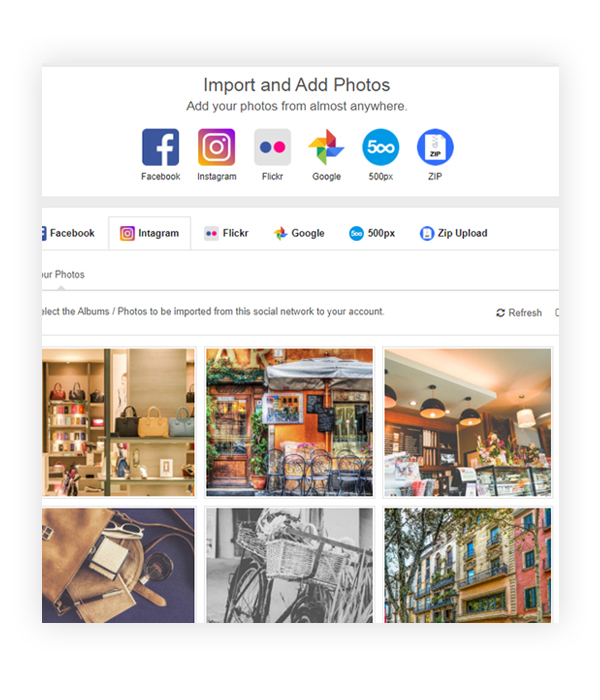 100% Responsive to encourage users to add photos from any device
The social Media Importer interface is optimized for all devices and will automatically adjust to the resolution of your website in Mobile phones, tablets and desktops.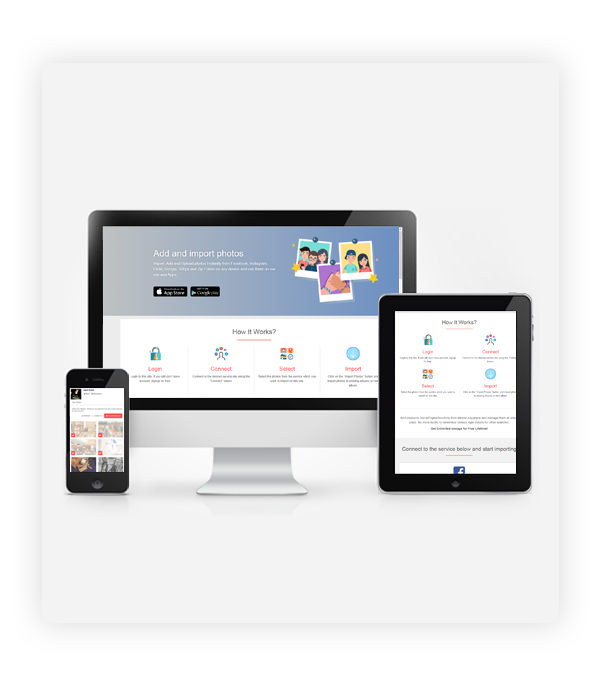 Seamless Integration
Social Photo Media Importer plugin is fully compatible with the SE Official Photo Albums plugin and our Advanced Photos & Albums Plugin. So, user can add their photos in already existing albums or into a new album without leaving the import page.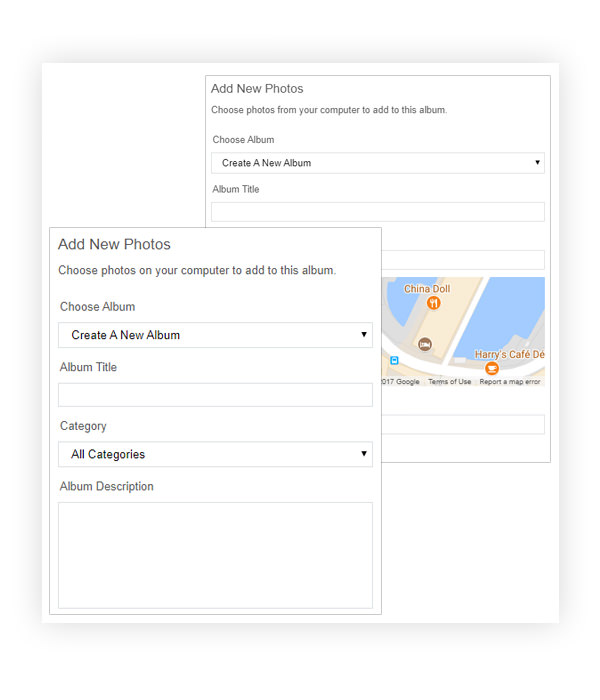 Attractive Banner with the iOS and Android links for your app.
This plugin has a very attractive banner on the top of the media importer home page, in which you can also give iOS and Android app links. This banner can be used anywhere on the site and any number of time. This widget can also be be shown in Full width or the container width.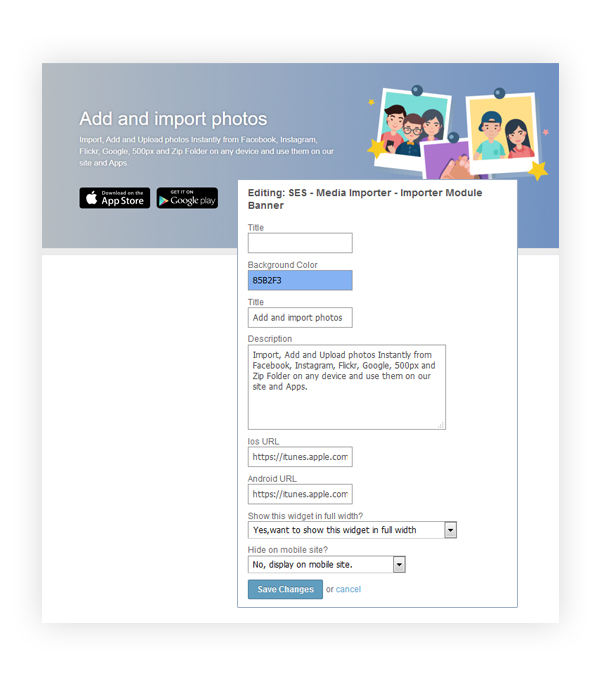 Detailed Guidelines for Admins to Easily Create API Keys
Our team has sit back for hours to create very detailed guidelines with appropriate screenshots, so that admins can easily create the API keys for the social service providers themselves. Read Guidelines here.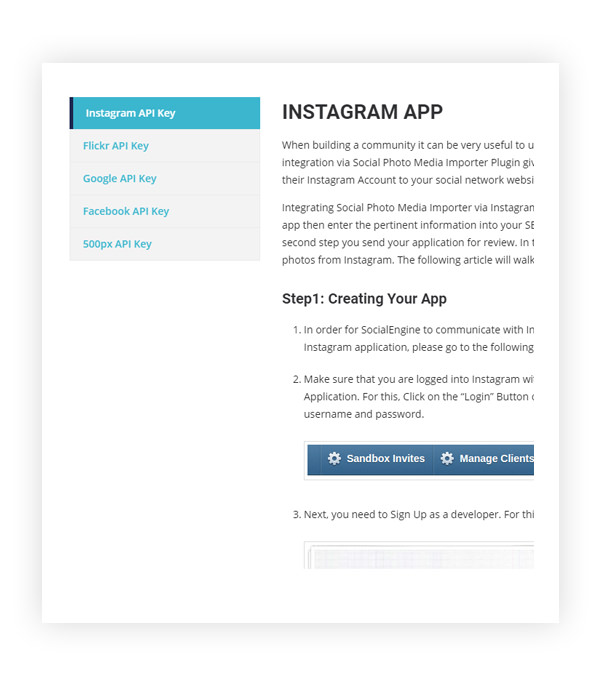 HOW IT WORKS

Login
Login to this site. If you still don't have account, signup for free.

Connect
Connect to the desired service site using the "Connect" button.

Select
Select the photos from the service which you want to import on this site.

Import
Click on the "Import Photos" button and import photos to existing albums or new album.

BENEFITS
Increases User Engagement
Social Media Importer will definitely going to attract users to come to your site to use this fabulous feature of keeping their photos from many networks at one platform. This will definitely increase count of your members.
This can be more useful if you your site's idea is about building portfolio for photographers, models, artists, service providers or anything similar. Users will not have to double import their photos.
Increases Customer Acquisition & Registrations
Easy import process makes it easy for users to come again and again to your website as they do not need to visit different websites for just one purpose.
Since, users can upload the photos which their friends would have sent them in the FB message also, they would love to directly get it imported in their account on your website rather than 1st downloading it into their system and them uploading to the site.
For example:
This tool makes it very handy to use adding photos to your website.
WIDGETS
Banner with iOS and Android Apps Buttons: This widget displays a banner with attractive color effects and buttons for your iOS and Android app links. If you do not want to show the buttons, then do not add the links. This banner can be used anywhere on the site and any number of times. You can choose this widget to be shown in full width or the container width.
How it Works and Social Services: This widget displays the How it Works section and the Social Services to get connected and import the photos.
Imported Photos from Social Sites: Displays imported photos from the connected Social sites. Users will be able to select photos from the social sites and import them into your website.
Shortcuts for Photo Import: This widget displays the social services enabled from the admin panel of this plugin to import the photos on your website. This widget will add shortcuts to the photo media import options.
ADMIN PANEL
Admin can enable / disable social network service providers according to the requirements.
Admin can create APIs for each social network service provider and enter them for the respective service provider.